We're less than three weeks away from the 2023 NFL Draft. Soon, we'll know where all these prospects are headed. But until then, let's carry on with the projections. This 7-Round 2023 NFL Mock Draft presents another potential outcome of the event this April.
Latest 2023 7-Round NFL Mock Draft
1) Carolina Panthers (From CHI): Anthony Richardson, QB, Florida
The Panthers have a tough choice at No. 1 overall. But if your team has the proper infrastructure — coaching, veteran leadership, a bridge quarterback, and supporting talent — then it's hard to pass on Anthony Richardson's generational upside. He has the dual-sided athleticism and arm strength to be a revelation in the league.
2) Houston Texans: C.J. Stroud, QB, Ohio State
C.J. Stroud is the "coordinator's best friend" of the 2023 NFL Draft QB class. He can still be more consistent in responding to pressure at times, but ultimately, he's an athletic QB with a great arm, who's also smart, decisive, and exceedingly accurate from the pocket. He could dice up defenses in Houston's Shanahan-based offense.
3) Las Vegas Raiders (Mock Trade With ARI): Bryce Young, QB, Alabama
Trade: Raiders acquire No. 3 overall pick, Cardinals acquire No. 7 overall pick, No. 70 overall pick, and 2024 first-rounder.
Jimmy Garoppolo gives Las Vegas a quality bridge with system familiarity, but the chance to add Bryce Young might prove too enticing. Here, they trade up for the ice-veined Alabama passer. Young's "it" factor in chaotic situations is a trait that's unique to him alone, and it's one that will allow him to withstand adversity week in and week out.
4) Indianapolis Colts: Will Levis, QB, Kentucky
Will Levis may be QB4 of the 2023 NFL Draft group, but he still has a franchise-caliber ceiling in the right system. In Shane Steichen's vertically-oriented attack, Levis would be able to stress defenses down the field with his elite arm strength and talent. And ultimately, he has the quick release to move the chains in the short-range as well.
5) Seattle Seahawks (From DEN): Will Anderson Jr., EDGE, Alabama
In this 2023 NFL Mock Draft, QBs go 1-2-3-4, which allows Alabama edge rusher Will Anderson Jr. — arguably the best prospect in the class — to fall into the Seahawks' lap at fifth overall.
MORE: 100% FREE NFL Mock Draft Simulator With Trades!
Anderson causes chaos for offenses at a rare frequency, to a rare degree, and that ability to dominate with power, burst, and violence has drawn comparisons to Khalil Mack.
6) Detroit Lions (From LAR): Tyree Wilson, EDGE, Texas Tech
Tyree Wilson was incredibly productive over the past two seasons — amassing 14 sacks and 27.5 tackles for loss. Yet, he still hasn't come close to reaching his ceiling as a prospect. The flashes of quick, violent hand usage are very inspiring, but Wilson's hyper-elite power profile is truly special. Across from Aidan Hutchinson, he'd be dangerous.
7) Arizona Cardinals (From LV): Christian Gonzalez, CB, Oregon
The Cardinals are in an ideal trade-back position at third overall, and that's what they did in this 2023 NFL Mock Draft. Arizona moves back to seventh, and they still get the best cornerback on the board in Christian Gonzalez. Gonzalez has the size, length, explosiveness, long speed, fluidity, and high-level instincts to become a lockdown defender.
8) Atlanta Falcons: Nolan Smith, EDGE, Georgia
This is a little rich for Nolan Smith on my board, but specifically for the Falcons' scheme, I can see the appeal. Smith is a truly rare athlete at 6'2″, 238 pounds, with 4.39 speed and a 41.5″ vertical. His burst and bend equate to tantalizing pass-rushing upside, and he's already a near-elite run defender with frame-defying play strength and range in pursuit.
9) Chicago Bears (From CAR): Paris Johnson Jr., OT, Ohio State
The Bears appear to have four starters penciled in, with Braxton Jones, Nate Davis, Cody Whitehair, and Teven Jenkins. All Chicago needs is a right tackle, and Paris Johnson Jr. could be the guy there.
Johnson has already proven he can play on both the left and right side, and his elite explosiveness-length mix grants him absurd power capacity at the point of attack.
10) Philadelphia Eagles (From NO): Jalen Carter, DT, Georgia
As rocky as Jalen Carter's pre-draft process has been, a blue-chip talent like him only falls so far in a class like this. Carter perfectly fits what the Eagles need on the interior line. His explosiveness and power can be truly devastating for opposing blockers, and he has the leveraging ability and raw torque to be a force in run defense and as a pass rusher.
11) Tennessee Titans: Jaxon Smith-Njigba, WR, Ohio State
Year 2 of Treylon Burks' development will be crucial, but it might behoove the Titans to add a reliable slot weapon, to help take pressure off of the team's WR1. Jaxon Smith-Njigba fits very well in that role with his hyper-elite agility, separation style, and steely instincts, and he could become a de facto WR1 with his target funnel traits.
12) Houston Texans (From CLE): Myles Murphy, EDGE, Clemson
Last cycle, Travon Walker went No. 1 overall by virtue of his traits alone. Myles Murphy has similar upside and better hand usage than Walker had. He's not quite as agile and free-flowing in space, but Murphy still has an enticing blend of quickness, foot speed, hip flexibility, and power generation. He has blue-chip potential on the edge at his ceiling.
13) New York Jets: Darnell Wright, OT, Tennessee
Darnell Wright is 6'5″, 333 pounds, with near 34″ arms. He has a 5.01 40-yard dash, a 1.75 10-yard split, and a Relative Athletic Score (RAS) of 9.67.
Wright is a former five-star recruit who excelled at right tackle in 2021 and 2022 and brings elite power, smooth footwork, and very efficient hands. He might not make it out of the top 15.
14) New England Patriots: Zay Flowers, WR, Boston College
The Patriots were quick to add Zay Flowers to their West Team roster at the Shrine Bowl, and they also hosted Flowers on a pre-draft visit. There's clearly interest there on New England's side, and in a wide-open WR class, Flowers' explosive, energetic, and multifaceted play style could make him a coveted talent at the top of the board.
15) Green Bay Packers: Lukas Van Ness, EDGE, Iowa
The Packers have a definite type when it comes to edge rushers: Larger defenders who can drive through blockers with power, and create easy displacement. Lukas Van Ness fits that mold with his 6'5″, 272-pound frame. His 34″ arms serve as hammers heading into contact, but he also has the burst to generate momentum off the line and threaten past the apex.
16) Washington Commanders: Devon Witherspoon, CB, Illinois
It's one thing to have swagger. It's another thing entirely to be legitimately offended when a QB targets you. Devon Witherspoon plays with that kind of pride and physicality, but he also backs it up on every rep. He'd be a tone-setter for Washington on Day 1, with the versatility to play either in the slot or on the boundary.
17) Pittsburgh Steelers: Dawand Jones, OT, Ohio State
The Steelers have shown some interest in Dawand Jones this cycle. No. 17 overall is very rich for him, but given the scarcity of natural RT prospects — and Jones' rare size — it could be a feasible outcome. Jones' size naturally brings about issues with leverage. However, that same size affords him elite power and makes him very tough to get around.
18) Detroit Lions: Deonte Banks, CB, Maryland
The Lions no longer have an immediate need at CB after signing Cameron Sutton and Emmanuel Moseley to accompany Jeffrey Okudah. But soon enough, the position will be light again. It makes sense to get Deonte Banks in the room and start coaching up his technique. His elite athleticism and steely physicality could pay dividends down the line.
19) Tampa Bay Buccaneers: Bijan Robinson, RB, Texas
The Buccaneers are one of the few teams in Round 1 with a clear need at running back, and they hosted Bijan Robinson on a visit. More than most teams, Tampa Bay needs a strong running game to insulate what will be an unsteady passing situation. Robinson has the size, contact balance, quick processing, and creation capacity to carry the load.
20) Seattle Seahawks: Joe Tippmann, OL, Wisconsin
This may be a surprising range for Joe Tippmann, but he carries a top-50 grade on my board. His elite athleticism-power combo at 6'6″, 312 pounds warrants early consideration, and after seeing his growth in 2022, Round 1 isn't out of the question.
Tippmann could play center or guard for Seattle alongside Evan Brown. He has impact starter upside at either spot.
21) Los Angeles Chargers: Will McDonald IV, EDGE, Iowa State
On my personal board, this is a little too early for Will McDonald IV. But it's justifiable, given the way the Chargers will use him.
McDonald is tailor-made to be a 3-4 OLB with his searing explosiveness off the line, and he also has elite proportional length and high-level bend capacity. His blend of tools can be overwhelming for opposing tackles.
22) Baltimore Ravens: Josh Downs, WR, North Carolina
With his size, many confine Josh Downs to a pure slot projection at the next level. But Downs doesn't come with the normal penalties of a smaller receiver.
MORE: How Likely Are the Baltimore Ravens To Select a WR in the NFL Draft?
He's unnaturally consistent at securing catches beyond his frame and winning in tight spots. Additionally, his dynamic athleticism and sharp route nuance give him a very strong foundation.
23) Minnesota Vikings: Jordan Addison, WR, USC
Justin Jefferson needs a Robin to his Batman, and Jordan Addison is built well for that role. From my view, Addison compares favorably to another NFC North wideout: Chicago's Darnell Mooney. He's an easy accelerator with short-area agility and hip sink and has the speed to threaten vertically, as well as create after the catch.
24) Jacksonville Jaguars: Brian Branch, DB, Alabama
The Jaguars were proactive at both retaining key players and filling needs in the 2023 offseason, but one pressing need remains in the slot on the defensive side of the ball.
Brian Branch is a natural nickel defender with phenomenal coverage ability, very willing physicality, and the instincts to make plays when passes come his way.
25) New York Giants: Quentin Johnston, WR, TCU
There's a heightened degree of risk for Quentin Johnston. But his ceiling remains the highest in the 2023 NFL Draft. For a bigger receiver, Johnston's hand-catching can assuredly improve. However, for a bigger receiver, he brings uncanny accelerative capacity, hip flexibility, and short-area twitch. As a vertical and RAC threat, his upside is unparalleled.
26) Dallas Cowboys: Broderick Jones, OT, Georgia
It's a tale as old as time: The Cowboys once again let gold fall into their lap in the mid-to-late first. They did it with CeeDee Lamb, they did it with Tyler Smith, and now, Dallas represents an ideal situation for Broderick Jones.
Jones still has room to refine his pass-blocking technique, so he can learn behind Tyron Smith before taking the reins.
27) Buffalo Bills: Dalton Kincaid, TE, Utah
Hear me out, Bills fans. You're not drafting Dalton Kincaid as a tight end. You're drafting him as a weapon. Kincaid has the athleticism and flexibility to split out and play from the slot. He's explosive attacking up seams, a bull after the catch, and at the catch point, he has the best coordination and control in the entire class — something Josh Allen can utilize.
28) Cincinnati Bengals: Anton Harrison, OT, Oklahoma
Anton Harrison isn't a natural right tackle. But on my board, he's the OT2 and a top-20 prospect in the 2023 NFL Draft.
Since he's still here, Harrison is the pick for Cincinnati. You can figure out the shift to RT later, but Harrison has the size (6'4″, 312 pounds, near-35″ arms), athleticism (4.98 40-yard dash), and finishing ability to make the transition work.
29) New Orleans Saints (From SF via MIA via DEN): Bryan Bresee, DT, Clemson
The Saints' defensive line essentially imploded this offseason. They added a few quality pieces back in the turnover, but there's still plenty of room for them to keep upgrading. Late in Round 1, Bryan Bresee presents excellent value. He's an explosive, flexible lineman who flashes elite knock-back power and hand quickness on his best reps.
30) Philadelphia Eagles: Peter Skoronski, OL, Northwestern
Peter Skoronski is a prospect who can fulfill multiple functions for Philadelphia. Early on, he has the athleticism, strength, and natural leverage to seamlessly transition to guard.
MORE: Industry Consensus Big Board
There's also the possibility for Skoronski to move to right tackle down the line, when Lane Johnson retires. Wherever he lines up, Skoronski can be a steady presence on the blocking unit.
31) Los Angeles Rams (Mock Trade With KC): DJ Turner, CB, Michigan
Trade: Rams acquire No. 31 overall pick, Chiefs acquire No. 36 overall pick, No. 171 overall pick, and 2024 second-rounder.
In this 2023 NFL Mock Draft, the Rams engineer a slight trade up into the tail end of Round 1, to lock down a top target at a premier position of need. DJ Turner has the top-tier recovery speed (4.26 40-yard dash) and vision to thrive in Los Angeles' zone-heavy scheme. But he's also an incredibly twitchy, fleet-footed coverage defender in man.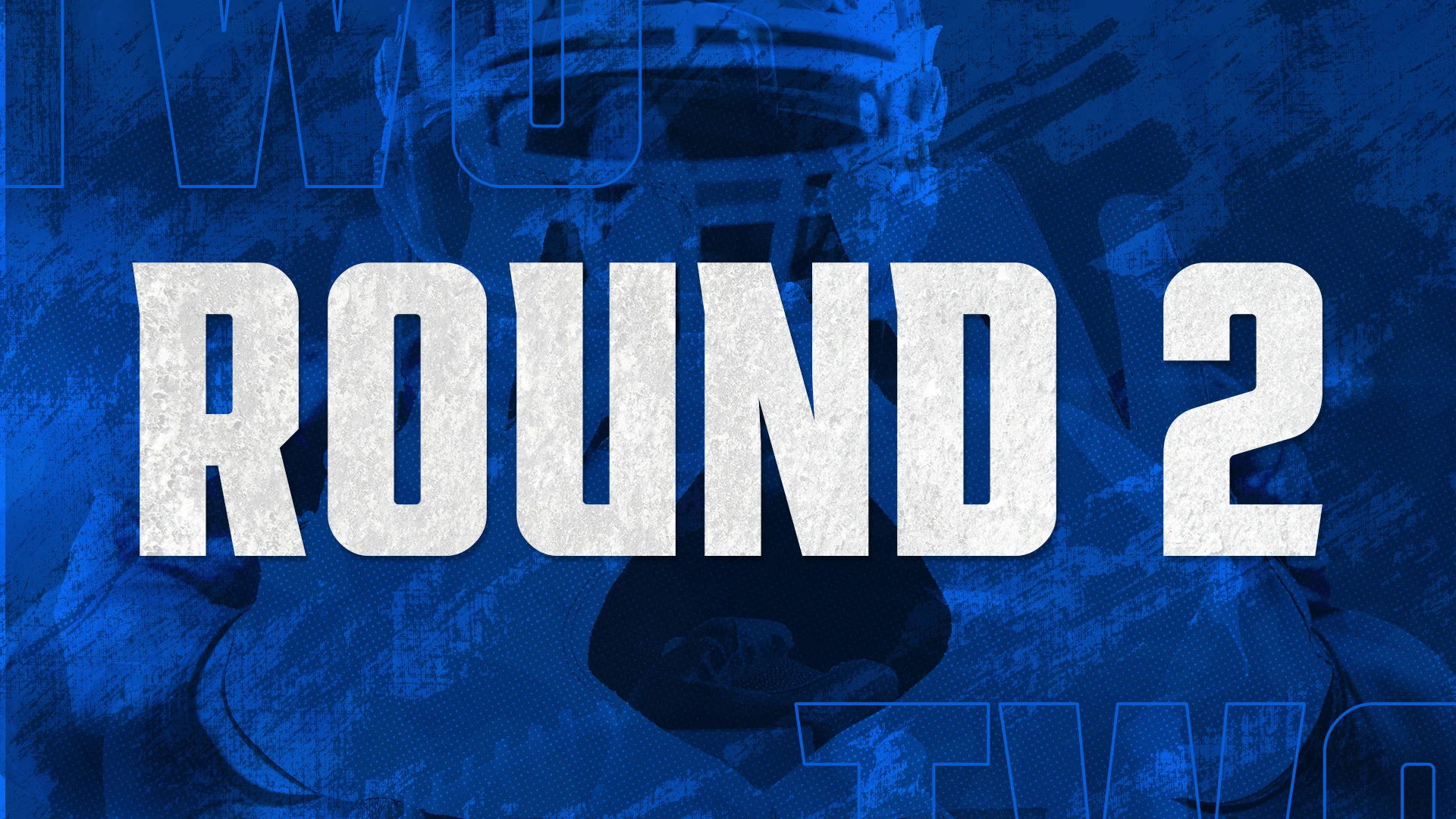 Round 2
32) Pittsburgh Steelers (From CHI): Kelee Ringo, CB, Georgia
Consistency remains a need on tape for Kelee Ringo, but at 6'2″, 207 pounds, with 4.36 speed, his traits are captivating. And he's been training with Richard Sherman this year. With technique to maximize his traits, Ringo's physicality and playmaking could shine through.
33) Houston Texans: John Michael Schmitz, C, Minnesota
John Michael Schmitz is older and doesn't quite have Tippmann's athletic upside. Nevertheless, he's a well-rounded center prospect with the requisite short-area burst, core strength, point-of-attack power, and finisher mentality to shore up Houston's front.
34) Arizona Cardinals: Cedric Tillman, WR, Tennessee
With the Cardinals set to lose DeAndre Hopkins this offseason, they'll need a new alpha receiver. At 6'3″, 213 pounds, Cedric Tillman has the size to fit that mold, and he's also an explosive, fleet-footed athlete with phenomenal instincts extending beyond his frame.
35) Indianapolis Colts: Joey Porter Jr., CB, Penn State
After trading Stephon Gilmore to the Cowboys, the Colts have a void on the boundary. Early in Round 2 of this 2023 NFL Mock Draft, Joey Porter Jr. is a steal. With his reach, he's a natural fit for side-saddle and zone concepts, but he disrupts in press-man as well.
36) Kansas City Chiefs (From LAR): Blake Freeland, OT, BYU
Trading back into Round 2, the Chiefs not only acquire capital but also acquire a potential starting right tackle in Blake Freeland. Freeland is a towering blocker with venerable power at contact, and his 37″ vertical exemplifies his explosiveness off the line.
37) Seattle Seahawks (From DEN): Mazi Smith, DT, Michigan
The release of Al Woods represents the end of an era for Seattle and also creates a need for a new nose tackle. Mazi Smith could be more consistent in delivering on his traits, but he has the athleticism, raw strength, power, and frame density to fill that void.
38) Las Vegas Raiders: Adetomiwa Adebawore, DL, Northwestern
There aren't many adjectives to describe just how freaky Adetomiwa Adebawore is as an athlete. At 6'2″, 282 pounds, with 34″ arms, he ran a 4.49 40-yard dash. He's an instant accelerator off the line with a ruthless motor — built to play 3-tech in the NFL.
39) Carolina Panthers: BJ Ojulari, EDGE, LSU
BJ Ojulari is an exceptional fit for Ejiro Evero's defensive scheme in Carolina. At 6'2″, 248 pounds, he has the burst and flexibility to rush from stand-up alignments. At that size, he also has 34 1/2″ arms, which allows him to engage tackles and work through the apex.
40) New Orleans Saints: Isaiah Foskey, EDGE, Notre Dame
The Saints have an affinity for larger, more powerful edge rushers. With Isaiah Foskey, they not only get that trait combination, but New Orleans also gets one of the more complete EDGE prospects in the class. Foskey is a tenacious run defender and an active hand-fighter.
41) Tennessee Titans: Cody Mauch, OL, North Dakota State
Tell me the Cody Mauch-Tennessee Titans fit doesn't make sense. You can't do it. On top of his toothless grin and unrelenting physicality, Mauch also has the athleticism and road-grading style to be an asset on the interior for Mike Vrabel's squad.
42) Green Bay Packers (Mock Trade With NYJ): Michael Mayer, TE, Notre Dame
Trade: Packers acquire 42nd pick, Jets acquire QB Aaron Rodgers.
The real trade will have more details, but for creative purposes, let's simply focus on the 2023 capital-changing hands. The Packers will likely add a Day 2 pick, which could allow them to acquire a well-rounded threat at tight end like Michael Mayer.
43) New York Jets: Trenton Simpson, LB, Clemson
Trenton Simpson's linebacker instincts remain imperfect, but at some point, a team will bank on his tools. He's 6'2″, 235 pounds, with 4.43 speed, and a 40.5″ vertical. Simpson can attack downhill, or line up at strong safety and roam in the box. He has almost no bounds.
44) Atlanta Falcons: Steve Avila, OL, TCU
Steve Avila isn't an elite athlete, but his brand of physical football could be a solid fit for the Falcons' imposing running game. Avila is a tenacious finisher with heavy hands and torque, and in pass protection, his width, active hands, and natural leverage serve him well.
45) Green Bay Packers, Sydney Brown, S, Illinois
This isn't a fit that's mocked often, but I like this prospect-team match a lot. Sydney Brown is a hyper-dense, explosive athlete with very willing physicality coming downhill, but he's also fluid enough to play in space, man the slot, and make plays in coverage.
46) New England Patriots: Jack Campbell, LB, Iowa
In need of more linebacker talent, it feels like the Patriots could be drawn to Jack Campbell in Round 2. At around 6'5″, 250 pounds, Campbell has unique size for the position, but he's also impressively athletic, intelligent, and has the strength to stack and shed at the line.
47) Washington Commanders: Felix Anudike-Uzomah, EDGE, Kansas State
As of this writing, the future of Commanders edge rusher Chase Young is uncertain. EDGE is a premier position, so it's not one they should shrug off. At 6'3″, 255 pounds, Felix Anudike-Uzomah would give them an amped-up rusher with wicked hands and motor.
48) Detroit Lions: Jahmyr Gibbs, RB, Alabama
The Lions have a new primary runner in David Montgomery, but soon, D'Andre Swift will be a free agent. It makes sense to add Jahmyr Gibbs as a versatile, dynamic offensive weapon if he falls to a certain point. His open-field burst is kryptonite for ill-fated safeties.
49) Pittsburgh Steelers: Jonathan Mingo, WR, Ole Miss
There's no WR in the 2023 NFL Draft quite like Jonathan Mingo. He's 6'1″, 226 pounds, with 4.46 speed, a 39.5″ vertical, and a 10'9″ broad jump. He's an extremely explosive big slot WR with elite RAC utility and can make plays when the ball is in the air.
50) Tampa Bay Buccaneers: Matthew Bergeron, OT, Syracuse
After releasing Donovan Smith, the Buccaneers have a pressing need at left tackle. With Tristan Wirfs entrenched on the right side, adding another athletic blocker like Matthew Bergeron could bode well. Bergeron's foot speed, for his size, defies expectation.
51) Miami Dolphins: Tucker Kraft, TE, South Dakota State
This is one of my personal favorite fits in the 2023 NFL Draft. Time will tell if the Dolphins value the tight end position this highly, but Tucker Kraft, in particular, has the athleticism in space and contact balance to be an exciting RAC threat in Mike McDaniel's offense.
52) Seattle Seahawks: Cam Smith, CB, South Carolina
The Seahawks are set on the boundaries with Tariq Woolen and Mike Jackson. That said, there's still an opportunity to indulge in a deep 2023 NFL Draft CB class. With Cam Smith, Seattle gets a hyperactive and physical athlete with slot capabilities, who's also superb in support.
53) Chicago Bears (From BAL): Zach Harrison, EDGE, Ohio State
Standing around 6'5″ and 269 pounds, with 36″ arms, Zach Harrison perfectly fits Matt Eberflus' mold of defensive end. He's traits-rich with his burst and bend, and while Harrison lacks consistency, he's shown glimpses of a wide-ranging pass-rush arsenal on tape.
54) Los Angeles Chargers: Jalin Hyatt, WR, Tennessee
You've heard it time and time again this offseason. The Chargers need speed, and there's no speed threat in the 2023 NFL Draft more marketable than Tennessee's Jalin Hyatt. He's a little one-dimensional, but Hyatt's top gear has a gravitational effect on defenses.
55) Detroit Lions (From MIN): Hendon Hooker, QB, Tennessee
The Lions have kept tabs on Hendon Hooker through the draft process, and if he falls this far, they could pull the trigger. Jared Goff is still Detroit's starter, but at the very least, Hooker can be a developmental backup, with the physical ability to grow into more.
56) Jacksonville Jaguars: Keion White, DL, Georgia Tech
Keion White has a lot of work to do before he reaches his ceiling. But in spite of his raw hand usage, his brand of athleticism, at his size, grants him massive upside and alignment versatility. That's what the Jaguars are paying for in Round 2 of this 2023 NFL Mock Draft.
57) New York Giants: Luke Wypler, C, Ohio State
At a position as scarce as center, teams may be willing to pay a premium for potential starters. Luke Wypler has a late Day 2 grade on my board, but for the Giants, he's a sturdy, well-leveraged interior blocker who can keep things stable for years on end.
58) Dallas Cowboys: Keeanu Benton, DT, Wisconsin
There remains room for the Cowboys to shore up their interior presence, and Keeanu Benton presents great value at this stage of the 2023 NFL Draft. He's a stack-and-shed master who also shows off immense power and energy as a pass-rushing threat.
59) Buffalo Bills: Drew Sanders, LB, Arkansas
There aren't many linebacker prospects in the 2023 NFL Draft who can fill the role of Tremaine Edmunds, but Drew Sanders is one who might be able to. Sanders is athletic, long, and lanky, and flashes great processing ability, and he doubles as a dynamic pass rusher.
60) Cincinnati Bengals: Tank Bigsby, RB, Auburn
Assuming that Joe Mixon will soon be out the door, it makes sense for the Bengals to reset the clock with Tank Bigsby. Bigsby has an impressive blend of size, short-area freedom, and vision. Behind Cincinnati's reworked offensive line, he could produce at a high level.
61) Chicago Bears (From SF): Calijah Kancey, DL, Pittsburgh
Calijah Kancey is a massive outlier. But at a certain point, you bank on outliers if they're good enough. Kancey is a menacing competitor with unnatural quickness and violence in his game. If Andrew Billings can keep him clean at nose tackle, Kancey could be a steal.
62) Philadelphia Eagles: Julius Brents, CB, Kansas State
The Eagles managed to get back both Darius Slay and James Bradberry for the 2022 season, but they should still keep an eye on the future. Julius Brents can spend 2023 refining his technique, as he builds around his elite athleticism-length combination.
63) Kansas City Chiefs: Jartavius Martin, DB, Illinois
For the moment, the Chiefs are looking good in the secondary. But L'Jarius Sneed is scheduled to be a free agent in 2024, so another physical, versatile, playmaking DB might be in demand. Jartavius Martin fits the bill with his 4.46 speed and 44″ vertical.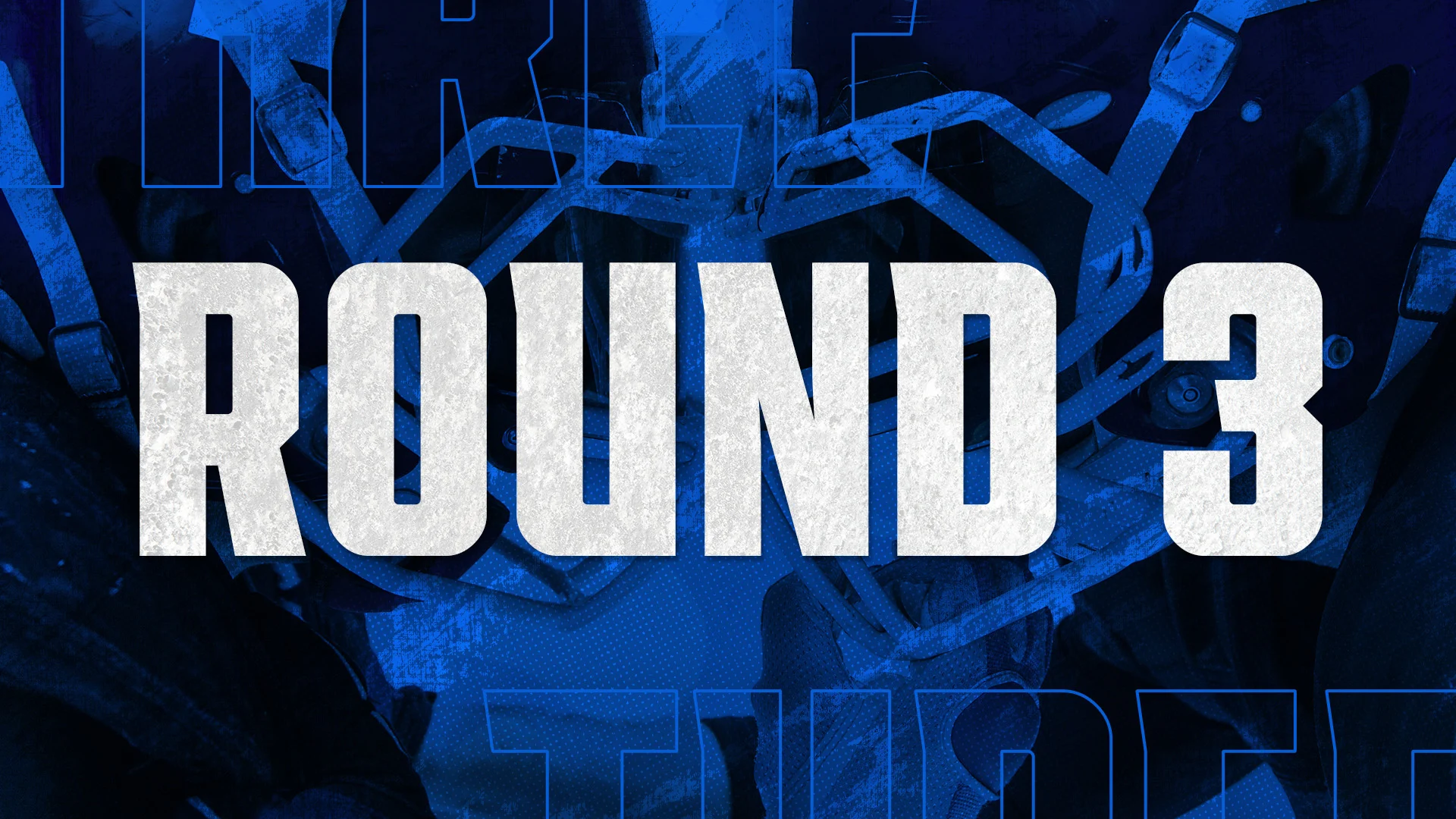 Round 3
64) Chicago Bears: Clark Phillips III, CB, Utah
Clark Phillips III didn't test in the elite range, but he has the quickness, game IQ, tenacity, and playmaking to be a high-level slot CB between Kyler Gordon and Jaylon Johnson.
65) Houston Texans: A.T. Perry, WR, Wake Forest
A.T. Perry doesn't bring the RAC element you'd expect in a Shanahan offense, but I love his fit as a super-lite Marvin Harrison Jr. for Stroud — size, separation ability, and catching instincts.
66) Arizona Cardinals: Emmanuel Forbes, CB, Mississippi State
The Cardinals double-up at cornerback, taking Emmanuel Forbes in Round 3. Forbes is a gambler, but he's an expert at baiting quarterbacks into making poor decisions and then capitalizing.
67) Denver Broncos (From IND): Derick Hall, EDGE, Auburn
Denver needs more reliability on the edge. Derick Hall can produce on Day 1 with his unique power profile, but he also has the active hands and burst to build up his game.
68) Denver Broncos: Rashee Rice, WR, SMU
The Broncos have been shopping wide receivers, potentially opening the door for a Day 2 pick. Rashee Rice gives them one of the strongest three-level frameworks in the class.
69) Los Angeles Rams: O'Cyrus Torrence, G, Florida
The Rams haven't hit much at guard in recent years, but O'Cyrus Torrence gives them a chance to correct that. In a phone booth, he's a defensive lineman's worst nightmare.
70) Arizona Cardinals (From LV): Zacch Pickens, DT, South Carolina
An underrated DT prospect, Zacch Pickens has the first-step explosion, length, play strength, and penetration ability to be a valuable player in Jonathan Gannon's scheme.
71) New Orleans Saints: Marvin Mims, WR, Oklahoma
Marvin Mims joins Chris Olave in New Orleans, providing a double dose of speed. But while Olave's speed is surgical, Mims is a true vertical threat with outstanding body control.
72) Tennessee Titans: Moro Ojomo, DT, Texas
At 6'2″, 293 pounds, with 34.5″ arms and a 33″ vertical jump, Moro Ojomo has the natural leverage, explosiveness, and devastating raw power to thrive alongside Jeffery Simmons.
73) Houston Texans (From CLE): Jayden Reed, WR, Michigan State
A versatile slot-boundary threat, Jayden Reed complements fellow third-round pick Perry well. Reed has vertical speed, but he also brings slippery RAC ability for Bobby Slowik.
74) Cleveland Browns (From NYJ): Gervon Dexter, DT, Florida
As young as he is, Gervon Dexter still has room to clean up his technique. But he's as strong as an ox in run defense and has the athleticism to grow as a pass rusher.
75) Atlanta Falcons: Tyrique Stevenson, CB, Miami (FL)
Opposite AJ Terrell, Tyrique Stevenson has the short-area mobility, discipline, and length to gather receivers in man coverage, and his closing burst allows him to recover downfield.
76) New England Patriots (From CAR): Tyjae Spears, RB, Tulane
There's talk that the Patriots want to add another high-quality runner alongside Rhamondre Stevenson. With his high-energy style, Tyjae Spears complements him perfectly.
77) Los Angeles Rams (From NE via MIA): Isaiah McGuire, EDGE, Missouri
For my money, Isaiah McGuire is one of the draft's biggest sleepers. He's 6'4″, 268 pounds, with 34″ arms. With his burst, power, and bend, he logged 8.5 sacks and 14 TFLs in 2022.
78) Green Bay Packers: Darnell Washington, TE, Georgia
The Packers aren't done at tight end. While Darnell Washington is not nearly as captivating in the receiving phase as his numbers imply, he's an elite blocker with obvious red-zone utility.
79) Indianapolis Colts (From WAS): Tyler Scott, WR, Cincinnati
A perfect match for Shane Steichen's vertical offense, Tyler Scott brings the Colts easy acceleration ability, legitimate 4.4 speed, and authoritative catching instincts downfield.
80) Pittsburgh Steelers: Noah Sewell, LB, Oregon
Noah Sewell is still rough around the edges when it comes to processing and block engagement, but he has the size-speed mix and play strength Mike Tomlin can mold.
81) Detroit Lions: Sam LaPorta, TE, Iowa
The Lions don't need a world-beater at TE. They just need a steady presence, and that's what Sam LaPorta can be with his mobility, route nuance, and natural catching instincts.
82) Tampa Bay Buccaneers: Chandler Zavala, G, NC State
A fast riser late in the 2023 NFL Draft process, Chandler Zavala brings the combined athleticism, frame density, and physicality to be a top guard in his class.
83) Seattle Seahawks: Parker Washington, WR, Penn State
At around 5'10", 210 pounds, Parker Washington perfectly fills the role of a big slot alongside DK Metcalf and Tyler Lockett, giving Geno Smith an able RAC threat.
84) Miami Dolphins: Wanya Morris, OT, Oklahoma
Wanya Morris is an elite athlete at 6'5″, 307 pounds, with 35″ arms, and he's coming off his best season yet. He could become a big upgrade for Miami at the RT spot.
85) Los Angeles Chargers: Israel Abanikanda, RB, Pittsburgh
The Austin Ekeler situation feels as if it's beyond repair, but the Chargers need a workhorse anyway. Israel Abanikanda has workhorse size, to go along with game-breaking speed.
86) Baltimore Ravens: Cory Trice, CB, Purdue
After his testing, Cory Trice could be a surprise Day 2 pick. At 6'3″, 206 pounds, he has 4.47 speed, an 11′ broad jump, and rare fluidity — evidenced by his 6.7 three-cone.
87) Minnesota Vikings: Jaylon Jones, CB, Texas A&M
Jaylon Jones declared early as a true junior, but for his age, he's surprisingly disciplined with his technique. He's a great short-area athlete for his size and stellar in support.
88) Jacksonville Jaguars: Luke Musgrave, TE, Oregon State
Luke Musgrave doesn't bring the desired blocking utility on two-TE sets, but his explosive seam-stretcher traits are too enticing to pass up at this stage of the 2023 NFL Draft.
89) New York Giants: Dorian Williams, LB, Tulane
Dorian Williams can stand to add more mass to his frame, but at 6'1″, 228, with elite proportional length, he's an explosive, tenacious downhill defender with three-down ability.
90) Dallas Cowboys: Zach Charbonnet, RB, UCLA
With Jones and Smith on the line — and now Zach Charbonnet in the backfield — the Cowboys are reinforcing a physical brand of football. Charbonnet can take on ample volume.
91) Buffalo Bills: Tyler Steen, OT, Alabama
Tyler Steen carries one of the more well-rounded OT profiles. He has good size and athleticism, and is also very well-leveraged, with experience on the right side.
92) Cincinnati Bengals: Tuli Tuipulotu, EDGE, USC
Tuli Tuipulotu played as heavy as 290 pounds in college, but his play style is best suited in a power EDGE role in the NFL, where he can plow through tackles with his heavy hands.
93) Carolina Panthers (From SF): Xavier Hutchinson, WR, Iowa State
He may not be an elite athlete, but Xavier Hutchinson has safety blanket appeal with his size, lateral agility, route-running ability, and smooth coordination at the catch point.
94) Philadelphia Eagles: Trey Palmer, WR, Nebraska
He'll need to keep minimizing drops at the next level, but Nebraska's Trey Palmer has the speed to be a dynamic threat alongside A.J. Brown and DeVonta Smith.
95) Kansas City Chiefs: Michael Wilson, WR, Stanford
If he can stay healthy, Michael Wilson can be the steal of the 2023 NFL Draft in Kansas City. He's a route-running technician with rare size-adjusted agility and strong hands.
96) Arizona Cardinals: Ricky Stromberg, C, Arkansas
A sleeper in the center group, Ricky Stromberg could sneak into the top 100 after a strong offseason. He's a smart, well-leveraged blocker on tape, with good mobility and flexibility.
97) Washington Commanders: Jaelyn Duncan, OL, Maryland
Jaelyn Duncan needs to clean up his technique, but he has the potential to eventually take the reins at left tackle, or shift inside to guard with his athleticism and play strength.
98) Cleveland Browns: Devon Achane, RB, Texas A&M
Behind Cleveland's top-flight offensive line, Devon Achane's lightning-fast trigger and turbo switch could be a lethal proposition for opponents, and his speed can stretch the field.
99) San Francisco 49ers: YaYa Diaby, EDGE, Louisville
The 49ers hosted YaYa Diaby on a pre-draft visit. He's very raw in relation to his age, but his high-level athleticism and power profile present an exciting foundation to build on.
100) Las Vegas Raiders (From KC): Siaki Ika, DT, Baylor
Adebawore provides a dynamic presence up front for the Raiders, but it'll take a space-eating nose tackle like Siaki Ika to truly unlock Adebawore's disruptive potential at 3-tech.
101) San Francisco 49ers: Jordan Battle, S, Alabama
A well-rounded safety prospect who tested better than expected, Jordan Battle has the versatility, experience, and all-around utility to earn fans in this positional class.
102) San Francisco 49ers: John Ojukwu, OT, Boise State
John Ojukwu is still a work in progress, but he's a superb athlete at almost 6'6″, 309 pounds, with 34″ arms. He has experience at RT and trending up operationally.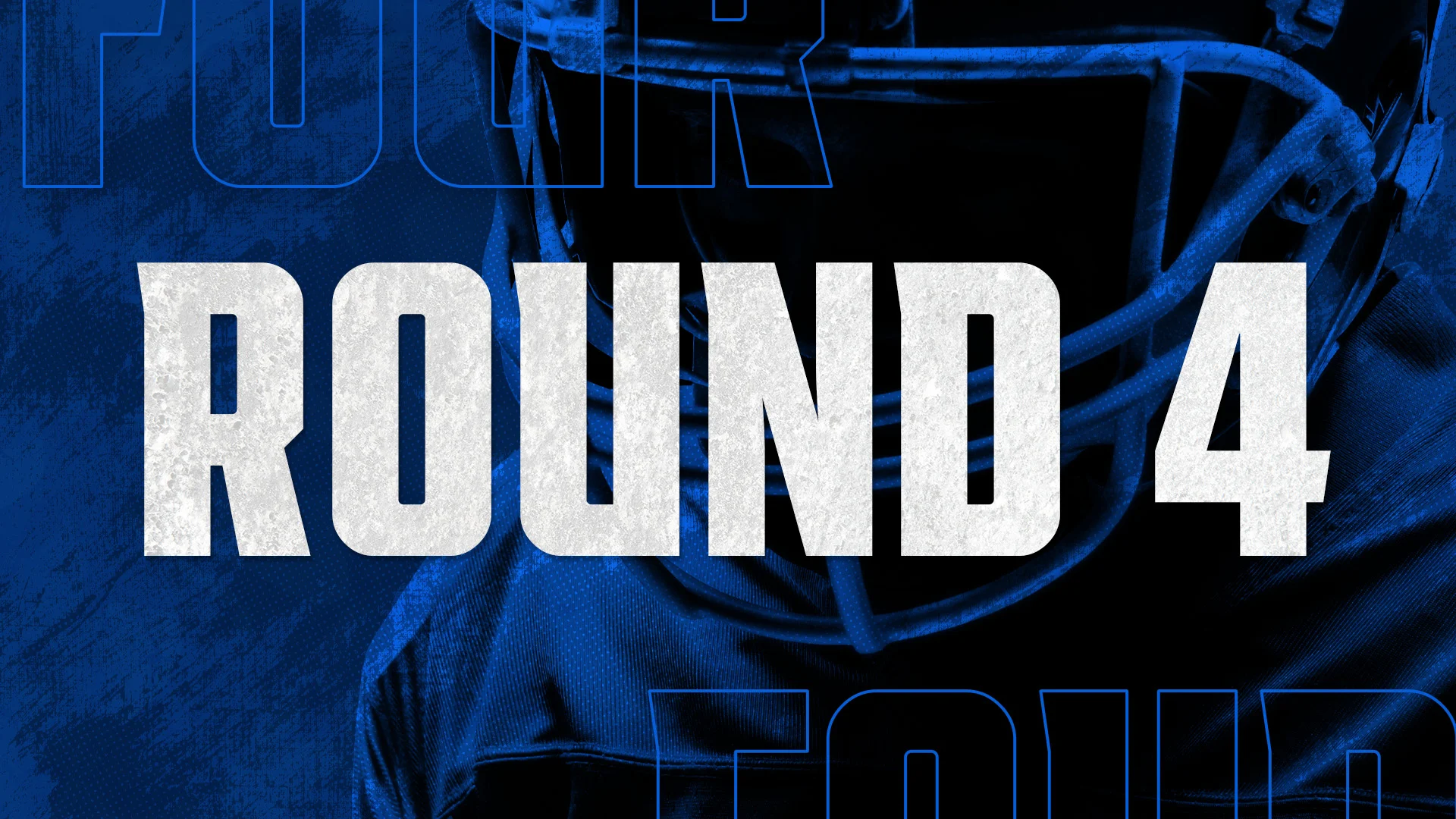 Round 4
103) Chicago Bears
Roschon Johnson, RB, Texas
104) Houston Texans
Daiyan Henley, LB, Washington State
105) Arizona Cardinals
Kendre Miller, RB, TCU
106) Indianapolis Colts
Byron Young, DT, Alabama
107) New England Patriots
Darius Rush, CB, South Carolina
108) Denver Broncos
Colby Wooden, DL, Auburn
109) Las Vegas Raiders
Carrington Valentine, CB, Kentucky
110) Atlanta Falcons
Jon Gaines II, OL, UCLA
111) Cleveland Browns
Ivan Pace Jr., LB, Cincinnati
112) New York Jets
Zack Kuntz, TE, Old Dominion
113) Atlanta Falcons
Antonio Johnson, DB, Texas A&M
114) Carolina Panthers
Jakorian Bennett, CB, Maryland
115) New Orleans Saints
Sidy Sow, G, Eastern Michigan
116) Green Bay Packers
Carter Warren, OT, Pittsburgh
117) New England Patriots
JL Skinner, S, Boise State
118) Washington Commanders
SirVocea Dennis, LB, Pittsburgh
119) Minnesota Vikings
Luke Schoonmaker, TE, Michigan
120) Pittsburgh Steelers
Nick Hampton, EDGE, Appalachian State
121) Jacksonville Jaguars
Charlie Jones, WR, Purdue
122) Kansas City Chiefs
Dante Stills, DL, West Virginia
123) Seattle Seahawks
Chase Brown, RB, Illinois
124) Baltimore Ravens
Kobie Turner, DT, Wake Forest
125) Los Angeles Chargers
Eli Ricks, CB, Alabama
126) Cleveland Browns
Matt Landers, WR, Arkansas
127) Jacksonville Jaguars
Karl Brooks, DT, Bowling Green
128) New York Giants
Alex Austin, CB, Oregon State
129) Dallas Cowboys
Puka Nacua, WR, BYU
130) Buffalo Bills
Demario Douglas, WR, Liberty
131) Cincinnati Bengals
Kei'Trel Clark, CB, Louisville
132) Carolina Panthers
Keaton Mitchell, RB, East Carolina
133) Chicago Bears
K.J. Henry, EDGE, Clemson
134) Kansas City Chiefs
Sean Tucker, RB, Syracuse
135) New England Patriots
Devonnsha Maxwell, DT, Chattanooga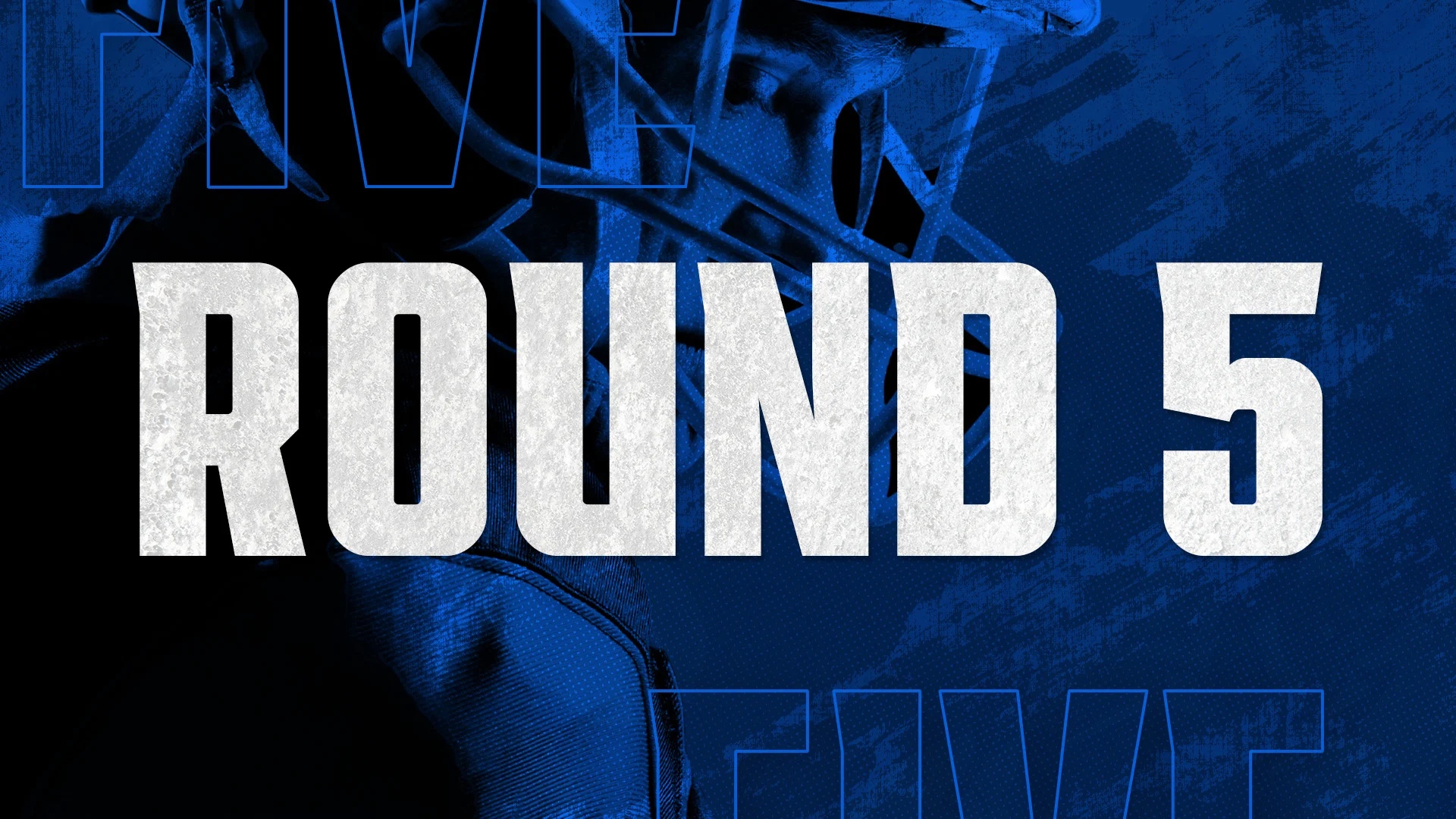 Round 5
136) Chicago Bears
Jalen Moreno-Cropper, WR, Fresno State
137) Buffalo Bills
Viliami Fehoko, EDGE, San Jose State
138) Indianapolis Colts
Nick Saldiveri, OL, Old Dominion
139) Denver Broncos
Kenny McIntosh, RB, Georgia
140) Cleveland Browns
Clayton Tune, QB, Houston
141) Las Vegas Raiders
McClendon Curtis, G, Chattanooga
142) Cleveland Browns
Mike Morris, DL, Michigan
143) New York Jets
Juice Scruggs, OL, Penn State
144) Las Vegas Raiders
Olusegun Oluwatimi, C, Michigan
145) Carolina Panthers
Braeden Daniels, G, Utah
146) New Orleans Saints
Brenton Strange, TE, Penn State
147) Tennessee Titans
Christopher Smith, S, Georgia
148) Chicago Bears
Jaquelin Roy, DT, LSU
149) Green Bay Packers
Bryce Ford-Wheaton, WR, West Virginia
150) Washington Commanders
Tank Dell, WR, Houston
151) Seattle Seahawks
Jason Taylor II, S, Oklahoma State
152) Detroit Lions
Owen Pappoe, LB, Auburn
153) Tampa Bay Buccaneers
Riley Moss, CB, Iowa
154) Seattle Seahawks
Jalen Redmond, DT, Oklahoma
155) San Francisco 49ers
Garrett Williams, CB, Syracuse
156) Los Angeles Chargers
Cameron Latu, TE, Alabama
157) Baltimore Ravens
Eric Gray, RB, Oklahoma
158) Minnesota Vikings
Desjuan Johnson, DL, Toledo
159) Atlanta Falcons
Kayshon Boutte, WR, LSU
160) New York Giants
Jammie Robinson, S, Florida State
161) Houston Texans
Earl Bostick Jr., OL, Kansas
162) Indianapolis Colts
Mohamoud Diabate, LB, Utah
163) Cincinnati Bengals
Payne Durham, TE, Purdue
164) San Francisco 49ers
Zach Evans, RB, Ole Miss
165) New Orleans Saints
Ji'Ayir Brown, S, Penn State
166) Kansas City Chiefs
Ikenna Enechukwu, EDGE, Rice
167) Los Angeles Rams
Rakim Jarrett, WR, Maryland
168) Arizona Cardinals
Andre Carter II, EDGE, Army
169) Indianapolis Colts
Jay Ward, DB, LSU
170) Green Bay Packers
Jerrod Clark, DT, Coastal Carolina
171) Kansas City Chiefs (from LAR)
DJ Johnson, EDGE, Oregon
172) New York Giants
Emil Ekiyor Jr., G, Alabama
173) San Francisco 49ers
Joey Fisher, OL, Shepherd
174) Las Vegas Raiders
Byron Young, EDGE, Tennessee
175) Tampa Bay Buccaneers
Nesta Jade Silvera, DT, Arizona State
176) Dallas Cowboys
Will Mallory, TE, Miami (FL)
177) Los Angeles Rams
Brenton Cox Jr., EDGE, Florida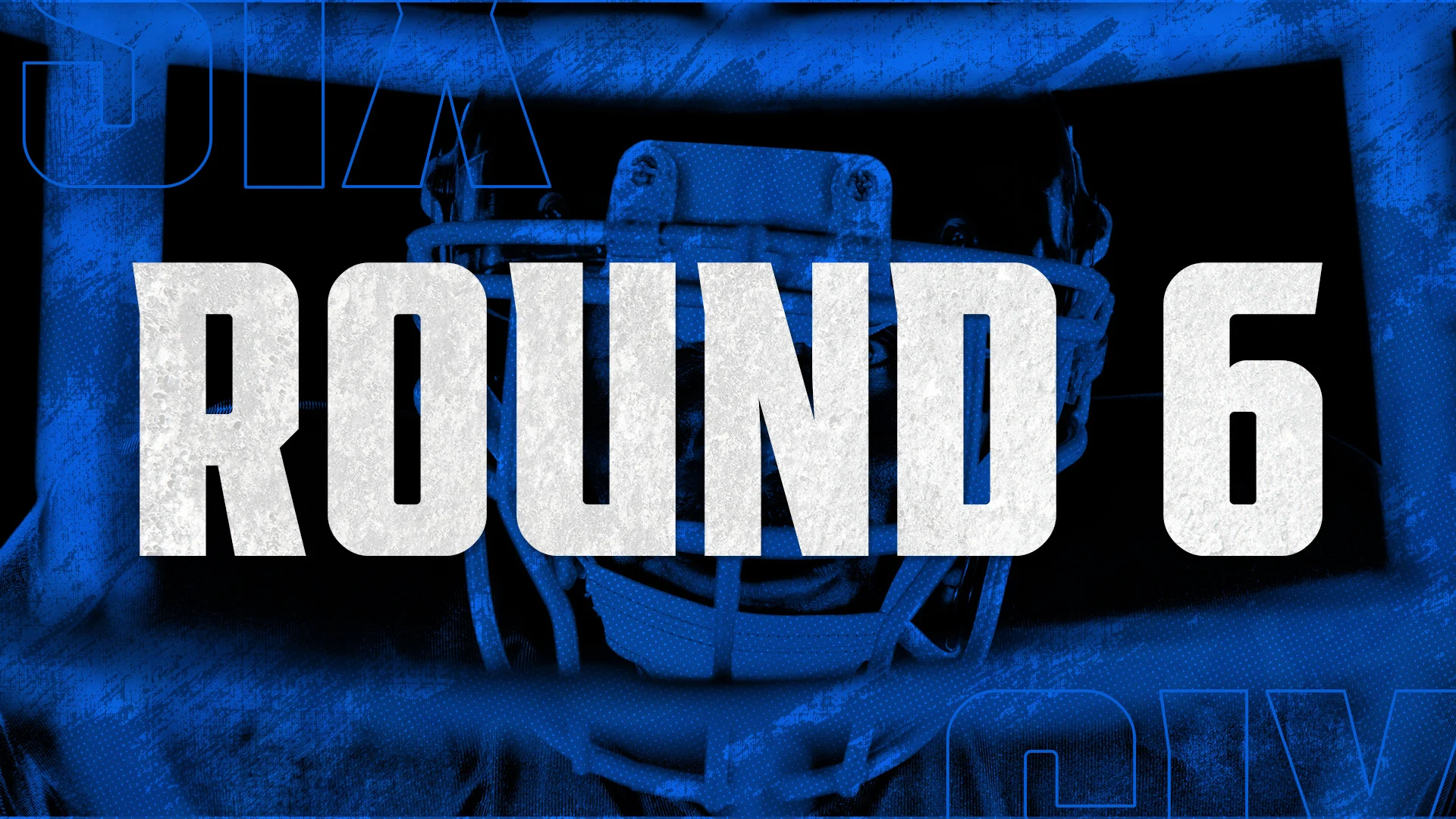 Round 6
178) Kansas City Chiefs
Ben Sims, TE, Baylor
179) Tampa Bay Buccaneers
Isaiah Land, EDGE, Florida A&M
180) Arizona Cardinals
Warren McClendon, OL, Georgia
181) Tampa Bay Buccaneers
Tanner McKee, QB, Stanford
182) Los Angeles Rams
Myles Brooks, CB, Louisiana Tech
183) Detroit Lions
Justin Marshall, WR, Buffalo
184) New England Patriots
Dorian Thompson-Robinson, QB, UCLA
185) Jacksonville Jaguars
Malaesala Aumavae-Laulu, OL, Oregon
186) Tennessee Titans
Jordan McFadden, OL, Clemson
187) New England Patriots
Jake Witt, OT, Northern Michigan
188) Houston Texans
Travis Bell, DT, Kennesaw State
189) Los Angeles Rams
Jake Moody, K, Michigan
190) Cleveland Browns
Kyu Blu Kelly, CB, Stanford
191) Los Angeles Rams
Jacob Slade, DT, Michigan State
192) New England Patriots
Yasir Abdullah, EDGE, Louisville
193) Washington Commanders
Jaren Hall, QB, BYU
194) Detroit Lions
Momar Fall, DT, CSU Pueblo
195) Denver Broncos
Ben VanSumeren, LB, Michigan State
196) Tampa Bay Buccaneers
Mitchell Tinsley, WR, Penn State
197) Miami Dolphins
Dylan Horton, EDGE, TCU
198) Seattle Seahawks
Andrei Iosivas, WR, Princeton
199) Baltimore Ravens
Nick Herbig, EDGE, Wisconsin
200) Los Angeles Chargers
Shakel Brown, DL, Troy
201) Houston Texans
Daniel Scott, S, California
202) Jacksonville Jaguars
DeWayne McBride, RB, UAB
203) Houston Texans
Arquon Bush, CB, Cincinnati
204) Las Vegas Raiders
Trevor Reid, OT, Louisville
205) Buffalo Bills
TK McLendon Jr., DT, Eastern Kentucky
206) Cincinnati Bengals
Jason Brownlee, WR, Southern Miss
207) New York Jets
Xavier Gipson, WR, Stephen F. Austin
208) Jacksonville Jaguars
Scott Matlock, DT, Boise State
209) New York Giants
Titus Leo, EDGE, Wagner
210) New England Patriots
Davis Allen, TE, Clemson
211) Minnesota Vikings
Jaylon Thomas, OL, SMU
212) Dallas Cowboys
Brevin Allen, EDGE, Campbell
213) Arizona Cardinals
Jake Haener, QB, Fresno State
214) Las Vegas Raiders
Griffin Hebert, TE, Louisiana Tech
215) Washington Commanders
Evan Hull, RB, Northwestern
216) San Francisco 49ers
Dontayvion Wicks, WR, Virginia
217) Kansas City Chiefs
Tre Tucker, WR, Cincinnati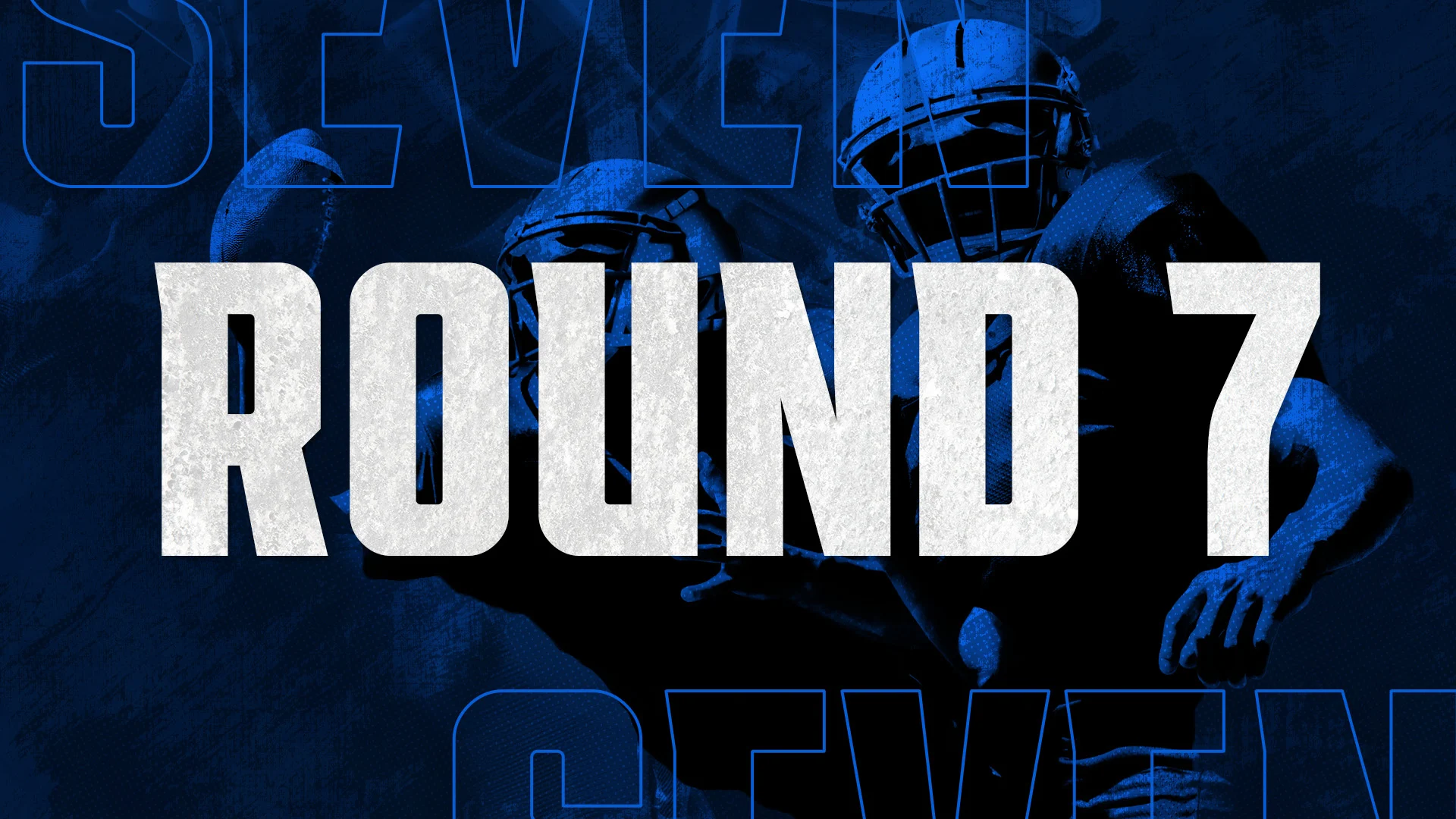 Round 7
218) Chicago Bears
Gervarrius Owens, S, Houston
219) Philadelphia Eagles
Zaire Barnes, LB, Western Michigan
220) Las Vegas Raiders
Micah Baskerville, LB, LSU
221) Indianapolis Colts
Lonnie Phelps, EDGE, Kansas
222) San Francisco 49ers
Jeremy Banks, LB, Tennessee
223) Los Angeles Rams
Henry To'oTo'o, LB, Alabama
224) Atlanta Falcons
Xazavian Valladay, RB, Arizona State
225) Atlanta Falcons
Luke Haggard, OT, Indiana
226) Jacksonville Jaguars
Terell Smith, CB, Minnesota
227) New Orleans Saints
Mekhi Garner, DB, LSU
228) Tennessee Titans
Jose Ramirez, EDGE, Eastern Michigan
229) Cleveland Browns
Christian Izien, S, Rutgers
230) Houston Texans
Deneric Prince, RB, Tulsa
231) Las Vegas Raiders
Tre'Vius Hodges-Tomlinson, CB, TCU
232) Green Bay Packers
Chad Ryland, K, Maryland
233) Washington Commanders
Julian Hill, TE, Campbell
234) Pittsburgh Steelers
Spencer Anderson, OL, Maryland
235) Green Bay Packers
Nic Jones, CB, Ball State
236) Indianapolis Colts
Michael Jefferson, WR, Louisiana
237) Seattle Seahawks
Josh Whyle, TE, Cincinnati
238) Miami Dolphins
Trey Dean III, S, Florida
239) Los Angeles Chargers
Starling Thomas V, CB, UAB
240) New York Giants
Max Duggan, QB, TCU
241) Pittsburgh Steelers
Anthony Johnson Jr., DB, Iowa State
242) Green Bay Packers
Jayson Ademilola, DL, Notre Dame
243) New York Giants
Kaleb Hayes, CB, BYU
244) Dallas Cowboys
Chamarri Conner, DB, Virginia Tech
245) New England Patriots
Zach Morton, DL, Akron
246) Cincinnati Bengals
Ronnie Hickman, S, Ohio State
247) San Francisco 49ers
Nelson Mbanasor, DL, Texas State
248) Philadelphia Eagles
Ochaun Mathis, EDGE, Nebraska
249) Kansas City Chiefs
Christian Young, S, Arizona
250) Kansas City Chiefs
Jarrett Patterson, OL, Notre Dame
251) Los Angeles Rams
BJ Wilson, OT, Quincy
252) Tampa Bay Buccaneers
Blake Whiteheart, TE, Wake Forest
253) San Francisco 49ers
Rejzohn Wright, CB, Oregon State
254) New York Giants
Jerome Kapp, WR, Kutztown
255) San Francisco 49ers
Travis Vokolek, TE, Nebraska
256) Green Bay Packers
C.J. Johnson, WR, East Carolina
257) New Orleans Saints
Ronnie Bell, WR, Michigan
258) Chicago Bears
Jordan Jones, CB, Rhode Island
259) Houston Texans
Johnny Buchanan, LB, Delaware
Listen to the PFN Scouting Podcast
List to the PFN Scouting Podcast! Click the embedded player below to listen, or you can find the PFN Scouting Podcast on iTunes, Spotify, and all major podcast platforms.  Be sure to subscribe and leave us a five-star review! Rather watch instead? Check out the PFN Scouting Podcast on our Scouting YouTube channel.