On Oct. 9, 2021, De'Von Achane announced his presence on the national stage. As he scampered 96 yards past Alabama Crimson Tide defenders for a kick-return touchdown, "De'Von Achane 40 time" skyrocketed on Google Trends — and for good reason. But, as his 2023 NFL Draft scouting report details, Achane is more than just speed … much more.
De'Von Achane NFL Draft Profile
Position: Running Back
School: Texas A&M
Current Year: Junior
Height/Weight: 5'8 1/2″, 188 pounds
Arm Length: 29″
Hand Size: 8 1/2″
By all accounts, Achane is a quiet individual. And he doesn't need to have a brash personality to grab attention — his on-field play does that for him. All of Missouri City, Texas, knew Achane's last name as he spent his high school career with the back of his jersey the only thing fans and defenses could see.
Across three seasons at Thurgood Marshall, Achane ran over and past the opposition for 4,823 yards and 88 touchdowns. He didn't lack in the receiving game, either, hauling in 96 receptions for 2,004 yards and 22 scores.
But Achane's dominance wasn't limited to the football field. In his junior year, he recorded the fastest outdoor 200-meter time in the nation (20.46). Additionally, he ran for all three of Marshall's relay teams. Achane received the 2020 Gatorade Texas Boys Track and Field Athlete of the Year for his efforts. So yeah, he was quite the high school athlete.
Thus, Achane was widely viewed as a four-star prospect and garnered offers from virtually every top program, including Alabama and Georgia. However, Achane decided to attend Texas A&M due to his comfort level with the offense, coaching staff, and ability to play early, according to his high school football coach.
Although Isaiah Spiller and Ainias Smith were firmly entrenched above him on the depth chart, Jimbo Fisher and Co. couldn't keep Achane off the field. He took 43 carries for 364 yards — 8.5 yards per attempt! — and four TDs. The Aggies knew what they had in-house and began to unleash the Texas native in 2021.
After 130 carries, 910 yards, and nine touchdowns, it's safe to say the SEC and college football fans across the country knew who Achane was. He even added 308 kick-return yards and a score on nine attempts for good measure.
Even with SEC defenses game-planning for him — especially with the aerial assault never taking off for Texas A&M — and his top offensive lineman off to the NFL (first-rounder Kenyon Green), Achane still rushed for 1,102 yards and eight TDs on 196 carries last season, earning first-team all-conference honors.
De'Von Achane Scouting Report
After the Aggies' 38-23 season finale victory over No. 6-ranked LSU, head coach Jimbo Fisher shared praise for his star RB: "Devon is the ultimate competitor — ultimate team guy. Devon is special."
And that's not just coach speak, as the rest of Achane's scouting report will spell out.
Where Achane Wins
Running backs can often be an easy position to get lazy as a scout. On the surface, there isn't much to see. They get the ball, hit a hole, and run. But nothing is ever that simple.
Achane has the requisite NFL traits in spades. The Texas A&M RB quickly identifies rushing lanes and explodes through them. If a lineman loses their battle in the gap, he bounces to a new one with ease. If penetration blows up the inside, Achane cuts outside, and vice versa.
The Texas A&M product also owns the escapability to navigate traffic and use his smaller stature to his advantage, sitting in tight spots until daylight comes calling. Along with vision comes patience, another one of Achane's strong suits. He allows his blocks to set up before attacking a hole — either the designed one or another that appeared.
We can hit speed rapidly, as we already know Achane is fast fast. He possesses nearly uncatchable, uncoachable long speed to reach the end zone once he slices through the first level, as evidenced by his 4.33 40-yard dash at the Combine.
Whether it's as a runner, receiver, or even returner, Achane is a home-run threat. Whatever pursuit angle a defender chooses, the Texas native makes it the wrong one. But Achane isn't a one-tempo runner. He can vary his foot speed behind the line of scrimmage or in space to earn an extra split-second to operate.
As for lateral agility, Achane is a shifty runner and displays little wasted movement when cutting backside, squeezing through gaps, or maneuvering in the backfield. His start/stop and change-of-direction ability and effortless acceleration allow him to turn holes into craters. And he has the ankle flexion to explode off one foot at a moment's notice and instantly turn upfield.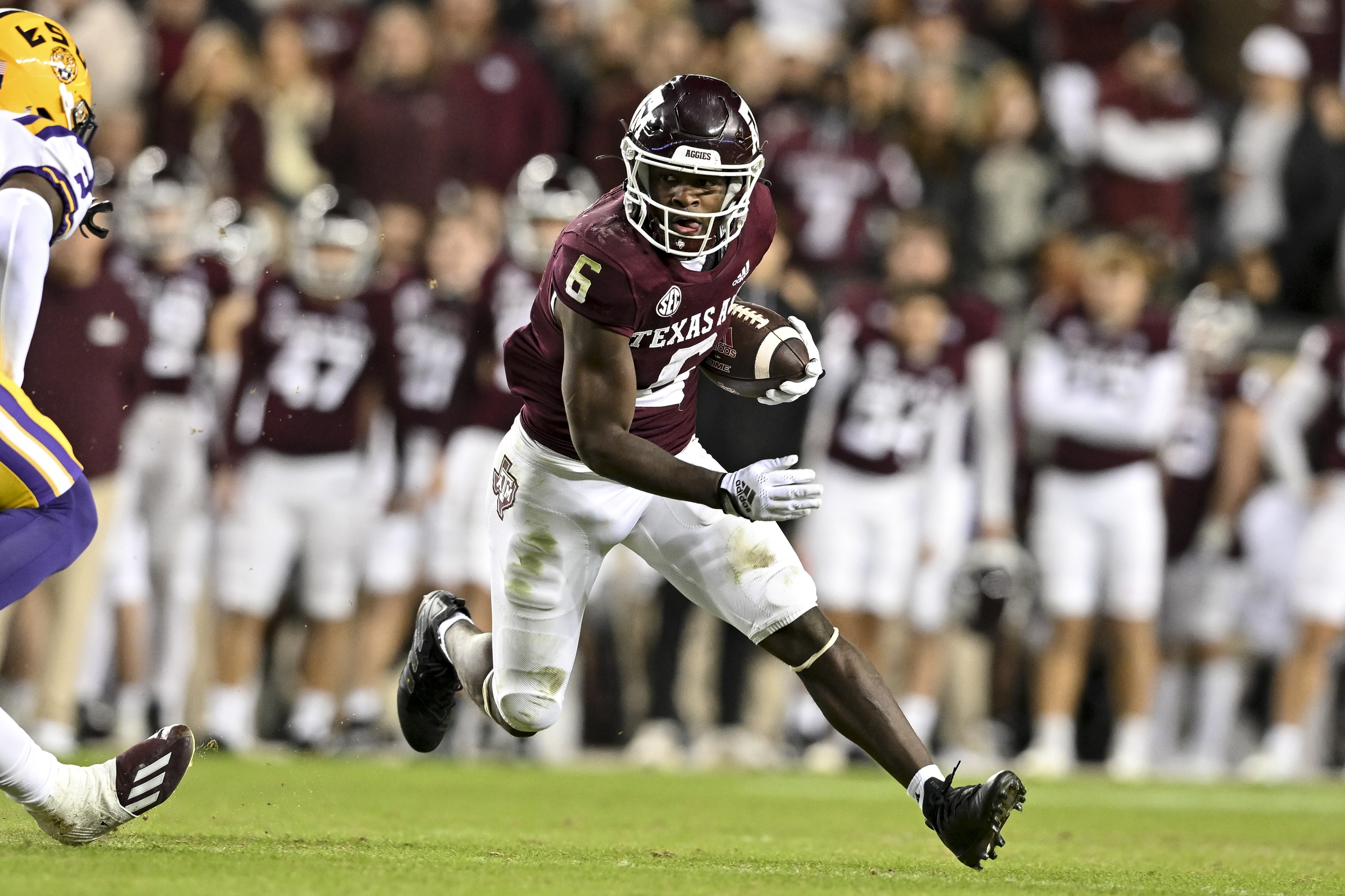 Unsurprisingly, Achane's physical tools make him a dynamic weapon anywhere on the field. The Texas A&M RB effortlessly shakes first-level defenders and slips through contact. He's far from the biggest back at 5'8″ and 188 pounds, but he carries his weight well, with most of it stemming from his lower body.
Furthermore, Achane's confidence, willingness to lower his shoulder, and contact balance create extra yardage. Thanks to his acceleration, he can blow through arm tackles, and his leg drive leads to a habit of falling forward. Plus, he can stack sharp and decisive cuts, mudding reads from second-level defenders.
Ball security isn't an issue, as Achane protects the ball in traffic and is aware of looming threats. He's fumbled just twice across his three collegiate seasons and 400+ touches.
Achane's receiving production with the Aggies — 65 catches, 554 yards, and five TDs — is nothing to scoff at. And last offseason, he reportedly worked on his route running and hands. Achane already showed the ability to track passes over his shoulder last season, and his speed makes him a mismatch against linebackers in man coverage.
Moreover, Achane will enter the NFL with relatively fresh legs as a three-year player that split reps his first two seasons. He also keeps his feet under his frame on quick cuts and breaks, saving himself from major non-contact injuries.
Achane's Areas for Improvement
As much as I appreciate Achane's impressive skill set, his areas for improvement are not lost on me. Let's discuss the elephant in the room: Due to his size, Achane will never be a short-yardage or goal-line back. He lacks a power component to his game, and no team should expect him to move piles or break head-on contact.
He's also a liability in pass protection, seeding ground to blitzers upon collision. It's not for lack of effort, but Achane simply has the stature of a slot-only wide receiver.
Now, blocking isn't necessarily an area of emphasis in college and can be taught (hand placement, leverage, etc.). But it's a noticeable unchecked box on his scouting report.
Along the same lines, Achane must acquire and hit his target with more consistency when chipping pass rushers. Sure, it's not the biggest deal. But in the NFL, when you are tasked with an assignment, you better complete it if you want to stay on the field.
In the running game, there isn't much not to like about Achane's game. Nevertheless, he isn't perfect. He sometimes preemptively targets the edge, missing work up the middle.
His vision is typically outstanding, but there are times when he doesn't trust his blocking and cuts to a different gap too early, resulting in fewer yards gained. That's especially detrimental as a smaller back that cannot generate yards by plowing over defenders.
But his tape also has the other side of the variance. Occasionally, he'll be too patient, waiting for blocks to set up that simply never do. As a receiver, his lack of length limits his catch radius as a checkdown option for QBs.
Lastly, Achane's lack of wear on his tires is a double-edged sword. We simply don't know how much of a workload he can withstand. Last year was his first as the lead back (his previous career high in touches was 20), and he missed a couple of games due to a foot injury.
De'Von Achane's 2023 NFL Outlook
Achane's size limits his projection, but his skill set and physical gifts are tailor-made for today's NFL. We routinely projected him to land in Kyle Shanahan's zone-rushing offense because Achane wouldn't give defenses a chance. It's not a surprise the Dolphins selected Achane in the third round.
His blend of game-breaking long speed, vision, footwork, and short-area burst is a big part of the reason the Dolphins passed on signing Dalvin Cook in free agency. Achane is not as big as Cook, but he's a similar back who can provide chunk plays in Mike McDaniel's offense.
His 2023 outlook in Miami is exciting but has many outcomes. Playing behind Raheem Mostert and Jeff Wilson Jr. isn't as limiting as being behind a true star, but both backs have the coaching staff's trust. However, both also have injury histories that could thrust Achane into a starting role at any moment.
The easiest projection is that Achane will be a low-volume, high-efficiency platoon player. McDaniel will need to fight the urge to use him as a gadget player and instead let him cook on designed zone rushes so that his speed shines.
His upside is quite a bit higher if he can handle at least 175 carries like Mostert and Wilson each did last year. It's not crazy to think he could break 1,000 total yards if he has that workload, but it won't be up to him to earn that. He'd need at least one injury to happen for those touches to be available.
Listen to the PFN Scouting Podcast
List to the PFN Scouting Podcast! Click the embedded player below to listen, or you can find the PFN Scouting Podcast on iTunes, Spotify, and all major podcast platforms.  Be sure to subscribe and leave us a five-star review! Rather watch instead? Check out the PFN Scouting Podcast on our Scouting YouTube channel.