The big men in the trenches decide the result of football games, and there aren't many bigger in the 2023 NFL Draft than Baylor Bears nose tackle Siaki Ika. The 6'3″, 335-pound behemoth promises to be amongst the best true nose tackles in the class, but what does Ika's scouting report reveal about his long-term NFL potential?
Siaki Ika NFL Draft Profile
Position: Defensive Tackle
School: Baylor
Year: Redshirt-Junior
Height/Weight: 6'3″, 335 pounds
Ika was born with NFL-ready size. While that might not be strictly true, he was a man amongst boys at the high school level, measuring in at 6'3″, and just shy of 300 pounds even early in his time at East High School.
A Salt Lake City native, Ika was a long-time commit of BYU. However, a breakout season where he earned All-USA Utah Defensive Player of the Year honors saw him attract significant Power Five attention.
As a result, Ika committed to LSU in December 2018 and was a rotational piece on the Tigers' 2019 national title-winning team. He tallied 17 tackles with 1.5 for loss as a true freshman and was expected to elevate himself further in 2020. Unfortunately for Ika, a change of defensive scheme limited his opportunities and impact, and he entered the transfer portal having played just four games in his sophomore season.
MORE: FREE Mock Draft Simulator With Trades
LSU's loss was Baylor's gain, and the mammoth DT made a significant impact for the Bears' Big 12 Championship-winning team. Tallying 24 total tackles, Ika was a menace in the backfield with six tackles for loss and 3.5 sacks.
Showcasing a penchant for the big occasion, 2.5 of his TFLs came as Baylor defeated Oklahoma State in the title game. Ika was named Big 12 Defensive Newcomer of the Year and earned second-team all-conference honors.
Despite receiving attention in the previous draft cycle, Ika opted to return to Baylor for the 2022 college football season. While his statistical output wasn't quite as high as his previous campaign –24 tackles (10 solo), two for loss, zero sacks — he was a constant force for Baylor's defensive front.
As a result, Ika ended his Baylor career as a first-team All-Big 12 honoree, a third-team All-American by one outlet, and was named a finalist for the Polynesian Player of the Year Award. He heads to the 2023 NFL Draft as one of the top defensive linemen in the class.
Siaki Ika Scouting Report
The value of true nose tackles in the NFL certainly impacts how a player like Ika will be viewed in the 2023 NFL Draft. However, the Baylor behemoth is set to continue the Bears' strong defensive success story later this month. He's received first-round consideration in some mock drafts, but does Ika's scouting report warrant that lofty level of expectation?
Strengths
It would be foolish to begin Ika's scouting report anywhere other than his sheer size and the benefits that brings to the football field. His sheer size is truly a strength. While he measured in at the Combine significantly smaller than his college-listed weight, few DT prospects in the 2023 class can command space in the same manner that the Baylor behemoth does.
Like Jordan Davis in the previous cycle, Ika is the very definition of "two on me, somebody's free." In the games studied, he was routinely double-teamed due to the threat that his size — combined with other factors we're about to discuss — presents to an offense.
Football is a simple numbers game in some respects, and when one player commands the attention of two of his opponents, the equation is favorable for the team with the 6'3″, 335-pound man-mountain patrolling their side of the trenches.
Against the ground game, Ika flashes a high-level ability to read the run and locate the ball carrier, while consistently being able to lay hands on the rusher regardless of their location. Ika isn't overzealous in his approach to the ground game, instead remaining patient, which helps with his overall effectiveness. He also showcases a good anchor against the run.
Ika's scouting report also demonstrates upside potential in the passing game. There's an assumption that he'll be a down-restricted lineman in the NFL. However, he already has a blossoming pass-rush toolbox that includes chop and swim moves that he consistently deploys to a high level.
The Baylor DT largely showcases fast, powerful hands that rarely allow him to shock his opponent on contract. Ika's able to hit and redeploy with devastating quickness. While he's not the longest DT in the class, he's also able to disrupt the passing game by getting his hands up into passing lanes.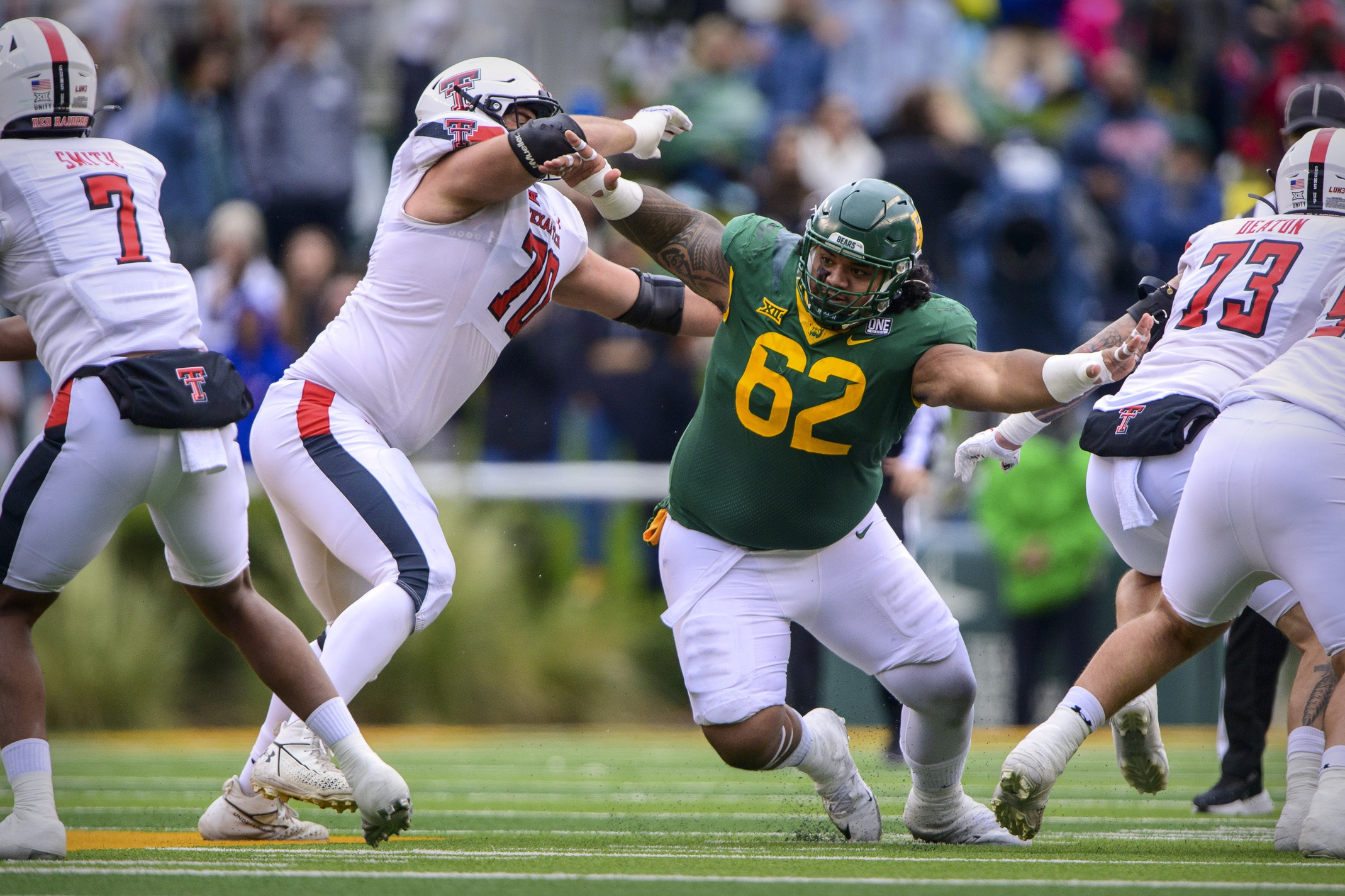 Although his Combine testing disappointed, Ika's tape does show some impressive athletic ability — relative to his size. The Baylor nose tackle explodes off the snap, rocketing out of his stance and regularly beating small, slimmer teammates into the offensive backfield.
A reduction in production for the 2022 campaign may also fuel an opinion that Ika is limited in his pass-rush potential. However, Ika's shown that with quick feet and good-relative lateral agility, he can be a gap penetrator at the next level. His body control also allows him to knife through gaps that sometimes defies expectation.
While you don't ideally want your 6'3″, 335-pound nose tackle to be the one chasing down ball carriers in the open field, Ika is capable of doing so. He isn't fast in the same way that Georgia's Davis was last year, but he hustles back to the ball carrier.
One play against Oklahoma State from his standout 2021 campaign is a good example of this ability. The Baylor DT takes good angles to the ball carrier in pursuit, and there's no questioning his competitive toughness and motor.
Finalizing the strengths of Ika's scouting report is more upper and lower body strength. The Baylor DT is more than capable of pushing the pocket with his combination of lower body drive and upper body strength. While there are improvements to be made in how he attacks double-teams, Ika is more than capable of overpowering his opponent in these situations.
Areas of Improvement
Ika has consistently attracted early-round NFL draft attention, and with the strengths of his scouting report, it's easy to understand why. However, his report isn't without question marks and areas for improvement. As we'll discuss in the next section, they have the potential to impact his draft projection.
A lack of production in 2022 has raised questions about Ika's potential usage at the next level. While he's shown the technical ability and explosion to be a penetrative force at the next level, there are multiple examples of him failing to finish as a pass rusher.
That is perhaps the result of a lack of true speed to his game, as referenced by his slow 40-yard dash time at the NFL Combine. Furthermore, with slightly smaller arms than you'd like, Ika's ability to wrap up and contain both as a pass rusher and against the run can be sometimes found wanting.
MORE: 2023 NFL Draft Big Board
Those smaller arms cause problems for Ika when he comes into battle against longer offensive linemen who can get their hands into his chest. When he can't overpower his opponent, the lack of length combined with inconsistencies with his hand deployment mean that he struggles to deconstruct blocks with technique.
While he has the strength and power to be a dominant pocket crusher at the NFL level, there are times where Ika is too easily taken out of the game. This is more the result of balance issues, with the Baylor DT playing too far over his feet, becoming unbalanced, and susceptible to being manipulated and ultimately overpowered.
Although the Baylor DT has proven he can play with low pad level, he can be guilty of playing high. This leads his chest open to attack, which only exacerbates the issues he has with his shorter arm length.
Current Draft Projection for Baylor DT Siaki Ika
Although Ika has been used as a 3-technique during his time with the Bears, there's a natural projection as a true nose tackle as it pertains to his long-term NFL future. He's at his very best using his explosion and power heads up on the center while penetrating the A gap as a pass rusher.
While there's an assumption that he'll be a run-down situational presence on the line, I do believe that Ika's scouting report showcases that he possesses plenty of pass-rush upside. As a result, a Day 2 selection shouldn't be out of the question for the Baylor DT. He has the potential to be a starting nose tackle for an NFL defense in the life of his rookie contract.
Siaki Ika Combine Measurements and Results
Coming into the 2023 NFL Combine with some level of expectation due to the surprising athleticism relative to his size, Ika was somewhat of a disappointing tester in Indianapolis.
Without posting a number for the bench press or either explosiveness drills, he registered a Relative Athletic Score of 2.62. Although the testing numbers might cause some concern, Ika has better functional athleticism on the football field than those numbers would suggest.
Wingspan: N/A
Arm: 32 3/8″
Hand: 10 1/4″
Bench Press: N/A
40-Yard Dash: 5.39 seconds
10-Yard Split: 1.88 seconds
Three-Cone Drill: 7.8 seconds
20-Yard Shuttle: 4.99 seconds
Tony Pauline's Scouting Report for Siaki Ika
Strengths: Big, powerful 0-technique lineman who projects to nose tackle. Fires off the snap with an explosive first step, keeps his feet moving, and easily holds his ground. Overruns blockers to penetrate the line of scrimmage, works his hands throughout the action, and plays through the whistle.
Bends his knees and consistently gets leverage on opponents. Easily occupies two or three blockers at a time. Agile for a big man, quickly locates ball handlers, and slides off blocks to make the tackle in run defense.
Weaknesses: Small-area defensive lineman who cannot get down the line or outside the box in pursuit. Average pass rusher. Must develop more moves and become quicker disengaging from blocks.
Overall: Ika is a hard-nosed DT who is best occupying gaps and blockers. While he shows some ability to make plays against the run, Ika is a bit one-dimensional. Ika is scheme-specific, but in the right system, he can be dominant at the next level.
Listen to the PFN Scouting Podcast
List to the PFN Scouting Podcast! Click the embedded player below to listen, or you can find the PFN Scouting Podcast on iTunes, Spotify, and all major podcast platforms.  Be sure to subscribe and leave us a five-star review! Rather watch instead? Check out the PFN Scouting Podcast on our Scouting YouTube channel.