As a mere redshirt sophomore, Ohio State C Luke Wypler's play has caught the attention of evaluators, making his 2023 NFL Draft scouting report a matter of interest in the coming weeks and months. Analyzing Wypler's game in-depth, what does the Buckeyes blocker bring to the table, and how high can he rise up boards?
Luke Wypler NFL Draft Profile
Position: Center
School: Ohio State
Current Year: Redshirt Sophomore
Height/Weight: 6'3″, 300 pounds
You hear about wide receiver factories and cornerback factories, and even quarterback factories on the college football stage. But you don't often hear about center factories. Perhaps that's a reflection of how underappreciated the position is as a whole. But if there was ever a school to appreciate as a true center factory, Ohio State would be it.
In recent years, Buckeyes centers like Corey Linsley, Pat Elflein, Billy Price, and Josh Myers all commanded selections in their respective draft classes. The Buckeyes also hold claim to seven-time Pro Bowler and two-time All-Pro Nick Mangold, as well as two-time Pro Bowler LeCharles Bentley.
MORE: FREE Mock Draft Simulator With Trades
Ohio State has a track record that spans decades when it comes to producing NFL center talent. And now, Wypler is the next center prospect from Columbus to catch the NFL's eye.
Wypler's early production is promising. He started all 13 games as a redshirt freshman in 2021, after joining the team as a four-star recruit. Now, he's anchoring the middle of the line once again for a playoff-hungry squad.
Wypler is firmly on the 2023 NFL Draft radar — with an early-round grade from PFN's own Tony Pauline. But how does he stack up in what's shaping up to be a stacked center class? That's what we'll find out here.
Luke Wypler Scouting Report
Ohio State clearly has a mold at center, and Wypler fits it. There's a lot to like with Wypler's game, but how exactly does he project to the NFL level?
Wypler's Positives
Wypler is a uniquely-built center prospect. He has a stout, squatty frame that helps him stay square and maintain leverage. At the same time, he also has solid density, as well as good length for his size. That length not only allows him to keep his frame clean but also implies additional power capacity.
Along with that unique frame, Wypler brings great overall athleticism and mobility to the fold. The Ohio State C flashes excellent initial quickness off the line and moves upfield with great foot speed. He's a fairly energetic mover with good range blocking in space, and he brings an explosive closing burst into contact.
Wypler generates impressive momentum as he turns upfield to attack space defenders. Not only that, but he also has the lateral mobility to shift off interior blockers and shuffle to block opponents in pursuit. Additionally, Wypler has enough recovery athleticism to reset laterally and square up delayed rushers.
MORE: 2023 NFL Draft Big Board
Athleticism is clearly Wypler's most proficient physical trait. He's not elite in terms of strength or power, but he at least has the core strength to wall off defenders who give up surface area off the snap and allow space for RBs. He also flashes the core and grip strength to maintain blocks in space while rotating his lower body to wall off defenders.
Wypler's shown glimpses of being able to fully extend and lock out interior defenders after making contact. He also shows decent recovery strength when initially moved by power. Wypler can effectively gather rushes when activating his base.
When he himself is on the attack, Wypler has shown glimpses of above-average functional power. He can align his base effectively and churn his legs quickly to generate leg drive downhill. But the brunt of his appeal comes from his athleticism, along with flexibility.
Wypler flashes excellent hip flexibility on reach blocks and rotates around while tracking laterally to seal off pursuit linebackers at the second level. He's also able to swivel around while anchored and acquire proper angles.
With his frame, Wypler has a degree of natural leverage, and he very naturally stays square with opponents, not often giving up angles. He's also proven himself to have solid knee bend as a pass protector. He can play with controlled lean to extend his range and maximize his lower body.
Operationally, Wypler has shown to roll back in phase with a wide base to absorb power rushes as a pass protector. He uses this wide base to encase and absorb rushes on the interior but also has the foot speed to recover positioning and reset his alignment. His footwork shows up as a run blocker as well, where he's able to rotate his base in phase and calmly gather opponents while staying square on reach blocks.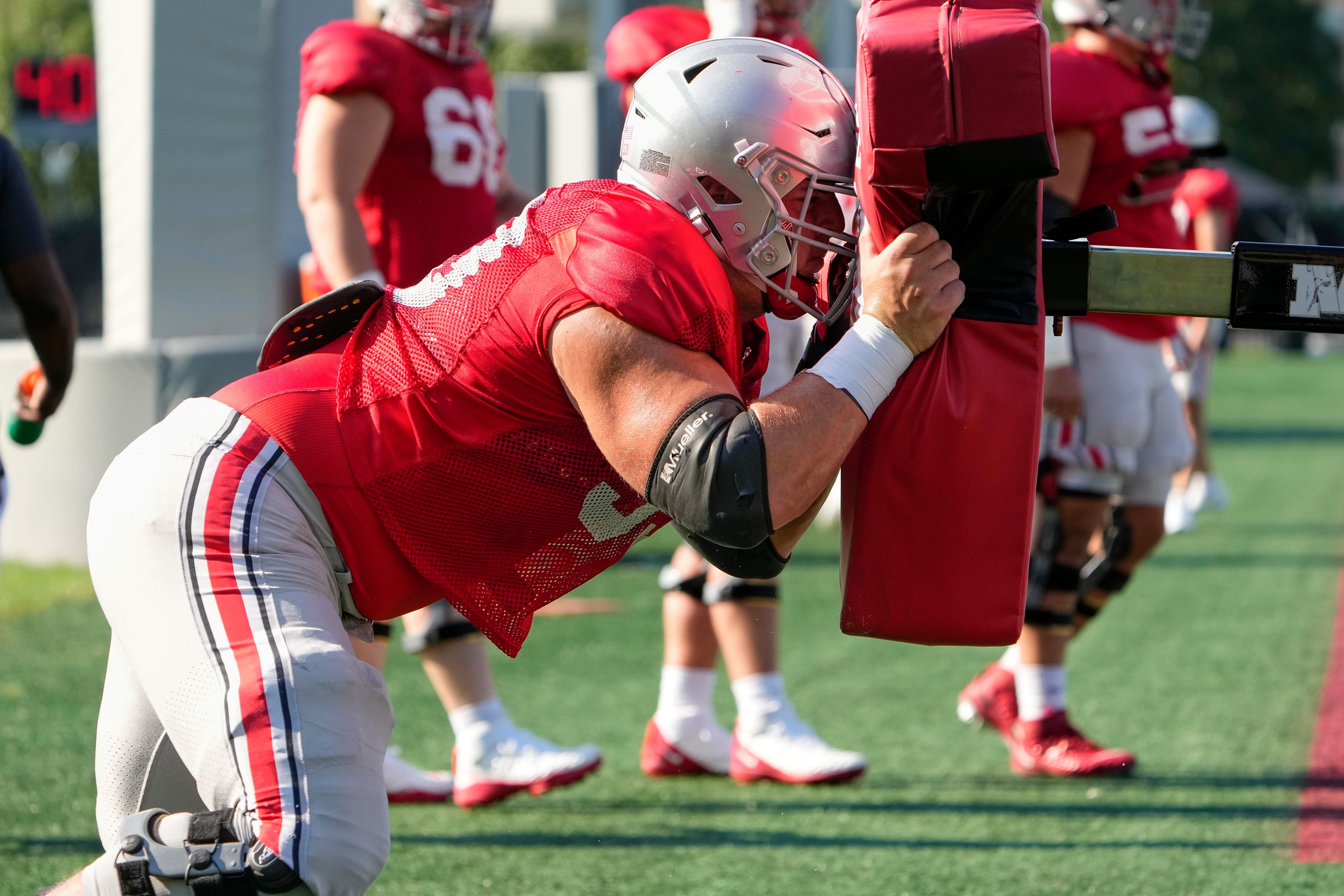 Wypler gets his hands up quick in pass protection, and can extremely quickly load and exert power on extensions with his amped-up capacity. To that end, he's shown to club linemen outside their frame to gather them off the snap, as well as successively punching and gathering with fast hands.
Going further, Wypler shows glimpses of great synergy. He can maintain his base and acquire leverage while levying punches to halt linemen on the attack. Moreover, he punches defenders and successively gathers delayed rushers with strong hands.
Even as young as he is, Wypler has good awareness, and he's ultimately an assignment-sound blocker who understands angles. As a help blocker, Wypler keeps his eyes active and alert, squaring up delayed blitzers to corral them within his frame.
In that same phase, he drags interior defenders while keeping his eyes on the second level and clogging gaps. In the running game, Wypler's shown to drag linemen as a pulling blocker, while stacking to second-level LBs.
While Wypler isn't a mauler, he brings great over-arching energy and physicality. He's more than willing to finish imbalanced opponents. What's more impressive is that he doesn't quit on plays when he makes a mistake. He'll work back after overshooting blocks and attack the backside.
Wypler's Areas for Improvement
Wypler's type of center has been successful at the NFL level before. But for Wypler himself, there are some non-elite areas of his game that may cloud his projection a bit — most notably his strength and power. While serviceable in both areas, Wypler hasn't shown he can win consistently with those traits.
Wypler doesn't have elite overall mass or core strength, and he can be worked back by power applied to the torso. He lacks high-end lower body strength and can be driven back by powerful rushers. Because of this, he sometimes struggles to hold the line, which can prevent QBs from stepping up in space.
Additionally, Wypler's grip strength at contact can improve. He sometimes allows defenders to pry themselves free and work around his frame.
With around average size and mass, Wypler doesn't have great raw power or displacement potential. He's not a force of movement as often as desired in the trenches. Even with momentum in space, Wypler sometimes fails to drive linebackers out of running lanes. Of course, even without elite raw power, improvements at maximizing his functional power output can help.
It follows that Wypler can better apply and maximize power. He can be late to extend and exert at contact, and at times, poor leverage can nullify his base and prevent him from sustaining leg drive.
Wypler sometimes corrects too far upright at contact, allowing defenders to work around his frame. Occasionally, he struggles to acquire initial leverage and lower his pads off the snap, exposing his torso to opposing power. And with his average mass, Wypler can be worked back easily when diverting upright.
MORE: Top 10 Inside Offensive Linemen in the 2023 NFL Draft
There are times where Wypler can be a bit too tall and narrow in space. His upright nature as a moving blocker allows defenders to easily get into his frame and stall his momentum, or deconstruct blocks. It also makes it difficult for Wypler to redirect and recover positioning if he overshoots blocks. Off the snap, the Ohio State C can be uncontrolled as well. He sometimes gets skittish and veers upright, with his base too narrow.
In the operational sphere, Wypler understandably has room for refinement as a redshirt sophomore. In pass protection, he occasionally leaves his hands too wide at the snap and exposes his torso to opposing power.
Additionally, his hands can be a bit frantic and inefficient. With extraneous motion, he's not always able to fully load and exert power. On stunts, Wypler occasionally allows defenders to widen his base and can be worked out of phase against conflicting looks.
Elsewhere, Wypler sometimes dips his head just before the snap, which can be a tell for linemen and allow them to get a jump on the ball. As a help blocker, there are moments where Wypler lacks the vision to recognize stunting linemen penetrating on the backside of slanted pressures.
Among other things, Wypler occasionally overshoots angles in space and struggles to sustain blocks in these instances. He doesn't always show the necessary elite lateral explosiveness to overpass 3-techs and fully seal on reach blocks. And while he has great flexibility, he can occasionally be a bit stiff and upright on those reach blocks, straining to fully block off defenders.
Current Draft Projection for Ohio State C Luke Wypler
I'm a bit lower on Wypler at the moment. He grades in the early-to-mid Day 3 range for me. But being as young and as athletic as he is, there's easily time and room for Wypler to affirm his place in Day 2 territory if he can improve some of the operational components of his game.
Naturally, with his build, Wypler won't have elite play strength or power. That sometimes shows up as a diluting element of his game. At the very least, Wypler is serviceable in both of those areas, and his athleticism allows him to cover range as a run blocker and maintain positioning in pass protection.
If Wypler can work on maximizing his natural leverage with proper pad level and base activation, and if he can cut down on instances of wide hands and extraneous motion, there's a future NFL starter projection present.
Already, Wypler has fairly solid footwork, and his amped-up hand capacity and strong proportional length are causes for added excitement.
It remains to be seen if Wypler will declare this cycle. Whether or not he shows additional growth in the latter stages of the year may determine that. As it stands, Wypler is a safe mid-round prospect with eventual starting potential, particularly in zone-heavy schemes. His ultimate ceiling is Day 2 if he can continue to refine his game.
Listen to the PFN Scouting Podcast
List to the PFN Scouting Podcast! Click the embedded player below to listen, or you can find the PFN Scouting Podcast on iTunes, Spotify, and all major podcast platforms.  Be sure to subscribe and leave us a five-star review! Rather watch instead? Check out the PFN Scouting Podcast on our Scouting YouTube channel.