A program record-setter who has consistently proven himself to be one of the most electric receivers in college football, Zay Flowers is firmly on the radar as a potential first-round prospect with less than one month until the 2023 NFL Draft. It hasn't always been that way for the Boston College WR, but Flowers' scouting report is packed full of big-play pass-catching potential.
Zay Flowers NFL Draft Profile
Position: Wide Receiver
School: Boston College
Current Year: Senior 
Height/Weight: 5'9″, 182 pounds
In a deep pool of talented players in your position, it can often be challenging to differentiate yourself from your peers. Fortunately for Flowers, the diminutive wide receiver has spent his life attempting to stand out in a crowd.
One of 14 children, Xavien "Zay" Kevonn Flowers emerged from the talent-prosperous and highly competitive state of Florida, where he was a productive multi-sport star for the University School in Fort Lauderdale.
A three-star recruit in the 2019 class, he spurned an early commitment to Nebraska for the opportunity to suit up for Boston College. 
The Floridian phenom was a significant coup for the Eagles class, and he began to show why immediately. Scoring a 33-yard touchdown in his debut against Virginia Tech, he tallied 116 all-purpose yards to showcase his offensive versatility as a truly dynamic weapon.
Averaging 7.2 yards per carry on the ground, he registered 536 all-purpose yards and four touchdowns as a true freshman.
Over the next two seasons, Zay earned his flowers as the elite presence in the Eagles' offense. Becoming just the second Boston College WR to earn first-team All-ACC honors in 2020, he racked up 1,548 receiving yards and 15 total touchdowns between his sophomore and junior campaigns.
However, national attention as an NFL Draft prospect evaded him, and the dynamic wide receiver returned to Chestnut Hill for his senior season.
Despite the team struggling during the 2022 college football season, Flowers was as impressive as ever. In fact, the Eagles pass catcher was in record-breaking form. He leaves Boston College as the program's record-holder for receptions, receiving yards, and career touchdowns. He also holds the Eagles' single-season touchdown record with 12 TD grabs in 2022.
His performances in his last season on Chestnut Hill finally saw people talking about Flowers as a bona fide 2023 NFL Draft prospect. People around the program have known for a while, but the Boston College wide receiver's performance at the Shrine Bowl and NFL Combine finally have him receiving legitimate national attention.
Zay Flowers Scouting Report
During his four seasons at Boston College, Flowers has established himself as one of the most dynamic playmakers in college football. He's been impressively productive through a variety of schemes and quarterbacks, especially when you consider the power-run-focused offense that was deployed by Steve Addazio upon his arrival to Chestnut Hill.
However, statistics and productivity don't make a prospect. So, what is it about Flowers' game that is attracting attention ahead of the 2023 NFL Draft? Starting with his strengths, let's scrutinize the Boston College wide receiver's scouting report before identifying areas for improvement and projecting where he currently stands in the wide receiver class.
Flowers' Strengths
Dynamic athleticism is the genesis of Flowers' 2023 NFL Draft scouting report. Don't be fooled into thinking that it's the entirety of his game, but there are few prospects in this class who are able to consistently put their opponent in a pickle the way that Flowers can.
The Boston College wideout has ludicrous change-of-direction ability, making him extremely elusive in the open field. There are many examples across his college career where Flowers snatches souls and breaks ankles with his instantaneous ability to plant and reroute.
His contortionist-esque body control enables him to evade tackles, leaving his opponent flapping at the vacated air that the elite Eagle used to inhabit. 
In addition to his incredible agility, Flowers also possesses excellent play speed. As a result, he presents as a three-level threat at the NFL level. He can take the top off a defense in a straight line.
Meanwhile, he's able to turn on the jets when receiving the ball in the short and intermediate areas and outrun linebackers and even the most athletic defensive backs in the secondary.
While his speed alone is impressive and worthy of attention, Flowers has also showcased the ability to confuse and create separation by varying his route tempo.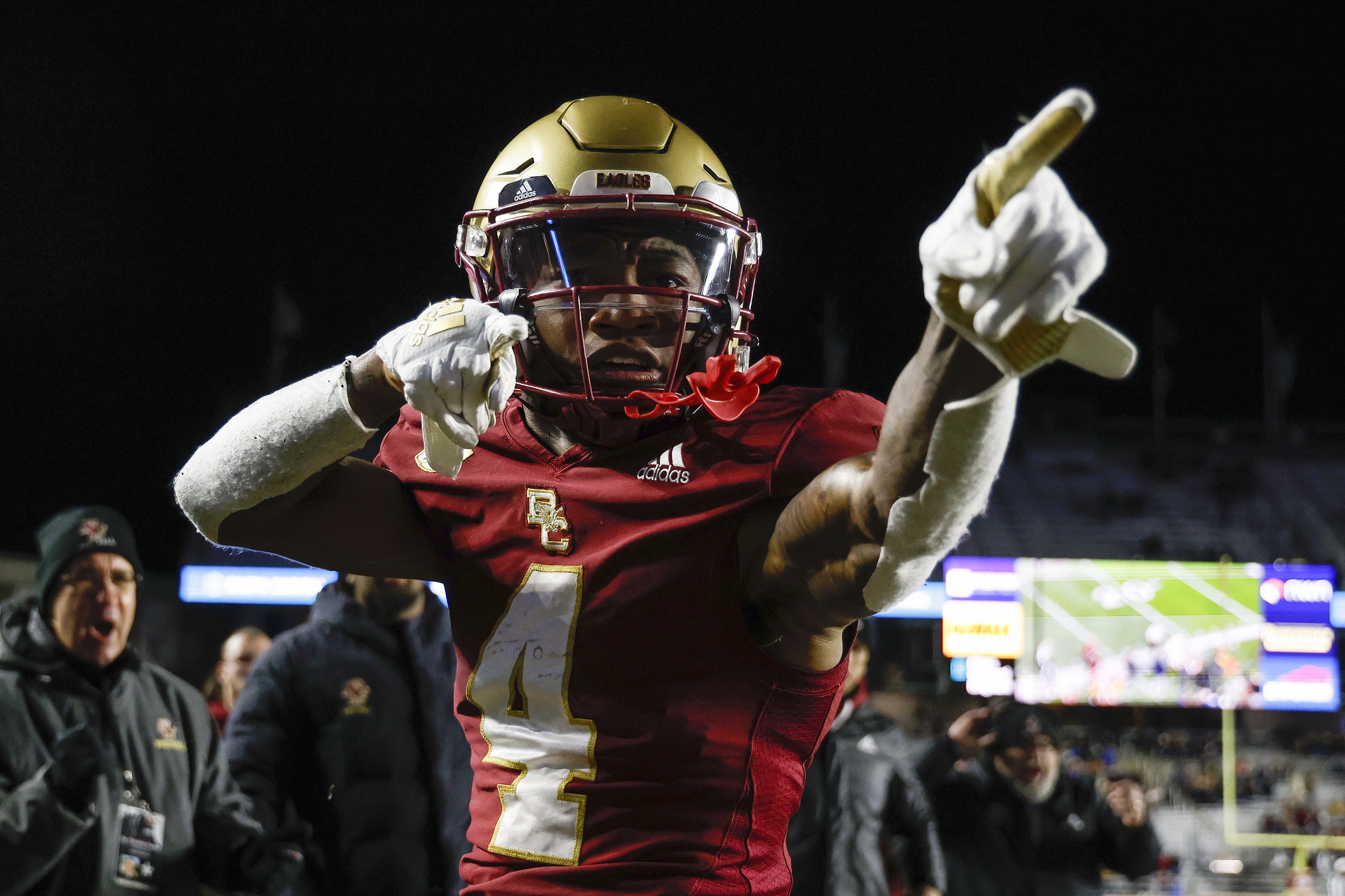 He can lure opponents by throttling down during his route and then effortlessly accelerating away, creating easy separation. Flowers has also shown the ability to sell route fakes with his headwork and the flexibility in his lower half to flick his hips effortlessly, combined with the ankle flexion that helps him change direction so ruthlessly.
During his Boston College career, Flowers' fast feet allowed him to defeat his opponent off the line. He also showcased a package of releases, although recent exposure to press-man hasn't been significant due to the threat his speed brings.
Explosive. Dynamic. Dangerous. Three words that are the hallmark of Flowers' 2023 NFL Draft scouting report. However, there's more to the 22-year-old wideout than a simple speed and after-the-catch threat.
He's showcased versatility throughout his college football career, tasked with multiple alignments and responsibilities in the Eagles' offense.
There's a misconception that he operates purely out of the slot, but Flowers has taken snaps outside and from the backfield while also being used in motion to devastating effect.
From a pure catching perspective, Flowers elevated his game during his final season at Boston College. He has impressive ball skills, based on a foundation of excellent ball tracking and completed with the ability to utilize strong hands at the catch point. His diminutive frame hasn't been a barrier to reeling in contested catches against some of the best DBs in the nation.
Flowers' Areas of Improvement
While Flowers' scouting report so far paints the picture of a wide receiver prospect with All-Pro potential, it's time to temper expectations by exploring some areas of improvement.
At 5'9″ and 182 pounds, he has a distinct size disadvantage compared to the other top pass catchers in the class.
As such — and despite proving he has alignment versatility — he's likely to be viewed exclusively as a slot receiver at the next level. While that's certainly not a nail in the coffin to his value, it may limit his landing spots when the NFL Draft rolls around.
Flowers' frame also impacts his ability to play the game as an all-around physical threat. While he can battle at the catch point with the best of them, he doesn't easily overcome traffic across the middle of the field.
When faced with more physical defensive backs or linebackers, his route trajectory can be compromised and knocked off course more easily than you would like to see for a true three-level NFL threat.
Having praised his catch-point prowess, Flowers still has room to improve here. There's been a definite progression from previous seasons when there were a high number of drops due to his former propensity for body catches rather than securing the ball out of the air.
A smaller catch radius than some of the more highly-rated receivers in the class — due to his 29 1/4″ arms — might have hurt the Boston College prospect's stock.
Zay Flowers' 2023 NFL Outlook
Landing with the Baltimore Ravens looks good on paper for Flowers' rookie outlook. Not only is Baltimore embracing a more effective and high-volume passing attack under new offensive coordinator Todd Monken, but Lamar Jackson is healthy and has more veteran pass catchers around him.
In the best-case scenario, the additions of Odell Beckham and Nelson Agholor will take some pressure off Flowers. A healthy Rashod Bateman would also be nice, but that seems unlikely. Flowers, for what he can control, has earned rave reviews throughout training camp, thanks to his tremendous physical gifts.
There's also the possibility that Beckham, off two ACL surgeries, and Bateman won't be overly effective. Agholor is a hit-or-miss option, and Baltimore's track record with that archetype of receiver is bad. Flowers may quickly be the de facto top receiver alongside tight end Mark Andrews.
That should mean a huge number of targets for Flowers. Whether that means he produces like Jaylen Waddle's rookie season in Miami, Marquise Brown's final season in Baltimore, or a more efficient, big-play threat, remains to be seen. Flowers can fill either role based on talent and will mold his game based on the team's needs.
Zay Flowers Combine Measurements and Results
After playing at 172 pounds for most of his Boston College career, Flowers shocked many with his body transformation at the NFL Combine. Adding 10 pounds in a short time showcased that the electric pass catcher can add bulk to his frame.
The addition didn't appear to hamper his straight-line speed, either. A 4.42-second 40-yard dash time might have been slower than his desired 4.3 but was still inside the top-10 WR times in Indianapolis. An 8.29 Relative Athletic Score was impacted by height and weight measurements that are considered very poor by Kent Lee Platte's athletic testing metric.
Wingspan: 72 6/8″
Arm: 29 1/4″
Hand: 9 1/4″
Bench Press: N/A
40-Yard Dash: 4.42 seconds
10-Yard Split: 1.53 seconds
Vertical Jump: 35.5″
Broad Jump: 10'7″
Tony Pauline's Scouting Report on Zay Flowers
Strengths: Productive receiver who is watching his draft stock soar. Outstanding route runner who displays tremendous quickness and is fluid releasing off the line. Sells routes, quickly gets in and out of breaks, and stays low on exit.
Separates from defenders, adjusts to the errant throw, and reaches backward to grab the ball from the air. Tough to cover, plays with balance as well as body control, and always works to come free. Knows where he is on the field, nicely makes the reception on crossing patterns, and displays outstanding eye/hand coordination. Doubled as a punt returner last season.
Weaknesses: Possesses a thin build and struggles in battles. Doesn't display a second gear or true vertical speed on the field. Occasionally lets the pass get inside him.
Overall: Flowers was a very productive receiver at Boston College, and watched his game take off last season despite the team's quarterback woes. He has a nose for the end zone and set a school record with 12 TD receptions as a senior.
He's a multi-purpose wideout who can be used out on the flanks or in the slot, and in the day and age of quicker wideouts required to separate through routes, Flowers will be in high demand during this year's draft.
Listen to the PFN Scouting Podcast
List to the PFN Scouting Podcast! Click the embedded player below to listen, or you can find the PFN Scouting Podcast on iTunes, Spotify, and all major podcast platforms.  Be sure to subscribe and leave us a five-star review! Rather watch instead? Check out the PFN Scouting Podcast on our Scouting YouTube channel.