Since high school, Florida DT Gervon Dexter has been destined for the 2023 NFL Draft. And now, after a short but productive career with the Gators, he's an early declare who could very well be an early-round pick. A wild card in an exciting DT class, where does Dexter's grade land him, and how does he project to the NFL level?
Gervon Dexter NFL Draft Profile
Position: DT
School: Florida
Current Year: Junior
Height/Weight: 6'6″, 310 pounds
Length: 32 1/4″
Hand: 9 1/2″
Especially in the 2023 NFL Draft class, recruiting pedigree is a guiding quality when seeking out potential blue-chip prospects. Jalen Carter and Bryan Bresee — arguably the two best DT prospects in the class — were both ranked as five-star recruits heading into college. So too was Dexter, and in fact, Dexter was ranked one spot higher than Carter.
Of course, recruiting ranking is far from everything. It's up to the player to deliver on that promise at the collegiate level, and every career path is different. But while Carter and Bresee both experienced rapid ascensions through their collegiate careers, Dexter was hot on their heels the entire way.
MORE: PFN's Free NFL Mock Draft Simulator With Trades
In 2021, Dexter acquired a full-time starting role on the interior, and he flourished during his sophomore campaign. The Florida DT racked up 50 tackles, 4.5 tackles for loss, 2.5 sacks, a pass deflection, and two fumble recoveries. It's not quite the 18 sacks and 35 tackles for loss that Dexter achieved as a senior in high school, but it was a big step up.
In 2022, Dexter mirrored his strong impact from 2021, putting up 55 more tackles, two additional sacks, and four more TFLs. Even with solid production, Dexter's numbers didn't do justice how disruptive of a force he was for the Gators in both phases. Even then, however, there's still room for Dexter to keep climbing toward his ultimate ceiling.
Gervon Dexter Scouting Report
Dexter might not be in the first-round range like his fellow five-stars Carter and Bresee, but the Florida DT undoubtedly has the profile to challenge for early-round capital. Here's a look at his scouting report in full.
Dexter's Positives
At 6'6″, 310 pounds, Dexter is a tall, lean defensive tackle with a compact frame and solid functional length. He uses that length to anchor interior blockers and keeps himself clean.
Along with his length, Dexter brings a great first step off the line. He generates impressive momentum out of his stance, explodes into contact, and accelerates with eye-catching abruptness. Off the snap, Dexter compounds his acceleration with long, explosive strides.
At the NFL Combine, Dexter confirmed his explosive athleticism with his testing numbers. He ran a 4.88 40-yard dash time with a 1.81 10-yard split, and he also logged a 31″ vertical jump and a 9'2″ broad jump.
Those numbers only affirm what's on tape: Dexter is a tremendous athletic talent.
He leverages his length and explosiveness into imposing power generation at the point of attack. The Florida DT is able to use his length and hip rotation in conjunction to generate upper body torque and force blockers open. He's also able to shoot his hands and fully extend to exert power. Dexter sustains leg drive and keeps his legs churning while plowing forward on the interior, and he can forklift blockers up in run defense.
Going further, Dexter can load his hands and shove blockers away from his frame with ruthless extensions. He generates torque in short, violent bursts. Moreover, the Florida DT has the strength to latch, lock on, and two-gap if needed. He can stress and wrench down opposing anchors with force and is able to rip down anchors while on the move and tug linemen one way, capitalizing on displacement with swift lateral moves.
Dexter's explosiveness is his most impactful athletic trait, but the Florida DT also has above-average agility. Within his frame, he shows off measured twitch and flashes great lateral burst off the snap. Dexter has the lateral agility to quickly peel off blocks, close gaps, and match runners in pursuit. Combined, his burst, agility, strength, and power can be difficult to handle.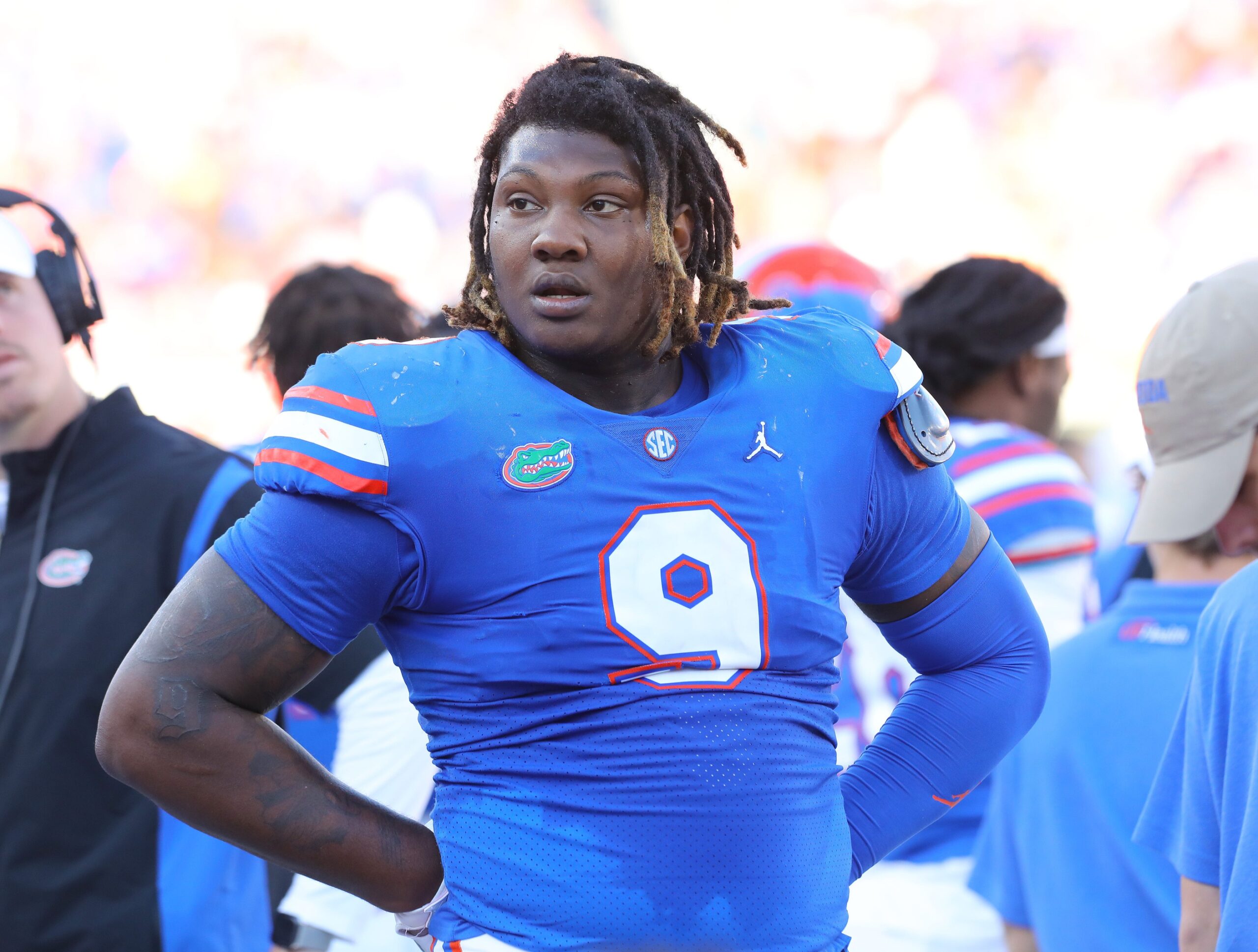 Not only does Dexter have an abundance of traits, but he's also shown to channel those traits with proper leverage. He has very natural knee bend and leverage acquisition for his size. He's fairly smooth when lowering and surging his pads forward to channel power.
Furthermore, Dexter is consistently well-balanced in contact situations. He can flex his upper body and widen his base to absorb power. He's able to hold his ground in run defense with leverage acquisition, length, and lower body strength.
In a similar vein, Dexter can also build on his traits with hand usage. The Florida DT can extend, replace hands, and shift gaps in rapid succession. He's also able to replace his hands while sustaining leg drive on the rush.
Dexter can execute rip moves to wrench down opposing anchors and brutally extend and then rip outside, surging through lanes with his athleticism. He keeps his hands tight and attacks the torso with powerful strikes, channeling his power through extensions and swipes.
MORE: 2023 NFL Draft Big Board
Dexter's hot motor, both as a pass rusher and in pursuit, ties together his game. The Florida DT brings a very strong motor in pursuit and chases plays across the field. He's an extremely high-energy competitor who can accelerate and hit a second gear when penetrating the pocket. He actively uses his length to reach for the QB and disrupt the passing lane, plus uses his quick acceleration in conjunction with his length to wrap up ball carriers.
Among other things, Dexter has decent flexibility and enough ankle flexion to splice his way around blocks on rips. The Florida DT has a degree of alignment versatility, playing everywhere from 3-tech to 0-tech, and can make an impact from multiple spots.
Dexter's Areas for Improvement
Dexter is occasionally a tick late timing the snap and could be more consistent with his reaction quickness. His pads sometimes pop up high later in reps, which can cause power generation to stall out.
Dexter has room to get a bit stronger and doesn't quite have the raw power or strength to consistently take on double-teams. His functional length, while decent, is also visibly non-elite, and this can allow blockers to outreach him at times.
Going further, while Dexter has decent lateral agility, he doesn't cover a ton of ground with his lateral explosions. He appears to be more of a linear athlete at times and lacks great change of direction in space. The Florida DT appears a bit stiff when he has to divert course. With his taller frame, he sometimes plays too high. Dexter's high-cut frame can be difficult to manage and invites bending at the waist.
As a pass rusher, Dexter has the requisite power to build off of. Even after two years as a starter, he's relatively unrefined with his hand usage and his pass-rushing arsenal.
Dexter could be more consistent with his hand placement and timing, and can improve at stacking counters. He sometimes appears to lack a pass-rush plan on reps or experiences a slight delay between his first step and engagement, and he'll often rely solely on his raw power profile to achieve initial disruption.
Dexter's hands don't always strike cleanly off the initial rush, and he can miss the mark and give up leverage and surface area. Furthermore, Dexter has some wasted motion in his hands. He doesn't always load and exert and can lack direction at times.
Finally, while Dexter is reasonably flexible, he lacks elite ankle flexion and won't always be able to find success stunting across alignments.
Current Draft Projection for Florida DT Gervon Dexter
Dexter is one of several DT prospects who grades out as a top-75 talent in the 2023 NFL Draft. After his strong testing performance at the NFL Combine, he could work his way into Round 2. He's a worthy candidate to be selected with his physical profile and unrealized potential anywhere on Day 2.
Dexter has high-end physical tools. While he doesn't have the same elite lateral agility that Carter and Bresee have, he's absurdly strong at contact. Additionally, Dexter brings exceptional explosiveness to go along with passable length, which he can use to generate immense displacement energy off the snap. He's also flashed violent hands and upper body torque, with the ability to extend with force and blast blockers off their spot.
Dexter can still strive for greater consistency with his hand usage and leverage management through reps. Being as tall and high-hipped as he is, he's naturally going to play too high at times. But for his size, Dexter sinks his pads well. If he can continue to hone his talents, he has the combined burst, play strength, power capacity, and motor to be a consistent interior threat.
MORE: Top 10 Defensive Tackles in the 2023 NFL Draft
Without elite lateral agility or flexibility, Dexter likely projects best as an even-front defensive tackle in 3-tech and 2i alignments, but with his lean frame, he also projects well as a 3-4 defensive end. Either way, Dexter has more than enough athleticism and strength to move around the front.
Dexter is a potentially scheme-versatile DT prospect with the upside of an impact starter. Early on, he may take his lumps without consistent hand usage and may be better served as a rotational piece on Day 1. That said, Dexter has the upside to become a disruptive two-phase weapon on the defensive line.
Tony Pauline's Scouting Report on Gervon Dexter
Strengths: Large, powerful, game-controlling tackle who makes a lot of plays on the ball. Fires off the snap, plays with proper lean, and is impossible to move off the point. Commands double-team blocks in the middle of the line, yet still pushes opponents back to collapse the pocket.
Plays off blocks, displays good movement skills, and makes the tackle on ball handlers. Easily bull rushes opponents off the line and runs over blockers. Effectively uses his hands to protect himself. Displays good change-of-direction skills and the ability to get down the line and make the play.
Weaknesses: Lacks great first-step quickness. Average pass rusher. Can't get out to the flanks in pursuit.
Overall: Dexter has shown himself to be a one-man wrecking crew in the middle of the line of scrimmage as a gap occupier or run defender. He has limitations to his game, yet he offers many possibilities on the inside of a four-man line or potentially as a one-gap nose tackle.
Listen to the PFN Scouting Podcast
List to the PFN Scouting Podcast! Click the embedded player below to listen, or you can find the PFN Scouting Podcast on iTunes, Spotify, and all major podcast platforms.  Be sure to subscribe and leave us a five-star review! Rather watch instead? Check out the PFN Scouting Podcast on our Scouting YouTube channel.