On the heels of a career season and a standout showing at the Reese's Senior Bowl, Wisconsin DT Keeanu Benton is one of the biggest risers in the 2023 NFL Draft interior defensive line class. On occasion, he's mocked as a surprise first-round selection. Does Benton have the composite profile to warrant that kind of hype?
Keeanu Benton NFL Draft Profile
Position: Defensive Tackle
School: Wisconsin
Current Year: Senior
Height/Weight: 6'4″, 309 pounds
Length: 33 7/8″
Wingspan: 81 3/4″
Hand: 9 3/4″
Benton was a bona fide star for Wisconsin in 2022. He ended the season on a tear and wound up accumulating 36 tackles, 10 tackles for loss, and 4.5 sacks while earning third-team All-Big Ten recognition.
It was a validating conclusion for Benton's career with the Badgers. And to think it almost didn't happen.
MORE: 100% Free NFL Mock Draft Simulator
Benton will be a coveted draft prospect in April, but he wasn't nearly as in demand as a three-star high school recruit. In fact, Benton pondered hanging up the pads for a time. But with the help of his wrestling coach, he got on Wisconsin's radar. And the rest is history.
Benton exudes natural talent as a football player. But in both phases, he also plays with the proactive and calculated aggression you'd expect from a former wrestler, routinely capitalizing on superior leverage and positioning with his physical traits.
That wrestling background will endear teams to Benton when they start the search for talent in the trenches. Yet, it's Benton's film on the football field that seals the deal.
Keeanu Benton Scouting Report
Where does Benton stand in the 2023 NFL Draft DT class? His unique profile gives him some in-built security, but the Wisconsin defensive tackle provides plenty to like beyond that framework.
Benton's Strengths
It doesn't take long to identify a potentially dominant interior skill set with Benton. At 6'4″ and a playing weight of around 315 pounds, with arms near 34″, he's a thickly-built defensive lineman with excellent mass, density, and length. He has some alignment versatility on the interior, playing between true nose and 3-tech, and it stems from his mix of athleticism, strength, and power.
For his size, Benton has enough first-step quickness to shoot into gaps off the snap and generate displacement against blockers, and he flashes great long-track explosiveness and closing speed through rushing lanes. When he has a clear path to quicken his strides, Benton can gain ground quickly on opponents in the backfield. Additionally, he has the requisite lateral agility to offset blockers and work across face quickly as a pass rusher.
Benton is reasonably athletic on film, and his testing numbers at the NFL Combine confirmed his athletic profile. At his size, Benton registered a 5.08 40-yard dash with a 1.74 10-yard split, a 29.5″ vertical, a 9'3″ broad jump, and a 7.34 three-cone. Benton's broad jump was near the elite range, and his three-cone was near the 92nd percentile.
Benton is very athletic, and he has the numbers to back it up. But even with his functional athleticism, his combined play strength and power elements generate the most appeal. The Wisconsin DT has quantifiably elite play strength, and it helps him win consistently in both phases, but most often as a run defender.
Benton can quickly wrench blockers aside off the snap and clear open lanes. In a similar vein, he extends and locks out at contact, then wrenches open creases in the line.
From 1-tech to 3-tech, Benton can easily one-gap interior blockers. He gains control early, uses his leg drive to displace, and can slab blockers with one arm while establishing a half-man relationship to clog gaps.
Benton establishes anchors quickly, absorbs initial contact with his lower body strength, and can deconstruct with force. Benton is hard to displace, but when he does suffer displacement, he shows off great recovery strength. He's able to plant his base, lock out, and stall movement midway through reps.
Just as exciting with Benton are the flashes of the necessary strength to pry through double-teams, get skinny, and obstruct paths. However, Benton's power is the true destructive tool in his arsenal. His length and frame density grant him exceptional raw power capacity, and he can quickly displace and shove past blockers with full extensions, as well as violently toss blockers aside off the snap with ruthless upper body torque.
With his combined power and strength, Benton is a stack-and-shed expert in run defense. We've already established that he can anchor with incredible quickness and force. After that point, he has the leg drive to climb the backfield after locking out. He can then peek around blockers and powerfully rip down blocks to swallow up runners.
All of these traits are ultimately channeled through proper leverage, and that's something Benton has shown to employ. Even at his size, Benton can lower his pads, acquire leverage, and properly load his base off the snap before contact. He's proven to consistently leverage his lower body to prevent displacement early in run defense reps and keep control.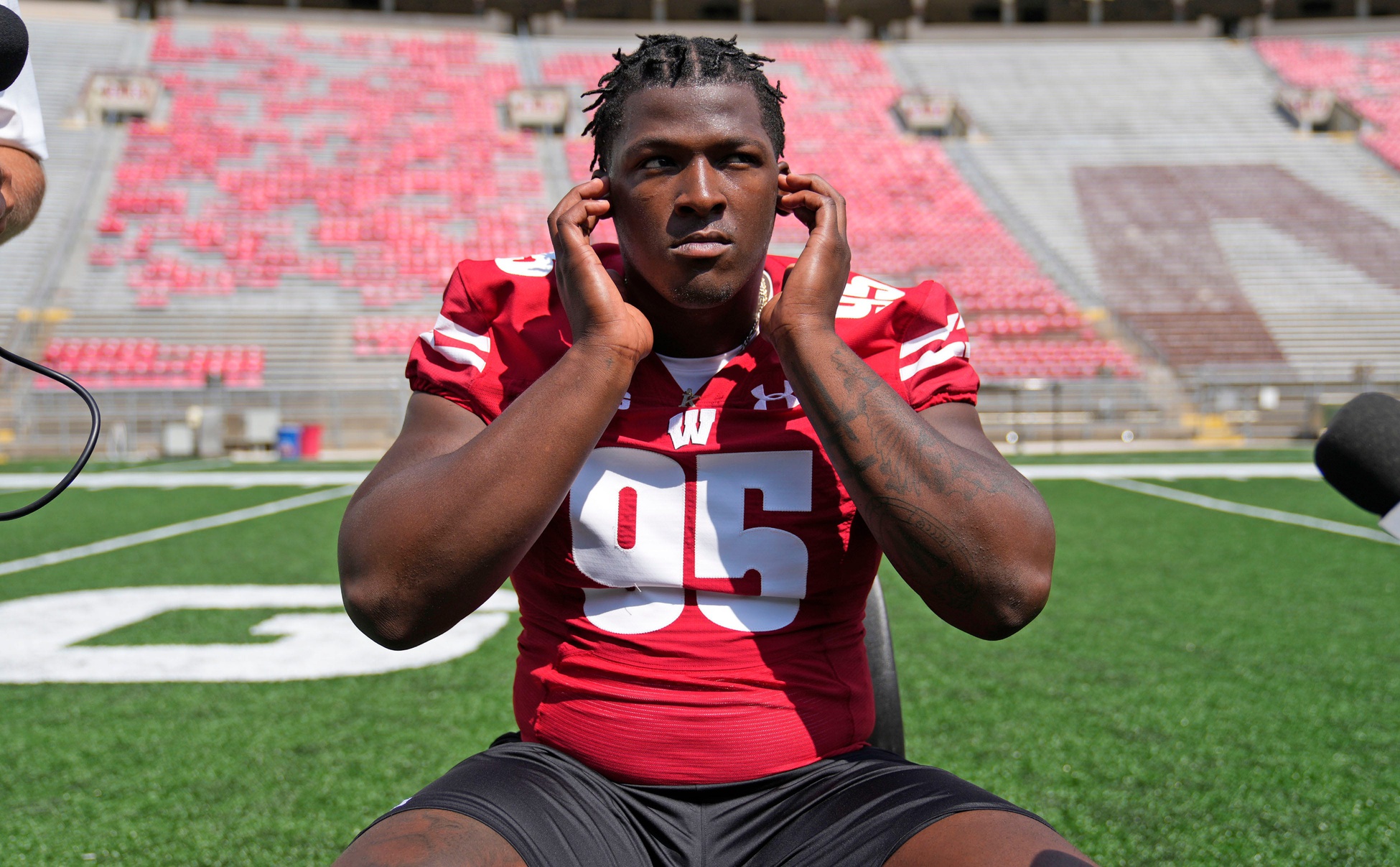 Of course, leverage isn't just vertical. It's also horizontal. And on the horizontal plane, Benton has proven to be an instinctive lineman who understands angle leverage.
The Wisconsin DT uses pre-snap slides to get proper angles and can quickly react to extensions and swim past blocks. It also helps that he has enough torso flexibility to quickly dip under initial blocks and pry into the pocket with violent rips.
You'll see the word "violent" a lot in Benton's report. That's no accident. Violence is a quality that shows up often in Benton's game, but it's emboldened in the pass-rushing setting. Benton has a ton of upside as a pass rusher, and it's magnified by his violent style. He's an amped-up combatant with his hands and brings relentless energy on the attack.
Benton's length translates to immense knockback power, but he also maximizes that power. He efficiently loads and exerts power on full extensions, can violently unleash levers, and quickly stack rips and swims off initial moves. He's incredibly quick to load and unleash power exertions and frequently makes early contact as a result.
There are flashes of brilliance with Benton's hands-on tape. Although he can be inconsistent, he's able to use a violent club-rip combo while methodically using rushing angles to manipulate space. Even in the condensed interior, Benton can offset blockers with initial rushing angles. He can also bait guards into extending early and giving up equilibrium by flashing his hands, and he has the agility to capitalize.
Once he's set up blockers with initial power rushes, Benton has a brutal arm-over move. He can send blockers lurching with his swims and rip and rotate through blockers with rare torque and power. Benton's length is a dangerous erosion agent, made more potent by his burst, rotational freedom, strength, and aggression.
Benton is a high-motor rusher who exudes energy through contact and charges ahead to close plays. To that end, he fights through blocks and routinely gives second-effort energy.
In pursuit, Benton proactively uses his length to reach and encumber passers, sometimes flushing them into other defenders, and doesn't give up on plays. His length and wingspan also enable him to swallow up ball carriers who enter his range.
Circling back, Benton has solid overall flexibility for his size. With his hip flexibility, he swivels around to seal off interior lanes after wrenching down blockers. Furthermore, he shows glimpses of impressive ankle flexion. Benton splices around blocks at surprisingly tight angles and churns his legs to sustain pursuit.
Benton's Areas for Improvement
While Benton has solid explosiveness as an athlete, he visibly lacks consistently elite burst on tape and doesn't often stress blockers immediately on pass-rushing reps. Additionally, while Benton's best testing came during agility drills, he doesn't always play to his agility metrics in close quarters.
At times, Benton appears tight and heavy-footed while moving in space, and he doesn't appear natural stunting outside. Benton often needs a moment to gather himself on direction changes and doesn't channel acceleration well through transitions. Meanwhile, in space, he's a fairly lumbering mover at his size, and he doesn't have great range in pursuit.
While Benton has awe-inspiring strength, he isn't impenetrable against double-teams, and he can be displaced by combo blocks. This can be a function of improper leverage, but along with his high-cut build, Benton also lacks the mass to consistently encumber multiple defenders as a nose tackle. He's more of a one-gap penetrator than a space eater.
While Benton has the capacity to properly align himself and acquire leverage, he sometimes struggles to maintain his alignment through reps. His upper body can be too malleable at contact, sometimes negating his lower body.
Going further, Benton sometimes diverts upright quickly off the snap as a pass rusher. And occasionally, he struggles to lower his pads and activate his base on the move. Similarly, Benton can drift into a lopsided position fairly easily when stunting or working laterally, and he isn't quick to recover leverage.
On the other end of the spectrum, Benton sometimes loses his balance and leverage by leaning too far past his center of gravity. By doing this, he can play into blocking angles and veer off course. He also loses his balance and gives up too much surface area at times when trying to invade gaps.
While flexibility is generally a strength of Benton's, the Wisconsin DT does have slight stiffness in his hips, which prevents him from consistently changing directions quickly and recalibrating as a pass rusher.
As a pass rusher, Benton's placement and timing of initial swats could improve some. He sometimes extends too early and whiffs, giving up his frame. And overall, he can continue to become more consistent in stacking counters and keeping synergy.
Current Draft Projection for Wisconsin DT Keeanu Benton
Benton grades as a top-75 prospect in the 2023 NFL Draft on my board. He's worth consideration anywhere in the Day 2 range and could very well be a top-50 pick when it's all said and done. There is some projection to Benton's profile, but the Wisconsin DT — who turns 22 years old in July — has a tantalizing profile and playstyle.
At 6'4″, 309 pounds, with near-34″ arms, Benton has great density and proportional length, and as his testing indicated, he's a stellar athlete with burst, energy, and flashes of lateral agility when offsetting linemen. On top of that athletic foundation, he's a violent attacker with heavy hands, overwhelming play strength, and the power to jar blockers at contact with forceful strikes.
Benton has the raw strength, violence off the snap, and football IQ to demolish lanes as a one-gapper in run defense. Meanwhile, as a pass rusher, his mix of burst and power — combined with his hot motor — yields immense potential, and when he's on his game, his power rushes and arm-over moves can be devastating. He showed that potential in one-on-ones at the Senior Bowl, using his disruptive build to give blockers fits.
MORE: 2023 NFL Draft Order
Benton can stand to improve his pad level and alignment, and while he can play the nose position on occasion, he likely fits best as a one-gapping lineman from 1-tech to 3-tech in the NFL. But within that window, Benton has the tools to stack and shed and hold the line in run defense, as well as attack gaps and demolish protections in the passing game.
As either a 4-3 defensive tackle or a hybrid odd-front lineman with versatility on the interior, Benton has the upside to be an impact starter. He's refined enough and talented enough to start early on, and as he continues to perfect his game, he can unlock the full capacity of his high-level destructive potential against both the run and the pass.
Listen to the PFN Scouting Podcast
List to the PFN Scouting Podcast! Click the embedded player below to listen, or you can find the PFN Scouting Podcast on iTunes, Spotify, and all major podcast platforms.  Be sure to subscribe and leave us a five-star review! Rather watch instead? Check out the PFN Scouting Podcast on our Scouting YouTube channel.