At such an important position like QB, players who possess the elusive but unmistakable "it" factor are always in high demand. Alabama product and Carolina Panthers QB Bryce Young is one of those players. There are other things that his scouting report lacks — size, high-end arm strength — but Young's ability to take control is what made him the first overall pick in the 2023 NFL Draft, and it's what makes him a franchise QB.
Bryce Young NFL Draft Profile
Position: Quarterback
School: Alabama
Current Year: Junior
Height/Weight: 5'10", 194 pounds
Length: 30 1/2″
Hand: 9 3/4″
As far back as high school, Young was following an astronomical trajectory. The Alabama QB was a consensus five-star recruit from football factory Mater Dei in Santa Ana, California. Over a four-year varsity career, Young collected 13,250 yards, 152 touchdowns, and just 21 interceptions on a near-70% completion rate. He also added 1,084 yards and 26 touchdowns on the ground.
What Young did in high school will live in history books for years to come. Fittingly, that's how his Alabama career may also last as a legacy. After sitting his true freshman season behind eventual first-round pick Mac Jones, Young took hold of the spotlight as a true sophomore and ran with it.
In his first season as a full-time starter for the Crimson Tide, Young completed 366 of 547 attempts (66.9%) for 4,872 yards, 47 touchdowns, and just seven interceptions. With 50 total TDs, Young won not only the Heisman Award but also the Maxwell, Davey O'Brien, and Manning awards.
One thing Young doesn't have that other Alabama QBs have acquired, unfortunately, is a championship ring as a starter. But in spite of the Crimson Tide's overall struggles in 2022, Young was comfortably their best player. Over the course of the season, he completed 245 of 380 attempts for 3,345 yards, 32 touchdowns, and only five interceptions.
Young's efficiency numbers were slightly lower, but his 2022 campaign was still incredibly valuable for his overall evaluation. It showed us that Young can work through adversity better than most, and that's a must for franchise passers at the NFL level.
Bryce Young Scouting Report
The battle for QB1 in the 2023 NFL Draft was an intense showdown between Young, C.J. Stroud, and Anthony Richardson. But in spite of his size, Young was the first passer drafted. What sold the Panthers on the Crimson Tide passer?
Positives
Natural talent is always abundant in the top QB prospects. That's certainly the case for Young. His arm isn't quite elite, but he does have great baseline arm talent, consistently generates good velocity on throws, and has shown to push that velocity through all ranges. He has the pace to deliver passes quickly, especially in the short and intermediate ranges.
Young has enough arm strength to function, but his arm elasticity is what truly generates appeal. The Alabama QB's arm is very elastic, and he can throw from different arm angles while maintaining velocity generation.
Moreover, he's able to throw with easy velocity and accuracy off-platform. He's a snappy, flexible thrower who can generate velocity from points of discomfort. Young can also actively adjust his arm angle to widen throwing windows, avoiding lurking rushers and deflection threats.
The arm talent is good with Young, but his creation capacity — a near-generational quality of his — is by far his best trait. The Alabama QB is a quick-twitch athlete with excellent suddenness, stop-and-start ability, and elusiveness. He's an amped-up but controlled runner who halts and generates momentum on demand, causing defenders to lurch.
He can levy devastating cuts in the open field and extend running lanes for himself. He's also very well-balanced between cuts and instinctive when maneuvering away from contact. Going further, Young shows off great burst and good speed.
Young has the requisite athleticism to be a superb creation threat, but his creative instincts take his off-script game to an entirely different level.
Young has an uncanny feel of where defenders are, and he can manipulate space to the highest degree while also keeping his eyes up and aware of roaming receivers. Young's ability to generate positive plays through adverse situations as consistently as he does is incredibly rare.
As a field general, Young shows promise as well. He's shown to go through progressions and process leverages quickly after landing on successive reads. The Alabama QB can consistently anticipate breaks and allow receivers time and space to work with.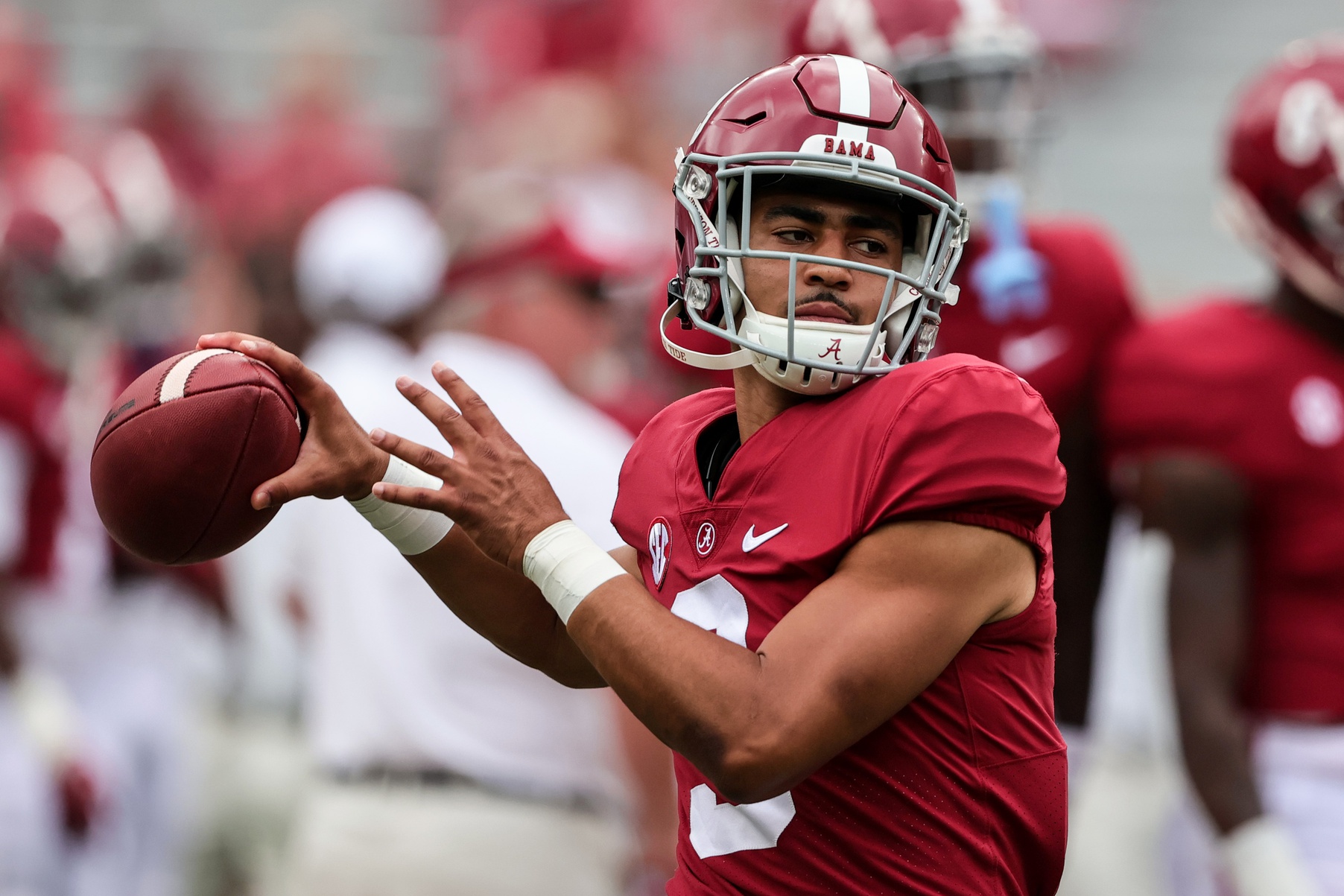 He processes very quickly off-script as well. Young keeps his eyes up on the move, and with his uncanny full-field awareness when improvising, he always has options in mind. With this awareness and his creation capacity in tandem, Young's very dangerous off-script.
In the pocket, Young can hold his eyes forward on the dropback to freeze defenders, and at times, has shown to use eye manipulation. The Alabama QB mixes velocity and touch on his throws downfield with excellent proficiency. He's also able to consistently lead his receivers upfield with velocity for yards after the catch.
Even when obstructed by pressure, Young has shown he can put the necessary mix of pace and touch on his throws. He's a consistently precise passer who can lead WRs away from contact.
Navigating the pocket, Young has shown he can make subtle movements to maximize space and time and extend opportunities. He senses pressure well and can traverse gaps quickly when escaping contact and creating for himself.
The Alabama QB can step up into open pockets to drive throws through windows, and he often uses his real estate when he has it. He's also shown he can step up and stay cool and composed as pressure loops around him.
Mechanically, Young has a corrective failsafe that allows him to place his front foot accurately with surprising consistency, even when his dropback is sloppy. He uses his fast feet and snappy short-area athleticism to habitually correct his positioning.
Young routinely gets excellent hip rotation, his release is fast and crisp, and he's flexible across multiple launch angles. He also actively manipulates the trajectory of his passes by tilting his front shoulder situationally and has shown he can keep his shoulders level on rotation.
As a decision-maker, Young can work through progressions and land on his checkdowns, and he's also fairly calculated and decisive when choosing risks to capitalize on. The Alabama QB has the wherewithal to throw the ball away when flushed out of the pocket and worked into a corner.
In a similar vein, Young's proven himself to be very poised. He can stand in the pocket with pressure incoming and deliver tough throws amidst contact. He's also willing to sell out for crucial gains.
Areas for Improvement
Young is shorter and much lighter than average, and while he never had major issues with durability in college, his size could potentially be a source of issues in the NFL. That size threshold was Young's most pressing issue during the 2023 NFL Draft cycle, but there are other imperfections beyond that.
Young's arm is strong enough, but he doesn't have elite arm strength. His velocity is good, but has a visible cap and can be inconsistent. He sometimes fails to push that velocity to the deep third.
Young also operates with a lot of schemed plays and predetermined reads by design, and he has room to become a more independent processor. There are times when Young sticks to his first read too long, and he can be reliant on rhythm throws.
Conversely, Young could also be more patient at times and anticipate certain reads better. He showed growth with his anticipation in 2022 and has always displayed the necessary processing capacity.
But overall, Young still has room to gain more experience and comfort with full-field reads and progression work. He'll also occasionally inexplicably overlook open windows across the middle of the field.
Off-platform, Young's accuracy and placement can be a bit more volatile as his mechanics become more lopsided when rolling out. He sometimes abandons the pocket prematurely, eroding opportunities and creating unneeded chaos.
Mechanically, Young could improve both during and at the conclusion of his dropback. He sometimes releases right on the drop and throws off his back foot. This can tug his front shoulder up, forcing passes high.
Going further, Young, at times, appears lackadaisical on the drop and can be late to reset his eyes as a result. Similarly, he can be caught flat-footed, which can delay throws. Young could be more deliberate and precise with his dropback footwork, as his staggered feet can lead to inconsistent throwing platforms.
Elsewhere, Young is sometimes too regimented with designed throws and tries to force passes even when options are covered up. Occasionally, he'll also try to do too much when extending plays.
Bryce Young's 2023 NFL Outlook
Young was selected first overall by the Panthers in the 2023 NFL Draft. He won over Frank Reich and the new Panthers' staff not only with his on-field ability but also his CEO-like mentality off of it. Young only draws rave reviews for his character and mental acuity, and that, along with his top-level creation capacity, had to sway the Panthers.
Not only did Young earn the first overall pick, but he also quickly earned the Panthers' starting QB job in the 2023 offseason. The Panthers did sign veteran QB Andy Dalton to serve as a safety blanket, but it was announced in late July, before the start of the preseason, that Young would be the team's starter entering 2023. And thus, the team got a head start on its next era.
Young's lack of size and elite arm strength will always hang over his head, but his calmness and command of the offense will aid him early on.
Amidst chaotic situations, few passers are as in control as Young. He can create both with his athleticism and his instinctive feel off-script, and his poise and quick vision allows him to consistently keep the offense moving.
More simply put, Young has rare instincts in adverse situations and has hyper-elite creation capacity, which he can use to extend plays, nullify early wins by a defense, and drag his team out of trouble when they need it.
He can also work in structure, and he has a capable supporting cast at Carolina to help him acclimate early on.
Already, Young has one of the better offensive lines in the NFL, and he has an experienced, creative offensive mind leading the way in Reich.
While his weapons corps isn't overwhelming, Adam Thielen is an experienced veteran, DJ Chark is a quality big-play threat on the boundary, and Jonathan Mingo is a dynamic RAC and vertical threat who should be able to establish chemistry with Young as a fellow rookie.
Young may experience occasional lapses in accuracy and timing as he adjusts to the NFL game, and his non-elite arm strength may be exposed at times with smaller windows. But Young has the creation capacity, intelligence, and composure to get through any adversity his rookie season may have in store, and he can be a very good starter — at the very least — within a year or two.
Listen to the PFN Scouting Podcast
List to the PFN Scouting Podcast! Click the embedded player below to listen, or you can find the PFN Scouting Podcast on iTunes, Spotify, and all major podcast platforms.  Be sure to subscribe and leave us a five-star review! Rather watch instead? Check out the PFN Scouting Podcast on our Scouting YouTube channel.