He's sometimes the forgotten man at the top of the 2023 NFL Draft EDGE class, but Notre Dame EDGE Isaiah Foskey has a very intriguing production and athletic profile. Does Foskey deserve fringe first-round consideration, and how high could he rise in the 2023 NFL Draft?
Isaiah Foskey NFL Draft Profile
Position: EDGE
School: Notre Dame
Current Year: Redshirt Junior
Height/Weight: 6'5″, 264 pounds
Length: 34″
Hand: 9 7/8″
In a separate timeline, Foskey might have joined teammate Michael Mayer in the tight end room at Notre Dame. That was the other position that Foskey played as a two-way athlete in high school. And he found some success at De La Salle in Concord, California, catching 26 passes for 367 yards and six scores during his varsity career.
But college teams saw Foskey's brightest future on the other side of the ball. He was a four-star recruit in the 2019 class and a top-250 recruit on ESPN's board. Foskey fielded offers from powerhouses like Alabama and Clemson, but the interest from the Notre Dame Fighting Irish was equally alluring.
MORE: PFN's FREE Mock Draft Simulator With Trades
Foskey signed with Notre Dame, and after redshirting in 2019, he began to emerge as an ascending young talent; 2020 saw him put up 4.5 sacks and five tackles for loss in a rotational role. In 2021, the Notre Dame EDGE took a massive step up, accruing 10 sacks and six forced fumbles in a campaign that earned him All-Independent and All-American recognition.
There was talk that Foskey might declare after his strong 2021 campaign, but he ultimately returned for his redshirt-junior season, and once again put up stellar numbers. This time around, Foskey logged career-high figures in both sacks (10.5) and tackles for loss (13.5).
Foskey's strong play over the final two seasons of his career earned him an invite to the 2023 Reese's Senior Bowl, where he flashed his devastating raw power and athleticism off the line. He has the tape, the all-star production, and the traits — but how does Foskey grade out in the 2023 NFL Draft?
Isaiah Foskey Scouting Report
There are many edge rushers in the 2023 NFL Draft class in the first-round discussion. Will Anderson Jr., Myles Murphy, Tyree Wilson, and Lukas Van Ness are the most popular names in that group, but does Foskey have what it takes to join them? Let's take a look.
Foskey's Positives
Foskey almost looks like he was built in a lab. He measured in at 6'5″, 264 pounds at the NFL Combine, but he sports a lean, streamlined, and compact frame that carries his weight incredibly well. He also brings excellent length with that frame — measuring with 34″ arms — which helps him in multiple phases.
At his size, Foskey also brings visibly elite explosive capacity. He's an immediate accelerator off the snap who covers ground with awe-inspiring quickness out of his stance. His fast, long strides can be very hard to match. It also helps that Foskey reacts quickly to the snap. He gears up instantly and puts sudden pressure on blocking angles.
Foskey's athleticism off the line was confirmed by his NFL Combine showing. Despite measuring in four pounds heavier than his listed college weight, Foskey still ran a blazing 4.58 40-yard dash, with a 1.66 10-yard split. He also registered a strong 10'5″ broad jump — in the 95th percentile among edge rushers — and put up good agility scores as well.
MORE: 2023 NFL Draft Big Board
Foskey's burst grants him venerable speed as a rusher. When blitzing from space, he can load up intense speed-to-power energy. Around the edge, he also builds up the necessary speed to surpass the apex and gain space inside from wide alignments. His ankle flexion only compounds his appeal in this regard.
Foskey can sustain curvilinear acceleration around the edge, as he has the necessary ankle flexion to dip and accelerate around the apex. His bend capacity most often shows up when he has a bit of space to work with, but he can also pinch the corner in congested situations. Additionally, with his ankle flexion, Foskey can loop around the formation as a stunting lineman.
Foskey's package of high-end length and athleticism affords him excellent power capacity. The Notre Dame EDGE can blast blockers back on full extensions and effectively drive power through blocks with acquired leverage and constant leg drive.
With brutal long-arms and extensions, Foskey can send linemen reeling off-balance, and he's then able to capitalize. With his leg drive, he's able to channel his base through power rushes. He can also generate hip torque by extending and rotating through power exertions.
Explosiveness is a primary trait for Foskey, as is his agility. He's an amped-up mover with visible twitch, which allows him to build momentum heading into contact. He's a fleet-footed athlete whose fast foot movement can make him highly adaptable and unpredictable for blockers in short ranges.
Foskey has shown to quickly plant and divert inside after scraping past the tackle at the apex. He can also throttle down after surpassing the apex to pinch the corner with more control. With his lateral agility and twitch, he's able to freely stunt across alignments and generate displacement quickly on reps.
Not only is Foskey powerful, but he's also strong and fairly well-leveraged. He has the play strength to set the edge on running downs, fully extending and absorbing power with his base. He can use his hand strength to force himself free from anchors on the move, and forklift blockers and demolish running lanes.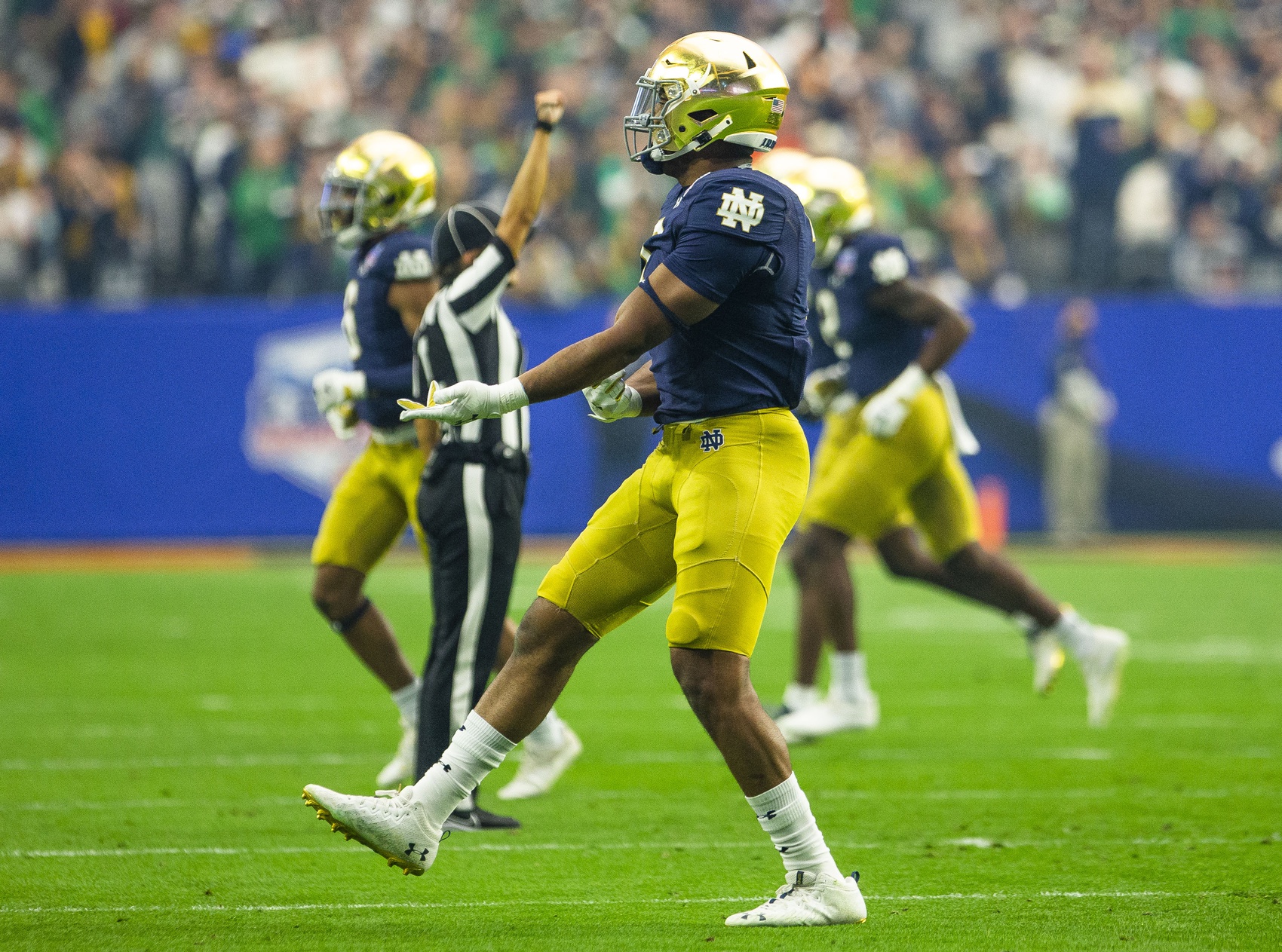 In run defense, Foskey leverages himself very well. He sinks his pads and extends, then sidesteps blocks and squares up runners. But his leverage acquisition extends to other phases as well. As a pass rusher, Foskey's shown to effectively lower his pads and load up power from his base. He can also dip underneath extensions and attack the torso while leaning to keep himself clean.
There are many impressive parts of Foskey's game, but his hand usage might be chief among them. Foskey has a tremendous foundation as a hand fighter with his traits. He can effectively load up his hands to build potential energy and launch into contact on power rushes. But he's also a very advanced rusher for his age, stacking violent swipes, extensions, and moving in rapid succession, effortlessly using his upper and lower body in sync.
Diving into the details, Foskey can bait linemen outside with initial rushing angles, then roll his hips and surge inside with a speed-to-bull move. He frequently multitasks around the edge, stacking quick extensions and hand moves while dipping his hips and breaching the apex. Foskey can long-arm with his inside hand to displace tackles, then club-rip quickly on the outside. He's able to combine rip moves with bull rushes and long-arms — timing those moves effectively to win around the edge.
Additionally, Foskey's upper-lower synergy makes him even more appealing as a rusher. The Notre Dame EDGE uses a quick Euro step cross-chop off the line, which helps him gain outside leverage, where he can then transition to a club rip around the apex, using his ankle flexion to penetrate the pocket.
MORE: 2023 NFL Draft EDGE Class
There are other impressive moves and counters visible on Foskey's tape, including a long-arm, club-swim combination. The bottom line is this: Foskey consistently comes with a pass-rush plan and doesn't delay in executing it. His hands are fast and constantly active. He's never idle, quickly processes leverage, and stacks advanced counters, using every tool at his disposal.
Foskey is a budding technician, but his hot motor is a fusing agent, both during and after application of rushing moves. Foskey consistently closes rushes, actively extending his arms as he closes on the quarterback. He seeks to disrupt plays in any way possible and is a constant threat for deflections and strip-sacks with his exhaustive use of length. He's ruthless in pursuit of the QB and closes with intense speed and voracity.
For his size, Foskey shows off above-average change-of-direction ability and impressive functional athleticism in space. This helps him a great deal as a pursuit defender. The Notre Dame EDGE also flashes the necessary patience to read options and delayed handoffs. And once he commits, he explodes toward the ball. Foskey's a strong tackler in pursuit, engulfing opponents with his length and athleticism, and chasing plays to the whistle.
Expanding on his pursuit, Foskey can quickly recognize screens and sell out to the sideline. Moreover, he has the long-strider speed and athleticism to drop out to the flats and seal off short passes. In pursuit on running downs, he sheds moving blocks and has the short-area athleticism to manage space on option plays. Moreover, he can stonewall pulling blockers, then shed and redirect his hips to match runners outside.
Foskey's Areas for Improvement
Foskey is an extremely well-rounded prospect, but he isn't perfect. Most notably, the Notre Dame EDGE doesn't have elite bend. His hips have some flexibility but aren't the most fluid. His midsection can get locked up at the apex at times, preventing him from dipping under and sustaining acceleration. He can't always roll his hips through the apex and sometimes needs to decelerate and reset inside.
In a similar vein, Foskey's frame is a bit high-hipped, which sometimes forces him to gather himself before making tight direction changes. He doesn't always show the torso flexibility to consistently capitalize on burst and squeeze through gaps when stunting inside. Furthermore, in space, he can be a bit stiff when changing directions with his tall frame. He's played off-ball before but should be primarily on-ball in the NFL.
Elsewhere, Foskey doesn't have elite play strength. He can be worked off his spot in run defense and can't always wrestle himself free from anchors when pressuring the apex. His leverage could also improve. His power rushes sometimes stall out when his pads drift too far up after contact. Once his pad level drifts too high, it can be difficult to recover. He also struggles to manage his pad level on approach at times.
Occasionally, Foskey extends past his base and lurches into contact, neutralizing his lower body and stalling his momentum. He lurches and loses his balance when his hands miss their mark. While Foskey is a formidable hand fighter, his hand strikes could be more precise and his placement cleaner. The Notre Dame EDGE's hands sometimes slip past their targets and fail to channel maximum force.
Foskey maintained his high-level production in 2022, but his hand usage seemed to regress a bit on tape. He still has flashes of brilliance stacking counters upon his initial exertion, but Foskey wasn't as consistent in 2022 as he was in 2021. Luckily, he's at the very least shown the capacity to stack moves and vary his rush plan, and that's something coaches can work with, along with his tools.
Lastly, in pursuit, Foskey sometimes drifts backward when faced with misdirections and exposes himself to blockers moving upfield. He'll also occasionally overpursue option plays and commit to the QB prematurely.
Current Draft Projection for Notre Dame EDGE Isaiah Foskey
Even after a slight regression on tape in 2022, Foskey remains a top-25 prospect on my board and a worthy first-round candidate in the 2023 NFL Draft. He's not far below the initial group of power rushers, and you could argue that, at his best, he has some of the most dangerous hands in the entire class.
At his maximum, Foskey has legitimate blue-chip upside. Foskey's size at 6'5″, 264 pounds, with 34″ arms, is incredibly unique. With that size, he's an elite athlete with torrid explosiveness and amped-up energy off the snap. His mix of burst and length grants him elite maximum power capacity, and he's shown to utilize all of his tools with his deep pass-rush arsenal.
Foskey will need to keep minimizing the drift of his pad level after contact and keep honing his precision as a pass rusher. Consistency is the name of the game for Foskey, who can use all the moves, but sometimes leaves opportunities on the table. Additionally, with his high-cut frame, he doesn't always effectively align his base on power exertions, nor does he have elite bend capacity.
All told, however, these are fairly minor flaws in what is an incredibly complete and all-encompassing EDGE profile. Foskey has everything you need — size, length, explosiveness, power strength, active hands, and a red-hot motor. And he's shown glimpses of the requisite ankle flexion.
Foskey has the tools to command Round 1 capital, and teams in need of a potential impact starter at EDGE should race to the podium if he's still there on Day 2.
Listen to the PFN Scouting Podcast
List to the PFN Scouting Podcast! Click the embedded player below to listen, or you can find the PFN Scouting Podcast on iTunes, Spotify, and all major podcast platforms.  Be sure to subscribe and leave us a five-star review! Rather watch instead? Check out the PFN Scouting Podcast on our Scouting YouTube channel.