The 2023 NFL Draft is somewhat ambiguous on the interior offensive line heading into April. One of the few definitive candidates to be the first iOL off the board is Minnesota C John Michael Schmitz. A steady constant in a class that's had its ups and downs through the months, can Schmitz provide the same stability to an NFL team in need?
John Michael Schmitz NFL Draft Profile
If you watched Minnesota's offensive line in 2021 and 2022, one thing was clear: They loved to hit people. 2022 Ravens draft pick Daniel Faalele got the most press with his massive frame, but the entire Golden Gophers' line exuded a physicality that's hard to teach. Even tight end Ko Kieft served as an extra lineman at times and relished the chance to knock a few teeth loose.
That unyielding physical mentality stretched across Minnesota's entire front, and Schmitz was at the center of it. Schmitz wasn't always viewed as an eventual NFL talent — a mere three-star recruit coming out of Flossmoor, Illinois — but his long, winding college career has helped to unearth his talent on the national stage.
Schmitz redshirted in 2017, then played mostly on special teams in 2018. He then started four of 13 games played in 2019 and started six games in 2020. Then, in 2021, Schmitz started all 13 games at center, earning second-team All-Big Ten recognition for his performance.
RELATED: PFN's 100% FREE Mock Draft Simulator
As good as his 2021 campaign was, Schmitz's 2022 was even better. He returned as the Golden Gophers' anchor at the middle of the line and earned first-team All-Big Ten honors for his play. Not only that, but he also fielded recognition as an AP first-team All-American and earned an invite to the Reese's Senior Bowl.
For many, Schmitz is the best center prospect in the 2023 NFL Draft. But what does the tape say about his talent and projection at the next level?
Position: Center
School: Minnesota
Current Year: Redshirt Senior
Height/Weight: 6'3 1/2″, 306 pounds
Length: 32 3/4″
Wingspan: 78 7/8″
Hand: 9 1/2″
John Michael Schmitz Scouting Report
There are several hallmarks that signify reliability at the center position — among them experience, football IQ, athleticism, strength, and natural leverage. Schmitz has all of these qualities, and that alone should allow him to keep a starting role at the next level.
Schmitz's Positives
It can be difficult to evaluate athleticism for centers, considering the condensed space they constantly play in. Such a trait becomes easily visible when centers move in space — see Cameron Jurgens from the 2022 NFL Draft cycle.
But in the trenches, athleticism can be harder to pinpoint. You have to be watchful of landmarks, the most notable one being the 1-technique defensive tackle, who lines up outside the center's shoulder.
Centers who can get outside the 1-technique off the snap when moving laterally pass the necessary athletic threshold. Schmitz falls under that category. Not only does the Minnesota center get outside the 1-tech off the snap, but he also gives himself enough space to flip his hips. His lateral burst out of his stance allows him to work across-face against the 1-tech and traverse gaps with relative ease.
Going further, Schmitz can track outside fairly efficiently with steady lateral shuffles and has good range tracking to the sideline. While his range isn't elite, he covers decent ground in space. Additionally, Schmitz actively accelerates into blocks in the open field. The Minnesota center can get out in space and pursue linebackers at varying depths when heading to the second level. For his size, Schmitz has above-average change of direction.
Size, of course, isn't much of a concern for Schmitz. Though he doesn't have the longest frame or elite mass, he's 6'3 1/2″, 306 pounds. He's strong and well-sized, with great density in close quarters. With that frame, Schmitz brings near-elite functional strength.
With his immense upper body strength, Schmitz latches and maintains anchors amidst heavy resistance. He has the strength to keep defenders within his frame and control them while channeling power from base. He also maintains his anchor while rotating around blocks, adjusting his base.
Even against longer opponents, Schmitz can flex and maintain his anchor with stifling core and grip strength. His strength and stored power afford him great recovery capacity after losing initial leverage on anchors. The Minnesota center uses his strength to pave open lanes at the A gap and can then use his mass to wall off created lanes. With his strength, he also keeps defenders from infiltrating lanes on moving blocks.
Schmitz's lack of elite length does put a cap on his raw power capacity, but he still brings an element of power to the field. He can draw up ample force from his lower body, and he's able to displace defenders after latching and loading his base. Moreover, he's able to sustain power exertions and move defenders with steady, urgent leg drive. Schmitz can channel his short-area burst effectively with his lower body to displace defenders.
Going further, Schmitz has shown to draw power from his upper half as well. He's able to make contact and then extend, maximizing energy output at the point of attack. Furthermore, he consistently launches into contact and brings great initial knock-back power. The Minnesota center also flashes the ability to generate upper body torque on extensions and stress opposing frames.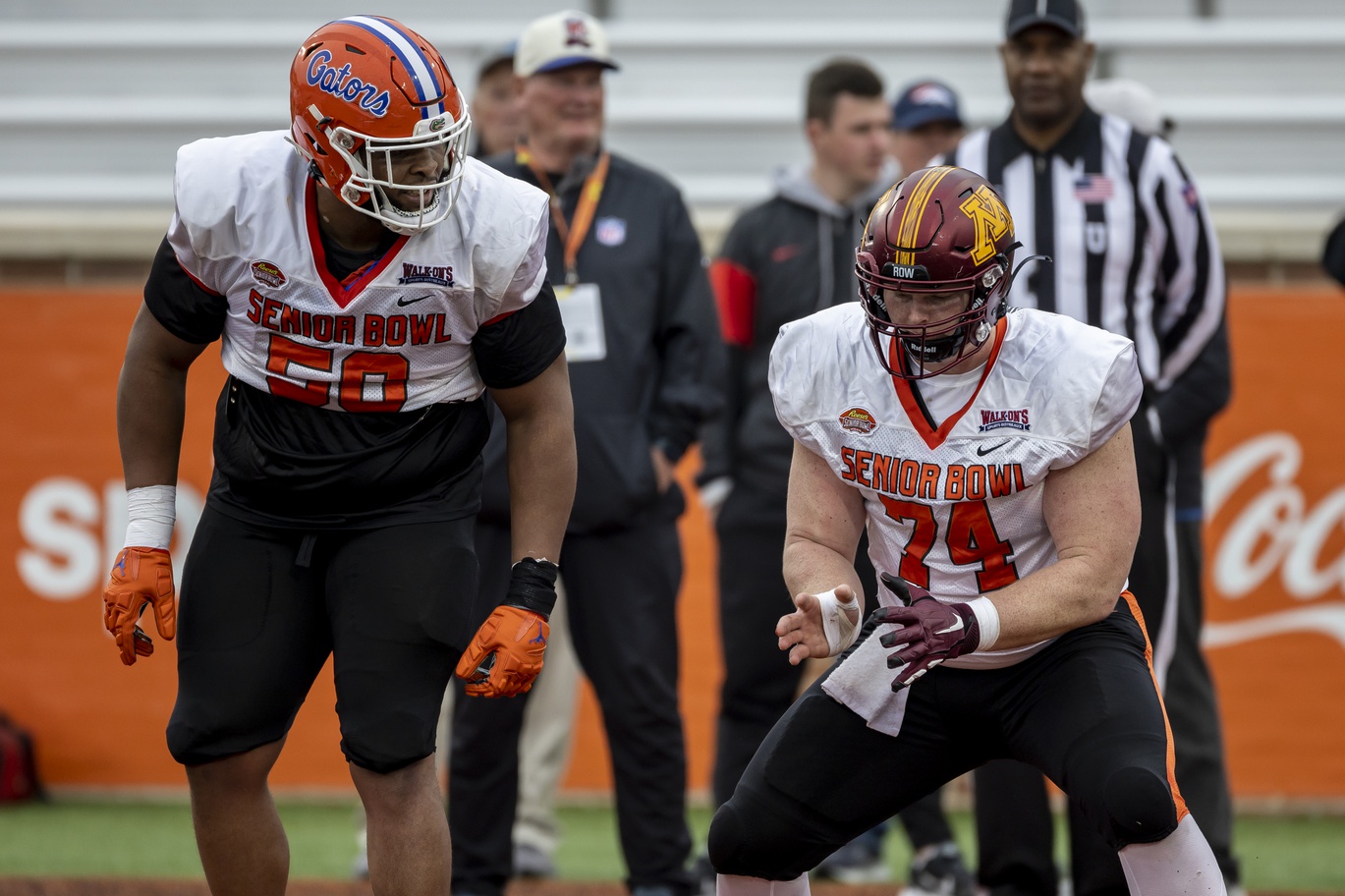 Schmitz is dense and heavy as a blocker, but he possesses impressive overall flexibility for his physical profile. He shows great control with his hip alignment. Schmitz starts to flip his hips as he works across-face, then adapts and redirects when defenders work outside. Going further, Schmitz has the hip flexibility to swivel around opponents while maintaining his anchor, sealing off opponents from plays.
In a similar vein, Schmitz can sink his pads to align his base and effectively channel power from his lower body. He's well-leveraged and fairly well-balanced while playing beyond his center of gravity. He frequently acquires proper leverage when attacking defenders and extending inside the torso. That natural leverage acquisition helps Schmitz maximize his traits and allows him to execute efficiently.
Schmitz has the physical tools and the experience, and the latter shows up with his awareness in both phases. As a run blocker, he has the patience to let defenders work across-face, then seal them against the guard to open lanes inside. Schmitz can also effectively stack blocks moving to the second level and divert up the field after flushing contain defenders outside.
Meanwhile, in pass protection, Schmitz brings similar mental acuity. The Minnesota center gets his head up immediately after initial blocks, keeping an eye out for delayed rushers. He picks up delayed blitzers while anchored and launches into gaps to stymie rushers. Schmitz has an active help mentality, doesn't get tunnel vision, and will surge into unencumbered rushers when he identifies them.
MORE: 2023 NFL Draft Big Board
Schmitz attacks the torso off the snap with two-hand punches, then widens his grip and latches onto his opponent's frame. He's able to buoy defenders with tight hands while matching laterally with his base. He also quickly replaces his hands against power rushes and re-establishes his anchor. Additionally, the Minnesota center can briskly swat extensions and latch in succession, showing fast hand capacity.
Schmitz's footwork is another strength. He quickly establishes a wide, strong base on reps, which he uses to absorb power and stabilize his center of gravity. He can also roll back in phase while absorbing power.
Schmitz has active footwork when anchored and can quickly flip his alignment to redirect opponents. He can keep his base uniform while resetting his alignment to maintain leverage in real time. As a run blocker, he's able to tighten his stance through gaps while tracking up the field at an angle.
Last but not least, Schmitz brings a tenacious physicality that molds his game together. He's a relentless finisher who will steamroll opponents into the ground with leg drive. He actively seeks to bury opponents on the attack.
More than that, the Minnesota center consistently takes advantage of opponents who sacrifice leverage. He's not reckless. Instead, he's precise and calculated with his finishes, and consistently blocks to the whistle.
Schmitz's Areas for Improvement
Schmitz is an extremely well-rounded prospect with few glaring weaknesses. His length, however, is a notable concern, and it precipitates to other areas.
Schmitz's length is around average. It's not a liability, but it can affect his leverage against longer defenders. His shorter span can allow longer defenders to latch and tug him beyond his center of gravity. Similarly, he'll occasionally try to compensate for his average length by reaching too far and lurching forward on blocks.
Beyond his length, one could argue Schmitz lacks a quantifiably elite athletic trait and profile. While his initial burst is exceptional, there are times when he isn't quite able to get outside the 1-tech on zone runs. He doesn't have elite range as a moving blocker and also lacks great change-of-direction ability in space. Additionally, he sometimes veers past defenders while trying to redirect.
Schmitz's NFL Combine performance corroborated this assessment of his athleticism. His explosiveness was where his strongest testing numbers were derived from. His 29.5″ vertical and 8'8″ broad jump were both very good numbers, historically. His 5.35 40-yard dash, however, was poor. More importantly, his 1.85 10-yard split was below average.
Much like his lack of elite athleticism, Schmitz doesn't quite have elite power capacity, either. Not only does his length somewhat mitigate that, but his rotational freedom can also be limited when generating upper body torque. While he's impressively flexible overall, slight torso stiffness can prevent him from cycling all the way through rotations, which can limit his ability to displace opponents fully.
Schmitz could also stand to further refine his game in a few operational areas. The Minnesota center sometimes plays too tall into contact and anchors too high up, which can detract from his leverage. He'll also occasionally drift upright after contact, stalling his power output and minimizing displacement. He's relatively comfortable playing with lean, but that can be detrimental. He sometimes leans too much and loses control on moving blocks in space.
Expanding on his operational traits, Schmitz's hands occasionally drift too high when establishing anchors, and he doesn't always establish grip on contact. His hands can slip past blockers, resulting in lurches and lost balance.
Schmitz's initial placement can be more precise and efficient, and he occasionally goes too wide with his hands, exposing his torso to power. With his hands too wide, he sometimes inadvertently wraps around defenders, drawing penalties.
Elsewhere, Schmitz's feet can be a bit lumbering. At times, he tracks back on his heels in pass protection, impacting his stability amidst contact. As a run blocker, he occasionally overshoots blocking angles while diverting upfield on zone runs.
Current Draft Projection for Minnesota C John Michael Schmitz
Schmitz grades out as an early-to-mid Day 2 prospect in the 2023 NFL Draft, who could ultimately field potential Round 1 consideration due to his positional scarcity. Schmitz will be a 24-year-old rookie, but that doesn't affect his stock because he projects as a long-term NFL starter on tape.
At times, there's some hesitance that comes with prospects who exhaust their eligibility at the collegiate level. Some CFB veterans lack the physical tools to leave early for the NFL and thus have reduced ceilings when they declare. That's not the case with Schmitz.
Schmitz has the awareness, football IQ, footwork, and tenacious physicality that you'd expect from a tenured offensive lineman. But he's also surprisingly explosive and fluid in congested areas, and his functional strength is a near-elite trait to build around. He's not quite an elite athlete, but Schmitz has more than enough mobility to function both as a puller and in condensed spaces.
Schmitz's average length, along with his lack of quantifiably elite athleticism, slightly lowers his ceiling. And his advanced age may subtract a prime year or two. But NFL centers can play well into their 30s, and Schmitz's tape suggests he could be a productive, scheme-versatile starter early in his career. Schmitz has the strength and power to pave open lanes between the A gaps, with enough mobility and flexibility to execute a variety of zone blocks.
Someone is going to get a very good pro in Schmitz. The Minnesota center has the physical and operational tools to be a mainstay of an NFL line for a decade or more, and his aggressive style helps set the tone.
Listen to the PFN Scouting Podcast
List to the PFN Scouting Podcast! Click the embedded player below to listen, or you can find the PFN Scouting Podcast on iTunes, Spotify, and all major podcast platforms.  Be sure to subscribe and leave us a five-star review! Rather watch instead? Check out the PFN Scouting Podcast on our Scouting YouTube channel.