We still find ourselves in the golden age of wide receiver evaluation, and the 2023 NFL Draft offered yet another deep crop of pass catchers. Mixed into this group was Wake Forest WR A.T. Perry, one of the biggest sleepers on the draft stage with his scouting report. How does Perry project to the NFL, and can he exceed his draft billing with the New Orleans Saints?
A.T. Perry NFL Draft Profile
Position: Wide Receiver
School: Wake Forest
Current Year: Redshirt Senior
Height/Weight: 6'3 1/2″, 200 pounds
Length: 33 1/4″
Hand: 9 1/4″
While some receivers come out of the gates hot when they reach the collegiate level, Perry had to wait for his breakout. He initially joined the Demon Deacons as a three-star recruit in the 2018 class. On the surface, it feels as though he should've been rated higher. Perry was productive, a team captain, and had a 37.5″ vertical jump on record.
Nevertheless, Perry slipped through the cracks, perhaps due to his frame — he was listed at just 169 pounds coming out of high school, despite being a looming 6'3″.
As expected, it took time for Perry to acclimate to the college game. He redshirted his first year at Wake Forest, then played sparingly in 2019. 2020 was a nice tune-up year, as Perry caught 15 passes for 211 yards and a touchdown. But no one could have anticipated his production in 2021.
The Demon Deacons absolutely exploded on the offensive side of the ball in 2021, and Perry exploded with them. An emergent star and Sam Hartman's favorite target, Perry amassed 71 catches for 1,293 yards and 15 touchdowns, helping lead the upstart Wake Forest squad to an ACC Championship berth.
2022 only brought more success and production for Perry. The Demon Deacons playmaker accumulated 81 catches for 1,096 yards and 11 touchdowns in his final season, earning an invite to the East-West Shrine Bowl in the process. There, he put on a show in front of NFL evaluators, distinguishing himself as a premier talent at the event.
Perry's path took him to the NFL Combine, where he again impressed, logging a 4.47 40-yard dash, 35″ vertical, and an 11'1″ broad jump. Perry had the size. He had the athleticism. And he had the production. And yet, he fell to Round 6 of the 2023 NFL Draft, where the Saints took him at 195th overall.
Was Perry's fall in the 2023 NFL Draft warranted, or will he go on to be one of the steals of the class? We'll take a closer look at his scouting report in an attempt to answer those questions.
A.T. Perry Scouting Report
Perry was one of the more unique receivers in the 2023 NFL Draft pool. His mold brings excitement but also uncertainty when projecting to the next level. What do the diagnostics say about his potential?
Perry's Positives
Perry is one of the most easily recognizable receivers in college football. At 6'3 1/2″ and around 200 pounds, with arms over 33″, he's an extremely long and lean receiving threat, with levers for arms and an overwhelming catch radius. For his size, he moves like a gazelle. He's a springy athlete who brings great short-area explosive capacity out of his stance, and he's a very smooth mover for his size.
Perry is an exceptional accelerator in the open field, as his long strides are fast and energetic. With his burst, he can stack defensive backs and accelerate outside, and he has the long-strider speed to maintain separation once he has it.
Even within his cylinder, he's a spry athlete who's incredibly light on his feet and fleet-footed moving upfield. Perry's amped-up movement style can help supplement separation at the line. The Wake Forest WR can use his lateral quickness to adjust attack angles and manage space.
Perry's athletic makeup is intriguing, but his best trait is, without a doubt, his quantifiably elite catching instincts. The Wake Forest WR has impeccable body control and can make high-difficulty adjustments at a moment's notice.
He can contort in unnatural ways to convert on tough passes with his flexible torso and is comfortable reaching beyond his frame. Perry is very flexible and adaptable as a pass catcher, even in high-pressure moments.
Expanding on his natural receiving ability, Perry can track the ball downfield and guide it in with his hands. His hands are strong and soft all at once, gently guiding in throws, then locking down passes with stifling grip once they arrive. Going further, Perry has shown he can stay calm and collected working through contact.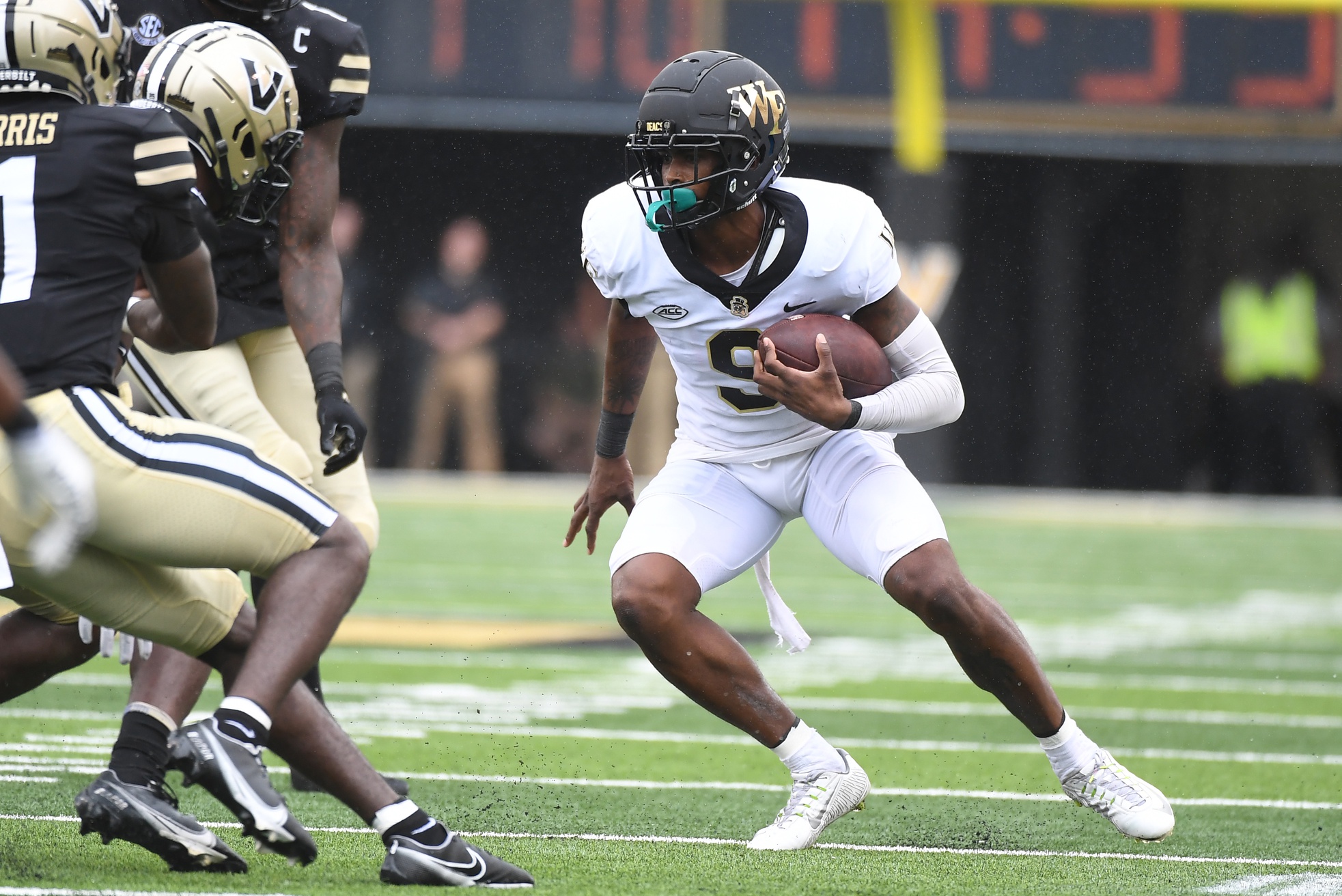 He has the high-level coordination and feel to corral imprecise throws with one or two hands and can quickly reset his feet for RAC opportunities after making catches. He can also catch passes in stride over the middle of the field while maintaining his speed.
Hand/eye coordination is another impressive function of Perry's natural ability. The Wake Forest WR has the hand/eye coordination to get his hands where they need to be on tough catches, and he actively catches away from his frame, outreaching DBs with his elite length.
Moreover, Perry has a great sense of timing and can quickly extend and snare passes beyond his frame. Even amidst hard contact with the ground, he can secure passes.
As you might expect, Perry's brand of athleticism translates well in the route-running phase. The Wake Forest WR flashes a steady release package off the line. He can generate displacement with smooth, sudden lateral moves and an abrupt jab step, then accelerate upfield. He's also shown he can sink his hips on direction changes and sustain acceleration through tight transitions.
Perry eats up cushions against off-man coverage and can swiftly adjust his angle to capitalize on displacement. Moreover, Perry has shown he can use head fakes at the stem to feign intent one way and break another. He's able to actively tempo his routes, start slow, then throttle up quickly to capitalize on space.
Just as Perry's length helps him when the ball is in the air, it also helps him compound separation against smaller defensive backs. Perry can use his long arms to scrape by combative DBs and use his burst to get into space. But simply having that length isn't enough.
Perry goes a step further and proactively uses his length to keep himself clean with DBs in his hip pocket. He actively bats down jams as he moves upfield and uses his length very well as a protective measure.
At the Shrine Bowl, Perry put on a clinic with his route work. He was able to displace DBs off the snap with fleet-footed releases. He consistently pressed upfield into stems and used spacing against opponents, used head fakes, sunk in and out of breaks, and used targeted physicality to seal the deal on reps. His package as a separator is truly all-encompassing.
Perry's size is a unique boon that assists him in all three phases. Against press coverage, he keeps his legs churning through contact at the stem, and his long frame can make him difficult to slow. He can also use his length to levy stiff-arms after the catch and disrupt pursuit paths, as well as impose his will against defenders as a blocker.
Perry's Areas for Improvement
Perry's size is a strength overall. But for his height and wingspan, his frame is a bit light. He lacks elite play strength, and his light frame can impact his ability to withstand contact. There are times when he can be jarred by physical DBs, and he's easily dragged down on first contact on RAC plays.
Perry is a phenomenal athlete, but there are some minor limitations to note. The Wake Forest WR doesn't always channel great explosiveness out of route breaks and transitions. Additionally, he experiences some slight stiffness when flipping his hips to change directions.
Being a taller player, Perry's transitions can naturally be a bit leggy. Perry can't always pinch tight angles on cuts while maintaining speed, and he has to take a few gather steps before sharpening cuts at times.
While he has more than enough agility to separate, he doesn't make great use of stride variations and twitch after the catch, and he's not an overwhelming threat with the ball in his hands.
Extrapolating to Perry's route-running ability, the Wake Forest WR sometimes loses his balance trying to sink on sharper transitions. He's not always able to chop his feet and adjust stride lengths efficiently to manipulate space.
Going further, Perry has room to expand his route tree. In Wake Forest's offense, he ran a lot of mesh routes, go routes, and crossers.
When he does do independent stem work, he sometimes runs with his pad level too high, which can sap at his hip sink and suddenness on transitions. At times, he can more consistent pressing upfield into stems.
Among other things, Perry experiences occasional focus drops, especially when passes are low and out of his wheelhouse. He can also improve as a run blocker. While his length allows him to fully extend and blanket defenders, he doesn't always show the strength to sustain blocks.
Additionally, he misses blocking angles downfield more often than desired and can be more disciplined in maintaining his assignments.
A.T. Perry's 2023 NFL Outlook
Perry graded out as a top-75 prospect on my board and an arguable top-10 WR prospect in the 2023 NFL Draft. His combined Shrine Bowl and NFL Combine showings bade well for his draft stock on the surface.
He ultimately fell, in surprising fashion, to Round 6. But I'm of the mind he'll be seen as one of the draft's best value deals in a few years' time if he stays healthy.
Perry will be a 24-year-old rookie, and that may have contributed to his fall. But he has the operational ability to hit the ground running in the NFL. He also has the untapped physical upside to grow within his role as an X or movement Z receiver.
Few receivers are as long as Perry, yet he showcases impressive explosiveness, lateral agility, and suddenness as a route runner, and he has the attention to detail to weaponize those traits.
Perry's overall mix of physical tools is rare, and he compounds it with a high-level natural receiving ability when the ball is in the air. As a route runner, his flexibility isn't quite elite.
But Perry has the necessary twitch, sink capacity, throttle control, spatial awareness, and targeted physicality to be an independent separator. And already, his combination of quick releases, long-strider speed, and instincts can pressure defenses downfield.
On the boundary, Perry can beat press with physicality and quickness. He can stack defensive backs with speed, cut his stems, and convert downfield with his size, coordination, and steady hands.
He may have a slight acclimation period while he expands his route tree and continues to fill out his frame, but he'll be a valuable part of the Saints' WR rotation on Day 1, and he has the upside and temperament to grow into a solid starter.
Listen to the PFN Scouting Podcast
List to the PFN Scouting Podcast! Click the embedded player below to listen, or you can find the PFN Scouting Podcast on iTunes, Spotify, and all major podcast platforms.  Be sure to subscribe and leave us a five-star review! Rather watch instead? Check out the PFN Scouting Podcast on our Scouting YouTube channel.