He was dominant in 2021, and he was dominant in 2022, even after the mass exodus of first-round talent from Georgia's defense. With his 2023 NFL Draft scouting report, Georgia DT Jalen Carter is one of the best defenders to enter the NFL in recent years. One could even make an argument that he was the top overall player in the 2023 class. Here's what he brings to the Philadelphia Eagles.
Jalen Carter NFL Draft Profile
Position: Defensive Tackle
School: Georgia
Current Year: Junior
Height/Weight: 6'3″, 314 pounds
Length: 33 1/2″
Wingspan: 81″
Hand: 10 1/4″
Some prospects are just meant to succeed. And looking back, it's very hard to envision any other potential outcome for Carter. Carter was a star at Apopka High School in Florida. He logged 12 sacks as a senior standout and drew comparisons to fellow Apopka product and Hall of Fame defensive lineman Warren Sapp.
On the recruiting trail, Carter was predictably a coveted player. He was a surefire five-star recruit, not only on account of his production but also his athletic traits. Carter logged a 5.15 40-yard dash and a 28.7″ vertical in testing, merely confirming the high-end burst, agility, and play speed that he showed on tape.
Fast forward to now, and Carter has met the lofty expectations set by his high school success. In 2021, alongside a slew of talented linemen, the Georgia DT secured 37 tackles, 8.5 tackles for loss, and three sacks for himself.
In 2022, Georgia lost Jordan Davis, Devonte Wyatt, and Travon Walker, among others, but it didn't matter. All it did was solidify Carter as the new top dog. Despite missing multiple games to injury in 2022, Carter nearly matched his production from 2021, adding three more sacks and seven more TFLs.
Carter's stats are good, but even they don't do justice the impact he has on the football field. Few defensive tackles are driving forces for a team's success the way Carter is. That talent has helped him sustain production with less talent around him, and it makes his ceiling at the NFL level extremely exciting.
Jalen Carter Scouting Report
Does Carter have the ability to elevate the Eagles' defense with his traits? As his 2023 NFL Draft scouting report shows, the Georgia DT most certainly does.
Carter's Positives
A disruptive interior defensive lineman is worth his weight in gold in the modern NFL. That's exactly what Carter can be with his tools. It feels right to start with the physical traits.
Carter has the elite first-step quickness to invade gaps just as plays materialize, eroding blocking schemes. His first step is consistently great, but he can build up even more speed in tight spaces with his foot quickness.
Beyond his burst, Carter has elite lateral agility, which he uses to create displacement and manipulate angles off the snap. He covers eye-popping amounts of ground as a lateral mover off his initial explosion.
The Georgia DT has great change-of-direction ability for his size, along with impressive suddenness and twitch. He easily redirects momentum and sustains acceleration through transitions.
Carter times the snap well and effectively loads up potential energy in his lower body. When Carter has a runway, he has excellent build-up speed and can quickly close ground in pursuit.
Another function of Carter's build-up speed is power generation. He has excellent proportional length and frame density, and with his explosiveness and length, the Georgia DT generates overwhelming amounts of force at contact.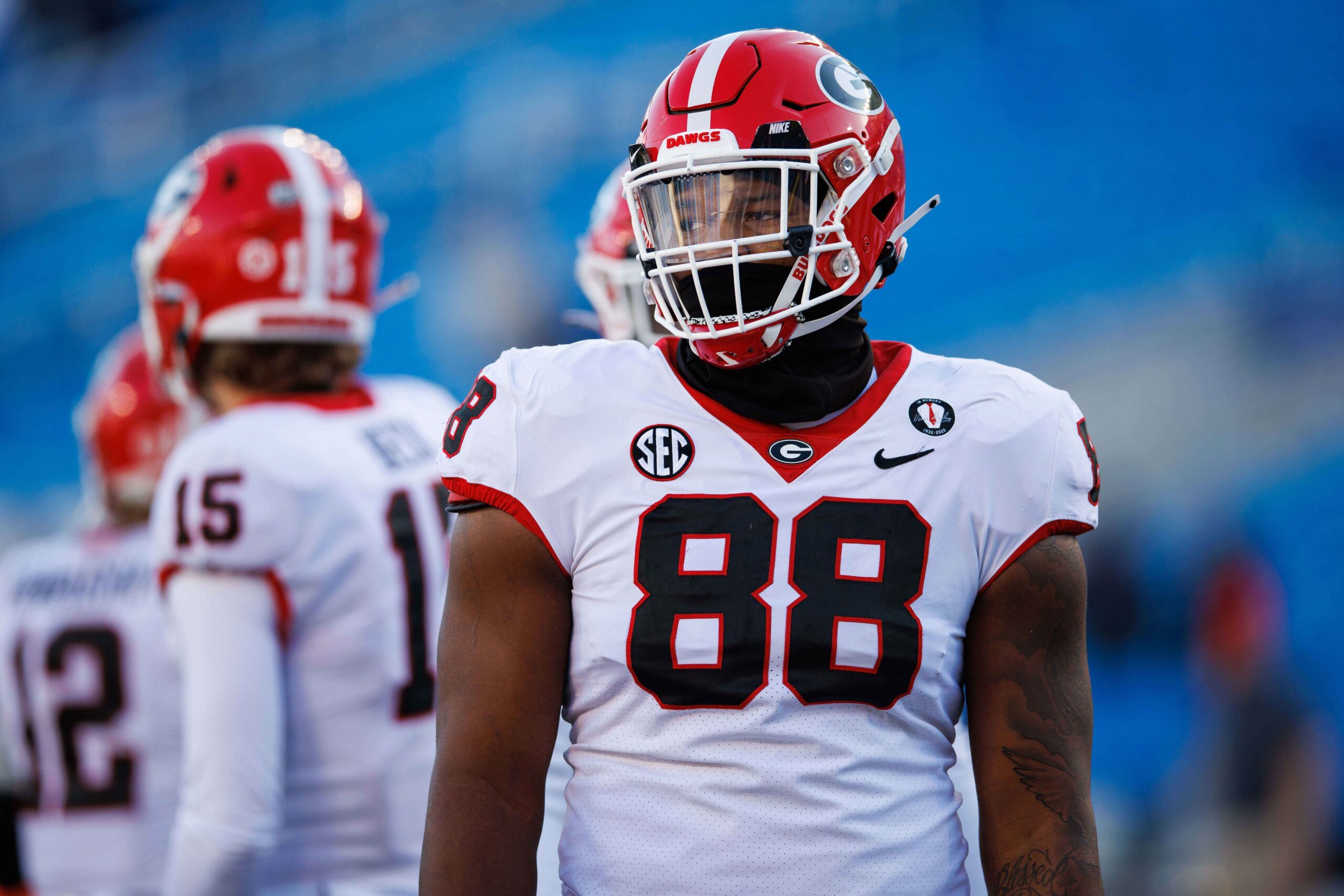 With his burst, power, and the natural leverage that his shorter frame affords him, Carter can demolish run plays. He's masterful at exploiting his natural leverage and using it as an accelerant for his physical tools. He excels at dropping his pads, shooting into extensions, and maximizing his straight-line power generation.
But beyond that, Carter has the high-level upper-body torque to ruthlessly toss blockers aside and surge into space. His amped-up upper-body movement allows for devastating hand usage and torque generation.
Carter has rare amounts of potential energy stored in his frame, and when he unleashes it, bad things happen for blockers. But Carter isn't a reckless disruptor. He has the play strength to grip and wrench down opposing blocks, and he can also anchor and run with moving blockers.
He absorbs contact and forcefully sheds with his core strength and torque, as he's incredibly natural at sinking his pads and gaining superior leverage.
As a pass rusher, Carter shows immense promise. The Georgia DT uses violent extensions to punch inside the torso with force, and he complements his lateral athleticism with brisk, forceful hand moves. He's able to quickly re-load and re-exert power in congested areas. And his hands carry extraordinary amounts of momentum and knock-back power.
Carter has shown to have the capacity to quickly stack counters when facing successive blockers, and he actively employs swims, rips, and power combos. He also has enough ankle flexion to pinch tight angles and sustain acceleration when stunting around the apex.
In 2022, Carter visibly added to his pass-rushing arsenal and more consistently stacked rips and swims off power moves like long arms, bull rushes, and push pulls.
Not only can Carter generate power quickly, stack moves in rapid succession, and close quickly with his athleticism, but he also has the motor to sustain his impact through reps. Contact doesn't often faze Carter, and he controls pass-rushing reps with aggression and efficiency.
Carter is a high-effort player who draws double-teams as a pass rusher and chases plays across the line in pursuit. His closing burst and proportional length grant him impressive range and tackling ability on the chase. Not only does he bring great effort, but he also flashes the pre-snap instincts to anticipate blocking angles and position himself accordingly.
Carter's Areas for Improvements
While Carter has a strong frame with good length, his lower body is somewhat light, and his functional base could be stronger. He improved this a bit in 2022, but Carter still can't always sustain leg drive or draw power from his base, and he can get moved off his spot at times in run defense. The Georgia DT's frame is around above-average size altogether and can be handled by double-teams.
Carter occasionally struggles to deconstruct blocks against larger linemen and lets his momentum stall as a result. He'll also sometimes pop up too tall off the snap. Carter's relatively low-cut frame gives him a longer torso, which sometimes prevents him from shrinking around blocks. Occasionally, when attempting to flex and pry past blockers, he'll give up leverage and lose control of reps.
Furthermore, Carter loses his balance more often than desired, both when changing directions and attacking blocks. He'll sometimes sacrifice balance and leverage trying to shoot through gaps. He has the explosiveness and power to take those risks off the snap, but they sometimes come back to bite him when he gives blockers too much surface area.
Carter's hands are advanced for his age, and he displayed additional growth in 2022. Nevertheless, he can still keep honing his skills here.
The Georgia DT's placement could be cleaner at times, as imprecise strikes don't effectively channel his traits. He can also be a bit more consistent when stacking counters, and his rushes sometimes die out after initial moves. While he has good leg drive and has improved there over the past year, Carter sometimes fails to keep his feet moving on rushes and can get locked up as a result.
Among other things, Carter sometimes hesitates when reading the backfield and occasionally takes faulty angles in pursuit. He'll also appear gassed on occasion, and when his stamina runs out, his reps aren't as clean. However, this rarely happens.
Jalen Carter's 2023 NFL Outlook
There was talk about Carter potentially falling the 2023 NFL Draft after an offseason marred by off-the-field issues and concerns at his pro day. But ultimately, Carter's film had him graded as a blue-chip prospect near the top of the board, and his capital reflected that. He was selected by the Eagles at ninth overall.
Carter's pro day, in particular, drew some questioning about his conditioning and NFL readiness, but early on in camp and in the preseason, Carter has attracted rave reviews. He looks just like his destructive self from his days at Georgia. And more than that, he looks primed to give the Eagles a difference-maker on the defensive front early on.
Carter has elite burst, power capacity, and upper-body torque. He has a devastating combination of natural leverage and proportional length. And he's a violent rusher with heavy hands, amped-up usage, relentless energy, and the lateral agility to quickly offset blockers and capitalize.
Carter's combined abilities allow him to line up as either a 4-3 DT at 3-tech, as a 3-4 defensive end at 3-tech and 4i, or even as far outside as 5-tech. He can wreak havoc with his physical tools and relentless hands in even fronts, but he has more than enough athleticism to shade outside, stunt, and be multiple — perhaps his most important quality on Philadelphia's defensive line.
There may be lumps here and there early on, but Carter has a strong support system in Philadelphia, with both veterans and teammates from Georgia. And with Jordan Davis, Fletcher Cox, and others alongside him, he has personnel flexibility on his side as well.
He should be an immediate two-phase disruptor in his rookie season, and he has Pro Bowl and All-Pro upside at his ceiling in 2+ years.
Listen to the PFN Scouting Podcast
List to the PFN Scouting Podcast! Click the embedded player below to listen, or you can find the PFN Scouting Podcast on iTunes, Spotify, and all major podcast platforms.  Be sure to subscribe and leave us a five-star review! Rather watch instead? Check out the PFN Scouting Podcast on our Scouting YouTube channel.