Most agreed that after the top four QB prospects in the 2023 NFL Draft, Tennessee QB Hendon Hooker was the next man up. Through the 2023 cycle, he was mocked as high as Round 1, and he ended up going at the top end of Round 3 to the Detroit Lions. What does Hooker provide Detroit's staff, both in the short-term and long-term future?
Hendon Hooker NFL Draft Profile
Position: Quarterback
School: Tennessee
Current Year: Redshirt Senior
Height/Weight: 6'3″, 217 pounds
Length: 33″
Hand: 10 1/2″
It was a long and winding road for Hooker, who was at one point a simple footnote in modern college football history. The former four-star recruit and six-year senior began his collegiate career at Virginia Tech, where he redshirted in 2017. He'd sit as a backup in 2018, then emerge as a quality starter during the 2019 season.
Hooker provided some stability at QB under head coach Justin Fuente, particularly in 2019. That year, Hooker completed 99 of 162 passes for 1,555 yards, 13 touchdowns, and two interceptions. But things soured in 2020, and soon after, Hooker transferred to Tennessee to get a fresh start. He got that and more in Knoxville.
Hooker was a breakout star in 2021. In his first year with Josh Heupel, Hooker completed 206 of 302 passes for 2,945 yards, 31 touchdowns, and just three interceptions. His level of efficiency was near unparalleled, and he carried it over into 2022.
In 11 games played this past year, Hooker completed 229 of 329 pass attempts for 3,135 yards, 27 touchdowns, and only two interceptions — bringing his career TD:INT ratio with the Volunteers to 58:5. He also added over 400 rushing yards and five additional scores as a runner.
Hooker's rise with the Volunteers, at one point, had many pondering his ultimate ceiling in the 2023 NFL Draft. Hooker is talented and productive. But he's also a 25-year-old rookie who'll turn 26 early in 2024, and he's coming off a torn ACL suffered in a November contest against South Carolina.
Factoring in both the tape and contextual factors, Hooker's evaluation was one of the more complex cases in the 2023 NFL Draft. But as always, the tape can help us come to a stable conclusion.
Hendon Hooker Scouting Report
Hooker ultimately earned top-75 draft capital in the 2023 NFL Draft, answering questions about whether or not his profile was worth early-round consideration. But does he have a future as a potential starter at the NFL level?
Strengths
At 6'3″, 217 pounds, Hooker has great height and weight for the quarterback position. He'll need to fully recover from his ACL tear before hitting the field again, but it's reasonable to project some modest durability with his frame. Hooker passes the prototypical QB eye test, and he also has a lot of the desired physical traits.
Hooker has very good arm strength. The Tennessee QB can generate solid amounts of velocity with relative ease on a crisp, slingshot release. He brings great velocity generation in the short and intermediate ranges and maintains a tight spiral.
To that end, Hooker doesn't appear strained when generating velocity in those ranges. He has the arm strength to fit the ball into tight pockets outside the numbers with pace.
Going a step further, Hooker's arm is both strong enough and noticeably elastic. He's shown he can mix pace and touch on his throws to a degree. He's not a purely linear thrower and can drop passes into buckets after launching with good velocity.
Hooker has the elasticity to layer throws over defenders with velocity as well. Moreover, he has the elasticity to adjust throwing angles to a degree, and he's able to generate adequate velocity off-platform.
Hooker's arm elasticity and strength, combined with his athleticism and size, grant him notable creation capacity. With his size, Hooker can slip through sacks and stay on his feet, and he has the athleticism to create beyond that.
Hooker has exceptional short-area burst, as well as solid speed when he hits open space. Additionally, he shows off impressive short-area twitch and foot speed for his size. Hooker can levy quick cuts, make single defenders miss, and immediately generate momentum in congestion.
Expanding on Hooker's creation capacity, the Tennessee QB shows glimpses of impressive creative instincts, with which he can maximize his traits. Hooker can keep his eyes up as a scrambler and take advantage of late windows on plays.
In a similar vein, Hooker has an awareness of how his ability as a runner can draw defenders in. He'll actively attempt to manipulate defenders and hit open WRs shortly after. He's not quite an elite athlete, and his ACL tear may raise more questions regarding his retained athleticism, but he has more than enough mobility to pose a threat on the ground.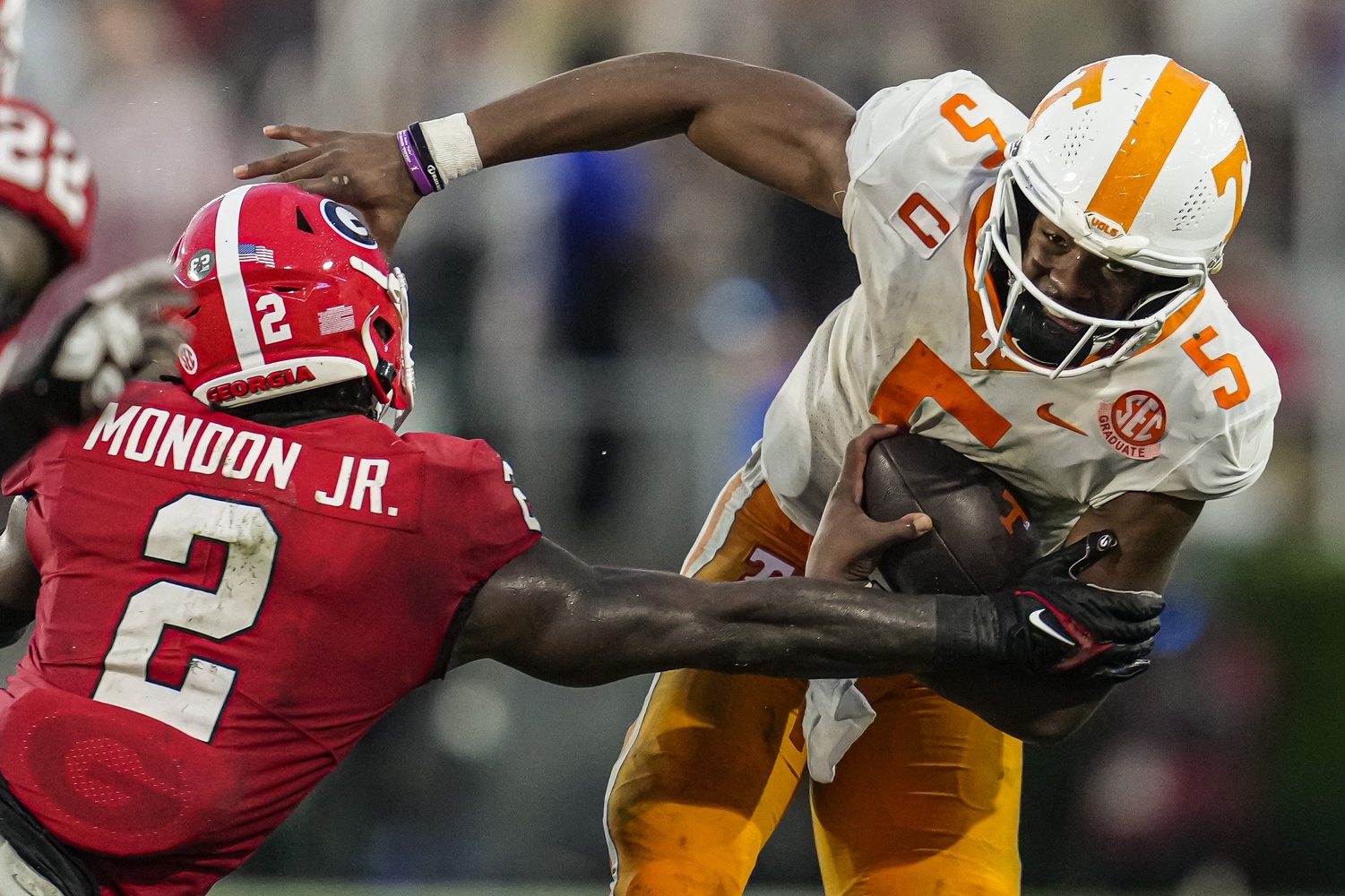 Hooker's off-platform ability helps solidify his off-script utility. He's shown to effectively torque his hips off-platform, even when rolling to his left. In these scenarios, Hooker flashes the ability to keep his shoulders level on the run and maintain accuracy.
Moreover, the Tennessee QB can sidestep rushers and effortlessly re-torque his hips to hit WRs on the scramble drill. As a runner, Hooker's shown to effectively utilize his blockers to extend runs and manipulate defenders in space.
Hooker's true processing capacity was at times diluted by the Tennessee offense, and it's worth wondering if he can transition to the NFL, coming from an offense that manufactured a lot of reads for him. However, there are some positives to note on the mental side.
Though he's not a progression thrower, Hooker has shown he has the ability to anticipate second-window throws and trigger as receivers pass behind defenders. In that regard, he flashes quick processing and reaction to stimulus. Hooker's also flashed the ability to read high-to-low and can process and react quickly to broken coverages.
One of Hooker's hallmarks at Tennessee was his general accuracy. While he still has room to improve in this area, he does have a level of baseline accuracy. Particularly when he's mechanically sound, Hooker can hit receivers in the torso with great velocity in the short and intermediate ranges and has shown to place passes that only receivers can reach.
Going further, Hooker can effectively adjust the trajectory of his throws and place back-shoulder throws on the sideline. To a degree, he anticipates and leads receivers away from contact, hits WRs in-stride over the middle of the field with velocity, and gives his teammates a chance on deep throws. He can throw with touch as well.
In the pocket, Hooker has the ability to remain composed and stay in-phase while surveying windows. He's poised at top of the drop, and flashes the necessary willingness to stand in condensed spaces and deliver.
Beyond that, Hooker flashes above-average instincts in tight spaces. There are moments where he displays proper feel of when to escape the pocket. He has decent awareness of his outlets, sensing pressure on the backside and finding his checkdown.
Taking it a step further, Hooker can sense rushers looping around, roll his shoulder to avoid contact, and roll up into open lanes. Mechanically, Hooker can square up his base to load and torque his hips ahead of throws. He's also shown to snap into phase ahead of throws and correct his base quickly, planting his front foot accurately in the process.
Moving to his upper body, Hooker does have enough mechanical control to use subtle manipulations of shoulder alignment to adjust the trajectory of his throws and fit the ball into tight pockets with loft.
Rounding out Hooker's strengths, the Tennessee QB has occasionally shown discretion when passing up first-window throws and waiting for the second window on slants and digs. He also shows this window awareness off-script.
Expanding on his decision-making, Hooker flashes the necessary discretion to land on his checkdown after progressing high-to-low and sensing pressure. And as a competitor, he's willing to finish forward on runs and use his frame against defenders.
Areas for Improvement
Physically, Hooker has a great foundation, but his arm isn't elite. The Tennessee QB doesn't generate elite velocity on his throws, nor does that velocity consistently carry through to the deep range. He has enough arm talent, but his arm alone can't always create and expand throwing windows.
Additionally, as mentioned earlier, Hooker isn't quite an elite athlete. He has great athleticism for his size, but he's more of a linear runner in space and not an overwhelming lateral threat in the open field. When he needs to make sharp direction changes, he has some hip stiffness that derives from his taller frame.
Nevertheless, Hooker's physical ability remains one of his top selling points. One of his top concerns, in contrast, is his processing and overall lack of progression work. Hooker is noticeably reliant on scripted, one-read plays and RPOs, and will, at times, predetermine throws and force passes in tight coverage. He also struggles with eye discipline and needs to improve this at the next level.
Hooker sometimes hesitates and stares down targets before releasing, and his eyes can draw defenders in early. He's late to trigger on comebacks more often than desired, and he needs to more often anticipate breaks. To that end, Hooker will sometimes increase the risk factor of a throw with delays between recognition and release.
Hooker's frozen eyes can close windows quickly when staring down targets. He doesn't have a great grasp of eye manipulation. When he does have chances to go through progressions, he's relatively slow in progressing from read to read.
Expanding on his flaws as a processor, indecision sometimes sets in for Hooker when delays in reaction close windows. This can set off a domino effect that collapses plays. He'll also sometimes trigger on open receivers far too late, even after a second of drawing defenders in.
For a QB who was largely aided by stacked releases and unsustainable spacing in college, this could invite issues adjusting at the next level.
Overall, Hooker's struggles with eye discipline and independent processing reduce his margin of error for precision, especially over the middle of the field. This makes Hooker's issues with precision all the more worrying because, at this point, he's not consistent enough of a processor to offset them. For a player who'll be a 25-year-old rookie, that is a concern.
At times, Hooker's precision on short RAC throws can improve. He sometimes throws high and leads WRs into contact when he should place for space efficiency. This inaccuracy too often forces adjustments from receivers in the short range on RAC passes. Mechanical inconsistencies can give way to this periodic inaccuracy — often high in the short and intermediate ranges.
But what mechanical flaws lead to this inaccuracy? For Hooker, it's a mix of lower and upper body issues. He sometimes appears to have more of an overhead release as opposed to a rotational one. This can push passes high and cause volatility at times.
In a similar vein, Hooker's release can be a bit concentric and concave. This circular motion can cause variation in his release point and disrupt throw trajectories.
Additionally, with his overhead release, Hooker sometimes tips his front shoulder up ahead of throws, causing passes to sail. His base can be unsteady on release, causing his shoulders to misalign high and low.
Hooker's problems with his base stem from inconsistencies with his footwork. Hooker can more consistently plant and roll his hips through throws to stabilize his trajectory and maximize velocity output. When he doesn't roll through, his lower body is neutralized, and he doesn't benefit from full rotation.
Moving elsewhere, Hooker can sometimes better play to receiver leverage and lead receivers away from contact in the intermediate range. Meanwhile, in the pocket, Hooker can better use hallways to step up and drive his hips through throws.
Hooker flashes proficiency in the pocket, but his poise is much less consistent on extended drop-backs, and his pressure detection can be hot and cold. Past one read, he sometimes flees the pocket too early. But the opposite issue also occurs — he'll linger in the pocket and fail to detect backside rushers.
When he's not threatened by pressure, Hooker can stay composed. However, the Tennessee offense, with its alignments and quick progressions, didn't give Hooker a proper tune-up for the NFL.
His internal clock is inconsistent when he has to stand in and progress from read to read, and that progression work can be easily interrupted by threats.
Among other things, Hooker sometimes freezes in the pocket when reading breaks, which can leave him vulnerable to quick pressure. He can better stand in and deliver amidst contact, as pressure can cause him to clutch throws and hesitate.
Hendon Hooker's 2023 NFL Outlook
Hooker's Round 3 capital is, in a certain lens, a vote of confidence from the Lions about his viability as a future spot-starter or even a potential successor to Jared Goff if his contract situation finds no resolution. But in 2023, it's unlikely that Hooker sees the field at all unless injuries ravage the Lions' QB room.
Goff is the incumbent starter. And in Ben Johnson's system, he's proven to be a very capable and efficient passer. He even earned Pro Bowl honors in 2022.
Behind Goff, the Lions have experienced backup Teddy Bridgewater, who they signed in early August. And behind Bridgewater, they have Nate Sudfeld, another veteran who's been in the league since 2016.
Hooker's immediate roster status also depends on his health. He's currently on the NFI (Non-Football Injury) list and could remain there past the 53-man cutdown date. Eventually, once he's fully healthy, it's expected that he'd be elevated. But he'd still be behind Goff and Bridgewater on the depth chart.
Ultimately, few outcomes have Hooker playing much, if at all, in 2023 — and that might be for the best. At Tennessee, Hooker was heavily aided by the offensive structure.
Within the offense, he performed very well, but it was an offense that employed an abundance of one-read throws and stacked releases, where defensive backs were automatically placed into conflict.
Against faster, smarter, and more versatile NFL defenses, Hooker might not have the same free reign he had in college, and he may encounter more pressure as well.
Hooker's structural handicap at Tennessee presents a major question mark when projecting his viability as an NFL passer. And because Hooker is a 25-year-old rookie, those questions are exacerbated. At the very least, he may need time to acclimate and affiliate himself with the NFL game before taking live reps. The situation in Detroit allows him to do that.
On paper, Hooker does give the Lions very good long-term insurance. If Goff plays well again in 2023 and gets an extension, Hooker might not get a starting opportunity until after his rookie contract expires. But with his physical tools and efficient style as a passer, he does have the traits to be a solid backup and spot-starter in time.
Listen to the PFN Scouting Podcast
List to the PFN Scouting Podcast! Click the embedded player below to listen, or you can find the PFN Scouting Podcast on iTunes, Spotify, and all major podcast platforms.  Be sure to subscribe and leave us a five-star review! Rather watch instead? Check out the PFN Scouting Podcast on our Scouting YouTube channel.