There's a long line of success from the Crimson Tide at the safety position in the NFL Draft. And with his 2023 NFL Draft scouting report, Alabama S Jordan Battle may seek to carry the torch. In an uncertain safety class, does Battle have the necessary tools to benefit, earn a spot in the early rounds, and make an impact as an NFL starter?
Jordan Battle NFL Draft Profile
Position: S
School: Alabama
Current Year: Senior
Height/Weight: 6'1″, 209 pounds
Length: 32″
Hand: 8 1/2″
The safety position is a legacy spot in the Alabama defense. Not only are players there expected to produce at the collegiate level, but they're also expected to go on and make an imprint at the professional level. Battle completed one of these tasks already, but there's still room for him to keep rising.
Battle was a highly-rated four-star recruit in the 2019 class — a product of football factory St. Thomas Aquinas in Fort Lauderdale, Fla. He originally committed to the Ohio State Buckeyes. But when Alabama and Nick Saban showed interest late in the cycle, Battle swiftly decommitted and joined up with the Crimson Tide.
MORE: FREE Mock Draft Simulator With Trades
For his entire career at Alabama, Battle was a consistent contributor. As a true freshman, he put up 30 tackles and an interception. As a true sophomore, he earned a starting role and amassed 66 tackles, three tackles for loss, a pick, and four deflections. And in 2021, as a true junior, he had his best year yet — putting up 85 tackles, three INTs, two pick-sixes, and three deflections.
In 2022, Battle retained his role as one of Alabama's starting safeties alongside nickel defender Brian Branch and fellow veteran Demarcco Hellams. He added 71 more total tackles, an interception, and two pass deflections to his career totals before declaring for the 2023 NFL Draft.
Jordan Battle Scouting Report
Like all of the Alabama safeties before him, Battle is unique in his own right as a prospect. He might not have the absolute ceiling of some who came before him, but he might have the necessary tools to carve out a role in the NFL.
Battle's Positives
At 6'1″, 209 pounds, Battle has a strong, dense frame with good length. He has the size to be an enforcer and cover both receivers and tight ends in space. Of course, size is only half the equation. Athleticism is the other part, and while Battle isn't elite in that area, he has enough functional athleticism to work with.
Battle flashes good explosive capacity on tape. He displays solid burst out of transitions and flashes great short-area burst when moving to match receivers and eliminate space. Battle can close fairly quickly after identifying underneath routes breaking into space, and he brings an intense closing burst when attacking the ball.
Going further, Battle can use curvilinear acceleration to splice blocks in congested areas without losing speed. Moreover, the Alabama S has the ankle flexion to sustain curvilinear acceleration while matching and carrying receivers upfield.
Not only is Battle explosive enough, but he's also visibly agile and reasonably fluid. The Alabama S flashes excellent short-area agility and has noticeable twitch and suddenness in close quarters. He can use his twitchy, high-energy athleticism to adjust tackling angles in tight spaces and gather himself quickly at stems.
More important for Battle, especially in coverage, is his fluidity. He has the hip fluidity to quickly snap back and redirect momentum in space. He's able to align his hips with receivers as they track upfield, and he can adequately sink his hips and carry acceleration through direction changes. Additionally, Battle has shown he can instantly go from inside leverage to boundary pursuit with little delay.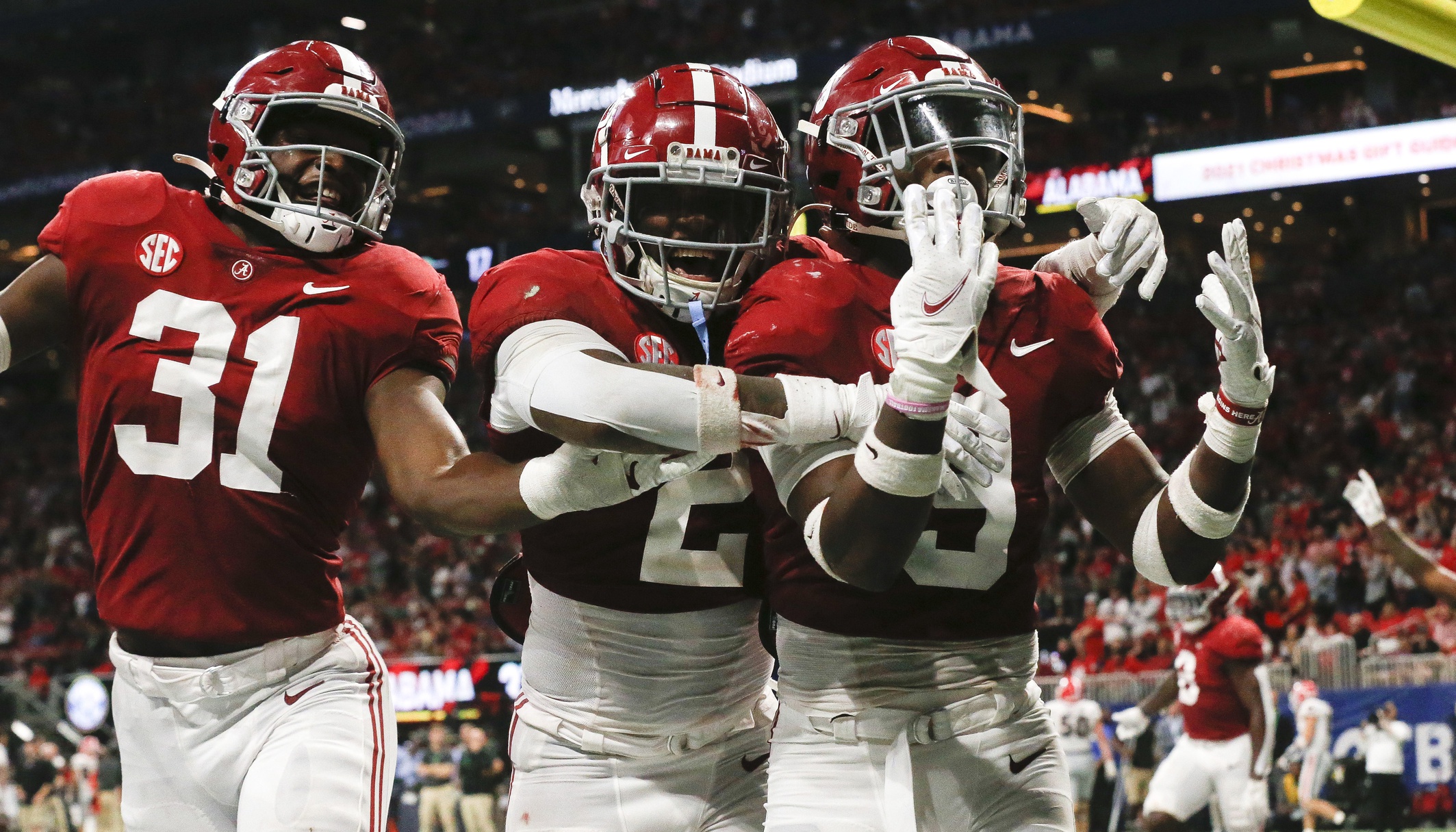 Battle isn't a quantifiably elite athlete, but he safely passes the threshold required for an NFL starting role. And beyond that, he also shows promise with his processing. Battle is an active communicator on the back end, and he's shown he can quickly identify runs and screens and close rapidly downhill. The Alabama S can blanket short routes with quick recognition and often reacts swiftly to WR breaks, keying in on the hips to stick to receivers' pockets.
Expanding on Battle's processing, the Alabama S actively keys in on the QB's eyes in zone coverage to decipher intent, and he can preemptively flip his hips to gain speed and close windows. To that end, Battle is able to recognize and anticipate route concepts. He can jump routes, obstruct the passing lane, and generate turnovers. When he's not triggering on plays, Battle can effectively carry and pass off receivers as a zone defender, then reset his positioning in space.
Technically, Battle has patient footwork in zone. He can use quick gather steps to adjust angles, then snap into phase to match receivers out of breaks. He's always active and continually resets his base as plays develop. Going further, Battle has a smooth backpedal and effectively manages space as he processes the field. He'll square up routes before committing to maintain leverage at stems. He can also employ the catch technique, then decelerate quickly to clamp down on hitches and curls, showing adaptability.
MORE: 2023 NFL Draft Big Board
Battle's skill set also translates well in the support phase. The Alabama S is an urgent, high-energy competitor and a willing, combative player in run support. He can engage blockers of all sizes and brings visible pop in his hands. Additionally, he's able to rip down blocks and close ground quickly. Battle can throttle up and down to swerve through congestion and gain inside leverage on blocks, obstructing rushing lanes.
Among other things, Battle has shown he can tackle in the open field with proper form, going low and wrapping up. His frame grants him solid play strength and finishing ability as a tackler. And as a playmaker, the Alabama S can extend and attack the ball at the catch point. He fights through the catch process and actively seeks to disrupt his opponent.
Battle's Areas for Improvement
Athletically, Battle is exceptional but visibly short of the elite mark. He doesn't quite have elite long-track explosiveness and is more of a short-striding accelerator. He also lacks great long speed. The Alabama S maxes out in deep coverage and doesn't always have the range to seal off boundary plays with a flat pursuit angle.
Battle's testing numbers corroborate his on-field athletic profile. For his size, he has decent speed, as evidenced by his 4.55 40-yard dash, and his 1.55 10-yard split — above the 90th percentile — provides a glimpse into his explosive profile. His other burst numbers, however — such as his 29.5″ vertical and 9'6″ broad — are less inspiring.
Going further, Battle can get tied up at times when he has to undergo full transitions, and he occasionally has to take extra steps to gather himself while aligning his hips. He doesn't have elite agility either, and his agility testing didn't help to alleviate that concern. His 4.37 shuttle time and 7.31 three-cone were both below average.
Battle's processing can also keep improving. He can be frozen and delayed by motions and held too long by options and RPOs, leaving him a step behind in pursuit. He occasionally gets caught with his eyes off the WR in man coverage and can correspondingly be late to respond to breaks.
At times, Battle shows occasional lapses in spatial awareness and passes off receivers with no help readily available. He can also be more consistent in anticipating and getting better depth off play fakes, even after the 2022 campaign.
Elsewhere, Battle can be outmuscled at stems in space and worked out of proper leverage. He occasionally gets worked too far off-center by stems and can be exploited by double moves. While he generally does well in contact situations, he sometimes shies away from and hesitates when faced with direct contact.
In run support, Battle can be late to disengage from blocks at times, missing tackling opportunities. In a similar vein, he can take faulty angles coming downhill and can more consistently maintain form as a tackler.
Current Draft Projection for Alabama S Jordan Battle
Battles grades just outside the top 100 in the 2023 NFL Draft and could field interest either in the late Day 2 or early-to-mid Day 3 range. He doesn't have the athletic upside necessary to buoy his profile into Round 1, but especially in a wide-open safety class, his experience as a traditional field safety with built-in versatility will have value.
Overall, Battle is a very solid player with a relatively safe projection to the NFL. He has a strong frame, along with a passable level of functional explosiveness, agility, fluidity, and speed. He can hold up in two-high, roam in the box and provide support with his frame, and even use his backpedal out of the slot to cover in man on a situational basis.
MORE: 2023 NFL Draft Safety Class
Meanwhile, in the operational phase, Battle is an able processor who can recognize route concepts and break early on passes, as well as manage space in zone coverage. He's shown he can make plays on the ball when it enters his wheelhouse, and he also has the physicality and closing burst to secure tackles when attacking downhill.
In a modern NFL, where three-safety looks are becoming more common, Battle can thrive. He likely fits best as a strong safety in two-high schemes. That's where his size, playstyle, and brand of mobility will be most effective. But Battle can also rotate into the box and enforce close to the line. And he has enough fluidity, agility, technical efficiency, and curvilinear acceleration to function as a big-slot defender as well.
Battle doesn't have the top-end speed and burst to be a single-high safety. But there's a definite role for him in the NFL, and he has the baseline versatility to be a valuable addition to an NFL secondary. He may never be a game-changing talent, but he can be a solid starter for years on end at his maximum projection.
Listen to the PFN Scouting Podcast
List to the PFN Scouting Podcast! Click the embedded player below to listen, or you can find the PFN Scouting Podcast on iTunes, Spotify, and all major podcast platforms.  Be sure to subscribe and leave us a five-star review! Rather watch instead? Check out the PFN Scouting Podcast on our Scouting YouTube channel.