Wayne Simmons (1993), Anthony Simmons (1998), Stephone Anthony (2015), and Isaiah Simmons (2020). What do those four names have in common? Each is a former Clemson Tiger LB selected in the first round of the NFL draft. In 2023, Trenton Simpson hopes to add his name to that prestigious list. But does Simpson's scouting report showcase the talent to crack the first round?
Trenton Simpson NFL Draft Profile
Position: Linebacker
School: Clemson
Current Year: Junior
Height/Weight: 6'2″, 235 pounds
Arm Length: 32 3/8″
Hand Size: 10 1/4″
Simpson is not some under-the-radar prospect. As the son of a decorated U.S. Army Ranger, greatness wasn't hoped for — it was expected. After generating 20 sacks as a senior for Mallard Creek High School, Simpson was seen as the No. 1 OLB recruit and the crown jewel of North Carolina in the 2020 class. He initially committed to Auburn but ultimately decided to stay closer to home, signing with Clemson.
As a result, Simpson received the do-it-all defensive catalyst torch from Isaiah Simmons, who left for the NFL in the 2020 draft. Simpson spent his true freshman campaign as a rotational piece, but he's been the heart of Clemson's defense over the last two years.
MORE: FREE Mock Draft Simulator With Trades
Although longtime defensive coordinator Brent Venables left to become the head coach of Oklahoma last season, Clemson DC Wes Goodwin kept many of the key principles in place. However, Goodwin lined up Simpson in the box far more often, largely eliminating his role in the slot.
Across 37 career games (27 starts), Simpson racked up 164 tackles (22.5 for loss), 12.5 sacks, five pass breakups, and three forced fumbles — it's safe to say he lived up to his lofty billing.
Trenton Simpson Scouting Report
Before we continue, let's make one thing clear: Simpson is not Isaiah Simmons. Sure, they are both uber-athletic "linebackers" that play a versatile role, but they do so differently. Simmons was a jumbo-sized safety (6'4″, 240 pounds) asked to drop into the box, while Simpson is a true linebacker with the athleticism to play in space.
The comparisons will persist, especially as the 2023 NFL Draft draws near. After all, Simmons went in the top 10 and has struggled to find a footing with the Arizona Cardinals. But I'm here to tell you why Simpson has a clearer path to NFL productivity and could find himself in the first round.
Where Simpson Wins
When you watch Simpson's tape, you have to play a bit of "Where's Waldo?" before each snap. On any given play, he could be in the box, in the slot, off the edge, or even at deep safety. But what makes Simpson so valuable isn't his ability to line up all over the field. It's his ability to dominate all over the field.
Simpson can pressure QBs off blitzes or as a true edge rusher, take on blocks in run defense, and blanket pass catchers in coverage. As a pass rusher, Simpson is fluid and natural. He wins with an explosive first step and the flexibility to flatten and turn corners to the quarterback. Although he can occasionally win one-on-one matchups on the edge, he is best utilized on stunts and blitzes, bulldozing unsuspecting blockers.
What's more, he comes with a plan of attack and excellent technique, something you don't typically see from off-ball linebackers rushing the passer. His eyes never leave the QB, allowing him to get his hands up into passing lanes or separate from blockers to track them down on the move.
In run defense, Simpson can pop on contact, fire his hips, and disengage with ease. Like a dumpster diver sifting through trash in search of treasure, Simpson instinctually moves around bodies in the box to find the ball carrier. His lateral movement skills are elite, as he has the twitch to bounce between gaps at a moment's notice. Additionally, the Clemson LB can hold contain against TEs and OTs, keeping his feet active and eyes on the ball.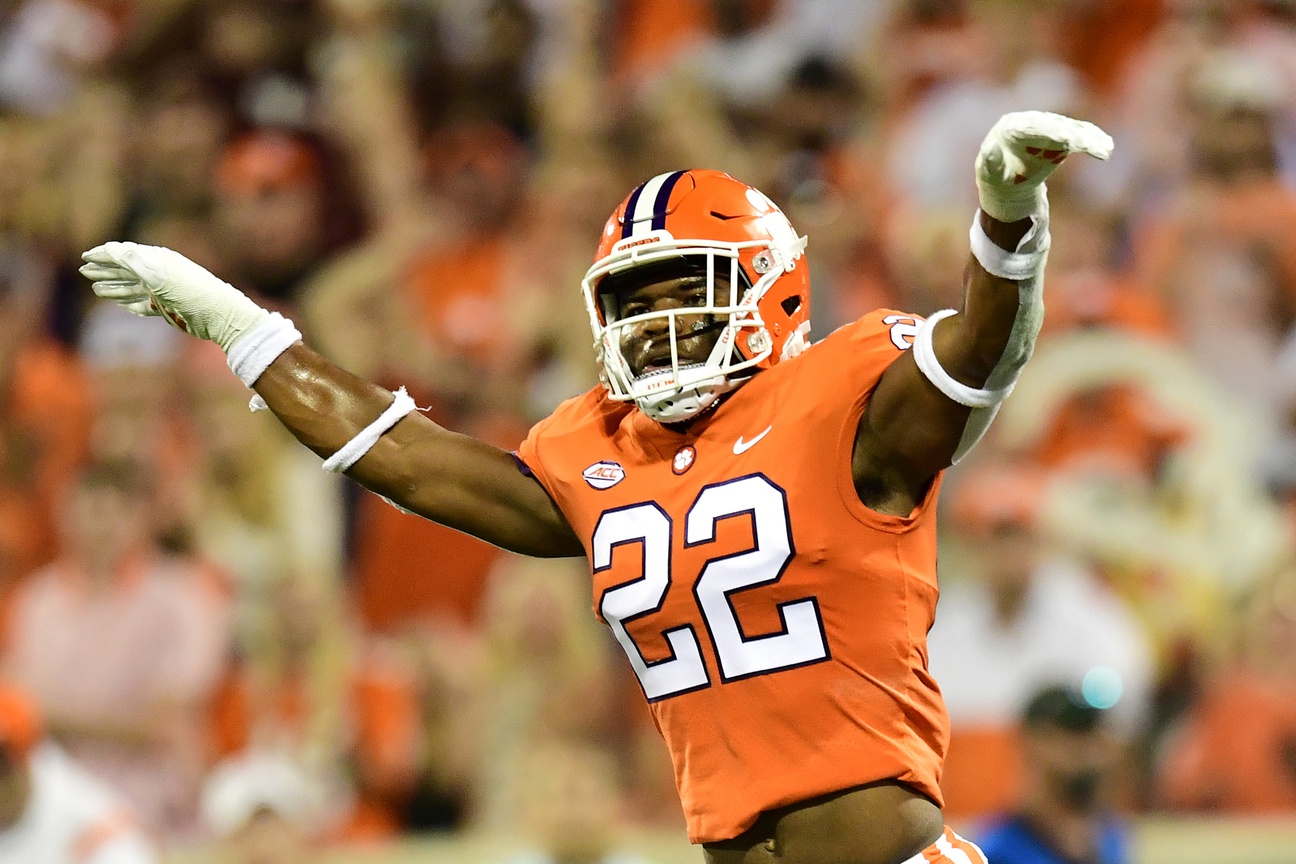 Simpson isn't the strongest, but he easily converts speed to power and plays with excellent pad level. He gains leverage and uses his length to control the opposition at the point of attack, and his twitchiness affords him some room for error.
All of that said, it's Simpson's coverage prowess that is most exciting. Here, Simpson's football IQ and film study shine. Against Wake Forest, he had a rep where he forced the bunch set to widen by pressing at the line and sliding outward. The QB had no choice but to throw underneath, which Simpson swiftly identified and made a play on the ball. His processing speed is visible against WR screens, which he routinely blew up.
Simpson's closing speed is also impressive (4.43 40-yard dash at the NFL Combine), as he can chase QBs and RBs from sideline to sideline or run down pass catchers in the open field. He drops in his zone rapidly and has the range to play as a Tampa 2 MIKE. The Clemson LB has the acceleration to contest passes after losing a step at the stem or line of scrimmage.
And Simpson's motor? Never in question. You don't have to worry if he will give his all on any given snap, no matter the phase. Oh, and the cherry on top: Simpson has a solid amount of special-teams experience and just turned 22 in January.
Simpson's Areas for Improvement
As much as there is to love with Simpson, he's far from perfect. His versatility hurt him in one facet. He wasn't asked to stack much at the second level and was primarily the weakside backer (only one year starting on the inside). Now, Clemson did boast Baylon Spector and James Skalski, limiting the need to play Simpson there.
Still, he doesn't have the mass to withstand climbing blocks in the box. He has the agility to avoid them, but if opponents get hands on his pads, he's usually wiped out of the play. Simpson will also trigger down against the run too quickly sometimes, getting lost in the mess of bodies at the line.
Moreover, the Clemson LB can improve his hands when taking on blocks. His placement can be a bit inconsistent, and his pass-rush repertoire could use more counters and go-to moves aside from his speed to power.
MORE: Top 10 LBs in the 2023 NFL Draft
While he can deconstruct blocks, there are times when longer, more powerful tackles stonewall him off the edge. And as a run defender, he can overpursue angles, leaving cutback lanes for rushers.
On top of the occasionally poor angle as a tackler, Simpson can leave his feet too early, losing power after contact. And he's prone to arm tackles and not setting his base on attempts. In coverage, he can be more disciplined in man-to-man situations, watching the WR's hips and not reacting to upper-body fakes.
And in zone, he sometimes drifts outside his shell, leaving pass catchers with room to operate. In fact, his instincts in zone are quite worrisome, as his processing speed doesn't match his on-field quickness. With no career interceptions and limited production with the ball in the air, it's hard to envision much improvement there in the pros.
Current Draft Projection for Clemson LB Trenton Simpson
Is Simpson the next Isaiah Simmons? No. Is he the next Micah Parsons? No. Trenton Simpson is the next Trenton Simpson. But if we had to give him a pro comparison, it would be a mix of Willie Gay Jr. and Jeremiah Owusu-Koramoah.
JOK was an overhang/slot defender in college that thrived off his versatility and athleticism. He would've been a first-rounder in the 2021 draft were it not for health concerns. That's exactly where I believe Simpson will go next April.
Simpson checks all the boxes. High school pedigree, off-the-field character (two-time ACC Honor Roll selection), elite athleticism, productivity, and, most importantly, potential.
MORE: 2023 NFL Draft Big Board
Simpson is a new-wave linebacker in the NFL, the type that can match any personnel or scheme that offenses throw at him.
I don't believe he will go in the top 20 as Simmons did (eighth overall), but it's not entirely out of the question that Simpson could sneak into the back end of the first round. He's my LB1 in the 2023 NFL Draft, but it's important that the team that selects him maximizes his skill set.
Currently, he's a WILL linebacker with the man-coverage prowess to blanket TEs and RBs out of the gate, but he needs to be protected in zone schemes early on. Yet, he has the movement skills DCs dream of — Simpson is a defensive chess piece that can help counter ever-evolving offenses.
Tony Pauline's Scouting Report for Trenton Simpson
Strengths: Incredibly athletic linebacker who easily makes plays in every direction. Agile, fast, and quickly redirects to plays. Catches ball handlers in backside pursuit or easily runs downfield with tight ends in coverage. Gets depth on pass drops, moves laterally with speed, and covers a tremendous amount of area on the field.
Fast enough to recover from mistakes and has a closing burst to the action. Breaks down well, wraps up tackling, and brings larger ball handlers down in space.
Weaknesses: Lacks bulk and gets knocked off the ball by tight ends. Indecisive and bites on ball fakes.
Overall: Simpson is an athletically gifted LB who plays with an explosive style. While his instincts are of concern to me, the ability to cover a large amount of area in a short amount of time is appealing. He offers scheme and positional versatility, but Simpson may need to play in a simple defensive system.
Listen to the PFN Scouting Podcast
List to the PFN Scouting Podcast! Click the embedded player below to listen, or you can find the PFN Scouting Podcast on iTunes, Spotify, and all major podcast platforms.  Be sure to subscribe and leave us a five-star review! Rather watch instead? Check out the PFN Scouting Podcast on our Scouting YouTube channel.