Entering 2022, Georgia OT Broderick Jones was a trendy pick to emerge in an unsettled 2023 NFL Draft tackle class and elevate his scouting report into Round 1 range. Now that we've had a chance to look back at Jones' 2022 film, did he accomplish what he set out to do, and has he affirmed his first-round status as a prospect?
Broderick Jones NFL Draft Profile
Position: Offensive Tackle
School: Georgia
Current Year: Redshirt Sophomore
Height/Weight: 6'4″, 315 pounds
Heading into the 2022 season, Jones only had four career starts on his record. And yet, you likely saw his name at least a half-dozen times in early summer 2023 NFL mock drafts. There's a reason for that. Even with his lack of experience, Jones was anointed as a future early-round pick long before even the 2021 season.
It started as far back as high school, where Jones was a dominant blocker in Lithonia, Georgia. His success as a high school blocker was so great that he eventually earned a five-star recruit billing in the 2020 class. He would have been a heavily sought-after player, but Jones committed to the in-state titan Georgia Bulldogs all the way back in 2018. Jones was set on Georgia, and Georgia was set on him.
MORE: 100% Free NFL Mock Draft Simulator
Jones maintained his redshirt in 2020 while playing sparingly as a reserve. But in 2021, Jones saw an uptick in reps, particularly when starting blindside blocker Jamaree Salyer was injured late in the year. Logging starts in games versus Tennessee and Missouri, Jones displayed tangible growth over a short time span and flashed his astronomical potential.
Salyer leaving for the 2022 NFL Draft opened the door for Jones to become the full-time starting left tackle for the first time in his career this past season. Georgia's confidence in Jones was rewarded, as he went on to start all 13 games through conference championship weekend, earning AP first-team All-SEC recognition in the process.
He's long been labeled as a potential early declaration. And now, the redshirt sophomore could be well on his way to making that potential outcome a reality.
Broderick Jones Scouting Report
A former five-star recruit and borderline top-10 player in his class, Jones has the look and feel of an NFL contributor. But with just one full year of starting experience, has he developed enough to be relied upon early in his inevitable NFL career?
Jones' Positives
There's one obvious selling point to Jones' profile, and it's why he's been a regular in first-round mocks since the summer of 2022. Jones has tremendous physical upside, and it starts with his mold.
Jones has a strong, dense frame at 6'4″, 315 pounds, with an excellent combination of natural leverage and elite proportional length. He's also a phenomenal athlete within that frame and brings an abundance of desirable physical qualities.
For his size, Jones is an amped-up mover, who can quickly widen and match opponents off the line in both phases. Similarly, he's an explosive athlete who accelerates quickly when attacking space, using fast feet to pursue linebackers. Jones gets upfield with very little delay, and he gets good depth on his kick in pass protection.
Beyond his explosiveness, Jones is a superb lateral mover who can tempo up around the apex to match surging rushers and close them off. The Georgia OT has the lateral agility to match defenders and quickly recover on inside/outside moves. For his size, he can change directions and reset his shoulder alignment in space very well.
Expanding on his athleticism, Jones has good range in space. He can get out ahead of RBs and rumble downfield, surging into contact. Closer to the line, Jones is able to track across the formation as a pulling blocker on split-zone runs and run down space defenders.
Athleticism is vital, but NFL tackles need more than that. They need power and strength. Those tools are readily available with Jones as well. His near-elite length and rotational freedom grant him high-level power capacity.
On tape, the Georgia OT has proven himself able to torque and hold defenders in place with one-arm extensions. Upon extending, he uses his length to channel awesome power. With his hips, Jones generates additional torque and drives through rotations, sending defenders to the turf.
Not only does Jones have impressive raw power, but he also effectively drives power forward with his lower body after making contact, paving open lanes inside. The Georgia OT has the power output to consistently move edge defenders off the line in run defense. He's also adaptable with his power generation, able to quickly redirect and drive defenders downhill when defenders flip their hips to facilitate pursuit.
Moving on, Jones has enough core strength to delay power rushes when latched inside the torso. The Georgia OT also flashes great grip strength and torque in succession. He maintains his grip when imbalanced and uses his own momentum to fuel violent rotations, throwing defenders back. Jones' physical traits routinely allow him to compensate when his technique is flawed. Another unique feature of Jones' profile is the natural leverage afforded to him by his 6'4″ frame.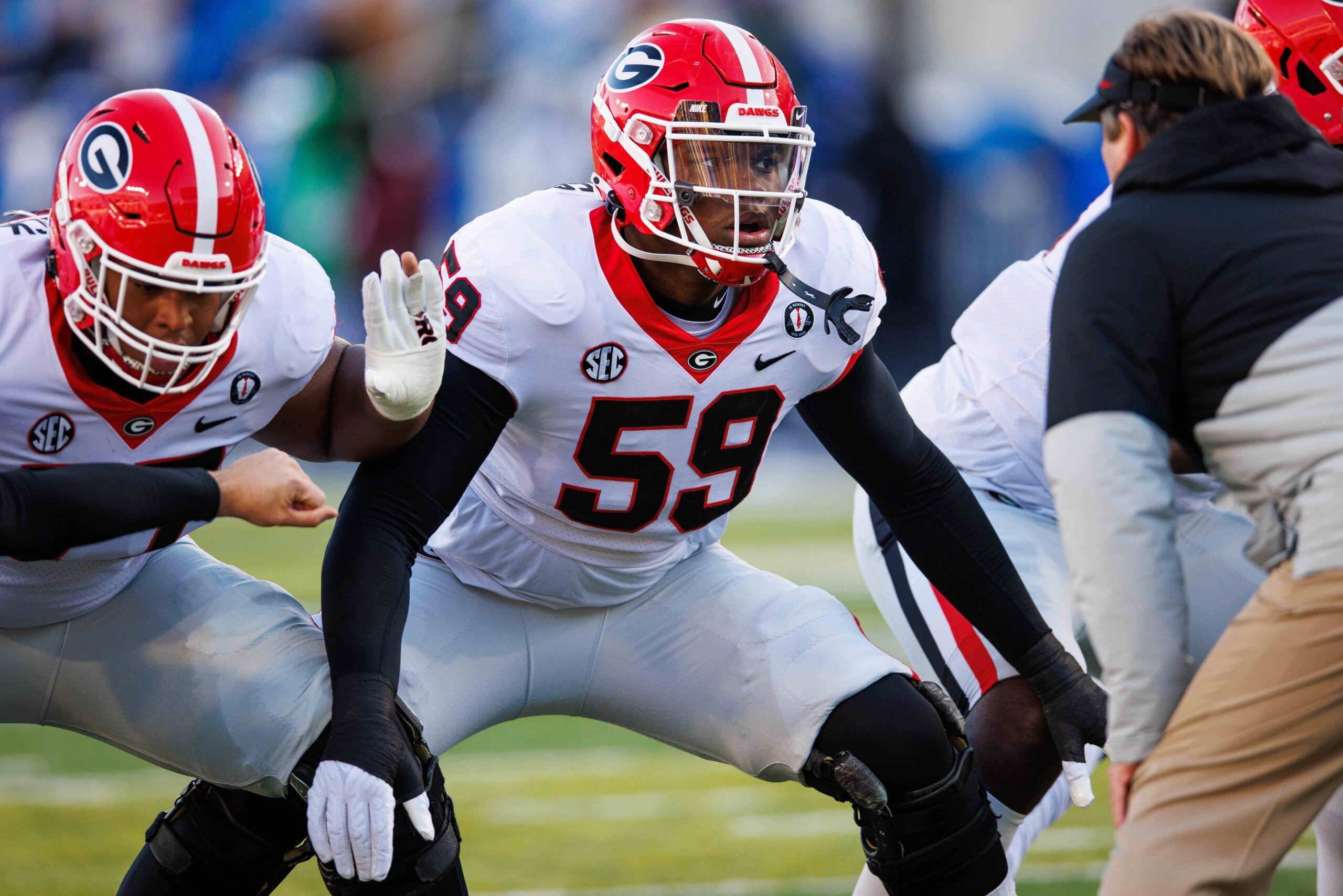 Jones also brings exceptional overall flexibility, another very appealing trait for his NFL projection. The Georgia OT has the high-level flexibility necessary to quickly swivel around, reset his base, and plow defenders out of run paths. He's able to quickly change directions to seal off linebackers crashing the B-gap with his hip flexibility. He also has the torso flexibility to reset his center of gravity and recover on anchored reps after being wrenched back.
Jones' flexibility aids him both when anchored and when playing in space. He has the freedom of movement to adjust his hip alignment swiftly after exploding upfield to chip blockers. Moreover, he can flip to seal rushers outside, then flip again to match direction changes and lock them down, showing impressive alignment control in addition to his overall athleticism and range.
Technique is an area that needs further refinement from Jones, even after 2022. But there are bright moments spread out across his tape over the past two years. Jones has at least shown he can punch inside the torso and lock out extensions while resetting his base and absorbing power. He has the fast-hand capacity to violently replace anchors after swipes and re-load power, and he flashes combative, independent hand usage in spurts.
Going further, Jones can snatch at opponents' wrists to nullify strikes, anchor under pads, and use separate one-hand extensions to pry defenders off attack paths in 2-on-1 situations. While he can sometimes be reliant on lone extensions, Jones has elite proportional length, and he uses it very well to keep himself clean and anchor opposing rushers, using timing and placement effectively.
With his lower-body mechanics, Jones matches rushers laterally and stays in phase around the apex. While he can be erratic at times with his weight distributions, Jones visibly improved that part of his game over his starting sample in 2021 and continued to track upward in 2022. He's able to quickly reset his base and stay uniform while doing so, and he can tempo his footwork to match rushers and maintain positioning.
For a young and developing player, Jones shows great promise with his awareness and processing speed — two traits that can be translatable for further growth. He flashes good awareness as a help blocker when unencumbered, knows when to flip his hips to seal off rushers at apex, and has a good sense of timing.
Additionally, Jones has shown to maintain discipline against stunts. He processes and reacts to looping defenders quickly and naturally passes off defenders while resetting his base.
It's listed last in this section, but Jones' overarching physicality is perhaps the most enticing component of his game — a trait that he uses to blend a vast, exciting mix of strengths together. The Georgia OT has a ruthless, violent disposition, and eagerly capitalizes on defenders who sacrifice leverage.
Jones actively seeks to bury opponents as a moving blocker and has a legitimate mauler mentality that's frequently visible on tape. He imposes his will on trench defenders and routinely drives space defenders into the dirt. He's a finisher, with the dominant physical traits to truly overwhelm opponents.
Jones' Areas for Improvement
It's not a surprise, given how young he is, but Jones still has a ways to go in terms of technique — even after a full season of reps in 2022. His footwork and hand usage are both works in progress, but leverage remains perhaps his most pressing issue.
Even though Jones has good natural leverage at 6'4″, he still struggles to maintain his leverage through and across reps, particularly as a pass protector. Jones' frame, although long and well-proportioned, is a bit high-cut. As a result, he frequently pops up too tall off the snap.
Jones' tendency to default to a high initial pad level can make him easy to get underneath and shed. Going further, he sometimes jolts upright at contact, inhibiting his ability to fully drive through and displace defenders. He'll also lead with shoulders into blocks, which not only neutralizes his base but can cause him to bend at the waist and lurch past his center of gravity.
Lurching is a problem that rears its head more frequently than preferred for Jones. The Georgia OT can stand to bend his knees more, and his pass sets need more axial neutrality overall, as a lack of synergy can create a consistent skew. In a similar vein, Jones struggles occasionally to maintain leverage when matching back, and he's sometimes erratic and imbalanced with his pad level from step to step.
Operationally, Jones sometimes latches with his hands too wide, allowing defenders to get inside his torso and forklift up with power. He'll sometimes bear hug to compensate. Going further, Jones at times extends too high when seeking to anchor. He has room to keep his hands lower in his stance, so he can load power and punch up with full freedom.
MORE: Broderick Jones Among Top 3 Offensive Tackles in 2023 NFL Draft
Jones can also attain better synergy with his feet and hands. He sometimes attempts to extend while off-balance, with his pads too high. And while he's shown flashes of independent hand usage on tape, Jones is still largely dependent on his raw strength and anchor through two-hand extensions. He can outmuscle lighter defenders and absorb them, but more combative rushers can take advantage of his inconsistencies with leverage.
With his footwork, Jones could be more controlled and calculated. He should be more precise with his positioning at the start of reps. His feet sometimes drift in pass protection, skewing his center of gravity as opponents approach. His base can be more consistently uniform, as staggered feet sometimes cause him to lose control and balance. When power exertion is involved, Jones occasionally halts his feet before contact and must do a better job driving forward.
Moving onward, Jones' overall strength, while solid, isn't quite at the level of his athleticism or power capacity. His grip strength can improve on anchors, as he doesn't always latch cleanly and can be relatively easy to shed. To that end, his grip can be broken by powerful rips, which can demolish his center of gravity and delay his recovery. Jones also doesn't quite have the elite core strength to lock down rip moves and keep opponents consistently across face.
Among other things, Jones sometimes struggles to control his momentum and pad level in space, veering past blocks. However, he did visibly improve this in 2022, showing more control as a moving blocker, which allowed him to maximize his aggression downhill.
Elsewhere, Jones sometimes aligns his hips too far off-center when anchored in pass protection, allowing defenders to rip and swim the opposite way. At times, he can better align his hips off the snap to reach the necessary landmarks.
Georgia OT Broderick Jones Current Draft Projection
Jones didn't progress as much as he could have in 2022, but he still grades out as a potential Round 1 selection in the 2023 NFL Draft off his most recent tape. The physical tools are a heavy accelerant for Jones' projection, but at his ceiling, he can truly be a dominant blindside blocker.
As a former five-star recruit, Jones has talent in spades, and then some. As an athlete, he's explosive, amped-up, agile, flexible, and has plenty of range in space. He also has elite proportional length and overall power capacity, and can wrestle defenders into submission with his raw strength at the point of attack.
While the tools are a prime selling point for Jones, they can be a double-edged sword. Even through 2022, he's been a bit too reliant on his tools. Jones' physical skill set dictates that he can outmatch many college defenders with his athleticism and strength alone, but that won't fly as often in the NFL.
MORE: 2023 NFL Draft Prospects
It's worth noting that Jones did display modest growth in 2022. His footwork is smoother and more balanced than it was in 2021, and he's more controlled overall as a moving blocker. But Jones can still struggle to manage his pad level and balance through reps, and as a hand-fighter, he's still largely dependent on two-hand extensions.
To be fair, Jones excels at timing his extensions and latching with force, but when he's forced to be combative and adaptable in the NFL, the results may be up and down early on. Having said all this, Jones isn't completely raw. He's incredibly talented and has enough of a floor to take starting reps early.
Jones will undoubtedly take his lumps, particularly as a pass protector, but more experience is what he needs to further hone his skill set. Once he gets that experience and continues to build around his high-level physical profile, Jones can be an impact starter at either left or right tackle — a projection that's well worth a Round 1 pick.
Tony Pauline's Scouting Report on Broderick Jones
Strengths: Developing left tackle with a large upside. Sets with a wide base, bends his knees, and stays square. Keeps his feet moving, is fluid sliding out laterally, and shows outstanding blocking range in pass protection. Keeps his head on a swivel and quickly recognizes blitzes.
Effective with his hands, jolts defenders with terrific punch, and gets a pad on opponents to knock them from their angles of attack. Quick to the second level, agile, and nicely redirects to linebackers. Easily gets 15-20 yards downfield and is effective blocking in motion.
Weaknesses: Ducks his head and bends at the waist on occasion. Really doesn't finish run blocks.
Overall: Jones was a terrific left tackle for a championship program the past two seasons and is a young prospect who comes with a large upside. He must improve his run-blocking strength but possesses the ability to develop into a starting LT on Sundays.
Listen to the PFN Scouting Podcast
List to the PFN Scouting Podcast! Click the embedded player below to listen, or you can find the PFN Scouting Podcast on iTunes, Spotify, and all major podcast platforms.  Be sure to subscribe and leave us a five-star review! Rather watch instead? Check out the PFN Scouting Podcast on our Scouting YouTube channel.