With a name like Tank Bigsby, you know he's built to play running back. Bigsby sometimes got lost in the shuffle in a deep 2023 NFL Draft RB class, but the Auburn product has the tools to potentially be an even better pro than he was in college. The Jacksonville Jaguars recognized that and selected Bigsby in Round 3. And in Jacksonville, he has the tools to potentially emerge.
Tank Bigsby NFL Draft Profile
Position: Running Back
School: Auburn
Current Year: Junior
Height/Weight: 5'11 5/8″, 215 pounds
Length: 32″
Hand: 9 1/2″
Bigsby was part of a storied 2020 RB recruiting class that included Bijan Robinson, Jahmyr Gibbs, and Zach Evans. Bigsby was the fourth-ranked RB of the group — a high four-star talent who had offers from a host of high-level Power Five programs.
A native of Hogansville, Georgia, Bigsby chose to play with the Auburn Tigers. It was a decision that yielded him early opportunities, and it ultimately brought him stardom on the SEC stage.
Bigsby started off hot in 2020, with 138 carries for 834 yards and five touchdowns as a true freshman. He then embarked on a career-defining campaign in 2021, with 223 carries for 1,099 yards and 10 scores.
Auburn's offense fell under difficult times in 2022, but Bigsby was once again a steady constant for the Tigers. Although his workload saw a slight decrease, Bigsby was still incredibly efficient in an incredibly chaotic system. He accrued 179 carries for 970 yards and 10 touchdowns and added 30 catches for 180 yards through the air.
After three productive years in college, Bigsby chose to declare for the 2023 NFL Draft as a true junior. And though six running backs came off the board before him, Bigsby was taken in Round 3 by the Jaguars. That draft capital serves as a vote of confidence for the player Bigsby can become.
Tank Bigsby's Scouting Report
In a stacked 2023 NFL Draft RB class, Bigsby might just have the traits to be one of the best players from the group in a few years' time. Here's what the tape says about the aptly named running back.
Bigsby's Positives
Cartavious "Tank" Bigsby was born to be a running back. But stylistically, he's not the kind of RB you'd envision when first hearing his name. There's a definite physicality element to Bigsby's game, but explosiveness and agility are two of the most prominent qualities on the Auburn RB's film.
Bigsby is a quick accelerator on cuts. He has a touchy throttle button and uses it with impressive freedom. He also brings great long-track explosiveness upfield and can stretch space when he has an opening.
Going further, Bigsby is controlled with his throttle and has shown to speed up and hit an extra gear to evade threats of contact. Even when he's not working with a lot of space, he has the explosiveness to make the most of small seams at the second level.
Bigsby has enough long speed to stress defenses downfield and stretches for big runs when he has space, and his 4.45 40-yard dash time at his pro day properly characterizes that speed. But Bigsby's agility and twitch are traits that allow him to find space in the first place.
Bigsby has high-end corrective twitch when approaching holes and can use fast feet and lateral twitch to adjust attack angles at a moment's notice. He's an energetic runner with near-elite foot speed. His feet are constantly moving and rarely delay out of cuts.
Expanding on his agility, Bigsby has a superb horizontal cutting ability. He can freely snap open and close with his strides while using variations to manage condensed spaces. With his foot speed and urgency, Bigsby quickly redirects from lateral to vertical motion and surges through lanes.
In a similar vein, Bigsby transitions upfield and supplements acceleration incredibly quickly out of cuts. The Auburn RB can levy cuts at insane angles to escape contact and breach contain.
Bigsby is an agile, fleet-footed runner, and his mix of vision and creative instincts help to maximize that trait. The Auburn RB has exceptional processing speed. He widens his steps to counter outside when the middle of the line caves, even during the exchange. He can also quickly recognize open gaps and attack those lanes, rarely wasting time in the backfield.
Going further, Bigsby is able to identify surging defenders incredibly quickly and has great reaction speed when adapting. The Tigers' playmaker has good vision in space as well. He detects defenders closing in from lateral angles and preemptively deconstructs pursuit paths with cuts.
Bigsby is a patient runner who's comfortable traversing the backfield with his hips and eyes forward while tracking laterally. Moreover, he has the brisk processing in space to quickly and instinctively correct his positioning when needed, and quickly feels cutback lanes and flows to them naturally.
Bigsby is very efficient in his use of space and comfortable splicing through small gaps to the second level. He uses brisk jump cuts to set up his runs in the backfield.
Overall, he's an instinctive, proactive runner in space who can use stride variations to disrupt angles and maintain cushion. But he also has a good feel for creases when entering the second level. He hits the hole, then jukes and surges upfield.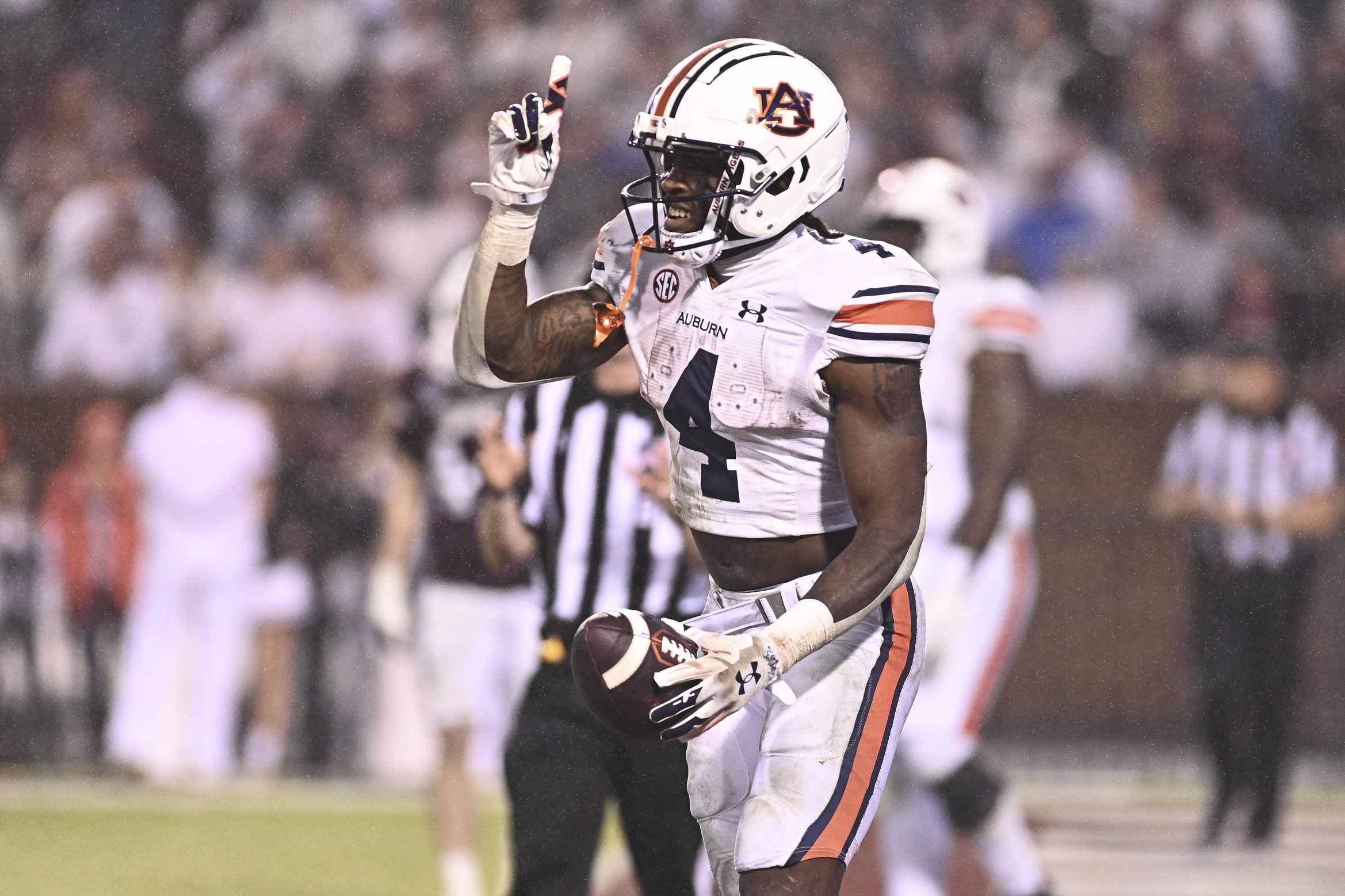 Most notably, Bigsby is comfortable adapting when defenders penetrate early but is also quick to find ground upfield again. With his instincts and feel, the Auburn RB pries through incredibly tight spaces and escapes to the second level.
He very naturally gets low and reduces his surface area to slip through cracks in the defensive front.
While Bigsby isn't the largest back — he weighed 215 at his pro day, but played closer to 210 in college — he has shown to churn through arm tackles while maintaining his strides upfield. The Auburn RB has good balance squeezing through contested gaps.
Bigsby has the ability to get skinny and pry forward while keeping his legs active. Furthermore, he's able to withstand solo tackles and recollect his feet after contact. And he can peel through tackle attempts with foot speed and balance.
Bigsby isn't a bruiser, but he does consistently work forward and reach for extra yardage after encountering initial contact. He uses targeted bouts of physicality like stiff arms to scrape away defenders while keeping stride, and he's willing to lower his shoulder and finish runs forward with physicality.
Most importantly, Bigsby maximizes his ability amidst contact with his running style. He's a hard-charging runner who leads with his upper body to acquire leverage and grate through contact, using his lower body to muscle through.
Bigsby's value isn't quite as distinct on passing downs, but he does have some utility here. The Auburn RB has shown to guide the ball in as a pass catcher, with the focus and body control to adjust for low passes in-stride, as well as secure bobbled passes on the second attempt.
Going further, Bigsby flashes the ability to run routes out of the backfield, and there's reason to believe an NFL offense could better showcase his receiving ability. His brand of athleticism and contact balance also translates incredibly well after the catch.
Last but not least, Bigsby is a willing pass protector, who can keep a wide base and tight hands when engaging defenders.
Bigsby's Areas for Improvement
One could argue that Bigsby doesn't have an elite trait, even if his profile as a 2023 NFL Draft prospect was very well-rounded. His 32.5″ vertical and 9'11" broad jump were underwhelming numbers at the NFL Combine — although he shows visibly greater burst on tape — and his size isn't overwhelming, either.
Bigsby's frame, while above average in size, lacks elite mass and density. The Auburn RB doesn't quite have the mass to consistently truck through solo tackle attempts. In a similar vein, he also doesn't quite have the contact balance to consistently bounce off direct contact.
Moving elsewhere, Bigsby's full-field vision could be better. He doesn't always see available lanes to bounce runs outside. And at times, he could better identify blocking angles upfield and manipulate defenders by using said blocking angles. Bigsby sometimes hugs the line too closely on outside runs and unnecessarily places himself in congested space.
Going further, while Bigsby has excellent foot speed and twitch, he could be more efficient with this twitch. He has some wasted motion and can better sync his feet and upper body on occasion. This wasted motion can draw defenders in and reduce space for him.
In the passing phase, Bigsby sometimes resorts to body catching and hugs the ball to his frame, which can attract drops. And while he's shown to transition to the RAC phase efficiently, there are instances where he should more quickly set his feet in space.
Finally, while Bigsby has great speed, he doesn't quite have elite breakaway gear.
Tank Bigsby's 2023 NFL Outlook
It was tough to rank the 2023 NFL Draft RB prospects past Bijan Robinson at times. But on my board, Bigsby was RB3 behind Robinson and Jahmyr Gibbs and a strong Day 2 prospect with early starter talent at his position. He wasn't the first RB taken on Day 2, but he did earn Day 2 capital from the Jaguars and gives Jacksonville another dynamic weapon.
As menacing as Bigsby's name is, his finesse, twitch, and foot speed constitute some of the strongest elements of his profile. His feet are constantly churning, and the Auburn RB's hyperactive style, combined with his quick processing and feel, allows him to make the most of small creases in the defense, as well as adapt and follow secondary lanes when he needs to.
Bigsby has great vision and creative instincts — traits that help magnify his foot speed and twitch. And once he finds a lane to stretch through, he very naturally lowers his pad level, scrapes through contact, and exhausts runs of their full potential value with his explosiveness and speed.
Bigsby isn't an elite receiving threat, as he can become a more natural hands catcher and expand his route tree. But the Auburn offense may have hidden some of his talents as a receiver. Elsewhere, Bigsby is a tremendously exciting pure runner, with serviceable pass-protection ability.
With his well-rounded blend of traits and high-level agility and malleability as a runner, Bigsby can be a scheme-diverse and situation-diverse runner with his ability to explode through gaps and maximize space. And if he reaches his ceiling in the passing game, he could truly be an impact starter at a low price.
The Jaguars already have Travis Etienne, who they spent Round 1 capital on. And in his first fully healthy season in 2022, he proved himself to be a very efficient runner as well. But Bigsby is just as smooth as a ball carrier and just as versatile, and he's also proven himself to be very sturdy over the past few seasons.
Bigsby will share the load with Etienne early on, but working behind Jacksonville's building offensive line, he could achieve a higher efficiency clip than what he achieved at Auburn, and he could, in turn, earn a greater piece of the pie in the future.
Listen to the PFN Scouting Podcast
List to the PFN Scouting Podcast! Click the embedded player below to listen, or you can find the PFN Scouting Podcast on iTunes, Spotify, and all major podcast platforms.  Be sure to subscribe and leave us a five-star review! Rather watch instead? Check out the PFN Scouting Podcast on our Scouting YouTube channel.