He didn't go in Round 1 of the 2023 NFL Draft like Jaxon Smith-Njigba, Quentin Johnston, Zay Flowers, and Jordan Addison, but North Carolina product and Indianapolis Colts rookie WR Josh Downs quietly has a scouting report to rival them. How close was Downs to the top of the 2023 receiver class, and how explosive can his connection with Anthony Richardson be?
Josh Downs NFL Draft Profile
Position: Wide Receiver
School: North Carolina
Current Year: Junior
Height/Weight: 5'9″, 171 pounds
Length: 30 3/8″
Hand: 9 1/4″
Downs made his climb toward the NFL at an incredibly steep trajectory. Just a few years ago, he was a four-star recruit joining forces with Sam Howell and the North Carolina Tar Heels. Then, in 2021, as a true sophomore, he exploded for 101 catches, 1,335 yards, and eight touchdowns, dominating UNC's target share and yardage output.
Downs has always had the talent. He was a dominant receiving threat in high school, as well as a star in both the triple and long jump. He has a 4.47 40-yard dash and a near-42″ vertical on record from his high school days. But 2021 was the first season it translated in its entirety at the collegiate level.
The raw stats are extremely impressive. Yet, even they don't do justice to the degree Downs produced as a true sophomore. Downs accounted for over 40% of his team's overall passing output and caught almost half of the completions dished out by UNC quarterbacks across the 2021 campaign.
2022 brought similar success for Downs, this time catching passes from likely future first-round pick Drake Maye. Once again serving as the Tar Heels' primary pass-catching weapon, Downs hauled in 94 catches for 1,029 yards and a career-high 11 touchdowns, providing value both underneath and as a deep threat.
As expected, Downs chose to declare for the 2023 NFL Draft after two incredibly strong years at the collegiate level. He then backed up his athletic background at the NFL Combine, running a 4.48 40-yard dash with a blistering 1.49 10-yard split, as well as recording a 38.5″ vertical and a 10'11" broad jump.
Weighing in at just 171 pounds did deflate Downs' stock a bit, but the North Carolina product still earned Day 2 capital in the 2023 NFL Draft. He was selected 79th overall in Round 3 by the Colts.
Josh Downs Scouting Report
Downs wasn't always placed in the discussion as one of the top wide receivers in the 2023 NFL Draft, but perhaps he should've been. In terms of production, execution, and athleticism, Downs had one of the strongest overarching draft profiles, and he seems destined to become a major contributor in the NFL.
Downs' Positives
Downs' game is predicated on his rare dynamic athleticism. The North Carolina WR has elite explosive capacity. He can instantly gear up and accelerate to create separation.
Moreover, Downs has the throttle control to manipulate defensive backs and the instant burst to capitalize. He can use his throttle control with impressive suddenness and ease. Downs' fleet-footed explosiveness enables him to stretch spaces in the open field and escape congestion.
Not only is Downs explosive, but he's also a supremely energetic athlete who moves with lively twitch. He's a weapon with the ball in his hands and can be used in a variety of ways. Downs has extremely loose hips in the open field and can stack direction changes with impressive quickness and urgency.
He also effortlessly sinks his hips on direction changes and can easily maintain balance through transitions. The North Carolina WR is a slippery runner after the catch who can sneak through tight lanes and accelerate in space.
Some of Downs' most exciting potential comes in the RAC phase. However, he's by no means just a gadget receiver. Downs possesses legitimate high-level pass-catching chops.
He has rare hand/eye coordination and body control for his size and can lay out and extend well beyond his frame for challenging catches. He tracks the ball extremely well in the deep third, has a great sense of timing, and contorts and adjusts for passes exceptionally well.
Downs' catching instincts are phenomenal. But he also has very solid hands for his size. He has the hand/eye coordination to snag high-difficulty passes in the deep third, and he can adjust for low passes in stride with his control and coordination.
Downs actively seeks and guides the ball in with his hands, often using the diamond technique. He can also track and gather the ball at high speeds, even with the threat of impending contact, and he attacks the ball when it's in the air. He makes a point to secure the ball with his hands and rarely resorts to body-catching.
Downs is a hyperactive athlete with high-end instincts. But perhaps his most exciting trait is how he channels his athleticism through route nuance. Downs is a superb route runner who can use his sudden, twitchy energy to launch off stems.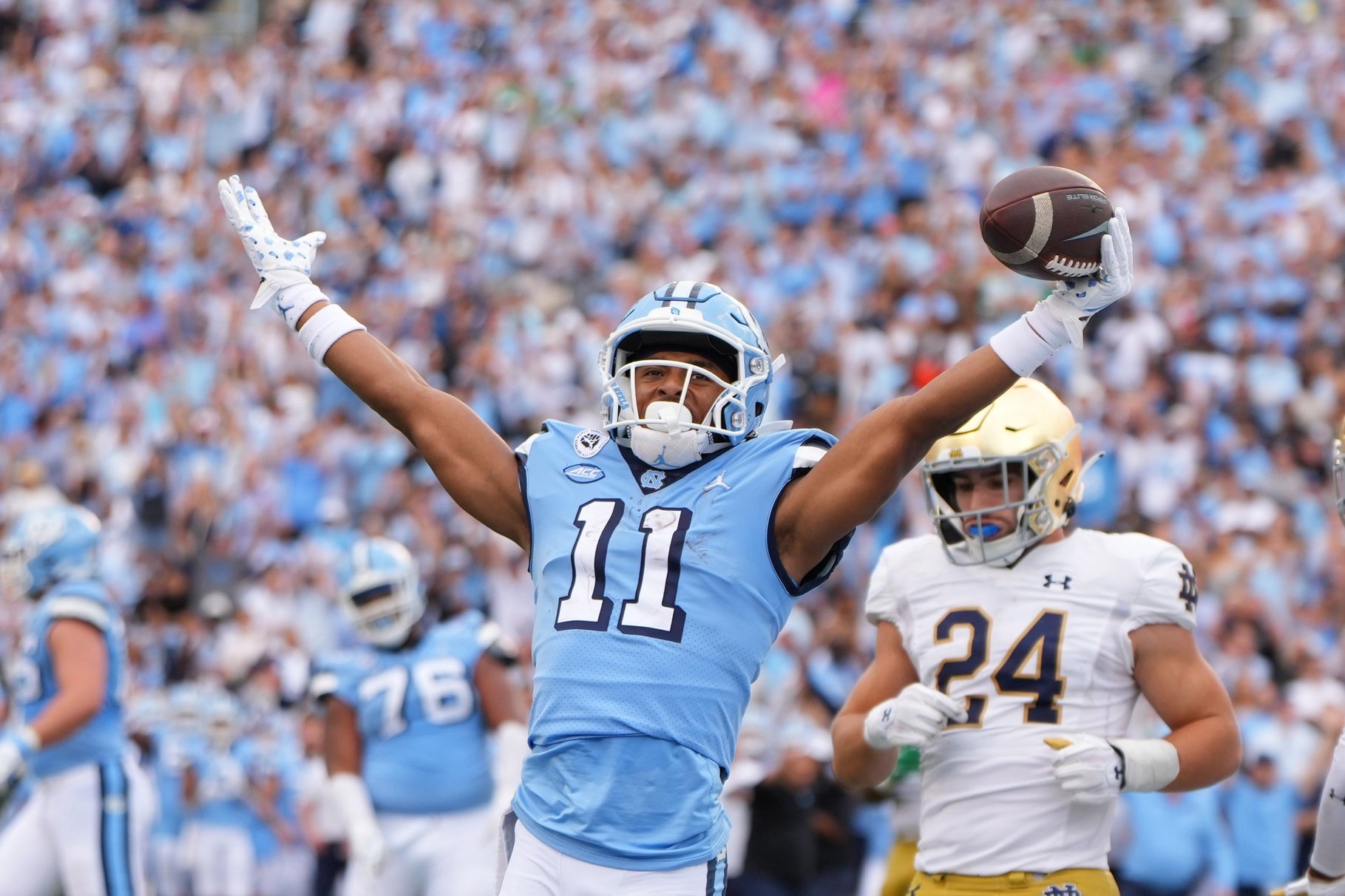 He can sink his hips effortlessly and accelerate instantly out of transitions. Moreover, the North Carolina WR has impressive stopping ability. He can snap his feet forward to stop, halt momentum, and explode off his breaks.
Going further, Downs has the speed and explosiveness to manipulate defenders and press upfield ahead of stems. He can use his swift acceleration to feign attack angles downfield, manipulating defenders into over-setting or biting on deep routes.
In a similar vein, he can vary the tempo of his footwork leading up to route stems to get DBs off-balance and create space. He methodically manipulates angles and blind spots with great spatial awareness and has the speed and burst to capitalize.
More simply put, Downs has the speed and explosiveness to threaten DBs downfield, displace, and create space. And he uses that mix to his full advantage. He has one of the best route running combinations in the entire 2023 NFL Draft class when you factor in composite explosiveness, flexibility, throttle control, spatial awareness, and precision at breaking points.
Traits like Downs' abrupt feet and twitchy lateral athleticism translate positively against press coverage.
The North Carolina WR also has excellent long speed, which he can use to house short passes and get behind the defense as a constant downfield threat. In the short range, Downs has shown he can occasionally absorb direct contact and reset his feet. Moreover, he can slip through arm tackles and quickly recalibrate with his loose hips.
Among other things, Downs brings good effort as a blocker for his size. He has fast feet and hands and actively squares up opponents. Furthermore, he's a chippy competitor who will get in the face of DBs who try to intimidate him.
Downs' Areas for Improvement
Most notably, Downs' size is poor. He's a shorter, lighter receiver who experiences consistent mismatches as a result. He's not always consistent working through contact and can be fazed in close quarters. Moreover, the North Carolina WR is prone to occasional focus drops, though he drastically improved his drop rate in 2022.
Downs sometimes tries to do too much with his agility. While he's phenomenal overall with his route nuance, he still has room to maximize his efficiency and cut down on wasted movement at stems.
The North Carolina WR also has room to keep expanding his route tree. He worked out of the slot often at North Carolina, as well as off motions, and was afforded uncontested releases rather frequently. His athleticism projects well in press, but he needs more experience there, and his lighter frame may render him more easily delayed.
At the catch point, Downs can have his focus disrupted by physicality. He doesn't have the size to consistently fight through contact. In a similar nature, he doesn't always work through first contact on the ground with his frame.
As a blocker, he sometimes shies away from blocks when he has a chance to help teammates downfield. He lacks the strength and size to be a consistent asset in that phase.
Finally, while Downs has excellent long speed, he doesn't quite have that breakaway gear that separates elite speed threats.
Josh Downs' 2023 NFL Outlook
On my board, Downs was a top-five WR prospect and a worthy first-round candidate in the 2023 NFL Draft. His size is a notable drawback, but it's also one of the only negatives to list off his tape. Even with below-average size, Downs has the skill set to be an extremely dangerous threat in the Colts' offense.
Downs is a rare mold of explosive athlete, with the top-tier burst, twitch, and hip flexibility to create and manage space at will. Before the catch, he features a terrifying tool chest of manipulative nuances, among them smooth throttle control, blind-spot exploitation, spatial awareness, and effortless hip sink.
At the catch point, his strong instincts help him play larger than his frame. And after the catch, he's an explosive, elusive ball carrier, who makes it incredibly difficult for defenders to meet him head-on.
Downs does lack over-arching physicality, and there's still room for him to maximize his efficiency and further prove himself against press. That lack of proven press translatability, in particular, is what may limit him to a slot role early on.
But in the modern NFL, where space manipulation rules, Downs is a perfect fit. He can separate independently with his blend of athleticism and nuance, and he's a dynamic RAC threat when schemed into space.
Downs' two-phase creation ability is exciting, but what makes him even more appealing as a WR prospect is his consistency as a hands-catcher. He's an explosive, dynamic athlete who also brings tremendous utility separating and converting at the catch point.
With his separation style and his willingness to attack the football and play larger than his frame, he bears some similarities to Doug Baldwin, who was a Pro Bowler and a slot menace for the Seattle Seahawks.
To summate, although Downs may be limited to a role predominantly in the slot, he can be a true dynamic catalyst for an offense within that role.
He was one of the top WR prospects in the 2023 NFL Draft, possessing impact starter potential. His profile was worth a late-Round 1 pick on my board, and on paper, the Colts got an absolute steal at 79th overall.
With the Colts, Downs has a number of physical, big-bodied receiving threats beside him — among them Michael Pittman Jr., Alec Pierce, and Jelani Woods — who will be able to draw extra attention, take pressure off, and allow him to secure one-on-one matchups.
Downs has the speed and explosiveness to threaten vertically in Shane Steichen's aggressive offense, and he has the instincts to convert on high throws, but he's also a versatile, dynamic weapon with the ball in his hands, and he can terrorize defenses on the lateral plane, giving Richardson a safety net as well.
At just 171 pounds, Downs may have a few "welcome to the NFL" moments where physicality gets the best of him. But his ability to manipulate and take advantage of space is simply too overwhelming, and he should carve out a place early on as the Colts' horizontal-vertical dynamo out of the slot.
Listen to the PFN Scouting Podcast
List to the PFN Scouting Podcast! Click the embedded player below to listen, or you can find the PFN Scouting Podcast on iTunes, Spotify, and all major podcast platforms.  Be sure to subscribe and leave us a five-star review! Rather watch instead? Check out the PFN Scouting Podcast on our Scouting YouTube channel.