After generating intrigue early in the 2022 NFL Draft cycle, Pitt LB SirVocea Dennis ultimately chose to return to school for his senior season. One year later, Dennis has fallen under the radar a bit in the 2023 NFL Draft class, but his scouting report is still very much worth knowing.
SirVocea Dennis NFL draft profile
Pat Narduzzi comes from the Mark Dantonio school of recruiting. That is, find the two- and three-star recruits who have "that dawg" in them. It's not a sustainable strategy by itself, but it can bear fruit — if you're able to find diamonds in the rough.
At this point, Narduzzi can count Dennis as one of his victories on the recruiting trail. Coming out of Syracuse, New York, Dennis was a mere two-star recruit in the 2019 class. He played quarterback and defensive back at Christian Brothers Academy. Then, Dennis then went to prep school for a year before joining the Panthers as a linebacker.
MORE: FREE Mock Draft Simulator With Trades
By 2020, Dennis was starting — and flourishing — at the center of the Pitt defense. As a true sophomore, he racked up 55 tackles, 14 tackles for loss, and four sacks. In 2021, he doubled his sack output and added 82 tackles and 10 TFLs.
All told, Dennis has accounted for 24 TFLs and eight sacks in two seasons on the second level. That's absurd production behind the line of scrimmage for an off-ball linebacker. That production is a product of Dennis' skill set, one that should grant him a future in the NFL.
Position: Linebacker
School: Pitt
Current Year: Senior
Height/Weight: 6'1″, 230 pounds
SirVocea Dennis scouting report
One of the most productive linebackers in college football over the past two seasons, what does Dennis bring to the table as a 2023 NFL Draft prospect?
Dennis' positives
At 6'1″, 230 pounds, Dennis is a decent-sized LB with great proportional length, as his arms will likely measure over 32″. For his size, he's an extremely explosive athlete. Dennis has great short-area burst coming downhill and can spring into the backfield through gaps. His overall explosive capacity is elite, and he shoots out of a cannon when attacking plays.
Dennis also brings the necessary speed to close ground in pursuit at the second level. Especially within the confines of the box, he's ruthless at attacking gaps and running down opponents. He leverages his explosiveness and length into impressive force at the contact point, and he shows off high-level suddenness and burst heading into contact. The Pitt LB can trigger in an instant and explodes into the backfield when blitzing from space.
As a delayed rusher, Dennis can pressure angles quickly and catch quarterbacks by surprise. He's a high-level blitzing threat on passing downs with his overall athletic makeup. He also flashes good full-field range in open space. Dennis can reach his top speed incredibly quickly and can cover ground with efficiency between the hashes.
Additionally, Dennis carries solid agility and flexibility in close quarters. He swims through congestion and instinctively hunts down ball carriers. With his loose hips, the Pitt LB can quickly snap into place with pursuit angles and explode toward his target. He has the corrective athleticism to easily reset after evading blocks.
Short-area athleticism is one of Dennis' most appealing qualities. He is a spry lateral athlete who moves side to side with impressive freedom and pace. He's able to surge and roll his hips around blocks and then veer inside to make tackles. Dennis has the high-end corrective twitch to adjust pursuit angles downhill with little response time, and he can suddenly redirect and accelerate into lanes.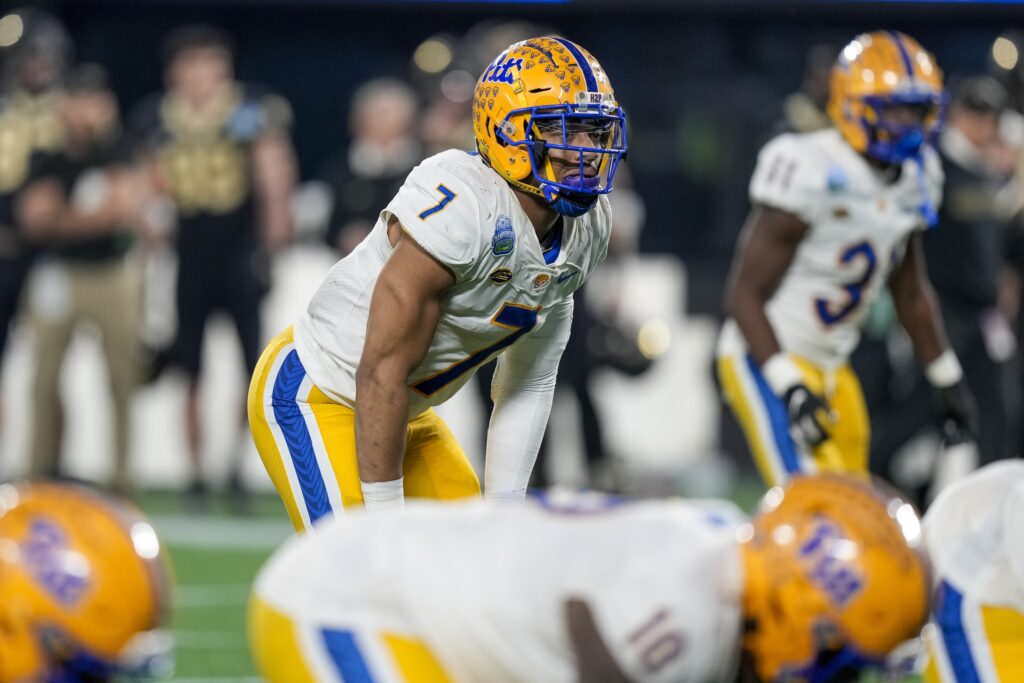 Not only does Dennis have the necessary athleticism to navigate the box, but he also has the game IQ to maximize that athleticism. Dennis consistently displays great instincts in the box and functions as a gap destroyer against the run. He can match run plays to the sideline, square up blocks, and pry his way into running lanes with his length. He naturally flows to the ball on outside-zone runs. With his twitch, hip flexibility, and burst, Dennis can move in quick shuffle steps and mirror ball carriers.
Along with his mobility, Dennis brings steely combative energy, both when engaging as a tackler and when approaching blocks. He can use his length to quickly shed blocks with forceful swims and rips. Moreover, his length allows him to take advantage of off-balance linemen and drive into the torso with force, paving open paths to the ball carrier. Dennis doesn't shy away from contact against larger opponents. He has the play strength to get under linemen and hold gaps on moving blocks with his length.
Dennis' work in the box doesn't end there. He does a great job pressing up to gaps and stepping up with his frame. Dennis is not scared of the scrum, and he maintains gap discipline in tight situations. That said, he also knows how to be patient behind trench battles and sniff out ball carriers. Dennis can bait linemen into adjusting blocking angles and then quickly sidestep blocks and explode into the backfield.
As his instincts in the box would imply, Dennis' overall processing appears to be a strength. He's an active communicator pre-snap and has the processing capacity to adapt as plays develop. He can peel off from coverage and crash the box on delayed draws. Dennis consistently displays a quick response to stimuli. He can immediately recognize screens off the snap and position himself to snuff out RAC opportunities.
Even as a blitzer, Dennis' awareness shows up. He actively gets his hands up in the QB's face when closing in as a delayed rusher, so if Dennis doesn't get home, he at least obstructs the passing lane. Dennis also shows glimpses of spatial awareness in zone coverage when given opportunities to drop back, although he can be more consistent in that regard.
Lastly, when Dennis is in position, he's a good form tackler who leads with the shoulder and wraps up with his length. He's shown to effectively wrap up as a tackler in 1-on-1 situations, and he engages with his full frame.
Dennis' areas for improvement
First and foremost, Dennis can stand to gain more experience in coverage. He was most often used as a blitzer on passing downs in 2021. His inexperience in coverage visably shows areas to develop.
Dennis can be tentative and indecisive in zone coverage, and he doesn't have great playmaking instincts in space. He needs to anticipate more effectively as a zone defender. Dennis sometimes fails to square up receivers at stems, exposing himself to double moves.
He can also react quicker to breaks, as he sometimes gets left a step behind. Going further, Dennis plays a bit tall in coverage when backpedaling, which can impact his ability to redirect, plant, and drive. Playing lower in his stance would help maximize efficiency.
Dennis' play recognition ability can be hit or miss, especially when dealing with misdirections. He sometimes freezes after shedding blocks and gives up a step in pursuit. Dennis also needs to keep a pulse on the ball carrier at all times, as he sometimes takes his eyes off the ball and is drawn out of lanes by initial blocking angles.
MORE: 2023 NFL Draft Big Board
Overall, Dennis could find a better balance of patience and aggression. The Pitt LB does occasionally bite easily on play-action fakes, opening the middle of the field. He'll also flush himself out of plays by prematurely surging through gaps and allowing space upfield. It's good to have an aggressive, proactive mentality, but Dennis can manage it a bit better.
While Dennis has decent overall size, he does have a lighter lower body and doesn't have great mass within his frame. His lighter base sometimes prevents him from absorbing and negating momentum. It also puts a cap on his upside as a pass rusher. He's adept at blitzing from space, but he doesn't have a complete pass-rush skill set.
With his size, Dennis predictably struggles to disengage and play leverage angles when tangled with linemen. When engaging and attempting to deconstruct blocks, Dennis' hands could, at times, be more precise. He doesn't always get enough penetration when patrolling gaps and reacting to plays. On occasion, he must take better angles when chasing to the sideline.
Dennis also doesn't have elite long speed. He has a visible cap after reaching his top speed and can't always run down long plays in pursuit. He sometimes goes too high as a tackler and fails to wrap up. In those situations, Dennis doesn't quite have the play strength to make solo tackles in space consistently.
Current draft projection for Pitt LB SirVocea Dennis
If you're looking for a potential riser in the 2023 NFL Draft linebacker class, Dennis could be your guy. At the moment, he doesn't have a ton of buzz, but there's a realistic scenario where Dennis is a top-75 pick and goes on to become a solid NFL starter. A lot of the foundational traits are there, chief among them explosiveness and instincts.
Dennis is the exact kind of linebacker you want patrolling the box behind your defensive line. Not only does he process leverage quickly and explode toward gaps with the speed of a prowling falcon, but Dennis has also shown to effectively manage congestion with his feel and short-area athleticism.
Dennis plays with his hair on fire in pursuit while also engaging, stacking, and shedding blocks with his length. Linebackers who make the proper fills and show patience and discipline on top of finishing plays in the backfield with disengaging ability and pursuit speed can be hard to come by. Dennis has shown that he can be that linebacker.
MORE: 2023 NFL Draft EDGE Class
His passing down projection is a bit complicated. The Pitt LB needs to become a better coverage defender and a better playmaker at depth, as he doesn't quite have the size to be a consistent on-ball SAM. That said, Dennis' high-end explosiveness and play pace make him a dangerous blitzing threat. At the very least, Dennis has the athleticism to potentially buoy growth as a coverage LB.
A menace in the box with three-down potential in multiple schemes and pass-rushing functionality, Dennis absolutely has early-round upside and should be well worth a selection in the 2023 NFL Draft.
Listen to the PFN Scouting Podcast
List to the PFN Scouting Podcast! Click the embedded player below to listen, or you can find the PFN Scouting Podcast on iTunes, Spotify, and all major podcast platforms.  Be sure to subscribe and leave us a five-star review! Rather watch instead? Check out the PFN Scouting Podcast on our Scouting YouTube channel.