An astronomical rise led Florida QB Anthony Richardson to the top of the 2023 NFL Draft board. He found himself in the same conversation as Bryce Young and C.J. Stroud for No. 1 pick consideration and was selected in the top five by the Indianapolis Colts. Now presumed to be a franchise quarterback, what made Richardson such an alluring prospect?
Anthony Richardson NFL Draft Profile
Position: Quarterback
School: Florida
Current Year: Redshirt Sophomore
Height/Weight: 6'4 1/4″, 244 pounds
Length: 32 3/4″
Hand: 10 1/2″
For the better part of the 2020-2021 stretch, Richardson was the effective QB in waiting for the Florida Gators. A consensus four-star recruit in the 2020 recruiting class and local Gainesville product, Richardson came to the Gators after accumulating 6,366 total yards and 88 total touchdowns in his four-year high school career.
Richardson sat most of the 2020 season behind a QB room that included eventual second-round pick Kyle Trask and 2021 starter Emory Jones. But through it all, it was hard to miss the 6'4″, 232-pound Richardson or forget the upside he presented. That upside started to generate pressure in 2021 when the Gators sought the path forward after losing Trask.
Florida committed to Jones early on in the 2021 campaign and largely stuck with him through the season. But Jones' volatile play paved the way for Richardson to rotate in more and more as the months progressed. By season's end, Richardson had completed 38 of 64 passes for 529 yards, six touchdowns, and five interceptions, adding 51 carries, 401 yards, and three scores on the ground.
Richardson exited 2021 with just 66 career pass attempts to his name. And across that stretch, he'd largely been a volatile passer for the Gators. But his potential was clear from the very first snap, and that enticed the Gators to give him the keys to the offense in 2022.
Richardson finished the 2022 campaign with 176 completions on 327 attempts, along with 2,549 passing yards, 17 touchdowns, and nine interceptions. He also tacked on 103 carries for 654 yards and nine additional scores on the ground.
The output from Richardson's first and only year as a full-time starter drew polarizing discussion. His completion percentage of 53.8% garnered criticism. But over the final nine games of the season, he threw all 17 of his TD passes to just five INTs.
There were flashes of growth over that season-closing span, and at least once a week, Richardson made a jaw-dropping play with his raw talent.
That talent was quantified at the NFL Combine, where Richardson ran a 4.43 40-yard dash, logged a 40.5″ vertical jump and a 10'8″ broad jump, and recorded the highest Relative Athletic Score (RAS) of all-time at QB — surpassing former MVP Cam Newton.
Players with Richardson's raw potential don't come around often, and that's what made him such an exciting 2023 NFL Draft prospect. But was there enough on tape to warrant taking the risk early in Round 1? Let's take a closer look.
Anthony Richardson Scouting Report
We know Richardson is talented, but what is it specifically that makes him such a special prospect at the QB position, and was there enough on the operational side to justify taking him early?
Richardson's Positives
Richardson is a unicorn. At 6'4″, 244 pounds, he's an incredibly explosive athlete with a strong, dense frame. He has excellent short-area agility, change-of-direction ability, and twitch for his size.
In fact, his creation capacity is a near-dominant trait. Richardson has the corrective twitch and foot speed to quickly divert course and adapt when faced with free rushers, and he also has the speed to get upfield on option plays.
Richardson is an uncommon free-moving athlete at his size, which naturally draws excitement. Other mobile QBs like Cam Newton and Josh Allen were built like tanks coming out, but none to this point have possessed the sheer energy, speed, explosiveness, and movement freedom that Richardson does.
That high-functioning athleticism, along with Richardson's play strength, makes him a deadly running threat — in the tier of Justin Fields among active passers.
As talented as he is running the football, Richardson is just as talented of a thrower. The Florida QB generates high-level velocity with effortless ease, and his passes zip to their targets in the short and intermediate ranges. Richardson's velocity carries easily through all thirds, and he also has the arm strength to push passes past defenders downfield, even when throwing across his body.
Richardson's arm strength is quantifiably elite, but his arm elasticity is also impressive. Richardson has shown he can generate great velocity even when fading back or throwing from unstable platforms. He has a crisp release off-platform and has shown he can generate velocity from multiple arm angles.
Moreover, he flashes the ability to be flexible with arm angles when his release is compact. When he keeps things compact on release, near-elite arm elasticity is visible, and he can use it to manipulate placement.
Richardson is still progressing operationally, but there are glimpses of immense promise in that department. The Florida QB has shown he can read across the field and go through progressions. He flashes quick diagnosis upon moving to the next read, and he can also survey multiple vertical routes and use discretion when choosing risks to entertain.
Going further, Richardson can actively anticipate windows over the middle of the field, and while his discretion can be hot and cold, his field vision is a budding strength. When the pocket starts to collapse around him, he can sequentially evade rushers, reset, and quickly identify open routes while under pressure — showing off steely poise, quick diagnosis, and mental acuity.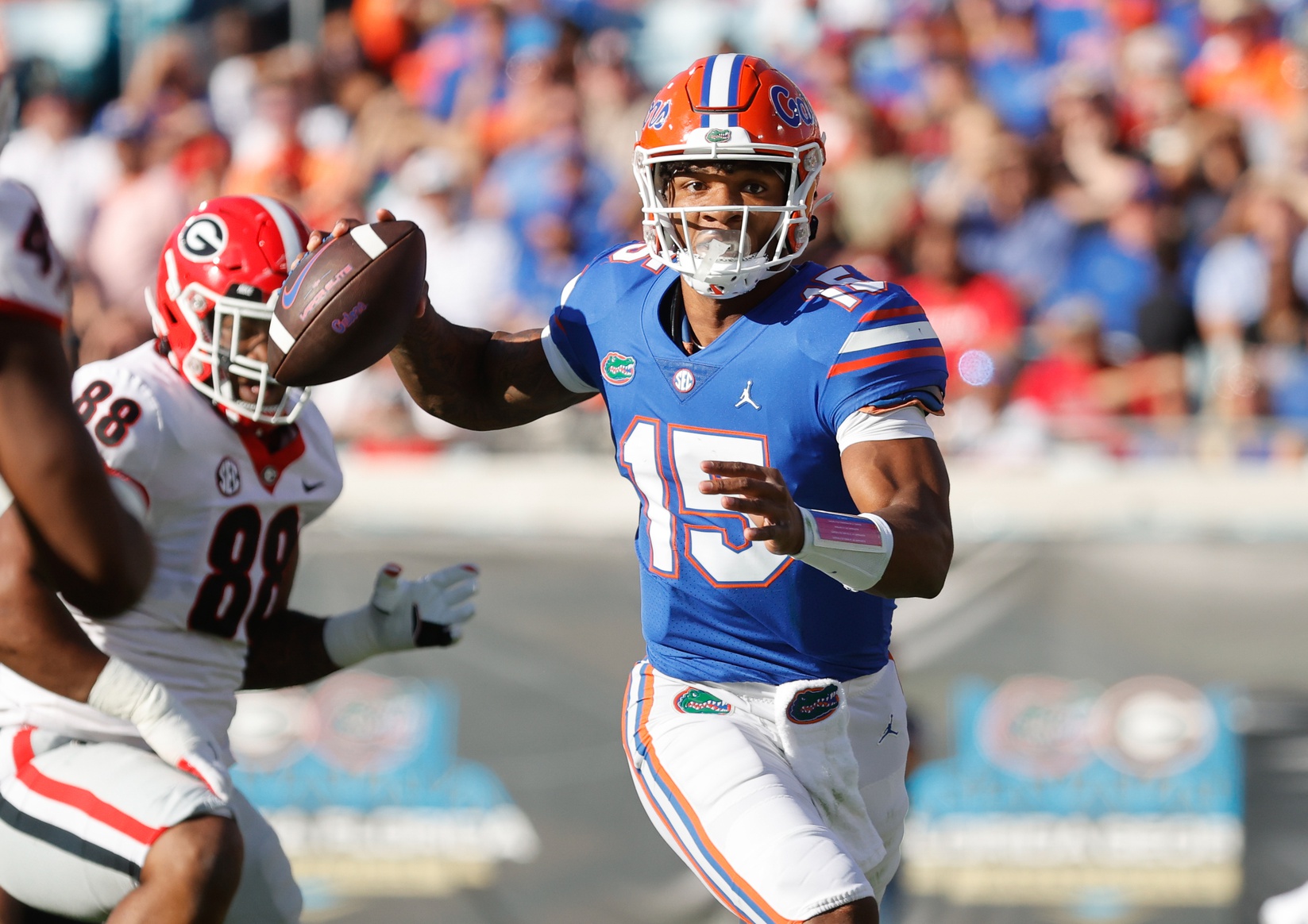 Richardson's accuracy is one of his weaker traits, but he's not a liability here. Richardson can effectively place the ball for run-after-catch yards in the short range, and he's able to operate on timing and rhythm plays.
The Florida QB has shown he can mix in touch and velocity to fit the ball into tight seams, all while leading his receivers. He can also adjust his ball placement situationally, lead receivers high with defenders undercutting, and effectively place passes downfield.
In the pocket, Richardson has shown he can sense pressure along the edges and step up. He flashed elite levels of pocket navigation ability and poise in 2022 and grew noticeably more comfortable working the pocket over time.
Richardson can slide forward through narrow lanes and navigate through crowded areas. He can also sense imbalances in the pocket and slide to safer ground, all the while keeping his eyes up and engaged in the field of play.
Mechanically, Richardson brings plenty of tantalizing tools to work with. His release is powerful but also crisp and efficient, and he consistently gets good hip rotation. The Florida QB can get his hips around even when rolling off-platform and quickly gather himself to load up torque.
Richardson also has loose hips, which allow him to quickly correct his alignment and recover congruence when displaced. This shows up as he properly resets his base after play fakes.
A fusing element of Richardson's current appeal, as well as his ultimate potential, is his toughness. The Florida QB is willing to stand in and deliver throws while taking direct hits.
Additionally, as a creator, he can withstand contact, break tackles, and finish forward with his strong frame. He's a tough runner who's willing to lower his shoulder and drive defenders back.
Richardson's Areas for Improvement
Richardson is a young QB without much experience, and it certainly shows. While he has bright flashes of anticipation on tape, he can be more consistent in anticipating route breaks and timing his passes effectively. Going further, Richardson sometimes stares down targets off the snap, which can key in DBs and invite risk.
While he has shown he can use eye manipulation in spurts, Richardson's eye discipline is still developing. He has room to keep growing with full-field progression work, as he'll sometimes zero in on one side of the field. His eyes get stuck in the deep third at times, which causes him to overlook routes in the short and intermediate ranges and force risks downfield with his arm.
Looking elsewhere, Richardson's release is sometimes winding, and his concentric motion can delay throws and lock open his hips, preventing full rotation. The winding release also causes launch point volatility and sometimes limits the amount of elasticity Richardson can employ. Luckily, Richardson displayed improvement in this regard in 2022.
Going further, Richardson sometimes tilts his front shoulder up too much, causing passes to sail high. He shows occasional scissor feet on the drop back, which can stagger his footwork and erode his mechanics.
Overall, Richardson's footwork can be more composed. He's shown he can stay in phase while managing space, but false steps when placing his front foot can delay throws, and he often becomes frantic at the top of his drop when sensing pressure. This can erode his mechanical synergy and cause his body to be out of sync, which invites inaccuracy.
Richardson can more consistently step into and drive his hips through throws. In a general sense, mechanical inconsistencies brought on by pressure can cause volatility with his accuracy.
Under pressure, Richardson becomes more erratic with placement and becomes more turnover-prone as well. He did improve at sensing and evading pressure in 2022, but he'll need to keep mitigating volatility at the NFL level.
As is to be expected for a young QB with plus tools, Richardson's decision-making can be streaky in high-pressure situations. He can be spooked into making poor decisions prematurely, sometimes relying on his raw talent to a fault.
Additionally, pressure sometimes causes the Florida QB to hesitate and then force late throws. Timing is a part of Richardson's game in particular that still needs work, even after 2022.
Anthony Richardson's 2023 NFL Outlook
Richardson was a polarizing prospect throughout the 2023 NFL Draft cycle, but his high-level tools ultimately earned him the No. 4 overall selection, as well as a chance to be the next franchise quarterback for the Colts.
Not only is Richardson in line to be the Colts' franchise quarterback under Shane Steichen, but the team also announced in the preseason that Richardson will be the team's starter for the 2023 season. Barring injury or an unexpectedly steep collapse, Richardson should start for all 17 games.
It seems as though Steichen and his staff understand that what Richardson needs more than anything is live game reps. Richardson only had one full season as a starter at the collegiate level, and that's largely why he's in need of further development.
But even for his young age, Richardson flashes the necessary processing capacity, anticipation, poise, pocket navigation ability, and instincts — and his raw talent is a difference-maker.
Richardson's traits can be legitimately dominating, and in a modern NFL where you need playmakers at QB, his dual-sided creation capacity and arm talent forge a near-unlimited ceiling.
On Day 1, his running ability can help transform the Colts' offense, as well as provide Richardson with a fail-safe early in his career. His arm, meanwhile, is an elite trait waiting to be further weaponized as he develops as a passer.
The thing Richardson needed most, aside from experience, was a proper support infrastructure. The Colts appear to have that at all levels.
Richardson has a solid offensive line, a malleable and creative coaching staff under Steichen, and a stellar weapons corps that includes Michael Pittman Jr., Alec Pierce, Josh Downs, and others.
He'll absolutely have his misses early on, but with time and patience, Richardson can take steps in his rookie year. And as long as he gets a chance to play out the season, get his feet wet, and end the year on an upward trajectory, he has the upside to be a top-10 quarterback in the league by the end of his rookie contract.
Listen to the PFN Scouting Podcast
List to the PFN Scouting Podcast! Click the embedded player below to listen, or you can find the PFN Scouting Podcast on iTunes, Spotify, and all major podcast platforms.  Be sure to subscribe and leave us a five-star review! Rather watch instead? Check out the PFN Scouting Podcast on our Scouting YouTube channel.