A two-time national championship-winning cornerback for the Georgia Bulldogs, Kelee Ringo has impressed evaluators with his rare blend of size and speed as a prospect in the 2023 NFL Draft. What does Ringo's scouting report tell us about his current skill set, draft stock, and potential to play at the NFL level?
Kelee Ringo NFL Draft Profile
Position: Cornerback
School: Georgia
Year: Redshirt Sophomore
Height/Weight: 6'2″, 207 pounds
Kelee Jahari-Hale Ringo was a five-star recruit and the top cornerback in the 2020 recruiting class. While amassing 712 rushing yards and 13 touchdowns as a senior running back, Ringo earned All-American recognition following his three years contributing at Saguaro High School. Meanwhile, he was an AIA DIII state champion in both the 100m and 200m.
Having opted for Georgia over offers from 30+ teams that included Alabama, Ohio State, and Notre Dame, Ringo redshirted his freshman season in 2020. While not uncommon, especially at the SEC level, it was surgery to a torn labrum that kept the imposing cornerback from seeing the field early in his career.
MORE: FREE Mock Draft Simulator With Trades
Ringo earned freshman All-SEC honors in 2021. In 15 appearances, he tallied 34 tackles, eight pass breakups, and two interceptions. While his first interception came against UAB, his second helped Georgia secure their first national championship in 40 years. The 79-yard pick-six was the first interception returned for a touchdown of his career.
Heading into his third season with the Bulldogs, there were high expectations on Ringo not only as a college football player but as a potential 2023 NFL Draft CB1. With 42 tackles, two interceptions, and seven pass breakups, he was once again a productive force for a title-winning Georgia program. After earning second-team All-SEC honors, he declared for the draft.
Kelee Ringo Scouting Report
A productive playmaker at the highest level of college football, there was natural excitement over Ringo's potential ahead of his redshirt-sophomore season with the Bulldogs. That appeared warranted early on in the year with some clear technical improvement in his game. However, does his final scouting report warrant the early CB1 hype or raise further questions?
Strengths
The strengths of Ringo's scouting report lay in a fascinating size, strength, and speed combination that can be hard to believe. He measured in at 6'2″ and 207 pounds at the NFL Combine — a little over his listed weight at Georgia. There were multiple reports that he played as heavy as 220 pounds during the 2021 season.
His size alone is impressive. Blessed with decent length to play the outside cornerback role at the NFL level, his muscular frame makes Ringo an imposing character to line up against. Naturally, for a player of his build, he plays a physical brand of football.
That is evident at the point of attack, with the Georgia CB routinely getting his jabs in at the line of scrimmage. He's physical along the wide receiver's route, and Ringo is more than capable of mixing it up at the catch point, where he uses his frame advantage and archetypal cornerback mentality to make a play on the ball with impressive regularity.
This physicality is also present in run support. An oft-overlooked element of cornerback evaluation, he's been responsible for bringing some of the nation's most physical running backs to their knees. Ringo regularly lowers his shoulder into contact, and he demonstrated good tackling form in the games studied.
MORE: 2023 NFL Draft Big Board
While his size and physicality are impressive, Ringo's athletic profile is perhaps more enticing. The former track star has a 10.43-second 100m and 21.18-second 200m on his résumé. He logged a 4.36-second 40-yard dash at the NFL Combine. To put that into context, only two WRs ran quicker, and both weighed in at sub-200 pounds.
Ringo is a freak athlete, of that, there's no doubt. While that doesn't always translate to play speed, it does in the Georgia CB's case. Ringo is more than capable of matching even the fastest wide receivers down the length of the field, nullifying an offense's vertical threat while barely breaking a sweat.
In addition to his straight-line speed, Ringo also possesses the short-area burst to close rapidly and make a play on the ball.
This is just one element of what are impressive catch-point skills. The Georgia CB regularly gets his long arms to the ball to be a disruptive presence. He's able to use a combination of length, physicality, body control, and reliable hands to pose a productive problem at the catch point.
Meanwhile, he's also displayed the football instincts to be a high-level coverage defender in zone schemes.
That multi-faceted ability between his speed-enabled man coverage capability and football IQ-fueled zone potential makes him a valuable cornerback prospect who could be called upon early in his career.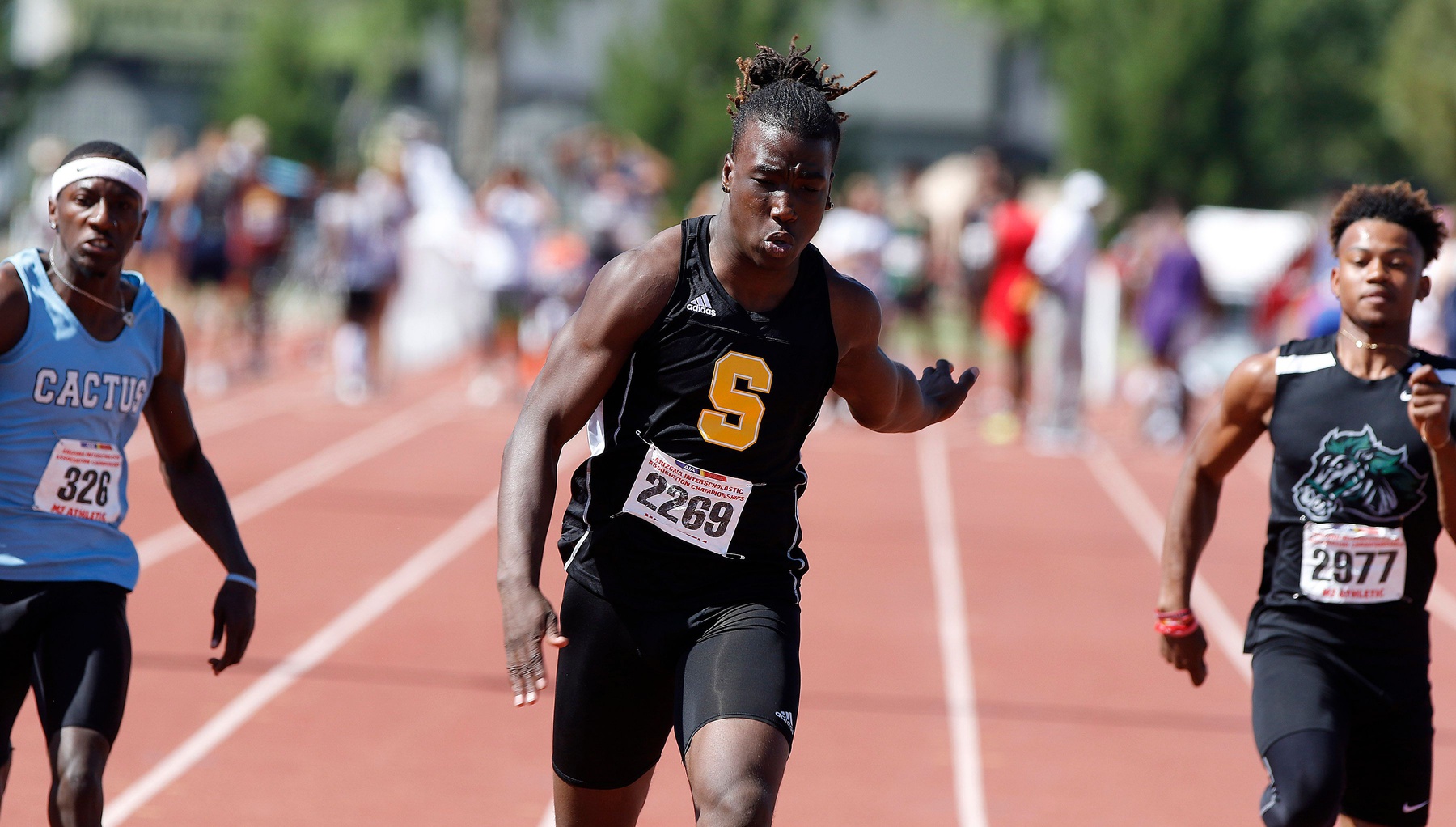 Areas of Improvement
While Ringo's 2023 NFL Draft scouting report is packed full of potential, there are areas for improvement. It's worth pointing out that the Georgia CB is still young and has just two seasons of starting experience. Therefore, there is still development potential. That said, there are legitimate concerns that could handicap his draft stock.
One of the calling cards of Ringo's game is his physicality. However, he needs to know when to draw the line between being physical and overly aggressive — particularly at the catch point. There are examples on tape that suggest a long-term career at Wrestlemania rather than the NFL might be the way to go. Flippancy aside, penalties are a key component of the evaluation.
MORE: 2023 NFL Draft CB Class
During the games studied, there were several times when the Georgia CB was deceived by elements of trickery that resulted in big plays being conceded. Those included quarterback pump fakes, biting on receivers stop-starting on their routes, and backfield misdirection.
One of the biggest areas for improvement will be in ball tracking and eye discipline in coverage. There were several examples in the games studied where the Georgia CB would turn his head back to the QB too early. In doing so, he not only lost track of the ball but also his coverage assignment.
Finally, there's no doubt that Ringo's speed makes for an impressive evaluation. However, his muscular build doesn't allow for the fluidity of movement, which is a defining characteristic of cornerback evaluation. The Georgia CB struggles against twitchier receivers, who can create easy separation while he attempts to change direction.
Current Draft Projection for Georgia CB Kelee Ringo
With his size, speed, physicality, and impressive football instincts — particularly in zone coverage — Ringo has an alluring scouting report that could see him challenge for late-Round 1 consideration in the 2023 NFL Draft. Given his lack of starting experience and that some of his areas of improvement listed are coachable items, there is a clear path toward development.
In a competitive cornerback class, however, Ringo could find himself boxed out to the second round. If that does happen, an NFL team could find themselves a starting-caliber outside cornerback with a championship-winning mentality on his young shoulders. The CB1 hype train may have left the station, but there is no reason to believe Ringo won't be a starter in the NFL.
Kelee Ringo Combine Measurements and Results
Wingspan: 74 1/8″
Arm: 31 1/4″
Hand: 8 1/2″
Bench Press: N/A
40-yard Dash: 4.36 seconds
Vertical Jump: 33 1/2″
Broad Jump: 10'2″
Tony Pauline's Scouting Report for Kelee Ringo
Strengths: Athletic cornerback with next-level size and speed. Quick flipping his hips in transition, loses nothing turning to run with receivers off the line, and battles opponents throughout the route. Works to get his head back around to track the pass in the air, possesses a closing burst, and physically beats down receivers to defend passes.
Plays as fast, if not, faster than his 40 time, possesses the speed necessary to recover, and drives to the ball out of his plant. Aggressive, fights to get off blocks, and makes his way upfield to defend running plays or screen passes. Agile, breaks down well, and displays good hands for the interception.
Weaknesses: Must be more disciplined with his backpedal and improve his footwork in reverse. Gets twisted and turned and lacks balance. Doesn't stay on the receiver's hip out of breaks or time his pass defenses well. Beaten badly in all facets last season by Cedric Tillman of Tennessee. Gives up a lot of underneath receptions. Inconsistent.
Overall: Ringo passes the eyeball test and has some great highlights, yet he lacks a complete game and needs to improve all areas of the CB position. He possesses a tremendous amount of upside, yet Ringo also carries a large bust factor with him.
Listen to the PFN Scouting Podcast
List to the PFN Scouting Podcast! Click the embedded player below to listen, or you can find the PFN Scouting Podcast on iTunes, Spotify, and all major podcast platforms.  Be sure to subscribe and leave us a five-star review! Rather watch instead? Check out the PFN Scouting Podcast on our Scouting YouTube channel.