He's a quarterback who didn't always get his due in the 2023 NFL Draft class, but Stanford QB Tanner McKee was able to leverage his scouting report into a selection. He was picked in Round 6 of the 2023 NFL Draft by the Philadelphia Eagles, and he now has a chance to carve out a role in the NFL.
Tanner McKee NFL Draft Profile
Position: Quarterback
School: Stanford
Current Year: Junior
Height/Weight: 6'6″, 231 pounds
Length: 32 7/8″
Hand: 9 3/8″
There's a natural association that comes with schools that have produced several NFL-quality quarterbacks. That association is unique to only a few programs, and the Stanford Cardinal is one of them.
Davis Mills of the Houston Texans has kept that association alive in the modern NFL. But it's far more deeply rooted than that. Andrew Luck, who was on pace to have a Hall of Fame career with the Colts before his early retirement, played at Stanford. So too, did three other QBs, who all went No. 1 overall in the 20th century — Bobby Garrett, Jim Plunkett, and Hall of Famer John Elway.
The Cardinal hasn't had a No. 1 overall pick for nearly a decade, and they didn't come close in the 2023 NFL Draft. But they did have a quarterback selected in Tanner McKee.
Much like Mills before him, McKee's early declaration was somewhat surprising. But McKee will be 23 years old as a rookie. He's married and served a Mormon mission in Brazil. Maturity won't be a question for McKee, but immediate on-field readiness may be.
McKee was a four-star recruit in 2018 who had offers from schools like Alabama and Texas. But a two-year starting career at Stanford yielded mixed results and less linear growth than desired.
After throwing for 2,947 yards, 13 touchdowns, eight picks, and a 62% completion rate in 2022, McKee is off to the NFL. Let's see how he projects.
Tanner McKee Scouting Report
Mills went on to start early in his NFL career, despite initial questions of readiness. However, he was unable to keep that job through two seasons. Does McKee bear similarities to his predecessor, and what might his NFL career have in store?
McKee's Positives
We always hear about the "prototypical QB mold" when draft season rolls around. Although the modern NFL is slowly trending away from that confined view of QB play, there's still a market for traditional, cerebral passers with size and sturdiness in the pocket. Few signal callers in the 2023 NFL Draft more fully embody that prototypical passer than McKee.
At 6'6″, 231 pounds, McKee has a tall, prototypical frame with good mass. Although he's not an imposing athlete, he has above-average evasive burst when surging away from rushers in the pocket. And with his size, he's shown he can occasionally shrug through solo tackle attempts.
The top selling point with McKee from a physical standpoint, however, is undoubtedly his arm talent. The Stanford QB has excellent natural arm strength. He can generate easy velocity and push the ball outside the numbers and past tight coverage with his whip-like release. When he has time to fully load and release, he carries excellent velocity and can dish to the opposite hash without delay.
Some taller QBs have strong arms that aren't particularly elastic, but McKee checks both categories of arm talent. He has great arm elasticity and can adjust his throwing angles while maintaining velocity.
He's able to throw with high-end velocity off obtuse and sidearm releases, and he's proven he has the elasticity to layer the ball into tight windows. He can also throw on the move, generating velocity and keeping his shoulders level while doing so.
McKee is a mixed bag with his processing on film, but there are reasons for tepid optimism. He's shown he can time and anticipate route breaks effectively, and he can progress from read to read with decent speed, displaying above-average response to stimuli.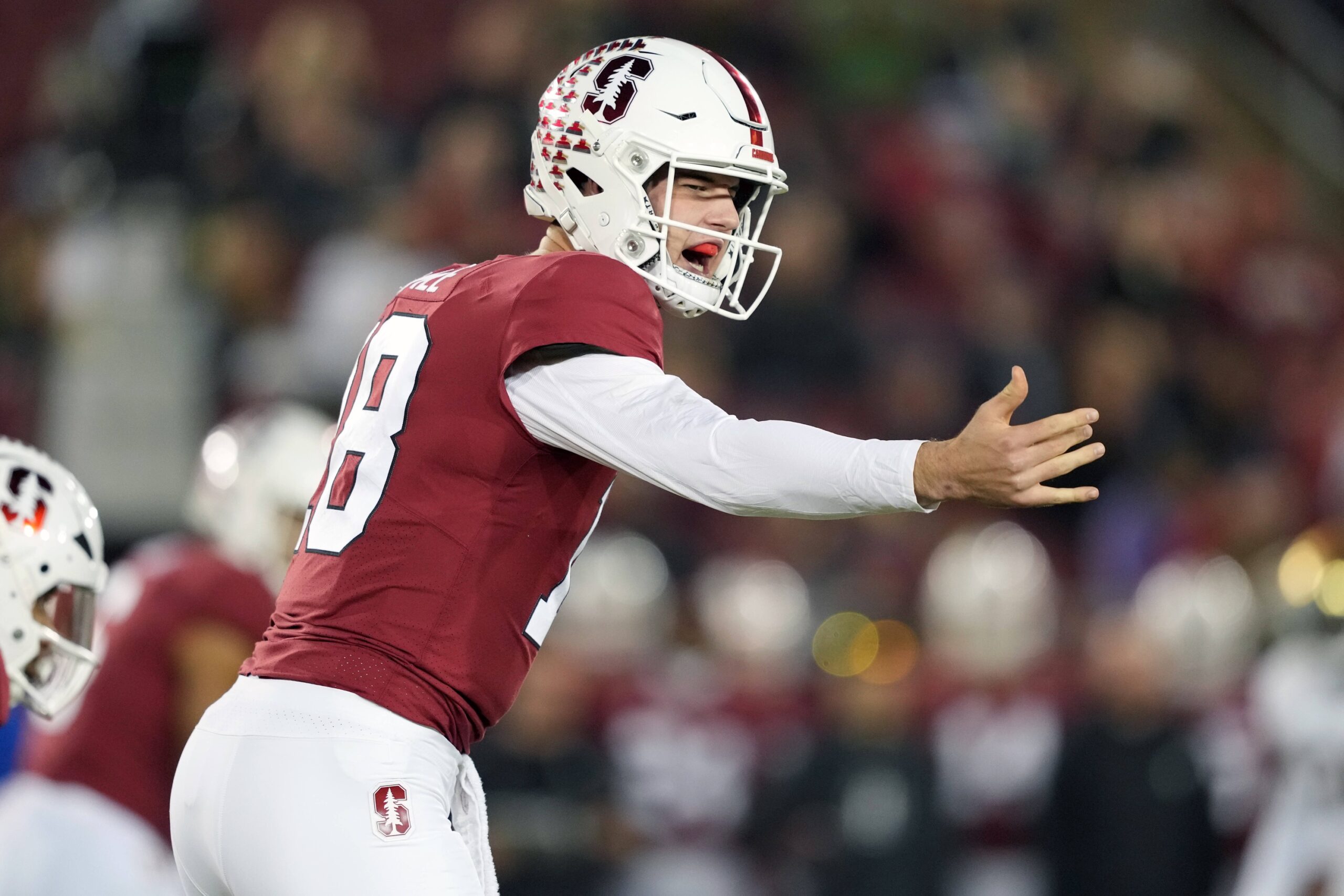 He's flashed the ability to anticipate intermediate middle-of-the-field windows and rifle the ball into tight spots, and he can also manipulate defenders with quick pump fakes.
Expanding on McKee's processing and decision-making, the Stanford QB can actively draw safeties up with his eyes on RPO looks, opening windows in the intermediate range.
But beyond active manipulation, he's shown he can quickly find his check-downs when faced with quick pressure, and he flashes the discretion to pass up his first read when covered, and quickly progress.
Seeing that McKee follows the pocket passer mold, his work in the pocket takes on increased scrutiny. He's still growing here, but he does show promise in a crucial area for his development.
McKee flashes good pressure detection and can sense when rushers get free behind him and roll out of the pocket. He has an above-average internal clock and has shown he can work the pocket while reading the field and adjusting his positioning.
McKee has the ability to stay composed at the top of his drop and climb the pocket while reading the middle of the field. Taking it a step further, the Stanford QB can sidestep surging interior rushers and navigate into space while anticipating throws. This multitasking ability will be necessary for him at the next level.
Mechanically, McKee has perhaps the most room for growth. But for his size, he does employ fairly fast feet and solid corrective lower-body mechanics. He can quickly rotate around and load his hips before his release.
In fact, for all his imperfections here, he has shown he can keep level shoulders, get consistent hip rotation, and refrain from widening his base too much on throws.
Particularly in the short range, McKee is a very accurate and able distributor. He can hit receivers on the torso in the short range and lead for RAC with solid velocity, and he's also shown he can place to the back shoulder on boundary throws.
He's a fairly tough, composed quarterback, who can stand in the pocket and deliver throws while taking hits from pressure. He's not a natural running threat, but the Stanford passer is willing to sell out and reach for crucial gains on the ground. He's also a willing lead blocker when situations call for it. This is minor but indicative of his competitive toughness.
McKee's Areas for Improvement
There's enough upside to warrant developmental appeal for McKee, but his physical tools aren't elite from a composite standpoint. He doesn't quite have the elite elasticity to layer throws with high levels of velocity and touch, as he's often too linear with hole shots.
Even more pressing is McKee's middling creation capacity. He's not a liability on the ground, but he is a relatively stiff, upright mover in the pocket. He has decent linear speed and foot quickness with lanes to run through but is largely devoid of lateral mobility and evasion ability. He also doesn't have the long speed or elite long-track acceleration to escape defenders in space.
Past his average creation capacity, McKee's mechanics may be the largest issue on his profile. Overall, he still lacks consistent control with his upper- and lower-body mechanics and frequently bails himself out with his arm talent — a tendency that may not be as translatable at the next level.
To start, McKee's release can be labored and winding, delaying throws at times. The Stanford QB sometimes hitches his elbows ahead of rotation, both stalling his release and causing release-point volatility. Being as tall and lanky as he is, his winding release can be difficult to manage at times. He sometimes goes overhead and misses receivers high.
McKee's feet can be frantic and uncontrolled under pressure. At times, he'll place his front foot inaccurately and overcorrect, and he doesn't always fully re-torque his hips when managing space in the pocket. This sometimes stalls the velocity from short passes.
Off play-fakes, McKee's mechanics can be inconsistent as well. The Stanford QB sometimes sets his base too wide and lurches with his shoulders, both causing shoulder instability and stunted rotation. These issues can affect throw trajectory and velocity drive.
Partially a byproduct of McKee's mechanical inconsistencies, the Cardinal passer struggles with accuracy and precision at times as well. On vertical routes and fades, he routinely has trouble throwing with touch. He too often puts too much heat on these throws and releases too linear, often pushing the ball past his intended target.
McKee is very capable in the short range, but his accuracy and precision wane greatly farther down the field. Passes often sail over receivers on attempts to drop the ball into buckets. Furthermore, McKee's accuracy can wane on the run. He doesn't always lead receivers effectively, and passes can stall here as well without full rotation.
As a processor, McKee's overall reaction speed and recognition can be questionable at times, as he sometimes takes too long to diagnose and progress from read to read. Out of play action, he can be late to reset his eyes, putting him behind on reps. And at times, he passes up opportunities to use pump fakes to put defenders in conflict and open up deep shots.
McKee sometimes double clutches when identifying open targets, delaying his release. There are also moments where he passes up open receivers entirely when going through progressions.
He can be hesitant and indecisive when surveying the intermediate and deep ranges, passing on throws he can make with his arm and using up valuable time. This issue also shows up in the red zone, where McKee has more difficulty reading and timing through condensed windows.
While McKee has moments of excellence in the pocket, he can continue to strive for more consistency here. The Stanford QB can be spooked into forcing throws by early pressure and will sometimes muscle these throws with his arm, causing potential misses high.
He also sometimes drops his eyes when pressure loops around and can be more disciplined standing in and surveying the field in congestion.
McKee sometimes clutches the ball on release when sensing free rushers and takes bad sacks instead of getting the ball out. He'll also occasionally drift out of the pocket and invite chaos, and he can be a bit more disciplined with depth on progression drop-backs.
Finally, McKee sometimes stares down early targets and tries to force the ball into dangerous situations. His lack of eye discipline can draw DBs in.
Tanner McKee's 2023 NFL Outlook
As a draft pick, McKee has some contractual security with the Eagles, but he likely projects best as either the third or fourth QB on the depth chart in Year 1. Jalen Hurts is the starter, and Marcus Mariota is the likely backup with his physical ability and NFL experience.
Coming into the year, McKee is battling Ian Book for the third QB spot. Regardless of whether or not he gets it, he likely won't see the field unless injuries ravage the Eagles' QB depth chart. That may ultimately be a good thing, as McKee works to adjust from Stanford's long mesh offense and acclimate within the Eagles' system.
Seeing that Mariota's contract expires in 2024 and Book's in 2025, McKee could be the Eagles' ideal long-term backup, and he has a solid profile in that mold. At his size, he's a middling creator without much lateral agility and speed, and his accuracy wanes farther down the field. But he is a poised passer with good short-range accuracy, impressive throw velocity, and flashes of anticipation.
Sitting in Year 1 is the ideal outcome for McKee, as it allows him to acclimate to an NFL system and further refine his mechanics. He doesn't have the athleticism to compensate for operational flaws, but with more development, he could be a quality backup and spot-starter, especially with the offensive line the Eagles have in place.
Listen to the PFN Scouting Podcast
List to the PFN Scouting Podcast! Click the embedded player below to listen, or you can find the PFN Scouting Podcast on iTunes, Spotify, and all major podcast platforms.  Be sure to subscribe and leave us a five-star review! Rather watch instead? Check out the PFN Scouting Podcast on our Scouting YouTube channel.