Emmanuel Forbes solidified his place in college football folklore when he set the NCAA record for interceptions returned for touchdowns during his final season with Mississippi State. An underrated cornerback prospect ahead of that campaign, Forbes' scouting report showcases genuine NFL potential but with one significant question looming ahead of the 2023 NFL Draft.
Emmanuel Forbes NFL Draft Profile
Position: Cornerback
School: Mississippi State
Current Year: Junior
Height/Weight: 6'1″, 166 pounds
A former wide receiver and cornerback for Grenada High School, Forbes tallied eight interceptions with two returned for touchdowns in his senior season alone. Although he started low on some recruiting sites, Forbes ended his high school career as a four-star prospect and the 13th cornerback in the 2020 class.
Forbes showcased his exceptional ball skills immediately as a true freshman at Mississippi State. Snagging an interception in his college debut, Forbes tallied five interceptions in 2020, with three returned for touchdowns. The Mississippi State CB set program records for interception touchdowns and interception return yards in a season as he earned Freshman All-SEC honors.
Although his 2021 statistics weren't as gaudy, Forbes continued to provide a devastating presence in Mississippi State's defensive backfield. Playing across from now-Cleveland Brown Martin Emerson, Forbes tallied 59 tackles that included five tackles for loss, three interceptions, four pass breakups, and a first career forced fumble.
Continuing on a theme of productivity, Forbes saved his most productive season until the last. Snagging six picks, he took three back for scores — setting the NCAA record in the process.
He finished his Bulldogs career as the active leader in career interceptions while earning second-team All-American status from the Associated Press.
Emmanuel Forbes Scouting Report
No cornerback prospect in the 2023 NFL Draft boasts a statistical résumé as impressive as Mississippi State CB Forbes. Pure statistics can be misleading, but the true junior has a scouting report that backs up those numbers with translatable talent. While there are some areas for improvement and concern, let's start by analyzing the strengths of Forbes' NFL Draft scouting report.
Strengths
At 6'0″ and 166 pounds, Forbes might not have the most physically imposing frame in the 2023 NFL Draft class. The Mississippi State cornerback is historically lightweight at the position. Nevertheless, he possesses a decent height and measured slightly above his listed height at the 2023 NFL Combine.
Forbes often showcases that he can be more physical than his slender frame suggests. The Mississippi State CB has been able to contend at the catch point against even the most well-put-together wide receivers he's faced in college football. Let's not forget he played in the SEC, not your local flag football league.
Two critical components of his scouting report aid him in this ability. It's clear from studying tape that Forbes is blessed with impressive arm length, and he quantified that with a 32 1/4″ measurement at the Combine.
This length has multiple benefits. Regarding his coverage ability at the catch point, he can get his hands to the ball when it would be out of reach for some cornerbacks. Meanwhile, he can use his length to get his hands on his opponent early in press coverage.
The second component that aids his ability to contend at the catch point is impressive vertical athleticism. Reportedly, Forbes logged a frankly insane 44″ vertical jump while in high school.
Although he came up short of that eye-popping feat at the Combine, his ability to elevate at the catch point is obvious and one of the more outstanding elements of his game. The Mississippi State CB's ability to jump for the ball is incredible, and one interception in games studied resulted from this sheer vertical athleticism.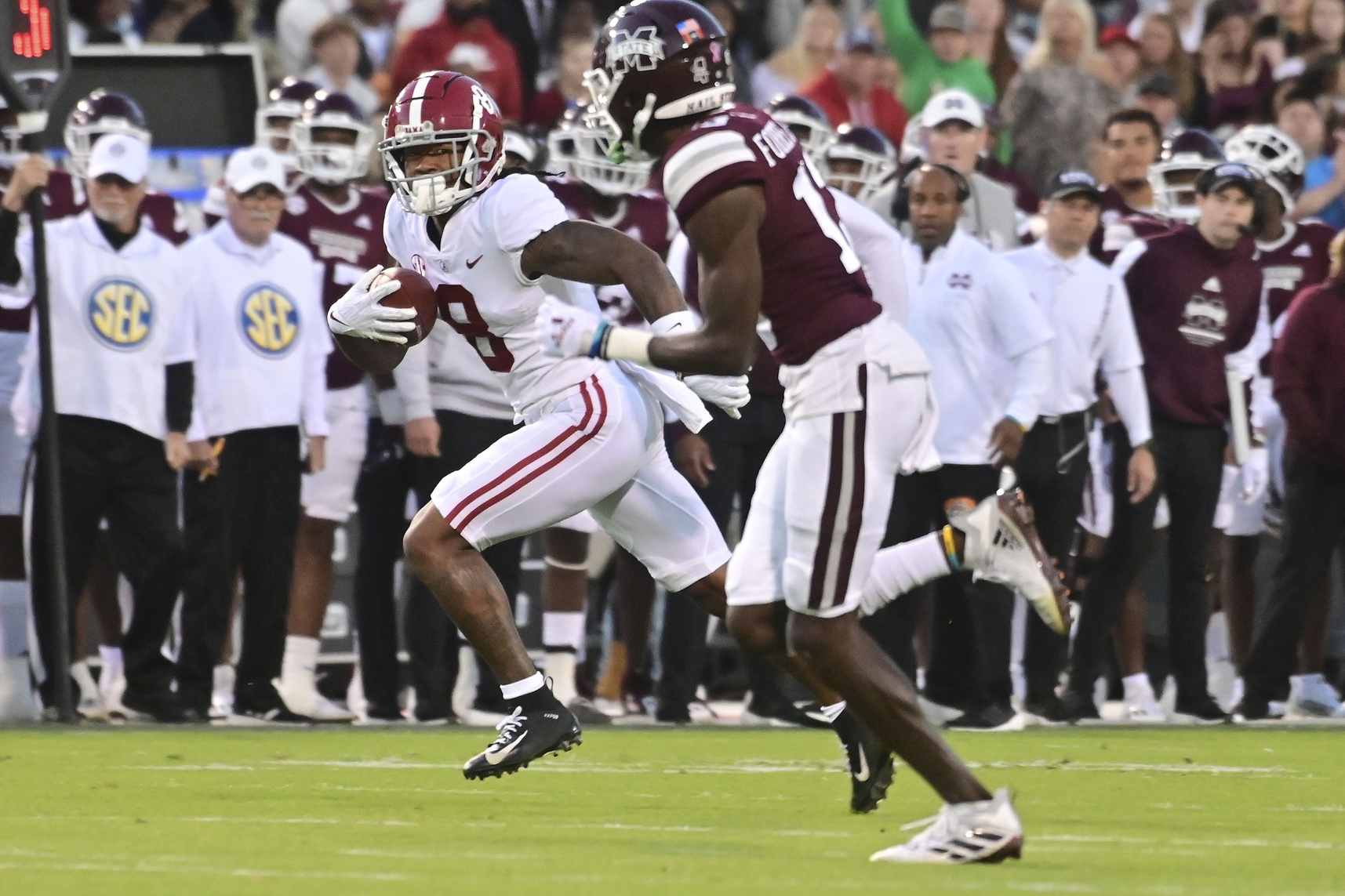 This is just one part of an overall enticing athletic profile. Forbes' play speed doesn't quite match up to his elite testing speed. However, he's a long strider who covers significant ground. He's covered some of the more explosive speed threats during his college career, and none have been able to create separation in a straight line.
Additionally, Forbes' scouting report reveals an impressively quick backpedal. Meanwhile, he has the hip fluidity to transition seamlessly from backpedal to run.
They say, "Slow feet don't eat," and Forbes has been feasting on SEC WRs for the past two years. His speed, quickness, and fluidity allow him to act upon his impressive football instincts regularly.
As a former wide receiver, Forbes appears to understand route concepts well. Combining intelligence and athleticism has allowed him to click and close with a devastating ability to undercut the pass. The Mississippi State CB also showcases excellent ball-tracking ability to make a play on the ball.
Finalizing the strengths element of his scouting report, Forbes is a willing contributor in multiple game phases. Against the run, he uses his length to shed blocks and take down the ball carrier.
There are times when Forbes demonstrates real violence in his hands, visibly shocking his blocker. Meanwhile, his ability to eat up ground has seen him used to attack the QB during his college football career.
Areas for improvement
While Forbes has an impressive scouting report thus far, there are areas of improvement for the Mississippi State CB while his ultimate NFL Draft selection will hinge on one key element of his measurable attributes.
While praising Forbes' fortitude against the run, that is probably his biggest area for development.
Several examples of missed tackles while working in space were viewed in the games studied. There was a combination of issues ranging from incorrect angles, mistiming of the tackle, and some suboptimal techniques demonstrated.
While he demonstrates good football intelligence, on the whole, there's development potential here too. In the games studied, Forbes routinely failed to navigate traffic well. There were several examples of the Mississippi State CB colliding with teammates. This was evident both against the run and in coverage.
From a technical perspective, as it relates to coverage, Forbes could be more mindful of giving up the inside to a receiver. While he's showcased the ability to force his man to the outside using a combination of length and physicality, there were several instances of Forbes allowing his receiver to get inside and play on the ball.
The biggest obstacle for Forbes to overcome as a 2023 NFL Draft prospect is his historically slender frame. He's an outlier at the position, and although he added some mass between the Combine and Mississippi State's Pro Day, there are concerns from some quarters as to how his lack of bulk will translate to the NFL level.
Emmanuel Forbes' 2023 NFL Outlook
Landing with the Commanders in the middle of the first round is a perfect fit for Forbes. We thought he'd fall to the second round because of his shockingly low weight, but Washington felt his playmaking was worth the gamble. Ron Rivera would be the one to bet on the upside he brings to the unit.
Washington desperately needs more interceptions for this team to outperform expectations. Forbes will thrive in their zone-heavy, off-ball alignment packages. He'll complement a pass rush that is excellent at forcing quarterbacks to make hurried decisions.
Of course, how his talent translates is the ultimate question we must see on the field. This is the right scheme and situation for Forbes to be a solid rookie. But ball production can be random and not always the best effectiveness indicator for coverage players.
Forbes will be a looming threat on any pass thrown his way. He'll also be a target in the run game and will likely give up some big plays he can't compete on due to his size. He'll have to stay aggressive but avoid putting too much pressure on forcing turnovers at the expense of playing within the scheme.
Emmanuel Forbes Combine Measurements and Results
Wingspan: 79″
Arm: 32 1/4″
Hand: 8 1/2″
40-Yard Dash: 4.35 seconds
10-Yard Split: 1.48 seconds
Vertical Jump: 37.5″
Broad Jump: 10'11"
Displaying excellent on-tape athleticism, the NFL Combine was an opportunity for Forbes to quantify that element of his game, and he didn't disappoint in Indianapolis. Both his vertical and broad jumps, measures of explosiveness, were decent. Meanwhile, his 40-yard dash time ranked fourth, and his 10-yard split came in fifth amongst all CBs at the annual testing event.
As a result of those performances — and a height measurement slightly above his program-listed size — Forbes received a RAS of 9.26. That ranks as the 164th cornerback out of 2,212 measured at the position since 1987. Although that was impressive, a weight measurement of 166 pounds was significantly lower than the 180 pounds he was listed at while with Mississippi State.
Listen to the PFN Scouting Podcast
List to the PFN Scouting Podcast! Click the embedded player below to listen, or you can find the PFN Scouting Podcast on iTunes, Spotify, and all major podcast platforms.  Be sure to subscribe and leave us a five-star review! Rather watch instead? Check out the PFN Scouting Podcast on our Scouting YouTube channel.