Is Alabama OT Tyler Steen one of the biggest sleepers in the 2023 NFL Draft offensive tackle class? Alabama is routinely regarded as one of the most prolific OL factories in college football, and Steen has the ability to solidify that reputation when he makes the leap to the professional level.
Tyler Steen NFL Draft Profile
Position: Offensive Tackle
School: Alabama
Current Year: Redshirt Senior
Height/Weight: 6'6″, 321 pounds
Length: 32 3/4″
Wingspan: 80 1/2″
Hand: 10 1/2″
Whenever Alabama acquires a player via the transfer portal, you have to take notice. But Steen's arrival from Vanderbilt fell under the radar this past offseason.
Steen came to the Crimson Tide with a surprisingly complete and all-encompassing body of work and player history. He was a defensive end recruit out of high school, who played in four games as a defensive tackle with the Commodores in 2018, before making the full-time move to offensive tackle.
In 2019, as a sophomore, Steen started 12 games at right tackle, then moved to the left side in 2020. He started 33 straight games to close out his Vanderbilt career before leveraging that experience into an opportunity at Alabama in his redshirt-senior campaign.
MORE: FREE Mock Draft Simulator With Trades
It was an opportunity for Steen, a perennially underrated player, to elevate himself in the 2023 NFL Draft OT class. And in his lone season with the Crimson Tide, he did just that.
Steen quickly earned the left tackle job in the summer, succeeding New York Giants first-round pick Evan Neal. And after transitioning from Vanderbilt, Steen ended up starting every game for Alabama at left tackle, earning second-team All-SEC honors in the process.
Steen wasn't a source of buzz before the season, and even now, he remains underrated. But Steen quietly has one of the most complete profiles in the tackle class, and he might just have starting upside at the NFL level.
Tyler Steen Scouting Report
Steen's arrival at Alabama blended talent with opportunity. But did the Alabama OT do enough to potentially rise into the early rounds? Let's take a closer look.
Steen's Positives
Steen had big shoes to fill when he came to Alabama to replace Neal at LT. But his shoes are pretty big on their own. Steen isn't quite Neal — few are. But at 6'6″, 321 pounds, he has a strong, wide, and well-proportioned frame with solid length. With his width and wingspan, Steen can wall off his side and prevent defenders from entering pursuit.
Steen's athleticism flashed on his summer tape, and it once again stood out as a strength in his game during the 2022 campaign. The Alabama OT flashes great initial quickness out of his stance when attacking across the formation as a run blocker, and he's noticeably light on his feet for his size.
Steen also flashes great accelerative capacity for his size when attacking upfield, and he's a fairly amped-up mover with strong lateral mobility as a pass protector. As a pulling blocker, Steen has above average range. He's able to reach the A-gap and turn upfield, with the explosiveness to quickly traverse the B-gap and drive power laterally. It also helps that Steen's physical build naturally imbues power as a crucial part of his game.
Steen's combined NFL Combine and pro day showings emphasized his athletic profile. At 6'6″, 321 pounds, he recorded a 29.5″ vertical, a 9'1″ broad jump, a 4.59 shuttle time, a 7.78 three-cone, and 31 bench reps. His shuttle and broad figures were both near the elite range — putting in perspective his explosiveness and agility at his size. Overall, he produced a Relative Athletic Score (RAS) of 9.44.
On top of his mobility, Steen's combined length and frame density grant him great raw power capacity, and the Alabama OT can leverage momentum into additional power by channeling with his length.
Steen has the power to blast back defenders when he fully loads and channels effectively. He's also shown he can lock out defenders in run defense with heavy upper-body torque. Furthermore, Steen uses rotational power from his hips to seal pass rushers outside the apex.
Offensive line play is always maximized by a healthy mix of raw and operational power. Steen has both on his side.
MORE: 2023 NFL Draft Big Board
Not only is he a naturally powerful player, but Steen effectively aligns his strong lower body and uses leg drive to displace defenders downfield. In this mode, he has the power capacity to steamroll lighter defenders to the second level. He's able to quickly plant and torque lighter defenders into the turf on passing downs in violent displays of dominance.
Going further, Steen's functional strength is also NFL quality. The Alabama OT has good grip strength. He's shown to violently latch onto pads and maintain his anchor amidst resistance, especially against smaller opponents.
Once he gathers opponents, Steen's strong base and width help him to stymie advances upfield, but he also has the core strength to hold his ground and redirect, both in the run and pass game.
Particularly as a pass protector, Steen's strength shows up. He possesses the recovery strength to dissolve power rushes after reacquiring leverage, which helps make imperfect reps inconsequential.
For his size, Steen has great leverage acquisition. He's unusually natural playing beyond his center of gravity and is able to play with controlled lean and leverage his lower body into blocks.
Steen has very natural knee bend as a pass protector and smoothly transfers his weight while moving laterally. While his balance could be more consistent, he's shown to use his length and balance to recover against stunts. He can lean and extend to maximize his range and lock out rushers.
Excitingly, Steen appears to have enough flexibility to work with as well. The Alabama OT has shown he can flip his hips to drive and lock out rushers at the apex. He can fairly quickly swivel and re-align himself to maintain blocking leverage in tight quarters, as well as rotate around on reach blocks after exploding into interior defenders. And with his torso flexibility, he can absorb power to a degree and flex to transfer weight at contact.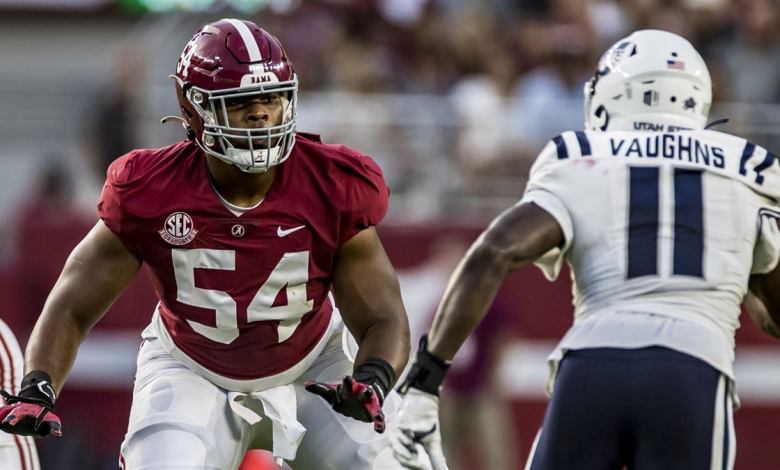 Operationally, Steen has similarly exciting moments, with his footwork being the most appealing factor. Steen consistently has smooth footwork and synergetic pass sets. He has great foot speed as a pass protector and can naturally widen his shuffles while maintaining smooth weight transfers.
Going further, Steen's shown to be controlled on his kick and adjust his throttle to match rushers to the apex. He gets good depth, as well as tempo up his feet to match more explosive rushers.
Not only is Steen synergetic off the snap, but he's proven to maintain synergy while matching. More often than not, Steen keeps a wide base and tight hands to envelop and control rushers upfield. He's also shown to quickly correct into the proper stance at contact. Even after starting wide, Steen quickly tightens his hands and snaps into phase.
Expanding on Steen's hand usage, the Alabama OT can effectively load his hands by keeping them at his sides, then exploding into contact with violent extensions and powerful strikes. He flashes a good sense of timing at the apex, flipping his hips and fully extending to lock out rushers. He also shows glimpses of precision and independent hands.
Steen can strike with his inside hand to flush rushers outside, then extend and latch with his outside hand. To that end, he's shown to violently swat rushing moves and latch and anchor in rapid succession. Steen's amped-up style helps him here. Even after being worked back by initial power outputs, he can violently recoil and extend to recover control against surging linemen.
Moving elsewhere, Steen has an active help mentality when unencumbered and will look inside to provide help. He shows good patience and awareness against stunts as well. Steen drags interior rushers with his inside hand while widening to match outside rushers. Additionally, he can chip and stack blocks moving to the second level.
Blending all of Steen's traits together is an opportunistic over-arching physicality. The Alabama OT actively finishes defenders into the dirt when they sacrifice leverage, and he'll drive defenders into the turf with power generation if given the chance. Steen consistently blocks and sustains leg drive to the whistle as a run defender.
Steen's Areas for Improvement
While Steen is a great athlete, he doesn't quite have elite agility or flexibility. The Alabama OT is more of a linear mover in space, even if he flashes the mobility to track and drive LBs at the second level. He also sometimes appears a bit limited when unhinging his hips to open up his strides.
Of course, athleticism isn't something to nitpick with Steen. He safely passes the threshold of a future NFL starter. But there are other talent-related imperfections to note elsewhere — among them, his length, power application, and use of functional strength.
While Steen's length, at almost 33″, is solid, he's far from elite with his reach, and this can affect his play at times. He occasionally leans and over-extends in an attempt to compensate and widen his reach, which can in turn have an impact on his balance through plays.
Steen's hands don't always have great knock-back power individually, and he has room to more consistently load and exert in pass protection. Going further, Steen doesn't quite have elite core strength. His anchor can be broken by defenders who acquire leverage and peek around. His grip strength also has notable lapses. Rushers can spin free once Steen allows them into his frame. He could also better sustain blocks in space, as his hands don't always latch effectively.
Steen's comfort playing with lean is a definite strength, especially without elite length. But Steen's balance and leverage can be a double-edged sword at times. Being 6'6″, Steen sometimes resets too far upright at contact and drifts out of proper leverage farther in reps.
There are instances where Steen could better maintain his center of gravity farther into reps. On the flip side, Steen sometimes leans too far over his center of gravity and gets easily worked off-balance.
Moving on, while Steen's footwork provides a steady operational foundation, his hand usage could be more consistent. The Alabama OT sometimes swings his arms into contact, as opposed to loading and extending. This reduces energy output and makes him easier to exploit. Additionally, Steen sometimes rushes to extend off the snap and extends before his base is set, which can result in lurches and loss of balance.
MORE: 2023 NFL Draft Guard Class
Steen sometimes gets too grabby and bear-hugs opponents while attempting to drive them upfield. His hands can also be too wide off the snap, exposing his torso to opposing power.
When engaging opponents, Steen's inside hand can be stronger. He doesn't always latch with force, allowing defenders to wrench him off-balance and pry inside. His outside hand can also be tighter and more disciplined. He sometimes flails too wide and hinges open outside, allowing rushers to direct him with power.
Continuing with the theme of hand usage, Steen's hands can sometimes be placed too high. He can lose synergy and balance with high punches and get worked past his center of gravity. In run support, Steen could have faster, more forceful hands when sealing backside defenders.
Although Steen excels with his footwork, he could be more patient with his match angle. He sometimes retreats upfield too much and gives too much space for inside counters. Similarly, Steen sometimes oversets outside and allows rushers early lanes inside. When rushers exploit that, Steen tends to panic and extend before his feet are set.
Steen has above-average awareness and urgency but should be more composed as a help blocker. He sometimes leads with his shoulder into contact and isn't able to contain rushers with his hands. He can occasionally be baited into extending prematurely against stunts, impacting his positioning against looping defenders.
At times, Steen can better stay locked in all the way through reps. On occasion, he'll briefly lose focus and intensity when opponents are across-face, allowing opponents to duck around him. Finally, Steen can't always fully rotate around reach blocks moving inside, although this might be more of a footwork issue.
Current Draft Projection for Alabama OT Tyler Steen
Steen doesn't always get his due in the 2023 NFL Draft, but he grades out as a top-100 prospect for me, well worth consideration in the mid-to-late Day 2 range. And after his strong athletic testing, there's a chance he could go even higher. Physical traits like mobility, power, strength, size, and natural leverage acquisition all give him exciting growth potential.
Steen is a superb athlete at 6'6″, 321 pounds, who also has enough length to anchor and channel power against opponents. As a run blocker, his combined burst, size, and leverage acquisition give him immense potential, and as a pass protector, his smooth, nimble footwork helps lay a strong foundation.
There's still room for Steen's functional strength to be more consistent on contact, and his hand usage can still be streaky, even as a four-year starter. That said, he has good strength as it stands, and he has shown he can employ hand replacement while maintaining synergy to the apex.
As long as Steen can keep refining his hands and keep working on playing with control past his center of gravity, he has the upside to be a quality NFL starter at either left or right tackle, with experience at both spots. He has a desirable combination of physical tools, and he supplements it well with great footwork, play speed, power capacity, and physicality.
Listen to the PFN Scouting Podcast
List to the PFN Scouting Podcast! Click the embedded player below to listen, or you can find the PFN Scouting Podcast on iTunes, Spotify, and all major podcast platforms.  Be sure to subscribe and leave us a five-star review! Rather watch instead? Check out the PFN Scouting Podcast on our Scouting YouTube channel.