We've not yet reached the Idus Martiae, but the mock drafts never rest. Many of the needs teams currently have will vanish after the free agency period begins on March 15. In fact, we haven't even finished the athletic testing at the NFL Combine yet. But as things progress, the vision becomes a bit clearer.
2023 NFL Mock Draft
If there is a quarterback your team loves, they must do whatever it takes to go and get that guy. Teams will trade the farm to get their guy.
1) Indianapolis Colts: Bryce Young, QB, Alabama
Trade: Indianapolis receives pick 1 and pick 133; Chicago receives pick 4, pick 35, a 2024 first-round pick, and a 2025 second-round pick.
Chicago had their eyes set on a particular pass rusher, so they did not want to move down too far. Shane Steichen gets arguably the best quarterback in the class and the QB that best fits him schematically. While Bryce Young's height and frame are worrisome, he isn't a mobile quarterback the way that Kyler Murray is. He plays and wins from the pocket but has the athleticism to create outside of structure.
MORE: 2023 NFL Mock Draft Simulator
This marries Steichen, a first-time head coach, with the rookie QB of his choice. As a prospect, Young is hard to poke holes in. As many have brought up, if Young stood 6-foot-3, 215 pounds he'd be the unquestioned top pick. While Tua Tagovailoa and Mac Jones were good players in their own right, Young is the first Alabama QB that needed to truly carry his team.
2) Houston Texans: Anthony Richardson, QB, Florida
Houston wasn't interested in moving up a pick because they were fine with two quarterbacks in the class, and the team didn't want to give up multiple picks because they're very much still rebuilding their own roster.
Many will see this pick as a beer league softball home-run swing, but that's not the truth. Anthony Richardson is not some blank slate QB prospect with a bad process and innate accuracy issues. His inconsistencies with his accuracy stem from mechanical issues in his lower body, which are completely fixable. You can see him working through his process on tape, but as a one-year starter, he hasn't had the reps to sharpen that skill set.
He is an athletic freak who wants to play from the pocket but isn't afraid to drop things into first gear and put the hammer down. His path toward early success looks like Josh Allen's once the Buffalo Bills star started carrying the ball more. Justin Fields has proved you can find offensive success while growing as a passer because of the QB run game.
3) Carolina Panthers: C.J. Stroud, QB, Ohio State
Trade: Carolina receives pick 3; Arizona receives pick 9, pick 39, and a 2024 first-round pick.
The Panthers got themselves a scare when Houston hung up the phone on them but was relieved when they took Richardson, leaving the QB that best fits Frank Reich's offense to fall one more pick. While they gave Arizona quite a haul for the rights to the third pick in the draft, there were other suitors, and the Panthers had already tried calling Chicago and Houston about their top picks.
C.J. Stroud is an outstanding quarterback who finished his collegiate career on one of the biggest heaters I've ever seen. His play against both Michigan and Georgia comprised the best QB tape of the cycle, and if he learns to play more like an athlete, he could very easily become the best QB in the class.
4) Chicago Bears: Tyree Wilson, EDGE, Texas Tech
Will Anderson Jr. is the best pass rusher in the draft class. But athleticism and size thresholds exist, and coaches have preferences at certain positions. When Matt Eberflus met with the media at the NFL Combine, he kept things simple when asked about the type of defensive linemen he likes.
"Big, long, and fast," said Eberflus. General manager Ryan Poles reiterated their desire for length. Tyree Wilson's 86-inch wingspan is in the 96th percentile at his position historically. He is also 6-foot-6 and 275 pounds. When players are stepping off the bus, he's the first one to step off the platform.
We've seen a rash of underdeveloped pass rushers with freaky athleticism shine quicker than expected at the NFL level in recent years. Private position-specific coaching continues to evolve to a level of scientific precision, and the players are putting the work in to perfect their craft. That will be the vision with Wilson.
5) Seattle Seahawks (from DEN): Jalen Carter, DT, Georgia
Unless more serious charges are levied against Jalen Carter before the end of April, it's unlikely his draft stock takes too much of a hit. As Arif Hasan laid out the other day, the harsh reality is that the discussion will revolve around how this affects the draft.
Carter likely won't miss any time, and as long as he doesn't completely bomb his interviews, he likely remains one of the first players drafted. Seattle is well-known for their propensity to give second chances, and Carter is a top prospect that fits the team's defensive needs.
6) Detroit Lions (from LAR): Christian Gonzalez, CB, Oregon
Christian Gonzalez, you are a Detroit Lion. It's a common pick in mock drafts because the Lions need to improve in the secondary after spending a few years building their trenches up. Gonzalez might not have been the best cornerback in college football last season, but his projection to the pro level is scrumptious.
His father was a basketball player at Oregon, and his sisters are track stars. When watching him play, it's clear that Gonzalez hit the genetic lottery. He's not as clean of a prospect as Patrick Surtain II was, but the way he carries receivers vertically downfield is as effortless as it was for Surtain, who never really looked like he was trying very hard.
7) Houston Texans: Will Anderson Jr., EDGE, Alabama
Trade: Houston receives pick 7, pick 143; Las Vegas receives pick 12, pick 104, pick 138, and a 2024 first-round pick (via CLE)
In a similar fashion to the Philadelphia Eagles in 2021, the Texans moved back into the top 10 to get their guy. They've already begun building the defense with the likes of Derek Stingley and Jalen Pitre in the secondary, but Will Anderson Jr. brings them a versatile pass rusher to make opposing quarterbacks' lives difficult.
DeMeco Ryans is no stranger to using outside linebacker types on the edge, as was evident from starting Samson Ebukam and having pass rushers of all shapes and sizes play for San Francisco through the years. While a disciplined secondary is important to Ryans' defense, the 49ers' true strength has always been the team's ability to generate pressure with the front four.
8) Atlanta Falcons: Paris Johnson Jr., OT, Ohio State
While Paris Johnson Jr. is a left tackle prospect, he played right guard for the Buckeyes in 2021, which could help him in his transition to the right side. Kaleb McGary is coming off a career year, but that season was aided by an incredibly heavy dose of running the football and using play-action. In true dropback scenarios, McGary's flaws are still prevalent.
So the Falcons decide to not re-sign him in this simulation, instead opting for the high-end, low-cost replacement in Johnson. He is as good a run blocker as he is a pass protector, which is very important in an Arthur Smith-led offense. Protecting Desmond Ridder is imperative for the second-year QB's evaluation moving forward.
9) Arizona Cardinals (trades No. 3): Myles Murphy, EDGE, Clemson
The Arizona Cardinals desperately need to revitalize the talent level on the defensive side of the ball. With Kyler Murray's ACL tear likely making 2023 a rebuilding year for Arizona, they may start here.
Jonathan Gannon changes the way Arizona will draft pass rushers, but there's still plenty of room for interpretation with regard to what type of pass rusher Gannon prefers. He's lived and thrived with all different types of players on the edge, and Myles Murphy's frame fits into the mold Gannon prefers.
10) Philadelphia Eagles (from NO): Joey Porter Jr., CB, Penn State
Joey Porter Jr. still has a lot to learn as a CB, but he's already shown year-over-year growth. Darius Slay is still playing some outstanding football, but he's also 32, and the cliff for corners can come swiftly and be quite steep.
Physically, Porter is everything you could ask for in a professional cornerback. He possesses the ideal size and movement ability for the position. The Eagles will likely retain C.J. Gardner-Johnson, even if only on the franchise tag. Good safety play can help ease in a somewhat underdeveloped cornerback early on. But if Porter can learn to trust his athleticism and keep his hands to himself, he'll be just fine.
11) Tennessee Titans: Broderick Jones, OT, Georgia
The Tennessee Titans want to play a brand of football that doesn't really exist in the modern game anymore. They want to play good defense, run the ball down the opposing team's throat, and use play-action to sneak passes into the intermediate areas of the field. But they need blockers who can excel in an offense like that, and Broderick Jones is just the man for the job.
Taylor Lewan's retirement creates an opening at left tackle, which the Titans desperately need to fill either in free agency or the draft.
12)  Las Vegas Raiders: Cam Smith, CB, South Carolina
The Raiders need a ton of help on the defensive side of the ball, but coverage is king. Cam Smith is unique in that he can wear so many different hats, which is something not often seen from college cornerbacks. Smith played on both sides, in the slot, and, at times, from way off the ball in the slot, where he was practically playing safety.
Smith is a fluid operator with good feet and adequate size for the position. Defensive coordinator Patrick Graham is schematically versatile in the secondary, and Smith can help Graham realize his vision for the Raiders' defensive backfield.
13) New York Jets: Brian Branch, DB, Alabama
It's unfair to pencil in Brian Branch as a cornerback or a safety. While he has played most of his college snaps in the slot or in the STAR role, he projects well as a third-level defender. But in reality, Branch is the perfect modern-day defensive back. Match-based zone coverages have made it so safeties need to be comfortable playing what is effectively man coverage within their zone responsibility.
The New York Jets have the rest of their cornerback group set, but they could use a hybrid player who could be their free safety alongside Jordan Whitehead. Robert Saleh will be able to find many different uses for Branch within the scope of his defense.
14) New England Patriots: Devon Witherspoon, CB, Illinois
Surprisingly enough, the Patriots have drafted quite a few cornerbacks relatively high in the NFL draft recently. They haven't hit on any early but have had great success with later-round picks at the position. Devon Witherspoon will change that. He may not be the best pro prospect at the position, but he was the best cornerback in college football a season ago.
The more you watch him play, the more Jaire Alexander you see in him. He's not the biggest cornerback in the world, but if you're stuck in a room and you had a choice between sharing it with Witherspoon or a honey badger (not Tyrann Mathieu), you might want to test your luck with the snake killer. He is perfect for Bill Belichick's defense.
15) Green Bay Packers: Jordan Addison, WR, USC
Admittedly, this is where my biases kick in. Michael Meyer is a popular pick among mock drafters when it comes to the Green Bay Packers, but that is a direction I'd personally advise against (unless Meyer tests like an absolute freak). The tight end position is an incredibly tricky transition from college to the professional level.
Wide receivers spend every moment crafting the finer points of the game. Offensive linemen spend their time on footwork and hand placement. Tight ends have to split their time between the two, and it's hard to become an expert quickly at that rate. Unless you're selected an unfairly athletic phenom, the position is better off being a luxury pick early on.
Jordan Addison doesn't quite fit the Packers' usual size thresholds, but with Randall Cobb being aged out of the game, Addison could fit right into the slot in 11-personnel and play the Z in 12- and 21-personnel sets.
16) Washington Commanders: Calijah Kancey, DT, Pittsburgh
Any slightly undersized defensive tackle at the University of Pittsburgh will be fairly likened to Aaron Donald. Calijah Kancey is not that level of NFL prospect, but he ran nearly the best 40-yard dash time of any defensive tackle ever. A 280-pound human being should not be able to run a 4.67. That's effectively a bear chasing you at that point.
MORE: When Is the 2023 NFL Draft? Date, Start Time, Location, and More
His short arms may give teams some pause, but that explosiveness will play. And he won't have to start right away in Washington. Can you imagine the DL games they could play with Jonathan Allen, Montez Sweat, Chase Young, and Kancey after they lose Daron Payne in free agency next season? That's a freaky amount of athleticism on the defensive line.
17) Pittsburgh Steelers: Clark Phillips III, CB, Utah
If the Steelers decide not to bring back Cam Sutton, Clark Phillips III would be an outstanding replacement. Phillips can play inside or outside. The modern game is no longer made up of 6-foot-3 outside receivers and 5-foot-9 slots. Everybody moves around, and you need a cornerback who can do the same, situationally.
Although Phillips lacks size, he is an outstanding cornerback. Much like Young at QB, if Phillips was 6-foot-1 with his tape, he'd be looked at far more favorably. There are few holes in his game. However, his frame does make it difficult to be a consistent tackler.
18) Detroit Lions: Lukas Van Ness, EDGE, Iowa
The athletic gap between pass rushers and the men blocking them continues to grow. Lukas Van Ness is a 6-foot-5, 270-pound defensive end who just ran a 4.58. Oh, and he has 34-inch arms and 11-inch hands, so length is certainly not an issue in his game, either. Detroit has some bendy pass rushers on the roster already.
Because of his size and athleticism, Van Ness can play anywhere from a 4i to a wide 9, playing either with a hand in the dirt or from a two-point stance. No NFL team has ever had too many pass rushers. And a unit of Van Ness, Josh Paschal, Romeo Okwara, and Aidan Hutchinson on third downs could cause night terrors for opposing QBs.
19) Tampa Bay Buccaneers: Nolan Smith, EDGE, Georgia
It's incredibly difficult to keep track of the athletic freaks that play defensive end and outside linebacker these days. Nolan Smith must improve upon the finer points of being a professional pass rusher, but he's a great fit for a Tampa Bay Buccaneers defense that asks their edge rushers to play in space.
20) Seattle Seahawks: Emmanuel Forbes, CB, Mississippi State
Jaxon Smith-Njigba was a thought here, but the Seattle Seahawks could use a starting cornerback a bit more than a third receiver as of today.
Emmanuel Forbes' size may make teams a bit leery of drafting him in the first round. But he's a fierce competitor on the field, making up for the lack of power he possesses in his frame.
He has great length and is an intelligent coverage defender. Your daddy's Seahawks aren't around anymore. They aren't simply a country Cover 3 team at this point. The Mississippi State cornerback is fluid and explosive with great feet to boot.
21) Los Angeles Chargers: Quentin Johnston, WR, TCU
The Horned Frogs' long-striding receiver is finally off the board. While he may not be the true No. 1 receiver many would want from a first-round pick right away, he fits a desperate need in the Chargers' offense.
Speed.
They've needed a legitimate speed threat ever since Justin Herbert joined the team, and that is exactly what Quentin Johnston brings from the start. He has a long way to go as a route runner, but his mere presence on the field will open up the middle of the field for Herbert.
22) Baltimore Ravens: Jaxon Smith-Njigba, WR, Ohio State
Until we know more about how Baltimore will handle the Lamar Jackson situation, wide receiver remains their most pressing need. Now, drafting a receiver that was injured for all of 2022 will probably make Ravens fans want to hurl rocks at me, and I understand that. I have taken the liberty to stone myself for doing this.
The Ravens struggle to keep anybody healthy, and receivers have been very susceptible to injuries over the past few seasons. However, Jaxon Smith-Njigba is exactly the kind of receiver Baltimore needs to help Jackson progress further as a passer. He's always preferred attacking the middle of the field, which is exactly where Smith Njigba is most dangerous.
23) Minnesota Vikings: Kelee Ringo, CB, Georgia
Keelee Ringo is a complete and utter projection. However, he is an absolutely outrageous athlete who could learn a few things from Patrick Peterson, should the veteran return to the Minnesota Vikings for another season.
You can see the flashes with Ringo. He's an intelligent defender in zone coverage who communicates well and matched wonderfully in Kirby Smart's Saban-inspired defense. But there is a level of ADHD when in coverage that can be baffling at times. If Minnesota can keep his focus throughout reps, his intelligence and athleticism will take care of the rest.
24) Jacksonville Jaguars: Peter Skoronski, OL, Northwestern
Without knowing the fate of Jawaan Taylor in free agency, no prospect-team fit is better in this mock draft. Jacksonville could stand to upgrade their left guard position, and they have a need at right tackle if Taylor walks.
Peter Skoronski lacks length, and it's visible at times on tape. While a move inside is absolutely an option, there is little doubt that his technical refinement could allow him to survive at right tackle.
25) New York Giants: Bijan Robinson, RB, Texas
Drafting a running back inside of the top five is never a viable option. The production value simply isn't there in a passing league at a position where, historically, the best years come early and few actually produce well into a second contract.
But if the Giants use the franchise tag on Daniel Jones and let Saquon Barkley test free agency, this could be a dream for them. Bijan Robinson is arguably a top-five talent in the class, but he, unfortunately, plays a position that has been phased out of importance by the modern game.
There's still value in runners who consistently create explosive plays, and Robinson does exactly that.
26) Dallas Cowboys: Deonte Banks, CB, Maryland
There are better cornerback prospects in the class, and Witherspoon is about as feisty as they come. But I can't remember seeing a cornerback as physically able to toss a receiver out of the club and make an effort in the run game as Deonte Banks.
When Trevon Diggs is on the other side, that seems a bit important. Banks is patient in press man and has a somewhat unnerving confidence in his athletic ability. He oozes confidence in all areas of his game, but he can also be a bit greedy at times with his eyes and a tad grabby in coverage.
27) Buffalo Bills: Antonio Johnson, S, Texas A&M
Antonio Johnson is a bit of a different player than we're used to seeing at the third level of the Buffalo Bills' defense, but that doesn't necessarily make him a bad fit. Although probably best fit in a middle-of-field closed defense as a box defender, he spent ample time surviving and even thriving in the slot and in deep alignments.
Buffalo was really starting to get hot and bothered about Robinson's slip into the mid-20s, and getting help in the secondary is probably more vital to their overall success than having an elite runner standing beside Josh Allen.
28) Cincinnati Bengals: Drew Sanders, LB, Arkansas
The only shocking thing about Drew Sanders is that he didn't play at Wisconsin. The hybrid edge-linebacker is everything we've grown accustomed to seeing in Jim Leonhard's Wisconsin defenses.
Cincinnati likely won't use him as a hybrid player, but they have to choose between paying Germaine Pratt and paying Logan Wilson. So either way, the Bengals will need a second linebacker behind their solid front four.
And with Lou Anarumo on the whiteboard, I'm sure he can find a way to exploit Sanders' versatility.
29) Tennessee Titans: Will Levis, QB, Kentucky
Trade: Tennessee receives pick 29 and pick 148; New Orleans receives pick 41, a 2024 first-round pick, and a 2024 third-round pick
Ryan Tannehill's replacement has arrived in Tennessee. It's not necessarily going to be Will Levis. It could very well end up being Malik Willis. But between the two big-armed lottery tickets, one of them will end up being the Titans' starting QB in 2024.
Actually, the best player comp for Levis is a big-armed Ryan Tannehill. Levis has been billed as a Josh Allen-type size/athleticism guy, but he's far less creative. His best fit today is in an offense that will keep things simple and let him showcase that arm to the intermediate levels of the field.
30) Philadelphia Eagles: Bryan Bresee, DT, Clemson
In a disgusting twist of fate, Bryan Bresee falls into the lap of the Eagles. Philadelphia couldn't have dreamed of a better situation. Fletcher Cox and Javon Hargrave are both over 30 and expensive.
Bresee is the entire package at defensive tackle. He can play as a gap-shooting three-technique or as a two-gap player. His size, length, and athletic ability make him an option to play anywhere from the true nose to a five-technique. He's a great complement to Jordan Davis and continues the Eagles' run as a team that can't stop finding elite defensive line play.
31) Kansas City Chiefs: Jalin Hyatt, WR, Tennessee
The Chiefs may end up trading for DeAndre Hopkins, but even that wouldn't necessarily stop them from drafting Jalin Hyatt. Despite the idea that the Chiefs' defense is always lacking some talent, Kansas City has few huge needs on the defensive side of the ball.
MORE: History of Kansas City Chiefs First-Round NFL Draft Picks
The Chiefs can save a significant amount of money against the cap by cutting Marquez Valdes-Scantling, and Hyatt fits perfectly into that downfield role. With Skyy Moore and Kadarius Toney likely playing bigger roles in 2023, Hyatt could be a great fit alongside the proposed trio of receivers.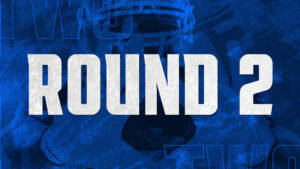 Round 2
32) Pittsburgh Steelers (from CHI)
Keion White, EDGE, Georgia Tech
33) Houston Texans
Josh Downs, WR, North Carolina
34) Arizona Cardinals
Will McDonald IV, EDGE, Iowa State
35) Chicago Bears (from IND)
Zay Flowers, WR, Boston College
36) Los Angeles Rams
Anton Harrison, OT, Oklahoma
37) Seattle Seahawks (from DEN)
Felix Anudike-Uzomah, EDGE, Kansas State
38) Las Vegas Raiders
Dawand Jones, OT, Ohio State
39) Arizona Cardinals
Eli Ricks, CB, Alabama
40) New Orleans Saints
Michael Mayer, TE, Notre Dame
41) New Orleans Saints
Siaki Ika, DT, Baylor
42) Cleveland Browns
Rashee Rice, WR, SMU
43) New York Jets
Trenton Simpson, LB, Clemson
44) Atlanta Falcons
Jahmyr Gibbs, RB, Alabama
45) Green Bay Packers
Dalton Kincaid, TE, Utah
46) New England Patriots
Zach Harrison, EDGE, Ohio State
47) Washington Commanders
Noah Sewell, LB, Oregon
48) Detroit Lions
Jack Campbell, LB, Iowa
49) Pittsburgh Steelers
Kayshon Boutte, WR, LSU
50) Tampa Bay Buccaneers
O'Cyrus Torrence, G, Florida
51) Miami Dolphins
Darnell Washington, TE, Georgia
52) Seattle Seahawks
Cedric Tillman, WR, Tennessee
53) Chicago Bears (from BAL)
Devon Achane, RB, Texas A&M
54) Los Angeles Chargers
Henry To'oTo'o, LB, Alabama
55) Detroit Lions (from MIN)
Jordan Battle, S, Alabama
56) Jacksonville Jaguars
Tyrique Stevenson, CB, Miami
57) New York Giants
Kyu Blu Kelly, CB, Stanford
58) Dallas Cowboys
Mazi Smith, DT, Michigan
59) Buffalo Bills
Andrew Vorhees, G, USC
60) Cincinnati Bengals
Jaelyn Duncan, OT, Maryland
61) Carolina Panthers (from SF)
Luke Musgrave, TE Oregon State
62) Philadelphia Eagles
DeMarvion Overshown, LB, Texas
63) Kansas City Chiefs
Isaiah Foskey, EDGE, Notre Dame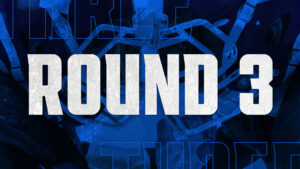 Round 3
64) Chicago Bears
John Michael Schmitz, C, Minnesota
65) Houston Texans
Gervon Dexter, DT, Florida
66) Arizona Cardinals
Brandon Joseph, S, Notre Dame
67) Denver Broncos (from IND)
Darnell Wright, OT, Tennessee
68) Denver Broncos
Andre Carter II, EDGE, Army
69) Los Angeles Rams
Derick Hall, EDGE, Auburn
70) Las Vegas Raiders
JL Skinner, S, Boise State
71) New Orleans Saints
Marvin Mims, WR, Oklahoma
72) Tennessee Titans
Tuli Tuipulotu, EDGE, USC
73) Houston Texans (from CLE)
Tucker Kraft, TE, South Dakota State
74) New York Jets
Cody Mauch, OT, North Dakota State
75) Atlanta Falcons
Jarrett Patterson, G, Notre Dame
76) New England Patriots (from CAR)
Daiyan Henley, LB, Washington State
77) Miami Dolphins (from NE)
Jammie Robinson, S, Florida State
78) Green Bay Packers
Jaylon Jones, CB, Texas A&M
79) Chicago Bears (from IND via WAS)
Christopher Smith, S, Georgia
80) Pittsburgh Steelers
Sydney Brown, S, Illinois
81) Detroit Lions
A.T. Perry, WR, Wake Forest
82) Tampa Bay Buccaneers
Hendon Hooker, QB, Tennessee
83) Seattle Seahawks
Owen Pappoe, LB, Auburn
84) Miami Dolphins
Matthew Bergeron, OT, Syracuse
85) Los Angeles Chargers
Blake Freeland, OT, BYU
86) Baltimore Ravens
Steve Avila, C, LSU
87) Minnesota Vikings
Ivan Pace Jr., LB, Cincinnati
88) Jacksonville Jaguars
Tank Bigsby, RB, Auburn
89) New York Giants
DJ Turner, CB, Michigan
90) Dallas Cowboys
Zach Charbonnet, RB, UCLA
91) Buffalo Bills
Zach Evans, RB, Ole Miss
92) Cincinnati Bengals
Trey Palmer, WR, Nebraska
93) Carolina Panthers (from SF)
Parker Washington, WR, PSU
94) Philadelphia Eagles
Jayden Reed, WR Michigan State
95) Kansas City Chiefs
Keeanu Benton, DT, Wisconsin
96) Arizona Cardinals
Joe Tippmann, C, Wisconsin
97) Washington Commanders
Warren McClendon, OT, Georgia
98) Cleveland Browns
Garrett Williams, CB, Syracuse
99) San Francisco 49ers
Julius Brents, CB, Kansas State
100) San Francisco 49ers
Carter Warren, OT, Pittsburgh
101) San Francisco 49ers
BJ Ojulari, EDGE, LSU
102) New York Giants
Nick Herbig, EDGE, Wisconsin
Listen to the PFN Scouting Podcast
List to the PFN Scouting Podcast! Click the embedded player below to listen, or you can find the PFN Scouting Podcast on iTunes, Spotify, and all major podcast platforms.  Be sure to subscribe and leave us a five-star review! Rather watch instead? Check out the PFN Scouting Podcast on our Scouting YouTube channel.