He's been exceptionally productive during a college football career that has seen stops at intellectual powerhouses Northwestern and Notre Dame, but does Brandon Joseph have a scouting report that suggests a long NFL future? We examine the potential of the Fighting Irish safety ahead of the 2023 NFL Draft.
Brandon Joseph NFL Draft Profile
Position: Safety
School: Notre Dame
Current Year: Redshirt Junior
Height/Weight: 6'0″, 202 pounds
A former quarterback and wide receiver, Joseph transitioned to play safety for College Station in the heartland of high school football — Texas. Despite earning All-State honors and winning a Texas 5A State Championship while racking up almost 300 tackles and 16 interceptions, Joseph was only a three-star recruit in the 2019 recruiting class.
After committing early to Texas Tech, he ultimately signed with Northwestern, where he redshirted in 2019. However, the instinctual safety exploded onto the college football scene in 2020, leading the nation with six interceptions. As a result, he was named the Big Ten Newcomer of the Year and earned All-American accolades.
MORE: FREE Mock Draft Simulator With Trades
Although he was less productive in 2021, Joseph was a 12-game starter and team captain for the Wildcats and still tallied an impressive three interceptions. Once considered a potential early selection in last year's cycle, he opted to enter the transfer portal rather than declare for the draft. Landing in South Bend with Notre Dame, he became the heir apparent to Kyle Hamilton.
Unfortunately for Joseph, his final season at the college level was his least productive since his redshirt freshman campaign, losing momentum for the 2023 NFL Draft class. Nonetheless, he secured a first career interception touchdown against Syracuse and logged a first career forced fumble in a win over BYU. He declared for the draft despite having a year of college eligibility remaining.
Brandon Joseph Scouting Report
Joseph first rose to prominence as an NFL Draft prospect following his sensationally productive 2020 campaign at Northwestern. Early in his career, there was hype, but that has never materialized into significant NFL Draft stock. We'll detail the reasons why later, but first, let's highlight the strength of Joseph's scouting report because there is a lot to like.
Strengths
The strengths of Joseph's scouting report focus heavily on his ability to impact the passing game. There are few players with the level of statistical success that he brings as a prospect, securing 10 career interceptions that are bolstered by six in his first season as a starter, but there has been at least one in each of the last three seasons.
Statistics don't make a scouting report, but highlight plays and traits most certainly do, and as a coverage safety, Joseph has plenty of both. Those interceptions have come the way of eye-popping plays where he's flashed ball-tracking skills, catch-point body control, reliable hands, and the ability to maximize what is essentially average arm length for a secondary playmaker.
While his testing numbers quantify some questions about his overall athletic profile, he has showcased the ability to elevate himself at the catch point in coverage. For a player who isn't the tallest or longest safety in the class, he can propel himself to great heights, allowing his sticky hands to reel in interceptions that you might consider unthinkable.
Expanding on his athletic positives, Joseph displays good sideline-to-sideline range, even if he isn't a true speed threat at the position. As a result, he's been able to play the single-high safety role during his college career, patrolling the secondary from center field. Furthermore, he's shown he can be explosive to jump routes and make plays in coverage.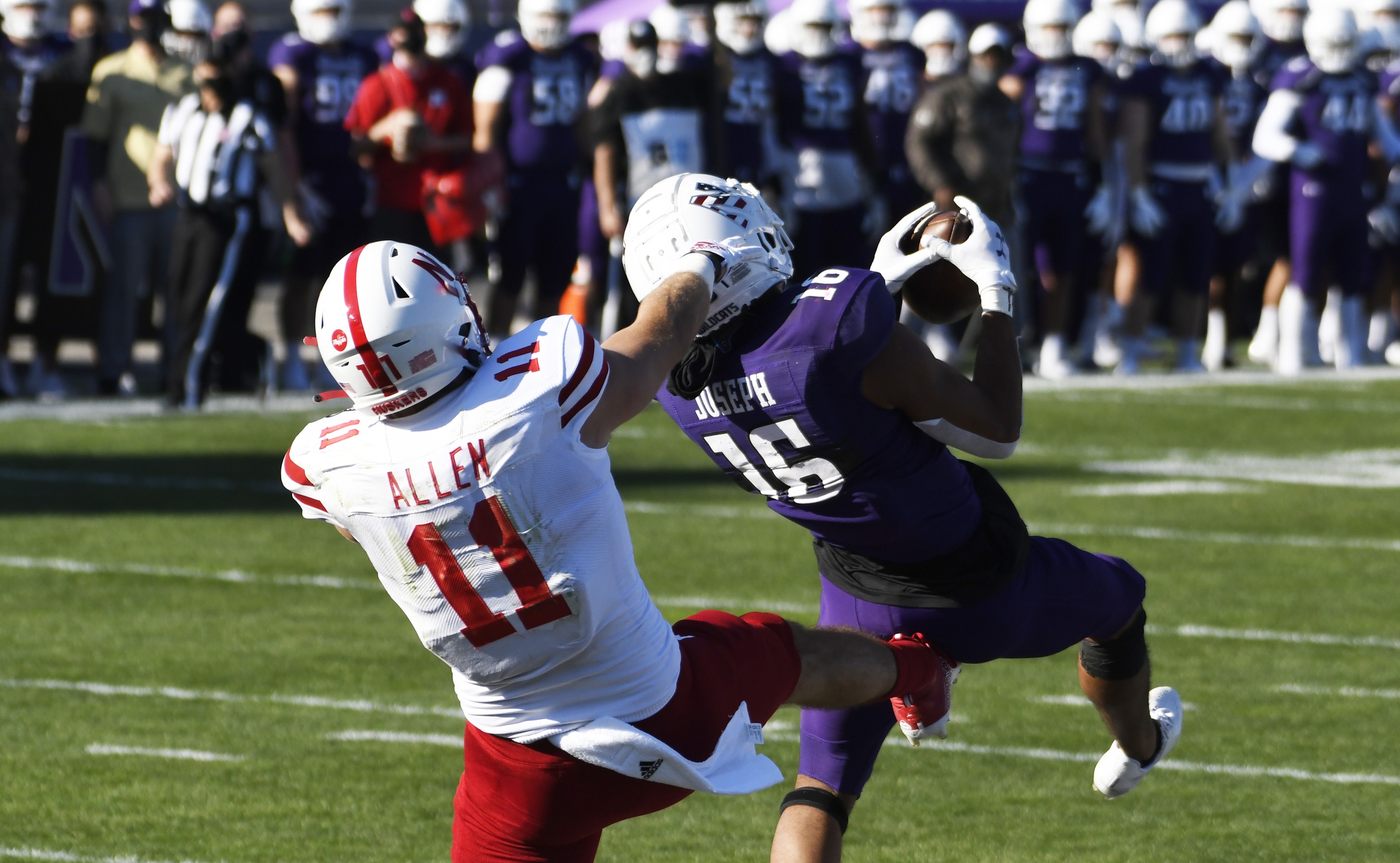 While there are athletic and technical capabilities that power Joseph's ability as a coverage safety, his scouting report is truly powered by exceptional football intelligence. In addition to playing at two academic powerhouses, the Notre Dame safety was courted by multiple Ivy League programs, and his off-field acumen translates to an elevated understanding of the game.
Joseph displays superb route-recognition skills. Additionally, he can frequently be seen directing his teammates to make pre-snap adjustments. Using his football intelligence, Joseph routinely puts himself in a position to make a play, and his ability to jump routes is as much about recognition as it is about explosion.
MORE: 2023 NFL Draft Big Board
While praising his coverage capability, there are elements of Joseph's play against the run that can be considered strengths. For a safety who lacks the frame of some of the bigger hybrid safeties we've seen in recent classes, he isn't afraid to get down and dirty in the box, where he has seen some exposure during his college career.
Furthermore, when he's able to take correct angles or his head on to the ball carrier, he is capable of hitting with impressive force. For a player whose stock has taken a beating from its original lofty perch, Joseph demonstrates a high level of confidence in his play. Meanwhile, his role as a team captain at Northwestern adds value to his scouting report as a leader.
Areas of Improvement
The strengths of Joseph's scouting report are alluring, especially if you're looking for a free safety who displays excellent football intelligence, archetypal defensive back confidence, and can be an impact-maker against the passing game patrolling the deep third. However, there are reasons why Joseph has fallen out of favor as an early-round selection in the 2023 NFL Draft.
One word: Consistency. While Joseph has demonstrated high-level play in various areas, there's a lack of consistency in efficiently executing. This is particularly true of his tackling and is glaringly apparent in the run game.
Joseph sometimes fails to wrap up as a tackler. He's prone to grappling at boot laces and using arm tackles that result in his opponent escaping and picking up a chunk play. There are several examples of this on his Northwestern and Notre Dame tape.
Some deficiencies in the run game will likely impact his usage at the NFL level.
Tackling form is one, while his football intelligence doesn't routinely extend to taking the correct angles against the run. This accentuates another area of improvement on his scouting report, where Joseph doesn't showcase the lateral agility to redirect effectively or efficiently.
Additionally, there are some physicality concerns as it pertains to his transition to the NFL level. While he's not small, there are some struggles in contested-catch situations on his tape. The Notre Dame safety also demonstrates some difficulties in overcoming blockers with physicality.
Current Draft Projection for Notre Dame S Brandon Joseph
It's been almost two years since Joseph entered the 2022 cycle as a potential fixture at the top of the safety class, appearing in mock drafts in the first round. That hype has passed, that ship has sailed, and a Day 3 selection is far more likely in the 2023 NFL Draft when you factor in the elements of his scouting report.
MORE: When Is the 2023 NFL Draft?
That said, an NFL team that operates a high percentage of zone coverage is going to love the potential that the Notre Dame prospect offers as a coverage playmaker. His combination of extremely high football IQ, ball skills, sideline-to-sideline range, and leadership qualities could prove alluring and ensure that he finds a role in an NFL defense.
Brandon Joseph NFL Combine Measurements and Results
Wingspan: TBC
Arm: 30 7/8″
Hand: 9″
40-Yard Dash: 4.62 seconds
10-Yard Split: 1.56 seconds
Vertical Jump: 30.5″
Broad Jump: 9'10"
3-Cone Drill: 7.08 seconds
20-Yard Shuttle: 4.23 seconds
Bench Press: 17 reps
Despite showcasing some impressive athletic tendencies in his breakout first season with Northwestern, Joseph has some concerns in that department on his scouting report, and those were further enhanced by a disappointing showing at the 2023 NFL Combine.
In a safety class that has been derided for a lack of superstar athletic talent, Joseph featured near the bottom of the class in several testing drills — propping up the position in the vertical jump. Although there were some minor improvements at the Notre Dame Pro Day, he still carded a Relative Athletic Score (RAS) of 6.47 — buoyed by a decent 10-yard split.
Listen to the PFN Scouting Podcast
List to the PFN Scouting Podcast! Click the embedded player below to listen, or you can find the PFN Scouting Podcast on iTunes, Spotify, and all major podcast platforms.  Be sure to subscribe and leave us a five-star review! Rather watch instead? Check out the PFN Scouting Podcast on our Scouting YouTube channel.