The first round of the 2023 NFL Draft is in the books, but there's still so much action left to watch. How can NFL teams build off the moves made in Round 1? This 2023 NFL Mock Draft takes a look at the possibilities in the Day 2 range, with plenty of talent still on the board.
2023 Day 2 NFL Mock Draft | Round 2
32) Pittsburgh Steelers (From CHI): Joey Porter Jr., CB, Penn State
Joey Porter Jr. was mocked to the Pittsburgh Steelers often in the pre-draft process as a legacy pick. At 16th overall, it sometimes felt a bit rich. But at 32, Porter provides optimal value.
At almost 6'3″, 193, with 34″ vines for arms, Porter has the size to smother receivers in press, and he also has impressive fluidity and burst upfield for that size.
33) Arizona Cardinals: Brian Branch, DB, Alabama
Before ultimately going with Paris Johnson Jr., many thought the Cardinals would address the secondary in Round 1. They return to that much-maligned coverage unit at the top of Round 2. Free agency departure Byron Murphy played in the slot on a good amount of his snaps at Arizona. Brian Branch can be an elite nickel in his place.
34) Detroit Lions: Will Levis, QB, Kentucky
The Lions don't have an immediate need at QB, but Jared Goff is up for an extension soon — one he might not have the tools to warrant. It would make a lot of sense, especially at Round 2 capital, for Detroit to add Will Levis and let him sit until it's time to pass the torch. Levis has superior arm talent, and his quick release would be lethal with Detroit's weapons.
35) Indianapolis Colts: Kelee Ringo, CB, Georgia
Indianapolis' top cornerbacks are Kenny Moore and Isaiah Rodgers Sr. — both of whom are up for new contracts in 2024. Now that the Colts have added Anthony Richardson, they need to quickly pivot to other premier positions of need. Kelee Ringo's route IQ is still improving, but he has the size and 4.36 speed to thrive in Gus Bradley's Cover 3 scheme.
36) Los Angeles Rams: BJ Ojulari, EDGE, LSU
With as many needs as the Rams have, they're lucky to have a pick that almost functions as a late first-rounder. At this value, LSU edge defender BJ Ojulari profiles as an excellent fit. He's tailor-made for the 3-4 rush linebacker role in Los Angeles with his finesse and twitch, proportional length, speed-to-power, and wicked hands at contact.
37) Seattle Seahawks (From DEN): Joe Tippmann, OL, Wisconsin
The Seahawks let the board fall at 20, and scored a top offensive player in Jaxon Smith-Njigba. They do that again here with Wisconsin product Joe Tippmann.
MORE: FREE NFL Mock Draft Simulator With Trades!
At 6'6″, 321 pounds, Tippmann is an elite athletic specimen with explosiveness, range, and power, and he has the football IQ and projected versatility to be a facet at either center or guard.
38) Las Vegas Raiders: Dawand Jones, OT, Ohio State
Las Vegas left Round 1 without a QB, but that doesn't mean they should invest in protection for their current (and future) signal-callers. With room to upgrade at right tackle, the Raiders take the mountain man Dawand Jones. At 6'8″, 374, Jones has the sheer mass and width to wall off rushers the way Trent Brown did for Josh McDaniels in New England.
39) Carolina Panthers: Michael Mayer, TE, Notre Dame
Now that the Panthers have added Bryce Young, the next step is solidifying the weapons around him. The value isn't there at WR in this mock, but Michael Mayer is a first-round pass-catching weapon. Mayer looks like an off-brand Greg Olsen off the field but emulates 11-time Pro Bowler Jason Witten on it with his nuance, play strength, and catching instincts.
40) New Orleans Saints: Josh Downs, WR, North Carolina
The Saints could easily double up on the defensive line here, but Josh Downs' fit with Chris Olave and Michael Thomas is too exciting to pass up. At 5'9″, 171 pounds, Downs is noticeably undersized, but he has the combined explosiveness, short-area dynamism, route polish, and extension ability to be a menace in the slot, in the mold of Doug Baldwin.
41) Tennessee Titans: Adetomiwa Adebawore, DL, Northwestern
After upping the trenches on offense in Round 1 with Peter Skoronski, the Titans turn to the defensive side of the ball in this mock draft, picking up Adetomiwa Adebawore. Opposite Jeffery Simmons, Adebawore has the explosiveness, power profile, and violent style to play 3-technique, but he's also athletic enough to slide to 5-tech and beyond.
42) Green Bay Packers (From CLE via NYJ): Jonathan Mingo, WR, Ole Miss
If there's any wide receiver in this class who screams "Green Bay Packers," it's Jonathan Mingo. He's a great fit as a big slot WR in the team's current rotation. At 6'2″, 220 pounds, Mingo has impressive frame density, contact balance, and RAC ability. But he's also a supremely explosive vertical athlete, who can generate big plays in all ranges.
43) New York Jets: Matthew Bergeron, OT, Syracuse
The Jets made a gut call in Round 1 with an explosive, bendy edge rusher in Will McDonald IV. Soon enough, though, they'll have to invest in additional OT talent. At 6'5″, 318 pounds, with near-34″ arms and high-energy athleticism, Matthew Bergeron makes sense here. He has room to play more controlled, but few rival his tools.
44) Atlanta Falcons: Cody Mauch, OL, North Dakota State
Bijan Robinson proved in college that bad blocking isn't enough to slow him down, but the Falcons shouldn't be eager to take chances either way. Cody Mauch projects incredibly well to offensive guard, and may even have the flexibility to play center. He's an explosive mauler with stellar power drive as a pulling blocker, and he fills a big need for Atlanta.
45) Green Bay Packers: Tucker Kraft, TE, South Dakota State
Packers fans may not like seeing Green Bay take Tucker Kraft one pick before Darnell Washington, but I have Kraft graded higher on my board. At 6'5″, 254 pounds, Kraft's athleticism is more translatable. He's a smooth, explosive athlete up the seam, and a physical RAC threat. Kraft brings some of the best blocking utility in the class.
46) New England Patriots: Darnell Washington, TE, Georgia
The Patriots might have Hunter Henry and Mike Gesicki, but both are up for new contracts in 2024. Even if TE wasn't a looming need, this is a Bill Belichick pick. Darnell Washington is a tank at 6'7″, 264 pounds. Although his functional athleticism isn't as impressive as his testing would indicate, Washington's an elite blocker with bristling RAC and red-zone appeal.
47) Washington Commanders: Isaiah Foskey, EDGE, Notre Dame
The Commanders need to invest in the future at EDGE. Isaiah Foskey played as a stand-up rusher often at Notre Dame, but with his 6'5″, 264-pound frame, he projects well in Washington's four-down front, pinning his ears back on every down. He's a stellar run defender and an explosive pass rusher, whose best moments with hand usage inspire awe.
48) Detroit Lions: Cory Trice, CB, Purdue
It took several picks, but the Detroit Lions finally pick a cornerback at 48th overall with Cory Trice. Trice isn't as well-known to casual viewers, but he's an elite size-speed CB at 6'3″, 206 pounds, with unnatural fluidity for his size. He's an incredibly flexible playmaker at the catch point, and he brings the sharp physicality in press that the Lions will crave.
49) Pittsburgh Steelers: Trenton Simpson, LB, Clemson
There was speculation that the Steelers had interest in the draft's top linebackers in March and April. If Trenton Simpson falls to a certain point, he could ultimately head to Pittsburgh. At 6'2″, 235 pounds, with 4.43 speed, Simpson has elite athletic ability. He can play the second level, loom in the slot, or function as an extra rusher with his bend.
50) Tampa Bay Buccaneers: Cedric Tillman, WR, Tennessee
Ahead of Round 1, we heard that the Buccaneers were enamored with Quentin Johnston, and had interest in a new, young size threat at WR. At 50, they get a quality consolation prize in Cedric Tillman.
Tillman is my WR3, and I compare him favorably to Michael Pittman Jr. He has great size, catching ability, and physicality, but is also a nuanced route runner.
51) Miami Dolphins: John Michael Schmitz, OL, Minnesota
With a need at guard and Connor Williams entering a contract year, interior OL is often a favored position for Miami in mocks. The top available guards don't fit Miami's scheme, so the Dolphins instead pick John Michael Schmitz. Schmitz has the athleticism, build, strength, and power to play at guard, but he can also take the reins at center if needed.
52) Seattle Seahawks: Derick Hall, EDGE, Auburn
A top-30 prospect on my board, Derick Hall presents an exceptional fit for the Seahawks as a standup EDGE in their hybrid 3-4 scheme. Hall can play with his hand in the dirt as well, but from any stance, his combination of searing explosiveness, lateral twitch, elite power capacity, and hand quickness can be lethal for tackles. He also sets the edge well.
53) Chicago Bears (From BAL): Keeanu Benton, DT, Wisconsin
Most simply put, the Bears need to upgrade on the interior defensive line. But more specifically, they'd benefit from a true three-down presence, with the ability to both disrupt 1-on-1 and stack and shed in run support.
MORE: 2023 NFL Draft — Top 50 Best Available Prospects Remaining
Keeanu Benton can do both of these things. He's a violent, heavy-handed defender with great burst, length, core strength, and motor.
54) Los Angeles Chargers: Tank Bigsby, RB, Auburn
The Austin Ekeler trade talk has cooled a bit, but it still feels like the writing is on the wall there. Thus, Kellen Moore needs a three-down runner who can take on increased volume.
Tank Bigsby has the size to accomplish that at 5'11", 215 pounds, but he also has insane cut flexibility and processing ability, as well as the speed to break big plays in space.
55) Detroit Lions (From MIN): Keion White, EDGE, Georgia Tech
Keion White was invited to the NFL Draft in anticipation of a potential first-round selection. He falls a bit here but lands in a great spot with Detroit.
White can play inside or outside with his frame and athleticism, but particularly against tackles, his hands have devastating pop, and he has the closing burst and agility to work blockers off-center.
56) Jacksonville Jaguars: DJ Turner, CB, Michigan
The Jaguars played the board perfectly in Round 1 before securing Anton Harrison, and they get another steal here. DJ Turner brings a rare profile to the Jaguars' secondary with his hyperactive short-area twitch and 4.26 recovery speed. He also has the versatility to play the slot or the boundary alongside Tyson Campbell and Darious Williams.
57) New York Giants: Steve Avila, OL, TCU
With Daniel Jones locked down long term, shoring up the interior offensive line is paramount for Brian Daboll and the New York Giants. Steve Avila was an all-Big 12 performer at both guard and center, and can play both spots effectively with his boxy 6'3 1/2″, 332-pound frame. He has burst, but Avila wins with heavy hands and leverage.
58) Dallas Cowboys: Zach Charbonnet, RB, UCLA
It'll be fascinating to see how the Cowboys value RB talent in the 2023 NFL Draft, and who they ultimately come away with. Zach Charbonnet feels like a prospect whose style would mesh with Jerry Jones' preferences. He's a brawler with ample foot speed at 6'0″, 215 pounds, who churns through chum and bowls off tackle attempts with his contact balance.
59) Buffalo Bills: O'Cyrus Torrence, G, Florida
O'Cyrus Torrence was a trendy first-round pick in mocks, but teams may be correcting for his lack of elite athleticism now. Whatever the case, the Bills luck into a quality interior lineman here. What Torrence lacks in lateral mobility and flexibility, he makes up for with size, elite raw strength, and devastating power capacity and torque in a phone booth.
60) Cincinnati Bengals: Sam LaPorta, TE, Iowa
It feels like Sam LaPorta could sneak into Round 2, especially after his stellar NFL Combine showing (4.59 40-yard dash, 35″ vertical, 6.89 three-cone). He's a bit of a reach for the Bengals here, but LaPorta has the smooth separation ability and natural catching instincts to be a reliable safety blanket. He also has some of the best RAC utility in the TE class.
61) Chicago Bears (From SF via CAR): Jartavius Martin, DB, Illinois
After addressing both sides of the trenches, the Bears take a quick detour to the secondary. In need of a high-level slot DB between Jaylon Johnson and Kyler Gordon, Chicago takes Jartavius "Quan" Martin here. Martin is a playmaker and a physical competitor, who provides elite explosiveness and closing speed — evidenced by his 44″ vertical.
62) Philadelphia Eagles: Julius Brents, CB, Kansas State
It's surprising that Julius Brents falls this far, but as we've quickly learned with this stacked CB class, talented prospects will fall. The Eagles, who met with Brents in the pre-draft process, halt his descent. Learning behind Darius Slay and James Bradberry, Brents has the effervescent athleticism, terse physicality, and length to buoy an astronomical ceiling.
63) Kansas City Chiefs: Rashee Rice, WR, SMU
The Chiefs met with Rashee Rice ahead of the draft. It was a notable visit, as Rice provides a lot of the packaged traits Kansas City looks for in wide receivers.
When he's healthy, Rice has the explosiveness, twitch, RAC, and displacement potential of a smaller WR. But he's also a hyper-elite contested threat with rare body control and a stubborn my-ball mentality.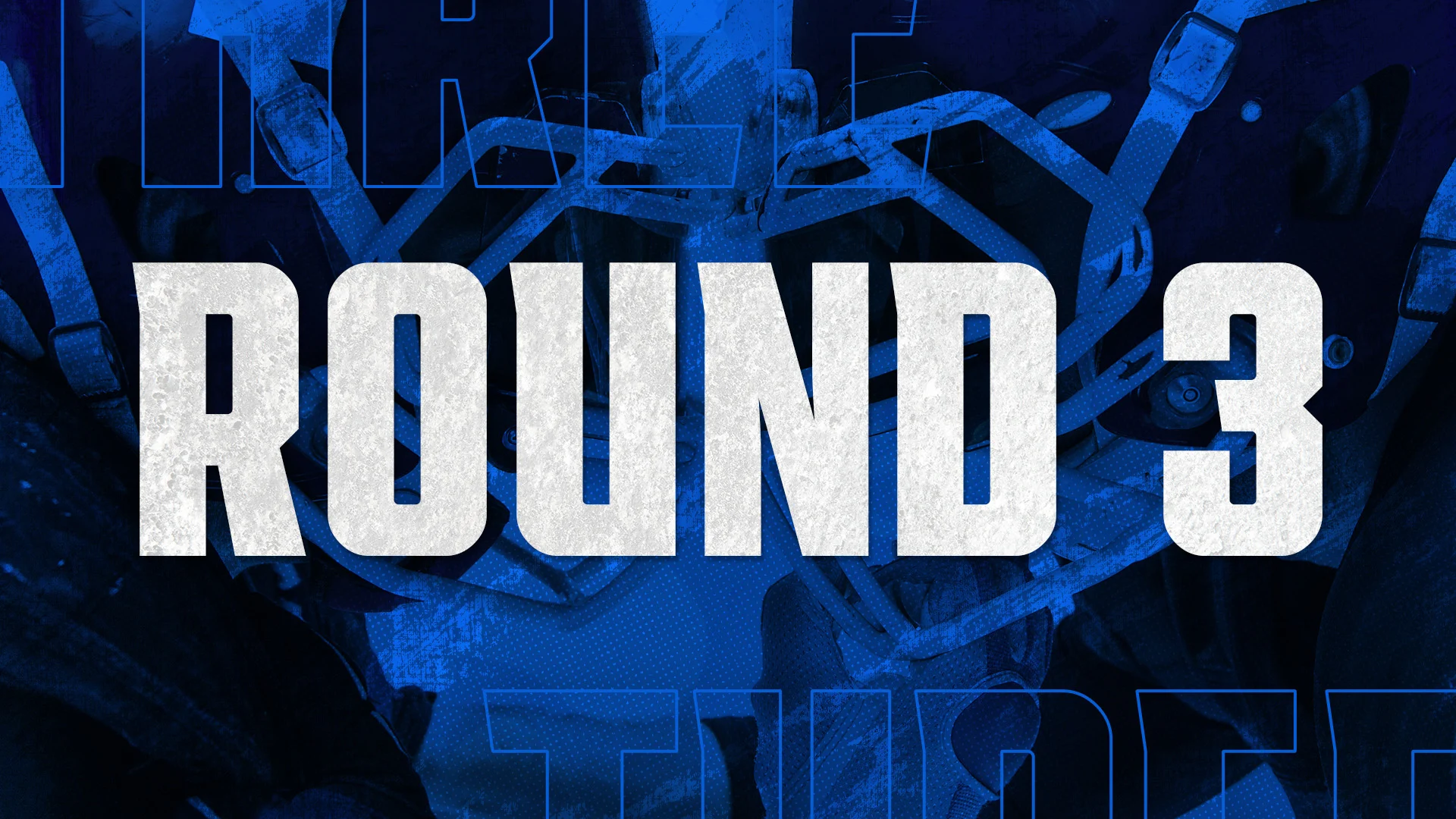 2023 NFL Mock Draft | Round 3
64) Chicago Bears: Zach Harrison, EDGE, Ohio State
At some point, the Bears will address edge rusher, and Zach Harrison is a perfect fit for Matt Eberflus' preferences and scheme. At almost 6'6″ and 274 pounds, with 36″ arms, Harrison is a super-athlete with one of the class' best mixes of explosiveness, bend capacity, and power. He could be more consistent, but all the tools are there.
65) Houston Texans: Luke Wypler, C, Ohio State
Chemistry between the QB and the center is an underrated facet of quality offensive execution. In this 2023 NFL Mock Draft, Stroud sticks with Luke Wypler in Houston. They're both young, so there may be an acclimation period in the NFL when it comes to protections. But Wypler has the leverage, mobility, and footwork to be a quality starter.
66) Philadelphia Eagles (From ARI): Jalin Hyatt, WR, Tennessee
If Jalin Hyatt falls this far, it would be on-brand of the Eagles to score yet another value deal. His relatively one-dimensional play style may rub teams the wrong way, but Hyatt can be an able complement to A.J. Brown and DeVonta Smith with his ability to stress defenses vertically and generate big plays downfield — especially if Quez Watkins is gone in 2024.
67) Denver Broncos (From IND): Drew Sanders, LB, Arkansas
Drew Sanders' fall stops here with the Denver Broncos. Sanders is still very young as an off-ball linebacker, with the reach, range, and processing ability to eventually thrive there. But Sanders also adds an extra element for the Broncos with his elite pass-rushing versatility. He's a dangerous blitzer, and can legitimately bend the arc and win with his hands.
68) Denver Broncos: Trey Palmer, WR, Nebraska
Potential trades of both Jerry Jeudy and Courtland Sutton still loom over Sean Payton's head. As a result, Denver may want to target a wide receiver with one of their third-round picks to recoup value in the offensive cast. Trey Palmer needs to shore up his hands, but he brings a unique speed element and has underrated fluidity as a route runner.
69) Los Angeles Rams: Marvin Mims, WR, Oklahoma
The Rams weren't planning on keeping Allen Robinson in 2022, but his departure does make the lack of depth more distinct in their WR corps. Marvin Mims can infuse the Rams' group with speed and dynamic potential. His vertical ability and uncommon body control would be right at home with Matthew Stafford, who isn't afraid to test windows downfield.
70) Las Vegas Raiders: Darius Rush, CB, South Carolina
Most mock drafts to this point had the Raiders addressing cornerback earlier. But in the 2023 NFL Draft, you can wait until Round 3 and still come away with a talent like Darius Rush. At 6'2″, 198 pounds, with 33 3/8″ arms and 4.36 speed, Rush has an elite physical skill set. He's also a former receiver with ball skills and outrageous hip sink in man.
71) New Orleans Saints: Isaiah McGuire, EDGE, Missouri
Bryan Bresee brings a disruptive presence on the interior, but EDGE is also a need for New Orleans. Cameron Jordan is aging, and his deal is expiring soon.
Isaiah McGuire gives Dennis Allen a size-athleticism prototype to develop in his stead. McGuire is extremely explosive and powerful at 6'4″, 268 pounds, and has underrated bend and hand usage.
72) Tennessee Titans: Cam Smith, CB, South Carolina
We've seen in recent years that the Titans appear to highly value cornerback. They'll take swings even if they have solid short-term solutions. With both Kristian Fulton and Sean Murphy-Bunting entering free agency in 2024, Cam Smith makes sense. He's explosive and physical — something Mike Vrabel will like — and can play the slot.
73) Houston Texans (From CLE): A.T. Perry, WR, Wake Forest
Houston may end up preferring a WR with more RAC utility, but I'm a big fan of A.T. Perry's fit with C.J. Stroud. At 6'3 1/2″ and around 200 pounds, Perry brings size and length that the Texans' WR corps lacks. At the same time, he functions as a truly complete receiver with his route-running nuance, flexibility, and elite contortion ability at the catch point.
74) Cleveland Browns (From NYJ): Sydney Brown, S, Illinois
Grant Delpit is a free agent in 2024, and the Browns could also add a more natural slot defender to the fold. The 2023 NFL Draft is heavy with hybrid nickel defenders, and someone like Sydney Brown could end up being a great fit. Brown is an explosive, tenacious competitor in the box, and has great coverage mobility and feel in space.
75) Atlanta Falcons: Tyrique Stevenson, CB, Miami (FL)
A.J. Terrell and Jeff Okudah constitute a solid CB duo, but given Okudah's injury history and the lack of depth at the position, Tyrique Stevenson is a sensible investment in Round 3.
MORE: Biggest Round 1 Steals and Snubs
Stevenson has great size at around 6'0″, 200 pounds, with 32 3/8″ arms. He's disciplined and explosive on the boundary, but he also has experience playing the slot position.
76) New England Patriots (From CAR): Jayden Reed, WR, Michigan State
If the Patriots are going to stick with Mac Jones at QB, they need to adequately fill out his WR corps for the long term. Jayden Reed provides immediate depth with his alignment versatility and sure hands. Beyond that, Reed has the legitimate burst and speed to be featured as a dynamic catalyst from multiple spots, and he has the clutch gene.
77) Los Angeles Rams (From NE via MIA): Garrett Williams, CB, Syracuse
Garrett Williams suffered a torn ACL midway through the 2022 season, and that may be a reason why his name isn't always mentioned in the Day 2 range. But Williams has a high-level disruptive skill set in coverage and run support. He's an amped-up athlete with great closing speed coming downhill and is adept at playing the football through the catch.
78) Green Bay Packers: Israel Abanikanda, RB, Pittsburgh
This feels like it could be a Packers pick, especially with AJ Dillon and Aaron Jones up for new contracts in 2024 and 2025, respectively. At 5'10 5/8″ and 217 pounds, Israel Abanikanda has the frame density the Packers sought out with Dillon. Abanikanda, however, is a legitimate home-run threat with his speed and can work through contact.
79) Indianapolis Colts (From WSH): Tyler Scott, WR, Cincinnati
Tyler Scott's fit in Shane Steichen's offense alongside Michael Pittman Jr. and Alec Pierce has always intrigued me — even more so now with Richardson throwing the ball. Scott, at 5'10", 177 pounds, has the elite explosiveness and vertical tracking ability to capitalize on deep shots, but his brand of athleticism translates in the RAC phase as well.
80) Pittsburgh Steelers: Gervon Dexter, DT, Florida
Pittsburgh met with Gervon Dexter during the pre-draft process — a reflection that the Steelers could consider the Florida product in the Day 2 range. Dexter has a lean 6'6″, 310-pound frame — perfect for the 3-4 end role he'd take on in Pittsburgh's scheme. He can keep refining his hand usage, but Dexter's burst and raw strength are both appealing traits.
81) Arizona Cardinals: Michael Wilson, WR, Stanford
The DeAndre Hopkins trade, if it does happen, likely won't happen during the NFL Draft. But Hopkins will be leaving the Cardinals, either by trade or release.
When that happens, Arizona needs a new size threat. At 6'2″, 213 pounds, Michael Wilson fits that profile, and after his Senior Bowl showing, teams may be bullish on his ability to separate.
82) Tampa Bay Buccaneers: Nick Saldiveri, OL, Old Dominion
The Buccaneers made a judgment call adding Calijah Kancey to the line in Round 1, but that decision left a void at LT. Nick Saldiveri can play outside or inside, but the brunt of his collegiate experience came at tackle. At 6'6″, 318, with 33 1/4″ arms, Saldiveri has good size, and he couples that with smooth athleticism, strong footwork, and patient hands.
83) Seattle Seahawks: Roschon Johnson, RB, Texas
The Seahawks did spend a second-round pick on Kenneth Walker III in the 2022 NFL Draft cycle, but their RB rotation is extremely thin past the Michigan State product. Roschon Johnson would be the perfect complementary threat. He can catch passes, is an excellent blocker, and he's an explosive raging bull of a runner at 6'0″, 219 pounds.
84) Miami Dolphins: Kendre Miller, RB, TCU
Medicals will be big for Kendre Miller, and many teams did their due diligence on him to explore that issue. But at a certain point, it feels like Miller will be off the board in the Day 2 range. For Miami, he offers the size and tackle-scraping ability of a workhorse, but he also has rare flexibility and change of direction, along with the speed to stretch seams.
85) Los Angeles Chargers: Tuli Tuipulotu, EDGE, USC
The offense is set with two new playmakers in Quentin Johnston and Tank Bigsby. Now, it's time to turn to the defense. For both immediate depth and long-term upside, the Chargers could take an EDGE like Tuli Tuipulotu. Tuipulotu — who led the NCAA with 13.5 sacks in 2022 — has an incredibly destructive brand of speed-to-power at 6'3″, 266 pounds.
86) Baltimore Ravens: Clark Phillips III, CB, Utah
Clark Phillips III didn't put up overly impressive testing numbers. That, combined with his lacking size, may push him down the board. Yet, for the Ravens, who need more coverage help, his value is too good to pass up here. Phillips is a chippy, instinctive playmaker with solid functional athleticism, and the versatility to play the slot and the boundary.
87) Minnesota Vikings: Hendon Hooker, QB, Tennessee
The first-round smoke turned out to be just that: Smoke. But odds are, Hendon Hooker does come off the board at some point in the Day 2 range.
MORE: Who Will Target Will Levis, Hendon Hooker on Day 2?
We know the Vikings did their homework on him, and taking Hooker in Round 3 is a much easier pill to swallow. He may be older, and his projection is unclear, but Hooker has good baseline tools to mold.
88) Jacksonville Jaguars: YaYa Diaby, EDGE, Louisville
This is the optimal range for YaYa Diaby, who doesn't quite have the requisite hand usage to be more than a rotational threat on Day 1. At 6'3″, 266 pounds, with 34″ arms, 4.51 speed, and a 37″ vertical, Diaby gives the Jaguars elite physical tools to mold on the edge. One thing you never have to worry about with Diaby is his motor.
89) New York Giants: Zacch Pickens, DT, South Carolina
The Giants are motivated to keep their interior DL rotation strong, and Zacch Pickens has elite tools to mold in that lens. He's 6'4″, 300 pounds, with 34 3/8″ levers for arms. The former five-star recruit lit up the Combine, logging a 4.89 40-yard dash, 30.5″ vertical, and 9'8″ broad jump. Pickens' two-phase upside is near-unmatched in this class.
90) Dallas Cowboys: Luke Schoonmaker, TE, Michigan
Luke Schoonmaker is a TE who could go much higher than expected. For the Cowboys in particular, who struck gold with an athletic blocking tight end years ago with Dalton Schultz, it's easy to see why he'd be a fit.
Schoonmaker has incredibly smooth athleticism as a route runner at 6'5″, 250 pounds. He's also one of the best, most versatile blockers in the class.
91) Buffalo Bills: Kobie Turner, DT, Wake Forest
This would be a surprise pick, but it could go on to pay dividends for Buffalo. While Kobie Turner is undersized at around 6'3″, 300 pounds, he offers stellar natural leverage, explosiveness into contact, and relentless energy combating blocks. His 7.08 three-cone also corroborates his agility and flexibility, which Turner can use to sift through congestion.
92) Cincinnati Bengals: Keaton Mitchell, RB, East Carolina
The Bengals could easily go with a tackle here, but we know they've been eager to add a complementary running back. And with Joe Mixon's long-term uncertainty, it's something they may prioritize on Day 2.
Keaton Mitchell has exciting potential as a two-phase sparkplug in the NFL with his slippery running ability and dynamic speed downfield.
93) Carolina Panthers (From SF): Parker Washington, WR, Penn State
In this mock draft, we're giving Young the weapons to do what he does best: Distribute.
Mayer can be a superb weapon over the middle of the field, and Parker Washington brings utility both underneath and as a seam-buster with his stacking ability and rare conversion ability at the catch point. As a big slot, Parker's RAC is unmatched.
94) Arizona Cardinals (From PHI): Siaki Ika, DT, Baylor
As he gets more comfortable in Arizona, it wouldn't be surprising to see Jonathan Gannon put his imprint on the team's defensive personnel. He needs a nose tackle who can encumber double-teams like Jordan Davis, and Siaki Ika is the best option left on Day 2. Ika has untapped pass-rushing potential, but his brute strength is his calling card.
95) Kansas City Chiefs: Wanya Morris, OT, Oklahoma
The Chiefs' situation at right tackle is murky long term. Wanya Morris might not provide an immediate solution on Day 1, but he has the tools to eventually be an impact starter with more development. At 6'5″, 309 pounds, with over 35″ arms, Morris has overwhelming reach and is an elite athlete with eye-catching burst and recovery mobility.
96) Arizona Cardinals: Moro Ojomo, DL, Texas
Ika is a prime foundational piece for Arizona, but now they need a disruptor to play alongside him. With his traits, Moro Ojomo can be that player. Ojomo has a rare combination of natural leverage and proportional length at 6'3″, 292 pounds, with 34 1/2″ arms. He also offers elite explosiveness, reflected by his 33″ vertical jump.
97) Washington Commanders: Tyler Steen, OL, Alabama
With long-term questions at both tackle and guard, the Commanders take a potential starter who provides immediate utility as a versatile depth piece. At 6'6″, 321, Tyler Steen has great size and athleticism. He very naturally bends his knees and plays beyond his center of gravity for his size. Steen lacks elite length, but he still brings good power.
98) Cleveland Browns: Xavier Hutchinson, WR, Iowa State
Elijah Moore will help Cleveland in the slot, but they could still use another reliable boundary threat opposite Amari Cooper. Reliability is something Xavier Hutchinson provides more than most in the 2023 NFL Draft class. He's not an elite athlete, but Hutchinson offers great size, lateral mobility as a route runner, and tremendous catching instincts.
99) San Francisco 49ers: Jaylon Jones, CB Texas A&M
The 49ers aren't in dire straits at cornerback, but they could add another cover man with length opposite Charvarius Ward. Jaylon Jones stands at 6'2″, 200 pounds, and offers extremely impressive corrective athleticism, short-area agility, and twitch for his size. Very physical and proactive in support, Jones is growing as a playmaker.
100) Las Vegas Raiders (From KC via NYG): Luke Musgrave, TE, Oregon State
Free agent additions Austin Hooper and O.J. Howard are both on one-year deals, so if a prospect like Luke Musgrave is still available, it makes sense for the Raiders to capitalize. Musgrave could improve as a blocker and refine his hands technique. Nevertheless, he's one of the most explosive long-striding athletes in this tight end class.
101) San Francisco 49ers: Dante Stills, DL, West Virginia
At 6'3 1/2″ and 286 pounds, with 4.85 speed, Dante Stills is a perfect fit for the 49ers' vision on the defensive line. Alignment versatility, unmatched energy and zeal, utility in NASCAR fronts attacking from different angles. Stills provides all of that with his blend of initial burst, flexibility, violent hands, and finishing power — as he showed at the Shrine Bowl.
102) San Francisco 49ers: Blake Freeland, OT, BYU
The 49ers were never going to overpay for Mike McGlinchey, and if they can add Blake Freeland at the end of Round 3, that contingency could work out better for them. Like McGlinchey, Freeland towers at 6'8″, but he's a much better athlete. He's a stellar fit for Shanahan's run scheme with his power and 37″ vertical, and projects well to right tackle.
Listen to the PFN Scouting Podcast
List to the PFN Scouting Podcast! Click the embedded player below to listen, or you can find the PFN Scouting Podcast on iTunes, Spotify, and all major podcast platforms.  Be sure to subscribe and leave us a five-star review! Rather watch instead? Check out the PFN Scouting Podcast on our Scouting YouTube channel.