The introduction of high temperatures and low common sense bring upon us the dead season in the National Football League. Now, we wait with bated breath for teams to arrive wherever their owners feel the best place for them to hold training camp at the end of July is. After the 2020 season, the staff at the Pro Football Network gathered together to vote on the NFL's Top 100 Players heading into the 2021 season.
The group was asked who they believe are the best players projecting forward into 2021. Everybody's rankings were then put into a weighted formula and tabulated, resulting in the PFN NFL Top 100 Players list.
NFL Top 100 | 91-100
Which players just made it into the PFN NFL Top 100 list? Let's take a look at the players ranked 81-100 below.
Go to our newest section 1-10 here.
(71-80, 61-70, 51-60, 41-50, 31-40, 21-30, 11-20 are also available).
100) Joe Thuney, G, Kansas City Chiefs
"The best ability is availability." It's an expression we've heard hundreds, if not thousands of times in our lives as sports fans. Not only is Joe Thuney on the NFL's Top 100 Players list based on skill, but he also hasn't missed a game in his five-year career.
Thuney is well-known for his athleticism at the position. What's interesting about the athletic guard is that athleticism usually manifests itself in pass protection. However, although a fantastic pass protector, Thuney really makes his name in the run game.
His addition to the Chiefs was necessary for their success in picking up third downs on the ground. The Chiefs, and first-round pick Clyde Edwards-Helaire, struggled in those situations in 2020.
99) Matt Ryan, QB, Atlanta Falcons
Speaking of consistency — Matt Ryan, everybody! Ryan's ability to be above average in nearly every imaginable metric leads him to the PFN NFL Top 100 list heading into 2021.
Ryan is probably the last true old-school pocket passer to find success at the NFL level. He missed out on cracking PFN's Top 100 Players in 2020, but despite a nightmare season from a win/loss perspective, he played incredibly well at age 35.
Ryan's accuracy has always been on the upper end of NFL quarterbacks, and he takes care of the football despite being aggressive and pushing the ball downfield. Still, it's peculiar that Ryan took fewer sacks as a younger QB than he has in his more advanced years.
98) Jadeveon Clowney, DE, Cleveland Browns
Jadeveon Clowney's career has been seen as a bit of a disappointment considering his draft position of first overall in 2014. His employment status is up for debate every offseason, emerging as the NFL's foremost journeyman at this point. Clowney will be on his fourth team in four seasons when he steps on the field for the Browns in 2021.
With that said, playing alongside resident alien Myles Garrett could facilitate the production necessary to secure a long-term contract somewhere in 2022. He played 2020 with a banged-up knee that eventually landed him on IR after the team's ninth game. Clowney is a physical freak that impacts the run game at a high level.
97) Laremy Tunsil, OT, Houston Texans
Miami Dolphins fans should dedicate September 1 to Laremy Tunsil. That trade sparked a domino effect that still lasts today and will continue into the future.
Tunsil's size and athleticism are why he inked a three-year, $66 million contract extension with the Texans. He's an outstanding pass protector and can improve some of the smaller details that could elevate his game as a run blocker.
It's amazing what a last-second gas mask video did for the landscape of the league. At 26 years old, there is still a lot of time for Tunsil to climb his way up the NFL Top 100 Players in years to come.
96) Von Miller, DE, Denver Broncos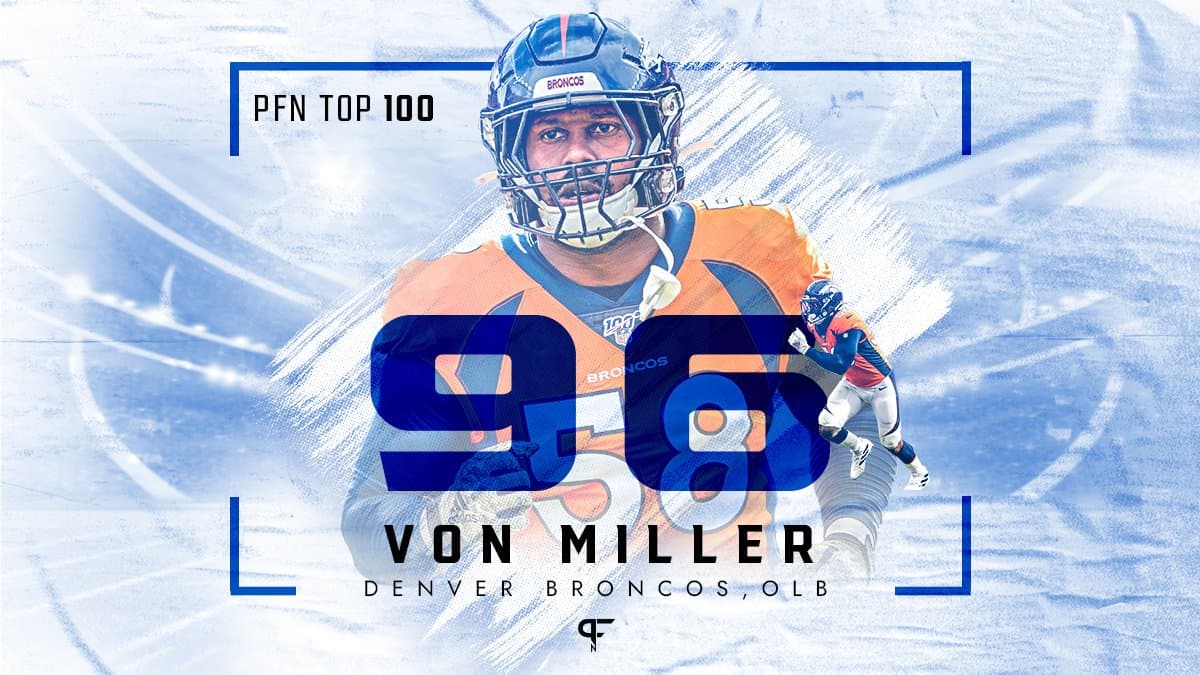 Von Miller has been one of the best football players in the league since he first stepped on the field in 2011. Last season, he landed at No. 28 on PFN's NFL Top 100 Players.
Unfortunately, Miller could not register a snap in 2020 after he suffered an injury to a tendon in his ankle. On top of that, the 2019 campaign was a disappointment by Miller's lofty standards. That is why he lands at the No. 96 spot here. But don't count him out just yet.
PFN's own Cody Roark said this about Miller going into 2021:
"Von Miller may be on a war path in 2021. He was set on having his best season yet in 2020 before suffering a season-ending injury prior to the start of Week 1. He's been at the team facility for voluntary workouts and OTAs and is as focused and hungry as we have ever seen him."
95) Elgton Jenkins, G, Green Bay Packers
If the best ability is availability, versatility might be second. Elgton Jenkins can legitimately play all five positions on the offensive line. His size, athleticism, and especially his wingspan allow him the flexibility to play up and down the offensive line. The Packers drafted him as a steal in the second round of the 2019 NFL Draft.
Jenkins' lack of an elite trait in college allowed NFL teams to fall into the trap of thinking he wouldn't be elite at the next level. However, his technical proficiency and, more importantly, his consistency in doing so, make him one of the best blockers in the league.
94) Josh Jacobs, RB, Las Vegas Raiders
Josh Jacobs getting his name on the PFN NFL Top 100 Players list for 2021 might be the best opportunity of his career. As talented as he is, the nature of the position suggests the offseason moves made by the Raiders' front office will realistically make his job more difficult. Unfortunately, they decided to move on from four of their offensive linemen and thought that was a good idea.
Jacobs was only middle of the pack in broken tackle rate and yards after contact in 2020. If Las Vegas' offensive line struggles in 2021, Jacobs' yards-per-carry average of 3.9 could drop even further. On the other hand, if he becomes more productive despite this, he could see himself climb steadily on this list.
93) Justin Tucker, K, Baltimore Ravens
Kickers do not matter until they do. Justin Tucker, even as a specialist, deserves to be on this list. He is the most accurate kicker of all time. And he's a multi-sport athlete, as his opera singing also comes highly regarded!
If we only use Tucker's accuracy from 50+ yards, he would rank 102nd in all-time accuracy. Likewise, if we only use Tucker's field goal accuracy from 40-49 yards, he'd still be the most accurate kicker of all time. He is 87 of 96 from that area of the field. From inside 40 yards, he makes 98% of his kicks.
92) Matthew Stafford, QB, Los Angeles Rams
Matthew Stafford's physical talent is undeniable. He possesses a massive arm, and his ability to make plays out of structure is a new aspect for head coach Sean McVay to utilize.
After the trade to the Rams, we should see who Stafford really is in 2021. A large contingent of football fans believe he teeters on elite, and going to Los Angeles should give us a better feel for just how good he can be.
For his career, Stafford is 74-90-1 as a starting quarterback. The signal-caller he is replacing, Jared Goff, is 42-27 as a starter. Stafford must find immediate success with the Rams if he wants to still be considered one of the NFL's Top 100 Players going into 2022.
91) Baker Mayfield, QB, Cleveland Browns
After a bit of a sophomore slump, Baker Mayfield's improvement eased some tension for Browns fans moving forward. They've built a well-rounded roster in Cleveland after years of acquiring draft capital. They finally hit on some picks, made some nice moves in the front office, and are now contenders in the AFC.
Top 100 NFL Players | 81-90
A pair of young quarterbacks headline the 81-90 range of the PFN NFL Top 100 Players list for 2021.
90) Terry McLaurin, WR, Washington Football Team
Terry McLaurin was so good, so quickly at the NFL level that he had people fighting over what his nickname would be. The speedster from Ohio State didn't have the production coming out, and he was an older prospect, so his ascension into the NFL Top 100 list for 2021 might be surprising to some. Although, with how well we've seen him play in his first two seasons, it's impossible not to be a fan of his play.
In two seasons, McLaurin has totaled 2,037 receiving yards despite missing three games. McLaurin is a smooth operator who fluidly gets in and out of his route breaks while maintaining high cornering speeds. This allows him to create easy separation as a route runner.
89) Kenny Clark, DT, Green Bay Packers
Kenny Clark is one of the best nose tackles in the game and has been for a few years now. He is a monster in the middle who uses flexibility and leverage to anchor against double-teams. His best attribute is how he keeps his eyes through to the ball carrier and uses his hands to disengage from blockers as he pursues.
Nose tackles don't often get the credit they deserve for the success of a defense. Seeing Clark on the NFL Top 100 Players list in 2021 shows just how valuable he is to the Packers.
88) Ezekiel Elliott, RB, Dallas Cowboys
Ezekiel Elliott is the definition of a bell-cow back. Outside of his suspension in 2017, he has missed just three regular-season games in his five-year career. In that time, he has touched the ball 1,654 times on offense.
Elliott may not be the same home run hitter he was in 2016 coming out of Ohio State, but he's one of the most reliable runners in the league at creating another yard or two when it's simply not there. His vision as a runner is his strong suit, and as long as he has that, he'll be productive.
87) Garett Bolles, OT, Denver Broncos
Garett Bolles went from replaceable to a contract extension in the blink of a Colorado eye — they blink a little slower there for obvious reasons. Bolles' play in 2020 deserves a ranking far higher than No. 87, but those holding penalties and poor play still sit in the back of the mind.
If he has another season close to his 2020 campaign where he didn't allow a sack, look for him to be loaded up into a cannon and fired deep into the top 50. The second-team All-Pro actually showed marked improvement during the 2019 season, leading us to believe his improvements will persist.
86) Byron Jones, CB, Miami Dolphins
Byron Jones didn't have the same 2020 season as he'd produced in his final few years as a Cowboy. But he's still an incredible pure cover cornerback who deserves NFL Top 100 admiration going into the 2021 season.
Jones is an immensely explosive athlete with great mirroring ability. He didn't have the same success causing incompletions or simply not having teams throw his way in 2020, but the talent well is far from dry with him. Year 2 in Brian Flores' system could see the old Jones back in action.
85) J.J. Watt, DE, Arizona Cardinals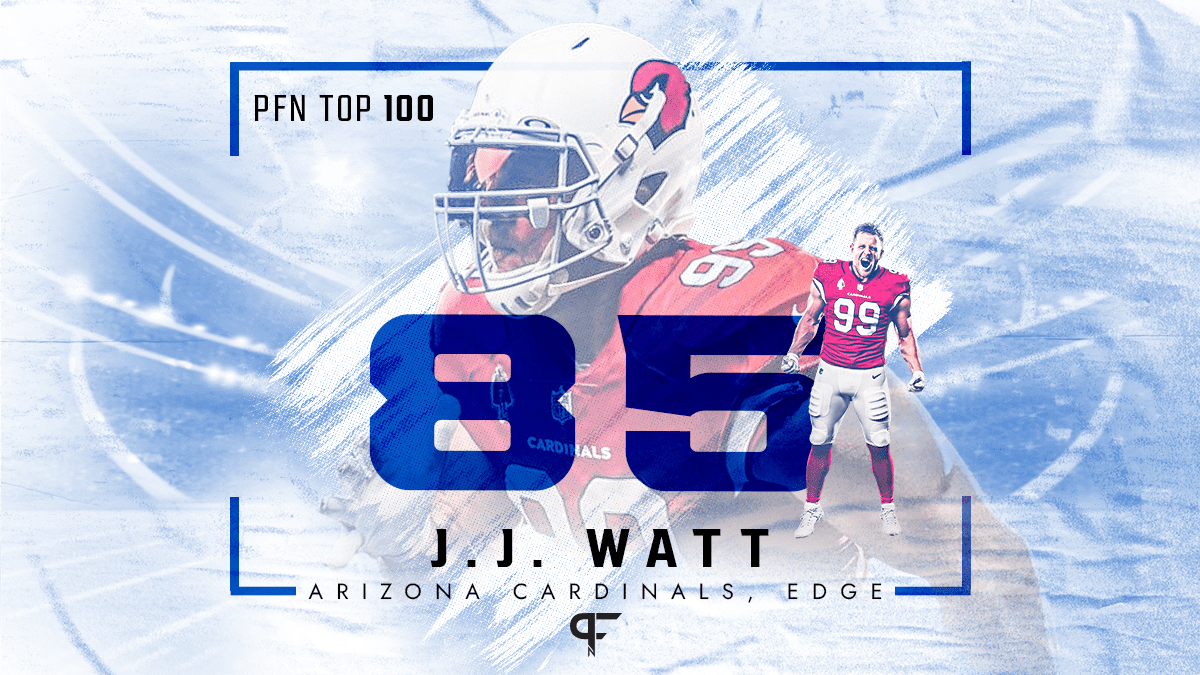 J.J. Watt is one of the greatest players of this generation. It's a good thing he doesn't have to rot away in a horrific situation as the last chapter of his career is written.
Watt hasn't been healthy recently, and we haven't really seen a consistently productive Watt since 2018. None of that matters because, on tape, he's still a considerably dominant force on the defensive line no matter where he lines up. Having Chandler Jones opposite of Watt could do wonders for the five-time All-Pro.
84) Marshon Lattimore, CB, New Orleans Saints
Marshon Lattimore didn't play up to our expectations in 2020 the way he had in his three previous seasons. Nevertheless, he's still only 25 and has all the tools to be one of the top five cornerbacks in the NFL.
His coverage intelligence in zone has made for some of the most awe-inspiring plays to watch on film. Unfortunately, playing cornerback in the NFL is incredibly difficult given the modern rules of the game. Hopefully, a bounce-back 2021 campaign can restore our hope in the potential of an elite Lattimore.
83) Chris Godwin, WR, Tampa Bay Buccaneers
Chris Godwin dropped 50 spots in PFN's NFL Top 100 Players from last year, but he certainly didn't get worse at the game of football heading into 2021. In fact, he became an even more efficient target for the Buccaneers in 2020. However, due to some nagging injuries, he missed four games throughout the season and didn't see as high a target share when he was healthy.
Godwin's game is a bit of a mystery. Nothing he does is particularly flashy. He ran a 4.42 at the NFL Combine, but he doesn't seem to play at that speed often. Likewise, he doesn't "wow" with great footwork to create loads of separation or possess overwhelming quickness. Instead, he just gets the job done as consistently as anybody in the league.
82) Justin Herbert, QB, Los Angeles Chargers
The sophomore slump is always in play at the NFL level, especially once teams have an offseason to study tendencies. Still, Justin Herbert is 6-foot-6, crazy athletic, and possesses an absolute howitzer attached to his shoulder. He's going to be difficult to defend. There is an excellent chance Herbert is another name that could rocket up this list going into 2022.
The 2020 Offensive Rookie of the Year threw for over 4,300 yards and 31 touchdowns. He did that despite not originally being named the starter and playing behind a less-than-desirable offensive line. The arrow is pointed way up in 2021 for this second-year player after debuting on the NFL Top 100 Players at No. 82.
81) Kyler Murray, QB, Arizona Cardinals
Kyler Murray is electric on the football field. His inconsistencies as a passer are still very real, but his upside as a runner makes up for it. Don't be surprised if the third-year quarterback rushes for 1,000 yards in his next few seasons.
Despite the inconsistencies as a passer, Murray certainly enhanced his game in 2020. He took far fewer sacks and improved in almost every statistical measure from his rookie year. If he continues that trajectory, he could become one of the most dangerous dual threats in the league's history.