Top 100 NFL Players | 41-50
Who starts off the PFN Top 100 Players at the midway point? A member of one of the most impressive draft classes of the past decade.
50) Ryan Ramczyk, OT, New Orleans Saints
Ryan Ramczyk isn't in the mold of some of the other young tackles in the league that are hulking bodies of freakish athleticism. No, Ramczyk finds his way to the top half of these NFL Top 100 Players in 2021 because of his elite hand placement. He is one of the more consistent technicians at the NFL level. Moreover, Ramczyk wins through a combination of hands and smooth movements.
An offensive tackle is not reduced to simply reacting to the movements of an edge rusher. No, tackles can be proactive about their strikes. They can mix things up and throw fake jabs with their outside hand to keep defenders guessing. They can set at a 45-degree angle before jumping when rushers start from wide alignments, bringing the fight to the pass rusher quicker than expected.
Ramczyk does all of these high-level technical things. That makes up for the athleticism he lacks, unlike the next player on the list.
49) Trent Williams, OT, San Francisco 49ers
Before Tristan Wirfs was blowing up the NFL Combine with his athletic testing, there was Trent Williams.
In 2020, Williams may very well have been the best offensive tackle in the entire league. PFN's own Matt Williamson has Williams as the best offensive tackle in the league heading into 2021. He's outstanding both as a run blocker and as a pass protector, blending his freakish athleticism with now 11-year veteran savvy.
48) Jessie Bates III, S, Cincinnati Bengals
Not that any of you care, but Jessie Bates III is probably the biggest draft hit of my career. A young Twitter scout Dalton pounded the table for Bates heading into the league. Now, he ranks in the top half of PFN's NFL Top 100 Players as we approach the 2021 season.
Bates is the definition of a true single-high free safety. He has the athleticism, and more importantly, the trigger to cover continents on the back end. Although he still isn't what I would call a solid tackler, that weakness is mitigated in a passing league and his role.
47) Minkah Fitzpatrick, S, Pittsburgh Steelers
Minkah Fitzpatrick changed the fortunes of the Pittsburgh Steelers' defense after they traded for him in 2019. Dolphins fans hate to hear it, but Fitzpatrick has always been a difference-maker. I also think the deal was best for all parties involved.
The move in assignment from "defensive chess piece" to traditional free safety suited Fitzpatrick's desires. Since the move, he's played at an All-Pro level. His fluidity and ability to process information in a flash allow him to cover a ton of ground. He and Bates will battle as the best safety in the league for a long time if Derwin James can't stay healthy.
46) Fred Warner, LB, San Francisco 49ers
Fred Warner, for my money, is the best linebacker in the NFL. Still, this list was a democratic process, and the voters (and the aggregation) felt differently. He went in the third round of the NFL Draft, mostly because he was a coverage linebacker at BYU who struggled against the run.
Silly us because this is a passing league. And Warner's ability in coverage is better than some of your favorite safeties! That is why he lands in the top half of the NFL Top 100 Players list heading into 2021. He'll only get better with age and reps, too. At 25 years old, we won't see Warner go anywhere anytime soon.
45) Lavonte David, LB, Tampa Bay Buccaneers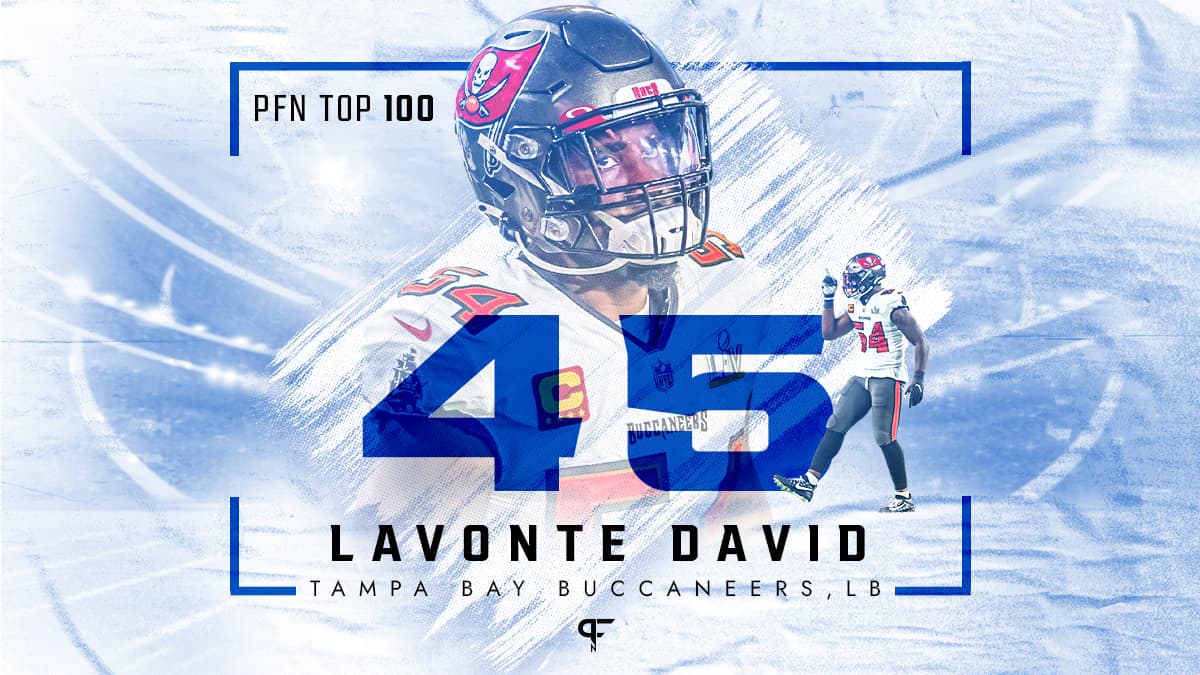 David remains one of the most underrated players in the National Football League. His level of play over the last couple of years has been astonishing, and yet he's not received the All-Pro love he deserves outside of a second-team nod in 2020. And now, even Buccaneers fans are shoving him to the side for the new shiny toy that is Devin White.
David is still the better of the duo (for now), and I hope he has such an impressive statistical season in 2021 that voters are forced to recognize him as a first-team All-Pro. He deserves at least one for his career.
44) Allen Robinson, WR, Chicago Bears
Allen Robinson might be the best receiver in the NFL, but with the quarterback play he's endured throughout the course of his career, we'd never really know. Robinson has now produced a 1,400-yard season with Blake Bortles and two straight 1,100-plus-yard seasons with whoever the Bears are throwing out there at quarterback.
Matt Harmon's Reception Perception project has Robinson in the 97th-percentile against man and 96th-percentile against press coverage. His tape shows an alpha receiver who can't catch a break at the QB spot. Now that Justin Fields has arrived in Chicago, hopefully, Robinson will see what it's like to be on the receiving end of competent quarterback play.
43) Marlon Humphrey, CB, Baltimore Ravens
Marlon Humphrey skyrockets his way up to No. 43 from No. 92 entering last season on the NFL Top 100 Players list. The fifth-year player will be only 25 years old heading into 2021 and may just be entering his prime as an NFL cornerback. It shouldn't be surprising to see him possibly jump into the top 25 heading into 2022.
His ball production has been outstanding the past two seasons. In 2019, he had 3 interceptions and returned 2 fumbles for touchdowns. In 2020, he only had 1 interception, but he FORCED 8 fumbles as a cornerback! That led the league, besting Haason Reddick by 2.
42) Nick Chubb, RB, Cleveland Browns
Nick Chubb is the best pure runner of the football in the NFL for my money. The way he blends unbelievable vision with power, agility, and home run speed is jarring to watch. In 2021, he'll once again be working behind one of the most dominant run-blocking teams in football.
If Chubb is healthy for 16 games, he should push for a 1,200-yard season while rushing for over 5 yards per carry once again. He didn't catch the ball as often in 2020, but he's still a strong three-down threat given he's shown the ability — and he's a solid pass protector at the position.
41) Bobby Wagner, LB, Seattle Seahawks
Only Bobby Wagner and Luke Kuechly have an argument for the best linebackers of the 2010s. Wagner enters his 10th season in 2021 as PFN's consensus top off-ball linebacker. He is the definition of a do-it-all linebacker. The Seahawks LB is a strong run defender, but his fluidity and athleticism in coverage are extraordinary for being 6-foot and 240 pounds.
Although Wagner's athleticism starts to slip with age, his play should remain elite thanks to his instincts and ability to process information. He's as intelligent as they come at the position.
[su_button url="https://www.profootballnetwork.com/nfl-top-100-2021/6/" style="flat" background="#540008″ color="#ffffff" size="5″ wide="yes" center="yes" text_shadow="0px 0px 0px #000000″]Next Page: PFN NFL Top 100 Players 31-40[/su_button]