Top 100 NFL Players | 51-60
A pair of rising star linebackers continue the list of PFN's Top 100 NFL Players.
60) Devin White, LB, Tampa Bay Buccaneers
Devin White's legend is already set based on his performance in the 2020 NFL Playoffs. The second-year linebacker intercepted 2 passes and recovered 2 fumbles in three postseason games. However, we need to pump the breaks on him a bit. Despite his playoff performance, Lavonte David is still the superior football player. At least, he was in 2020.
White has the ability to become the best linebacker in football playing alongside David. He also benefits from playing behind a great group of interior defenders. He'll become a more consistent processor as he continues to get game reps. White's already shown improvement in that area from Year 1 to Year 2.
59) Darius Leonard, LB, Indianapolis Colts
Darius Leonard landing at No. 59 should be all the proof needed that the NFL is absolutely stacked with top-end talent. Leonard is one of the biggest ball hawks in the league regardless of position. His coverage ability is unbelievable. In addition, Leonard leads one of the most consistent defenses in the NFL over his time in Indianapolis. There's no aspect of the game in which he struggles.
His ability to rush the passer is evident in his 15 career sacks. Leonard also has 22 passes defensed in three seasons and has forced 9 fumbles. His versatility as a player allows defensive coordinator Matt Eberflus to be creative in his usage. Leonard secured his second All-Pro selection after his performance in 2020.
58) Tristan Wirfs, OT, Tampa Bay Buccaneers
Don't be surprised to see Tristan Wirfs voted as a first-team All-Pro in the 2021 season. The Iowa alumnus dominated his competition as a rookie. Wirfs is an athletic marvel that only had minor technical areas to improve upon coming into the NFL. He apparently addressed those technical issues before his first season.
As a rookie, Wirfs committed only 3 penalties and conceded just 1 sack. His athleticism allows him to recover at a rate that few other blockers can do, even at the highest level.
57) Darren Waller, TE, Las Vegas Raiders
Darren Waller has one of the greatest stories in the NFL currently. He debuts on the PFN NFL Top 100 Players at No. 57 heading into 2021. That is a testament to just how dominant he's been over the past two seasons at the tight end position. Despite playing in a "move" TE role, he boasts a great catch percentage. The wide receiver convert uses his supreme athleticism and size to win as a route runner.
Although he's in the mold of a move TE, his in-line reps are just as impressive from a receiving perspective. Furthermore, he's improved his run-blocking ability over the past two seasons.
56) Julio Jones, WR, Tennessee Titans
Jones might still contend as the best receiver in the National Football League. Despite playing through a hamstring strain for much of the 2020 season, he still managed 85.7 yards per game, which would have been good for 1,371 yards if we extrapolate that over 16 games. He also had a 75% catch rate in 2020, which was the highest of his career.
We don't give Jones enough credit for how freaky he is. Before last season, he had six straight seasons of 1,390+ yards. There's a reason he has the highest receiving-yards-per-game average of all time. He's one of the most difficult covers of all time. Humans his size shouldn't move the way Jones can. His fluidity and explosiveness matched with his route-running ability and size are unmatched in the NFL.
55) Keenan Allen, WR, Los Angeles Chargers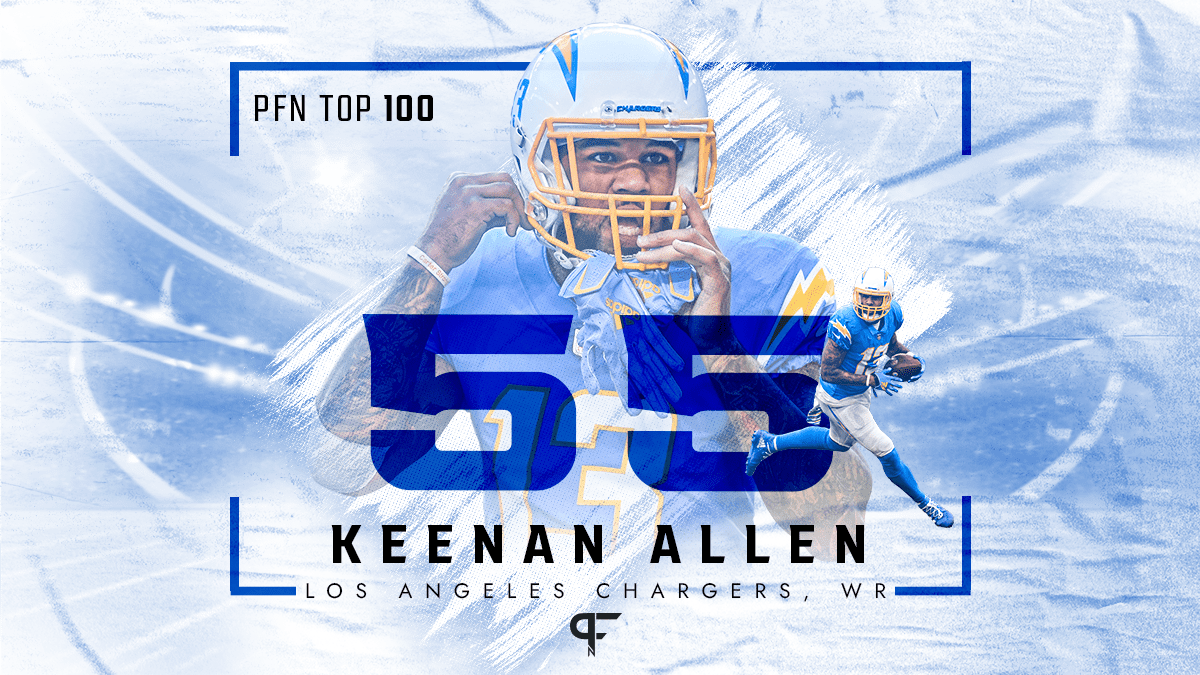 Speaking of route running — Keenan Allen, ladies and gentlemen! Allen's go-to trait is just that. His release repertoire is outstanding, and his ability to manipulate leverage and attack blind spots might be unparalleled in the league. Allen getting and staying healthy after an injury-riddled 2015 and 2016 has been a treat to football fans and Chargers quarterbacks alike.
The narrative that he's slow has always been funny, given he ran hurt during his testing. Allen has no issues separating through sheer athleticism. Also, his ability to go up and get the ball is phenomenal. There aren't many receivers who can make a defensive back look silly the way Allen does.
54) Dak Prescott, QB, Dallas Cowboys
Dak Prescott drops a few spots year to year, but that's presumably due to the season-ending injury he suffered in Week 5 against the New York Giants. Prescott signed a huge deal in the offseason after lighting defenses on fire before his untimely injury. He appears to be on schedule to start in 2021, and with Amari Cooper, CeeDee Lamb, and Michael Gallup, it's difficult to see a situation where he doesn't compete for a passing title this year.
Prescott's improvements in his footwork led to drastic improvements in his accuracy in 2019. That carried into 2020, along with his propensity to test defenses instead of playing passively. He could very well play his way into contention for the final page of the NFL Top 100 Rankings going into 2022.
53) Ronnie Stanley, OT, Baltimore Ravens
Ronnie Stanley meets a similar fate to Prescott, dropping spots in the rankings from 2020 due to a season-ending ankle injury. Stanley didn't give up a sack while healthy in 2020 on 176 pass-blocking reps. He also didn't allow any in 2019 on 470 such reps. That seems like the ideal result for a franchise left tackle.
Stanley is just another technically proficient left tackle hailing from Notre Dame. He, like most Fighting Irish linemen, isn't the most physically imposing blocker. Instead, Stanley possesses an elite strike in pass protection and does well to mix up his pass sets so defenders cannot set him up.
52) Corey Linsley, C, Los Angeles Chargers
The Packers lost one of the best centers in the league. The first-team All-Pro landed with the Los Angeles Chargers, who've worked hard to improve their offensive line around young franchise quarterback Justin Herbert. Linsley landed at No. 3 in former college and pro scout Matt Williamson's top 25 centers and guards rankings:
"Corey Linsley is the best center in football and an ideal guy to snap the ball to Justin Herbert for the foreseeable future. Linsley uses his hands extremely well, has a quick understanding of what the defense is trying to accomplish, and communicates well. He is perfect for a zone-based running game and should be a great asset to his new team and second-year quarterback."
The addition of Linsley and first-round pick Rashawn Slater should drastically improve the Chargers' offensive line heading into 2021. If the Chargers take the next step like we always believe they will, it will be due to that improvement and the progression of Herbert.
51) Stephon Gilmore, CB, New England Patriots
Stephon Gilmore missed three games early in the season after he "tweaked his knee" during a practice in late October. Before that period, Gilmore looked like his old self on the outside. The injury slowed him down considerably as the season progressed. He'll finish the 2021 NFL season at 31 years of age, and that ever-creeping cornerback cliff lingers near. Hopefully, we can get some more prime "Gilly" before the end.
That said, Gilmore certainly did not fall off entirely after the injury. He allowed just 28 receptions on 49 targets in 2020 and a passer rating against of just 75.7. Also, quarterbacks attacked him through the air at a clip of 2 yards less per pass in 2020, meaning they weren't trying him as far down the field. He actually produced a lower yard per reception last season. Let's get elite, healthy Gilmore back for 2021.
[su_button url="https://www.profootballnetwork.com/nfl-top-100-2021/5/" style="flat" background="#540008″ color="#ffffff" size="5″ wide="yes" center="yes" text_shadow="0px 0px 0px #000000″]Next Page: PFN NFL Top 100 Players 41-50[/su_button]