Top 100 NFL Players | 21-30
Two quarterbacks are outside looking in at the top 20 for 2021, including last year's Super Bowl winner.
30) Lamar Jackson, QB, Baltimore Ravens
There is nobody more electric in the league than Lamar Jackson. Make a case for Tyreek Hill or anybody else all you want; there is only one right answer. Nobody else touches the ball on every offensive possession as much as Jackson does. He has the potential to take the ball to the house on every play.
The former league MVP might finally have a legitimate weapon on the outside in Rashod Bateman. Jackson remains an inconsistent passer outside of the numbers, but his athletic ability makes up for that significantly.
29) Chris Jones, DT, Kansas City Chiefs
Chris Jones falls five spots from 2020 to 2021, which is warranted after what was — by traditional statistics — a down season for the stud defensive tackle. He actually affected the quarterback at close to the same level as he did in his 15.5-sack season. His 28 quarterback hits were good for a tie for fourth in the league last year.
He lives in the 2021 PFN NFL Top 100 Players because of that pass-rushing ability. He's a menace in the backfield, but if he were a more consistent run defender, it would be difficult to leave him outside of the top 20.
28) Terron Armstead, OT, New Orleans Saints
Terron Armstead is a stalwart at the position. He's been an incredible offensive tackle for most of his career. Unfortunately, he's been unable to remain healthy for the entirety of it. In fact, he's never played a full 16-game season.
The Arkansas-Pine Bluff alumnus is an athletic marvel. His 4.71 40-yard dash at 306 pounds is about as terrifying a feat as you'll find. He uses that athleticism to dominate defenders, and it also allows him to recover better than nearly any offensive tackle in football. He lands high on the 2021 Top 100 NFL Players because of his ability to blend power, skill, and athleticism.
27) Alvin Kamara, RB, New Orleans Saints
Alvin Kamara is electric with the ball in his hands. The balance drills he posts during the offseason are some of the most creative and impressive exercises I've seen. His balance is his calling card — it's what makes him so darned special.
Kamara's consistency as a pass catcher is on the same level as the sun rising every morning from the East. He's caught 81, 81, 81, and 83 passes in his four NFL seasons, respectively. Kamara's usage should keep him fresh enough to be productive throughout the rest of his contract. He's never tallied 1,000 rushing yards, yet he is still seen as one of the best running backs in the league.
26) Nick Bosa, DE, San Francisco 49ers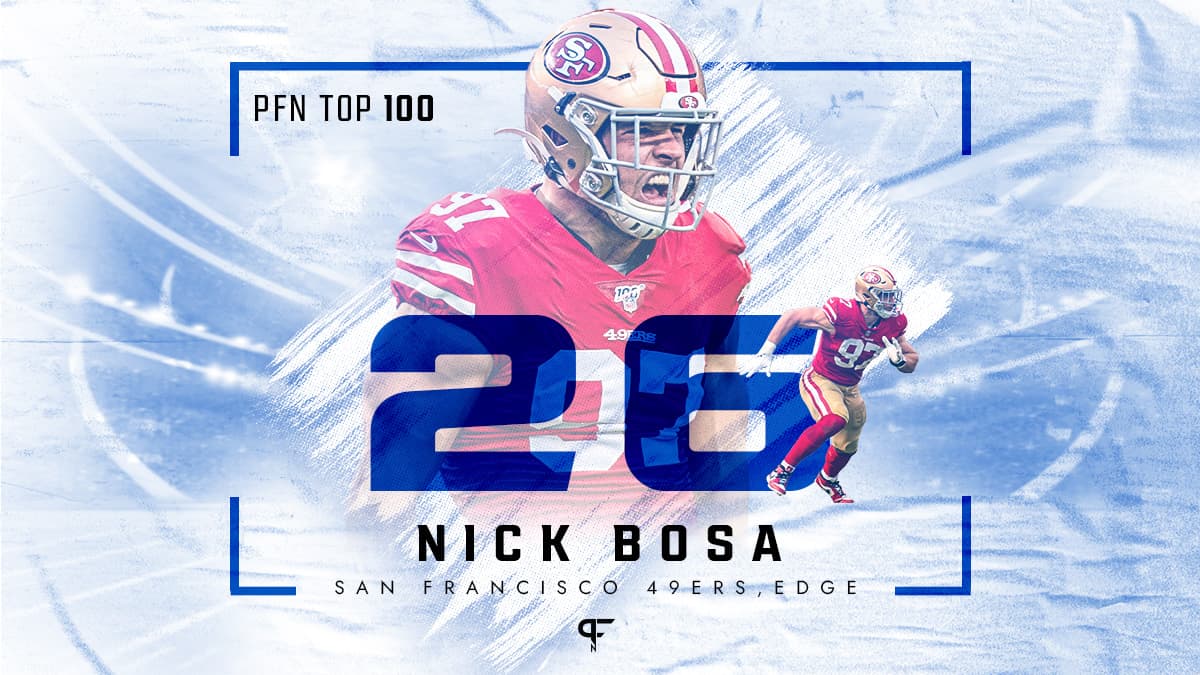 Nick Bosa lands just outside the top quarter of PFN's NFL Top 100 Players heading into 2021. He played just two games in his sophomore season due to injury, but that is inconsequential to his ranking here. Bosa was a more polished pass rusher than his brother (Joey) coming out of Ohio State, and he exploded onto the scene as a rookie with 9 sacks.
If he matches Joey's technical proficiency, he'll end up being a top-10-or-so player in the NFL. Nick's 9 sacks were just the beginning, as he notched 4 more into the bedpost during his three playoffs games in 2019. The Bosa brothers haven't proved to be consistently healthy in their young careers, but hopefully, they get some luck from now on.
25) Tom Brady, QB, Tampa Bay Buccaneers
What more can be said about the G.O.A.T. that hasn't been said already. Tom Brady won an MVP at 40 years old. He won his seventh Super Bowl at age 43. Furthermore, he left the only team he'd ever known (the New England Patriots) for the Bruce Arians-led Tampa Bay Buccaneers.
With that came a new offense — and a new Brady. He averaged 1.5 more air yards per attempt with the Buccaneers (9.1 to 7.6 yards).
What's even more impressive is the way Brady improved throughout the season. He had a QBR of less than 50 in four of his first five games with the Buccaneers. After that, Brady only had one game lower than 50. The future Hall of Famer doesn't seem to age like the rest of the human race, so there's a chance he comes back even stronger in Year 2 of Arians' offense.
24) Christian McCaffrey, RB, Carolina Panthers
Christian McCaffrey is an incredible all-around running back talent, which leads to his high ranking in the NFL Top 100 Players heading into 2021. McCaffrey is a rare breed of pure runner and prolific pass catcher. What seems to separate him and someone like Kamara is opportunity. He had 400+ touches in 2019, accounting for nearly 2,400 yards and 19 total touchdowns.
Like Kamara, his footwork is outstanding, and his balance is evident when he runs. McCaffrey's ability to set up defenders in a phone booth supplemented with his short-area agility is unmatched in the league. He aligns in the slot or out wide roughly 10% of the time. As such, his value as a running back is higher than run-of-the-mill RBs.
23) Khalil Mack, LB, Chicago Bears
Khalil Mack is still one of the best run defenders in the league. He hasn't produced to his usual All-Pro level from a statistical standpoint in the past two seasons. Still, his all-around game provides a ton of value to a Bears' defense that doesn't have the same juice it did just a few seasons ago.
Mack uses his length and anchor incredibly well against the run. Additionally, the veteran still has the goods as a pass rusher. He uses many different rush moves and does a great job setting up defenders with short-area agility. Additionally, Mack converts speed-to-power moves well on his way to collapsing the pocket with the hulking frames of offensive tackles.
22) Stefon Diggs, WR, Buffalo Bills
It really didn't take long for Stefon Diggs to establish himself as one of the true elite receivers once he left Minnesota for Buffalo. In just his first season with Josh Allen, he received his highest number of targets and produced the best catch rate of his career (76.5%).
Diggs was one of the first of the new wave of receivers at the NFL level that won with great feet and short-area agility to create separation. Over recent seasons, that ability has elevated to be a receiver's most significant trait.
Diggs already notched a 100-reception season under his belt after catching 102 passes from Kirk Cousins in 2018. Yet, his usage in 2018 was much different than in 2020. His aDOT in 2018 was 8.6, and his yards before the catch per reception was only 5.6. So, his shorter targets were the ones that hit more. Fast forward to his time with Allen and Diggs' yards before the catch per reception nearly matched his aDOT from 2018 (8.4). Allen targeted Diggs at 10.1 yards downfield on average.
Diggs has a smoothness to his movements that make it seem as though he's actually gliding just slightly above the Earth's surface, not hindered by gravity.
21) David Bakhtiari, OT, Green Bay Packers
It was tough to see David Bakhtiari's injury in 2020. It's especially upsetting to know it happened late in the season, and he very well could miss the start of the 2021 campaign. Bakhtiari has been one of the league's premier left tackles for quite some time. However, he's remained one of the league's most underrated players.
Take a look at the All-Pro list year by year. Flip the pages a few times, and you'll flip all the way back to 2014 before you see the absence of Bakhtiari on either the first or second team. He's as consistent as they come on the offensive line. He's neither the biggest nor the quickest tackle in the game, which is presumably why he fell to Round 4 in 2013.
There is just rarely ever a misstep in Bakhtiari's film. There's hardly ever a strike in pass protection that lands off the mark. He'll play for a long time and at an elite level because his game is not predicated on athleticism.
[su_button url="https://www.profootballnetwork.com/nfl-top-100-2021/8/" style="flat" background="#540008″ color="#ffffff" size="5″ wide="yes" center="yes" text_shadow="0px 0px 0px #000000″]Next Page: PFN NFL Top 100 Players 11-20[/su_button]