Top 100 NFL Players | 71-80
We begin with an uber-talented player with an unfortunate slew of injuries.
80) Derwin James, S, Los Angeles Chargers
Derwin James landing at No. 80 on the PFN NFL Top 100 is criminal. However, his ranking here has nothing to do with his abilities as a player. Heck, if it weren't for a stress fracture in his foot causing him to miss 11 games in 2019 and a knee tear in 2020 that caused him to miss the season, we could be talking about a top-10 player in the entire league. James not only possesses superstar potential but he's shown superstar ability when healthy.
After we all fought through a tumultuous year in 2020, the football gods owe us at least a healthy James in 2021. His blend of size, athleticism, and technical ability is unrivaled at the safety position. Moreover, he is the rare breed that can put on all the hats defensively and thrive doing so.
79) Adam Thielen, WR, Minnesota Vikings
Adam Thielen had a bit of a bounceback after a down year in 2019, but he still isn't back to his 2018 form quite yet. Additionally, he's playing second fiddle for the first time in his NFL career. The emergence, or should I say explosion, of Justin Jefferson in 2020 took away some targets from Thielen. He still scored 14 touchdowns, which was a career-high for the seven-year veteran.
He lands on the NFL Top 100 Players list in 2021 because he's one of the most technical route runners in the game. Furthermore, he possesses the innate ability to create separation, even if he's become less of a downfield threat over the past few seasons. Thielen enters his eighth NFL season at age 31. It will be interesting to see if he can complete the comeback and turn back the clock to 2018 or if his body has crested the hill.
78) Quinnen Williams, DT, New York Jets
Many saw Quinnen Williams as one of the top two draft prospects (along with Nick Bosa) in the 2019 class. Unfortunately, Williams didn't have the same fiery start Bosa had as a rookie. And many quickly started whispering about a "bust" after just one season. Williams quieted all of that in 2020, tallying 7 sacks from the interior.
His lateral agility and flexibility allow him to make plays well outside his frame. He also uses that agility well with his hands to cross the face of blockers and rip through as a pass rusher.
77) Wyatt Teller, G, Cleveland Browns
Wyatt Teller went from replaceable in his first two seasons to essential in 2020. His play has always been predicated around a nastiness in the run game. This aspect shined in 2020 playing between J.C. Tretter and Jack Conklin.
He does a fantastic job using the defender's leverage against them to finish blocks. He possesses solid functional athleticism to get outside and work in space as well. Teller's play last year earned second-team All-Pro honors despite missing six games.  If he can improve his consistency as a pass protector, Teller will again be one of the best guards in the NFL in 2021.
76) Jack Conklin, OT, Cleveland Browns
Conklin ranks just above his teammate in the NFL Top 100 Players heading into 2021. Conklin stepped into his situation with the Browns and immediately flourished. He played a near spotless season in 2020, committing only two penalties over his 999 offensive snaps.
He's a well-rounded offensive tackle who dominates in both run blocking and pass protection. Consistency has always been there for Conklin, but his game went to the next level last season. He was voted as a first-team All-Pro for the 2020 season at right tackle.
75) Saquon Barkley, RB, New York Giants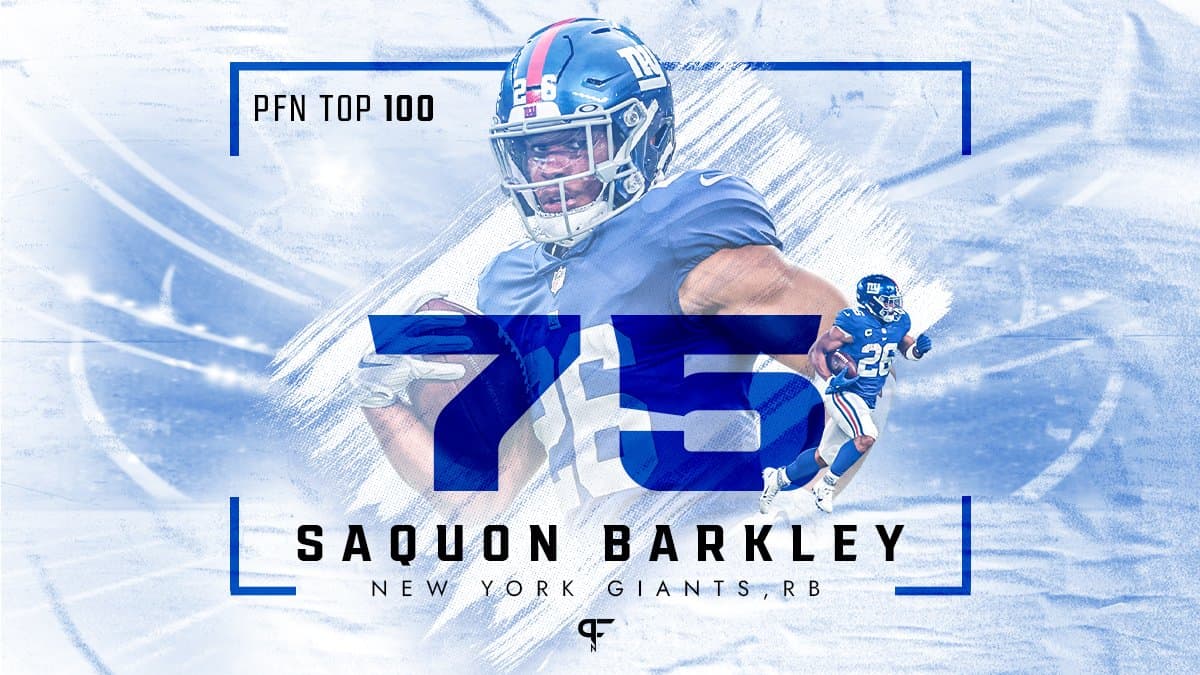 Saquon Barkley might be the most physically gifted football player in the world. Nobody his size should be able to move as he can. The knee injury he sustained in Week 2 of the 2020 season affected his ranking going into 2021. I wouldn't expect the fourth-year player to be down this far on the list heading into 2022.
Barkley wasn't as big a part of the passing attack in 2019 as he was as a rookie, but offensive coordinator Jason Garrett loves using backs in the passing game. The young runner has insane big-play ability when in space. Using him as a pass catcher allows him a bit more freedom to use the vast creativity he possesses with the ball in his hands. If the Giants OL improves in 2021 and Barkley's vision continues to progress, he could end up as a top-three running back in the league this season.
74) Ryan Tannehill, QB, Tennessee Titans
Ryan Tannehill is the reason the Carolina Panthers have hope in Sam Darnold. Granted, Tannehill's time with Gase went better than Darnold's. But his surge toward Pro Bowl-caliber play after joining the Titans must help Darnold's case.
The Titans QB is immensely efficient off play-action. Tannehill's connection with A.J. Brown is already deadly, and Julio Jones has joined the fold. Moreover, Tannehill helped Corey Davis' case in free agency after powering him to a career year in 2020.
Tannehill accounted for 40 touchdowns last season and finished fourth in QBR. Losing offensive coordinator Arthur Smith is an interesting wrinkle for Tannehill and the Titans' offense moving forward.
73) Calvin Ridley, WR, Atlanta Falcons
Calvin Ridley recorded one of the quieter 1,400-yard seasons in NFL history in 2020. He dominated targets last season as Julio Jones battled through injury for most of the year. Ridley is one of the most well-rounded route runners in the league, which is the one trait that lands him in the NFL Top 100 Players going into the 2021 season.
His ability to separate from man coverage and find soft spots against zone renders him the perfect target in the modern NFL, which increasingly covets that type of receiver. He doesn't possess the size or explosiveness as most top-tier receivers. Instead, he wins with great footwork and deception.
72) Danielle Hunter, DE, Minnesota Vikings
Unfortunately, the wrath of 2020 took Danielle Hunter's excellence away from us. He posted back-to-back 14.5-sack seasons and landed at No. 31 on the 2020 PFN NFL Top 100 Players list. A neck injury that led to surgery ended Hunter's season before it could ever start, making a hapless Minnesota defensive line far worse.
Hunter is the "traits pick" that actually worked out as a pass rusher in the NFL. His explosion and changes in pace often catch tackles off guard. The width he creates crossing the face of blockers and the quickness he generates downhill is unmatched in the league.
71) Aaron Jones, RB, Green Bay Packers
The absence of Aaron Jones on top-100 lists is no more. Jones' production in 2020 didn't quite match his outstanding 2019 campaign, but the respect for his game finally caught up to his production. As a result, the Packers rewarded him with a shiny new $48 million contract.
His ability to bring value both as a runner and a receiver is what makes him tough to take off the field, even as the Packers drafted A.J. Dillon in Round 2 of the 2020 NFL Draft.
[su_button url="https://www.profootballnetwork.com/nfl-top-100-2021/3/" style="flat" background="#540008″ color="#ffffff" size="5″ wide="yes" center="yes" text_shadow="0px 0px 0px #000000″]Next Page: PFN NFL Top 100 Players 61-70[/su_button]