Top 100 NFL Players | 61-70
Let's continue with the Top 100 Players of 2021 with a phenom who now dons a Super Bowl ring.
70) Mike Evans, WR, Tampa Bay Buccaneers
Some scoff at the notion of a 1,000-yard receiver in the league today. Somehow, it's just not as impressive as it once was. However, Mike Evans is in a league of his own here.
He's the first player in NFL history to tally seven straight such seasons to begin his career. He produced the highest catch percentage of his career in 2020 with Tom Brady while also having the least amount of targets in his career. That makes sense, as Evans is one of the premier downfield threats in the league. That style of play is not foreign to Brady, but it is one explored less by him than Ryan Fitzpatrick or Jameis Winston.
69) Ali Marpet, G, Tampa Bay Buccaneers
Another Super Bowl champion makes an appearance on the NFL Top 100 Players heading into 2021. Ali Marpet's legend comes from humble beginnings. He played at Hobart University, a small private Division III school where you're more likely to see a bounce house on tape than an NFL prospect.
Yet, somehow the small-school prospect immediately hit the ground running in the NFL and has been one of the top guards in the league since. He leads a trio of interior blockers for the Buccaneers who all played college football outside of Division I.
68) Grady Jarrett, DT, Atlanta Falcons
There is a reason the Atlanta Falcons want to keep Grady Jarrett around during their rebuild. He's been one of the league's premier interior pass rushers for the past few seasons. Unfortunately for him, what was a dominating performance in 2020 was overshadowed by a poor defensive backfield. Nevertheless, Jarrett continued to get to the quarterback despite the poor team performance.
67) Justin Simmons, S, Denver Broncos
Justin Simmons didn't take home All-Pro honors in 2020 as he did in 2019, but the consistent top-tier play from the safety lands him one spot higher in the NFL's Top 100 Players going into 2021. The Broncos decided to pay Simmons $61 million over the next four years after the 2020 season. They also added Kyle Fuller and Patrick Surtain to the defensive backfield, so it's difficult to see how Simmons doesn't fight for an All-Pro nod in 2021.
66) Michael Thomas, WR, New Orleans Saints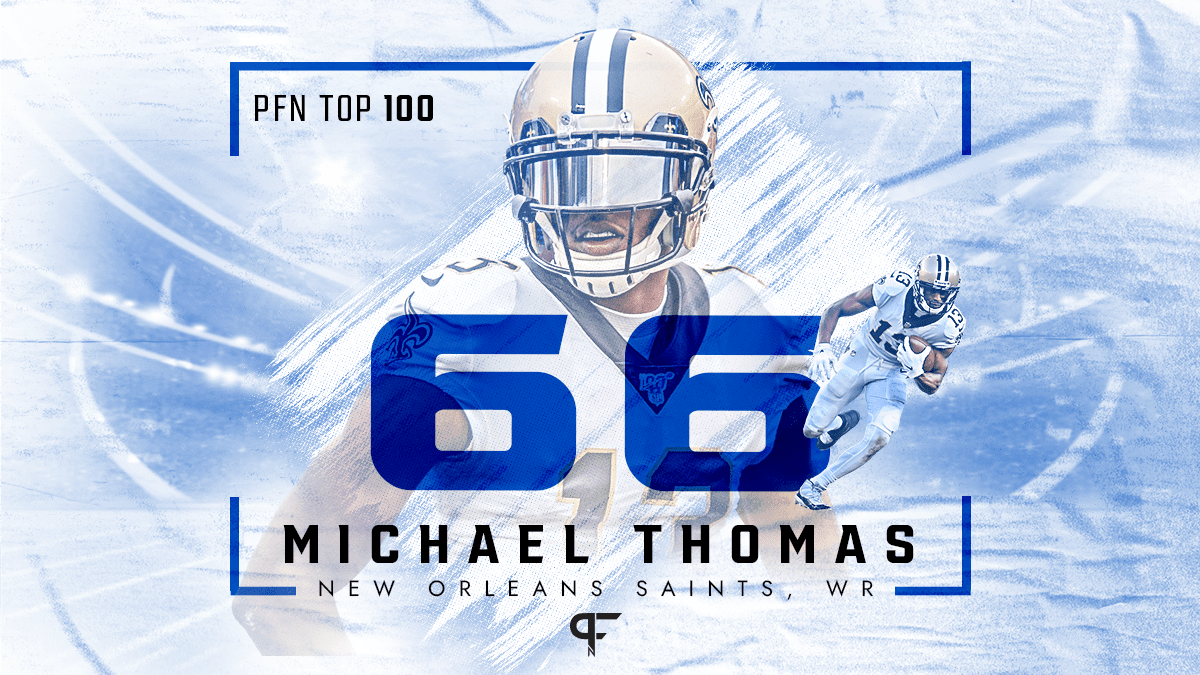 Oh, how the mighty have fallen. After a night where the Buccaneers held him to zero catches, cornerback Carlton Davis took to Twitter to give the world Michael Thomas' "Slant Boy" nickname.
Thomas only played in seven games for the Saints in 2020 and had his least productive per-game numbers to date. He is still one of the top receivers in the NFL today, and it will be fascinating to see him with another quarterback under center in 2021.
Thomas possesses the size and strength to be a weapon over the middle of the field for a long time. His perception as simply an underneath receiver is overblown. In 2019, both DeAndre Hopkins and Davante Adams had lower yards before the catch on a per-catch basis than Thomas. Thomas should also see a ridiculously high target share on a roster that lacks any true complementary receiver.
65) Budda Baker, S, Arizona Cardinals
Budda Baker debuts on the PFN NFL Top 100 Players of 2021 at No. 65 after snatching a first-team All-Pro selection over a host of talented NFL safeties. The undersized safety received plenty of Tyrann Mathieu comps coming out of Washington. He lacked the ideal size of an NFL safety and was an absolute stud whose versatility was his calling card. Fast forward four years, and despite his size, he's one of the best safeties in the league.
Baker possesses an outstanding downhill trigger and recognition process, which allows him to get anywhere in the back end in a flash. He lines up all over the field and makes plays in every aspect.
64) Fletcher Cox, DT, Philadelphia Eagles
Fletcher Cox is a freak of nature for the position. He showed some signs of aging in 2020 but is still one of the top players in the league on the interior. His size-adjusted athleticism is top-tier, and his ability to affect the passer from the interior is still there.
He makes plays outside the tackle box well with that athleticism and hustle that you won't see from many defensive tackles. For example, Cox closed in on Hopkins on a tunnel screen in Week 15, making the defensive tackle look more like a linebacker than a 310-pound interior defender.
63) D.K. Metcalf, WR, Seattle Seahawks
D.K. Metcalf is one of the rising stars in the game today. Despite being built like a statue and sporting loud accessories, Metcalf quietly goes about his business as one of the top deep threats in the NFL.
Metcalf went for over 1,300 yards in his sophomore season with Russell Wilson and his deep ball. But what was more impressive was the rise in catch rate from 58% to 64% — he also raised the bar in yards per reception and yards per target.
62) Cameron Jordan, DE, New Orleans Saints
Cameron Jordan is one of the more unique pass rushers in the league. His production dipped a bit in his age-31 season, but he still appears as powerful as ever. The veteran pass rusher bullies offensive tackles with some of the most powerful hands in the league. In addition, his technical prowess allows him to win at the point of attack and either slip through blocks quickly or compromise the tackles anchor through speed-to-power moves.
61) Brandon Scherff, G, Washington Football Team
Brandon Scherff has been one of the best guards in the NFL since his rookie season in 2015. This will be Scherff's second straight season playing on the franchise tag. Unfortunately, he hasn't remained healthy for a long time, missing 16 games since 2018. Regardless, he's been one of the only stabilizing factors in a franchise that's run amok in recent years.
Scherff is a tremendous all-around blocker who is physical and technically refined as a run blocker. He excels at getting to the second level and sealing rush lanes. As a pass protector, Scherff does a stellar job of establishing a strong anchor against power. Furthermore, he owns the movement skills necessary to mirror interior rushers.
[su_button url="https://www.profootballnetwork.com/nfl-top-100-2021/4/" style="flat" background="#540008″ color="#ffffff" size="5″ wide="yes" center="yes" text_shadow="0px 0px 0px #000000″]Next Page: PFN NFL Top 100 Players 51-60[/su_button]