Top 100 NFL Players | 31-40
Another Super Bowl winner kicks off this range of PFN's NFL Top 100 Players in 2021.
40) Shaquil Barrett, LB, Tampa Bay Buccaneers
Shaquil Barrett didn't make the NFL Top 100 Players list succeeding his 19.5-sack season in 2019, but after following that up with a solid 2020, he debuts on the list at No. 40 heading into 2021.
Barrett is a quick-footed pass rusher who wins off the edge with great finesse. His plan of attack has improved over the past few years. He owns the ability to break down offensive tackles and counter when his first rush is thwarted, making him a weapon throughout the entire snap. Moreover, Barrett plays much faster than his athletic testing suggests.
39) Chandler Jones, DE, Arizona Cardinals
Chandler Jones only played in five games in 2020 and still finds his way onto the NFL's Top 100 Players list in 2021. In 2019, Jones posted a 19-sack season, highlighting his ability to finish pass-rush reps. In fact, nobody has more than him since he was drafted in 2012. Like Lavonte David, Jones remained one of the most underrated players in the NFL for a long time.
Jones gets to play alongside Watt in 2021, which should help at least one of them enjoy more favorable matchups from time to time. If they both remain healthy in 2021, they'll be one of the most dangerous pass-rush duos in the league.
38) Tre'Davious White, CB, Buffalo Bills
Tre'Davious White has been one of the best cornerbacks in the NFL since his rookie season in 2017. White was a first-team All-Pro in 2019 and garnered second-team honors in 2020. His joy for football is evident in his smile, antics on the sideline, and the fire he plays with on the field.
White plays an aggressive brand of football for a cornerback but does so without being reckless. He has the long speed to carry vertically and the awareness to pass off routes in match concepts as he seamlessly transitions to another threat.
37) Cameron Heyward, DT, Pittsburgh Steelers
Cameron Heyward's production took a step to the side so teammate Stephon Tuitt could fill up the stat sheet in 2020. They play incredibly well as a duo, but in 2021, Heyward lands deep in the PFN NFL Top 100 Players because of his talents.
Despite only logging 4 sacks in 2020 and 7 tackles for loss, the 10-year veteran still landed as a second-team AP All-Pro. He isn't the athletic marvel others on the list of top defensive tackles are. Heyward wins by being one of the most technically proficient interior defenders in the league.
36) Dalvin Cook, RB, Minnesota Vikings
Dalvin Cook is an unbelievable talent. He averaged 111.2 yards per game in 2020 for the Vikings across 14 contests. He's a perfect fit for the Vikings' run scheme and has proven to be a serviceable receiver as well. Despite playing behind a mediocre offensive line, Cook produced at a crazy pace.
He possesses the outstanding long speed to make big plays as a rusher. His 46 10-plus-yard runs were second only to Derrick Henry, but his 14.7% rate of such runs was two percent higher than Henry's. Cook is a master at creating yards that aren't there, which is the highest compliment to give a modern NFL back.
35) Chase Young, DE, Washington Football Team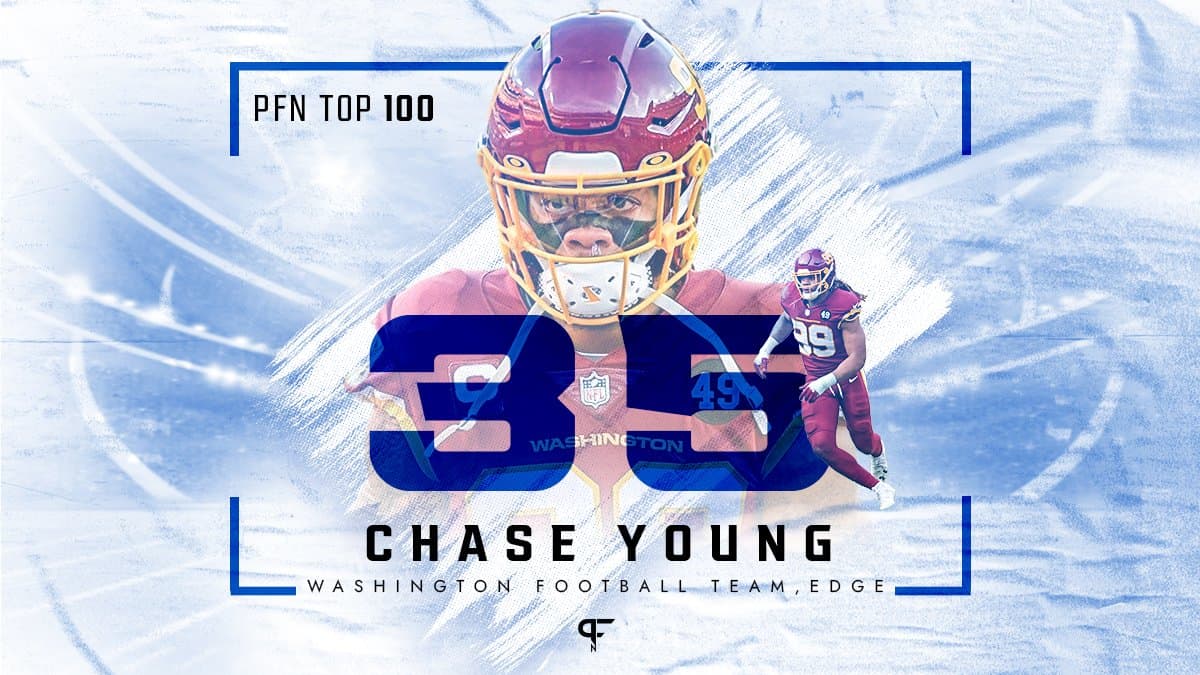 This is just the beginning for the second-year pass rusher. Chase Young is technically proficient and a high-end athlete for the position, but he hasn't yet put it all together. However, as I said in the top 25 edge rankings:
"I find it hard to believe we won't see Young chasing the top five of this list heading into 2022. He's very much in the same mold as the Bosa brothers as someone who is technically proficient beyond his years. Young was a more complete prospect than them coming out due to his impressive athletic prowess. Young also plays on what very well could be the best defensive line in the league. He's a strong run defender, and his sack production should rise this season."
If it clicks for him, especially on that defensive line, it wouldn't be surprising to see him have a 15-sack season in 2021.
34) Zack Martin, G, Dallas Cowboys
Zack Martin is still the best offensive lineman in football, although I understand the case can be made for others heading into 2021. He played through injury last season with the Cowboys and even had to play over 100 snaps at right tackle. It was incredible to see him slide over to a position he hasn't played since college. And in college, he played left tackle, not right.
Martin still has elite years ahead of him as long as his health remains.
33) Tyrann Mathieu, S, Kansas City Chiefs
Tyrann Mathieu has carved out quite a career for himself after a rocky start. Many in professional football have battled hardships in their lives, and Mathieu's story is one of the most inspiring. He lands well inside PFN's NFL Top 100 Players going into 2021 because he is a difference-maker at the safety position. His versatility is his biggest strength.
Mathieu is one of the most impactful players in the league. He tackles well, covers well, and makes plays left and right on the ball. He is also one of the most impactful off the field regarding players' mental health.
32) A.J. Brown, WR, Tennessee Titans
A.J. Brown might end up making a case as the best receiver in the NFL within the next few seasons. He's a dominant physical specimen who's done nothing but improve in the finer parts of the position since joining the league. Brown doesn't win with incredible long speed; he wins with his physicality throughout his routes and good separation quickness.
From there, he simply becomes the most dangerous post-catch receiver in the NFL. His 6.2 yards after the catch per reception dwarfed most other high-volume receivers in the league. This trait is what puts him so high on the 2021 NFL Top 100 list. In this respect, the only receiver close to him is D.J. Moore, who averaged 5.8 yards after the catch.
31) Justin Jefferson, WR, Minnesota Vikings
Well, this one was a bit surprising, no? As fun a prospect as Jefferson was coming out, most believed he was the fourth or fifth-best WR of the class. We certainly didn't expect him to join the Vikings in Year 1 and eclipse any season that either Stefon Diggs or Adam Thielen generated with the franchise.
Jefferson is as dangerous when attacking space as any receiver in football. Despite not possessing blazing top-end speed, his feet are so precise, and his rocker step mimics that of a Euro step in basketball at times. However, unlike in basketball, Jefferson doesn't lose speed in and out of that vertical release, making him a complete menace to the third level of the defense.
[su_button url="https://www.profootballnetwork.com/nfl-top-100-2021/7/" style="flat" background="#540008″ color="#ffffff" size="5″ wide="yes" center="yes" text_shadow="0px 0px 0px #000000″]Next Page: PFN NFL Top 100 Players 21-30[/su_button]