Top 100 NFL Players | 1-10
As we reach the final 10 of the Top 100 NFL Players entering 2021, who is No. 1?
10) Myles Garrett, DE, Cleveland Browns
It's silly that we may just be scratching the surface of Myles Garrett's greatness. Garrett is one of three aliens in the league — him, Vita Vea, and the best player in the NFL (stay tuned). That is Garrett's potential. He has best-in-the-league skills and out-of-this-world athleticism. He's as wide as a door frame and as well-built as a greek statue. If you constructed a defensive end on Madden, you wish you could make him look like Garrett does in real life.
Let's also talk about the fact he blitzed the league in true sack rate. Garrett beats the best tackles in the game with some of the most high-quality rush moves you'll see. And it somehow feels like he's just getting started. Garrett has 20-sack potential.
9) Josh Allen, QB, Buffalo Bills
Josh Allen and the Bills proved last season that they're a formidable foe in the AFC. Allen proved his naysayers (of which there were many) wrong in 2020. His ability to create out of structure has always been a strength. However, he's continuously improved his ability to work in structure. But his big leap in ability has been his accuracy. He went from being a thrower coming out of Wyoming to a pitcher.
Allen's leap means the Bills can do everything within their power to improve the team to a point where they can continuously compete with the AFC elites (the Kansas City Chiefs).
The scary part about Allen is he remains an unfinished product. He has unbelievable physical ability. Allen never once completed 60% of his passes before 2020 when he almost completed 70% of them (69.2%). Offensive coordinator Brian Daboll has gotten the most out of the fourth-year quarterback. But there's still more upside.
8) Russell Wilson, QB, Seattle Seahawks
Russell Wilson played like the runaway MVP in the first half of the 2020 season. He didn't play particularly well the rest of the year, but he was far from bad. He throws one of the prettiest deep balls we've ever seen. With Tyler Lockett and DK Metcalf on the field for the Seahawks, he also has adequate weaponry. The problem remains the Seahawks' offensive line and the head coach's admiration for running the ball.
Well, we say it's a problem, but the Seahawks have never once had a losing record with Wilson playing quarterback. Wilson only has one season posting under a 60 in QBR, and four of his nine seasons were over 70. If the Seahawks can get the offense rolling as they did early in 2020, Wilson could walk away from 2021 with his first MVP.
7) Davante Adams, WR, Green Bay Packers
Davante Adams is potentially the most aesthetically pleasing wide receiver to watch in the first second of a passing play. His release repertoire makes him one of the top players on the NFL Top 100 heading into the 2021 season. His ability to get open with immediacy is what makes him special.
Adams was prolific in 2020, averaging nearly 100 yards per game and leading the league with 18 touchdowns, despite only playing in 14 games. He also had his most efficient season in 2020 — by far.
He caught 77.2% of his targets last season. Some of that is probably due to Aaron Rodgers' return to god-tier play, and another part is most likely due to his reduced aDOT. In a league where separation is king, Adams sits on the throne.
6) Travis Kelce, TE, Kansas City Chiefs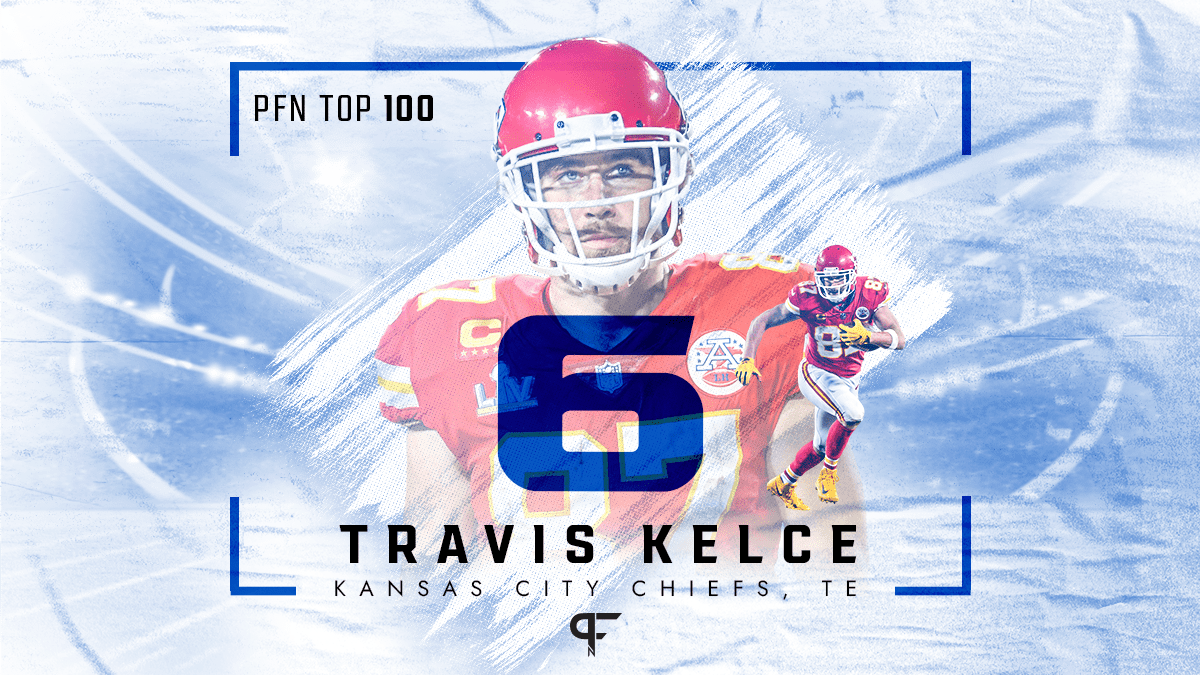 Separation might be king, but being really big and really athletic helps too. Travis Kelce is surprisingly just about six months younger than Rob Gronkowski, but we don't really think about that because of his late ascension. In 2020, Kelce began to transition from athletic marvel to savvy veteran because he's using his frame more to shield off defenders than using his athleticism to win.
Kelce's a high-volume target at tight end in a world where only a few at the position still garner that type of attention. He's one of the elite players in the NFL Top 100 heading into 2021 because he can handle that volume. But his real value comes from his efficiency for the position, catching 72.4% of his passes and posting the highest yard-per-game average of his career.
5) Deshaun Watson, QB, Houston Texans
What Deshaun Watson did on the field in 2020 wasn't just impressive — it was unbelievable. Go back and watch his film from the season and try and argue that QB wins should be a stat we care about. Given his surroundings, he had the most awe-inspiring season of any quarterback in the league. His offensive line was bad. His receivers weren't, but you wouldn't write home about the group.
Watson is a magician outside of the pocket, only matched by Patrick Mahomes. And he's no slouch working within the confines of an offense, either. He's everything you could ask for from a professional quarterback on the field. He's accurate, decisive, and has a significantly better arm than what a radar gun said during the NFL Combine.
4) T.J. Watt, OLB, Pittsburgh Steelers
T.J. Watt built off what has been a fantastic three-year run with his most productive season yet in 2020. He's been the league's most prolific pass rusher in that time. Watt plays on a star-studded defensive line, with good help on the interior, but his ability speaks for itself. He's a multifaceted rusher who mixes his pass-rush moves well.
It's crazy that the brother of J.J. would be any good at the sport. Certainly, nobody could have guessed that the great Wisconsin product would translate. That must be why he was the sixth or seventh pass rusher drafted. Never forget that the Cowboys drafted Taco Charlton instead of Watt.
Watt blends athleticism, bend, and technique to get to the passer. He's afforded the freedom to attack, and he makes plays against the run in the backfield. He's one of the greatest players in the league, and Cowboys fans will never let the front office forget that.
3) Aaron Rodgers, QB, Green Bay Packers
The league MVP comes in as the third player on the Top 100 NFL Players list heading into 2021. Aaron Rodgers is still upset with Green Bay's front office, and we're not sure if he'll be on the field for them in 2021. But he definitely has a chip on his shoulder. The prettiest man in America thrives off the negativity.
He's also incredibly talented. I wrote in the best quarterbacks of all time piece that Rodgers was the most talented quarterback of all time (for now). His arm is spectacular, and he's always possessed an uncanny ability to teeter on the line between aggression and recklessness. He protects the football unlike any quarterback we've seen while pressing defenses to every level.
Rodgers is still able to create out of structure, and he produces at an MVP level, despite only having Adams as a high-end option in the passing game.
2) Patrick Mahomes, QB, Kansas City Chiefs
Patrick Mahomes will (most likely) replace Rodgers as the most talented quarterback we've ever seen. What makes him special, and comping Zach Wilson to him foolish, is his vision when things are breaking down around him. His no-look passes and cross-field throws are as much about his ability to see things that no other quarterback can as it is his ridiculous arm talent.
Mahomes definitely crosses the line at times between aggressive and dangerous, but he's always found great luck in not turning the ball over at a high rate.
He's not an other-worldly athlete. He won't beat many edge rushers to the corner and on for a first down. But he's mobile enough to manipulate the pocket and create throwing windows. His eyes and his arm take care of the rest for him.
1) Aaron Donald, DT, Los Angeles Rams
Aaron Donald might go down as the best defensive player to ever live, let alone the best defensive tackle in the NFL. He probably goes down as the most accomplished defensive player to ever live.
If Donald is selected to his seventh-straight first-team All-Pro in 2021, he'll pass Reggie White for the most in succession in the league's history. He's the league's best on the Top 100 NFL Players because he blends alien-level athleticism with an endless desire to improve technically.
Oh, and don't let anybody tell you he's anything but elite against the run as well. Despite being on the shorter end and lighter than most, his power and hands allow him to dissect blocks and anchor against doubles. His athleticism allows him to penetrate gaps and surprise ball carriers deep in the backfield as well. He's a blend of splash play and consistency in a traditional role. We're witnessing all-time greatness with Donald week in and week out.