One month has passed, and for the majority of NFL teams, hope is still alive. Still, it's never too early to look ahead to the 2024 NFL Draft. In this 7-Round NFL Mock Draft, all 32 teams seek to reload for the 2024 campaign. Who comes away with the best haul, and who finds the hidden gems in the middle and later rounds? That's for you to find out.
The following mock draft order used is a custom order made by me, factoring in current records and end-of-season predictions. So yes, if you think your team is picking too early, you can get mad at me.
7-Round 2024 NFL Mock Draft | Round 1
1) Chicago Bears: Caleb Williams, QB, USC
Let's put ourselves through a little thought experiment. The Bears are sinking. If they keep sinking — to the point where they earn the No. 1 overall pick — then a regime change is likely. A change of scenery for Justin Fields is likely. It's painful to restart again, especially for a franchise that's done it so many times since the 20th century. But the consolation prize in this 2024 NFL Mock Draft is very sweet.
There's almost no better QB prospect to restart with than Caleb Williams. Now, as the Bears inadvertently proved with Fields, bad coaching can undermine even the greatest physical talent. But Williams is especially equipped to deal with adversity early on in his career. He's a hyper-elite creative threat who plays with a deadly kind of freedom and control — both with his arm angles and his off-script wizardry.
2) Chicago Bears (From CAR): Marvin Harrison Jr., WR, Ohio State
At the time of this 2024 NFL Mock Draft being written, both the Bears and Panthers were 0-3 heading into Week 4. Both teams are ailing — one at the beginning of a rebuild, and one at the failed conclusion of another.
There's a scenario where they end up being the teams with the two worst records at season's end. If that happens, the Bears will have the top two picks in the 2024 NFL Draft. That might be the best-case scenario.
In this scenario, the Bears get the top QB prospect and the top non-QB prospect in the 2024 NFL Draft. No amount of marketing can oversell just how dynamic this duo could be.
Marvin Harrison Jr. is the true WR1 the Bears' franchise has been searching for since — well — since its existence. He's a generational talent at 6'4″, 205 pounds, with the flexibility, speed, nuance, focus, and physicality to be a focal offensive threat.
3) Denver Broncos: Dallas Turner, EDGE, Alabama
The Denver Broncos are in relatively rough shape. Russell Wilson has shown measured progression in 2023, but the odds of competing with him across his window are still low. The roster is not well-constructed, and there's a visible deficit in production relative to the team's cap allotment.
It'll take time to recover from this stretch, but the silver lining is this: A top-three pick, which the Broncos use on Dallas Turner.
After showing his potential in flashes in 2022, Turner has erupted in 2023, with 4.5 sacks and 6.5 tackles for loss through four games. We could be watching the best defensive prospect in the 2024 NFL Draft blossom before our eyes.
Turner has all the tools. He has elite explosiveness, elite bend capacity, elite length, power generation ability — and he's starting to put it all together.
4) Las Vegas Raiders: J.C. Latham, OT, Alabama
It's anyone's guess who the first tackle off the board in the 2024 NFL Draft will be. At the very least, we can say this: There are three in heavy consideration.
Joe Alt looks like a top-three pick early in 2023. Olu Fashanu has been mostly immaculate. But looking at the Raiders specifically, who need a natural right tackle to complement Kolton Miller, J.C. Latham might make the most sense.
Of those three, Latham is probably the biggest risk, but that's unfair to Latham. Even if he's not quite as balanced as Alt and Fashanu, he's still a freak of nature with physics-defying explosiveness and power at 6'6", 335 pounds.
He's a road-grader in the ground game and a synergetic pass protector who can match almost anyone to the apex. Ultimately, he's a blue-chip talent at a premium position.
5) Arizona Cardinals: Drake Maye, QB, North Carolina
The argument for Drake Maye as QB1 has weakened since the start of the 2023 season. Maye's decision-making, especially under pressure, has lapsed at times this year.
Maye hasn't been as good as Williams at taking care of the football. But he still has the rare natural talent, accuracy and precision, and off-platform ability to field confidence as a franchise QB option. The Cardinals add him in this 2024 NFL Mock Draft.
There's nothing distinct on Maye's tape that will keep him from operating at the NFL level, either. It's just one or two lapses a game — particularly in moments of high pressure, where hasty decisions can be forced.
He's still a poised pocket operator with good spatial awareness, smooth arm elasticity, and anticipation and manipulation capabilities. With more experience, he should iron those lapses out.
6) Washington Commanders: Shedeur Sanders, QB, Colorado
The Commanders will ride out the 2023 season with Sam Howell under center — as they should. But as of this writing, Howell has taken 19 sacks (the most in the NFL over the first three weeks).
His glaring negative tendencies from college — holding the ball too long and dropping his eyes — are still showing up, and he turns the ball over when pressed to make up ground. If we're projecting right now, the Commanders pick early and pick a QB.
Shedeur Sanders specifically contrasts Howell in several important areas. Sanders gets the ball out quickly when he can, and he stays on rhythm. He has superior field vision, and while he does dance too far back in the pocket at times, he's never idle.
A QB is a distributor at the end of the day, and Sanders' pocket feel, quick processing ability, and tools should allow him to get more out of Terry McLaurin and Jahan Dotson.
7) Indianapolis Colts: Keon Coleman, WR, Florida State
While the Indianapolis Colts could bring back Michael Pittman Jr. in the 2024 offseason, it'll be a question of player valuation for them. Having a player like Pittman is valuable, no doubt. But there may be an opportunity to add a true three-level alpha in the 2024 NFL Draft.
Keon Coleman has been a breakout star at Florida State, and he has the tools to be an early first-round pick and a dangerous weapon in Shane Steichen's attack.
On the boundary and in the red zone, the 6'4", 215-pound Coleman has the size, sense of timing, and vertical athleticism to overwhelm defensive backs on 50-50 balls.
On top of that, he's also a promising route runner with leverage IQ, targeted physicality, and flexibility at stems, and as a RAC threat, his explosiveness, agility, and contact balance all blend together to make him a fear-inducing factor with the ball in his hands.
8) New York Jets: Joe Alt, OT, Notre Dame
If the New York Jets choose to ride out the rest of the season with Zach Wilson, then the top 10 is probably where they pick. Their defense will help them win a few more games than expected, but Wilson just can't operate an NFL offense consistently enough to stay afloat.
Aaron Rodgers has expressed a desire to return, so the Jets may have a chance to run it back with this roster in 2024. They'll need to upgrade their tackle group, however.
In this 2024 NFL Mock Draft, the Jets get a new franchise left tackle in Notre Dame's Joe Alt. Four weeks into the college season, Alt has been near-perfect for the Fighting Irish, and he's solidifying his OT1 case week by week.
At 6'8", 315 pounds, Alt has domineering size/length and elite mobility, and yet, he can routinely get inside the chest of his defender with awe-inspiring flexibility and knee bend.
9) Minnesota Vikings: Michael Penix Jr., QB, Washington
What to do with Michael Penix Jr.? That's the question for every NFL Draft evaluator. He's one of the most polarizing prospects in the 2024 NFL Draft, but my stance on him is simple. If his medicals check out, he's arguably a top-five signal-caller and a worthy Round 1 option.
For the Minnesota Vikings in particular, he'd be an excellent scheme fit and a passer who could keep the operation humming after Kirk Cousins' departure.
Forget the prototypical frame and the toughness. Penix truly separates himself with his rare driving velocity, extraordinary field vision, anticipation ability, and ball placement.
With his combined arm strength, accuracy, timing, and gunslinging mentality, he can test intermediate and deep windows other QBs wouldn't dream of. He'd dice up defenses Washington-style from the pocket with Justin Jefferson and Jordan Addison at his disposal.
10) Arizona Cardinals (From HOU): Malik Nabers, WR, LSU
With their first Round 1 pick in this 2024 NFL Mock Draft, the Cardinals reset the clock at QB by taking Maye. With their second Round 1 pick — also in the top 10 — they can now focus on rounding out Maye's weapons arsenal.
Michael Wilson, drafted in 2023, is a good complementary threat, but the Cardinals need a dynamic No. 1 WR. LSU's Malik Nabers absolutely qualifies.
At 6'0", 200 pounds, Nabers doesn't quite have the size other top WRs have in this class. Nevertheless, Nabers is a true powder keg off the line, with unmatched explosiveness and twitch.
He can stack easily with his speed, but he also has the route nuance and targeted physicality to pry past coverages before converting with effortless hand-eye coordination. Nabers might have the best three-level framework in this entire class.
11) Atlanta Falcons: J.J. McCarthy, QB, Michigan
I'm all for being hopeful, and hope was a large part of Desmond Ridder's evaluation. The hope was that he'd one day kick his inconsistency and become a franchise quarterback.
He had the athleticism and the arm talent, but four weeks into Year 2, Ridder still looks volatile from a mechanical standpoint. It's playing a hand in the offense's lack of traction. Ridder will have a long career, but he isn't the guy. The Falcons need the guy.
We don't know if J.J. McCarthy is the guy either, but he's worth betting on. Like Ridder, he's a leaner passer but a phenomenal athlete. He's a natural creator with great agility and flexibility, and he has a hose of an arm.
For McCarthy, however, what's been truly promising in 2023 has been his growth in structure. McCarthy could unlock a Falcons offensive cast that's overstocked with underperforming talent.
12) Tampa Bay Buccaneers: Taliese Fuaga, OT, Oregon State
The 2024 NFL Draft offensive tackle class is absolutely stacked, with both natural blindside blockers and natural right tackles.
But the name you need to get on your radar — as not just an early-round prospect but a first-round one — is Oregon State's Taliese Fuaga. Fuaga has been dominant so far this year, and now that All-Pro Tristan Wirfs has made himself at home on the left side, Tampa Bay can add his running mate.
At 6'6", 335 pounds, Fuaga is a massive and powerful force who can piledrive space defenders as a run blocker. He surges off the line with size-defying explosiveness, but he also has unnatural hinge freedom, change-of-direction capacity, and foot speed for his size.
His physical foundation, combined with the way he recovers and maintains leverage while combating hands and staying square, brings shades of Penei Sewell.
13) Tennessee Titans: Olu Fashanu, OT, Penn State
The Tennessee Titans look at the board in this 2024 NFL Mock Draft and say, "Thank you very much."
The Titans are in an awkward spot as a franchise. They have a competitive defense, but the offense is hamstrung by an incomplete blocking front and a precarious QB situation. In 2024, the Titans may end up transitioning to Will Levis or Malik Willis. Either way, they'll need a stalwart left tackle to help secure the unit.
In this mock, Olu Fashanu is a top-five talent who falls all the way to 13th overall. Alongside left guard Peter Skoronski, Fashanu would complete one of the most exciting left sides in the entire NFL.
Fashanu safely passes the athleticism and power threshold, and among the top tackles, he brings a unique level of comfort, composure, eye discipline, balance, and upper-lower synergy in pass protection.
14) New York Giants: Kool-Aid McKinstry, CB, Alabama
This is a bit unorthodox as a Round 1 projection for the Giants in the 2024 NFL Draft, especially after the team selected both Deonte Banks and Tre Hawkins III in the 2023 NFL Draft.
But Hawkins might be better as a rotational defender or slot weapon early on, and Adoreé Jackson is a free agent in 2024. And after pondering Kool-Aid McKinstry's man-coverage prowess, it's worth exploring pairing him with Banks.
McKinstry doesn't quite have Banks' elite speed and explosiveness, but McKinstry can suffocate WRs at the line with efficient feet, precise hands, and crisp fluidity. And at the catch point, he has the rare ability to zero in on the ball, react, and extend at a moment's notice.
The presence of Banks and McKinstry might force QBs to hold the ball just a little bit longer, which could make a big difference in Wink Martindale's scheme.
15) Pittsburgh Steelers: Emeka Egbuka, WR, Ohio State
The Steelers have the makings of a good offense. They really do. Part of it is contingent on Kenny Pickett's development, and we're still in wait-and-see mode there. But George Pickens and Diontae Johnson form a formidable duo, and Calvin Austin III is emerging as a big-play threat.
The offensive line still needs more work (we'll get to that on Day 2, don't worry), but one more weapon could improve the unit's depth and variability.
Emeka Egbuka is a top-10 prospect on my board, so the value here played a role. But Egbuka also gives the Steelers something they don't have — a true "glue guy." Pickens is the multifaceted X-receiver. Johnson is the separation savant. But Egbuka gives Pittsburgh a little bit of everything.
He's an explosive zone stretcher, a savvy route runner, a versatile RAC threat, and he can be a clutch chain-mover in big moments, too.
16) New England Patriots: Brock Bowers, TE, Georgia
This is one of the easiest value picks to make in this 2024 NFL Mock Draft. On my board, Brock Bowers is a blue-chip talent at the tight end position. And the New England Patriots have a void at the position long-term and a need for more weapons.
Depending on how Mac Jones closes out the year, QB could be in consideration for Bill Belichick, but as of now, we're not at that point just yet.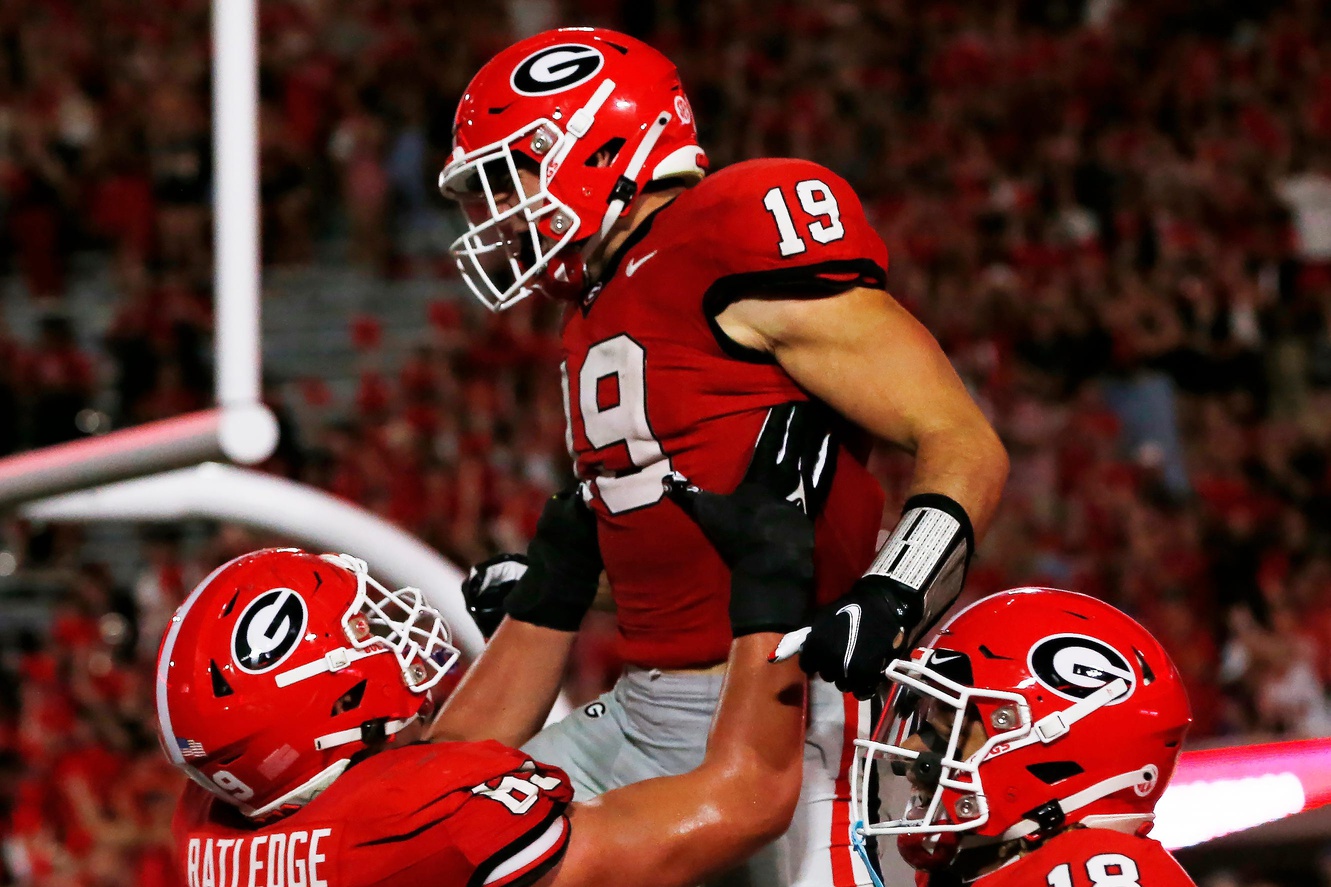 In fairness to Jones, Bowers' sheer presence would help open up the offense for any QB. At 6'4", 240 pounds, Bowers has the size to outmatch defensive backs, both at the catch point and after the catch.
And if you try to compare him athletically, he's a mismatch there, too. His speed can erase tackling angles, and he's a consistent big-play threat with space.
17) Los Angeles Chargers: Nate Wiggins, CB, Clemson
It's been exasperating at times to see how ineffective the Chargers' defense has been. Brandon Staley was hailed as a defensive innovator when he arrived, but the team's coverage woes are hard to miss so far in 2023.
The J.C. Jackson signing hasn't gone as planned, and Michael Davis — a free agent in 2024 — has regressed rapidly after a strong 2023. Thus, cornerback is a position the Chargers should target in the 2024 NFL Draft.
Kalen King, Cooper DeJean, and Denzel Burke are options here, but the second CB off the board is Nate Wiggins. Wiggins would be a strong fit for Staley's zone scheme, but he's just as good in man.
At 6'2", 185 pounds, Wiggins is a lanky cover man with vertical speed, and he's also a sticky route eraser with keen awareness, reaction quickness, stop-and-start ability, and proactive disruption skills at the catch point.
18) Los Angeles Rams: Chop Robinson, EDGE, Penn State
The Los Angeles Rams have already exceeded expectations this year, but the roster simply isn't ready to get back to playoff contention. There are a few more premium positions that need to be upgraded, chief among them the EDGE spot.
Los Angeles has a number of quality rotational players, but they don't have a true focal point on the outside who can generate pressure consistently and terrorize offenses. Enter Chop Robinson.
At 6'3", 250 pounds, Robinson is a bit undersized, and he doesn't have great length. Nevertheless, Robinson compensates with his instant angle-stretching speed and explosiveness, as well as his ankle flexion around the corner.
He's built like a speed rusher, but he also has the power load and unhinged tenacity to scrape through ill-fated blocks from multiple different alignments.
19) Green Bay Packers: Amarius Mims, OT, Georgia
David Bakhtiari is scheduled to be a free agent in 2025, but he might not even last that long. The storied veteran was recently placed on injured reserve with a knee injury. He's not considering retirement, but age and a lack of durability are catching up.
Soon, the Packers will need to transition to a younger player at the left tackle spot. And in the 2024 NFL Draft, there are few better developmental ventures than Amarius Mims.
Mims has already produced more than enough quality tape, even in his short window as a starter for the Bulldogs. In an uber-talented OT class, there's a case to make that Mims is the most gifted athlete. He essentially moves like a tight end at 6'7", 340 pounds.
He's relatively raw like Broderick Jones was at this time last cycle, but he's even more natural at bending his knees, transferring his weight, and acquiring leverage.
20) New Orleans Saints: Donovan Jackson, G, Ohio State
For the New Orleans Saints, shoring up the interior line is especially important. Derek Carr is a capable quarterback in a stable structure, but interior pressure can cause his process to erode quickly.
The Saints have their long-term starters at center and right guard in Erik McCoy and Cesar Ruiz. Left guard, however, is an area of concern. They can easily remedy that by taking the arguable best guard prospect in the 2024 NFL Draft.
Donovan Jackson was a five-star recruit in high school, and he's quickly morphed into an All-Big Ten performer at Ohio State. This year, in his first year of NFL Draft eligibility, he's been particularly impressive.
Jackson already catches the eyes with his well-leveraged 6'4″, 320-pound frame, his explosive lateral/vertical athleticism and dominating wingspan. His powerful punches, stunt recognition, and two-phase utility take his profile over the top.
21) Houston Texans (From CLE): Andrew Mukuba, DB, Clemson
There is truly a lot to like with the Texans' defense. Will Anderson Jr. is as advertised. Henry To'oTo'o has been a strong second-level addition. And the secondary has pieces with Derek Stingley Jr., Jalen Pitre, and Jimmie Ward.
That said, with Tavierre Thomas scheduled to hit free agency, there's an opportunity for Houston to get on the wave and add a potentially elite slot defender. That's where Clemson's Andrew Mukuba comes in.
Mukuba has the versatility to play two-high and single-high, but his upside is highest in the slot, where he can use his rare transitionary burst, hinge fluidity, foot speed, and reactive athleticism to blanket receiving weapons.
Mukuba's athletic foundation allows him to stick to targets on a down-to-down basis, and he also has the tone-setting physicality to disrupt at the catch point and help bring about stops in support.
22) Jacksonville Jaguars: Jared Verse, EDGE, Florida State
In the summer, Jared Verse was often mocked early in Round 1, sometimes as the first EDGE prospect off the board. But an unproductive start to the 2023 campaign has soured some on Verse's upside, especially in comparison to Dallas Turner. Verse is not only less productive but also almost three years older.
That said, he has produced before, and he has the tools to be a steal at this point in the 2024 NFL Draft.
The Jaguars, in particular, need an infusion of proven utility. Travon Walker is underrated, but he's still developing as a pass rusher, and Josh Allen will enter free agency this offseason.
With his hyperactive burst and length at 6'4", 249 pounds, Verse can generate copious amounts of power. He doesn't have the bend to corner consistently, but he has a technician's tool box at his disposal, and urgent pursuit energy.
23) Cincinnati Bengals: Kingsley Suamataia, OT, BYU
The Bengals' issues on the offensive side of the ball stem beyond simple personnel. But there is a long-term issue that deserves Cincinnati's attention on the 2024 NFL Draft front.
Jonah Williams will be a free agent in 2024, and the team will need a new right tackle. Luckily for them, the 2024 NFL Draft is flush with options, and here at No. 23 overall, Kingsley Suamataia presents the best value.
Suamataia isn't quite as refined or as smooth in recovery as some of his Round 1 counterparts, but he has the athleticism and flexibility to improve. He also brings natural knee bend for his size at 6'6" and over 320 pounds, and with his hyper-elite explosiveness and length, he can drive overwhelming amounts of power into his opponents at the second level.
In time, he could be one of the top RTs in the league.
24) Seattle Seahawks: Jer'Zhan Newton, DT, Illinois
The Seahawks are the closest to legitimately challenging the 49ers for NFC West supremacy. They have their QB in Geno Smith, and he has weapons in protection. There are just a few more areas to address on the defensive side of the ball – one of which being defensive tackle.
Jarran Reed is a quality nose tackle, and Dre'Mont Jones is a dynamic disruptor, but Seattle needs another disruptive type inside.
For what the Seahawks need, Jer'Zhan Newton is an incredibly intriguing fit. Though he's a bit lean and undersized for the DT position at around 6'2", 290 pounds, he's much more proficient than you'd expect at holding the line in run defense.
He's strong and well-leveraged, and as a pass rusher, he's explosive, nuanced with his hands, and extremely flexible — to the point where he can win 1-on-1 all the way out at 5-tech.
25) Baltimore Ravens: Troy Franklin, WR, Oregon
You can see the vision with Todd Monken. But the Baltimore Ravens still need a few more pieces before they can employ a fully realized version of Monken's offense.
Lamar Jackson needs more weapons alongside Zay Flowers, and luckily, the 2024 NFL Draft will provide plenty of source material. Even here, there are multiple options to choose from, but Troy Franklin is the best, most exciting fit.
At 6'3", 187 pounds, Franklin has the speed, explosiveness, and rapid extension ability to snare high passes and act as a vertical threat. Beyond that, however, he also possesses a heightened degree of versatility.
With his burst, twitch, and RAC ability, he can be used on motions, out of the slot on quick routes, and on designed screens. He fits the Monken mantra of "get the ball in your playmaker's hands any way possible."
26) Philadelphia Eagles: Princely Umanmielen, EDGE, Florida
The Philadelphia Eagles' defense is in a phase of pre-transition at multiple levels. In 2024, Brandon Graham and Derek Barnett both become free agents, and Josh Sweat's contract is up a year later, along with Haason Reddick's.
The Eagles drafted Nolan Smith to help secure the unit's dynamism, but they could stand to add more security at 5-tech and 7-tech. That's a role Princely Umanmielen can fulfill quite well.
At around 6'4", 250 pounds, Umanmielen has the desired size, length, and proportions of an edge rusher, and he's also supremely explosive, agile, and flexible, with a building pass-rush arsenal.
He's still trending up with his consistency, but the flashes remain alluring, and he's already a high-level run defender. He acquires leverage easily, one-gaps with proficiency, and can chase down plays with his speed and range in pursuit.
27) Detroit Lions: Caelen Carson, CB, Wake Forest
No matter what, cornerback looks like a position the Lions will have to target early in the 2024 NFL Draft. Emmanuel Moseley was a one-year rental, and Jerry Jacobs is a free agent in 2024. Cameron Sutton will remain to provide a semblance of continuity.
That said, the Lions will need to invest in the position opposite him. With the right addition, this secondary — with Brian Branch, Tracy Walker, and Kerby Joseph returning — could be suffocating.
Factoring in grades and scheme, Wake Forest's Caelen Carson has a compelling case to be "the right addition" in this 2024 NFL Mock Draft.
Carson thrives in man coverage with his rapid foot speed, corrective athleticism, and burst upfield. At 6'0", 195 pounds, he has the proportional length and physicality to dictate WR depth and gather them on reps. Combine all this with his playmaking ability, and he makes sense.
28) Buffalo Bills: Rome Odunze, WR, Washington
The Josh Allen-Stefon Diggs partnership remains in its prime, and the Bills have a good set of pieces alongside them. James Cook is coming into his own as a legitimate rushing threat, and Dalton Kincaid has exciting potential in the big-slot role.
But with Gabriel Davis' free agency on the horizon, the Bills will once again need to look into maintaining a complementary presence for Diggs. Rome Odunze makes a lot of sense.
Odunze would've been a Round 1 candidate in the 2023 NFL Draft cycle, but he chose to return to school, and he's been producing at a rapid clip for the Huskies' offense.
The 6'3", 215-pound receiver is an incredibly smooth athlete for his size, whose slippery mobility allows him to both separate independently and sift through crowds as a RAC threat. And at the catch point, he flows to the ball without strain, even in high-difficulty environments.
29) Dallas Cowboys: Kalen King, CB, Penn State
The Dallas Cowboys are built to stay competitive right now, but one premier position they'll need to address early in the 2024 NFL Draft is cornerback. Stephon Gilmore, in all likelihood, is a one-year rental, and the Cowboys will need a long-term running mate alongside Trevon Diggs once the latter returns from injury.
Conferring with my colleague Dalton Miller, a CB comfortable in off-man coverage, 1-on-1, made the most sense.
There aren't many 2024 NFL Draft CBs who are particularly proficient at off-man coverage, but Kalen King is one who stands out.
In truth, King is competent in press, off-man, and zone, but his fluid, high-energy brand of mobility — combined with his patience — allows him to throttle up with WRs and carry in space. And he has the quick reaction speed to recover on breaks.
30) Kansas City Chiefs: Maason Smith, DT, LSU
The standoff between Chris Jones and the Kansas City Chiefs ended with a one-year agreement that'll keep Jones on the front for 2023. But it appears likely that 2023 will be Jones' last year with the Chiefs.
Given just how important Jones is for the Chiefs' defense, they'll need to find a similar kind of talent at some point. Maason Smith isn't anywhere close to Jones as a player yet — but the pure physical tools are there.
Pad level remains an issue for Smith, who too often drifts upright and negates his base after the snap. Nevertheless, the 6'6", 315-pound defensive lineman is a superlative explosive threat with menacing power capacity, and he also has the alignment versatility to rush from 5-tech and bend around blocks while combating hands.
If you can fix Smith's leverage, you can potentially unearth a game-changing disruptive force.
31) San Francisco 49ers: Sedrick Van Pran, C, Georgia
The 49ers have a serviceable player at center in Jake Brendel. But his low cap allotment hardly demands a starting commitment, and why go for serviceable when you can go for exceptional?
San Francisco's scheme is one that demands explosiveness and finishing ability in the trenches, and no center in the 2024 NFL Draft has that combination of traits quite like Georgia's Sedrick Van Pran.
The 6'4", 312-pound Van Pran teleports to the second level with his easy mobility, and with his burst and natural leverage, he's able to drive through blocks and generate movement at a consistent clip.
Pass protection is where Van Pran still stands to improve a bit, but Van Pran's extra dynamic outlook could open the offense even further.
32) Miami Dolphins: Byron Murphy II, DT, Texas
Replacing Christian Wilkins is a tall task. But the Dolphins are projected to have negative cap space in 2024. They already extended Zach Sieler — perhaps a hedging move in the event of a Wilkins departure.
Some divorces are inevitable, and if there was ever a year to move on from Wilkins, this year is it. One DT prospect in particular, who could help soften the blow, is Texas' Byron Murphy II — an emergent force in 2023.
At 6'1", 309 pounds, Murphy isn't quite as long as Wilkins, but he brings similar two-phase utility. With his frame density, natural leverage, and explosiveness, Murphy can clog gaps in run defense and prevent displacement.
Meanwhile, as a pass rusher, he's a multifaceted marauder with tenacious zeal, searing lateral twitch and burst, and hands like lead – maximized by a violent disposition.
Round 2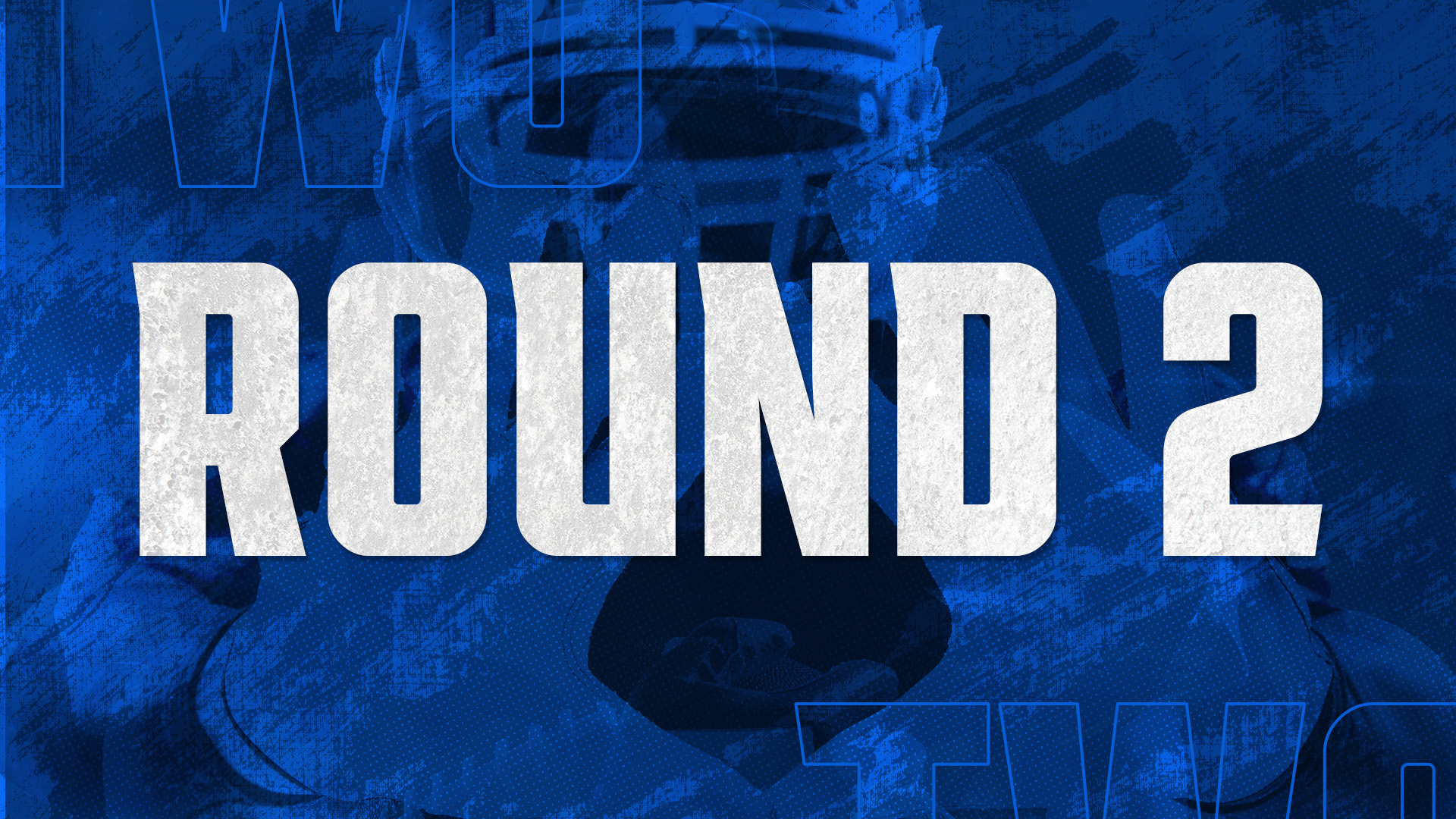 33) Chicago Bears: Tyleik Williams, DT, Ohio State
If you need any source material to support Tyleik Williams at the top of Round 2, just watch his game against Notre Dame. 315-pound defenders should not be as explosive and alignment-versatile as Williams is.
He has the get-off and point-of-contact strength to hold the line and encumber blocks at 0-tech and 1-tech, but he's also a dynamic rusher from 3-tech. Williams owns the lateral agility and forceful hands to capitalize on angle advantages.
34) Carolina Panthers: AD Mitchell, WR, Texas
AD Mitchell has been a breakout star for the Texas Longhorns, with 12 catches for 180 yards and three scores through four games. His 2024 NFL Draft profile might be even more exciting than his production indicates.
The 6'4″, 196-pound Mitchell is a sharp, nuanced route runner at his size, with the high-end burst to stack DBs, find separation, and capitalize with his coordination and contortion ability. To top it off, he's an elite blocker, too.
35) New Orleans Saints (From DEN): Kamren Kinchens, S, Miami (FL)
With turnover on the horizon at the safety position, the New Orleans Saints go out and grab Miami's Kamren Kinchens at the top of Round 2 in this 2024 NFL Mock Draft.
Kinchens, in some camps, is regarded as the best pure safety in the 2024 NFL Draft. At 6'0″, 205 pounds, he has the frame density and strength to enforce. But the brunt of his value comes from his range, playmaking ability, and instincts in two-high and singe-high.
36) Las Vegas Raiders: Bo Nix, QB, Oregon
The Raiders can't get out of Jimmy Garoppolo's contract before the 2025 offseason, but they can capitalize on a deep 2024 NFL Draft QB group and get a potential successor in place.
Bo Nix has proven over the past two years that he has the newfound accuracy and composure to operate in rhythm as a distributor. But he also has the high-energy athleticism, flexibility, arm talent, and off-script ability to add an extra dimension.
37) Arizona Cardinals: Denzel Burke, CB, Ohio State
Don't let the Round 2 capital fool you. Denzel Burke has played like a Round 1 cornerback in 2023. The 6'1″, 192-pound cornerback looks like his 2021 self with his playmaking ability on the ball, but he's also been measured and disciplined in man coverage and physical in support.
Burke has one of the most enticing length/explosiveness combinations in the 2024 NFL Draft CB class, and he helps re-work Arizona's CB room alongside Kei'Trel Clark.
38) Washington Commanders: Bralen Trice, EDGE, Washington
Bralen Trice's 2023 production hasn't come close to matching 2022, but he's quietly sustained his reputation as a pressure generator. And his nine sacks in 2022 did well to establish his case as an early-round 2024 NFL Draft prospect.
At 6'4″, 260 pounds, Trice has the size, length, and power to fit in Washington's four-man front. Individually, he has the burst, twitch, and heavy hands to outmatch blockers and stress QBs.
39) Indianapolis Colts: TreVeyon Henderson, RB, Ohio State
It's so fun to think about the possibilities with TreVeyon Henderson alongside Anthony Richardson in a Shane Steichen offense. It's almost too much fun. Forget the option looks and the misdirection.
Henderson is simply a speed freak at 5'10", 213 pounds. He can pummel defenders inside the box and in space with his physicality and forward-charging style, and he can also be employed laterally and vertically as a true receiving threat.
40) Green Bay Packers (From NYJ): J.T. Tuimoloau, EDGE, Ohio State
For as inspiring as J.T. Tuimoloau's pure playmaking instincts on the ball can be, his production to this point has underwhelmed. Nevertheless, if he lasts to Round 2, he's a tailor-made fit for the Packers' defense.
At 6'4″, 277 pounds, he fits their big EDGE mold to a tee, and he has legitimate burst and power capacity at that size. He needs more consistency as a pass rusher, but the high-end tools are there to build off of.
41) Minnesota Vikings: Will Shipley, RB, Clemson
The Minnesota Vikings thought they could keep a steady running game with Alexander Mattison and a strong OL. But this season has proven that maybe RBs do matter — a little bit.
The Vikings at least need more than replacement-level play. They get that and more with Will Shipley. The 5'11", 205-pound Shipley is a hyper-flexible congestion navigator with rare vision and freedom, and he's also an extremely nuanced, versatile receiver.
42) Houston Texans: Michael Hall Jr., DT, Ohio State
The Texans' defense is almost complete — but they could use more of a long-term presence on the interior defensive line. Michael Hall Jr. still experiences lapses in balance at times, but he's one of the most dynamic and violent defensive tackles in the 2024 NFL Draft.
Hall darts off the line with a wicked first step, and he has some of the most menacing torquing capacity in the class. At 6'2″, 290 pounds, he's built to be a block destroyer 1-on-1.
43) Atlanta Falcons: Xavier Worthy, WR, Texas
J.J. McCarthy has long been accustomed to working with speed. And in this 2024 NFL Mock Draft, he gets the fastest 2024 WR to join him, Bijan Robinson, and Drake London in Atlanta.
Xavier Worthy needs to cut down on focus drops, but his speed goes beyond the field-stretching level. He tears apart off-man and zone coverage with his long-strider range, and he also has the elasticity, throttle control, and stride freedom to separate as a route runner.
44) Tampa Bay Buccaneers: Cameron Ward, QB, Washington State
Thus far in 2023, Cameron Ward has completed almost 75% of his attempts at nearly 10 yards per attempt. He has 1,389 yards, 13 touchdowns, and no picks in four games. If he keeps playing like this, Round 1 is a definite possibility.
Early in Round 2, however, he's a perfect gamble for the Buccaneers, who could still use long-term security beyond Baker Mayfield. Ward's arm elasticity is rare, and his ball placement has been on another level.
45) Tennessee Titans: Cooper DeJean, CB, Iowa
Cooper DeJean isn't a picture-perfect fit for the Tennessee Titans' man-heavy scheme, but at this point in this 2024 NFL Mock Draft, he's just too good of a value to pass up. At 6'1″, 209 pounds, DeJean is always going to have a tiny bit of stiffness.
But for his size, he moves well laterally, gliding with receivers in off-man and side-saddle. His run-support ability and attacking versatility adds to his value for Mike Vrabel.
46) New York Giants: Rod Moore, S, Michigan
We haven't been able to see much of Rod Moore in 2023 because of an injury, but the Michigan safety remains an early-round 2024 NFL Draft prospect, even if his 2022 tape is all we have.
Moore is explosive, instinctive, versatile, and incredibly physical in both phases of the game. If the Giants lose Xavier McKinney in free agency, they'd do well to add a player like Moore, who can play single-high, two-high, and man coverage in the slot.
47) Pittsburgh Steelers: Zach Frazier, C, West Virginia
The Pittsburgh Steelers need a lot of things on the offensive side of the ball. But we can't address all of it with one pick. A big step in the right direction would be finding an upgrade at center. West Virginia's Zach Frazier would give them that.
Frazier has quietly been stellar in 2023. At 6'3″, 305 pounds, he's a low-cut, well-leveraged blocker with nimble mobility and hip freedom, and he's intelligent and assignment-sound as well.
48) New England Patriots: Barrett Carter, LB, Clemson
Weaponized by Bill Belichick's defense, Barrett Carter could truly be the steal of the 2024 NFL Draft in this mock. A fringe top-10 prospect overall on my board, Carter falls here due to positional value.
But the 6'1″, 225-pound LB can ultimately be a position-less dynamo in New England. He's a superlative athlete with maniacal energy in the box and also has the explosiveness, twitch, and technical feel to man up pass-catching weapons out of the slot.
49) Los Angeles Chargers: Ty'Ron Hopper, LB, Missouri
The Chargers have one of my favorite two-round hauls so far. Wiggins in Round 1 is a superb add, but Ty'Ron Hopper might be just as valuable in Round 2. Though he's a bit light at 6'2″, 221 pounds, Hopper is a multifaceted LB with sharp instincts and a lightning-quick trigger.
He surges through gaps and terrorizes ball carriers in pursuit, and he also has the free-flowing athleticism, spatial awareness, and eyes to make plays in coverage.
50) Los Angeles Rams: Ben Sinnott, TE, Kansas State
The name of the game is versatility in Sean McVay's offense. Just ask Cooper Kupp and Puka Nacua. Tyler Higbee was just extended, but he's getting older. The Rams can get a hyper-versatile TE in the 2024 NFL Draft with Kansas State's Ben Sinnott.
Sinnott is an urgent, capable blocker from all alignments — even H-back. And as a receiver, he has a fully functioning route tree, great explosiveness and change of direction, RAC ability, and sturdy hands.
51) Green Bay Packers: Tyler Nubin, S, Minnesota
The Packers have two starting safeties scheduled for free agency, and it's unlikely they bring back both. Green Bay can hedge for this loss — and potentially even upgrade — by adding Tyler Nubin from Minnesota.
At 6'2″, 205 pounds, Nubin has the size, explosiveness, angle IQ, and tackling ability to provide value in support. But he's also a fluid and natural cover man with a smooth pedal, sharp zone instincts, and stellar ball skills.
52) Philadelphia Eagles (From NO): Malachi Corley, WR, Western Kentucky
The Eagles' offense is already potent in both the run game and the pass game with Jalen Hurts, D'Andre Swift, A.J. Brown, and DeVonta Smith. Malachi Corley adds an entirely new dimension to that, and he could even blur the lines between the run and the pass.
As an elite RAC threat with searing speed and contact balance at 5'10", 210 pounds, Corley can take a variety of schemed touches in the short range and turn them into big plays.
53) Cleveland Browns: Leonard Taylor III, DT, Miami (FL)
Though his production hasn't quite taken off in 2023, Leonard Taylor III has early-round tools in the 2024 NFL Draft. Few defensive tackles are as lean and efficiently built as he is at 6'3″, 300 pounds.
He's quick off the line and sustains his energy through contact, and he also has the natural leverage, block-recognition ability, and strength to pry through minute gaps in the blocking front. His two-phase upside at 3-tech is particularly alluring.
54) Jacksonville Jaguars: Graham Barton, G, Duke
Graham Barton could play either tackle or guard at the next level, but on my board, he projects as one of the better guard prospects in the 2024 NFL Draft.
His arm length could contribute to a move inside, but Barton also projects extremely well on the interior with his explosiveness, hyperactive leg drive, strength, and physicality at around 6'5″, 315 pounds. And on top of all that, he's a skilled hand fighter with good leverage maintenance.
55) Cincinnati Bengals: McKinnley Jackson, DT, Texas A&M
The Bengals have the cap space to retain D.J. Reader if they so pleased, but it might be time to go younger at nose tackle. They'll need to pair McKinnley Jackson with a disruptor, but Jackson himself has eye-catching disruption ability as a 6'2″, 325-pound lineman at 0-tech and 1-tech.
He's unnaturally quick and energetic off the line, bringing the strength to stack, shed, and encumber blocks, as well as the motor to pressure up the middle.
56) Seattle Seahawks: Cooper Beebe, G, Kansas State
For his utility as a versatile lineman alone, Cooper Beebe shouldn't last to Day 3. He's played everywhere but center in his collegiate career. Still, the 6'4″, 334-pound blocker translates best at guard.
In Seattle, he'd have a chance to start early. He's mobile enough to get out in space and punish linebackers with his power and strength. In pass protection, he walls off his gaps with good awareness, proactive hands, and a steady base.
57) Baltimore Ravens: Laiatu Latu, EDGE, UCLA
No one faults the Ravens for investing in the tools of Odafe Oweh and David Ojabo. But to this point, both are high-level athletes with underwhelming production.
To tip the scales, the Ravens can add UCLA's Laiatu Latu. Latu doesn't quite have the elite speed or bend of either player, but at 6'4″, 265 pounds, he's a well-built EDGE with enough ankle flexion and burst to pry around blocks. His active, surgical hands allow him to stay productive.
58) Philadelphia Eagles: Jordan Jefferson, DT, LSU
LSU's defensive line is a hotbed for NFL talent, but one DT prospect who hasn't gotten enough buzz to this point is West Virginia transfer Jordan Jefferson.
Jefferson had three sacks and 9.5 TFLs with the Mountaineers in 2022, and in four games in 2023, he has a sack and 2.5 TFLs. Jefferson is insanely explosive at 6'4″, 317 pounds. His sheer burst warps blocking fronts right off the snap, and he has the torque to build off of that as well.
59) Detroit Lions: Troy Fautanu, G, Washington
The Lions would be well-served to bring back Jonah Jackson if they can, but odds are, they'll have to find a replacement for one of their starting guards in the 2023 offseason.
At 6'4″, 317 pounds, Troy Fautanu profiles well here. Fautanu has played tackle before, but he can be another Day 2 gem for the Lions on the interior. He's a stellar athlete with great foot speed and base recalibration, going along with stifling torque and active hands.
60) Buffalo Bills: Adisa Isaac, EDGE, Penn State
Adisa Isaac still has more work to do refining his pass-rushing pallet, but his complete amalgamation of physical tools is well worth the investment for the Buffalo Bills.
At around 6'4″, 245 pounds, Isaac can be overwhelming with his power output — a derivation of his explosiveness and length. He also has good bend and agility, and his motor allows him to work through second and third-effort attempts, as well as play in pursuit.
61) Dallas Cowboys: Trey Benson, RB, Florida State
It was prudent of the Cowboys to keep Tony Pollard for 2023, but it's unclear if he'll remain past this year. The cycle of value acquisition at RB should continue with a new rookie contract in the 2024 NFL Draft.
In this mock, Trey Benson is the pick. At 6'1″, 225 pounds, Benson has the vertical speed and contact balance to both generate big plays and carry volume, and he's quietly an exceptional receiver beyond his early-down ability.
62) Kansas City Chiefs: Max Melton, CB, Rutgers
The Chiefs' cap problems may prevent them from retaining L'Jarius Sneed. If that's the case, they'll need to find new talent in the 2024 NFL Draft. Max Melton still has room to improve his discipline in man coverage, and he can tugged off his center of gravity by lateral moves.
Nevertheless, Melton has truly impressive recovery speed and burst at 6'0″, 190 pounds, and he's a playmaker — he had two picks and 10 pass breakups in 2022.
63) San Francisco 49ers: Blake Fisher, OT, Notre Dame
Though he hasn't been at Alt's level — that's a high bar to clear — Blake Fisher has visibly improved as Notre Dame's right tackle in 2023. Fisher is an extremely powerful blocker at 6'6″, 312 pounds, who can dislodge defenders from gaps with his explosiveness, force load, and tenacious edge.
He still experiences lapses with his footwork and balance in pass protection, but he's trending up, and his people-moving ability is what the 49ers need.
64) Miami Dolphins: Christian Haynes, G, UConn
With Robert Hunt, Robert Jones, and Isaiah Wynn all set to hit free agency in 2024, the Dolphins will have some turnover to weather at guard. Christian Haynes, with his people-moving propensity, would be an excellent addition.
At 6'2″, 313 pounds, Haynes has the lower-body explosiveness and punishing power to plow defenders out of gaps early in reps, allowing Raheem Mostert and De'Von Achane to take advantage with their speed.
Round 3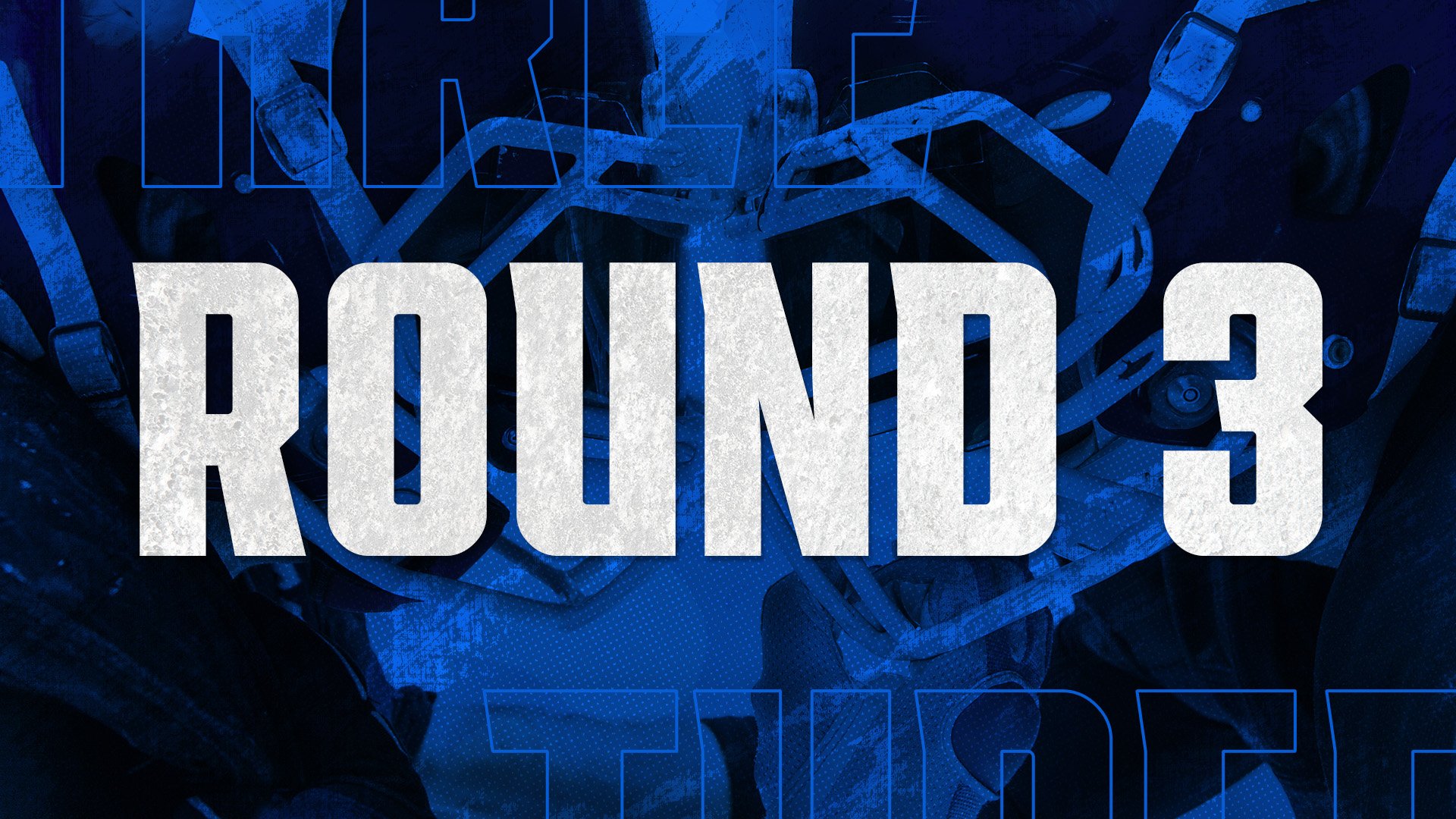 65) Chicago Bears: Jasheen Davis, EDGE, Wake Forest
In 27 games played since 2021, Jasheen Davis has 17 sacks and 28.5 tackles for loss, and he's one of the leading sack-getters so far in 2023. He's a twitched-up, relentless rusher at 6'3″, 255 pounds, who can channel his energy and burst into devastating power at contact.
66) Carolina Panthers: Terrion Arnold, CB, Alabama
Redshirt sophomore Terrion Arnold took his lumps early on in 2023, but he's quickly found his stride with a pick and five deflections in four games. At 6'0″, 196 pounds, Arnold has the accelerative capacity, fluidity, and ball skills to be one of the best CBs in the 2024 class.
67) Seattle Seahawks (From DEN): Jeremiah Trotter Jr., LB, Clemson
Jeremiah Trotter Jr. has always been one of the best 2024 LBs when it comes to navigating congestion and combating blocks. But this year, he's given us even more to be excited about with his blitzing ability. He's a stellar value addition for the Seahawks at this point.
68) Las Vegas Raiders: Kris Jenkins, DT, Michigan
For too long, the Las Vegas Raiders' interior defensive line has been a void for game-changing talent. That changes in this 2024 NFL Mock Draft. Kris Jenkins has the size at 6'3″, 305 pounds, and he adds on effervescent twitch, violent hands, and torque.
69) Arizona Cardinals: Dontay Corleone, DT, Cincinnati
Dontay Corleone is one of the most compelling nose tackle prospects in the 2024 NFL Draft. At 6'2″, 318 pounds, he's extremely strong and well-built. With leverage and length on his side, he has enough juice and power load to be a pass-rushing threat.
70) Washington Commanders: Ja'Tavion Sanders, TE, Texas
Ja'Tavion Sanders has been a tremendous big-play threat for Texas this season, but it's even more fun to imagine him in Eric Bieniemy's offense. The 6'4″, 256-pound TE has stellar RAC ability and can win 50-50 balls up the seam with his coordination, too.
71) Indianapolis Colts: Ruke Orhorhoro, DT, Clemson
The production hasn't yet followed for Ruke Orhorhoro in 2023, but he has the high-end tools worth investing in with early-round capital. At 6'4″, 300 pounds, he's extremely explosive and alignment-versatile, and he's still relatively new to the game of football.
72) New York Jets: Quinn Ewers, QB, Texas
If Aaron Rodgers returns as promised, the Jets can draft his potential successor in the Day 2 range. Quinn Ewers does bear some similarities to Zach Wilson, but his improvements with pocket management, discipline, and deep ball placement in 2023 provide optimism.
73) Detroit Lions (From MIN): Keith Randolph Jr., DT, Illinois
Newton is the big-ticket item on Illinois' defense, but his fellow DT prospect Keith Randolph Jr. grades out as a Day 2 talent on my board. He has a very appealing power profile at 6'5″, 300 pounds, and he'd be a versatile complement to Alim McNeill in Detroit.
74) Arizona Cardinals (From HOU): Mekhi Wingo, DT, LSU
Okay, Cardinals fans. You have a space-eater in Corleone. Now, imagine a 6'1″, 275-pound turbocharged wrecking ball rushing alongside him. Mekhi Wingo's instant burst, combined with his leverage, puts blockers in a bind.
75) Atlanta Falcons: Quinyon Mitchell, CB, Toledo
Down the line, this might be far too low for Quinyon Mitchell. In his last 18 games played since the start of 2022, he has five interceptions and 25 pass breakups. At 6'0″, 200 pounds, he has an elite combination of recovery speed and playmaking ability.
76) Tampa Bay Buccaneers: Raheim Sanders, RB, Arkansas
An injury has prevented Raheim Sanders from seeing the field much this year, but when he does see the field, he's a revelation. 6'2″, 245-pound backs shouldn't be able to move with Sanders' speed and quickness, and he has the most unrelenting physicality in this class.
77) Arizona Cardinals (From TEN): Brandon Dorlus, EDGE, Oregon
A talent like Brandon Dorlus could be an invaluable addition for scheme flexibility in the early days of Jonathan Gannon's transition. The 6'3″, 285-pound Dorlus can disrupt from interior and exterior alignments with his heavy hands, power, agility, and motor.
78) New York Giants: Bucky Irving, RB, Oregon
RBs in the modern era don't need to be 220 pounds. True dynamic ability, regardless of size, is tough to replicate, and Bucky Irving has it. He moves at a different pace with his burst and change of direction, and his refusal to go down at first contact is exhilarating.
79) Pittsburgh Steelers: Tyler Guyton, OT, Oklahoma
Dan Moore Jr. and Chukwuma Okorafor have been starting for Pittsburgh, but neither should be in the team's long-term vision. Broderick Jones is the LT in 2024, and Tyler Guyton can man the RT spot with his size, balance, patience, and hinge flexibility.
80) New England Patriots: Jordan Morgan, OT, Arizona
A torn ACL suffered in 2022 may have slightly delayed Jordan Morgan's technical development, but he's back in 2023 and still looks incredibly mobile and light-footed at 6'5″, 325 pounds. He'll be a great investment for the Patriots 1-2 years down the road.
81) Los Angeles Chargers: Calen Bullock, S, USC
JT Woods was a good addition in theory, but that theory might be better applied for the Chargers with Calen Bullock. The 6'3″ Bullock combines speed, length, transitioning freedom, and instincts to grant himself dangerous range as a center-field playmaker.
82) Los Angeles Rams: Zak Zinter, G, Michigan
The Rams have a long-term starting LG in Steve Avila. Now, it's time to complete the tandem with Zak Zinter. At 6'6″, 322 pounds, Zinter has great size and length, but he's also a mobile, flexible, and assignment-sound blocker whose awareness underpins his game.
83) Green Bay Packers: Audric Estimé, RB, Notre Dame
After four weeks, Audric Estimé is college football's rushing leader with 591 yards on 77 carries. He has the size and contact balance to succeed AJ Dillon at 5'11", 227 pounds, but Estimé also quietly has stellar vision inside the tackles and a legitimate receiving feel.
84) Denver Broncos (From NO): Cole Bishop, S, Utah
If the Broncos let Kareem Jackson go in free agency, Cole Bishop would be a worthy successor. The 6'2″, 205-pound Bishop is a professional attacker downhill who combats blocks and finishes tackles. And on top of that, he's a ball hawk in intermediate coverage.
85) Cleveland Browns: Omar Speights, LB, LSU
Set to lose Anthony Walker Jr. and Sione Takitaki, the Browns can re-up — and upgrade — with Omar Speights. The rocked-up 6'1″, 237-pound Speights has a complete two-phase profile, boasting gap discipline, strength, closing speed, and keen eyes.
86) Jacksonville Jaguars: Roman Wilson, WR, Michigan
One month into the 2023 campaign, Roman Wilson has 268 yards and a whopping six touchdowns. His 4.3 speed and curvilinear acceleration at 6'0″, 192 pounds — traits reminiscent of Chris Olave — allow him to carve through zones and find space to work.
87) Cincinnati Bengals: Jalen McMillan, WR, Washington
For a team like Cincinnati, with potential movement on the way at WR, it makes sense to get a "QB's best friend" type of WR like Jalen McMillan. McMillan is explosive enough and flexible enough at 6'1″, 192 pounds, but he sustainably wins with his routes and his hands.
88) Seattle Seahawks: Benjamin Yurosek, TE, Stanford
Through four games in 2023, Stanford's Benjamin Yurosek has 15 catches for 227 yards and a score, and he's fielded six carries. A sleeper in the 2024 NFL Draft, Yurosek brings a unique kind of versatility to the TE position with his gliding speed and catching instincts.
89) Baltimore Ravens: Jowon Briggs, DT, Cincinnati
Jowon Briggs gets overlooked at times in a stacked 2024 NFL Draft DT class, but he's one of the most exciting disruptors to watch on tape. The 6'2″, 297-pound Briggs explodes off the snap and packs a massive punch at contact. Alongside Travis Jones, he'd be a force.
90) Houston Texans (From PHI): Jaylan Ford, LB, Texas
In this 2024 NFL Mock Draft, Jaylan Ford stays in Texas, and the Houston Texans couldn't be happier. Alongside tackling machine Henry To'oTo'o, Ford has the explosive athleticism, coverage IQ, playmaking ability, and blitzing prowess to be a truly completing piece.
91) Detroit Lions: Ja'Lynn Polk, WR, Washington
Set to lose Marvin Jones after this year, the Lions could add a similar complementary weapon alongside Jameson Williams and Amon-Ra St. Brown with Ja'Lynn Polk. The 6'2″, 204-pound WR has the speed to warp man coverages, and he's a stellar hands-catcher.
92) Buffalo Bills: Joshua Farmer, DT, Florida State
Though he's just a redshirt sophomore, Joshua Farmer has opened eyes in 2023. At 6'3″, 311 pounds, he has the size, length, and strength to encumber gaps from central alignments. But he's also extremely explosive and powerful as a pass-rushing threat.
93) Dallas Cowboys: Kiran Amegadjie, OT, Yale
Early-round FCS prospects need to look dominant against their competition. Kiran Amegadjie does. He's still a bit raw with his technique, but he rivals the top Power Five talents with his explosiveness, power, flexibility, and tenacity at 6'5″, 320 pounds.
94) Kansas City Chiefs: Xavier Legette, WR, South Carolina
Nothing to see here: Just a 6'3″, 220-pound speed demon with the catch radius of an albatross joining up with Patrick Mahomes and Andy Reid in Kansas City. Xavier Legette has played his way into early-round range in 2023, and he has the elite tools to match.
95) San Francisco 49ers: Davin Vann, DL, NC State
Over his last 17 games, NC State's Davin Vann has 6.5 sacks and 10 tackles for loss. The sawed-off 6'2″, 280-pound defensive lineman can play from a host of different alignments, and his energy, power, and motor would all be maximized by Kris Kocurek in San Francisco.
96) San Francisco 49ers: Josh Simmons, OT, Ohio State
The 49ers added a new RT in Round 2, but they also need to prepare for an eventual change at LT as Trent Williams ages. Josh Simmons has quietly been good in 2023, and he has the burst, recovery capacity, length, and mauling ability worth investing in.
Round 4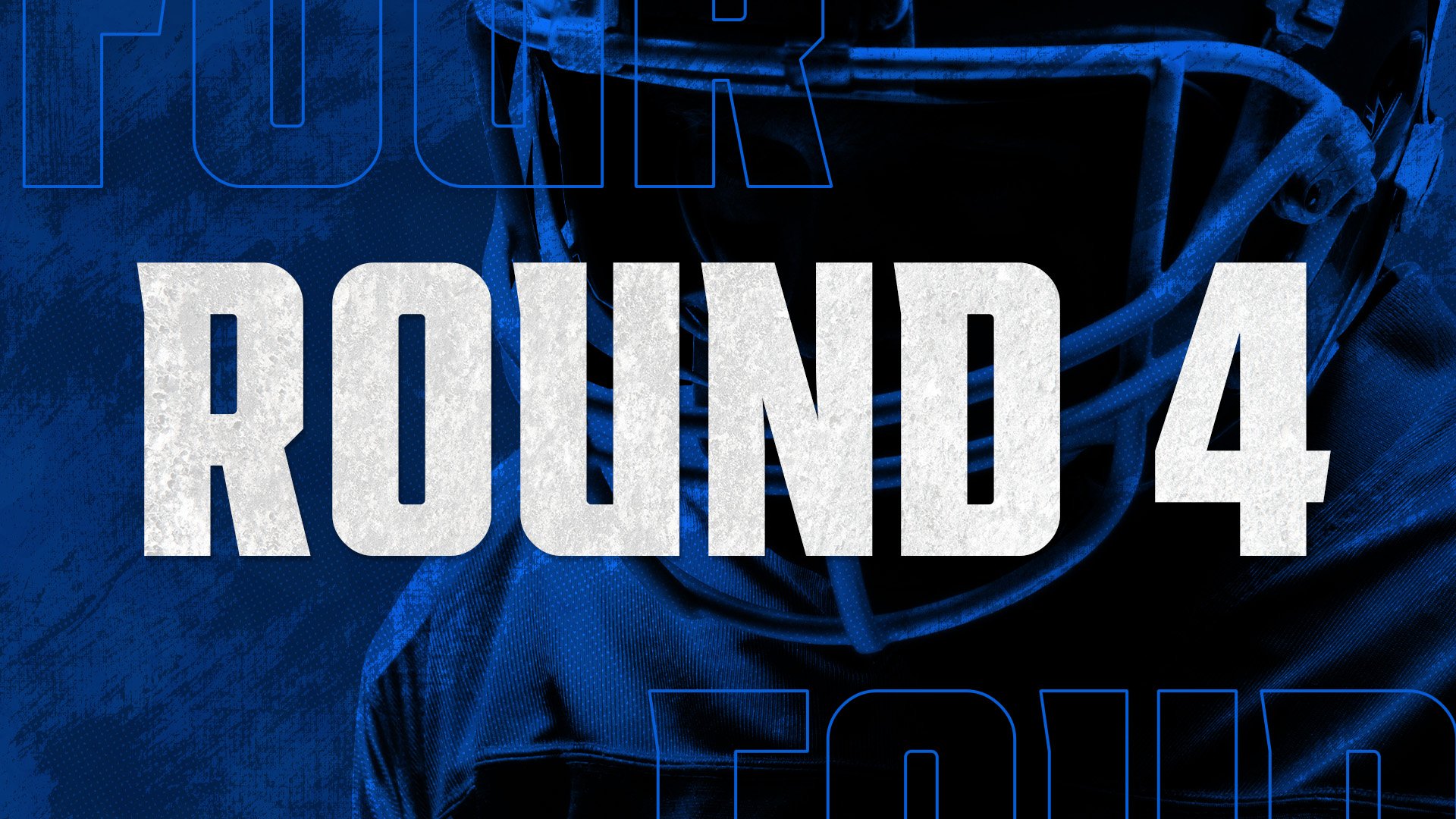 97) Chicago Bears
Tyler Baron, DL, Tennessee
98) Carolina Panthers
Xavier Thomas, EDGE, Clemson
99) New York Jets (From DEN)
Jaden Hicks, S, Washington State
100) Las Vegas Raiders
Kris Abrams-Draine, CB, Missouri
101) Arizona Cardinals
Curtis Jacobs, LB, Penn State
102) Washington Commanders
James Williams, S/LB, Miami (FL)
103) Indianapolis Colts
T'Vondre Sweat, DT, Texas
104) New York Jets
Tory Horton, WR, Colorado State
105) Minnesota Vikings
Fabien Lovett, DT, Florida State
106) Houston Texans
Will Sheppard, WR, Vanderbilt
107) Atlanta Falcons
Darius Robinson, DL, Missouri
108) Tampa Bay Buccaneers
Tommy Eichenberg, LB, Ohio State
109) Tennessee Titans
Tahveon Nicholson, CB, Illinois
110) New York Giants
DeWayne Carter, DT, Duke
111) Pittsburgh Steelers
Jalon Daniels, QB, Kansas
112) New England Patriots
Riley Leonard, QB, Duke
113) Los Angeles Chargers
Blake Watson, RB, Memphis
114) Los Angeles Rams
Jack Nelson, OT, Wisconsin
115) Green Bay Packers
Beau Brade, S, Maryland
116) Jacksonville Jaguars (From NO)
Jordan Burch, DL, Oregon
117) Houston Texans (From CLE)
D.J. James, CB, Auburn
118) Atlanta Falcons (From JAX)
Donovan Edwards, RB, Michigan
119) Cincinnati Bengals
Tyler Davis, DT, Clemson
120) Seattle Seahawks
Spencer Rattler, QB, South Carolina
121) Baltimore Ravens
Layden Robinson, G, Texas A&M
122) Chicago Bears (From PHI)
Josh Newton, CB, TCU
123) Minnesota Vikings (From DET)
Jack Sawyer, EDGE, Ohio State
124) Buffalo Bills
Hudson Clark, S, Arkansas
125) Dallas Cowboys
Shemar Turner, DL, Texas A&M
126) Kansas City Chiefs
Matt Goncalves, OT, Pittsburgh
127) San Francisco 49ers
Cedric Gray, LB, North Carolina
128) Denver Broncos (From MIA)
Jamari Thrash, WR, Louisville
Round 5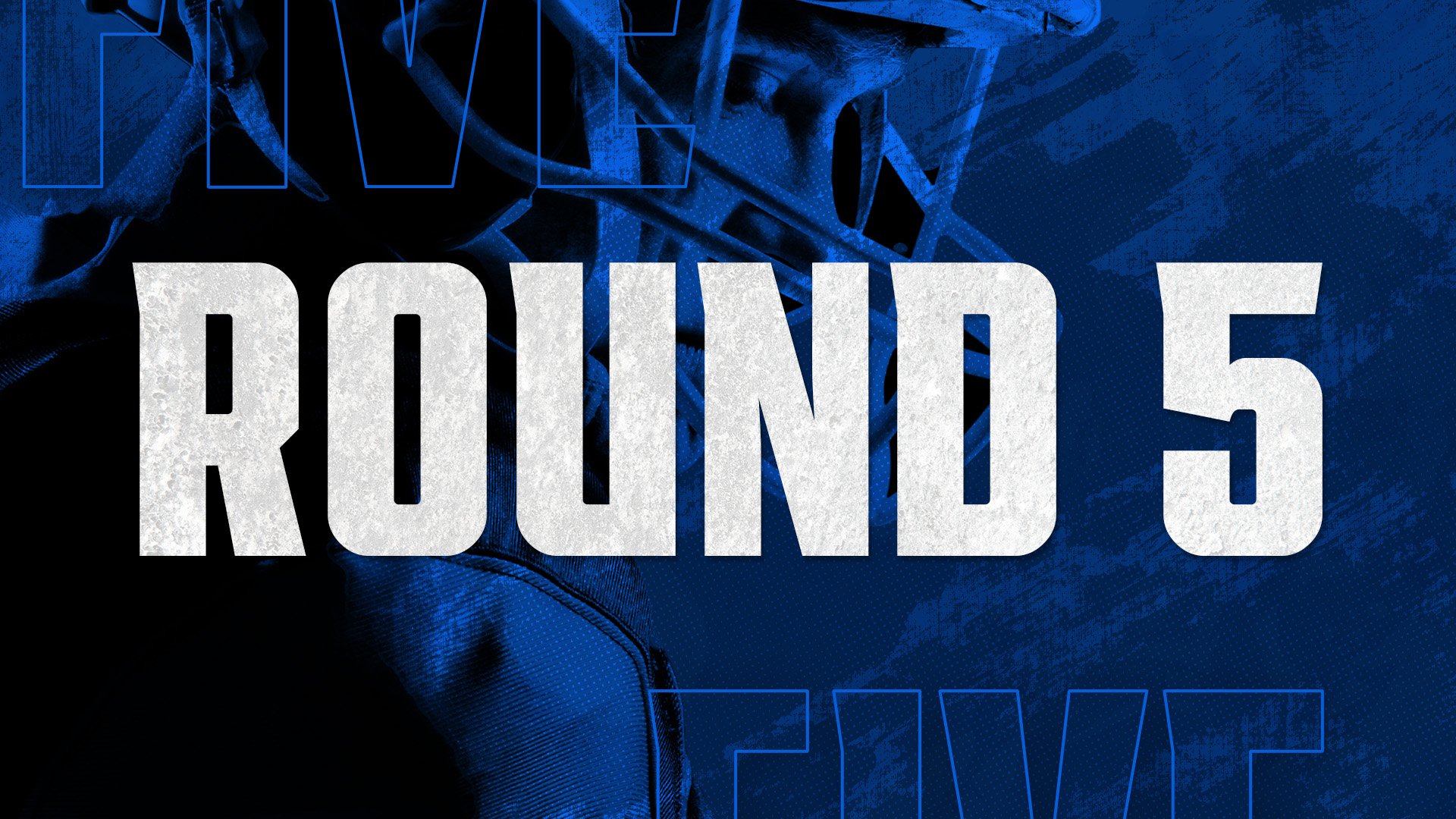 129) Chicago Bears
Tanor Bortolini, OL, Wisconsin
130) Cleveland Browns (From DEN)
Brenden Rice, WR, USC
131) Denver Broncos
Jordan Travis, QB, Florida State
132) Las Vegas Raiders
Thor Griffith, DT, Harvard
133) Arizona Cardinals
Isaiah Adams, G, Illinois
134) Washington Commanders
Ajani Cornelius, OT, Oregon
135) Indianapolis Colts
Tykee Smith, DB, Georgia
136) Denver Broncos (From NYJ)
Jason Marshall Jr., CB, Florida
137) Philadelphia Eagles (From MIN)
Aaron Casey, LB, Indiana
138) Arizona Cardinals (From HOU)
Jaylin Noel, WR, Iowa State
139) Atlanta Falcons
Braden Fiske, DT, Florida State
140) Philadelphia Eagles (From TB)
Mike Sainristil, DB, Michigan
141) Carolina Panthers (From TEN)
Antwane Wells Jr., WR, South Carolina
142) New York Giants
J. Michael Sturdivant, WR, UCLA
143) Pittsburgh Steelers
Thomas Harper, DB, Notre Dame
144) New England Patriots
Jared Brown, WR, Coastal Carolina
145) Los Angeles Chargers
Ashton Gillotte, EDGE, Louisville
146) Los Angeles Rams
James Thompson Jr., DT, Wisconsin
147) Green Bay Packers
Khyree Jackson, CB, Oregon
148) New Orleans Saints
Sebastian Castro, DB, Iowa
149) Minnesota Vikings (From CLE)
Ty Hamilton, DT, Ohio State
150) Jacksonville Jaguars
Daequan Hardy, DB, Penn State
151) Cincinnati Bengals
Zy Alexander, CB, LSU
152) Seattle Seahawks
David Gbenda, LB, Texas
153) Baltimore Ravens
Tyreek Chappell, CB, Texas A&M
154) Arizona Cardinals (From PHI)
Danny Striggow, EDGE, Minnesota
155) Detroit Lions
Andre Carter, EDGE, Indiana
156) Buffalo Bills
Braelon Allen, RB, Wisconsin
157) Kansas City Chiefs (From DAL)
Devin Neal, RB, Kansas
158) Minnesota Vikings (From KC)
Kamari Lassiter, CB, Georgia
159) Carolina Panthers (From SF)
Brevyn Spann-Ford, TE, Minnesota
160) Miami Dolphins
Malik Mustapha, S, Wake Forest
Round 6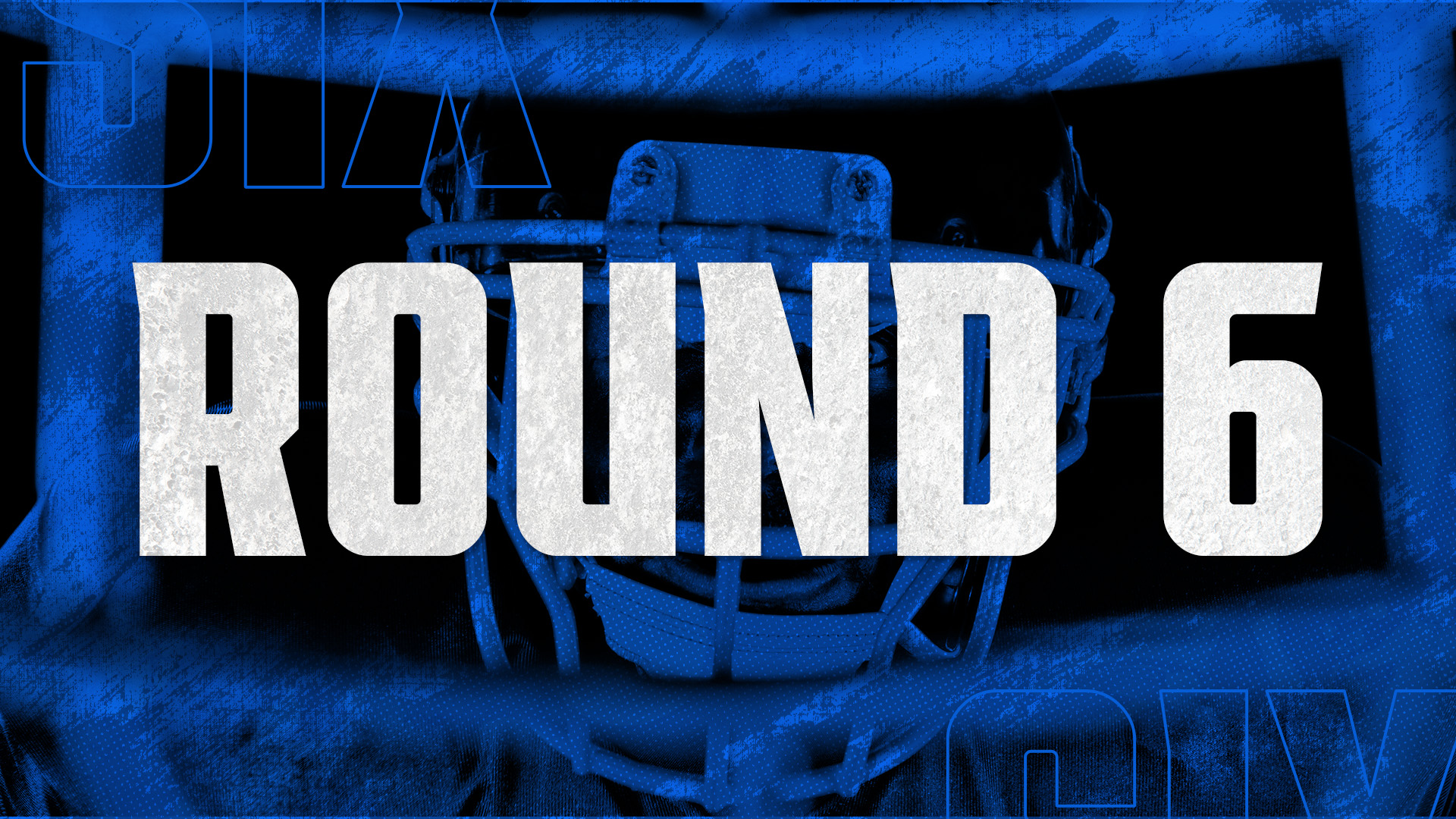 161) Miami Dolphins (From CHI)
Nazir Stackhouse, DT, Georgia
162) Jacksonville Jaguars (From CAR)
Michael Pratt, QB, Tulane
163) Los Angeles Rams (From DEN)
Xavier Weaver, WR, Colorado
164) New England Patriots (From LV)
Blake Corum, RB, Michigan
165) Carolina Panthers (From ARI)
Kyler Baugh, DT, Minnesota
166) Washington Commanders
Justin Walley, CB, Minnesota
167) Indianapolis Colts
Steve Linton, EDGE, Texas Tech
168) New York Jets
Sataoa Laumea, OT, Utah
169) Minnesota Vikings
Nate McCollum, WR, North Carolina
170) Cleveland Browns (From HOU)
Daylan Dotson, EDGE, UT Martin
171) Atlanta Falcons
Cornelius Johnson, WR, Michigan
172) Tampa Bay Buccaneers
Beaux Limmer, C, Arkansas
173) Philadelphia Eagles (From TEN)
Jaheim Bell, TE, South Carolina
174) New York Giants
Brandon Coleman, G, TCU
175) Pittsburgh Steelers
Tim Smith, DT, Alabama
176) New England Patriots
Pryce Yates, EDGE, UConn
177) Los Angeles Chargers
Cade Stover, TE, Ohio State
178) Buffalo Bills (From LAR)
Eric Phillips, DT, Cincinnati
179) Green Bay Packers
Joshua Gray, OL, Oregon State
180) New Orleans Saints
Collin Oliver, OLB, Oklahoma State
181) Atlanta Falcons (From CLE)
Jamon Dumas-Johnson, LB, Georgia
182) Jacksonville Jaguars
Patrick Paul, OT, Houston
183) Cincinnati Bengals
Jalin Conyers, TE, Arizona State
184) Seattle Seahawks
Colbie Young, WR, Miami (FL)
185) Cleveland Browns (From BAL)
Drake Nugent, C, Michigan
186) New Orleans Saints (From PHI)
T.J. Tampa, CB, Iowa State
187) Detroit Lions
Omari Thomas, DT, Tennessee
188) Buffalo Bills
Duce Chestnut, CB, LSU
189) Buffalo Bills (From DAL)
Will Howard, QB, Kansas State
190) Kansas City Chiefs
Jayden Daniels, QB, LSU
191) San Francisco 49ers
Alfred Collins, DT, Texas
192) Miami Dolphins
Ahmari Huggins-Bruce, WR, Louisville
Round 7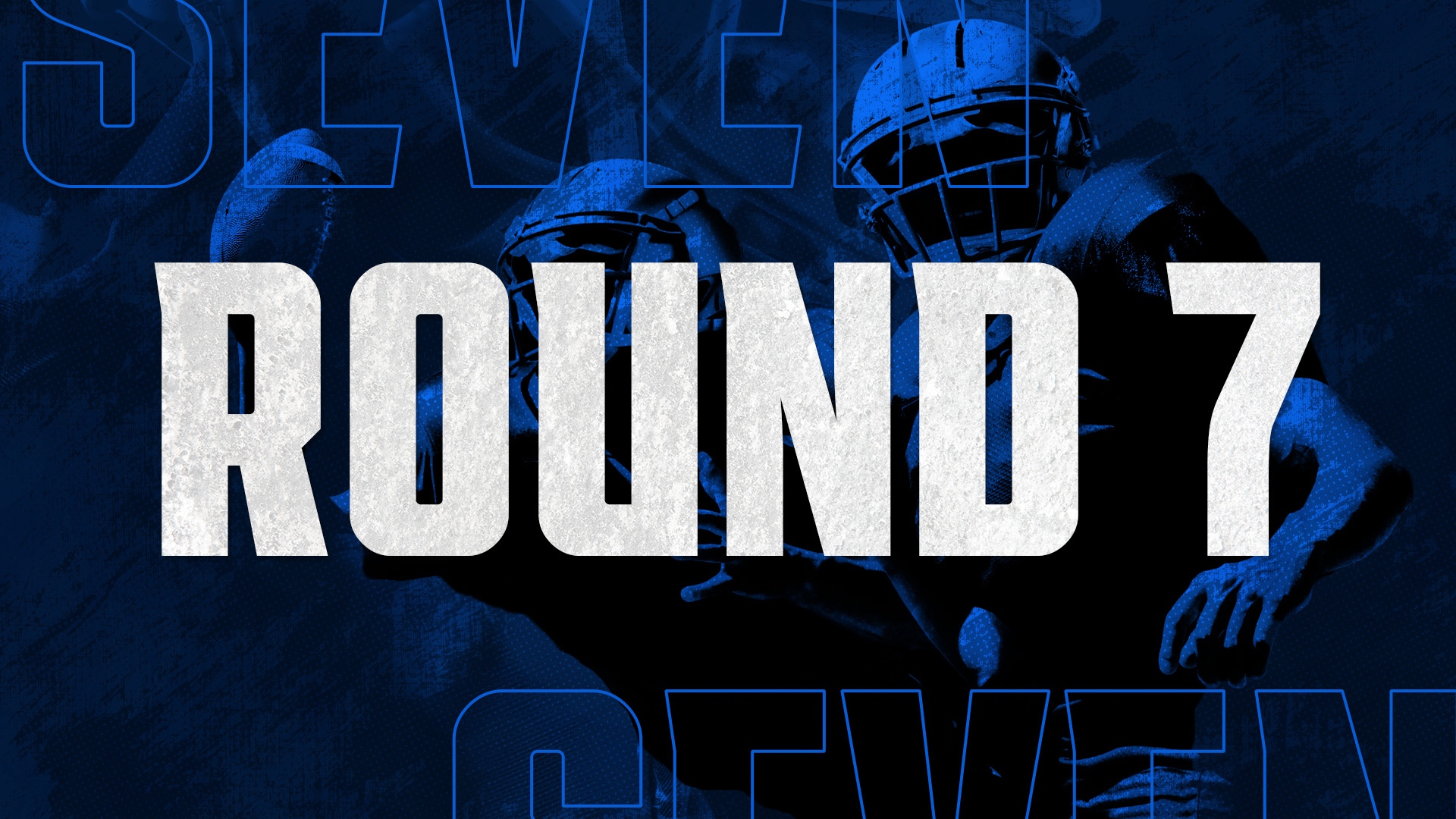 193) New England Patriots (From CHI)
Myles Harden, DB, South Dakota
194) Tennessee Titans (From CAR)
Danny Stutsman, LB, Oklahoma
195) Denver Broncos
Gabe Hall, DT, Baylor
196) Dallas Cowboys (From LV)
Jay Stanley, S, Southern Miss
197) Houston Texans (From ARI)
Kameron Butler, EDGE, Virginia
198) Washington Commanders
Ladd McConkey, WR, Georgia
199) Indianapolis Colts
Johnny Wilson, WR, Florida State
200) Baltimore Ravens (From NYJ)
Junior Colson, LB, Michigan
201) Las Vegas Raiders (From MIN)
Erick All, TE, Iowa
202) Houston Texans
Gavin Bartholomew, TE, Pittsburgh
203) Cleveland Browns (From ATL)
Trey Knox, TE, South Carolina
204) Tampa Bay Buccaneers
Justin Eboigbe, DT, Alabama
205) Las Vegas Raiders (From TEN)
Will Putnam, C, Clemson
206) Arizona Cardinals (From NYG)
Jo'Quavious Marks, RB, Mississippi State
207) Pittsburgh Steelers
Sean Martin, DL, West Virginia
208) Las Vegas Raiders (From NE)
MarShawn Lloyd, RB, USC
209) Los Angeles Chargers
Tyler Van Dyke, QB, Miami (FL)
210) Denver Broncos (From LAR)
Patrick Jenkins, DL, Tulane
211) Green Bay Packers
David Walker, DL, Central Arkansas
212) Houston Texans
Ricky Barber, DT, UCF
213) Cleveland Browns
Dylan Laube, RB, New Hampshire
214) Jacksonville Jaguars
Tyreem Powell, LB, Rutgers
215) Cincinnati Bengals
Tonka Hemingway, DT, South Carolina
216) Seattle Seahawks
Deontae Craig, EDGE, Iowa
217) Baltimore Ravens
Jordan Watkins, WR, Ole Miss
218) Tennessee Titans (From PHI)
Brian Thomas Jr., WR, LSU
219) Detroit Lions
Justin Harris, CB, Cincinnati
220) Buffalo Bills
Mike Novitsky, C, Kansas
221) Dallas Cowboys
Ja'Quan Sheppard, CB, Maryland
222) Houston Texans (From KC)
Jared Wiley, TE, TCU
223) San Francisco 49ers
Micah Abraham, DB, Marshall
224) Miami Dolphins
Jarius Monroe, CB, Tulane
Listen to the PFN Scouting Podcast
Listen to the PFN Scouting Podcast! Click the embedded player below to listen, or you can find the PFN Scouting Podcast on iTunes, Spotify, and all major podcast platforms.  Be sure to subscribe and leave us a five-star review! Rather watch instead? Check out the PFN Scouting Podcast on our Scouting YouTube channel.