The value of an elite offensive tackle can be indescribable for an offense, and the 2024 group might have several in that tier. As we enter the 2024 NFL Draft cycle, who are the top 10 OTs in the class?
These OT position rankings provide an early glimpse into a group that has the top-end talent to allure evaluators and onlookers alike.
Ranking the OTs in the 2024 NFL Draft
The 2023 NFL Draft brought us a formidable group of tackle prospects, with Paris Johnson Jr., Anton Harrison, Darnell Wright, Broderick Jones, and Dawand Jones leading the way. On the surface, it's a lot for the 2024 NFL Draft OT class to match up to.
But after further study, the 2024 class might end up being better — and by a substantial margin. The 2024 NFL Draft already has a group of three prospects at the top with arguable blue-chip upside and droves of potential starters beyond that tier.
It's tough to limit ourselves to 10 prospects without leaving someone out. But in such a restrictive exercise, who are the prospects who earn those coveted spots?
10) Reuben Fatheree II, Texas A&M
The 2024 NFL Draft offensive tackle class is incredibly deep — deep enough that there were at least a half-dozen prospects in consideration for this 10th spot. But after careful deliberations from the scouting team, we settled on Texas A&M's Reuben Fatheree II for the final spot on our updated OT rankings.
Fatheree is a former four-star recruit who's been the Aggies' starting right tackle for almost the entirety of his two-year career. At 6'8″, 330 pounds, he towers over the opposition and is a refrigerator as a space blocker with his overwhelming power drive.
At the same time, Fatheree offers very good mobility and flexibility for his size, and there's an impressive technical feel present for a player of his age.
9) Jack Nelson, Wisconsin
Wisconsin has been one of the nation's most consistent OL talent producers in the 21st century, laying claim to starting NFL tackles such as Ryan Ramczyk, Rob Havenstein, and newly-anointed Hall of Famer Joe Thomas.
Suffice to say, the Badgers' track record is strong, and they may produce another NFL-caliber tackle this cycle in Jack Nelson.
At 6'7″, 305 pounds, getting stronger at the point of attack is a necessity for Nelson — but he has a tantalizing physical foundation. He's a long, lean blocker who moves with energy in all modes. He's extremely physical and tenacious all the way to the whistle, and his flexibility is a hyper-elite trait, up near Joe Alt's as some of the best in the entire class.
8) Jordan Morgan, Arizona
Jordan Morgan had his eyes on the 2023 NFL Draft, and he could have been a fairly high pick. He's 6'6″, 320 pounds, a high-energy athlete, and was a first-team All-Pac-12 performer. But a torn ACL suffered in mid-November delayed Morgan's professional track. He now returns to the Wildcats in 2023, hoping to gain ground on the path to the NFL.
The biggest question with Morgan is whether or not he can get back to 100%. If he can, he's a surefire candidate to be an early-round prospect. Morgan is a fleet-footed, synergetic pass blocker with a rare mix of size and mobility. He can process stunts, keep his hands tight, and cover expansive gaps quickly with his recovery athleticism.
7) Matt Goncalves, Pittsburgh
The Pittsburgh Panthers produced a quality offensive tackle prospect in the 2023 NFL Draft with Carter Warren (Round 4), and their next tackle in the pipeline — Matt Goncalves — could go even higher.
Goncalves is a 6'6″, 330-pound mauler with proven left-right versatility, and his composite profile is what lifts him up these rankings.
Goncalves doesn't quite have an elite physical skill set, which sets him below some of the other names on this list. But at his size, he's still an explosive mover off the line with high-end strength and power capacity. Past that, his proportions, knee bend, synergetic technique, tempo, and consistent elbow load allow him to hold his own as an operator.
6) Tyler Guyton, Oklahoma
The sheer volume of the 2024 NFL Draft OT class is bound to leave some prospects under-appreciated. In the early months, one of those under-appreciated prospects appears to be Oklahoma's Tyler Guyton. Guyton started five games at right tackle for the Sooners in 2022, providing some of his best work in relief of Wanya Morris late in the season.
At 6'7″, 320 pounds, Guyton passes the initial eye test. Although his proportional length isn't the best, his athleticism and freedom of motion pops, both in recovery and in space.
He's an explosive, exhaustive lead blocker who hunts down defenders and exerts maximum force at contact. In pass protection, Guyton's effortless leverage acquisition, knee bend, and swivel freedom serve as a safety blanket.
5) Amarius Mims, Georgia
There's still a very large amount of projection that goes into Amarius Mims' evaluation. But take into account Mims' talent and pedigree, his starting opportunity this fall, and the trajectory of a similarly unproven but high-upside Georgia prospect in Broderick Jones last cycle, and Mims' projected rise is a relatively safe one to make.
Mims is a laboratory-built specimen who, despite being 6'7″, 330 pounds, looks more akin to an in-line tight end than an offensive tackle. Few players wear their weight better than he does, and it shows when he's on the move.
Mims has all of the raw physical qualities that made Jones a safe bet early in the 2023 cycle — explosiveness, range, power, and gnawing ferocity at contact. Mims' ceiling might be even higher.
4) Kingsley Suamataia, BYU
The BYU Cougars produced a highly regarded OT in the 2023 NFL Draft with Blake Freeland. In the 2024 cycle, they could be represented again with Kingsley Suamataia. A former four-star recruit who transferred from Oregon, Suamataia truly has the potential to be a first-round RT selection next April.
At 6'6″, 315 pounds, Suamataia has a wide and dense frame. He's a stellar athlete with superlative explosiveness off the line.
His footwork and hand usage both stand to improve in 2023, and he can get drawn off-balance at contact with his tendency to lurch. Nevertheless, Suamataia is exceedingly powerful, with the torque to ruthlessly seal out opponents in both phases.
3) Joe Alt, Notre Dame
Most preseason top OT rankings have Notre Dame's Joe Alt near the top of the composite big board. Forget positional victories — Alt is already viewed as a potential blue-chip talent in the entire 2024 NFL Draft class.
Is the hype warranted? There's still room for Alt to keep refining his technique, but his early Round 1 projections are indeed well-earned.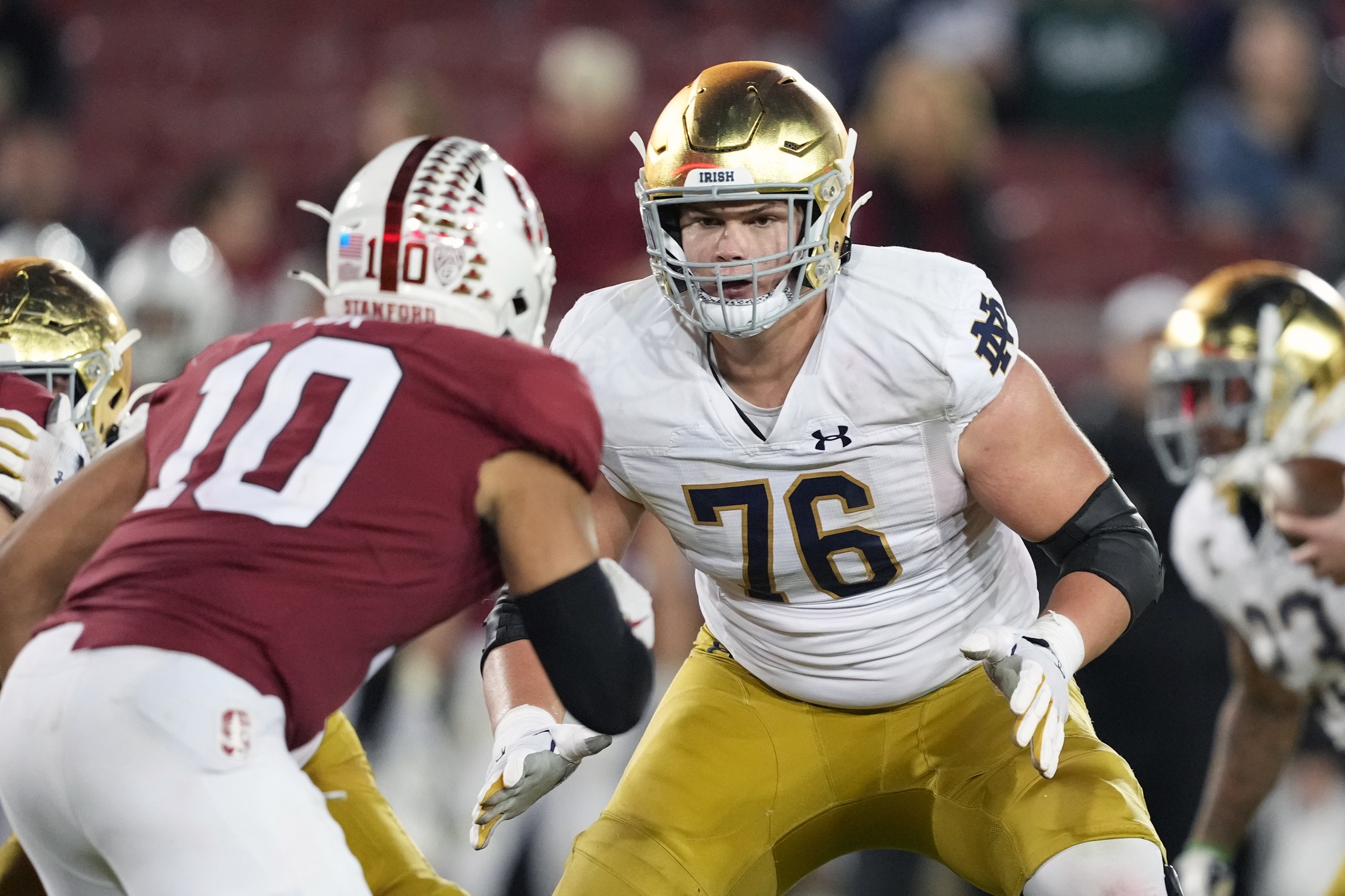 Interestingly, at 6'8″, 315 pounds, size isn't even Alt's top selling point. Rather, it's what he can do at that size.
Alt's an explosive, light-footed athlete — far from a surprise given his past as a former TE. But beyond that, he's absurdly flexible, both in recovery and when flexing to increase his blocking range and wall-off rushers. His malleability is a stifling failsafe for defenders.
2) JC Latham, Alabama
There's a clear top three separated at the pinnacle of the 2024 NFL Draft OT class, but you might be surprised to see JC Latham above Alt on these rankings. Of the two, Alt is the consensus favorite early on, and there are reasons to have him higher. However, Latham is arguably more powerful, more disruptive, and has a more all-encompassing skill set.
Latham is two inches shorter at 6'6″, 335 pounds, but he might have longer arms. He also carries noticeably superior knockback power and torque within his frame.
Latham explodes off the line as a run blocker and is surprisingly balanced and disciplined as a pass protector, showing patience, foot speed, and well-timed hands when matching rushers to the apex.
Who Is the Best OT in the 2024 NFL Draft?
The race for the 2024 NFL Draft OT1 title is a close one, and it should remain that way all throughout the cycle. But as it stands, the current OT1 of the 2024 group is a prospect who would have carried that moniker in the 2023 NFL Draft had he declared. That prospect is Penn State OT Olumuyiwa Fashanu — one of college football's best.
1) Olumuyiwa Fashanu, Penn State
It was the end of the 2021 season, and Penn State's starting left tackle Rasheed Walker was out for the team's bowl game against Arkansas. In stepped a redshirt freshman by the name of Olumuyiwa Fashanu. Fashanu played well in that game, and it would come to be a premonition of his impact and ascent in 2022.
Fashanu hit the ground running as the Nittany Lions' full-time starter on the blindside, providing dominant performances week in and week out against some of the best college football had to offer. Derick Hall, J.T. Tuimoloau, and Zach Harrison all struggled to get consistent disruption against Fashanu.
That's the story of Fashanu's career so far. He's only just arrived, and he's already a dominating force on the left side. What's even more impressive is how sound his game is entering his redshirt junior season. Fashanu's already an incredibly composed and controlled pass protector with a strong inside hand. He uses independent punches, swivels his hips to recover, and recognizes stunts.
And beneath all this age-defying refinement, Fashanu has high-end tools as well. He's an energetic athlete out of his stance at 6'6″, 321 pounds, has exceptional length, strength, and power capacity, with the flexibility to absorb power rushes within his frame. Fashanu is a blue-chip tackle prospect who'll be extremely coveted in April.
Honorable Mentions
Patrick Paul, Houston
Kiran Amegadjie, Yale
Robert Scott Jr., Florida State
Blake Fisher, Notre Dame
Anthony Belton, NC State
LaDarius Henderson, Michigan
Sataoa Laumea, Utah
Micah Pettus, Ole Miss
Marcellus Johnson, Missouri
Brandon Coleman, TCU
Listen to the PFN Scouting Podcast
List to the PFN Scouting Podcast! Click the embedded player below to listen, or you can find the PFN Scouting Podcast on iTunes, Spotify, and all major podcast platforms.  Be sure to subscribe and leave us a five-star review! Rather watch instead? Check out the PFN Scouting Podcast on our Scouting YouTube channel.