The growth of Florida State Seminoles QB Jordan Travis has been a sight to behold over the past three years — but has he grown enough to enter the Round 1 conversation in the 2024 NFL Draft? Here, we'll go through Travis' full scouting report and discuss his grade and projection at the NFL level.
Jordan Travis Draft Profile and Measurements
Height: 6'1″
Weight: 212
Position: Quarterback
School: Florida State
Current Year: Redshirt Senior
As recent as three years ago, few would believe that Travis would ever find himself in the early-round NFL Draft conversation. He started his career at Louisville in 2018 as a three-star recruit with little fanfare. Travis transferred to Florida State a year later, with even less fanfare — and at one point, he was encouraged to switch from QB to WR.
However, when Mike Norvell arrived in Tallahassee in 2020, he allowed Travis to take his lumps as a passer and build his confidence. Over time, that proved to be a very fruitful gambit.
Travis has always been a dangerous rushing threat, with 1,506 yards and 21 touchdowns since 2020. But he's since developed into a potent passer.
MORE: Top Quarterbacks in the 2024 NFL Draft
Travis took a visible step up in 2021, and last year, he emerged as one of the most efficient signal-callers in all of college football. On top of his rushing production, Travis completed 226 of 353 attempts (64%) for 3,214 yards, 24 touchdowns, and just five interceptions.
He earned second-team All-ACC honors behind only Drake Maye, and his drastic development now has evaluators looking at him as a potential NFL starter.
Jordan Travis Scouting Report
Strengths
Hyper-elite creator and running threat with devastating burst, twitch, and lateral agility.
With creation capacity, can extend plays to the very end of their shelf life and succeed.
Has piercing sharp change-of-direction and can pinch insanely acute angles as a runner.
Channels searing explosiveness out of cuts and has the speed to produce big plays.
Has the arm strength to generate solid velocity in the short range and stay on schedule.
Arm is exceptionally elastic and can sustain velocity from a multitude of launch angles.
Has instinctive mechanical feel with a steady base, level shoulders, and brisk rotation.
Able to use controlled shoulder tilt to add loft on boundary fades and corner routes.
Has a keen ability to maintain congruence even when drifting from pressure threats.
Can use subtle bouts of eye manipulation to displace linebackers and open the middle.
Can anticipate seam windows and layer passes between multiple levels of coverage.
Stays cool and collected when pressured and has good off-script vision and equilibrium.
Has extremely consistent areal accuracy and flashes rare situational precision.
Sound decision-maker with good discretion and a willingness to take calculated risks.
Steely competitor with ice in his veins who can deliver in high-pressure situations.
Weaknesses
Arm strength, while above average, is visibly non-elite and can be limiting at times.
Velocity doesn't always carry well into the deep third or past tight coverage.
At times, works himself into a corner when evading, failing to sense backside rushers.
On occasion, sudden pressure can cause him to panic, lurch, and force unideal throws.
Release can be concave and overhand at times, pushing passes higher than preferred.
Sometimes fails to see trailing zone defenders underneath comeback routes.
Could be quicker to anticipate breaks on short hitches and curls.
Sometimes forces throws after clutching, giving DBs more time to react and close in.
Frame is around average size and lacks high-end mass and density.
Has improved at reducing fumbles but still experiences lapses in ball security.
Will be a 24-year-old rookie in 2024.
Current Draft Projection and Summary
Early in the 2024 NFL Draft cycle, Travis grades out as a top-five QB prospect and one of the top seniors at the position. His raw grade places him safely in the early-round range, and when factoring in positional value, Travis is a viable candidate for mid-to-late Round 1 capital — especially if he keeps trending up in 2023.
Travis' arm strength is only above average at best, and he'll also be 24 years old. But outside of those notes, he's a smart, competitive, and extremely well-rounded presence whose athleticism is at the very pinnacle of his position group and whose creation capacity is nearly on par with Caleb Williams.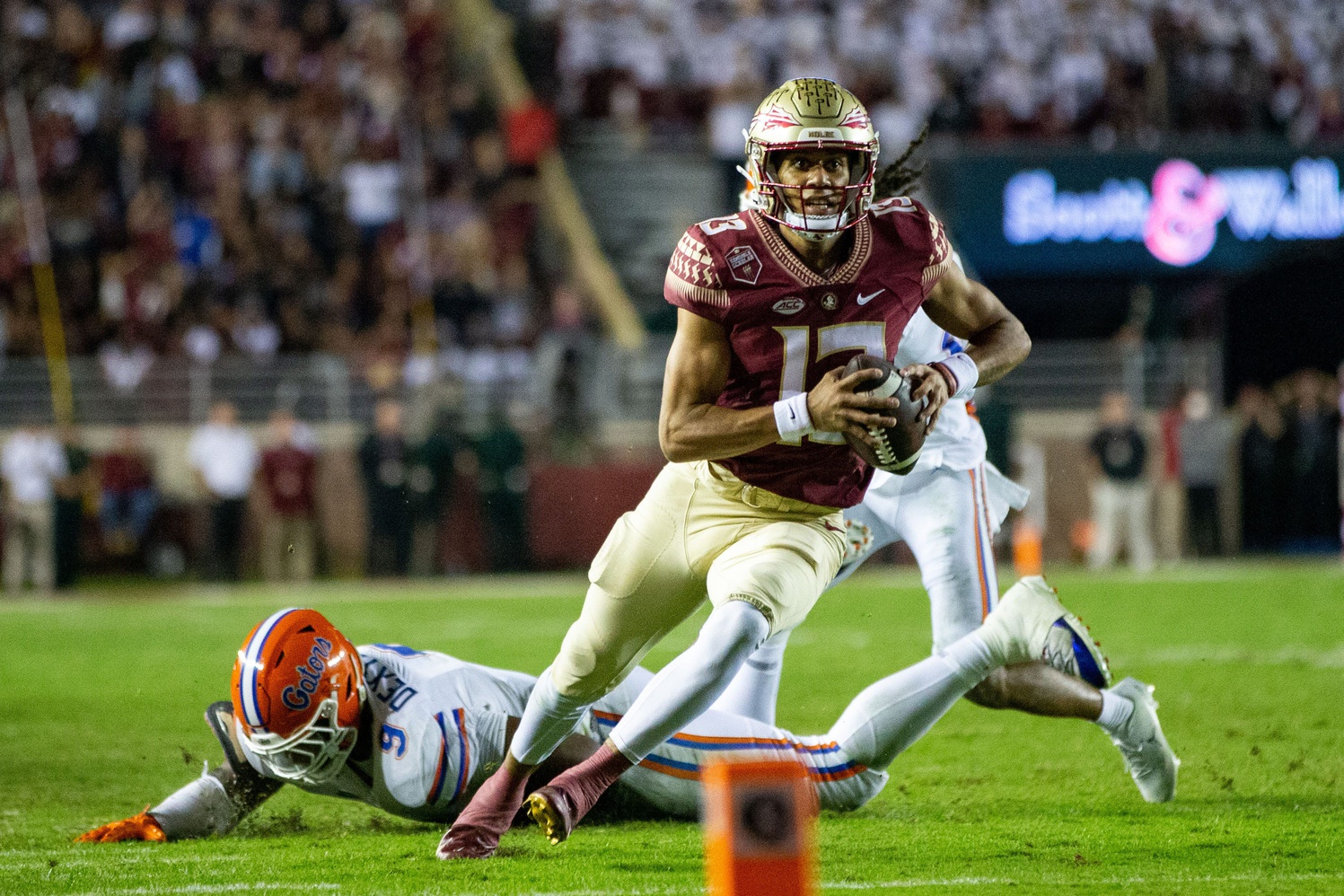 Travis doesn't have Williams' arm strength or velocity, but he does have hyper-elite mobility. He's an incredibly explosive athlete with instant burst, searing agility and quickness, and speed. He also has the high-level arm elasticity to elongate throwing windows, mix pace and touch, and operate off-platform.
In the pocket, Travis is a very capable operator. He's a good processor and decision-maker who shows malleability and discretion on a situational basis. His athleticism translates to easy pocket mobility and evasive freedom, and he has superb mechanical feel, which helps contribute to exceptional overall accuracy and situational precision as a passer.
Even when accounting for his age, Travis grades out well enough to potentially earn a place in Round 1 and earn an opportunity as an NFL starter. And conceptually, there's a silver lining with his age.
Through his experience, Travis has shown persistence through adversity, that he can be coached, and that he has a steep developmental track. That coachability and upward trajectory won't be lost on coaches and evaluators.
Travis' limited arm strength does occasionally impact his ability to attack vertically. But overall, he's a relatively complete signal-caller who can minimize risk, hit targets with accuracy, and maintain resolve in high-pressure spots — and his ability to create at the highest clip is an absolute game-changer.
NFL Draft Scouting Reports
Using the table below, browse NFL Draft scouting profiles for hundreds of draft prospects so you can get a head start on the 2024 NFL Draft.
Don't forget to check out our Mock Draft Simulator, where you can take control of your favorite NFL team and build its roster for the future!
You can sort the table below by player, team, or position. For mobile users, this table is best viewed in landscape mode.
Player
Position
Team
Target
Aidan Robbins
RB
BYU
Aidan Robbins Scouting Report
https://www.profootballnetwork.com/aidan-robbins-draft-scouting-2024/
Ainias Smith
WR/RB
Texas A&M
Ainias Smith Scouting Report
https://www.profootballnetwork.com/ainias-smith-draft-scouting-2024/
Andrew Mukuba
S
Clemson
Andrew Mukuba Scouting Report
https://www.profootballnetwork.com/andrew-mukuba-draft-scouting-2024/
Anthony Gould
WR
Oregon State
Anthony Gould Scouting Report
https://www.profootballnetwork.com/anthony-gould-draft-scouting-2024/
Antwane Wells Jr.
WR
South Carolina
Antwane Wells Jr. Scouting Report
https://www.profootballnetwork.com/antwane-wells-jr-draft-scouting-2024/
Audric Estimé
RB
Notre Dame

Audric Estimé Scouting Report

https://www.profootballnetwork.com/audric-estime-draft-scouting-2024/
Austin Jones
RB
USC
Austin Jones Scouting Report
https://www.profootballnetwork.com/austin-jones-draft-scouting-2024/
Austin Reed
QB
Western Kentucky
Austin Reed Scouting Report
https://www.profootballnetwork.com/austin-reed-draft-scouting-2024/
Barrett Carter
LB
Clemson
Barrett Carter Scouting Report
https://www.profootballnetwork.com/barrett-carter-draft-scouting-2024/
Blake Corum
RB
Michigan
Blake Corum Scouting Report
https://www.profootballnetwork.com/blake-corum-draft-scouting-2024/
Blake Watson
RB
Memphis
Blake Watson Scouting Report
https://www.profootballnetwork.com/blake-watson-draft-profile-memphis-rb-scouting-report/
Bo Nix
QB
Oregon
Bo Nix Scouting Report
https://www.profootballnetwork.com/bo-nix-draft-scouting-report-2024/
Braelon Allen
RB
Wisconsin
Braelon Allen Scouting Report
https://www.profootballnetwork.com/braelon-allen-draft-scouting-2024/
Brenden Rice
WR
USC
Brenden Rice Scouting Report
https://www.profootballnetwork.com/brenden-rice-draft-scouting-2024/
Brennan Armstrong
QB
NC State
Brennan Armstrong Scouting Report
https://www.profootballnetwork.com/brennan-armstrong-draft-scouting-2024/
Brock Bowers
TE
Georgia
Brock Bowers Scouting Report
https://www.profootballnetwork.com/brock-bowers-draft-scouting-2024/
Bucky Irving
RB
Oregon
Bucky Irving Scouting Report
https://www.profootballnetwork.com/bucky-irving-draft-scouting-2024/
Cade Stover
TE
Ohio State
Cade Stover Scouting Report
https://www.profootballnetwork.com/cade-stover-draft-scouting-2024/
Caleb Williams
QB
USC
Caleb Williams Scouting Report
https://www.profootballnetwork.com/caleb-williams-draft-scouting-2024/
Cameron Rising
QB
Utah
Cameron Rising Scouting Report
https://www.profootballnetwork.com/cameron-rising-draft-scouting-2024/
Cameron Ward
QB
Washington State
Cameron Ward Scouting Report
https://www.profootballnetwork.com/cameron-ward-draft-scouting-2024/
Carson Beck
QB
Georgia
Carson Beck Scouting Report
https://www.profootballnetwork.com/carson-beck-draft-scouting-2024/
Carson Steele
RB
UCLA
Carson Steele Scouting Report
https://www.profootballnetwork.com/carson-steele-draft-scouting-2024/
Chop Robinson
EDGE
Penn State
Chop Robinson Scouting Report
https://www.profootballnetwork.com/chop-robinson-draft-scouting-2024/
Chris Tyree
WR
Notre Dame
Chris Tyree Scouting Report
https://www.profootballnetwork.com/chris-tyree-draft-scouting-2024/
Cornelius Johnson
WR
Michigan
Cornelius Johnson Scouting Report
https://www.profootballnetwork.com/cornelius-johnson-draft-scouting-2024/
Dallas Turner
EDGE
Alabama
Dallas Turner Scouting Report
https://www.profootballnetwork.com/dallas-turner-draft-scouting-2024/
Denzel Burke
CB
Ohio State
Denzel Burke Scouting Report
https://www.profootballnetwork.com/denzel-burke-draft-scouting-report-2024/
Devin Leary
QB
Kentucky
Devin Leary Scouting Report
https://www.profootballnetwork.com/devin-leary-draft-scouting-2024/
Dillon Gabriel
QB
Oklahoma
Dillon Gabriel Scouting Report
https://www.profootballnetwork.com/dillon-gabriel-draft-scouting-2024/
DJ Uiagalelei
QB
Oregon State
DJ Uiagalelei Scouting Report
https://www.profootballnetwork.com/dj-uiagalelei-draft-scouting-2024/
Donovan Edwards
RB
Michigan
Donovan Edwards Scouting Report
https://www.profootballnetwork.com/donovan-edwards-draft-scouting-2024/
Donovan Smith
QB
Houston
Donovan Smith Scouting Report
https://www.profootballnetwork.com/donovan-smith-draft-scouting-2024/
Dorian Singer
WR
USC
Dorian Singer Scouting Report
https://www.profootballnetwork.com/dorian-singer-draft-scouting-2024/
Drake Maye
QB
North Carolina
Drake Maye Scouting Report
https://www.profootballnetwork.com/drake-maye-draft-scouting-2024/
Emeka Egbuka
WR
Ohio State
Emeka Egbuka Scouting Report
https://www.profootballnetwork.com/emeka-egbuka-draft-scouting-2024/
Garrett Shrader
QB
Syracuse
Garrett Shrader Scouting Report
https://www.profootballnetwork.com/garrett-shrader-draft-scouting-2024/
Gavin Hardison
QB
UTEP
Gavin Hardison Scouting Report
https://www.profootballnetwork.com/gavin-hardison-draft-scouting-2024/
George Holani
RB
Boise State
George Holani Scouting Report
https://www.profootballnetwork.com/george-holani-draft-scouting-2024/
Grayson McCall
QB
Coastal Carolina
Grayson McCall Scouting Report
https://www.profootballnetwork.com/grayson-mccall-draft-scouting-2024/
Hudson Card
QB
Purdue
Hudson Card Scouting Report
https://www.profootballnetwork.com/hudson-card-draft-scouting-2024/
Isaiah Neyor
WR
Texas
Isaiah Neyor Scouting Report
https://www.profootballnetwork.com/isaiah-neyor-draft-scouting-2024/
J.J. McCarthy
QB
Michigan
J.J. McCarthy Scouting Report
https://www.profootballnetwork.com/jj-mccarthy-draft-scouting-2024/
J.T. Tuimoloau
EDGE
Ohio State
J.T. Tuimoloau Scouting Report
https://www.profootballnetwork.com/j-t-tuimoloau-draft-scouting-report-2024/
Jalen Berger
RB
Michigan State
Jalen Berger Scouting Report
https://www.profootballnetwork.com/jalen-berger-draft-scouting-2024/
Jalen McMillan
WR
Washington
Jalen McMillan Scouting Report
https://www.profootballnetwork.com/jalen-mcmillan-draft-scouting-2024/
Jalon Daniels
QB
Kansas
Jalon Daniels Scouting Report
https://www.profootballnetwork.com/jalon-daniels-draft-scouting-2024/
Jared Verse
EDGE
Florida State
Jared Verse Scouting Report
https://www.profootballnetwork.com/jared-verse-scouting-draft-2024/
Jase McClellan
RB
Alabama
Jase McClellan Scouting Report
https://www.profootballnetwork.com/jase-mcclellan-draft-scouting-2024/
Javon Baker
WR
UCF
Javon Baker Scouting Report
https://www.profootballnetwork.com/javon-baker-draft-scouting-2024/
Jayden Daniels
QB
LSU
Jayden Daniels Scouting Report
https://www.profootballnetwork.com/jayden-daniels-draft-scouting-2024/
Jeff Sims
QB
Nebraska
Jeff Sims Scouting Report
https://www.profootballnetwork.com/jeff-sims-draft-scouting-2024/
Jermaine Burton
WR
Alabama
Jermaine Burton Scouting Report
https://www.profootballnetwork.com/jermaine-burton-draft-scouting-2024/
Jer'Zhan Newton
DT
Illinois
Jer'Zhan Newton Scouting Report
https://www.profootballnetwork.com/jerzhan-newton-draft-scouting-2024/
Joe Alt
OT
Notre Dame
Joe Alt Scouting Report
https://www.profootballnetwork.com/joe-alt-draft-scouting-2024/
Joe Milton
QB
Tennessee
Joe Milton Scouting Report
https://www.profootballnetwork.com/joe-milton-draft-scouting-2024/
John Rhys Plumlee
QB
UCF
John Rhys Plumlee Scouting Report
https://www.profootballnetwork.com/john-rhys-plumlee-draft-scouting-2024/
Johnny Wilson
WR
Florida State
Johnny Wilson Scouting Report
https://www.profootballnetwork.com/johnny-wilson-draft-scouting-2024/
Jo'Quavious Marks
RB
Mississippi State
Jo'Quavious Marks Scouting Report
https://www.profootballnetwork.com/joquavious-marks-draft-scouting-2024/
Jordan Travis
QB
Florida State
Jordan Travis Scouting Report
https://www.profootballnetwork.com/jordan-travis-draft-scouting-2024/
Jordan Whittington
WR
Texas
Jordan Whittington Scouting Report
https://www.profootballnetwork.com/jordan-whittington-draft-scouting-2024/
Kalen King
CB
Penn State
Kalen King Scouting Report
https://www.profootballnetwork.com/kalen-king-draft-scouting-2024/
Kamari Lassiter
CB
Georgia
Kamari Lassiter Scouting Report
https://www.profootballnetwork.com/kamari-lassiter-draft-scouting-2024/
Kamren Kinchens
S
Miami (FL)
Kamren Kinchens Scouting Report
https://www.profootballnetwork.com/kamren-kinchens-draft-scouting-2024/
Keith Randolph Jr.
DT
Illinois
Keith Randolph Jr. Scouting Report
https://www.profootballnetwork.com/keith-randolph-jr-draft-scouting-report-2024/
Kendall Milton
RB
Georgia
Kendall Milton Scouting Report
https://www.profootballnetwork.com/kendall-milton-draft-scouting-2024/
Keon Coleman
WR
Florida State
Keon Coleman Scouting Report
https://www.profootballnetwork.com/keon-coleman-draft-scouting-2024/
KJ Jefferson
QB
Arkansas
KJ Jefferson Scouting Report
https://www.profootballnetwork.com/kj-jefferson-draft-scouting-2024/
Kool-Aid McKinstry
CB
Alabama
Kool-Aid McKinstry Scouting Report
https://www.profootballnetwork.com/kool-aid-mckinstry-draft-scouting-2024/
Kurtis Rourke
QB
Ohio
Kurtis Rourke Scouting Report
https://www.profootballnetwork.com/kurtis-rourke-draft-scouting-2024/
Ladd McConkey
WR
Georgia
Ladd McConkey Scouting Report
https://www.profootballnetwork.com/ladd-mcconkey-draft-scouting-2024/
Maason Smith
DT
LSU
Maason Smith Scouting Report
https://www.profootballnetwork.com/maason-smith-draft-scouting-2024/
Malachi Corley
WR
Western Kentucky
Malachi Corley Scouting Report
https://www.profootballnetwork.com/?p=389162&preview=true&preview_id=389162
Malik Nabers
WR
LSU
Malik Nabers Scouting Report
https://www.profootballnetwork.com/malik-nabers-draft-scouting-2024/
Mario Williams
WR
USC
Mario Williams Scouting Report
https://www.profootballnetwork.com/mario-williams-draft-scouting-2024/
MarShawn Lloyd
RB
USC
MarShawn Lloyd Scouting Report
https://www.profootballnetwork.com/marshawn-lloyd-draft-scouting-2024/
Marvin Harrison Jr.
WR
Ohio State
Marvin Harrison Jr. Scouting Report
https://www.profootballnetwork.com/marvin-harrison-draft-scouting-2024/
Michael Penix Jr.
QB
Washington
Michael Penix Jr. Scouting Report
https://www.profootballnetwork.com/michael-penix-jr-draft-scouting-2024/
Michael Pratt
QB
Tulane
Michael Pratt Scouting Report
https://www.profootballnetwork.com/michael-pratt-draft-scouting-2024/
Moose Muhammad III
WR
Texas A&M
Moose Muhammad III Scouting Report
https://www.profootballnetwork.com/moose-muhammad-iii-draft-scouting-2024/
Noah Whittington
RB
Oregon
Noah Whittington Scouting Report
https://www.profootballnetwork.com/noah-whittington-draft-scouting-2024/
Olu Fashanu
OT
Penn State
Olu Fashanu Scouting Report
https://www.profootballnetwork.com/olu-fashanu-draft-scouting-report-2024/
Phil Jurkovec
QB
Pittsburgh
Phil Jurkovec Scouting Report
https://www.profootballnetwork.com/phil-jurkovec-draft-scouting-2024/
Princely Umanmielen
EDGE
Florida
Princely Umanmielen Scouting Report
https://www.profootballnetwork.com/princely-umanmielen-draft-scouting-2024/
Quinn Ewers
QB
Texas
Quinn Ewers Scouting Report
https://www.profootballnetwork.com/quinn-ewers-draft-scouting-2024/
Raheim Sanders
RB
Arkansas
Raheim Sanders Scouting Report
https://www.profootballnetwork.com/raheim-sanders-draft-scouting-2024/
Ricky Pearsall
WR
Florida
Ricky Pearsall Scouting Report
https://www.profootballnetwork.com/ricky-pearsall-draft-scouting-report-2024/
Riley Leonard
QB
Duke
Riley Leonard Scouting Report
https://www.profootballnetwork.com/riley-leonard-draft-scouting-2024/
Roman Wilson
WR
Michigan
Roman Wilson Scouting Report
https://www.profootballnetwork.com/roman-wilson-draft-scouting-2024/
Rome Odunze
WR
Washington
Rome Odunze Scouting Report
https://www.profootballnetwork.com/rome-odunze-draft-scouting-2024/
Sam Hartman
QB
Notre Dame
Sam Hartman Scouting Report
https://www.profootballnetwork.com/sam-hartman-draft-scouting-2024/
Spencer Rattler
QB
South Carolina
Spencer Rattler Scouting Report
https://www.profootballnetwork.com/spencer-rattler-draft-scouting-2024/
Tahj Washington
WR
USC
Tahj Washington Scouting Report
https://www.profootballnetwork.com/tahj-washington-draft-scouting-2024/
Taulia Tagovailoa
QB
Maryland
Taulia Tagovailoa Scouting Report
https://www.profootballnetwork.com/taulia-tagovailoa-draft-scouting-2024/
Treshaun Ward
RB
Kansas State
Treshaun Ward Scouting Report
https://www.profootballnetwork.com/treshaun-ward-draft-scouting-2024/
TreVeyon Henderson
RB
Ohio State
TreVeyon Henderson Scouting Report
https://www.profootballnetwork.com/treveyon-henderson-draft-scouting-2024/
Trey Benson
RB
Florida State
Trey Benson Scouting Report
https://www.profootballnetwork.com/trey-benson-draft-scouting-2024/
Trey Sanders
RB
TCU
Trey Sanders Scouting Report
https://www.profootballnetwork.com/trey-sanders-draft-scouting-2024/
Troy Franklin
WR
Oregon
Troy Franklin Scouting Report
https://www.profootballnetwork.com/troy-franklin-draft-scouting-2024/
Tyler Shough
QB
Texas Tech
Tyler Shough Scouting Report
https://www.profootballnetwork.com/tyler-shough-draft-scouting-2024/
Tyler Van Dyke
QB
Miami (FL)
Tyler Van Dyke Scouting Report
https://www.profootballnetwork.com/tyler-van-dyke-draft-scouting-2024/
Ulysses Bentley IV
RB
Ole Miss
Ulysses Bentley IV Scouting Report
https://www.profootballnetwork.com/ulysses-bentley-iv-draft-scouting-2024/
Will Howard
QB
Kansas State
Will Howard Scouting Report
https://www.profootballnetwork.com/will-howard-draft-scouting-2024/
Will Rogers
QB
Mississippi State
Will Rogers Scouting Report
https://www.profootballnetwork.com/will-rogers-draft-scouting-2024/
Will Sheppard
WR
Vanderbilt
Will Sheppard Scouting Report
https://www.profootballnetwork.com/will-sheppard-draft-scouting-2024/
Will Shipley
RB
Clemson
Will Shipley Scouting Report
https://www.profootballnetwork.com/will-shipley-draft-scouting-2024/
Xavier Legette
WR
South Carolina
Xavier Legette Scouting Report
https://www.profootballnetwork.com/xavier-legette-draft-scouting-report-2024/
Xavier Worthy
WR
Texas
Xavier Worthy Scouting Report
https://www.profootballnetwork.com/xavier-worthy-draft-scouting-2024/