Which centers and guards populate the list of the top iOL prospects in the 2024 NFL Draft cycle on our position rankings? Established veterans, versatile glue pieces, and ascending young players dot our early rankings, but a projected tackle-to-guard convert also has a strong case for the top spot.
Ranking the Top iOL in the 2024 NFL Draft
It'll be a few years before we truly get a read on how good the 2023 NFL Draft's interior offensive line class was. There weren't many guarantees across the class, but there were many tackle-to-guard converts, positionally flexible prospects, and players with notable transitions still to come.
Position switches are a constant caveat in the iOL discussion every draft cycle, but the 2024 class may have more prospects who are settled into guard or center designations. And with that clarity should come a heightened degree of security — at least for most of the group.
Here's a look at how the 2024 NFL Draft iOL group looks right now and which prospects are in play for potential Round 1 capital.
10) Drake Nugent, C, Michigan
The Michigan Wolverines have proven their ability to evaluate and acquire impact players on the offensive line in the transfer portal. Last season, Olusegun Oluwatimi was a stellar addition from Virginia. He upped the unit's performance from Day 1 and distinguished himself as one of the best centers in the nation. That makes Drake Nugent even more exciting to think about, given he may have more NFL upside.
Nugent will be replacing Oluwatimi at the fulcrum of the line this year after starting 24 straight games for the Stanford Cardinal. Though Nugent isn't quite as dense or as powerful as Oluwatimi at around 6'1″, 300 pounds, his combination of lateral freedom, natural leverage, and active hands can be suffocating in pass protection.
9) Isaiah Adams, G, Illinois
The Illinois Fighting Illini are slowly becoming reliable producers of NFL Draft talent on both the offensive and defensive sides of the ball. Illinois' offensive line was one of the best composite units in college football in 2022.
Players like Julian Pearl, Alex Pihlstrom, and Alex Palczewski heavily contributed to that reputation, and so did left guard Isaiah Adams. Both Adams and Pearl return in 2023. Adams, in particular, might have the most exciting upside of the previously mentioned group when projecting to the NFL.
At 6'5″, 315 pounds, the former JUCO transfer has a powerful frame and can generate immense force at contact. He routinely stays square in pass protection but also has the athleticism to match and block in space.
8) Christian Haynes, G, UConn
The UConn Huskies might make a triumphant return to the 2024 NFL Draft stage this coming cycle, and Christian Haynes is bound to be a part of that movement. The 6'2″, 313-pound guard has started 37 straight games for the Huskies since the 2019 campaign, and he returns as an All-American talent with very realistic professional aspirations.
In the trenches, the combination of strong natural leverage and proportional length is always a winning mix, and it's something Haynes has. He's able to get under his opponents easily and has the combined explosive athleticism and frame density to generate eye-catching amounts of displacement energy.
7) Tanor Bortolini, G, Wisconsin
After sending Joe Tippmann to the New York Jets in Round 2 of the 2023 NFL Draft, the Wisconsin Badgers return to the fold with several more potential OL prospects in the 2024 class.
Jack Nelson is a part of our initial top-10 offensive tackles list, and offensive guard Tanor Bortolini checks in at No. 7 on our interior OL rankings.
The 6'4″, 314-pound Bortolini started 10 games for the Badgers in 2022, including six at left guard, two at right guard, and one at center. His already-proven versatility is appealing, but even more so is his explosive athleticism, mauler mentality, and low-cut frame that makes him a legitimate power plant when driving and displacing defenders.
6) Troy Fautanu, G, Washington
The Washington Huskies had two respectable guards in the 2023 cycle with Henry Bainivalu and Jaxson Kirkland. But the team's best interior offensive line prospect is still on the way.
Though Troy Fautanu is set to again play left tackle primarily in 2023, his projection could be particularly fruitful on the interior.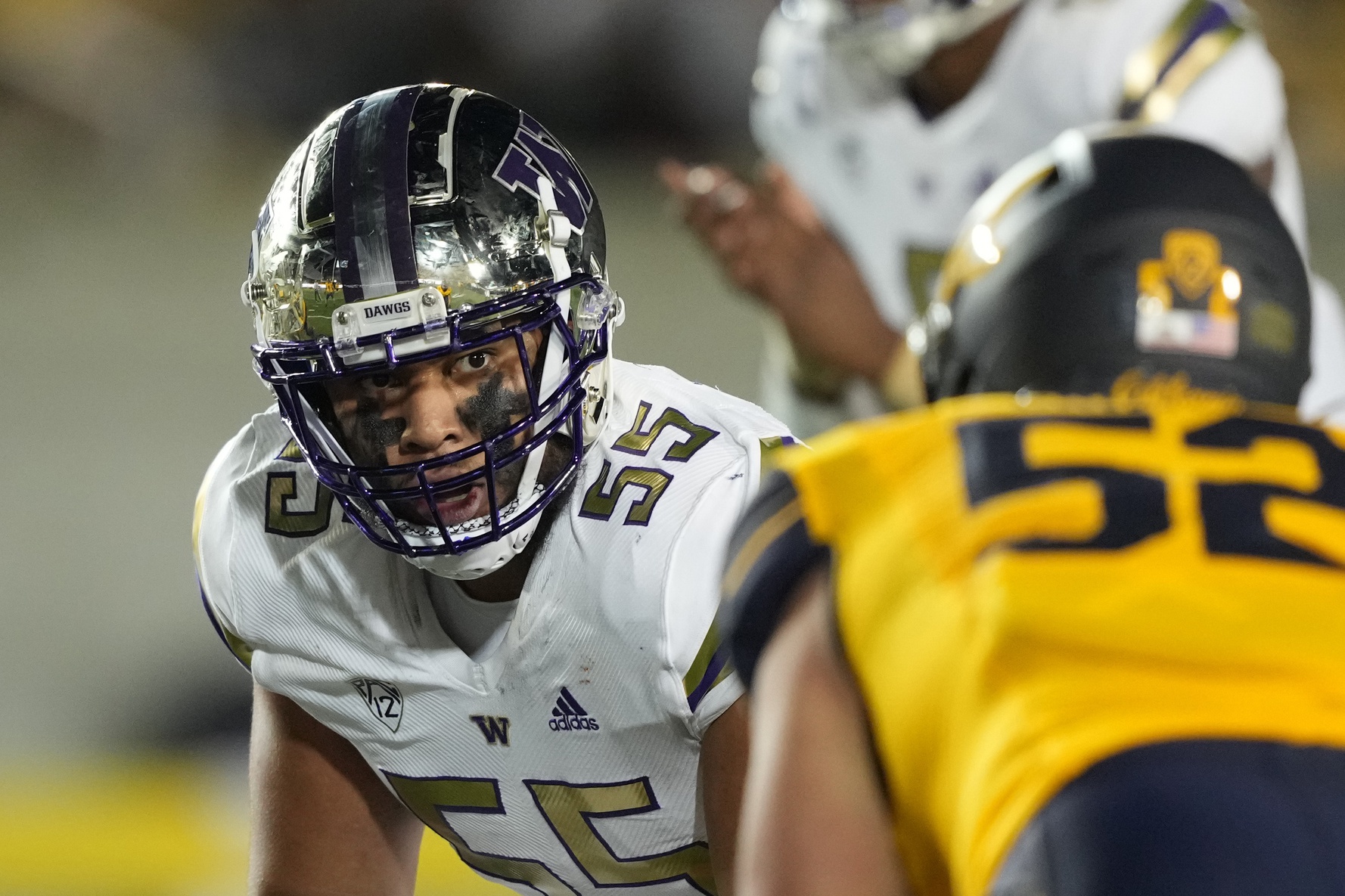 At 6'4″, 317 pounds, Fautanu has an incredibly compact frame with great mass. And what he lacks in proportional length, he makes up for with crisp footwork (aided by his tackle experience), fast and forceful hands, power drive, and a physical finishing mentality. He started at left guard against Stanford in 2022, providing a glimpse of his upside from inside alignments.
5) Zak Zinter, G, Michigan
The Wolverines will remain champions of the offensive line in the 2023 season after the team's blocking unit won the Joe Moore Award in both 2021 and 2022. The additions of LaDarius Henderson and Nugent in the transfer portal will help compensate for the losses of Ryan Hayes and Oluwatimi.
Zak Zinter, meanwhile, is a returning impact guard. He was a first-team All-Big Ten selection in 2022, and he could go on to be a solid lineman at the NFL level.
He doesn't have great length, but at 6'6″, 315 pounds, Zinter has very good size and mass. He's an intelligent blocker who understands moving angles and can handle stunt exchanges. Zinter actively uses his frame to wall off lanes, aligning himself with smooth flexibility.
4) Cooper Beebe, G, Kansas State
Had he declared for the 2023 NFL Draft, Cooper Beebe would've been graded higher than O'Cyrus Torrence and Steve Avila on my board. He was a standout tackle in 2021, then moved to guard in 2022, where his traits translated in dominant fashion. Beebe ultimately won Big 12 Offensive Lineman of the Year, and he's back again in 2023 to impose his will.
At 6'4″, 332 pounds, Beebe has tremendous size, width, and mass as an interior blocker. He's not an elite athlete, but he's mobile enough to get out in space as a pulling blocker, maximizing his opportunities with stellar angle awareness and football IQ. At contact, he has the strength, power, and length to torque his opponents into submission.
3) Donovan Jackson, G, Ohio State
Donovan Jackson was a five-star recruit coming out of high school, and it's easy to see his natural talent. At 6'4″, 320 pounds, he reportedly has arms nearly 36″ long. That's an absurd combination of leverage and proportional length.
Jackson also has the lateral mobility and combative hand usage to gather rushers as they work across-face.
Jackson might not have quantifiably elite athleticism like Paris Johnson Jr. before him, and he might not have elite flexibility, either. But in a phone booth, his build can be devastating for opposing rushers. Jackson plays low and consistently keeps linemen from getting inside his frame, and he has more than enough explosiveness to get out in space and punish defenders.
2) Sedrick Van Pran, C, Georgia
For all 30 games of the Georgia Bulldogs' back-to-back championship seasons, Sedrick Van Pran was the starting center. After redshirting in 2020, Van Pran took the starting role and ran with it. He now returns in 2023 as arguably the best center prospect in the nation.
Van Pran might've challenged Tippmann and John Michael Schmitz in the 2023 cycle. He doesn't quite have the power that Tippmann boasts, and Schmitz was a bit stronger and more refined.
Nevertheless, Van Pran has excellent natural leverage at 6'4″, 310 pounds, and he's one of the most explosive athletes you'll see at the center spot. He moves at a different pace off the line, and he brings a finishing brand of physicality through reps.
Who Is the Best iOL in the 2024 NFL Draft?
The 2024 NFL Draft iOL class looks incredibly strong and diverse on the surface — but the top prospect on our preliminary board at PFN is a tackle who projects especially well on the interior. This isn't to say that Duke's Graham Barton can't stick at tackle. He certainly could — but his upside at guard is incredibly exciting to imagine.
1) Graham Barton, G, Duke
As mentioned above, Graham Barton is actually a tackle for the Duke Blue Devils. Here, however, he's listed as a guard — which may end up being his best projection at the NFL level.
Arm length is a part of the discussion here. Despite standing at 6'5″, 314 pounds, Barton doesn't have great proportional length, and that's often a source of interior talk. Of course, the next question is whether or not he has the technique, active hand usage, and athleticism to counteract that.
Rashawn Slater and Peter Skoronski are two recent prospects who could boast the necessary counteractive measures to stay at tackle, and Barton has those traits as well. He's a violent, intentional hand fighter with twitchy corrective mobility and the flexibility to maintain leverage.
For Barton, the projected move to guard isn't about necessity. It's about possibilities.
Barton's ceiling is high wherever he lines up, but at guard, it's especially enthralling. Not only is Barton an extremely combative and precise hand fighter, but he's also a road-grader in the run game, with a unique level of urgent leg drive and explosive athleticism that can be dominating against space defenders.
Blocking at the NFL level is about protecting on passing downs and displacing on running downs. Barton's dual-sided ability to both work in space and create space at contact could make him a game-changer as a guard, both on pulling looks and zone runs. It's why he's a viable first-round candidate at the position and a candidate to be the top iOL prospect.
Honorable Mentions
Christian Mahogany, G, Boston College
Zach Frazier, C, West Virginia
Kingsley Eguakun, C, Florida
Andrew Raym, C, Oklahoma
Javion Cohen, G, Miami (FL)
Matthew Lee, C, Miami (FL)
Mike Novitsky, C, Kansas
Landon Tengwall, G, Penn State
Micah Mazzccua, G, Florida
Joshua Gray, G, Oregon State
Listen to the PFN Scouting Podcast
List to the PFN Scouting Podcast! Click the embedded player below to listen, or you can find the PFN Scouting Podcast on iTunes, Spotify, and all major podcast platforms.  Be sure to subscribe and leave us a five-star review! Rather watch instead? Check out the PFN Scouting Podcast on our Scouting YouTube channel.