Where does Clemson's Andrew Mukuba rank in the 2024 NFL Draft safety class? Does he have the scouting report to challenge for the top positional spot? In the evaluation ahead, we'll approach that question head-on and come up with an answer.
Andrew Mukuba Draft Profile and Measurements
Height: 5'11"
Weight: 185 pounds
Position: Safety
School: Clemson
Current Year: Junior
It says something about a prospect — especially about a defensive back — when they're able to produce as a true freshman at a blue-blood college football program. Not many can say they checked this box, but Mukuba can.
After arriving at Clemson as a four-star recruit in 2021, Mukuba immediately became a stalwart defensive presence. He amassed 47 tackles, two tackles for loss, a sack, and seven pass deflections in his first collegiate action. In 2022, he added 54 tackles, a half-TFL, three deflections, and his first career pick.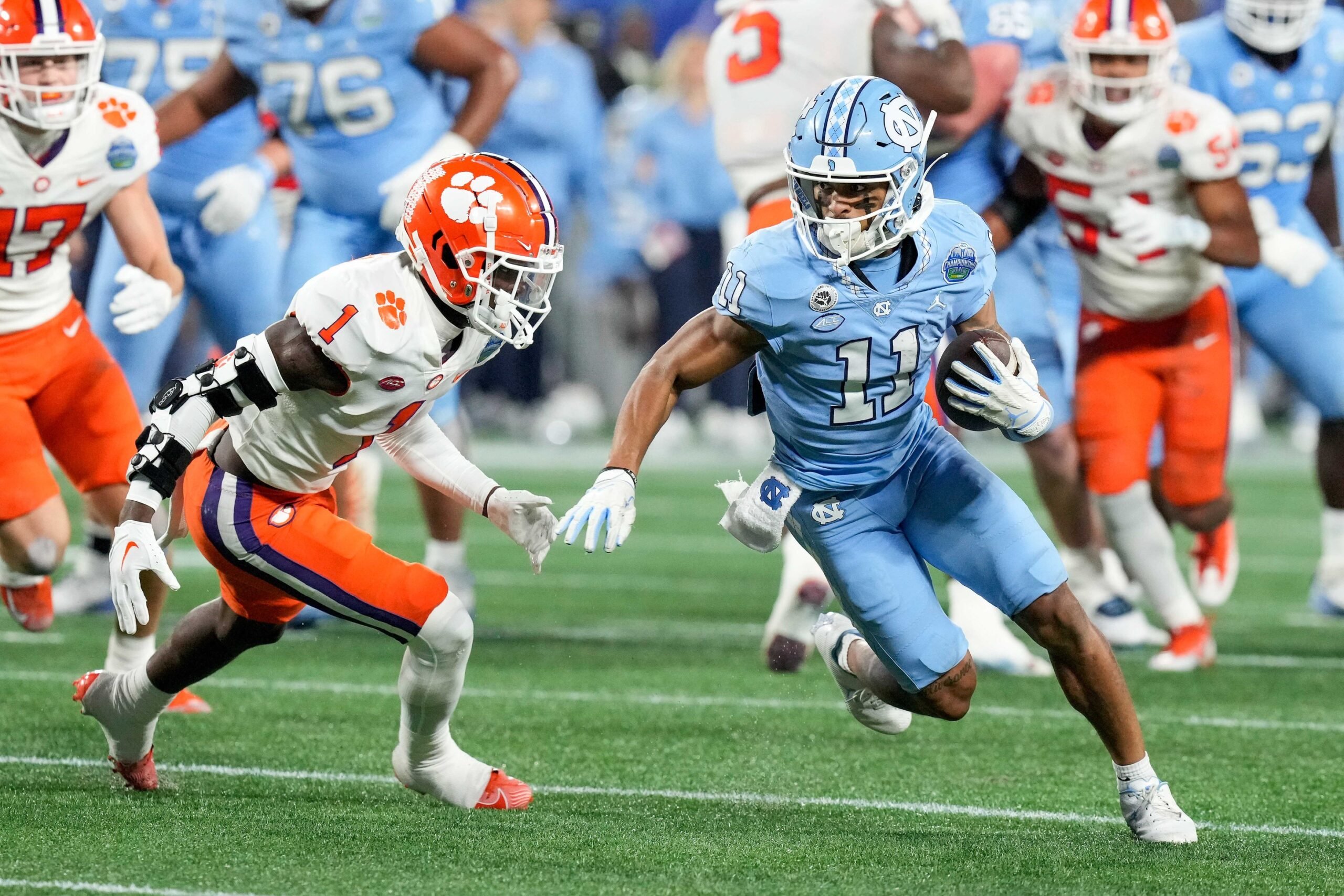 Mukuba was productive from the start, and he's also played across the secondary in his short time at Clemson. In 2022, he played a vast allotment of different alignments at safety, and now in 2023, he's the team's starting slot cornerback.
Needless to say, Mukuba has one of the most intriguing scouting profiles in the entire 2024 NFL Draft — but just how high can he go in the 2024 NFL Draft?
Andrew Mukuba Scouting Report
Strengths
Hyper-elite explosive presence with rapid foot speed and closing acceleration.
Shows off absurd hip fluidity and hinge freedom as a mover and has rare recovery.
Elastic athlete who can open and retract his strides with rare quickness and control.
Elite inherent flexibility enables him to sink and sustain at an extremely high level.
Can play single-high, two-high, a variety of intermediate zones, or man up in the slot.
Matches WRs through double-moves with lightning-quick reactionary foot speed.
Has an eye-catching range from single-high and can erase gaps with elongated strides.
Responds to stimulus almost instantly and is extremely adaptable in zone looks.
Incredibly instinctive with hip leverage in zone coverage, and naturally aligns to routes.
An active communicator who can pass off intermediate WRs and anticipate vertical routes.
Can mirror WR releases with fast feet and discipline, then turn and carry upfield.
Flashes biting physicality downhill and can use jams to delay WRs in man coverage.
Proficient at using his hyperactive short-area athleticism to break down ahead of tackles.
Can use throttle adjustments to sift through crowds and flow to ball carriers in support.
Shows glimpses of exceptional coordination and flexibility extending beyond his frame.
Weaknesses
Lean athlete near average stature overall, who has below-average mass.
Sometimes vacates intermediate zones too quickly when QBs eye the vertical plane.
At times, plays with angles a bit too wide on crossing routes, failing to crowd WRs.
Can better key in on the hips to react more quickly to route breaks back toward the ball.
Is sometimes a bit too passive with positioning in contested situations.
Can make a more concerted effort to wrap around WRs and play throws with precision.
Sometimes fails to get his head around quickly enough in contested situations.
Can be outmuscled by blocking WRs in space and failing to establish half-man relationships.
Doesn't always have the strength to finish solo tackles and sometimes whiffs in space.
Current Draft Projection and Summary
On my preliminary 2024 NFL Draft board, Mukuba grades out as the top safety prospect in the class and an early-to-mid Round 1 talent. There's a heightened degree of projection involved in Mukuba's evaluation, but particularly in a modern NFL that necessitates true versatility from defensive backs, Mukuba is about as versatile as it gets.
Mukuba's brand of mobility is the bedrock of his game. Not only is he an instant accelerator with imposing range, but he also has hyper-elite hinge fluidity, sink, and agility as a cover man in space.
In zone coverage, he can shift from vertical outside leverage to inside leverage, undergoing upwards of 270-degree transitions with effortless ease and maintaining his pacing and speed while doing so.
The mix of fluidity, explosiveness, foot speed, and deceleration capacity that Mukuba brings is near-unmatched and is a foundation for an all-encompassing coverage framework. Mukuba also has foot speed and transition ease to play man coverage in the slot, and he can maximize this coverage with disciplined technique and a precise sense of timing.
To that end, Mukuba has shown he can weaponize his athleticism with quick processing and instinctive feel. He has spatial awareness, keen eyes, and a smooth pedal to play both two-high and single-high. He can adjust his hip leverage through reps and instantly trigger on route breaks, and his closing speed allows him to erase gaps wherever he lines up.
MORE: FREE Mock Draft Simulator With Trades
At around 185 pounds, Mukuba is a bit light, and he can improve his consistency in finishing plays, both as a playmaker at the catch point and as a supporting defender. But overall, his composite profile is extremely strong.
As long as he continues to build up his frame, he has the irreplaceable elastic athleticism, processing ability, physical edge, and all-encompassing versatility to be a dynamic hybrid defender and impact starter at the NFL level.
NFL Draft Scouting Reports
Using the table below, browse NFL Draft scouting profiles for hundreds of draft prospects so you can get a head start on the 2024 NFL Draft.
Don't forget to check out our Mock Draft Simulator, where you can take control of your favorite NFL team and build its roster for the future!
You can sort the table below by player, team, or position. For mobile users, this table is best viewed in landscape mode.
Player
Position
Team
Target
Aidan Robbins
RB
BYU
Aidan Robbins Scouting Report
https://www.profootballnetwork.com/aidan-robbins-draft-scouting-2024/
Ainias Smith
WR/RB
Texas A&M
Ainias Smith Scouting Report
https://www.profootballnetwork.com/ainias-smith-draft-scouting-2024/
Andrew Mukuba
S
Clemson
Andrew Mukuba Scouting Report
https://www.profootballnetwork.com/andrew-mukuba-draft-scouting-2024/
Anthony Gould
WR
Oregon State
Anthony Gould Scouting Report
https://www.profootballnetwork.com/anthony-gould-draft-scouting-2024/
Antwane Wells Jr.
WR
South Carolina
Antwane Wells Jr. Scouting Report
https://www.profootballnetwork.com/antwane-wells-jr-draft-scouting-2024/
Audric Estimé
RB
Notre Dame

Audric Estimé Scouting Report

https://www.profootballnetwork.com/audric-estime-draft-scouting-2024/
Austin Jones
RB
USC
Austin Jones Scouting Report
https://www.profootballnetwork.com/austin-jones-draft-scouting-2024/
Austin Reed
QB
Western Kentucky
Austin Reed Scouting Report
https://www.profootballnetwork.com/austin-reed-draft-scouting-2024/
Barrett Carter
LB
Clemson
Barrett Carter Scouting Report
https://www.profootballnetwork.com/barrett-carter-draft-scouting-2024/
Blake Corum
RB
Michigan
Blake Corum Scouting Report
https://www.profootballnetwork.com/blake-corum-draft-scouting-2024/
Blake Watson
RB
Memphis
Blake Watson Scouting Report
https://www.profootballnetwork.com/blake-watson-draft-profile-memphis-rb-scouting-report/
Bo Nix
QB
Oregon
Bo Nix Scouting Report
https://www.profootballnetwork.com/bo-nix-draft-scouting-report-2024/
Braelon Allen
RB
Wisconsin
Braelon Allen Scouting Report
https://www.profootballnetwork.com/braelon-allen-draft-scouting-2024/
Brenden Rice
WR
USC
Brenden Rice Scouting Report
https://www.profootballnetwork.com/brenden-rice-draft-scouting-2024/
Brennan Armstrong
QB
NC State
Brennan Armstrong Scouting Report
https://www.profootballnetwork.com/brennan-armstrong-draft-scouting-2024/
Brock Bowers
TE
Georgia
Brock Bowers Scouting Report
https://www.profootballnetwork.com/brock-bowers-draft-scouting-2024/
Bucky Irving
RB
Oregon
Bucky Irving Scouting Report
https://www.profootballnetwork.com/bucky-irving-draft-scouting-2024/
Cade Stover
TE
Ohio State
Cade Stover Scouting Report
https://www.profootballnetwork.com/cade-stover-draft-scouting-2024/
Caleb Williams
QB
USC
Caleb Williams Scouting Report
https://www.profootballnetwork.com/caleb-williams-draft-scouting-2024/
Cameron Rising
QB
Utah
Cameron Rising Scouting Report
https://www.profootballnetwork.com/cameron-rising-draft-scouting-2024/
Cameron Ward
QB
Washington State
Cameron Ward Scouting Report
https://www.profootballnetwork.com/cameron-ward-draft-scouting-2024/
Carson Beck
QB
Georgia
Carson Beck Scouting Report
https://www.profootballnetwork.com/carson-beck-draft-scouting-2024/
Carson Steele
RB
UCLA
Carson Steele Scouting Report
https://www.profootballnetwork.com/carson-steele-draft-scouting-2024/
Chop Robinson
EDGE
Penn State
Chop Robinson Scouting Report
https://www.profootballnetwork.com/chop-robinson-draft-scouting-2024/
Chris Tyree
WR
Notre Dame
Chris Tyree Scouting Report
https://www.profootballnetwork.com/chris-tyree-draft-scouting-2024/
Cornelius Johnson
WR
Michigan
Cornelius Johnson Scouting Report
https://www.profootballnetwork.com/cornelius-johnson-draft-scouting-2024/
Dallas Turner
EDGE
Alabama
Dallas Turner Scouting Report
https://www.profootballnetwork.com/dallas-turner-draft-scouting-2024/
Denzel Burke
CB
Ohio State
Denzel Burke Scouting Report
https://www.profootballnetwork.com/denzel-burke-draft-scouting-report-2024/
Devin Leary
QB
Kentucky
Devin Leary Scouting Report
https://www.profootballnetwork.com/devin-leary-draft-scouting-2024/
Dillon Gabriel
QB
Oklahoma
Dillon Gabriel Scouting Report
https://www.profootballnetwork.com/dillon-gabriel-draft-scouting-2024/
DJ Uiagalelei
QB
Oregon State
DJ Uiagalelei Scouting Report
https://www.profootballnetwork.com/dj-uiagalelei-draft-scouting-2024/
Donovan Edwards
RB
Michigan
Donovan Edwards Scouting Report
https://www.profootballnetwork.com/donovan-edwards-draft-scouting-2024/
Donovan Smith
QB
Houston
Donovan Smith Scouting Report
https://www.profootballnetwork.com/donovan-smith-draft-scouting-2024/
Dorian Singer
WR
USC
Dorian Singer Scouting Report
https://www.profootballnetwork.com/dorian-singer-draft-scouting-2024/
Drake Maye
QB
North Carolina
Drake Maye Scouting Report
https://www.profootballnetwork.com/drake-maye-draft-scouting-2024/
Emeka Egbuka
WR
Ohio State
Emeka Egbuka Scouting Report
https://www.profootballnetwork.com/emeka-egbuka-draft-scouting-2024/
Garrett Shrader
QB
Syracuse
Garrett Shrader Scouting Report
https://www.profootballnetwork.com/garrett-shrader-draft-scouting-2024/
Gavin Hardison
QB
UTEP
Gavin Hardison Scouting Report
https://www.profootballnetwork.com/gavin-hardison-draft-scouting-2024/
George Holani
RB
Boise State
George Holani Scouting Report
https://www.profootballnetwork.com/george-holani-draft-scouting-2024/
Grayson McCall
QB
Coastal Carolina
Grayson McCall Scouting Report
https://www.profootballnetwork.com/grayson-mccall-draft-scouting-2024/
Hudson Card
QB
Purdue
Hudson Card Scouting Report
https://www.profootballnetwork.com/hudson-card-draft-scouting-2024/
Isaiah Neyor
WR
Texas
Isaiah Neyor Scouting Report
https://www.profootballnetwork.com/isaiah-neyor-draft-scouting-2024/
J.J. McCarthy
QB
Michigan
J.J. McCarthy Scouting Report
https://www.profootballnetwork.com/jj-mccarthy-draft-scouting-2024/
J.T. Tuimoloau
EDGE
Ohio State
J.T. Tuimoloau Scouting Report
https://www.profootballnetwork.com/j-t-tuimoloau-draft-scouting-report-2024/
Jalen Berger
RB
Michigan State
Jalen Berger Scouting Report
https://www.profootballnetwork.com/jalen-berger-draft-scouting-2024/
Jalen McMillan
WR
Washington
Jalen McMillan Scouting Report
https://www.profootballnetwork.com/jalen-mcmillan-draft-scouting-2024/
Jalon Daniels
QB
Kansas
Jalon Daniels Scouting Report
https://www.profootballnetwork.com/jalon-daniels-draft-scouting-2024/
Jared Verse
EDGE
Florida State
Jared Verse Scouting Report
https://www.profootballnetwork.com/jared-verse-scouting-draft-2024/
Jase McClellan
RB
Alabama
Jase McClellan Scouting Report
https://www.profootballnetwork.com/jase-mcclellan-draft-scouting-2024/
Javon Baker
WR
UCF
Javon Baker Scouting Report
https://www.profootballnetwork.com/javon-baker-draft-scouting-2024/
Jayden Daniels
QB
LSU
Jayden Daniels Scouting Report
https://www.profootballnetwork.com/jayden-daniels-draft-scouting-2024/
Jeff Sims
QB
Nebraska
Jeff Sims Scouting Report
https://www.profootballnetwork.com/jeff-sims-draft-scouting-2024/
Jermaine Burton
WR
Alabama
Jermaine Burton Scouting Report
https://www.profootballnetwork.com/jermaine-burton-draft-scouting-2024/
Jer'Zhan Newton
DT
Illinois
Jer'Zhan Newton Scouting Report
https://www.profootballnetwork.com/jerzhan-newton-draft-scouting-2024/
Joe Alt
OT
Notre Dame
Joe Alt Scouting Report
https://www.profootballnetwork.com/joe-alt-draft-scouting-2024/
Joe Milton
QB
Tennessee
Joe Milton Scouting Report
https://www.profootballnetwork.com/joe-milton-draft-scouting-2024/
John Rhys Plumlee
QB
UCF
John Rhys Plumlee Scouting Report
https://www.profootballnetwork.com/john-rhys-plumlee-draft-scouting-2024/
Johnny Wilson
WR
Florida State
Johnny Wilson Scouting Report
https://www.profootballnetwork.com/johnny-wilson-draft-scouting-2024/
Jo'Quavious Marks
RB
Mississippi State
Jo'Quavious Marks Scouting Report
https://www.profootballnetwork.com/joquavious-marks-draft-scouting-2024/
Jordan Travis
QB
Florida State
Jordan Travis Scouting Report
https://www.profootballnetwork.com/jordan-travis-draft-scouting-2024/
Jordan Whittington
WR
Texas
Jordan Whittington Scouting Report
https://www.profootballnetwork.com/jordan-whittington-draft-scouting-2024/
Kalen King
CB
Penn State
Kalen King Scouting Report
https://www.profootballnetwork.com/kalen-king-draft-scouting-2024/
Kamari Lassiter
CB
Georgia
Kamari Lassiter Scouting Report
https://www.profootballnetwork.com/kamari-lassiter-draft-scouting-2024/
Kamren Kinchens
S
Miami (FL)
Kamren Kinchens Scouting Report
https://www.profootballnetwork.com/kamren-kinchens-draft-scouting-2024/
Keith Randolph Jr.
DT
Illinois
Keith Randolph Jr. Scouting Report
https://www.profootballnetwork.com/keith-randolph-jr-draft-scouting-report-2024/
Kendall Milton
RB
Georgia
Kendall Milton Scouting Report
https://www.profootballnetwork.com/kendall-milton-draft-scouting-2024/
Keon Coleman
WR
Florida State
Keon Coleman Scouting Report
https://www.profootballnetwork.com/keon-coleman-draft-scouting-2024/
KJ Jefferson
QB
Arkansas
KJ Jefferson Scouting Report
https://www.profootballnetwork.com/kj-jefferson-draft-scouting-2024/
Kool-Aid McKinstry
CB
Alabama
Kool-Aid McKinstry Scouting Report
https://www.profootballnetwork.com/kool-aid-mckinstry-draft-scouting-2024/
Kurtis Rourke
QB
Ohio
Kurtis Rourke Scouting Report
https://www.profootballnetwork.com/kurtis-rourke-draft-scouting-2024/
Ladd McConkey
WR
Georgia
Ladd McConkey Scouting Report
https://www.profootballnetwork.com/ladd-mcconkey-draft-scouting-2024/
Maason Smith
DT
LSU
Maason Smith Scouting Report
https://www.profootballnetwork.com/maason-smith-draft-scouting-2024/
Malachi Corley
WR
Western Kentucky
Malachi Corley Scouting Report
https://www.profootballnetwork.com/?p=389162&preview=true&preview_id=389162
Malik Nabers
WR
LSU
Malik Nabers Scouting Report
https://www.profootballnetwork.com/malik-nabers-draft-scouting-2024/
Mario Williams
WR
USC
Mario Williams Scouting Report
https://www.profootballnetwork.com/mario-williams-draft-scouting-2024/
MarShawn Lloyd
RB
USC
MarShawn Lloyd Scouting Report
https://www.profootballnetwork.com/marshawn-lloyd-draft-scouting-2024/
Marvin Harrison Jr.
WR
Ohio State
Marvin Harrison Jr. Scouting Report
https://www.profootballnetwork.com/marvin-harrison-draft-scouting-2024/
Michael Penix Jr.
QB
Washington
Michael Penix Jr. Scouting Report
https://www.profootballnetwork.com/michael-penix-jr-draft-scouting-2024/
Michael Pratt
QB
Tulane
Michael Pratt Scouting Report
https://www.profootballnetwork.com/michael-pratt-draft-scouting-2024/
Moose Muhammad III
WR
Texas A&M
Moose Muhammad III Scouting Report
https://www.profootballnetwork.com/moose-muhammad-iii-draft-scouting-2024/
Noah Whittington
RB
Oregon
Noah Whittington Scouting Report
https://www.profootballnetwork.com/noah-whittington-draft-scouting-2024/
Olu Fashanu
OT
Penn State
Olu Fashanu Scouting Report
https://www.profootballnetwork.com/olu-fashanu-draft-scouting-report-2024/
Phil Jurkovec
QB
Pittsburgh
Phil Jurkovec Scouting Report
https://www.profootballnetwork.com/phil-jurkovec-draft-scouting-2024/
Princely Umanmielen
EDGE
Florida
Princely Umanmielen Scouting Report
https://www.profootballnetwork.com/princely-umanmielen-draft-scouting-2024/
Quinn Ewers
QB
Texas
Quinn Ewers Scouting Report
https://www.profootballnetwork.com/quinn-ewers-draft-scouting-2024/
Raheim Sanders
RB
Arkansas
Raheim Sanders Scouting Report
https://www.profootballnetwork.com/raheim-sanders-draft-scouting-2024/
Ricky Pearsall
WR
Florida
Ricky Pearsall Scouting Report
https://www.profootballnetwork.com/ricky-pearsall-draft-scouting-report-2024/
Riley Leonard
QB
Duke
Riley Leonard Scouting Report
https://www.profootballnetwork.com/riley-leonard-draft-scouting-2024/
Roman Wilson
WR
Michigan
Roman Wilson Scouting Report
https://www.profootballnetwork.com/roman-wilson-draft-scouting-2024/
Rome Odunze
WR
Washington
Rome Odunze Scouting Report
https://www.profootballnetwork.com/rome-odunze-draft-scouting-2024/
Sam Hartman
QB
Notre Dame
Sam Hartman Scouting Report
https://www.profootballnetwork.com/sam-hartman-draft-scouting-2024/
Spencer Rattler
QB
South Carolina
Spencer Rattler Scouting Report
https://www.profootballnetwork.com/spencer-rattler-draft-scouting-2024/
Tahj Washington
WR
USC
Tahj Washington Scouting Report
https://www.profootballnetwork.com/tahj-washington-draft-scouting-2024/
Taulia Tagovailoa
QB
Maryland
Taulia Tagovailoa Scouting Report
https://www.profootballnetwork.com/taulia-tagovailoa-draft-scouting-2024/
Treshaun Ward
RB
Kansas State
Treshaun Ward Scouting Report
https://www.profootballnetwork.com/treshaun-ward-draft-scouting-2024/
TreVeyon Henderson
RB
Ohio State
TreVeyon Henderson Scouting Report
https://www.profootballnetwork.com/treveyon-henderson-draft-scouting-2024/
Trey Benson
RB
Florida State
Trey Benson Scouting Report
https://www.profootballnetwork.com/trey-benson-draft-scouting-2024/
Trey Sanders
RB
TCU
Trey Sanders Scouting Report
https://www.profootballnetwork.com/trey-sanders-draft-scouting-2024/
Troy Franklin
WR
Oregon
Troy Franklin Scouting Report
https://www.profootballnetwork.com/troy-franklin-draft-scouting-2024/
Tyler Shough
QB
Texas Tech
Tyler Shough Scouting Report
https://www.profootballnetwork.com/tyler-shough-draft-scouting-2024/
Tyler Van Dyke
QB
Miami (FL)
Tyler Van Dyke Scouting Report
https://www.profootballnetwork.com/tyler-van-dyke-draft-scouting-2024/
Ulysses Bentley IV
RB
Ole Miss
Ulysses Bentley IV Scouting Report
https://www.profootballnetwork.com/ulysses-bentley-iv-draft-scouting-2024/
Will Howard
QB
Kansas State
Will Howard Scouting Report
https://www.profootballnetwork.com/will-howard-draft-scouting-2024/
Will Rogers
QB
Mississippi State
Will Rogers Scouting Report
https://www.profootballnetwork.com/will-rogers-draft-scouting-2024/
Will Sheppard
WR
Vanderbilt
Will Sheppard Scouting Report
https://www.profootballnetwork.com/will-sheppard-draft-scouting-2024/
Will Shipley
RB
Clemson
Will Shipley Scouting Report
https://www.profootballnetwork.com/will-shipley-draft-scouting-2024/
Xavier Legette
WR
South Carolina
Xavier Legette Scouting Report
https://www.profootballnetwork.com/xavier-legette-draft-scouting-report-2024/
Xavier Worthy
WR
Texas
Xavier Worthy Scouting Report
https://www.profootballnetwork.com/xavier-worthy-draft-scouting-2024/