In the modern NFL, having high-level playmakers at cornerback is becoming a non-negotiable proposition to combat the new wave of offensive innovation. And much like the class that came before it, the 2024 NFL Draft CB class should allow NFL defenses to stay ready.
Ranking the Top Cornerbacks in the 2024 NFL Draft
The 2023 NFL Draft CB class will be hard to top. Not only was it talented at the front of the board with prospects like Christian Gonzalez and Devon Witherspoon, but it also had unmatched depth. Deonte Banks, Joey Porter Jr., Kelee Ringo, Julius Brents, Darius Rush, Cory Trice, Clark Phillips III, Emmanuel Forbes, Cam Smith, Tyrique Stevenson — the list goes on and on.
It's bold to say the 2024 NFL Draft CB group will even come close to the 2023 group. But early on, we can at least say that the depth is here to stay. There are dozens of cornerback prospects on the watchlist for the 2024 cycle. And as our current top 10 list below exemplifies, playmaking ability is not in short supply by any means.
10) D.J. James, Auburn
On the surface, the SEC's 2024 NFL Draft pool isn't quite as dominating as it's been in years past. But across the board, SEC programs have prospects awaiting emergence in the secondary. One of those players already emerged last year but could reach even greater heights in 2022: Auburn cornerback D.J. James.
James transferred to Auburn from Oregon and quickly established himself as an impact presence on the boundary, logging a pick-six and eight pass deflections. At around 6'0″, 185 pounds, James has enough length to work with, and his blend of lower body elasticity, foot speed, explosiveness, and physicality in press makes him difficult to decouple from.
9) Tony Grimes, Texas A&M
The 2024 NFL Draft is an opportunity for several prospects to ascend by taking advantage of the transfer portal. Tony Grimes is another prospect on the move and on a quest to maximize his traits.
Grimes logged a pick and seven deflections in 2022 but has eyes on more this year. He brings a blend of effortless acceleration, fluidity, foot speed, and proportional length that's often only reserved for high-prestige recruits. Grimes exudes five-star talent on film, possessing rare natural mobility and playmaking skills within his 6'0″, 195-pound frame. As he continues to hone his instincts and eye discipline, Grimes can keep rising.
8) Caelen Carson, Wake Forest
There are a few select traits that will always translate at the cornerback position. You have to have the competitive mentality to exist on an island. But more than that, you need fast feet, malleable recovery athleticism, closing burst, and finishing ability. Those traits comprise a strong foundation, and that's a foundation that Caelen Carson possesses.
Though Carson has fallen under the radar at times, the 6'0″, 190-pound Demon Deacon is a formidable 2024 NFL Draft prospect who's accumulated two picks and 14 pass breakups over the past two years. Carson thrives in off-man and press-man coverage with his ability to minimize space with his feet, and he matches any physical aggression that comes his way.
7) Tahveon Nicholson, Illinois
After losing Witherspoon, the Illinois Fighting Illini will need a new cornerback to step up as the unit's alpha. Luckily, the 2022 tape shows that they might already have this player in waiting.
Tahveon Nicholson provided a glimpse of what he could do with one interception and six pass breakups, and he's on deck for an even bigger 2023.
There are some hang-ups with Nicholson's profile. At 5'11", 180 pounds, he doesn't have great strength in contact situations, and he'll also be a 24-year-old rookie.
Nevertheless, Nicholson is a chippy competitor who exudes energy both with his temperament and his movement skills. He's a rare athlete whose fluidity and instant response time can suffocate short routes.
6) Decorian Patterson, UCF
Moving from the Group of Five to the Big 12 is a big move for UCF, and they complemented that move with a big addition via the transfer portal. Decorian Patterson joins the Knights after a distinguished career at Middle Tennessee State. He was one of college football's most prolific playmakers in 2022, and he's quietly a very exciting 2024 NFL Draft prospect.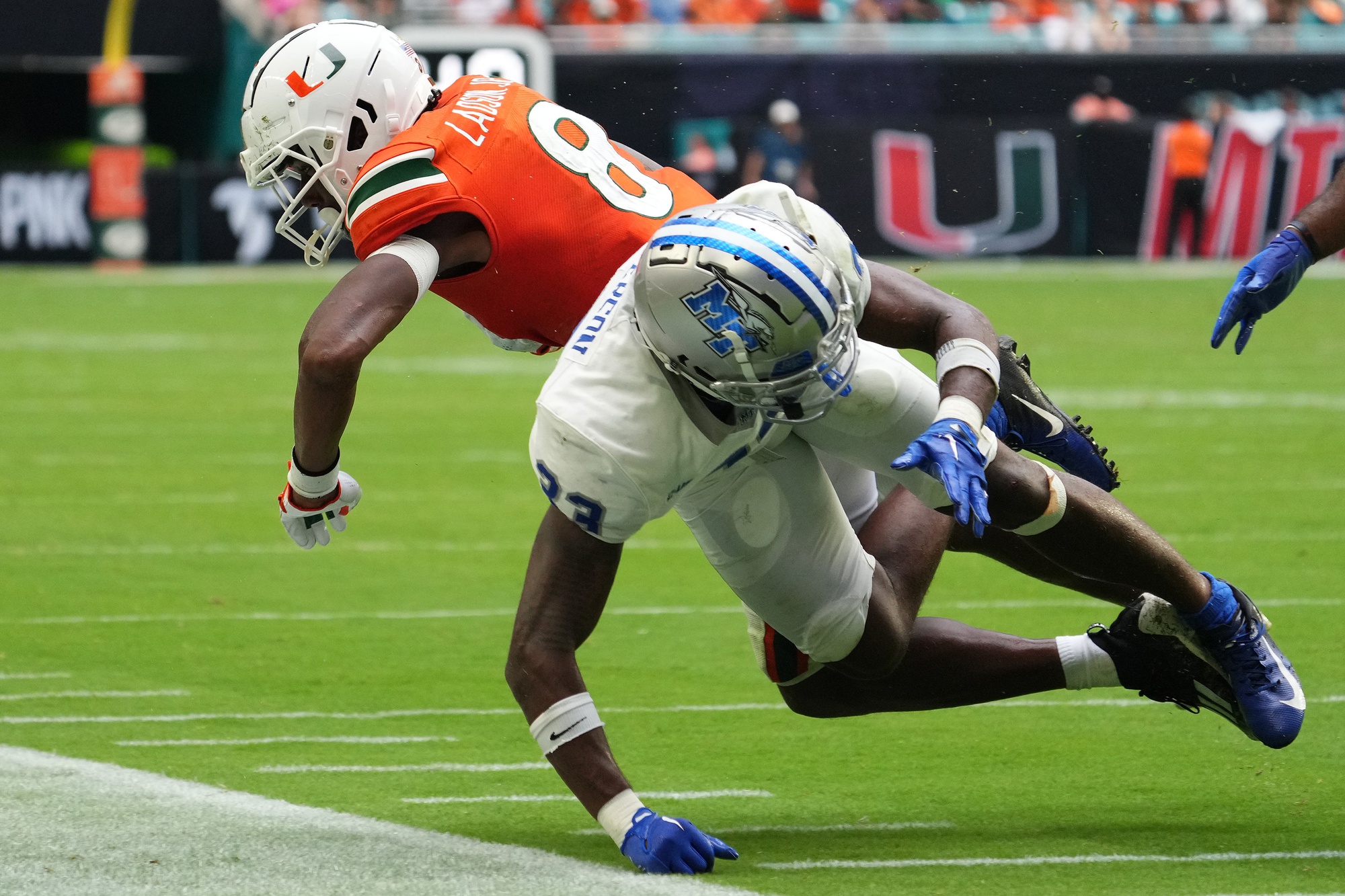 The 6'0″, 191-pound Patterson incited nightmares for opposing quarterbacks in 2022, racking up seven interceptions and 12 pass deflections. He's a certified ball hawk, whose combined disruption radius and ball skills can critically encumber receivers. And though he lacks elite fluidity, Patterson's fast, physical, and fleeting in both phases of the game.
5) Jason Marshall Jr., Florida
Just two cycles after producing Bills' first-round pick Kaiir Elam and a couple more after sending C.J. Henderson to the top 10, the Florida Gators may have another high-upside boundary CB ascending in 2023. Jason Marshall Jr. is a former five-star recruit coming off a one-interception, eight-deflection season, and has the tools to emerge in a big way.
Marshall's early production emphasizes his undeniable ball skills. But even more exciting is his toolbox in coverage. At 6'1″, 198 pounds, Marshall's a lean athlete with imposing length, reach, and physicality. He's a domineering size threat for smaller receivers who doubles as a high-energy athlete with the twitch, foot speed, and fluidity to match routes.
4) Denzel Burke, Ohio State
After arriving in Columbus as a four-star recruit, Denzel Burke broke out as a true freshman with a pick and 12 pass deflections. That true freshman season had some penciling Burke in as a first-rounder in the 2024 cycle. He regressed a bit in 2022, but there's still plenty of reason to be excited about what Burke can become at his maximum projection.
Being a former WR, there's still room for Burke to keep refining his technique, and his tendency to play too tall at stems does occasionally detract from his fluidity. But Burke has all the necessary explosiveness, twitch, and flexibility to be a premier cover man when you add in his length and physicality. He's also an adept processor in both man and zone.
3) Kalen King, Penn State
When Joey Porter Jr. funneled targets to the other side of the field in 2022, Kalen King was often the beneficiary. He didn't make it any easier on quarterbacks, racking up three interceptions and 15 pass deflections in a campaign that earned him national acclaim and an early spot in our top CB rankings for the 2024 NFL Draft.
At 5'11", 188 pounds, King is around average size, but what he lacks in mass, he makes up for with twitchy, fluid athleticism, superb ball skills, and relentless, unsuppressed anger in both coverage and support. With his combined playmaking ability, versatility, coverage mechanics, and tenacity, King carries a similar type of appeal that Witherspoon — who went fifth overall — had in the 2023 cycle.
2) Cooper DeJean, Iowa
There are three Big Ten cornerbacks in our latest positional top five for the 2024 NFL Draft. Any one of them could be the top CB in the conference down the road, but as of now, it's Iowa's Cooper DeJean leading the trio.
After a 2022 campaign that saw him put up five picks, eight PBUs, and three pick-sixes, DeJean is riding high as a potential Round 1 selection.
He's a cornerback, but at 6'1″, 209 pounds, DeJean looks more like a safety. In support, he looks like a linebacker — not only slabbing DBs and deconstructing blocks but also maintaining gap discipline and surging inside for tackles.
Don't let that support ability fool you, either. DeJean is a truly complete player. One of his best traits is his smooth, high-octane coverage athleticism for his size and his rare natural playmaking instincts.
Who Is the Best CB in the 2024 NFL Draft?
Some draft classes break the mold and have a CB1 from an under-the-radar school, but in all likelihood, the 2024 NFL Draft class won't be one of them. There's still a lot of football left to be played before the rankings are locked in, but right now, it's a fairly easy decision to make.
Alabama's Kool-Aid McKinstry is the preliminary CB1 of the 2024 NFL Draft class.
1) Kool-Aid McKinstry, Alabama
It might be too early to drink the Kool-Aid for any 2024 NFL Draft prospect, but that's not going to stop us from being awestruck at McKinstry's 2022 tape. The true sophomore earned first-team All-SEC honors alongside Emmanuel Forbes, Christopher Smith, and Jordan Battle after putting up a pick and a whopping 15 deflections.
It sounds simplistic, but McKinstry simply has it all. At 6'1″, 188 pounds, he has the length to jar receivers and block passes at the catch point. McKinstry's already a footwork technician with the movement speed, agility, and fluidity to mirror receivers at every level of the route. And his physical foundation ultimately sets him apart as a future starter at the NFL level.
Beyond having all the requisite raw traits, there's a certain precision in each layer of McKinstry's game. Nearly every jam is precise and forceful. Every movement has a purpose, and his patience allows him to maximize each step and punch. And at the catch point, he's as natural of a playmaker as they come, with effortless instincts and an authoritative mentality.
McKinstry looks tailor-made to be a CB1 at the NFL level, and he could be a blue-chip prospect when it's all said and done.
Honorable Mentions
Darian Chestnut, LSU
Ja'Quan Sheppard, Maryland
Fentrell Cypress II, Florida State
Kris Abrams-Draine, Missouri
Javon Bullard, Georgia
M.J. Devonshire, Pittsburgh
Kamari Lassiter, Georgia
Daequan Hardy, Penn State
Ro Torrence, Arizona State
Quinton Newsome, Nebraska
Listen to the PFN Scouting Podcast
List to the PFN Scouting Podcast! Click the embedded player below to listen, or you can find the PFN Scouting Podcast on iTunes, Spotify, and all major podcast platforms.  Be sure to subscribe and leave us a five-star review! Rather watch instead? Check out the PFN Scouting Podcast on our Scouting YouTube channel.