Is Clemson LB Barrett Carter the top prospect at his position in the 2024 NFL Draft? The 2024 LB group looks very deep and very well-rounded on initial viewings, but no player has the all-encompassing skill set and role flexibility that Carter brings.
Barrett Carter Draft Profile and Measurements
Height: 6'1″
Weight: 225 pounds
Position: Linebacker
School: Clemson
Current Year: Junior
It took the Tigers a while to build a defense that now has over a half-dozen NFL prospects. Working from the trenches to the secondary, Ruke Orhorhoro, Tyler Davis, Jeremiah Trotter Jr., Nate Wiggins, and Andrew Mukuba all have legitimate cases to be drafted. But Carter might be the most exciting prospect in the entire group.
Carter was a five-star recruit out of North Gwinnett High School in Suwanee, Georgia. A two-way star at his old school, Carter made a full-time transition to linebacker once he joined the Clemson Tigers. And after a tune-up in 2021, the production came fast.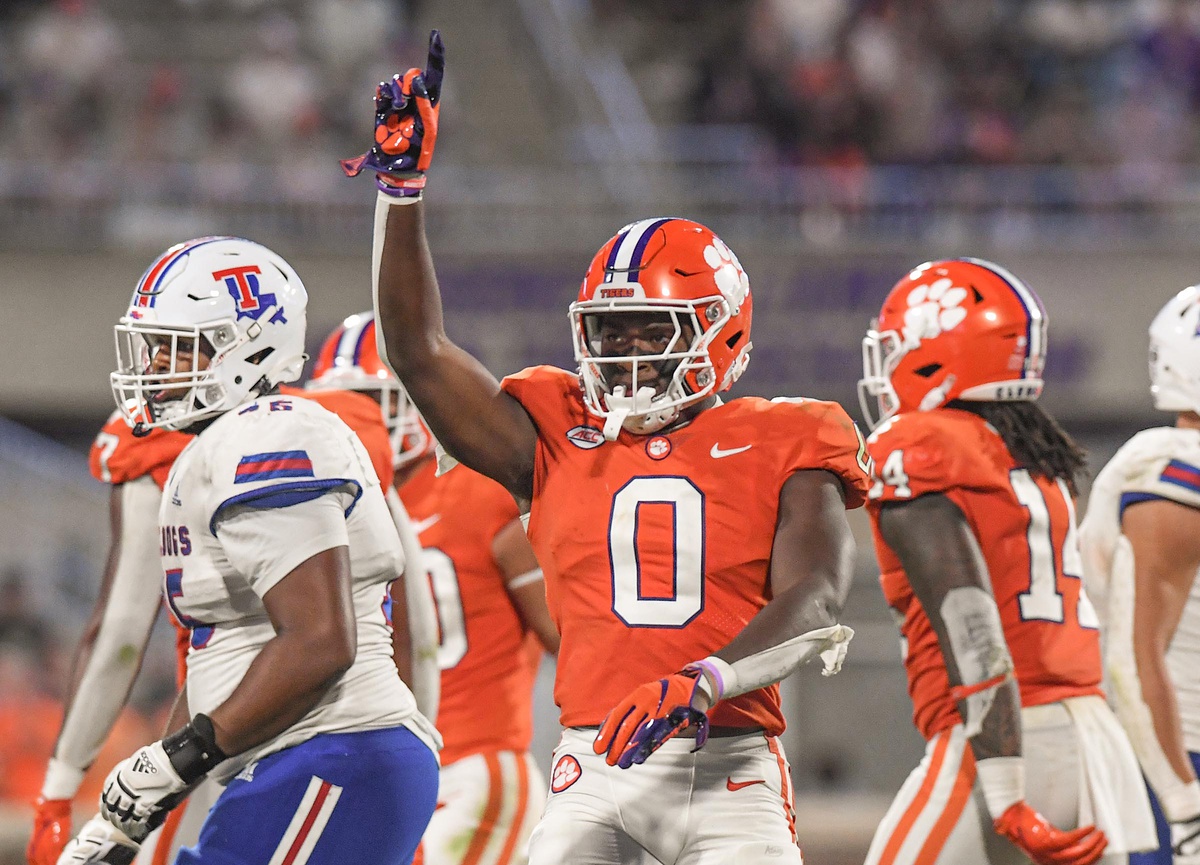 In 2022, Carter emerged as a star for Dabo Swinney's squad. He registered 73 tackles, 10.5 tackles for loss, 5.5 sacks, two interceptions, eight pass deflections, and two forced fumbles, earning first-team All-ACC honors and some All-American recognition as well.
Carter is now eligible for the 2024 NFL Draft, and later on, he'll have a choice to make about whether or not to declare. But as long as he keeps producing, his scouting report encases a kind of upside that few prospects can match.
Barrett Carter Scouting Report
Strengths
Extremely explosive, amped-up athlete who moves with bristling, unyielding energy.
Moves with torrid foot speed, suddenness, and jaw-dropping reactionary athleticism.
Versatility, high-energy motion, and pass-rush ability make him a formation wild card.
Has the speed to blanket tight ends, close gaps in pursuit, and chase to the boundary.
Can use rip moves to pry past outside blocks when crashing down on screen formations.
Able to get ahead of pulling blockers and roll his hips to preserve pursuit angles.
Carries menacing force into head-on tackles and uses his twitch to square up runners.
Has shown he can wrap up ball carriers while leading with his shoulder and going low.
Able to quickly identify run directions and flow to gaps by diagnosing leading blockers.
Can quickly recognize screen formations out of the overhang slot and explode downhill.
Has extremely impressive gap discipline and quickness when adapting outside.
Special coverage LB with depth IQ, eye discipline, fluid hips, adaptability, and ball skills.
Can man up TEs and big slot WRs with fast feet, transitionary burst, and reaction speed.
Brings maniacal pass-rushing energy, rocketing through interior gaps in QB pursuit.
Can use brisk euro-steps, hurdles, and swims, intent on invading the pocket at all costs.
Weaknesses
Frame is compact and streamlined but has average density and length.
Lacks the necessary play strength to solo-tackle runners with momentum consistently.
Sometimes lacks the required strength to rip through initial blocks when playing screens.
Experiences slight delays between throw recognition, diagnosis, and trigger.
With high-energy motion, can be prone to wasted movements in coverage and in space.
On occasion, inside tackling angles are too narrow, allowing RBs to escape his reach.
Sometimes picks up his feet too early and fails to drive his lower body into tackles.
Tackling form sometimes erodes at contact, and leverage drifts too far upright.
Can better employ hands to channel force at contact and combat pass blockers.
Current Draft Projection and Summary
Carter is the top LB prospect on my 2024 NFL Draft board and a potential top-10 overall talent in the 2024 class — worthy of first-round consideration.
There's still a lot of football left to be played at this point, but after grading Carter's traits, it's hard to imagine finding a more versatile and dynamic second-level defender in the incoming class.
At 6'1″, 225 pounds, Carter is a quantifiably elite athlete — a high-energy mover with uncommon foot speed, range, twitch, and throttle freedom, as well as seamless fluidity in coverage. This physical foundation allows Carter to be a playmaker across realms and phases.
As a traditional LB presence, Carter has shown he can encumber blocks, invade gaps, acquire proper leverage, and chase down run plays with his closing speed. He also flashes good tackling form and force at contact.
In coverage, he's intelligent and disciplined with his depth. He can pass off routes and quickly diagnose threats underneath, envelop big-slot weapons in man with his foot speed and burst, and sniff out screens like a bloodhound.
MORE: FREE Mock Draft Simulator With Trades
On top of his traditional appeal, Carter has the combined explosiveness, agility, and unhinged tenacity to be a force as a pass rusher. He's a terrifying blitzing presence through gaps, who has room to reach even greater heights as he continues to refine his hand usage.
Carter does need to get stronger before he makes the NFL leap. His play strength is above average at best, and it sometimes limits his ability to quickly deconstruct blocks and make solo tackles. But in a modern NFL where second-level versatility and deception are paramount, Carter is the new-age playmaker with traditional utility that all teams crave.
NFL Draft Scouting Reports
Using the table below, browse NFL Draft scouting profiles for hundreds of draft prospects so you can get a head start on the 2024 NFL Draft.
Don't forget to check out our Mock Draft Simulator, where you can take control of your favorite NFL team and build its roster for the future!
You can sort the table below by player, team, or position. For mobile users, this table is best viewed in landscape mode.
Player
Position
Team
Target
Aidan Robbins
RB
BYU
Aidan Robbins Scouting Report
https://www.profootballnetwork.com/aidan-robbins-draft-scouting-2024/
Ainias Smith
WR/RB
Texas A&M
Ainias Smith Scouting Report
https://www.profootballnetwork.com/ainias-smith-draft-scouting-2024/
Andrew Mukuba
S
Clemson
Andrew Mukuba Scouting Report
https://www.profootballnetwork.com/andrew-mukuba-draft-scouting-2024/
Anthony Gould
WR
Oregon State
Anthony Gould Scouting Report
https://www.profootballnetwork.com/anthony-gould-draft-scouting-2024/
Antwane Wells Jr.
WR
South Carolina
Antwane Wells Jr. Scouting Report
https://www.profootballnetwork.com/antwane-wells-jr-draft-scouting-2024/
Audric Estimé
RB
Notre Dame

Audric Estimé Scouting Report

https://www.profootballnetwork.com/audric-estime-draft-scouting-2024/
Austin Jones
RB
USC
Austin Jones Scouting Report
https://www.profootballnetwork.com/austin-jones-draft-scouting-2024/
Austin Reed
QB
Western Kentucky
Austin Reed Scouting Report
https://www.profootballnetwork.com/austin-reed-draft-scouting-2024/
Barrett Carter
LB
Clemson
Barrett Carter Scouting Report
https://www.profootballnetwork.com/barrett-carter-draft-scouting-2024/
Blake Corum
RB
Michigan
Blake Corum Scouting Report
https://www.profootballnetwork.com/blake-corum-draft-scouting-2024/
Blake Watson
RB
Memphis
Blake Watson Scouting Report
https://www.profootballnetwork.com/blake-watson-draft-profile-memphis-rb-scouting-report/
Bo Nix
QB
Oregon
Bo Nix Scouting Report
https://www.profootballnetwork.com/bo-nix-draft-scouting-report-2024/
Braelon Allen
RB
Wisconsin
Braelon Allen Scouting Report
https://www.profootballnetwork.com/braelon-allen-draft-scouting-2024/
Brenden Rice
WR
USC
Brenden Rice Scouting Report
https://www.profootballnetwork.com/brenden-rice-draft-scouting-2024/
Brennan Armstrong
QB
NC State
Brennan Armstrong Scouting Report
https://www.profootballnetwork.com/brennan-armstrong-draft-scouting-2024/
Brock Bowers
TE
Georgia
Brock Bowers Scouting Report
https://www.profootballnetwork.com/brock-bowers-draft-scouting-2024/
Bucky Irving
RB
Oregon
Bucky Irving Scouting Report
https://www.profootballnetwork.com/bucky-irving-draft-scouting-2024/
Cade Stover
TE
Ohio State
Cade Stover Scouting Report
https://www.profootballnetwork.com/cade-stover-draft-scouting-2024/
Caleb Williams
QB
USC
Caleb Williams Scouting Report
https://www.profootballnetwork.com/caleb-williams-draft-scouting-2024/
Cameron Rising
QB
Utah
Cameron Rising Scouting Report
https://www.profootballnetwork.com/cameron-rising-draft-scouting-2024/
Cameron Ward
QB
Washington State
Cameron Ward Scouting Report
https://www.profootballnetwork.com/cameron-ward-draft-scouting-2024/
Carson Beck
QB
Georgia
Carson Beck Scouting Report
https://www.profootballnetwork.com/carson-beck-draft-scouting-2024/
Carson Steele
RB
UCLA
Carson Steele Scouting Report
https://www.profootballnetwork.com/carson-steele-draft-scouting-2024/
Chop Robinson
EDGE
Penn State
Chop Robinson Scouting Report
https://www.profootballnetwork.com/chop-robinson-draft-scouting-2024/
Chris Tyree
WR
Notre Dame
Chris Tyree Scouting Report
https://www.profootballnetwork.com/chris-tyree-draft-scouting-2024/
Cornelius Johnson
WR
Michigan
Cornelius Johnson Scouting Report
https://www.profootballnetwork.com/cornelius-johnson-draft-scouting-2024/
Dallas Turner
EDGE
Alabama
Dallas Turner Scouting Report
https://www.profootballnetwork.com/dallas-turner-draft-scouting-2024/
Denzel Burke
CB
Ohio State
Denzel Burke Scouting Report
https://www.profootballnetwork.com/denzel-burke-draft-scouting-report-2024/
Devin Leary
QB
Kentucky
Devin Leary Scouting Report
https://www.profootballnetwork.com/devin-leary-draft-scouting-2024/
Dillon Gabriel
QB
Oklahoma
Dillon Gabriel Scouting Report
https://www.profootballnetwork.com/dillon-gabriel-draft-scouting-2024/
DJ Uiagalelei
QB
Oregon State
DJ Uiagalelei Scouting Report
https://www.profootballnetwork.com/dj-uiagalelei-draft-scouting-2024/
Donovan Edwards
RB
Michigan
Donovan Edwards Scouting Report
https://www.profootballnetwork.com/donovan-edwards-draft-scouting-2024/
Donovan Smith
QB
Houston
Donovan Smith Scouting Report
https://www.profootballnetwork.com/donovan-smith-draft-scouting-2024/
Dorian Singer
WR
USC
Dorian Singer Scouting Report
https://www.profootballnetwork.com/dorian-singer-draft-scouting-2024/
Drake Maye
QB
North Carolina
Drake Maye Scouting Report
https://www.profootballnetwork.com/drake-maye-draft-scouting-2024/
Emeka Egbuka
WR
Ohio State
Emeka Egbuka Scouting Report
https://www.profootballnetwork.com/emeka-egbuka-draft-scouting-2024/
Garrett Shrader
QB
Syracuse
Garrett Shrader Scouting Report
https://www.profootballnetwork.com/garrett-shrader-draft-scouting-2024/
Gavin Hardison
QB
UTEP
Gavin Hardison Scouting Report
https://www.profootballnetwork.com/gavin-hardison-draft-scouting-2024/
George Holani
RB
Boise State
George Holani Scouting Report
https://www.profootballnetwork.com/george-holani-draft-scouting-2024/
Grayson McCall
QB
Coastal Carolina
Grayson McCall Scouting Report
https://www.profootballnetwork.com/grayson-mccall-draft-scouting-2024/
Hudson Card
QB
Purdue
Hudson Card Scouting Report
https://www.profootballnetwork.com/hudson-card-draft-scouting-2024/
Isaiah Neyor
WR
Texas
Isaiah Neyor Scouting Report
https://www.profootballnetwork.com/isaiah-neyor-draft-scouting-2024/
J.J. McCarthy
QB
Michigan
J.J. McCarthy Scouting Report
https://www.profootballnetwork.com/jj-mccarthy-draft-scouting-2024/
J.T. Tuimoloau
EDGE
Ohio State
J.T. Tuimoloau Scouting Report
https://www.profootballnetwork.com/j-t-tuimoloau-draft-scouting-report-2024/
Jalen Berger
RB
Michigan State
Jalen Berger Scouting Report
https://www.profootballnetwork.com/jalen-berger-draft-scouting-2024/
Jalen McMillan
WR
Washington
Jalen McMillan Scouting Report
https://www.profootballnetwork.com/jalen-mcmillan-draft-scouting-2024/
Jalon Daniels
QB
Kansas
Jalon Daniels Scouting Report
https://www.profootballnetwork.com/jalon-daniels-draft-scouting-2024/
Jared Verse
EDGE
Florida State
Jared Verse Scouting Report
https://www.profootballnetwork.com/jared-verse-scouting-draft-2024/
Jase McClellan
RB
Alabama
Jase McClellan Scouting Report
https://www.profootballnetwork.com/jase-mcclellan-draft-scouting-2024/
Javon Baker
WR
UCF
Javon Baker Scouting Report
https://www.profootballnetwork.com/javon-baker-draft-scouting-2024/
Jayden Daniels
QB
LSU
Jayden Daniels Scouting Report
https://www.profootballnetwork.com/jayden-daniels-draft-scouting-2024/
Jeff Sims
QB
Nebraska
Jeff Sims Scouting Report
https://www.profootballnetwork.com/jeff-sims-draft-scouting-2024/
Jermaine Burton
WR
Alabama
Jermaine Burton Scouting Report
https://www.profootballnetwork.com/jermaine-burton-draft-scouting-2024/
Jer'Zhan Newton
DT
Illinois
Jer'Zhan Newton Scouting Report
https://www.profootballnetwork.com/jerzhan-newton-draft-scouting-2024/
Joe Alt
OT
Notre Dame
Joe Alt Scouting Report
https://www.profootballnetwork.com/joe-alt-draft-scouting-2024/
Joe Milton
QB
Tennessee
Joe Milton Scouting Report
https://www.profootballnetwork.com/joe-milton-draft-scouting-2024/
John Rhys Plumlee
QB
UCF
John Rhys Plumlee Scouting Report
https://www.profootballnetwork.com/john-rhys-plumlee-draft-scouting-2024/
Johnny Wilson
WR
Florida State
Johnny Wilson Scouting Report
https://www.profootballnetwork.com/johnny-wilson-draft-scouting-2024/
Jo'Quavious Marks
RB
Mississippi State
Jo'Quavious Marks Scouting Report
https://www.profootballnetwork.com/joquavious-marks-draft-scouting-2024/
Jordan Travis
QB
Florida State
Jordan Travis Scouting Report
https://www.profootballnetwork.com/jordan-travis-draft-scouting-2024/
Jordan Whittington
WR
Texas
Jordan Whittington Scouting Report
https://www.profootballnetwork.com/jordan-whittington-draft-scouting-2024/
Kalen King
CB
Penn State
Kalen King Scouting Report
https://www.profootballnetwork.com/kalen-king-draft-scouting-2024/
Kamari Lassiter
CB
Georgia
Kamari Lassiter Scouting Report
https://www.profootballnetwork.com/kamari-lassiter-draft-scouting-2024/
Kamren Kinchens
S
Miami (FL)
Kamren Kinchens Scouting Report
https://www.profootballnetwork.com/kamren-kinchens-draft-scouting-2024/
Keith Randolph Jr.
DT
Illinois
Keith Randolph Jr. Scouting Report
https://www.profootballnetwork.com/keith-randolph-jr-draft-scouting-report-2024/
Kendall Milton
RB
Georgia
Kendall Milton Scouting Report
https://www.profootballnetwork.com/kendall-milton-draft-scouting-2024/
Keon Coleman
WR
Florida State
Keon Coleman Scouting Report
https://www.profootballnetwork.com/keon-coleman-draft-scouting-2024/
KJ Jefferson
QB
Arkansas
KJ Jefferson Scouting Report
https://www.profootballnetwork.com/kj-jefferson-draft-scouting-2024/
Kool-Aid McKinstry
CB
Alabama
Kool-Aid McKinstry Scouting Report
https://www.profootballnetwork.com/kool-aid-mckinstry-draft-scouting-2024/
Kurtis Rourke
QB
Ohio
Kurtis Rourke Scouting Report
https://www.profootballnetwork.com/kurtis-rourke-draft-scouting-2024/
Ladd McConkey
WR
Georgia
Ladd McConkey Scouting Report
https://www.profootballnetwork.com/ladd-mcconkey-draft-scouting-2024/
Maason Smith
DT
LSU
Maason Smith Scouting Report
https://www.profootballnetwork.com/maason-smith-draft-scouting-2024/
Malachi Corley
WR
Western Kentucky
Malachi Corley Scouting Report
https://www.profootballnetwork.com/?p=389162&preview=true&preview_id=389162
Malik Nabers
WR
LSU
Malik Nabers Scouting Report
https://www.profootballnetwork.com/malik-nabers-draft-scouting-2024/
Mario Williams
WR
USC
Mario Williams Scouting Report
https://www.profootballnetwork.com/mario-williams-draft-scouting-2024/
MarShawn Lloyd
RB
USC
MarShawn Lloyd Scouting Report
https://www.profootballnetwork.com/marshawn-lloyd-draft-scouting-2024/
Marvin Harrison Jr.
WR
Ohio State
Marvin Harrison Jr. Scouting Report
https://www.profootballnetwork.com/marvin-harrison-draft-scouting-2024/
Michael Penix Jr.
QB
Washington
Michael Penix Jr. Scouting Report
https://www.profootballnetwork.com/michael-penix-jr-draft-scouting-2024/
Michael Pratt
QB
Tulane
Michael Pratt Scouting Report
https://www.profootballnetwork.com/michael-pratt-draft-scouting-2024/
Moose Muhammad III
WR
Texas A&M
Moose Muhammad III Scouting Report
https://www.profootballnetwork.com/moose-muhammad-iii-draft-scouting-2024/
Noah Whittington
RB
Oregon
Noah Whittington Scouting Report
https://www.profootballnetwork.com/noah-whittington-draft-scouting-2024/
Olu Fashanu
OT
Penn State
Olu Fashanu Scouting Report
https://www.profootballnetwork.com/olu-fashanu-draft-scouting-report-2024/
Phil Jurkovec
QB
Pittsburgh
Phil Jurkovec Scouting Report
https://www.profootballnetwork.com/phil-jurkovec-draft-scouting-2024/
Princely Umanmielen
EDGE
Florida
Princely Umanmielen Scouting Report
https://www.profootballnetwork.com/princely-umanmielen-draft-scouting-2024/
Quinn Ewers
QB
Texas
Quinn Ewers Scouting Report
https://www.profootballnetwork.com/quinn-ewers-draft-scouting-2024/
Raheim Sanders
RB
Arkansas
Raheim Sanders Scouting Report
https://www.profootballnetwork.com/raheim-sanders-draft-scouting-2024/
Ricky Pearsall
WR
Florida
Ricky Pearsall Scouting Report
https://www.profootballnetwork.com/ricky-pearsall-draft-scouting-report-2024/
Riley Leonard
QB
Duke
Riley Leonard Scouting Report
https://www.profootballnetwork.com/riley-leonard-draft-scouting-2024/
Roman Wilson
WR
Michigan
Roman Wilson Scouting Report
https://www.profootballnetwork.com/roman-wilson-draft-scouting-2024/
Rome Odunze
WR
Washington
Rome Odunze Scouting Report
https://www.profootballnetwork.com/rome-odunze-draft-scouting-2024/
Sam Hartman
QB
Notre Dame
Sam Hartman Scouting Report
https://www.profootballnetwork.com/sam-hartman-draft-scouting-2024/
Spencer Rattler
QB
South Carolina
Spencer Rattler Scouting Report
https://www.profootballnetwork.com/spencer-rattler-draft-scouting-2024/
Tahj Washington
WR
USC
Tahj Washington Scouting Report
https://www.profootballnetwork.com/tahj-washington-draft-scouting-2024/
Taulia Tagovailoa
QB
Maryland
Taulia Tagovailoa Scouting Report
https://www.profootballnetwork.com/taulia-tagovailoa-draft-scouting-2024/
Treshaun Ward
RB
Kansas State
Treshaun Ward Scouting Report
https://www.profootballnetwork.com/treshaun-ward-draft-scouting-2024/
TreVeyon Henderson
RB
Ohio State
TreVeyon Henderson Scouting Report
https://www.profootballnetwork.com/treveyon-henderson-draft-scouting-2024/
Trey Benson
RB
Florida State
Trey Benson Scouting Report
https://www.profootballnetwork.com/trey-benson-draft-scouting-2024/
Trey Sanders
RB
TCU
Trey Sanders Scouting Report
https://www.profootballnetwork.com/trey-sanders-draft-scouting-2024/
Troy Franklin
WR
Oregon
Troy Franklin Scouting Report
https://www.profootballnetwork.com/troy-franklin-draft-scouting-2024/
Tyler Shough
QB
Texas Tech
Tyler Shough Scouting Report
https://www.profootballnetwork.com/tyler-shough-draft-scouting-2024/
Tyler Van Dyke
QB
Miami (FL)
Tyler Van Dyke Scouting Report
https://www.profootballnetwork.com/tyler-van-dyke-draft-scouting-2024/
Ulysses Bentley IV
RB
Ole Miss
Ulysses Bentley IV Scouting Report
https://www.profootballnetwork.com/ulysses-bentley-iv-draft-scouting-2024/
Will Howard
QB
Kansas State
Will Howard Scouting Report
https://www.profootballnetwork.com/will-howard-draft-scouting-2024/
Will Rogers
QB
Mississippi State
Will Rogers Scouting Report
https://www.profootballnetwork.com/will-rogers-draft-scouting-2024/
Will Sheppard
WR
Vanderbilt
Will Sheppard Scouting Report
https://www.profootballnetwork.com/will-sheppard-draft-scouting-2024/
Will Shipley
RB
Clemson
Will Shipley Scouting Report
https://www.profootballnetwork.com/will-shipley-draft-scouting-2024/
Xavier Legette
WR
South Carolina
Xavier Legette Scouting Report
https://www.profootballnetwork.com/xavier-legette-draft-scouting-report-2024/
Xavier Worthy
WR
Texas
Xavier Worthy Scouting Report
https://www.profootballnetwork.com/xavier-worthy-draft-scouting-2024/