In the modern NFL, the safety position is becoming the ultimate chess piece. The versatility and all-around utility required to play the position effectively is daunting. But at the same time, prospects who have the necessary abilities can be greatly rewarded. What does the 2024 NFL Draft safety class have to offer NFL teams?
Ranking the Safeties in the 2024 NFL Draft
It's too early to provide any referendums on the 2023 NFL Draft safety class. There's a chance the group could exceed expectations. But evaluators were generally on the same wavelength in calling it a weaker class than normal. Even the best players available, like Alabama's Brian Branch, fit better into specific roles and weren't traditional prospects.
Versatility, like the kind that Branch offers, is valuable, but being able to play in two-high and single-high, or match up against big slot WRs and move TEs with size, is just as much an asset. Luckily, there appears to be far more variety and multiplicity in the preliminary 2024 NFL Draft safety group, and that's something teams can benefit from.
10) Jaden Hicks, Washington State
The Washington State Cougars quietly had a very imposing defense in 2022 that produced a 2023 NFL Draft pick in linebacker Daiyan Henley. There's more talent on the way this season.
Edge rusher Brennan Jackson has a definite chance to be drafted next April, as does safety Jaden Hicks — a high-upside defensive back who's just now coming into his prime.
Hicks, who stands at 6'3″, 202 pounds, put up 76 tackles, two TFLs, a sack, a pick, and six pass deflections in 2022. At his size, he's an explosive athlete and a physical competitor coming downhill. That's what stands out most on Hicks' tape, but he also has the coordination and contortion ability to extend beyond his frame and make plays on the ball.
9) Cole Bishop, Utah
Utah's football program is consistently one of the most well-coached in the nation, and that naturally translates to year-by-year NFL Draft production. In the 2024 cycle, the Utes have one of their best defensive prospects in recent memory with ascending safety Cole Bishop.
Bishop has been a stalwart defender ever since he stepped on campus. In 2022, he registered 83 tackles, six tackles for loss, 1.5 sacks, an interception, and three pass deflections.
At 6'2″, 205 pounds, Bishop's profile is impressively complete. He's a disciplined coverage defender over the top who can also cut off running angles and impose his will in support.
8) Hudson Clark, Arkansas
Arkansas' defensive backfield quietly has a chance to be one of the best units in college football next year. The Razorbacks have both Lorando Johnson and Alfahiym Walcott coming over from Baylor, and they have cornerback Dwight McGlothern reprising his role on the boundary. Among all this talent, however, the team's best prospect might be safety Hudson Clark.
Clark has four interceptions and 15 pass breakups across a three-year career and broke out in 2022 with 11 PBUs and four TFLs. Clark has a CB background, but now playing safety full-time, he's truly found his niche. He's a lean, rangy playmaker at 6'2″ with superb ball skills, who displays quantifiably elite explosiveness when triggering downhill.
7) Tyler Nubin, Minnesota
The Minnesota Golden Gophers had both Terell Smith and Jordan Howden selected in the 2023 NFL Draft. Yet, the team's best draft prospect in the secondary is still on the roster.
Enter Tyler Nubin, the versatile veteran who has 107 tackles, three TFLs, seven picks, and five pass deflections over the past two campaigns.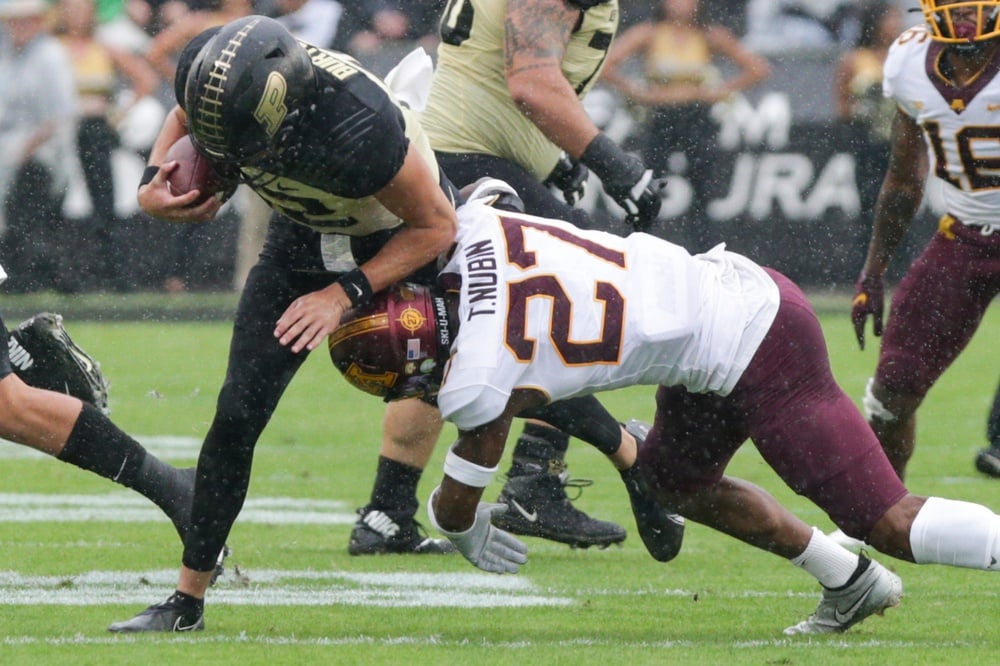 Nubin brings a baseline level of speed and explosiveness at 6'2″, 205 pounds, to start. But NFL evaluators will be especially taken by his blend of zone awareness, football IQ, fluidity, and playmaking value both in coverage and run support. Versatile safeties are worth their weight in gold in the modern NFL, and Nubin brings a lot to like within that lens.
6) Calen Bullock, USC
It would be no surprise after the 2023 campaign if Calen Bullock not only rises up this list but competes for a top spot. For two seasons, Bullock has been a premier coverage defender for the USC Trojans. And now, in his first season of eligibility, he has the potential to emerge as a first-round prospect if he sustains his high level of play.
A former WR, Bullock stands at 6'3″, 180 pounds, with elite ball skills. Beyond that, his build and athletic profile translate extremely well at safety. He's an explosive, high-energy athlete with elite deep speed and range who dramatically erases space while tracking throws.
While he can add more mass to his frame, Bullock's not at all afraid to come downhill and leverage his speed into force.
5) Beau Brade, Maryland
The Maryland Terrapins produced a first-round DB in Deonte Banks last cycle and another draft pick in Jakorian Bennett. A cycle earlier, they sent Nick Cross to the Indianapolis Colts in Round 3. At this point, Maryland has been established as a producer of NFL talent in the secondary, and Beau Brade is the next early-round prospect to watch.
2022 was Brade's first season as a full-time starter, and he passed the audition with flying colors. The 6'1″, 205-pound safety racked up 85 tackles, four tackles for loss, two interceptions, five pass breakups, and two forced fumbles.
Not only is Brade productive and versatile, but his brand of mobility — explosive, twitched-up, high-energy, free-flowing — is also extremely translatable.
4) James Williams, Miami (FL)
If you see a player on Miami's defensive film who towers over everyone in the secondary, chances are that it's James Williams. At 6'5″, 224 pounds, Williams has unnatural size for a safety. It can be easy to hype up those kinds of prospects prematurely in the NFL Draft realm, but Williams has done enough on tape to earn some excitement.
Williams can make plays on the ball, as evidenced by his three picks and eight deflections over the past two seasons. Yet, the most actionable utility for his frame comes in support. Williams accelerates quickly for his size, and his sheer size advantage can help him violently slab runners with physicality when encroaching on the line.
3) Rod Moore, Michigan
Daxton Hill saw his name called in Round 1 of the 2022 NFL Draft. It remains to be seen if Rod Moore will go that early, but he has a case to be one of the top safeties in the 2024 NFL Draft.
Hill's burst is hard to match, but Moore has already shown that not only is he just as talented, he's also a very good football player in his own right.
For almost the entirety of his career at Michigan, Moore's explosive ability has been under the spotlight. He's agile and fluid in space at 6'0″, 185 pounds, but his true superpower as a prospect is his intelligence and natural instincts — something that allowed him to hit the field immediately at Michigan. He recognizes routes quickly, can read the quarterback's eyes, and doesn't hesitate to make plays.
2) Kamren Kinchens, Miami (FL)
As many ball hawks as there are on our preliminary top safeties list for the 2024 NFL Draft, none had more interceptions than Miami's Kamren Kinchens in 2022. Kinchens put up six interceptions at the back end of the Hurricanes' secondary, along with six deflections, and he added 59 total tackles and 1.5 tackles for loss on the year.
At 5'11", 202 pounds, Kinchens is the stockier, more compact of the two Miami safeties, and his frame serves him well as a tackler when roaming into the box. Kinchens can improve his zone awareness at times when passing off and carrying routes, but in deep coverage, he has the range, vision, and ball-tracking ability to swoop under lofted throws.
Who Is the Best Safety in the 2024 NFL Draft?
Early on, the safety position is one of the toughest groups to get a read on ahead of the 2024 NFL Draft cycle. There's hope that this year's class will, at the very least, have more clarity than the 2023 group. It remains to be seen if that will be the case, but we know one player who'll very much be a factor for the top spot: Clemson's Andrew Mukuba.
1) Andrew Mukuba, Clemson
The top safety spot in the 2024 NFL Draft is up for grabs. No one is locked in yet, but as we stand, the prospect with the most translatable skill set and ceiling might be Andrew Mukuba. Mukuba splits his time between free safety, the nickel spot, and the box. And through two seasons, he's put up 101 tackles, an interception, and 10 pass breakups.
Mukuba isn't the size threat that other safeties on this list are. He's 6'0″, at most, and just 185 pounds. Within that frame, Mukuba packs an effortless kind of short-area athleticism and the range to drape receivers in space while tracking the ball with keen eyes. His overarching, high-quality versatility is what may win over scouts next April.
What stands out most on Mukuba's film is his elastic brand of athleticism. Simply moving is easy for him — not just vertically but also laterally. We mentioned range, but Mukuba's also a very capable slot defender in off-man who can match WRs with fast feet and flip his hips effortlessly to carry opponents upfield.
You can do so many things with Mukuba. Not only can he perform multiple roles and functions at a high level, but he also serves as an all-encompassing glue piece you can build a secondary around. There are still areas in which he can grow further, but Mukuba's a surefire fit for the modern NFL on the defensive side.
Honorable Mentions
Jeffrey Bassa, Oregon
Jaylon Carlies, Missouri
Lathan Ransom, Ohio State
Lorando Johnson, Arkansas
Billy Bowman, Oklahoma
Bud Clark, TCU
Jalen Catalon, Texas
Kenny Logan Jr., Kansas
Xavion Alford, Arizona State
Demani Richardson, Texas A&M
Listen to the PFN Scouting Podcast
List to the PFN Scouting Podcast! Click the embedded player below to listen, or you can find the PFN Scouting Podcast on iTunes, Spotify, and all major podcast platforms.  Be sure to subscribe and leave us a five-star review! Rather watch instead? Check out the PFN Scouting Podcast on our Scouting YouTube channel.