The 2023 NFL Draft is quickly approaching. Before we know it, we'll find ourselves watching Draft Day on Prime Video in an attempt to get psyched up for the big event!
NFL teams are finalizing their big boards as we speak, and they're beginning to zero in on the players they love, which means that more and more information will start to leak out over the coming days. As some of that information has started to trickle out already, here is an attempt to put it all together and ascertain how the first two rounds of the NFL Draft will shake out.
2023 NFL Mock Draft | Round 1
1) Carolina Panthers (From CHI): C.J. Stroud, QB, Ohio State
The Panthers have seen a carousel of starting quarterbacks in recent seasons. With the state of the rest of the roster being in pretty good shape, this team could be ready to compete sooner than later if they get some stability at football's most important position.
C.J. Stroud is an accurate passer at all three levels of the field, he's a quick processor, and would be a perfect fit within Frank Reich's scheme. There are still some questions surrounding the overall strength of the wide receiver corps, so it might take a little bit for him to get truly acclimated to the NFL, but the potential is there for Stroud to be a top-10 quarterback in the league down the line.
2) Houston Texans: Will Anderson Jr., EDGE, Alabama
There is more and more smoke coming out that the Texans are not a lock to take a quarterback with the No. 2 overall pick in the 2023 NFL Draft. This seems like a massive mistake, but the purpose of mock drafts is to see how different scenarios could play out.
In this simulation, Houston instead gets a blue-chip talent at one of football's most important positions: edge rusher. Will Anderson Jr. has been discussed as a potential No. 1 overall selection for multiple years now, and the talent is evident as soon as you put on the tape.
DeMeco Ryans is going to want to prioritize his defense and get building blocks for that unit. Anderson would be a massive upgrade over anyone that they have on the roster at that position right now.
3) Tennessee Titans (From ARI): Anthony Richardson, QB, Florida
Trade Details: Tennessee sends No. 11 overall, No. 41 overall, and a 2024 first for No. 3 overall.
This is a trade that could absolutely happen on draft night. The Titans are doing a massive amount of homework on the quarterback class, and they were reportedly in the conversation for trading for the No. 1 overall pick before it was sent to Carolina.
MORE: NFL Draft Rumors — Titans Interested in Acquiring No. 3 Pick From Cardinals?
Tennessee will have to give up a ton to move all the way up from No. 11, but it's worth it to get a perfect fit for their offense. Anthony Richardson is literally the most athletic QB we've ever seen enter the NFL, and he's a perfect fit for where the league is going.
In an offense that wants to prioritize the run game, Richardson's rushing ability could make up for several deficiencies on the offensive side of the ball. On top of that, defenses are going to have their hands full trying to account for Derrick Henry and Richardson for all four quarters every week.
4) Indianapolis Colts: Bryce Young, QB, Alabama
The Colts find themselves in a tough spot now at No. 4 overall. Bryce Young is an outlier in every sense of the word at his size, but the tape is excellent. However, he doesn't fit the size thresholds that Chris Ballard has traditionally locked onto at the QB position.
This selection could come down to the owner of the team getting involved and providing an ultimatum. Jim Irsay has already spoken about Young in glowing terms this offseason, and he may overrule Ballard when it's time to turn the pick in.
Young would certainly bring the fans in and provide a jolt of life to this franchise. Ballard may not have much of a choice if the draft plays out this way, but he'll still end up with one of the best quarterback prospects we've seen enter the NFL in a long time, even if he's undersized.
5) Seattle Seahawks (From DEN): Tyree Wilson, EDGE, Texas Tech
The Seahawks desperately need to get better on the defensive line. They've allowed essentially anyone to run all over them in recent years, and that has to be driving Pete Carroll absolutely nuts.
Tyree Wilson is not a finished product by any means, but the tools and traits are all there to suggest that he could be one of the league's best edge defenders down the line. Seattle would be a perfect place for him to develop.
6) Detroit Lions (From LAR): Devon Witherspoon, CB, Illinois
The Lions just sent away Jeff Okudah, which means that CB is right back at the top of their team needs list. Emmanuel Moseley and Cameron Sutton were fantastic additions in free agency, but depth at cornerback is crucial in today's NFL.
Devon Witherspoon fits what Dan Campbell wants in a cornerback so well. He's sticky in man coverage, tenacious, and he plays more physical than you would expect for a player that's only 181 pounds. Witherspoon's addition to this secondary makes Detroit's defense a young and terrifying unit to deal with in the NFC North.
7) Las Vegas Raiders: Jalen Carter, DL, Georgia
The Raiders are reportedly hosting Jalen Carter on a visit this week, and it would not shock me if this is where he ultimately goes off the board. Las Vegas could certainly look at the remaining QB options, but Josh McDaniels seems to be content leaning on Jimmy Garoppolo for 2023.
Carter is an elite prospect on tape, but his pre-draft process has been marred by a myriad of off-the-field issues. It's anyone's guess as to where he goes in the NFL Draft, but the Raiders certainly have a track record of bringing in players with off-the-field concerns.
This regime could choose differently, but Carter fills a massive position of need for this defense, and he could be an All-Pro within two to three years if he can get back on the right path. That's worth the risk for a franchise that desperately needs to get back to just winning.
8) Atlanta Falcons: Bijan Robinson, RB, Texas
After the Okudah trade, the Atlanta defense, on paper, doesn't look all that bad. They still need to address some other positions and add youth, but they've done a solid job of addressing needs up to this point of the offseason.
That means that Atlanta can turn their focus to the offensive side of the ball and select a playmaker with a top-10 selection for the third year in a row. We know that Arthur Smith wants to run the absolute tar out of the football, and they're going to go into 2023 with an inexperienced young quarterback in Desmond Ridder.
What better way to help take pressure off of Ridder than by having a two-headed rushing attack featuring Tyler Allgeier and one of the best running back prospects we've seen enter the NFL in years?
Bijan Robinson's presence would instantly allow Atlanta to run the ball 35 times per game with the pieces they have at running back and quarterback, while then taking big shot plays downfield to Kyle Pitts and Drake London. This is a move that seems destined to happen as the NFL Draft inches closer.
9) Chicago Bears (From CAR): Christian Gonzalez, CB, Oregon
Yes, Chicago needs to address the offensive line. However, they have 10 picks in this draft to do so, and the offensive line talent in this class goes pretty deep.
Additionally, RT may be the only position where the Bears need to bring a rookie in on that offensive line following the moves they made in free agency. That doesn't necessarily pigeonhole this franchise into using a top-10 pick on the OL, as they can find a talented player later on Day 2.
Jaylon Johnson is one of the better corners in the NFL, but he's coming up on the last year of his rookie contract, and he was drafted by the previous regime. There's no guarantee that he gets a second deal with Chicago, and the Bears need an upgrade over Kindle Vildor, regardless.
MORE: 100% FREE NFL Mock Draft Simulator (With Trades)
Matt Eberflus prioritizes the secondary — as we saw in the 2022 NFL Draft — and Christian Gonzalez is too special of a prospect to pass up on here. With tremendous length, speed, and coverage ability, Gonzalez allows Chicago to have a plan for the future in case Johnson doesn't return to the club in 2024.
At the same time, he also provides the Bears with a fantastic secondary in 2023 that can help contain the prolific receiving weapons the NFC North has to offer.
10) Philadelphia Eagles (From NO): Jaxon Smith-Njigba, WR, Ohio State
The Eagles get to have a luxury pick here at No. 10 overall thanks to the trade they made last year with the New Orleans Saints. They use it to improve the offense with arguably the best WR prospect in this year's class.
Jaxon Smith-Njigba is a silky smooth route runner with tremendous hands and run-after-catch ability. He would be an excellent fit alongside A.J. Brown and Devonta Smith out of the slot.
Philadelphia needs a reliable underneath option that Jalen Hurts can lock onto, and JSN has no problem getting open in the short areas of the field. This addition makes a frightening offense already even more potent.
11) Arizona Cardinals (From TEN): Paris Johnson Jr., OT, Ohio State
Arizona's back on the clock after their move down from No. 3. They now get to right the wrong of the previous regime by investing in the trenches.
Steve Keim was notorious for never valuing the offensive line early in the draft, and that ultimately led to shaky and poor play from that unit for years.
The Cardinals have needs all over their roster, so this pick could go in a number of different directions. However, making sure that whoever is playing quarterback for your franchise has great protection by adding a fantastic prospect like Paris Johnson Jr. is a good first pick to make as a new general manager.
12) Houston Texans (From CLE): Will Levis, QB, Kentucky
Houston chose to bypass quarterback at No. 2 overall, but one falls right into their laps here 10 spots later. Opinions on Will Levis are all over the place heading into the 2023 NFL Draft, with some analysts believing he's worthy of consideration at No. 1, while others are opining that he should go even later than here.
Regardless, the Texans have to do something to address the position in this NFL Draft. Davis Mills and Case Keenum are not going to save jobs in Houston, and Levis does possess tremendous upside. A possible lower floor makes him the clear No. 4 quarterback going off the board in this mock draft, but with proper coaching, he could develop into a solid pro.
13) New York Jets: Broderick Jones, OT, Georgia
The Jets invested an early pick in Mekhi Becton a few years ago, and it hasn't necessarily worked out the way that they hoped. While he's working hard this offseason to lose weight and work his way back onto the field, it's no guarantee that he'll be out there for all 17 games in 2023.
New York needs to address OT at some point in this draft, and No. 13 overall seems as good a place as any to start. Broderick Jones is a fun prospect to watch on tape. Some of his run-blocking highlights are going to make OL coaches giddy to bring him into their building.
If Becton does work his way back to top form, that's a good problem for New York to have to deal with at that point.
14) New England Patriots: Jack Campbell, LB, Iowa
One thing is for absolute certain with the NFL Draft, and that is that we all have no idea what Bill Belichick is going to do when the Patriots are on the clock. If Robinson remains here on the board, it wouldn't surprise me if he was the selection.
He's not, however, in this mock. Instead, Belichick — who does not care at all about positional value — goes after a linebacker prospect with tremendous instincts that tested well at the NFL Combine.
Jack Campbell has 265 total tackles over the past two seasons combined and would be an upgrade over Ja'Whaun Bentley at middle linebacker. It's an off-the-wall selection, but that's what Belichick does.
15) Green Bay Packers: Quentin Johnston, WR, TCU
This selection makes all the sense in the world, but yet, at the same time, seems incredibly ridiculous. The Packers simply do not draft wide receivers in Round 1, but that was when Aaron Rodgers was the quarterback.
Now that Jordan Love appears to be the QB for 2023, Green Bay has to invest in pass catchers for him. Christian Watson and Romeo Doubs are not enough to keep this offense performing at a high enough level to succeed in this division, which means more help is needed.
Quentin Johnston needs plenty of refinement, especially as a contested-catch receiver, but the athleticism and traits are there to build out. He fits the mold of exactly what Brian Gutekunst wants in a wideout, so it lines up perfectly for Johnston to be the selection here. It's just a matter of whether or not Green Bay actually makes the decision.
16) Washington Commanders: Joey Porter Jr., CB, Penn State
Washington seems content to move into next season with Sam Howell and Jacoby Brissett in their QB room, so the focus here at 16th overall can be shifted to the defensive side.
Washington needs to add some playmakers in the secondary, especially considering the division that they play in, and Joey Porter Jr. has all the makings of a potential lockdown corner in the NFL. He has incredible length, fluidity, and size, and would be an excellent addition for the Commanders to pair with Kendall Fuller.
17) Pittsburgh Steelers: Peter Skoronski, OT, Northwestern
The Steelers would've loved to snag Porter if he were still here on the board, but instead, they shift their focus to the offensive line and protecting Kenny Pickett. The interior of the offensive line got some reinforcement this offseason, but offensive tackle could use an upgrade.
Dan Moore and Chukwuma Okorafor are serviceable starters, but Peter Skoronski has the potential to be one of the best pass protectors in the NFL. The only knock on Skoronski is his lack of length, so he could wind up kicking inside to guard.
That versatility will be highly valued by OL coaches, though, and it would allow Pittsburgh to simply get their best starting five on the field. They can address other positions of need later on in the draft.
18) Detroit Lions: Lukas Van Ness, EDGE, Iowa
Dan Campbell might run through a wall like the Kool-Aid Man if Lukas Van Ness is still here on the board for them at pick 18. The Iowa EDGE is a projection at the next level, but he's tough as nails and packs a mighty punch when attempting to get to the quarterback.
Despite not playing all that much at Iowa — due to coaching philosophy — Van Ness consistently showed his power and ability to disrupt the pocket, whether out at 5-tech or kicking inside. A pass-rushing duo of Aidan Hutchinson and Van Ness, with Sam Houston rotating in, is scary.
19) Tampa Bay Buccaneers: Darnell Wright, OT, Tennessee
Tampa Bay has already discussed shifting Tristan Wirfs over to left tackle if needed, which opens the door for them to draft a pure right tackle in Darnell Wright out of Tennessee. But just because Wright only projects as an RT in the NFL, that doesn't diminish what he can do on the field.
MORE: Top 10 Offensive Tackles in the 2023 NFL Draft
Wright routinely shut down the best pass rushers in the SEC on a weekly basis at Tennessee, and he was a big reason for the success that the Volunteers found in 2022. For Tampa Bay, they need help on the offensive line after releasing Donovan Smith, and a tackle duo of Wirfs and Wright is certainly fun to think about.
20) Seattle Seahawks: Kelee Ringo, CB, Georgia
What do we know about Seattle and their roster construction philosophy? Yes, they value size and athleticism at an insane amount. Just look at their roster, and you'll see freak athletes, who may have been a bit raw coming out but had upside, littered throughout their depth chart.
Kelee Ringo has some flaws to his game, but he showed up at the NFL Combine, with a blazing 4.36 40-yard dash and a 1.54 10-yard split. Michael Jackson showed some solid flashes in 2022, but the potential of pairing Ringo with Tariq Woolen may be too good to pass up.
21) Los Angeles Chargers: Jalin Hyatt, WR, Tennessee
Los Angeles needs to add speed on offense. With Kellen Moore now in as offensive coordinator, they're going to look to right the wrong of the previous coaching staff and aim to push the ball further downfield.
Justin Herbert has an absolute cannon for an arm, and LA needs a receiving threat that can get open deep downfield. Jalin Hyatt did that better than anyone in college football last season for Tennessee.
Hyatt ran a blazing 4.4 40-yard dash with a 40″ vertical jump and an 11'3″ vertical jump to go along with it. There are questions about his route-running refinement due to the scheme he played in, but for the role that Los Angeles needs him to fill, that won't be as big of an issue.
Hyatt's presence will open everything up underneath for Mike Williams and Keenan Allen, which will dramatically help the offense. That's worth a first-round selection.
22) Baltimore Ravens: Deonte Banks, CB, Maryland
Baltimore has a ton of questions at quarterback going into 2023, but they can't necessarily address that here at No. 22. Instead, they lock into the defensive side and add a physical corner to help the secondary.
Deonte Banks is a bully in man coverage, and he would fit the Baltimore culture to perfection. If he's on the board on draft night at this spot, I'd be shocked if he wasn't the pick.
23) Minnesota Vikings: Brian Branch, S, Alabama
Minnesota literally has needs everywhere on its roster going into the 2023 NFL Draft. You could close your eyes and point randomly to essentially any position on the depth chart, and it would make sense for the Vikings to invest a first-round pick in it.
However, Minnesota's defense historically has highly valued the safety position. Harrison Smith has been a cornerstone piece for years now, but at 34 years old, he's coming up on the tail end of his career.
Brian Branch is highly regarded as a top-10 overall talent in this draft, but positional value and team needs for other franchises are pushing him down the board consistently in mock drafts. Byron Murphy is projected to be Minnesota's starting slot corner in 2023, which is where Branch primarily lined up for the Crimson Tide. But the incoming rookie does possess the versatility to line up all over the field.
Minnesota's strategy needs to be adding BPA at each selection in this draft due to the state of their roster. Branch easily qualifies for that line of thinking.
24) Jacksonville Jaguars: Dalton Kincaid, TE, Utah
The Jaguars franchise tagged Evan Engram this offseason, but at 28 years old already, it's hard to see how he fits into their long-term plans. Instead, Jacksonville drafts his eventual replacement here with an incredibly talented prospect out of Utah.
Dalton Kincaid can do everything Engram can on the field, but maybe even better already at this stage of his career. Kincaid's one of the best contested-catch receivers in this entire class  — not just at tight end — and he's a smooth athlete out in space.
It makes sense for the Jaguars to upgrade at the position over Engram while spending immensely less for it.
25) New York Giants: Joe Tippmann, OL, Wisconsin
The Giants have the offensive tackles for the future solidified with Andrew Thomas and Evan Neal, but the interior of the o-line needs some help. Joe Tippmann is immensely underrated in this class, and it wouldn't surprise me to see his name called on night one.
New York has done a ton to help out Daniel Jones from a receiving weapons standpoint, but they'll need to invest in the offensive line in front of him to really make it count.
26) Dallas Cowboys: Myles Murphy, EDGE, Clemson
Opinions on Myles Murphy are all over the map. There's reason to believe that he could be off the board in the top 10, while there's also a strong possibility that he's still available late into Round 1.
Dallas has solid edge depth currently with DeMarcus Lawrence and Micah Parsons, but Dan Quinn will never complain about being able to send waves of pass rushers to get the QB. Additionally, this move allows Quinn to get more creative with Parsons and moving him around the defensive formation, while Murphy and Lawrence line up directly on the line of scrimmage.
27) Buffalo Bills: Jordan Addison, WR, USC
The Bills are doing plenty of homework on this wide receiver class, and they have reportedly brought Jordan Addison in for a pre-draft visit. The former Biletnikoff Award winner would be a perfect fit alongside Stefon Diggs and Gabe Davis in this offense, which is going to be a handful for NFL defenses to attempt to stop.
Addison is a bit undersized for the position, and he didn't test anywhere near an elite level. But the tape indicates that Addison can be an immediate impact type of player in the NFL. In this landing spot, he can operate as the No. 2 or No. 3 option in the passing attack and hopefully help Buffalo get past the Bengals and Chiefs in the AFC playoff race.
28) Cincinnati Bengals: Zay Flowers, WR, Boston College
Cincinnati goes a little bit "off script" here compared to other mock drafts you may see around the industry by investing another first-round pick in a wide receiver.
There's a ton of uncertainty regarding Tee Higgins and his future with the team. Cincinnati has already come out saying that he won't be traded, but that doesn't mean that they can necessarily afford to keep him around on a second contract if he's asking for $20 million annually.
MORE: The Most Interesting or Telling Visits for All 32 Teams
Additionally, Tyler Boyd is in the last year of his deal with Cincinnati. They could potentially move on from him as early as this summer and save nearly $8 million on the cap for 2023. With a major contract on the horizon for Joe Burrow, the franchise is going to need every dollar it can get, and Boyd may be expendable.
Zay Flowers has the versatility to take either spot in this wide receiver corps. He can line up outside and create separation routinely or he can kick inside to the slot and be an immediate replacement for Boyd over the middle of the field.
29) New Orleans Saints (From SF via MIA via DEN): Zach Harrison, EDGE, Ohio State
This one's definitely out of left field, but that's how the Saints do things in the NFL Draft. We didn't see the selection of Payton Turner coming a couple of years ago, but he fit the mold of what New Orleans looks for on the defensive line, and they were going to get him into the building for the upside.
Zach Harrison is not a household name in the first round of NFL mock drafts, but he fits the exact prototype of what the Saints prioritize in their edge rushers. He has every trait to build off of to be an elite pass rusher at the next level, and New Orleans has shown no aversion to drafting those types of players and waiting for them to develop.
They need help on the defensive line after losing Marcus Davenport in free agency, so don't be shocked if this is ultimately the selection come draft night.
30) Philadelphia Eagles: Nolan Smith, EDGE, Georgia
There's a strong possibility that Nolan Smith is off the board well before this pick. His athleticism is off the charts, and a team could easily bet on those traits well before this point of the draft.
However, there is still a bit of projection with Smith's game to the next level. All the tools and traits are there to be molded into a pass rusher in the mold of Haason Reddick, but Smith won't fit the size thresholds that most teams look for at the position.
At just 238 pounds, Smith could easily be viewed more as an off-ball linebacker versus someone NFL teams want to consistently put on the line of scrimmage. That dramatically changes his evaluation and where he should go off the board in the NFL Draft.
Philadelphia has shown no aversion to taking a player of this size and asking them to go after the quarterback. They literally already have Reddick on their roster, and he surpassed all expectations for them in this role last season.
Howie Roseman is going to invest in the trenches at some point during the draft. He does it here with a superb athlete that possesses elite upside.
31) Kansas City Chiefs: Cam Smith, CB, South Carolina
For being a seventh-round pick, the Chiefs got good production out of Jaylen Watson last season. But as Kansas City consistently vies for the Super Bowl every single year, they need good secondary play as they come up against many prolific passing attacks.
Cam Smith has great instincts and length and would provide the Chiefs with valuable depth at a key position of need.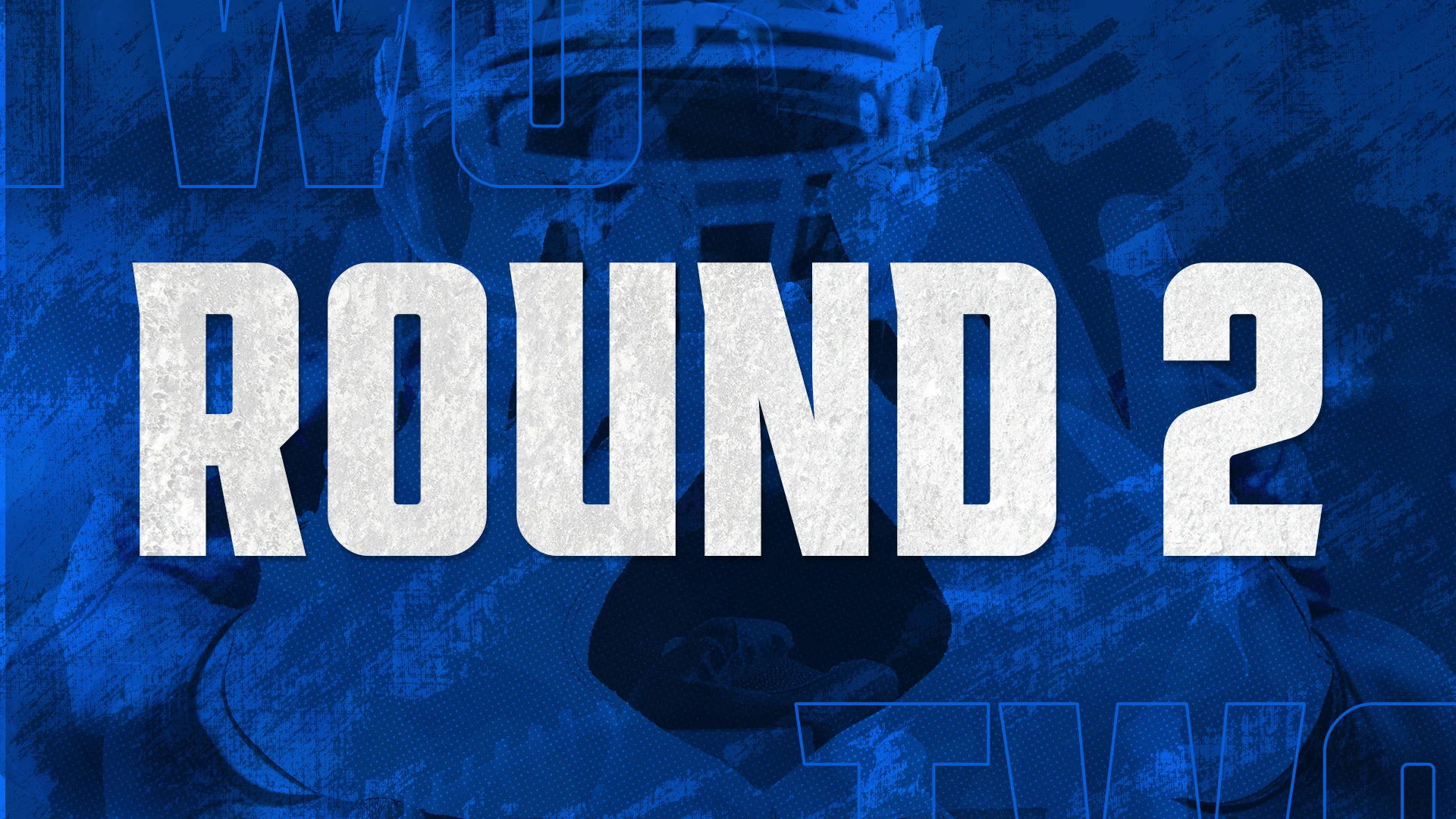 2023 NFL Mock Draft | Round 2
32) Pittsburgh Steelers (From CHI): Bryan Bresee, iDL, Clemson
Bryan Bresee has his flaws and injury concerns, but the upside is there if he can put it all together. Pittsburgh needs to invest in the trenches, and he's worth the gamble here.
33) Houston Texans: Michael Mayer, TE, Notre Dame
Houston signed Dalton Schultz in free agency, but that doesn't prohibit them from drafting a big-bodied target like Michael Mayer, who can help make life easier on their new rookie QB.
34) Arizona Cardinals: Adetomiwa Adebawore, EDGE, Northwestern
Arizona is not going to instantly compete this year, so they'll be more willing to take chances on players that may need some time to develop. Adetomiwa Adeboware isn't a refined prospect yet, but we've never seen an athlete like him enter the NFL. He fills a massive position of need for the Cardinals too.
35) Indianapolis Colts: DJ Turner, CB, Michigan
Indianapolis got their quarterback in Round 1, and now they find a replacement for Stephon Gilmore at the top of the second. The Colts need to add youth and talent to their cornerback room, and DJ Turner is an exciting prospect.
36) Los Angeles Rams: BJ Ojulari, EDGE, LSU
Have you seen the Rams' depth chart recently? Anyone who can contribute at a high level is going to be welcomed with open arms. BJ Ojulari is an exciting prospect that fills a massive position of need for this roster.
37) Seattle Seahawks (From DEN): Calijah Kancey, DT, Pittsburgh
Calijah Kancey falling to this point may be surprising to some, but he's a bit of an outlier at his size and may not have a true fit at the next level. Seattle needs to continue investing in the defensive line, though, and Kancey could be a nightmare for opposing offensive linemen on third-down situations.
38) Las Vegas Raiders: Hendon Hooker, QB, Tennessee
The Raiders didn't go with a quarterback in Round 1, but they get a young player to develop here at the top of Round 2. Hendon Hooker has plenty of potential, but he's coming off of a torn ACL and going to be 25 years old as a rookie.
Las Vegas needs to provide some sort of hope for their fanbase though and Hooker could help McDaniels hang onto his job just a little bit longer.
39) Carolina Panthers: Josh Downs, WR, North Carolina
Stroud is now a Panther, but he's going to need playmakers to throw to in order for him to succeed right away. Adam Thielen, DJ Chark, and Hayden Hurst are all fine additions, but Josh Downs shows the potential to be a dynamic receiving threat out of the slot. He'd be a reliable target over the middle of the field for Stroud from Day 1.
40) New Orleans Saints: Gervon Dexter, DT, Florida
The Saints went with a bit of a swing-for-the-fences pick in the first round on the defensive line, and they'll double down on the trenches here in Round 2. Gervon Dexter provides plenty of size at 310 pounds, and New Orleans needs to plug the hole at the interior of the defensive line after free agency.
41) Arizona Cardinals (From TEN): Mazi Smith, DT, Michigan
Arizona has absolutely no one of note on the defensive line currently, so this has to be a massive priority going into the 2023 NFL Draft. Mazi Smith has his flaws, but he'd provide the Cardinals with some more size on the defensive interior at 323 pounds to pair with Leki Fotu.
42) New York Jets (From CLE): Isaiah Foskey, EDGE, Notre Dame
There's a strong possibility that New York doesn't hold this pick (or potentially the next one) after a deal involving a Green Bay Packers quarterback is made, but in the meantime, edge rusher is a big priority.
Carl Lawson is on the last year of his deal with the Jets, and they need to have a succession plan in place. Isaiah Foskey is being slept on in this class, but he'd be an excellent addition here.
43) New York Jets: Jahmyr Gibbs, RB, Alabama
As mentioned above, it's highly likely that the Jets don't get to make this selection. If they do though, adding in playmakers on offense should be a priority. With Breece Hall rehabbing from his injury, New York will need someone to step up and take some of the pressure off of him to get back up to speed too quickly.
Jahmyr Gibbs doesn't profile as a three-down workhorse back in the NFL, but he wouldn't need to with this landing spot. An RB room that features Hall and Gibbs, plus Michael Carter, would be terrifying to have to defend.
44) Atlanta Falcons: Will McDonald IV, EDGE, Iowa State
Atlanta went with running back in the first round, and now they add some depth to the EDGE room with Will McDonald IV. McDonald's a bit undersized, but he fits the mold of what Atlanta's looking for with Lorenzo Carter currently.
Carter's contract shouldn't prohibit them from looking at McDonald at this point of the draft as the eventual replacement there.
45) Green Bay Packers: Anton Harrison, OT, Oklahoma
Anton Harrison may very well be off the board well before pick 45. However, in this simulation, he slipped due to team needs not necessarily lining up. Green Bay's not complaining, though, as Harrison is a perfect replacement for David Bahktiari if he indeed is being discussed as someone who could be playing elsewhere next season.
46) New England Patriots: Dawand Jones, OT, Ohio State
Trent Brown and Dawand Jones lining up on either side of the offensive line is just too fun to think about for Belichick to pass on here. Riley Reiff shouldn't be the long-term answer at right tackle, and Jones could help Belichick establish the run game.
47) Washington Commanders: John Michael Schmitz, C, Minnesota
Chase Roullier is on a significant contract with Washington, but he's now 30 years old and played just 150 snaps in 2022. There needs to be a long-term plan in place for that position, and John Michael Schmitz is a fantastic option.
48) Detroit Lions: Darnell Washington, TE, Georgia
Detroit continues to get tougher in this draft — this time on offense. Darnell Washington is truly a one-of-a-kind athlete with his build. He'd provide this Lions' offense a big boost in the run game with his blocking ability.
49) Pittsburgh Steelers: Trenton Simpson, LB, Clemson
The Steelers have tried to address linebacker to no avail over the course of the past several years. Cole Holcomb is a good start, but Trenton Simpson's athleticism would be a perfect complement.
50) Tampa Bay Buccaneers: O'Cyrus Torrence, iOL, Florida
Tampa Bay went offensive line in the first round, and they double down here by keeping O'Cyrus Torrence in the state of Florida. This unit quickly goes from being a potential liability to being one of the strongest in the NFL.
51) Miami Dolphins: Steve Avila, iOL, TCU
Miami is now on the clock for the first time in this draft, and one could expect them to go the flashy selection route. However, their roster is really well taken care of at the premium positions due to the other acquisitions they've made over the last year or so.
Instead, they choose to invest (wisely) in the trenches with a versatile offensive lineman. The Dolphins have a decent offensive line on paper, but adding someone like Steve Avila could allow them to get a stronger unit out onto the field to protect Tua Tagovailoa.
52) Seattle Seahawks: Siaki Ika, iDL, Baylor
Seattle has now added Wilson, Ringo, Kancey, and Siaki Ika to their defense with their first four selections in the 2023 NFL Draft. While Ika and Kancey could not be more polar opposites, they complement each other's play style perfectly. Add in Dre'Mont Jones and Jarran Reed to the equation, and this unit is suddenly the strength of the entire roster.
53) Chicago Bears (From BAL): Felix Anudike-Uzomah, EDGE, Kansas State
Chicago went with the secondary with their first selection. This time, they come back around to address a massive need at EDG. Felix Anudike-Uzomah fits the criteria of what Eberflus is looking for at the position, and he presents immense upside.
54) Los Angeles Chargers: Kendre Miller, RB, TCU
Kendre Miller is not a name that you may have expected to see come off the board within the first 55 picks of the 2023 NFL Draft, but he needs to be in this conversation. Outside of Robinson, there may not be a more well-rounded running back.
With Austin Ekeler's future with the franchise currently up in the air, LA needs a plan in place if he's not in town in 2024. Miller would additionally provide them with a perfect complement to Ekeler in the short term as well.
55) Detroit Lions (From MIN): Cedric Tillman, WR, Tennessee
The Lions are acing this draft with the additions they've made so far, and they keep it rolling here by investing in the WR corps. Jameson Williams shows all the potential in the world, and Amon-Ra St. Brown is one of the best slot receivers in the league, but Detroit needs a big-bodied wide receiver that can make contested catches downfield.
Marvin Jones Jr. is back in town to provide that in the short term, but Cedric Tillman has the potential to fill that role for years to come.
56) Jacksonville Jaguars: Clark Phillips III, CB, Utah
Jacksonville went with a tight end in Round 1, but they still need CB depth after moving on from Shaquill Griffin. Clark Phillips III may not need to start right away with the other options the Jaguars have on the depth chart, but it's always a position where you want to keep the cupboards well-stocked.
57) New York Giants: Antonio Johnson, S, Texas A&M
The Giants moved on from Julian Love and brought in Bobby McCain to play alongside Xavier McKinney. But McCain is on just a one-year deal, and he's now 30 years old. Antonio Johnson, meanwhile, profiles as a perfect complement to McKinney's versatility, and he'd be an excellent addition to this secondary.
58) Dallas Cowboys: Zach Charbonnet, RB, UCLA
Dallas invested in the trenches with their first pick, but Jerry Jones can't help himself from making a splashy selection here with the young running back out of UCLA. Zach Charbonnet profiles as a three-down workhorse at the next level, who could easily fill Ezekiel Elliott's shoes — and more.
59) Buffalo Bills: Matthew Bergeron, OT, Syracuse
Buffalo went wide receiver in Round 1 but come back in the second to get a talented offensive lineman out of Syracuse. Spencer Brown has struggled to acclimate to the NFL level, and Matthew Bergeron could slide in at RT to replace him.
60) Cincinnati Bengals: Luke Musgrave, TE, Oregon State
Cincinnati continues to invest in playmakers for Burrow and this offense. Flowers was an excellent addition in the first round, but tight end still remains a position of need after Hurst's departure.
Luke Musgrave doesn't have a ton of production to his name, but the upside is there due to his athleticism and receiving ability.
61) Chicago Bears (From SF): Jaelyn Duncan, OT, Maryland
Chicago pushed the need for offensive line down the board until this point, but they still get a solid OT prospect in Jaelyn Duncan. With the rest of the draft to play out too, there's no doubt that Ryan Poles will continue to invest in this unit, which provides Chicago the opportunity to get their best five onto the field.
62) Philadelphia Eagles: Drew Sanders, LB, Arkansas
Philadelphia traditionally doesn't look at linebacker in the first couple of rounds, but they lost a few pieces at this position this offseason. Nakobe Dean should take a step forward in his role, but they'll need other options. Drew Sanders and Dean should complement one another nicely.
63) Kansas City Chiefs: Marvin Mims, WR, Oklahoma
The Chiefs need an edge rusher, but they may need a wide receiver more. Marquez Valdes-Scantling, Kadarius Toney, Richie James, and Skyy Moore are essentially all they have on the roster right now.
Marvin Mims is flying under the radar heading into the 2023 NFL Draft, and he has the potential to be an instant impact player with his speed and athleticism.
Listen to the PFN Scouting Podcast
List to the PFN Scouting Podcast! Click the embedded player below to listen, or you can find the PFN Scouting Podcast on iTunes, Spotify, and all major podcast platforms.  Be sure to subscribe and leave us a five-star review! Rather watch instead? Check out the PFN Scouting Podcast on our Scouting YouTube channel.