Tennessee Titans wide receiver A.J. Brown is one of my favorite players in the NFL. On the surface, he might seem to be a role player in an offense built around the running game. However, a closer look at his advanced metrics reveals that he is a truly exceptional player, perhaps the best at creating yards after the catch (YAC) in the entire NFL.
A.J. Brown's box-score statistics have made him a standout player for the Titans
So long as Derrick Henry is playing in Tennessee, Brown will never be the Titans' star player. On the other hand, despite playing in a run-focused offense, he has produced solid box-score statistics so far in his short career. Over two seasons, he totaled 2,126 yards and 19 touchdowns, becoming a high-impact player for the Titans almost immediately.
While those numbers are reasonably impressive, they are far from the most interesting statistics related to Brown. For those, we need to delve into his advanced metrics.
Brown's OVM grades are solid but unspectacular
As a starting point, let's examine Brown's Offensive Value Metric (OVM) grades. The OVM is a grading system created by the (BX) Movement to evaluate players based on the amount of impact they had on their offense. It is useful for discussing players who, like Brown, might be getting fewer opportunities than they would in a different offensive situation.
Indeed, Brown's overall OVM grades aren't exactly awe-inspiring. He earned grades of 34.13 in 2019 and 32.98 in 2020. Both of those grades are decent, ranking inside the top half of all wide receiver grades during their respective seasons.
That is far from a terrible performance, indicating that Brown had a greater impact on his offense than most of the NFL's wide receivers. On their own, though, they wouldn't be worth noting.
Examining Brown's weekly grades in his two seasons with the Titans
For a deeper examination of Brown's play during the last two seasons, let's look at his weekly performances. In the charts below, you can see his grades from each week of the 2019 and 2020 seasons marked with black dots. For comparison, the yellow lines represent the league average OVM grades for wide receivers from those seasons.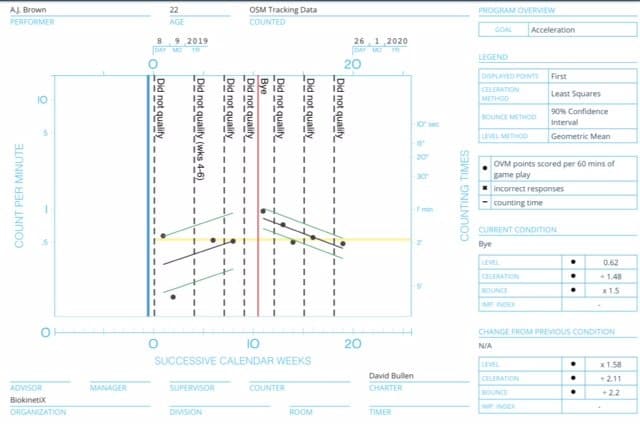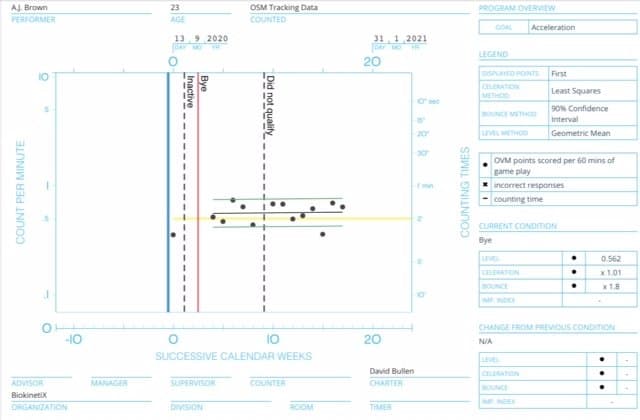 As you can see, while Brown's grade dropped slightly in 2020, he played more often and was more consistent in his second season in the NFL. Still, we yet again fail to find anything truly spectacular.
Many of Brown's advanced metrics were underwhelming
For the most part, Brown didn't perform exceptionally well on the advanced metrics involved in calculating a wide receiver's OVM grades. He caught a relatively low percentage of his passes — 61.9% of his targets in 2019 and 66.04% in 2020.
Brown also created relatively low separation when targeted, averaging 2.2 yards in 2019 and 2.4 in 2020. In fairness to him, he was given a relatively small amount of cushion in both seasons, at 5.0 and 5.4 yards on average, respectively. For the most part, those statistics are mediocre when compared to the rest of the NFL.
However, there was one area in which he truly excelled — since he entered the NFL two years ago, Brown has been the best player in the league at creating YAC.
Brown has been the NFL's best YAC player over the last two years
Brown's YAC statistics are truly something to behold. In 2019, he led the NFL with an average of 8.8 yards after the catch in 2019 and was tied for 12th (ninth among wide receivers) with an average of 6.2 yards in 2020.
Those are obviously excellent statistics, but other players have produced similar numbers. For example, Deebo Samuel averaged 8.5 and 12.3 yards after the catch during the last two seasons. On the surface, he seems to have outperformed Brown.
What separates Brown from Samuel (and others like him) is his ability to create more post-catch yards than he should have. In 2019, Brown's YAC average was a staggering 4.7 yards higher than the NFL's advanced calculations predicted. That differential was the highest of the season by almost a full yard and the highest produced by any player in five seasons of data.
In 2020, Brown's differential fell to 2.6 yards higher than expected, but that still ranked second in the league. The only player to surpass Brown in that regard last season was, again, Samuel. Additionally, Samuel hasn't been as consistent as Brown, with his 2019 differential only being a pedestrian 1.4 yards above expectations. Furthermore, Samuel's statistics from 2020 must be taken with a grain of salt, as his sample size was relatively small, being targeted only 44 times across the entire season.
And other than Samuel, no player competes with Brown's YAC statistics over this two-year period. His claim to the title of best YAC player in the NFL is ironclad. The statistics clearly show that if you need one player to gain those crucial yards after catching the ball, Brown is the man you are looking for.
The Titans will need Brown's unique skill set even more in 2021
Brown's YAC abilities have made him crucial to the Titans' recent playoff success. Next season, he will need to take on an even more significant role in the offense, thanks to the team losing three of their top five pass catchers in Corey Davis, Jonnu Smith, and Adam Humphries during the offseason.
As such, Tennessee will rely on Brown's skills even more than they did in his first two years. Hopefully, that means we will see even more of him dominating the NFL with the ball in his hands.
Want more NFL news and analysis?
Be sure to follow us on Twitter (@PFN365) to stay in the loop on all things around the NFL. Also, continue to visit Pro Football Network for NFL news and in-depth analysis concerning the 2021 season and beyond.