The New York Jets new head coach Robert Saleh has his work cut out for him. The Jets haven't had a winning season since 2015 and finished last season with the second-worst record in the NFL. On Monday, April 5, the Jets traded QB Sam Darnold to the Carolina Panthers for a 6th round selection in 2021, as well as 2nd and 4th round selections in 2022. Let's take a look at what Darnold brings to his new team following the trade.
Sam Darnold's career thus far has been underwhelming, reducing his trade value
Based purely on team success, Darnold's first three seasons in the NFL have been disastrous. During that time, the Jets have managed just 13 wins to 25 losses and finished in the bottom of the AFC East twice. Of course, while the quarterback is arguably the most important player on an NFL team's roster, they aren't entirely responsible for their team's overall success. That is especially true of the Jets, who for the last two seasons have been coached by Adam Gase (one winning season in five years as a head coach).
However, Darnold's personal statistics haven't looked particularly impressive either. He threw for just 2,865 yards, 17 touchdowns, and 15 interceptions during his first NFL season. To a certain extent, we can excuse Darnold's mediocre play as that of a rookie adjusting to the NFL. Furthermore, Darnold did improve in his second season, though not by a substantial margin. He amassed 3,024 yards, 19 touchdowns, and 13 interceptions.
Unfortunately, last year was an absolute disaster, with Darnold regressing significantly. He threw for a meager 2,208 yards, 9 touchdowns, and 11 interceptions. In fairness, these statistics are somewhat misleading, as Darnold has missed 10 games in three seasons. Although, having that many injuries is a concern in and of itself.
While Darnold has been struggling, most of the quarterbacks drafted alongside him have excelled
It doesn't help Darnold's case that most of the quarterbacks drafted alongside him in 2018 already have a number of notable accomplishments to their names. Baker Mayfield and Josh Allen have helped their franchises break decades-long playoff victory droughts. Meanwhile, Lamar Jackson has already won an MVP award.
Only Josh Rosen, who the Arizona Cardinals discarded after just one season in the desert, has fared worse. When held up against his peers, it's easy to see why the Jets decided it was time to move on.
The advanced metrics confirm what Darnold's box score statistics suggest
Thanks to the aforementioned injuries and coaching issues, along with a general lack of talent surrounding him, we can't judge Darnold based purely on his box score statistics. Fortunately, the Offensive Value Metric (OVM) was created with situations like this one in mind. The OVM is a grading system designed by the (Bx) Movement to measure how much value a player provided to their offense. That makes it excellent for evaluating players like Darnold, who have been hampered by factors outside their control.
Unfortunately, Darnold doesn't rank particularly well in terms of OVM. During his first two seasons in the NFL, he earned grades of 22.32 and 22.01. Those grades were far from stellar, ranking near the middle of the pack among all qualifying quarterbacks. Last season was even worse, with Darnold earning the third-lowest grade at the position (16.27).
In short, not only were the young quarterback's traditional statistics unimpressive, but he also failed to provide much value to New York's offense. That doesn't bode well for any team looking to acquire Darnold in a trade.
Examining the advanced metrics behind Darnold's OVM grades
To explain why Darnold's OVM grades have generally ranked poorly compared to his fellow signal-callers, we need to look at several of the advanced metrics that go into calculating a quarterback's OVM grades. The chart below shows how Darnold performed on the following statistics over the last three years:
His average air yards on all of his pass attempts (IAY)
His average air yards on his completions (CAY)
How often he threw into tight windows (AGG%)
His completion percentage
The completion percentage he was expected to have according to the NFL's advanced metrics
| | | | | | |
| --- | --- | --- | --- | --- | --- |
| | IAY | CAY | AGG% | COMP% | eCOMP% |
| 2018 | 9.4 | 6.5 | 19.6 | 57.7 | 60.4 |
| 2019 | 8.6 | 5.6 | 17.5 | 61.9 | 61.6 |
| 2020 | 7.8 | 4.7 | 13.5 | 59.6 | 62.8 |
The story these statistics tell isn't pretty. Darnold has thrown the ball to a lesser depth downfield and into fewer tight windows with each consecutive season. Meanwhile, despite attempting easier passes, his completion statistics have generally been abysmal.
Darnold's highest completion percentage in his short career was just 61.9% in 2019. That was also the only season in which his percentage was higher than expected. In other words, despite targeting less difficult throws as his career has progressed, Darnold hasn't been any better at actually completing them.
Looking at Darnold's weekly grades from his three NFL seasons
Of course, season-long averages only tell us part of the story. To get a more comprehensive understanding of Darnold's OVM performances, let's look at his weekly grades. In the charts below, you can see his grades from each week of his career so far, represented by the black dots. For comparison, the yellow lines represent the league average grade for quarterbacks from each regular season.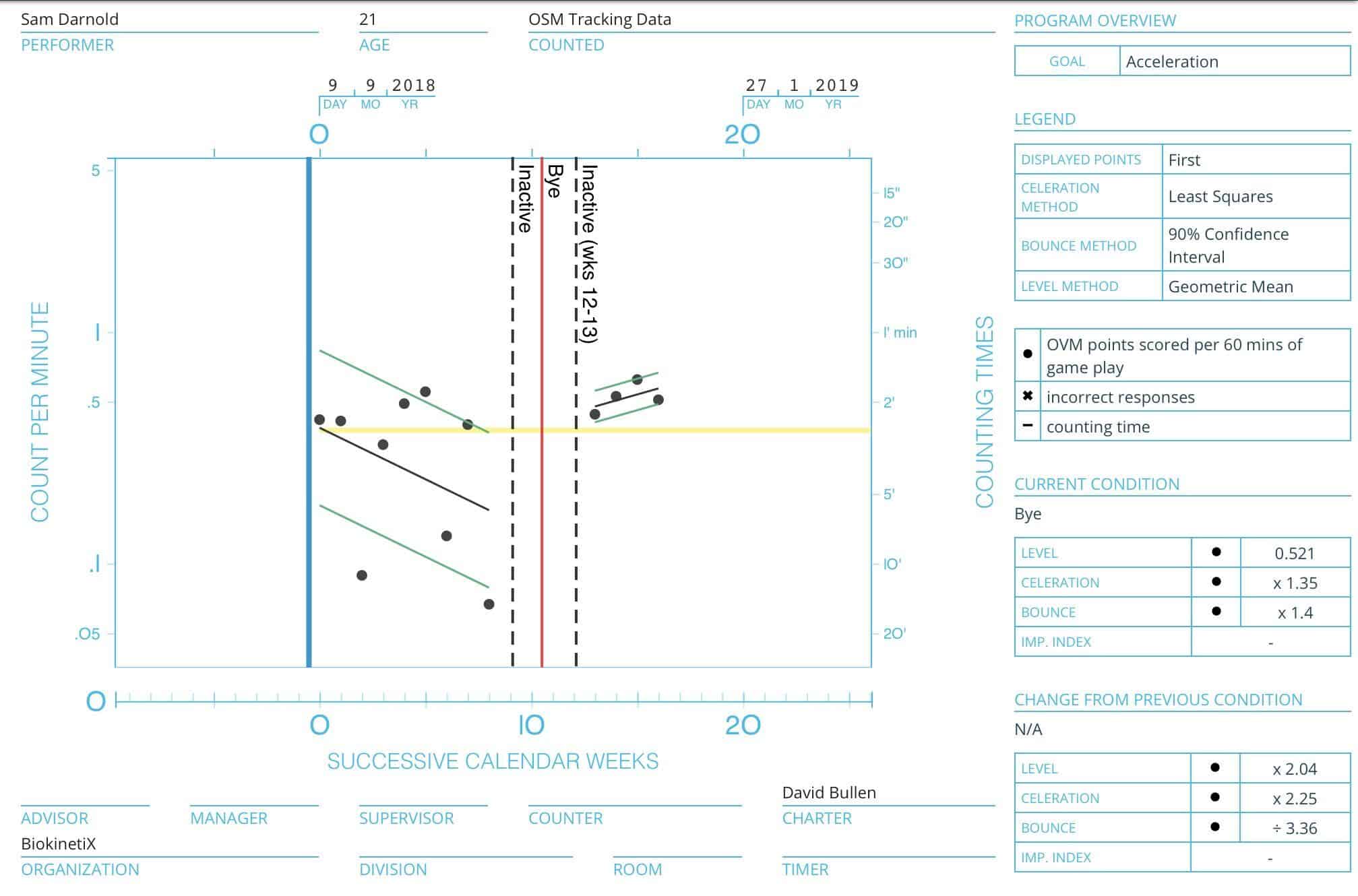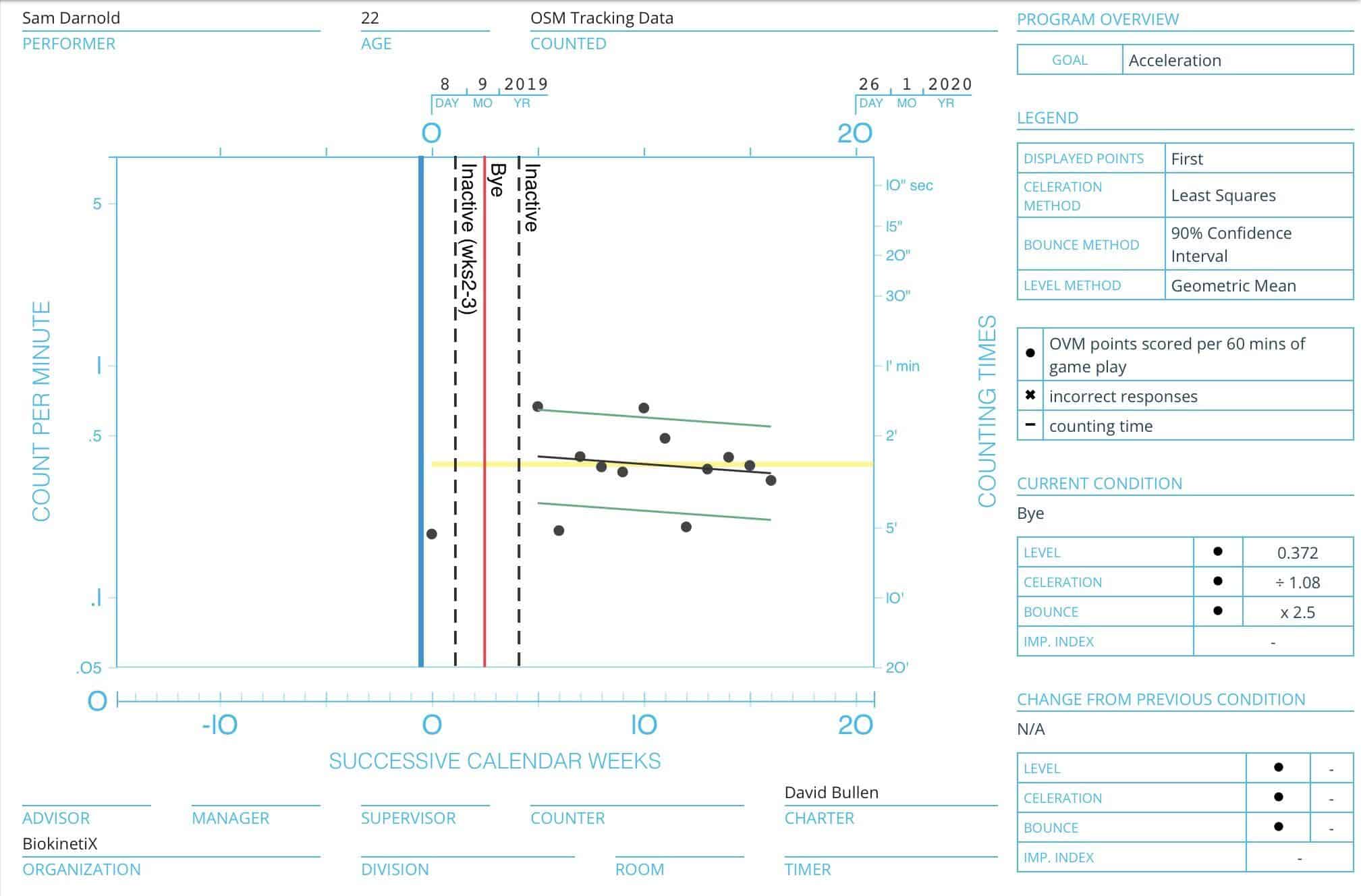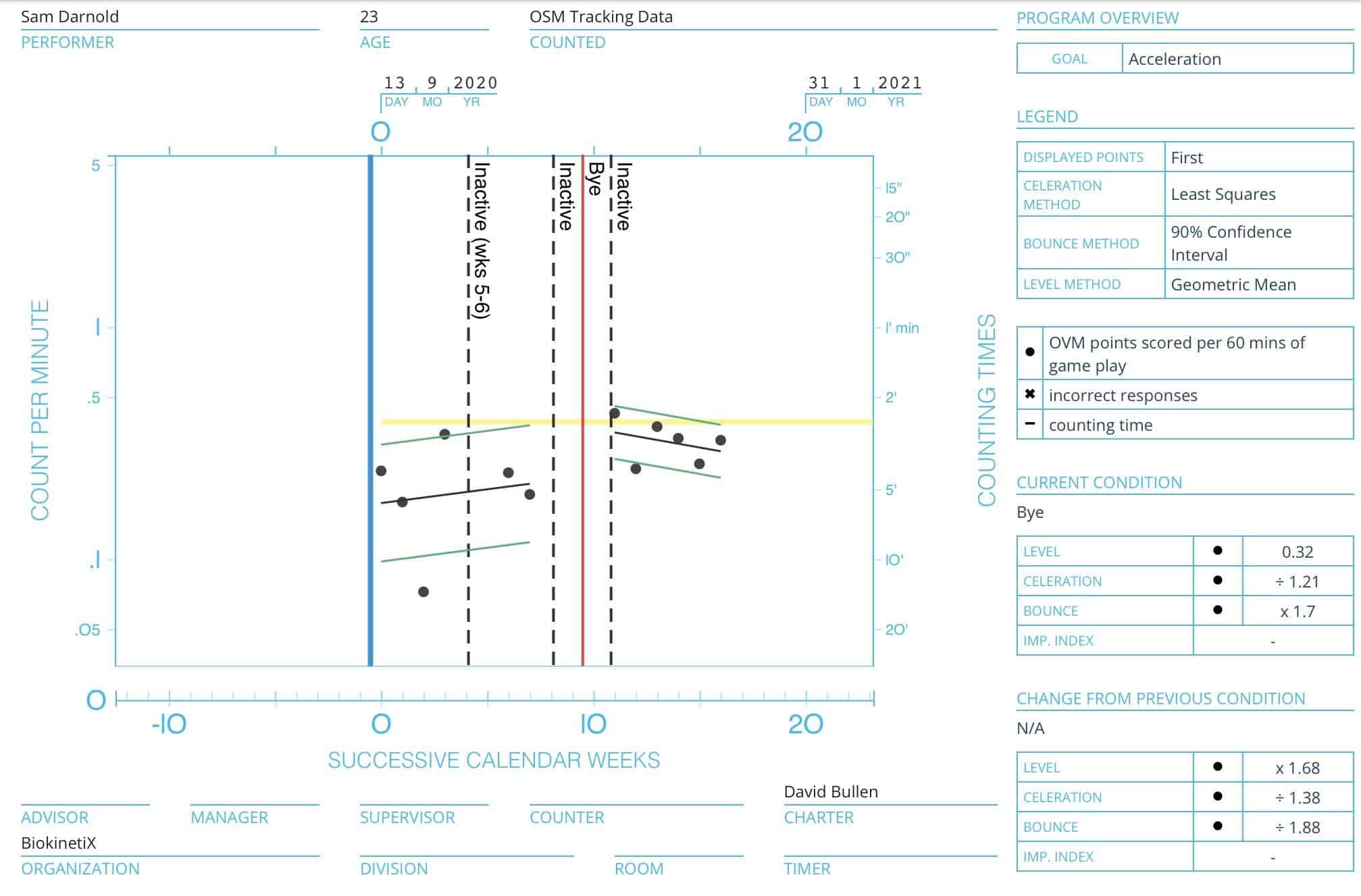 As you can see, Darnold has been wildly inconsistent throughout his career. That alone would be problematic, but these graphs also show us that the range of his grades has decreased with each successive year. He's proven to be consistently inconsistent, but both his highs and his lows have dropped.
The Carolina Panthers were willing to take a chance on Darnold
It would be unfair to say that Darnold has always played poorly during his three years in New York. There have been times where he has looked the part of a third-overall pick. And if you ignore last season's horrendous performance, he looks significantly better. Even then, he's only average at best, and you expect more from a player that was selected No. 3 overall.
Fortunately for the Jets, much like Rosen before him, Darnold played poorly enough last season that his team could draft his replacement. The question then becomes, what should they do with him? The answer turned out to be a trade to the Panthers.
In Rosen's case, he was traded for picks in the second and fifth rounds. Darnold hasn't been as bad as Rosen was during his rookie season, but we've also seen more of Darnold. Additionally what we've seen hasn't been particularly impressive. Ultimately, Darnold commanded a higher price, but not by much,
Despite that, it seems the Panthers have decided he is worth taking a flyer on. First-round players tend to last a while in the NFL, even if what they've shown on the field doesn't necessarily warrant that level of confidence.
Want more NFL news and analysis?
Be sure to follow us on Twitter (@PFN365) to stay in the loop on all things around the NFL. Also, continue to visit Pro Football Network for NFL news and in-depth analysis concerning the 2021 season and beyond.