The NFL Offensive Rookie of the Year award has been handed out by the AP every season since 1957. Some of the most legendary players in league history have taken home the honors. The winner of the 2020 NFL Offensive Rookie of the Year won't be named until February, but it's never too early to explore who might be crowned.
In 2019, Arizona Cardinals quarterback Kyler Murray was the recipient of the OROY after an impressive first season. Whose rookie season is going to be good enough to claim the hardware this year? A deep dive into the RAS data can provide us with some clues.
[sv slug=mocksim]
Five 2020 NFL Offensive Rookie of the Year candidates
Justin Herbert
I can already hear what a lot of you are saying: "How can you not have Miami Dolphins QB Tua Tagovailoa or Cincinnati Bengals QB Joe Burrow here?" The answer is simple: neither participated in drills at the NFL Combine or a Pro Day, so neither achieved a RAS grade. Of the quarterbacks who did, Justin Herbert has the best chance of taking home the 2020 NFL Offensive Rookie of the Year award.
Herbert faced a lot of scrutiny during the 2020 NFL Draft process, but none of it was based on his athletic ability. Herbert's athleticism jumps off the tape, and that was confirmed during his athletic testing at the combine. Herbert turned in an "Elite" RAS grade of 9.7, achieving "Elite" scores in both explosion and speed.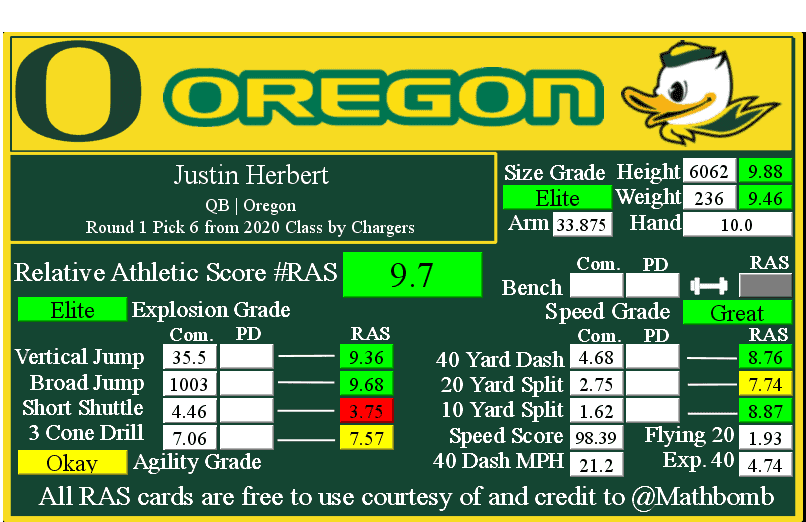 However, it takes more than athleticism to take home Offensive Rookie of the Year award honors. Of the previous eight quarterbacks to take the trophy home, only three of them had an "Elite" RAS grade — Cam Newton (2011), Robert Griffin III (2012), and Dak Prescott (2016) — while four did not qualify, and one (Matt Ryan, 2008) had a "Poor" RAS grade.
Fortunately, Herbert is arguably in the best situation of all the candidates. As a quarterback, he has pretty direct influence over a large portion of the offense and how it runs. He's also inheriting great weapons in the Chargers offense in the form of Austin Ekeler, Hunter Henry, and Keenan Allen.
It's going to be a tall task for Herbert to fill the shoes of Chargers legend Philip Rivers. If Herbert can come in and fill those shoes early on, he should be the odds-on favorite to take home the hardware.
Related | Five 2020 Defensive Rookie of the Year candidates according to RAS
Justin Jefferson
Over the past two decades, wide receivers have struggled to take home the NFL Offensive Rookie of the Year award. Only three of the last 20 winners have been wide receivers. However, there are a pair of receivers among this year's rookies crop that I think have a chance. The first is Vikings rookie wide receiver Justin Jefferson.
Much like Herbert in Los Angeles, Jefferson has some mighty big shoes to fill in Minnesota. The Vikings were left with a massive hole at the wide receiver position after they traded star receiver Stefon Diggs to the Buffalo Bills. Now the question becomes, how well can Jefferson come in and mesh not only with Adam Thielen, but also with quarterback Kirk Cousins? If the RAS grade is any indication, Jefferson should fit in just fine in the Vikings offense.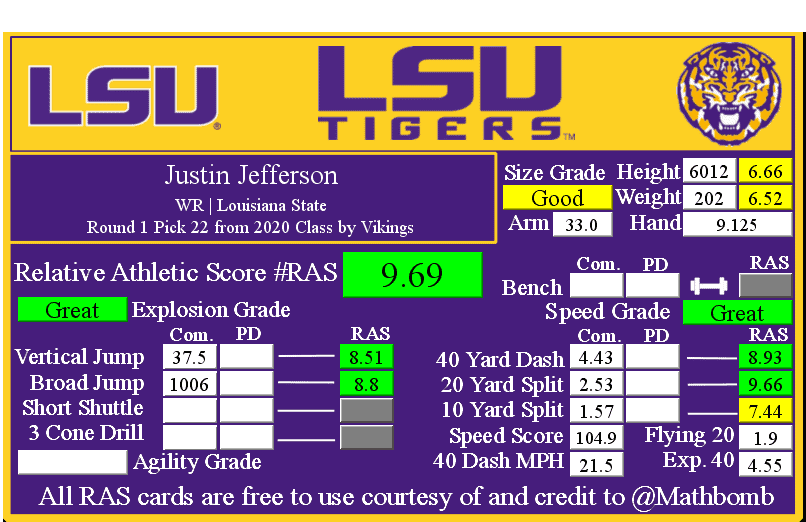 Jefferson was able to achieve an "Elite" RAS grade of 9.69 with his combine performance. Jefferson did not complete the agility drills, but he scored "Elite" in both the explosion and speed categories. That should tell us a lot about Jefferson's skill set and how he'll be used in the Vikings offense.
Jefferson is an explosive playmaker. His explosion off the line allows him to create separation from the jump. His long speed allows him to maintain that separation and run away from defenders in the open field. With defenses needing to respect the speed, it should open things up underneath for Thielen and running back Dalvin Cook.
Much like with Herbert, it's not all about athleticism at the wide receiver position, though there is a much stronger correlation. Of the three previous winners at the position, two achieved "Elite" RAS grades, with only 2003 OROY Anquan Boldin failing to reach that mark. However, opportunity is always going to be the most significant indicator. Whether or not Jefferson will see enough targets to take home the award is a significant question.
Henry Ruggs
This year's class of wide receivers provides us with a lot of potential 2020 NFL Offensive Rookie of the Year winners. Along with Jefferson, there's Jerry Jeudy and K.J. Hamler in Denver, CeeDee Lamb in Dallas, and Henry Ruggs III with the Las Vegas Raiders.
Jeudy and Hamler are going to be competing with each other for targets in the Broncos offense, along with Courtland Sutton and Noah Fant. Lamb is going to contend with Amari Cooper feasting on most of the targets in Dallas, which leaves us with Ruggs.
Ruggs comes into Las Vegas and is arguably the best outside receiver on their roster already. Ruggs will only have to contend with Tyrell Williams, Hunter Renfrow, and fellow draft picks Bryan Edwards and Lynn Bowden — who is likely to be moved to running back. An OROY-winning opportunity should be there for Ruggs, and his RAS grade supports that.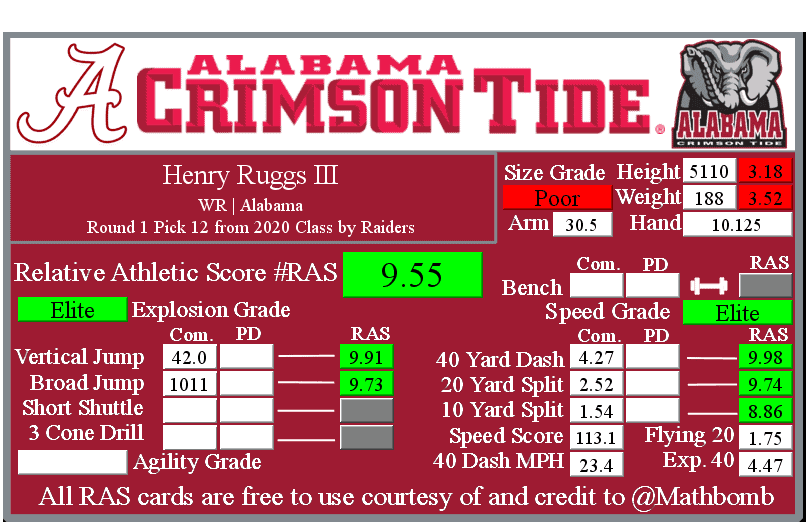 Ruggs came into the NFL Combine as one of the most talked-about receivers in the class. There was significant debate whether Ruggs would clock the fastest time in the 40-yard dash and whether he would beat out Jeudy and Lamb as the first receiver off the board. It turns out the answer to both of those questions was "Yes."
Ruggs clocked a blazing 4.27 40-yard dash on his way to an "Elite" RAS grade of 9.55, earning him the honors of being the first wide receiver off the board. He's likely the number one option in the Raiders offense already, and arguably one of the safest bets for 2020 NFL Offensive Rookie of the Year.
[su_button url="https://www.profootballnetwork.com/top-2020-nfl-offensive-rookie-of-year-candidates-according-to-ras/2/" style="flat" background="#540008″ color="#FFFFFF" size="5″ wide="yes" center="yes" text_shadow="0px 0px 0px #000000″]Next Page: Who else can win the Offensive Rookie of the Year award?[/su_button]
Listen to the PFN Scouting Podcast
Listen to the PFN Scouting Podcast! Click the embedded player below to listen, or you can find the PFN Scouting Podcast on iTunes, Spotify, and all major podcast platforms.  Be sure to subscribe and leave us a five-star review! Rather watch instead? Check out the PFN Scouting Podcast on our Scouting YouTube channel.