The college football season is entering the last week of September, meaning we've learned a lot about the 2024 NFL Draft. There are new prospects emerging and major risers already. We've created a two-round mock draft for you to devour.
2-Round 2024 NFL Mock Draft | Round 1
The order of this mock draft stems from reverse Super Bowl 58 odds and can be found in the FREE PFN Mock Draft Simulator.
1) Arizona Cardinals: Caleb Williams, QB, USC
Make no mistake about it: Arizona Cardinals general manager Monti Ossenfort is fully committed to rebuilding the team. They are planning to completely overhaul their roster with the bevy of picks they're in line to continue building. While it may be costly to let go of Kyler Murray and draft Caleb Williams, it is the best decision for everyone involved.
2) Arizona Cardinals (From HOU): Marvin Harrison Jr., WR, Ohio State
We could see Arizona trade out of this spot to collect a few more picks. But they shouldn't trade too far down. They won't want to miss out on a franchise pass catcher to fill the void that both Larry Fitzgerald and, to a lesser extent DeAndre Hopkins, left.
Marvin Harrison Jr. rightfully has All-Pro expectations. He's one of the most talented and naturally freaky athletes we've seen in the last decade.
3) Chicago Bears: Drake Maye, QB, North Carolina
Maybe I should be afraid of saying this out loud, but I still believe in Justin Fields. However, the Chicago Bears have been a dumpster fire under Matt Eberflus, and a new coaching staff is in line if the 2023 season continues to spiral. Getting the chance to land one of the 2024 top QBs means the Bears will want to restart the clock at the position.
MORE: 2024 NFL Draft Big Board
Finding Drake Maye on the board qualifies to move on from Fields as a reasonable situation. Maye fits neatly into what the modern mold of an NFL QB has become.
4) Chicago Bears (From CAR): Jared Verse, EDGE, Florida State
The Bears' defense still needs more of an identity. That begins with a star pass rusher. There's no doubt that Jared Verse is the best edge talent in the class, boasting rare speed, great length, and the knack for making big plays in key moments.
Verse and Harrison are the two best bets to be the first non-quarterback off the board. Each has continued to play well in early 2023, proving to be more than just hyped underclassmen.
5) Indianapolis Colts: Brock Bowers, TE, Georgia
With rookie quarterback Anthony Richardson already looking electric in his first couple of games, the Colts need to go all-in around the playmaker. Keeping him upright is part of that, but so is maximizing his incredible arm talent. With Michael Pittman Jr. looking like a good but not great pass-catcher, finding a higher-upside receiver is important.
That is certainly Brock Bowers. The pseudo-tight-end would allow Shane Steichen to mold his offense around one of the most valuable skill sets possible. Few playmakers have Bowers' blend of size, speed, fluidity, and strength.
6) Las Vegas Raiders: J.J. McCarthy, QB, Michigan
Surprise! Well, seeing J.J. McCarthy this high shouldn't be a surprise based on his play early this season. With one of the best arms in the nation, great mobility, experience in Michigan's pro-style offense, and a rapidly improving confidence level, McCarthy has moved up to No. 3 in our quarterback rankings.
There's no doubt that Raiders head coach Josh McDaniels would love McCarthy. It's quite possible McDaniels wouldn't be making this pick if the Raiders pick this high, but it may not matter as McCarthy still fits the mold of a good NFL quarterback.
7) Tennessee Titans: Olumuyiwa Fashanu, OT, Penn State
It's impressive how the Tennessee Titans remain such a competitive team despite not having the most obviously talented roster in the league. But the latter part of that statement has to change for this team to take the next step. Assuming the Titans like one of their two young quarterbacks behind Ryan Tannehill, addressing the offensive line is a must.
If they land this high, finding Olumuyiwa Fashanu at No. 7 would be a solid consolation prize. Fashanu hasn't been as dominant in this early season as hoped, but he has the physical tools to be a terrific left tackle in the NFL for the next decade.
8) Washington Commanders: Dallas Turner, EDGE, Alabama
The Commanders have sunk a ton of resources into their defensive line over the years and have built an impressive unit. With Chase Young and Montez Sweat needing a new contract soon, Washington will likely only keep one. Replacing the other with the second-best edge rusher in the class is a cheaper way to do business.
Dallas Turner is a fantastic athlete who doesn't know how to maximize his gifts in the passing game. He's a plus-run defender with excellent awareness, but landing with Washington might be the key to becoming a dominant force on passing downs.
9) New York Giants: Malik Nabers, WR, LSU
Although we have Emeka Egbuka as our No. 2 receiver in the class, Malik Nabers has the better skill set for the Giants to evolve their offense. Nabers is coming off a historic performance against Mississippi State, catching 13 passes for 239 yards and two touchdowns. His incredible speed and ball-tracking ability were on full display.
Nabers profiles as a Stefon Diggs or Garrett Wilson-type. The Giants have enough slot weapons, but adding Nabers can redefine the unit.
10) New York Jets: Joe Alt, OT, Notre Dame
The Jets will keep their 2024 first-round pick thanks to the Aaron Rodgers injury. With Rodgers poised to return, the Jets must continue investing in him. That involves improving their left tackle situation long-term.
Joe Alt is the most pro-ready blocker in a loaded 2024 class of blockers. The mammoth 6'8″, 315-pounder is as natural as pass blockers come and would fit New York's zone-based rushing attack perfectly.
11) Tampa Bay Buccaneers: Shedeur Sanders, QB, Colorado
Who would've thought Shedeur Sanders would have launched himself into the first-round conversation so quickly? Here we are, and it's hard to deny that he's been anything but a top-two quarterback on the field this fall. The question is whether he can continue his torrid pace as the schedule is ramping up.
Sanders has improved his passing mechanics significantly, throwing accurate passes to every level of the field. His playmaking and confidence are phenomenal. Sanders isn't the best athlete, but he would be a big upgrade long-term in Tampa over Baker Mayfield.
12) Minnesota Vikings: Quinn Ewers, QB, Texas
The Kirk Cousins era in Minnesota can't run forever. He's in the final year of his deal with the Vikings, and the front office has already started trimming veteran fat left and right. Even if they extend him for a few more years, it is time to start thinking about life after him.
Quinn Ewers is showing he can continue improving as he ages. There's room for him to continue growing, but Ewers has Joe Burrow-esque talent.
13) Denver Broncos: Bo Nix, QB, Oregon
With the quarterback run creating some desperation, Sean Payton gets his QB of the future to replace the wilting Russell Wilson sooner rather than later. Bo Nix is a solid prospect, showing great athleticism and natural arm talent. Payton can get quarterbacks comfortable and maximize their abilities, which is exactly what Nix needs to be a plus starter.
14) Los Angeles Rams: Kingsley Suamataia, OT, BYU
Kingsley Suamataia is an outstanding athlete for the position. BYU's offensive coordinator even claimed the tackle was more athletic than Blake Freeland.
For reference, Freeland ran a 4.98, jumped higher than any tackle, and jumped just one-inch shy of the farthest long jump for the position. But his fluidity and ease of operation are even more exciting to watch.
The Rams should jump for joy as they must rebuild their offensive tackle situation before Matthew Stafford decides to hand up his cleats.
15) New England Patriots: Keon Coleman, WR, Florida State
Arguably no WR prospect in the 2024 NFL Draft fits the bill better as a Mike Evans comparison than Florida State's Keon Coleman.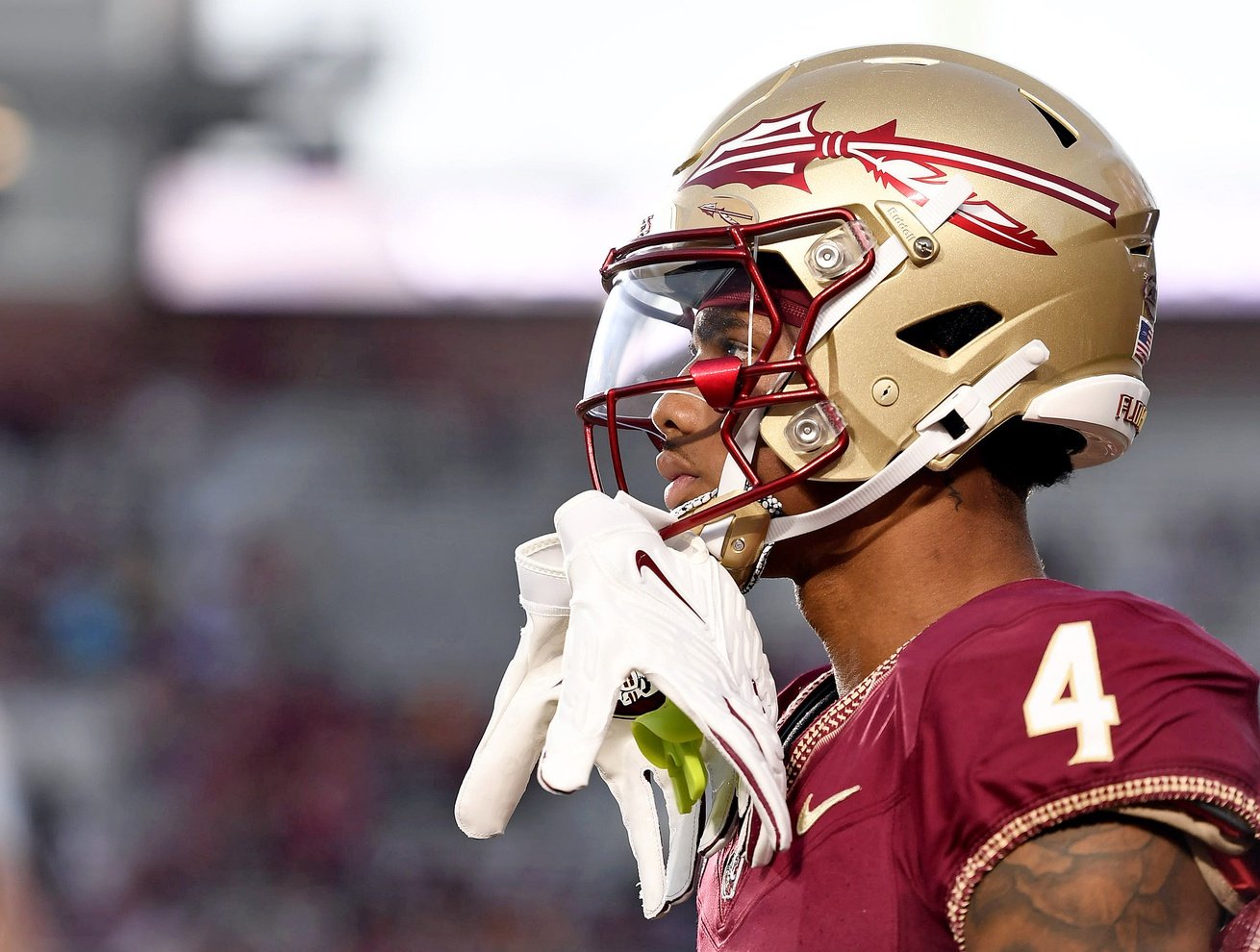 At 6'4", 215 pounds, Coleman has the size, length, sense of timing, and contortion ability to moss DBs with ease, and he's also quietly a strong independent separator with RAC chops.
16) Pittsburgh Steelers: Kool-Aid McKinstry, CB, Alabama
The Steelers did well to land Joey Porter Jr. in last year's class, but their work on the unit isn't done.
Kool-Aid McKinstry plays as cool as his name, not unlike Patrick Surtain II. McKinstry doesn't possess the prototypical frame Surtain had. However, he plays with the same lack of panic because he's rarely ever out of position in Nick Saban's defense.
17) Green Bay Packers: JC Latham, OT, Alabama
The Packers want to run the football and run a whole bunch of play-action off of that. JC Latham is an absolute hoss on the right side of the Alabama offensive line. But it's his impressively light feet that make him such a desirable prospect. He could be the first OT off the board if a team near the top of the draft needed a right tackle.
18) Seattle Seahawks: Jer'Zhan Newton, DT, Illinois
It's likely a mistake to have the best defensive tackle prospect in a loaded class fall this far. Jer'Zhan Newton could go top-five next year at this rate, showing a tremendous first step and competitive level to finish through the whistle. The Seahawks would be getting a massive steal here.
19) Atlanta Falcons: Kalen King, CB, Penn State
In the words of former Coastal Carolina head coach David Bennett, "We need more dogs."
That's precisely what an NFL team gets in Kalen King. The Penn State CB is a bit shorter and slighter than the prototypical cover corner. Yet, he's an absolute missile against the run and in the screen game. He wants to be physical, and his tape study must be legendary because his mental trigger is instant.
20) New Orleans Saints: Emeka Egbuka, WR, Ohio State
The Saints have hit big on Ohio State receivers twice, so why not return to the well?
Emeka Egbuka is a nuanced route runner with the ability to not only complement Harrison at Ohio State but outshine him at times. When called upon to be the No. 1 target against Georgia when Harrison was out, he shined his brightest.
21) Los Angeles Chargers: Maason Smith, DT, LSU
There's a ton of competition at the defensive tackle position in this class, and Maason Smith's position as DT2 is starting to look shaky. After missing the season opener due to a suspension, Smith has only three tackles in two games. He's still a great athlete with huge potential, but that potential keeps him in the first round more than on-field results in 2023.
22) Jacksonville Jaguars: Leonard Taylor, DT, Miami (FL)
Jacksonville is in a great position to take the best player available here. Getting even deeper and stronger along the defensive line is never a bad decision. Miami's Leonard Taylor is a stout but nimble penetrating defensive tackle who does everything at a high level.
23) Houston Texans (From CLE): J.T. Tuimoloau, EDGE, Ohio State
We hoped to see J.T. Tuimoloau take the next step as a pass rusher this season, but it hasn't come yet. A better run defender than a pure pass rusher, Tuimoloau is a great complementary edge defender. He'd fit well across from Will Anderson Jr.
24) Detroit Lions: Rome Odunze, WR, Washington
The Lions don't need a receiver if Jameson Williams works out, but what if he doesn't show star traits after returning from his suspension? Although Rome Odunze doesn't quite play to the blistering speed he reportedly tested at (4.34), his 6'3″, 215-pound frame already makes things tough on defenders.
He may be a bit situationally dependent because he is not an elite separator — but Jared Goff isn't afraid of testing a few tight windows.
25) Cincinnati Bengals: Ruke Orhorhoro, DT, Clemson
Ruke Orhorhoro is new to football. The Nigerian-born Clemson Tiger transitioned from basketball to football as a junior in high school. Despite being a three-star recruit, athleticism was never an issue for the defensive tackle.
MORE: Top DTs in the 2024 NFL Draft
Clemson moves their defensive linemen around, and Orhorhoro is no exception. He played from outside tackle condensed down to the nose. He showed effectiveness in each alignment. In a league using 290-pounders at 5-technique more and more often, Orhorhoro could be hitting the league at a perfect time.
26) Baltimore Ravens: Amarius Mims, OT, Georgia
Amarius Mims hardly played during his freshman and sophomore seasons at Georgia but through no fault of his own. Broderick Jones and Warren McClendon were each selected in the 2023 NFL Draft on a team with national title aspirations. Mims has shown franchise left tackle potential in his limited time on the field.
Unfortunately, an ankle surgery has knocked him out of action for the next 4-6 weeks. The Ravens might be wary of another left tackle with ankle injuries, but Ronnie Stanley's future is murky.
27) Miami Dolphins: Michael Hall Jr., DT, Ohio State
Although Michael Hall Jr. is "undersized" at 290 pounds, his 6'2″ frame is already stout enough to play at the NFL level. A replacement is in play with Christian Wilkins looking less likely to return to Miami. Hall is the slashing defensive tackle who could make waves with his athleticism next to Zach Sieler.
28) Buffalo Bills: Adonai Mitchell, WR, Texas
AD Mitchell has been a massive winner since his transfer from Georgia to Texas. He's shockingly good at running routes and creating separation for someone standing 6'4″ and 196 pounds. He'd not only complement Stefon Diggs but could replace him in the next few seasons.
29) Dallas Cowboys: Barrett Carter, LB, Clemson
Although LB has been devalued by most in the media in recent years, many in the NFL disagree with that sentiment. And with a glaring need at the position, taking the best player at his position in a given draft class — Barrett Carter in this instance — is rarely a bad decision.
30) Philadelphia Eagles: Andrew Mukuba, S, Clemson
The best overall safety in the class would fill a huge long-term hole for one of the best defenses in the league. Andrew Mukuba does it all and can play at a high level immediately. His thinnish frame is the only concern evaluators may have.
31) Kansas City Chiefs: Troy Franklin, WR, Oregon
Adding Troy Franklin to the mix would perfectly fit the Chiefs. There are some shades of Chris Olave to his game. He's long, lean, explosive, and nuanced. He's a weapon over the middle of the field, something that Patrick Mahomes and Andy Reid love.
32) San Francisco 49ers: Denzel Burke, CB, Ohio State
Between injuries and a new scheme, 2022 just wasn't Denzel Burke's year at Ohio State. Getting healthier and more comfortable in the Buckeyes' more aggressive unit in Year 2 has made a big difference, though. Burke is fulfilling his potential in 2023 so far, projecting as a great corner in the NFL.
Round 2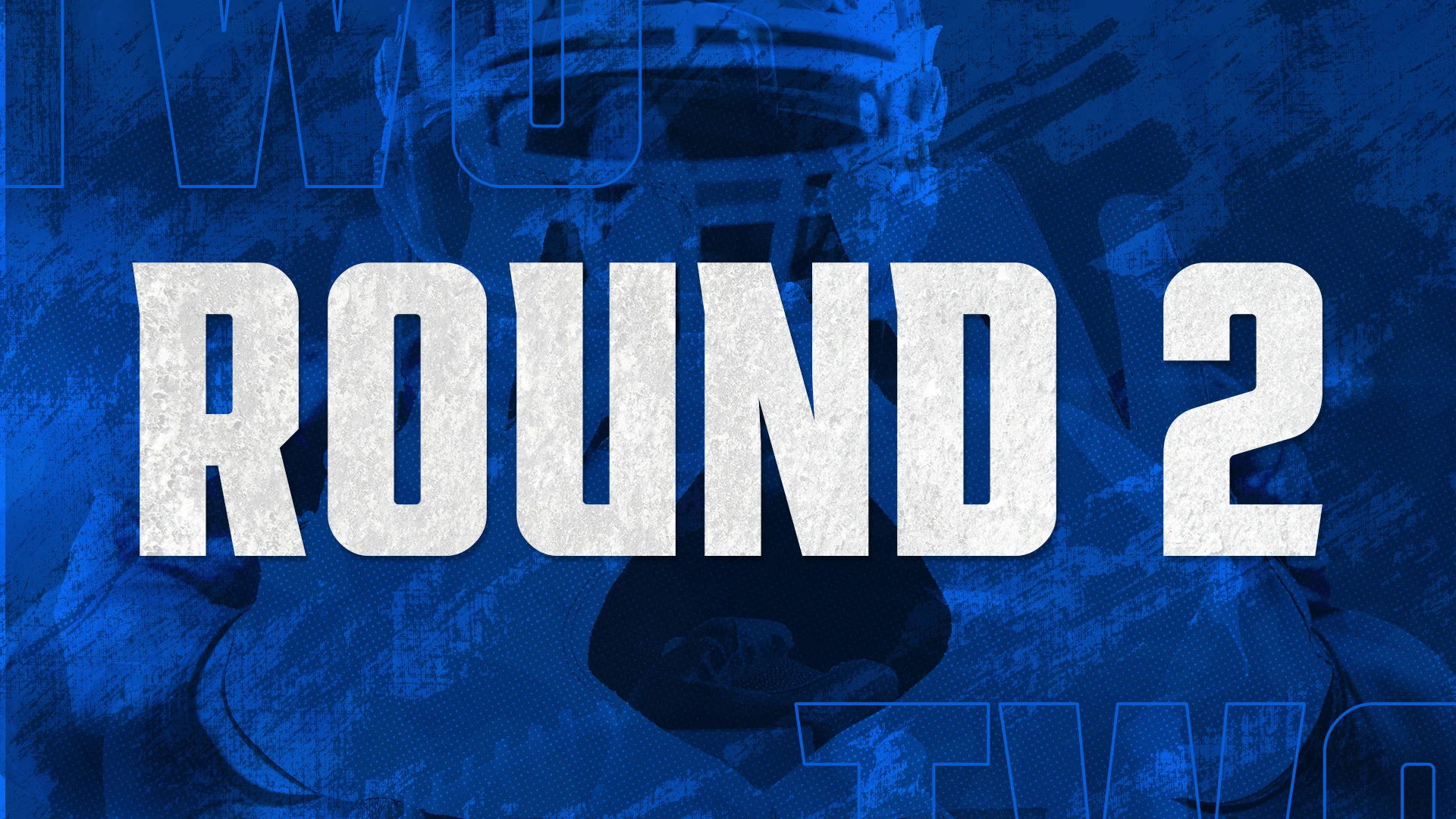 33) Arizona Cardinals: Bralen Trice, EDGE, Washington
Bralen Trice brings a grown man frame and skill set to the dinner table. He's a powerful defensive end who displaces offensive tackles with a fantastic combination of length and explosiveness. The Huskies product stands out in a class of smaller, shiftier rushers.
34) Houston Texans: Cooper DeJean, CB, Iowa
There's no question that DeMeco Ryans would want another smart, sound, versatile playmaker to revamp his defense with. Cooper DeJean embodies that and would be a steal in the draft. DeJean is a dangerous threat for offenses to target, showing off incredible ball skills for anyone but a receiver.
35) Carolina Panthers: Xavier Worthy, WR, Texas
Could Xavier Worthy be the next iteration of the "Slim Reaper?" It will be fascinating to see if he can bounce back from a production perspective in 2023. Inconsistent QB play led to struggles in that respect, but his tape remains outstanding.
Like DeVonta Smith, Worthy's lack of mass and natural flexibility allow him to snap off routes consistently. Like Smith, he's more impressive after the catch than expected. He's shown the ability to win from the slot and outside against all coverage variations.
36) Chicago Bears: Donovan Jackson, G, Ohio State
Donovan Jackson is still a young player who must show technical improvement to earn this kind of draft capital. Nonetheless, he was already a strong force on the left side for Ohio State as a true sophomore.
The top guard in the 2021 recruiting class becomes the first one drafted in 2024.
37) Indianapolis Colts: TreVeyon Henderson, RB, Ohio State
TreVeyon Henderson is finally healthy in 2023, a big deal for this RB class.
He possesses outstanding lateral agility and a great sense of how to make defenders overcommit by showing upper-body intention one way while planting and driving the other. But he also possesses the pure speed to keep defensive backs chasing at the third level.
38) Las Vegas Raiders: Cooper Beebe, G, Kansas State
Cooper Beebe was draft-eligible last season but decided to stay at Kansas State for a fourth season. Maybe he just wanted to play all four non-center line spots before entering the NFL? He played over 350 snaps at right tackle as a freshman, over 700 at left tackle as a sophomore, and over 900 at left guard as a junior.
Although his lack of length will keep him on the interior at the next level, the 332-pounder has more than enough lateral agility to hang with quicker interior defenders. Additionally, he's an absolute stone structure in pass protection. He presents an anchor that could keep a Disney Cruise ship settled.
39) Tennessee Titans: Caelen Carson, CB, Wake Forest
Caelen Carson is a fast-rising prospect on our early 2024 NFL Draft board, so this is a steal. And as a bonus, he's a perfect fit for Tennessee's scheme. Carson has the length and physicality to bully wide receivers in man coverage. Still, he also has the fleet-footed athleticism, corrective twitch, technical prowess, and ball-tracking ability to hold strong through reps.
40) New York Giants: Raheim Sanders, RB, Arkansas
Like Derrick Henry, Raheim Sanders won't be everyone's cup of tea. He's an interesting player to watch run, but there is absolutely no denying his effectiveness. While the 240-pound back likely won't be taking preseason snaps in the slot or out wide like Saquon Barkley (time will tell if they use him that way in real games), Sanders is a confident pass catcher.
Sanders possesses outrageous contact balance, surprising quickness, and the stride length and lower-body strength to move the earth when running in a straight line.
41) Washington Commanders: Tyler Guyton, OT, Oklahoma
Although Tyler Guyton is inexperienced, his tape shows someone who is well beyond their years technically. Guyton is a nasty blocker who wants to finish plays to the ground, both to his benefit and detriment. He has loads of potential, and it wouldn't be a shock to see him as a Round 1 candidate come April.
42) Los Angeles Rams: Laiatu Latu, EDGE, UCLA
Laiatu Latu will be one of the most intriguing evaluations in the 2024 NFL Draft cycle. At 6'4", 265 pounds, he has the size, reach, and production – he accrued 10.5 sacks and 12.5 TFLs in 2022.
He's not the smoothest athlete and largely lacks a bend component. Nevertheless, he can win with his power, active hands, and motor and be a Day 1 contributor for a lacking Rams defense.
43) New Orleans Saints: Ty'Ron Hopper, LB, Missouri
Remember Nick Bolton? Same, but different. Aside from sharing college colors, Ty'Ron Hopper is a similar player stylistically. He isn't the most explosive player in college football. He is not the biggest linebacker on the field. But he has a military-grade homing beacon for the football.
Although there were shades of Bolton, at the surface, David Long seems an apt comp for Hopper. Nobody tackles ball carriers closer to the line than Long, but Hopper's ability to know what the offense is doing at the snap of the ball — along with his knack for slipping blocks — makes him an absolute menace in the backfield.
44) Minnesota Vikings: Chop Robinson, EDGE, Penn State
Chop Robinson will be a fascinating evaluation because the edge rusher lacks the ideal length and bulk for the position. However, there's a former Penn State linebacker with 31″ arms that would scoff at the notion arm length matters at all.
The flashes are present with Robinson, but winning consistently may be a problem. He's learning to maximize his effectiveness while lacking the power and length that usually come with the position. But he has excellent quickness as a proactive athlete, and his spin move is a thing of beauty.
45) Green Bay Packers: Kamren Kinchens, S, Miami (FL)
The minute Kamren Kinchens stepped on the field for the Miami Hurricanes, he was already one of the leaders on their defense as a freshman. He started in five games while playing over 500 defensive snaps in that first year. In Year 2, he was an All-American who led the team with six INTs.
Kinchens avoided a major shoulder injury earlier this season, and assuming he's fully healthy, should continue to add to his 10 tackles and one interception this fall. The rangy true free safety is someone we could see go much earlier in the first round for the right scheme fit.
46) Tampa Bay Buccaneers: Ja'Tavion Sanders, TE, Texas
A tight end must know how to maximize the use of his frame as a route runner to generate separation — Ja'Tavion Sanders does exactly that. The Texas TE can win from a three-point stance attached or from the slot, and he boasts an ideal blend of size and athleticism for the position.
The Buccaneers have some mediocre options at tight end in place. Sanders can be a more versatile and energetic presence.
47) New England Patriots: Jordan Travis, QB, Florida State
The Mac Jones experience isn't getting better fast enough for New England to continue building around him. Jordan Travis is the antithesis of Jones, bringing elite play creation and mobility to the table. Travis isn't the most physically gifted passer, but he's smart and a gamer, overcoming some of his limitations.
48) Pittsburgh Steelers: Michael Penix Jr., QB, Washington
Maybe the Steelers won't be ready to give up on Kenny Pickett, but the writing is starting to show that he may have been the wrong selection in 2022.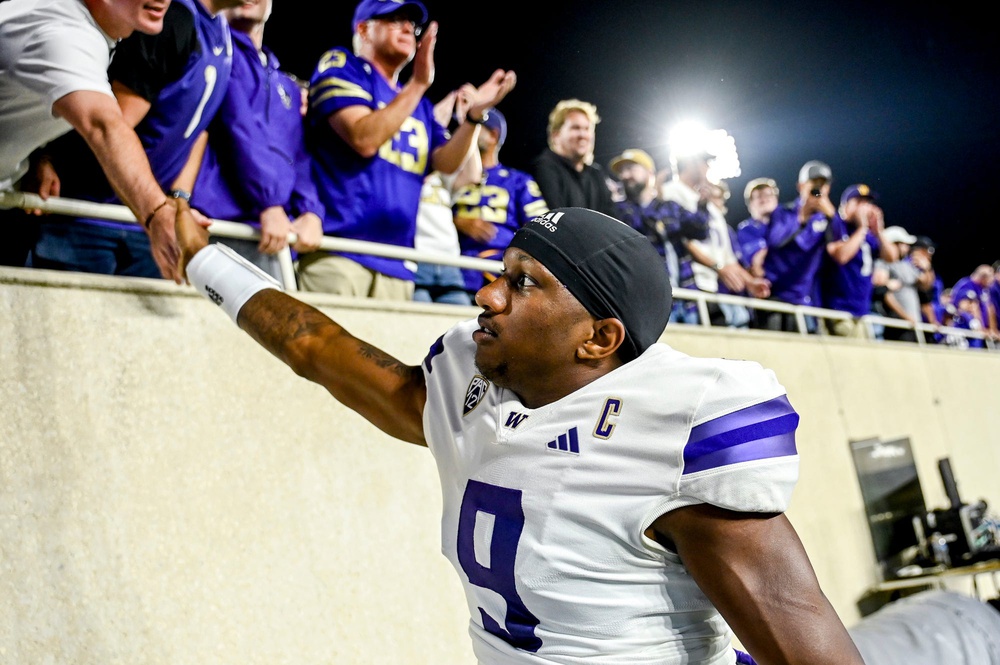 Washington's Michael Penix Jr. doesn't have the strongest arm, but he checks off many boxes that often lead to a successful NFL career. Pairing Penix with a Kyle Shanahan disciple at offensive coordinator would bring more balance to the Steelers than whatever Pickett is doing.
49) Green Bay Packers: Jason Marshall Jr., CB, Florida
With the right technical seasoning, Florida cornerback Jason Marshall Jr. could become a lockdown man-coverage cornerback at the NFL level. He also has the ideal frame and athletic makeup, bringing enough physicality to be a solid presence on an already solid defense.
50) Los Angeles Chargers: Taliese Fuaga, OT, Oregon State
No one has been talking about Taliese Fuaga, but he's our No. 2 ranked right tackle in the 2024 class. The massive 6'6″ blocker is as athletic as any in the country, boasting long arms, a smooth kickback, and great agility in the open field. He's been a big winner early this season, showing better hand usage and placement as a run and pass blocker.
51) Seattle Seahawks: Jeremiah Trotter Jr., LB, Clemson
Seattle is one of a few teams that still puts a premium on linebacker talent. With Jordyn Brooks returning from a torn ACL and Bobby Wagner being a short-term fix, Jeremiah Trotter Jr. can help both in 2024 and beyond.
Trotter is a great coverage player but is not a traditional MLB like his father was.
52) Atlanta Falcons: Spencer Rattler, QB, South Carolina
Sorry, I don't believe in Desmond Ridder. It makes sense to add a high-floor, high-upside veteran on Day 2 to challenge him, if possible. Spencer Rattler is quickly improving his stock thus far in 2023, showing off tremendous arm talent, improved poise and decision-making, and overall play.
53) Cincinnati Bengals: Sedrick Van Pran, C, Georgia
Sedrick Van Pran may have been the first center drafted had he declared with Joe Tippman and John Michael Schmitz. Another season on the Bulldogs' interior should only sharpen his impressive technical ability.
54) Philadelphia Eagles: Quinyon Mitchell, CB, Toledo
Quinyon Mitchell is one of the most exciting Group of Five prospects on the 2024 NFL Draft circuit. At around 6'0", 200 pounds, he has a strong frame, and enough length and physicality to disrupt WRs in man.
But he also has near-4.3 recovery speed and sharp route identification skills, which he used to amass five picks and 19 deflections in 2022. He's a dynamic, multifaceted ball-hawk who fits the mindset of the Eagles' defense.
55) Jacksonville Jaguars: Rod Moore, S, Michigan
Like Daxton Hill before him, Rod Moore is a supremely twitched-up athlete on the back end who fits into multiple roles because of his desire to compete and intelligence in coverage. Jacksonville could use more secondary talent that can create impactful plays.
56) Cleveland Browns: Donovan Edwards, RB, Michigan
The Nick Chubb injury was devastating for the team and fans alike. Though I'm betting on Chubb being back with the Browns at some point, no one knows if he'll ever be a starter again. Adding Donovan Edwards, who fits the Browns' new spread offense well, will help keep the explosive plays coming from the position.
57) Detroit Lions: Princely Umanmielen, EDGE, Florida
Princely Umanmielen can bend, and you can't teach that. Although there are many improvements to be made before the Florida pass rusher can hear his name called early on NFL Draft weekend, he'd be a fantastic fit as a designated pass rusher.
MORE: 2024 Scouting Reports
Although he doesn't necessarily need to fill his frame out, he could stand to gain more power — or at least display more violence in his hands. He's an absolute menace in pursuit, thanks to his outstanding burst.
58) Baltimore Ravens: Blake Corum, RB, Michigan
The J.K. Dobbins injury is unfortunate. This might be his final year in Baltimore. The Ravens need to get younger and quicker at the position. Enter Blake Corum. The Michigan star exploded onto the scene last season and is one of the most shifty runners in the class.
59) Miami Dolphins: Jordan Morgan, OT, Arizona
Jordan Morgan is one of the most athletic blockers in the country. He would've been highly sought-after in the 2023 NFL Draft, but he tore his ACL in November and decided to remain in school for another season. Miami has to consider Terron Armstead, who is never on the field.
60) Dallas Cowboys: Will Shipley, RB, Clemson
At this point in Round 2, Will Shipley is a good value proposition for the Cowboys, who may need to replace Tony Pollard next year. At around 5'11", 205 pounds, Shipley doesn't have the mass that made Jonathan Taylor such a strong volume back. What he does have, however, is an alluring mix of hyper-elite hip fluidity, short-area freedom, vision, and creative instincts in congestion.
61) Buffalo Bills: Graham Barton, G, Duke
Projecting Graham Barton to guard, he grades out as a potential first-round talent on our board. At this point, he'd be a stellar addition for the Bills, who could use an upgrade at both guard spots. At around 6'5", 314 pounds, Barton has a rocked-up yet streamlined frame for his size and is an elite athlete in space with dominating leg churn and aggression.
62) Philadelphia Eagles: Antwane Wells Jr., WR, South Carolina
The Gamecocks have a type at wide receiver. They prefer sturdy pass catchers who can make plays with the ball in their hands to generate explosives. Antwane Wells Jr. is simply the next iteration of that. Slotting him next to AJ Brown and Devonta Smith will only continue to torture defenses.
63) Kansas City Chiefs: Bucky Irving, RB, Oregon
We know the Chiefs will continue to surround Mahomes with as many playmakers as possible. Running back Isiah Pacheco is a nice contributor, but Bucky Irving is an even more capable and explosive option in the backfield. Irving has elite burst, speed, and creative ability as a rusher and receiver.
64) San Francisco 49ers: Will Sheppard, WR, Vanderbilt
Even if Brandon Ayiuk and Deebo Samuel are back next year, the 49ers could use more depth at receiver.
In Will Sheppard, the 49ers get a receiver prospect who can fulfill many roles, and hedge for any turnover. At 6'3", 200 pounds, he's a smooth athlete, an efficient route runner, a stubborn RAC threat, and an instinctive contortionist at the catch point.
Listen to the PFN Scouting Podcast
Listen to the PFN Scouting Podcast! Click the embedded player below to listen, or you can find the PFN Scouting Podcast on iTunes, Spotify, and all major podcast platforms.  Be sure to subscribe and leave us a five-star review! Rather watch instead? Check out the PFN Scouting Podcast on our Scouting YouTube channel.