The 2024 NFL Draft DT class doesn't have a top-flight talent like Jalen Carter, but as these rankings show, the group may already have superior depth to its preceding class. Already, trimming the list of top talents to just 10 is a difficult task, and all of the highest-ranked prospects bear watching.
Ranking the Top DTs in the 2024 NFL Draft
Time will tell just how rewarding the returns are with the 2023 NFL Draft DT group, but on the surface, it's an inspiring class. As long as he can stay on the right path, Carter is a blue-chip talent. Behind him, other prospects like Bryan Bresee, Calijah Kancey, Mazi Smith, Adetomiwa Adebawore, Keeanu Benton, and Zacch Pickens all have great upside.
The 2023 class was formidable. Carter, Bresee, Kancey, and Smith all earned Round 1 capital, and many others are in position to make a difference from the Day 2 and Day 3 ranges. As strong as the 2023 class was, however, the 2024 group has the potential to be even more substantial. Let's take a look at what it has to offer.
10) Fabien Lovett, Florida State
Fabien Lovett accepted an invite to the Senior Bowl in the 2023 draft cycle before opting to return to school for another year. He was already fielding all-star interest, and that interest should remain in the 2024 cycle. An injury limited Lovett to seven games in 2022, but when he was on the field, his impact was very stark.
At 6'4″, 315 pounds, Lovett is one of the best run defenders in the upcoming DT class. He's long and burly, makes contact quickly, and can stack and shed and one-gap effectively with his raw strength, anchor placement, and torque. There's also reason to believe, with his length and first-step quickness, Lovett has untapped potential as a pass rusher.
9) Braden Fiske, Florida State
Two Florida State prospects lead off our list of top DT prospects in the 2024 NFL Draft. The Seminoles' line should be absolutely stacked in 2023. Jared Verse and Patrick Payton man the edges, while Lovett will be joined on the interior by Western Michigan transfer Braden Fiske. Lovett is the superior run defender, but Fiske's disruptive potential is unique to him alone.
Fiske was a dominant force for the Broncos in 2022, accumulating 59 tackles, six sacks, 12 tackles for loss, three forced fumbles, and three pass deflections. Despite being a massive spectacle at 6'5″, 297 pounds, he's a twitched-up attacker who overwhelms blockers with his energy and loaded power output on his rushes, and he's a menace in pursuit.
8) Michael Hall Jr., Ohio State
The Ohio State Buckeyes represent a football factory all across the board. And while the school hasn't been quite as productive on the interior defensive line as it has been at positions like wide receiver and quarterback, there's still high-quality talent to know at DT.
The Buckeyes have two DTs on this list and another in the honorable mention category. First up is Michael Hall Jr.
Hall notched 4.5 sacks and 7.5 tackles for loss in a breakout 2022 campaign. He's a bit undersized at 6'2″, 290 pounds, and maintaining his balance when working across-face can at times be an issue. But Hall has the bristling explosiveness, agility, and natural leverage to play between 3-tech and 5-tech. He uses those same traits to capitalize in 1-on-1 situations — with swims and rips — and stunts across the formation.
7) Tyleik Williams, Ohio State
Hall is a close second to the top Ohio State prospect on this list. It's close enough that any ranking of the Buckeyes' DT prospects can be up to interpretation or personal preference. But despite his inferior relative production, Tyleik Williams arguably has a more appealing professional projection — especially for teams seeking alignment versatility on the interior.
Williams' uniqueness stems from his build. He's a heavyweight force at 6'3″, 320 pounds, who moves with uncanny pace and freedom for his size. With his natural leverage, strength, and density, he can prevent displacement in the run game, but as he flashed while accruing five sacks in 2021, Williams has the athleticism and power to be a formidable pass-rushing threat.
6) McKinnley Jackson, Texas A&M
Early on, Texas A&M's McKinnley Jackson is a candidate to be the top nose tackle in the 2024 draft class. Last cycle, Mazi Smith's qualities as a potentially game-changing nose earned him Round 1 capital, so we know that the position is valued by NFL teams for its scarcity. And nose tackles like Jackson, with pass-rushing utility, are rare.
Jackson doesn't have the same power capacity or raw strength that Smith had, but that's a high bar to clear. Jackson assuredly has the density and strength to absorb contact and fend off double-teams at around 6'1″, 320 pounds. And for his size, Jackson has surprising burst, quickness, and energy entering contact — with the nuance to win 1-on-1 as a rusher.
5) Kris Jenkins, Michigan
Kris Jenkins' placement in the top five is partly based on projection but even more so on traits. High-level traits are worth banking on in the summer months, and Jenkins possesses those more than most on this early top DTs list.
Jenkins still needs to deliver on those traits more consistently and expand on his two sacks in 2022, but the potential is sky-high.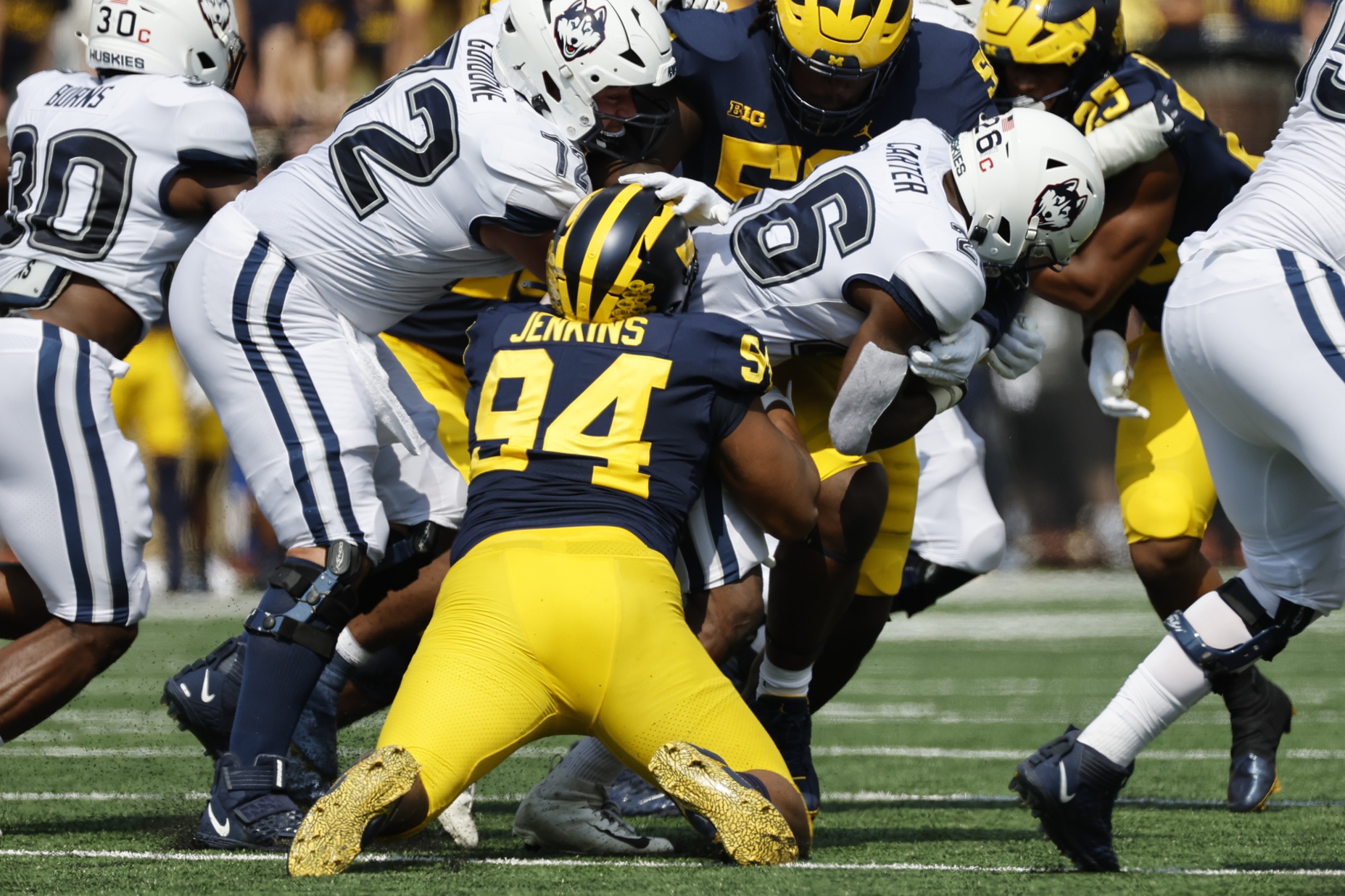 Jenkins played around 6'3″, 280 pounds, last year, but he's reportedly up to 305 pounds heading into 2023, and he's been giving Michigan's talented offensive line fits in camp. Tailor-made for the 3-tech disruptor role, Jenkins has a potentially overwhelming blend of short-area twitch, leverage, flexibility, power capacity, and ruthless prying strength.
4) Leonard Taylor III, Miami (FL)
A former five-star recruit, Miami's Leonard Taylor III has done nothing but confirm his pedigree with his play in college football. Since breaking out as a true freshman in 2021, Taylor has five sacks and 19 TFLs to his name, along with an interception as a bonus. Alongside Akheem Mesidor and Branson Deen in 2023, he's only due for more.
Taylor wears 305 pounds about as well as a player can. His athletic 6'3″ frame affords him a great deal of alignment versatility, which he uses to his advantage. Many of Taylor's pressures come from angle confusion, athleticism, and pure effort — he's still trending up with his operational consistency — but he's a rapid processor off the snap who can channel power with his hands and violently exploit leverage.
3) Ruke Orhorhoro, Clemson
Ruke Orhorhoro had a strong case to declare after the 2022 campaign. But after accruing 6.5 sacks and 16 TFLs across 2021 and 2022, Orhorhoro instead chose to return to Clemson alongside Tyler Davis, enacting his fifth season of eligibility. Orhorhoro would've scored a Day 2 grade from me in 2023, and he has Round 1 potential in the 2024 NFL Draft cycle.
At around 6'4″, 303 pounds, Orhorhoro has enticing physical traits. He's one of the most explosive athletes on this list, and he channels that burst with superb proportional length, culminating in elite raw power capacity. Orhorhoro came to America from Nigeria and didn't start playing until his junior year of high school. But already, he's extremely versatile, playing all across the front.
2) Maason Smith, LSU
At 6'5″, 300 pounds, with arms likely over 34″, Maason Smith looks like he was built in a lab. He was a standout in 2021 before missing essentially all of 2022 with an ACL tear.
With his size, Smith holds up in run defense. But then you see him line up at 5-tech, explode off the line, and bend around the edge while unleashing cross-chops and swims, and you know you're not dealing with a normal player.
The sheer degree of two-phase upside, alignment versatility, and raw ability that Smith provides doesn't come around very often. It's all contingent on him coming back at full health, but if he does, Smith is one of the few DTs in the 2024 NFL Draft who has the talent to reach the blue-chip range. And he could challenge the next player on this list for the DT1 title.
Who Is the Best DT in the 2024 NFL Draft?
If you need a disruptive defensive lineman, the 2024 NFL Draft class has what you need. But as many DTs as there are vying for top-10 spots, there's arguably only one who has the mix of production and proven talent, to this point, to warrant the top positional ranking. His player archetype is somewhat confined, but within his role, Jer'Zhan Newton can be a game-wrecker.
1) Jer'Zhan Newton, Illinois
Illinois' defense was a dominant unit in 2022, and that was reflected in the amount of 2023 NFL Draft talent they produced. Devon Witherspoon, Sydney Brown, and Jartavius Martin all loomed near the top of their positions, and had he declared, Newton would have been in a similar situation. Instead, he's one of the top DTs in the 2024 NFL Draft and a definitive Round 1 contender.
Newton is coming off a career-best campaign that saw him earn 61 tackles, 14 tackles for loss, 5.5 sacks, three pass deflections, and two fumble recoveries. At 6'2″, 295 pounds, he has the versatility to rush inside or use burst, ankle flexion, and active, surgical hands to work around the apex. Through it all, he's strong and stout enough to disrupt in the run game as well.
Newton is best alongside a nose tackle who can encumber blocks, but he himself is unnaturally proficient at prying through congestion and squirming through blocks to make stops. Newton's hyper-elite flexibility is a 1-of-1 trait that makes him a perplexingly slippery opponent for even the strongest offensive linemen.
Honorable Mentions
Mekhi Wingo, LSU
Nazir Stackhouse, Georgia
Tyler Davis, Clemson
Keith Randolph Jr., Illinois
Darius Robinson, Missouri
Ty Hamilton, Ohio State
Akheem Mesidor, Miami (FL)
Ricky Barber, UCF
Mosiah Nasili-Kite, Auburn
Paris Shand, LSU
Listen to the PFN Scouting Podcast
List to the PFN Scouting Podcast! Click the embedded player below to listen, or you can find the PFN Scouting Podcast on iTunes, Spotify, and all major podcast platforms.  Be sure to subscribe and leave us a five-star review! Rather watch instead? Check out the PFN Scouting Podcast on our Scouting YouTube channel.