College football's Week 2 slate gave us new information to consider for the 2024 NFL Draft. With some thrilling finishes across the country, we saw stars in high-leverage situations.
PFN analysts Ian Valentino, Ian Cummings, Dalton Miller, and Lorenzo Reyna were able to have eyes on every game. We'll be teaming up throughout the season to give a full rundown of the weekend's action from a scouting point of view. Here's our Week 2 draft prospect report.
Standout 2024 NFL Draft Prospects | CFB Week 2
Alabama vs. Texas
Offensive line play is tough to gauge during a live viewing, but JC Latham looked like a bear playing with his food most of the game. Devastating blocks are beautiful but aren't always completely optimized for offensive success. However, Latham meticulously mauled the Longhorns on Saturday.
Defenders tried a bit of everything on Latham with little success. Rushers disappeared when they got within his strike zone. His grip strength acted as magnets.
Xavier Worthy dusted Kool-Aid McKinstry on a diamond release slant for a touchdown, reminding me of DeVonta Smith. He's so tough in that slim frame. Terrion Arnold smacked him at the line on a pass, and Worthy stood him up.
Texas head coach Steve Sarkisian schemed up big plays, but Longhorns receiver Adonai Mitchell looked like a better athlete than anyone in the 'Bama secondary sans McKinstry.
Ja'Tavion Sanders is an absolute assassin. He moves so freely for his size. The NFL sees its fair share of guys at the position who can move and make plays in the short areas of the field, but Sanders has field-stretching traits that are incredibly valuable for an NFL offense that knows how to utilize that skill set. – Dalton Miller
Quinn Ewers is still growing with his mechanical discipline, but his game against Alabama was a step in the right direction. Ewers looked more comfortable operating in the pocket and more controlled with his shoulder alignment when working off-script.
However, one of the biggest mechanisms in securing Texas' win was big plays — both on the boundary and downfield — and Ewers helped convert on those opportunities with his improved ball placement and precision in the intermediate and deep ranges. Ewers has been streaky across his career as a downfield passer, but his situational precision looked noticeably improved on Saturday night – and on a tough stage. – Ian Cummings
As the Big 12 scout for the season, I had my eyes on Texas' trench players and Ewers, Worthy, Mitchell, and Sanders. Each playmaker raised their stock, with Ewers and Mitchell looking particularly dominant. Each has made significant strides as they fight their way into the Round 1 discussion.
MORE: 2024 NFL Draft Prospect Watchlist
We can't overlook the solid play of the big linemen, though. Texas right tackle Christian Jones has some obvious physical limitations when moving laterally. Still, his power and length in the run game were a major problem for Dallas Turner and the Alabama defense. Jones profiles as a Day 3, higher-end backup tackle for gap teams.
Texas defensive tackles T'Vondre Sweat and Byron Murphy II were winners for their Saturday roles. Sweat is a fantastic run defender who was eating up blockers for the rest of Texas' defensive line, and while I want to see more from him as a pass rusher, he will have draft value at the next level simply being a beast at 6'4″ and 345 pounds. – Ian Valentino
Penn State vs. Delaware
Offensive tackle dominance was the weekend theme for the games I viewed.
Olumuyiwa Fashanu was incredibly clean on the left side of Penn State's offensive line. Although Delaware doesn't necessarily resemble a national powerhouse, seeing the young offensive tackle handling business was nice. In-person, his athleticism is provocative.
Players with his size and strength rarely ever move with the kind of effortless grace he possesses. He struck accurately, and while he doesn't have the kind of grip strength that could rival Latham, he is a tactician. Nobody on Delaware could even creak the door open to peek inside on him throughout the contest.
Kalen King remains an incredibly competitive player on the outside for the Nittany Lions. There was a time early on when he got beat initially, but he showed nice recovery speed and timing along the sideline to steer the receiver out of range.
Chop Robinson might be a first-round pick, but he was the second-best pass rusher on the field for the Nittany Lions on Saturday. Abdul Carter isn't draft eligible, but there is no wondering why he's been graced with the No. 11 on PSU's defense. Even when trying to focus on Robinson at the snap, your eyes naturally drew to Carter. – Dalton Miller
Miami vs. Texas A&M
Kamren Kinchens had to leave the Texas A&M game early on a stretcher. Luckily, all tests came back clear, and he didn't suffer a long-term injury. Before he left the game, Kinchens had already made a strong impression.
The star safety used his instincts to position himself for an interception in the third quarter and later scooped up a fumble with his closing speed. He also secured seven tackles, a stable and rangy support presence. Kinchens is one of the most well-rounded early-round safeties in the 2024 NFL Draft, and he proved it while serving as a key catalyst in the team's win.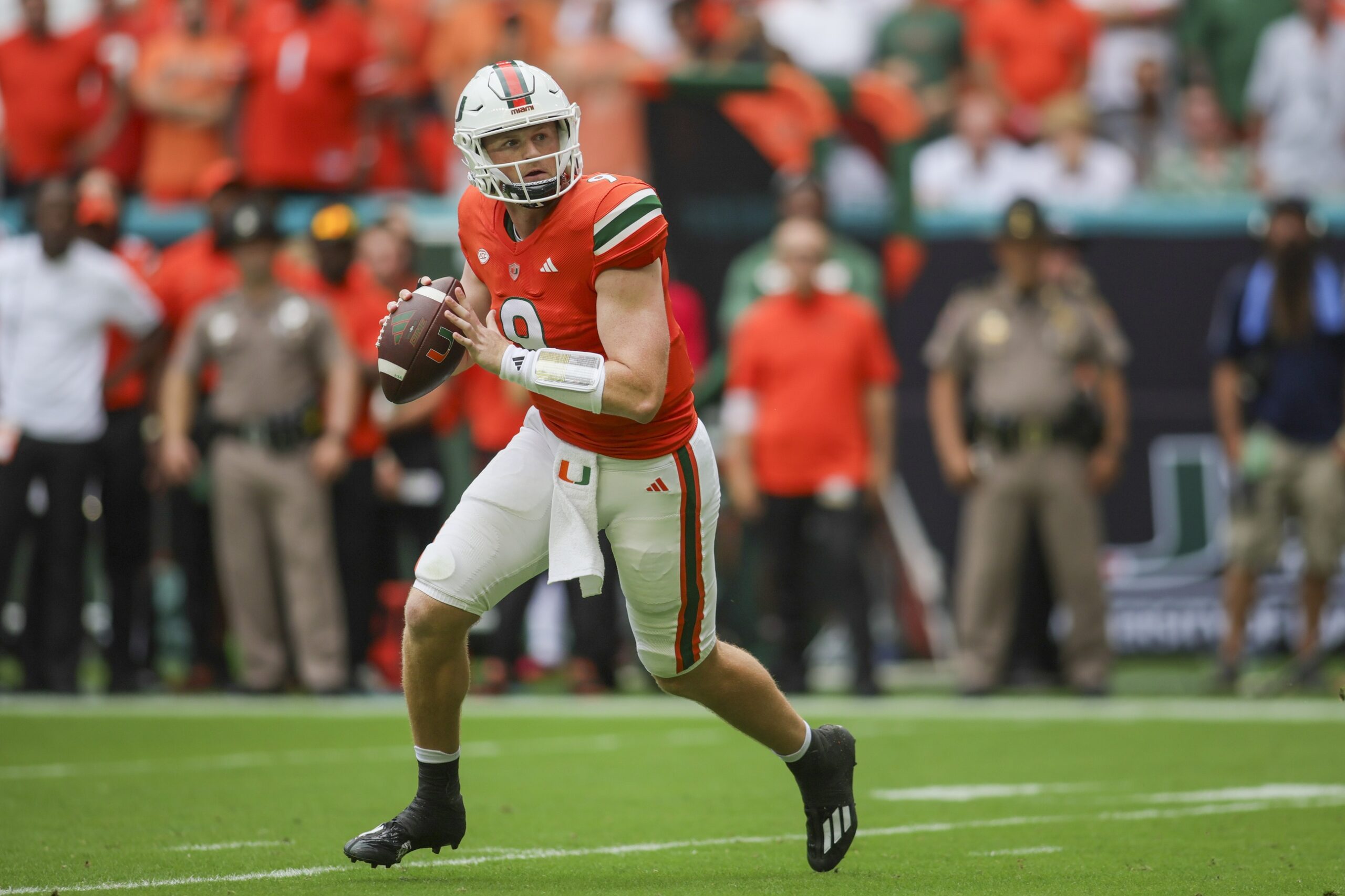 Perhaps no Miami prospect saw a greater uptick in production and efficiency from last year's Texas A&M game to this one than QB Tyler Van Dyke. After completing just over 50% of his passes in the 2022 loss, Van Dyke completed 21 of 30 attempts for 374 yards and five touchdowns, tearing apart a talent-laden Aggies' secondary.
Van Dyke looked more controlled mechanically and saw the field better, both inside and outside of structure. He showed he could maximize contested opportunities with precise ball placement and has the arm strength and elasticity to make throws at all levels. The All-22 will yield more substantial takeaways, but the early takeaway is this: Van Dyke might be making a resurgence as a 2024 NFL Draft prospect.
Another prospect rise, partly accelerated by Van Dyke's improvement, is wide receiver Colbie Young. Young debuted in Week 1 and returned in Week 2 with six catches for 75 yards and a score. At 6'5", 215 pounds, Young has proven he can box out DBs and win at the catch point, but he's also a fast accelerator with surprising RAC utility at his size. – Ian Cummings
Ohio State vs. Youngstown State
Ohio State's 2024 NFL Draft crop expectedly had a good day against Youngstown State, and at the center of it all was the team's first-round WR duo: Marvin Harrison Jr. and Emeka Egbuka.
Harrison caught seven passes for 160 yards and two scores, while Egbuka hauled in five receptions for 94 yards and a score.
Each WR's unique skill set was on display in the hyper-productive outing. Harrison used his gliding athleticism, explosiveness, route-running nuance, and coordination to convert consistently, while Egbuka's wiry strength through contact and open-field burst came up repeatedly.
The left side of Ohio State's offensive line is fun to watch. Left guard Donovan Jackson looks every bit a Round 1 prospect with his explosiveness, physicality, and proportional length at 6'4", 320 pounds. He's assignment-sound as well. But the lesser known name is San Diego State transfer Josh Simmons at left tackle.
Simmons is a long blocker at 6'5", 310 pounds. Still, he's low-cut and very flexible — able to play with nimble feet and controlled lean to gather rushers. Big Ten play will test him more, but Simmons has the tools to rise down the stretch.
After a down year in 2022, we might see Denzel Burke return to form on the boundary at CB. He notched two deflections in Week 1 and was superb in Week 2 against the Penguins.
The 6'1", 194-pound cover man exploded downhill in support, using his twitch and length to suffocate runners. He also secured his first interception since 2021 on a 50-50 ball, using his precise sense of timing, vertical athleticism, and strong hands to make the play. Burke's past as a WR gives him a unique playmaking ability that few can match. – Ian Cummings
There's not much to add to what Cummings mentioned, but Michael Hall Jr. deserves a nod as someone who has been unblockable through two games for the Buckeyes. While we've been hoping to see more from edge rushers Jack Sawyer and JT Tuimoloa, Hall has been matching the hype and expectations as a major force on the interior line. – Ian Valentino
Ole Miss vs. Tulane
Even without Michael Pratt, the Tulane Green Wave made it close against the Ole Miss Rebels. One reason for that is how well-coached this Tulane squad is. But another reason is this: The team is more talented than the consensus is led to believe, and several non-QB prospects stood out on Saturday.
On the Green Wave offensive line, left guard Prince Pines is an absolute powerhouse at 6'5", 335 pounds, and he stood out on several occasions against Ole Miss' talented defensive line. He's like a tsunami wave pulling across the front and has the dominating strength to lock defenders out of gaps and open space for runners. Balance as a pass protector remains an issue, but Pines proved his raw tools belong on a big stage.
Tulane's defense had standouts at multiple levels. Linebacker Darius Hodges is a versatile attacker with a red-hot motor who logged 1.5 sacks. And though the secondary was a bit up-and-down overall, several coverage defenders made pivotal plays. AJ Hampton and Kam Pedescleaux each had deflections in defining moments, and boundary CB Jarius Monroe discouraged Ole Miss from even looking his way in coverage.
Monroe, in particular, is a sleeper prospect worth noting in Tulane's secondary. The 6'2", 205-pound defender was terrific in press coverage, using well-timed, forceful extensions and efficient footwork to mirror WRs, and he flew downhill all day in support, using his strong frame and closing speed to wrangle up runners before they turned upfield.
Ole Miss' secondary played a large role in securing the win for the Rebels. In particular, veteran CB Deantre Prince looked phenomenal. He and Miami (OH) transfer John Saunders put on a clinic when it came to playing the ball through the catch process, but every time Prince was tested, he came up big.
In the third quarter, he scored an interception by keenly watching the QB's eyes and diverting back amidst a WR miscommunication. And later, when the Green Wave attempted to rally late in the fourth, Prince deflected the ball twice in the red zone, blanketing his man and perfectly timing his extensions.
Although Quinshon Judkins is one of the best players in college football, it is frustrating to see Ulysses Bentley IV becoming a forgotten man in the Ole Miss offense. We hoped to see him recapture some of the magic he produced at SMU, but that doesn't appear likely in 2023. He only managed two carries on Saturday against Tulane. – Dalton Miller
Vanderbilt vs. Wake Forest
Each week this season, Vanderbilt WR Will Sheppard has had at least six catches, at least 60 yards, and two touchdowns.
In Week 2, he came back again with eight catches for 87 yards and two scores, including a beautiful TD grab on a delayed corner route in the red zone, where Sheppard used his explosiveness, flexibility, and intentional eyes to separate, before converting at the catch point with his length and body control. Sheppard remains one of the most underrated 2024 NFL Draft WR prospects, but he won't be for long at this rate. – Ian Cummings
Utah vs. Baylor
It'll be incredibly difficult to rank all quality safety prospects in the 2024 NFL Draft. Cole Bishop is just another one who's been fantastic through two weeks in 2023. In Week 2 against Baylor, Bishop had two tackles for loss, using his explosiveness, combative physicality, vision, and flexibility to get ahead of boundary runs and snuff out space.
But his most impactful play was at the end — an interception that led to the Utes winning the game. On the play, the 6'2", 205-pound safety perfectly read the QB's eyes and swooped in front of an intermediate crosser. Bishop's all-around utility and playmaking versatility is, at times, enthralling, and it's why he's on the rise. – Ian Cummings
Bishop is confirming my preseason ranking of being a top-125 player overall for the class. He's versatile, athletic, and just so smart in every situation.
Utah left guard Keaton Bills was another winner from the week, as he was demolishing defenders as a run blocker, showing great strength and hand placement as he boxes out his assigned lineman. As someone with a borderline draftable grade, Bills looks improved from last year and is fighting for an all-star game bid next offseason.
Unfortunately, not all went well for Utah prospects. Running back Ja'Quinden Jackson continues to be an afterthought in the team's rotation, and the third-year sophomore seems to be in the doghouse despite being the most talented playmaker on the unit. – Ian Valentino
NC State vs. Notre Dame
NC State linebacker Payton Wilson has eclipsed the 10-tackle mark for two weeks. Against Notre Dame, he was everywhere, securing 14 takedowns while also contributing to a stop behind the line of scrimmage.
Perhaps the most impressive play of Wilson's was an open-field chase down, on which Wilson showed off his elite recovery speed and range at 6'4", 235 pounds. Medicals will potentially cloud Wilson's stock, but few match his athleticism and range in the 2024 NFL Draft LB class.
Xavier Watts was on a mission in Notre Dame's win against NC State. The versatile DB flew around the box in support and coverage, using his closing speed and tenacity to rattle pass catchers at the contact point. He scored a key pass deflection with his proactive hand usage, and then just a play later, he ended the drive with an interception, careening downfield as a closer.
MORE: 2024 NFL Draft Big Board
Audric Estimé once again had a stellar showing for the Fighting Irish. On just 14 carries, Estimé amassed 134 yards and two touchdowns, and he also caught two passes for 22 yards.
The 5'11", 227-pound Estimé has some of the best contact balance and the most overwhelming force generation in the 2024 NFL Draft RB class, and he's a surprisingly natural and competent receiving threat for his size. His density, contact balance, and vision between the tackles all bear similarities to David Montgomery at times, but Estimé might even be a hair more explosive in space. – Ian Cummings
Michigan State vs. Richmond
We knew Nathan Carter was good at UConn, but he's taken his game to new heights at Michigan State. In the Spartans' dominating win over Richmond in Week 2, Carter had 19 carries for 111 yards and three touchdowns.
At 5'9", 190 pounds, Carter has the energized style and burst of a smaller back. Still, his incredibly strong lower body allows him to churn through arm tackles, plus he has the vision and awareness of blocking leverage to maximize runs. – Ian Cummings
Iowa vs. Iowa State
Athleticism is not in short supply on Iowa's offensive line. Mason Richman, Logan Jones, and Connor Colby all have the necessary mobility to traverse gaps and seal out linemen. Colby, in particular, was instrumental in a big play early in the game. Play strength and leverage can still be issues, but as these blockers build on their physical foundations, they could take steps up the board.
Tyler Onyedim is a player who keeps popping on Iowa State's interior defensive line. Onyedim notched 1.5 tackles for loss in the Cyclones' season-opener, and he logged another stop behind the line of scrimmage in Week 2.
At 6'4", 290 pounds, he's a well-leveraged and powerful lineman with the searing explosiveness to get to the A-gap from 3-tech, working across-face from outside the guard's shoulder. That burst can be devastating for blocking schemes, and Onyedim has it. – Ian Cummings
Michigan vs. UNLV
Another week, another immaculate performance from J.J. McCarthy. He hasn't been heavily tested yet, but he's done exactly what he should against lesser competition: Dominate.
McCarthy has converted on 48 of 55 attempts (for a whopping 87.3% completion) for 558 yards, five touchdowns, and no interceptions.
McCarthy had all the talent last season but needed to improve operationally. Through two games, he's visibly more poised in the pocket and more calculated as a pocket navigator. He's seeing the field extremely quickly, manipulating defenders, and anticipating windows, and he's using his high-level arm talent to layer the ball into tight spots. It's early, but McCarthy is pushing for the QB3 spot in 2024.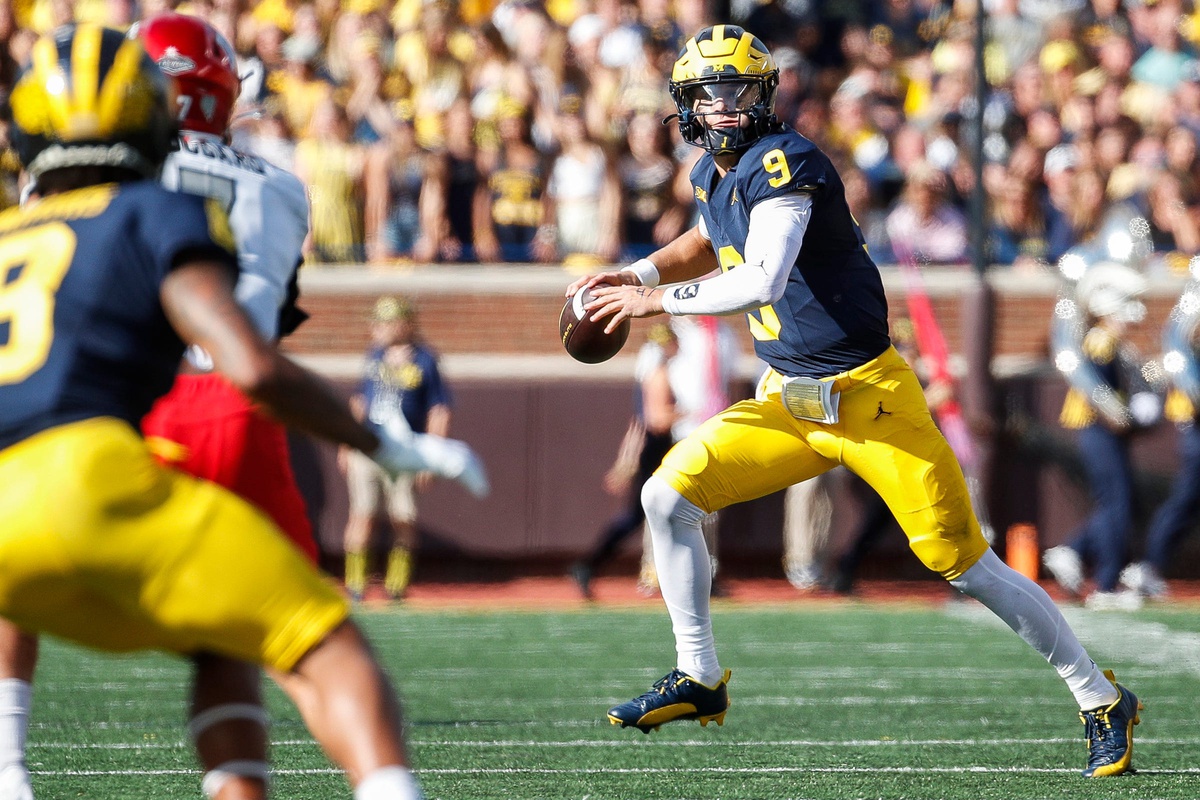 Every rising QB needs a WR to complete the combination, and right now, McCarthy has a red-hot Roman Wilson in his corner. Wilson was a highly touted recruit with documented 4.3 speed coming out of high school, and he's been surgical through two weeks, with 10 catches for 167 yards and five touchdowns.
Wilson has always been an elite speed threat, but this year, he's using that speed and bend to carve through coverages as a route runner, and he can convert at the catch point with impressive contortion ability. As long as Wilson can stay healthy, his ceiling in the 2024 NFL Draft is high. – Ian Cummings
Illinois vs. Kansas
Though Illinois lost to Kansas on Friday night, Jer'Zhan Newton looked every bit like a first-round DT prospect.
He notched his first two sacks of the season, including an extremely efficient chop-rip combination working outside the guard to the B-gap. Newton used surgical hands and ankle flexion to pry his way past, then closed the gap with his searing explosiveness. Newton's natural leverage and dangerous technical edge, combined with his burst and hyper-elite flexibility, can overwhelm blockers.
Jalon Daniels' first game of the 2022 season was perhaps the toughest test for him on deck — against the vaunted Illinois defense — and he passed with flying colors, leading his team to a statement victory while completing over 70% of his passes for 277 yards and two scores.
The sheer volume of the 2024 NFL Draft QB class sometimes causes Daniels to be overlooked. Still, he's an electric creator with eye-catching suddenness and space-navigating instincts in the pocket, and he has the vision and arm elasticity to make jaw-dropping throws off-script. – Ian Cummings
Colorado vs. Nebraska
Shedeur Sanders is legit. That's my contribution to the discussion around the emergent passer.
It can be difficult to parse through and reach the diagnostics with all the noise surrounding Deion Sanders and his son. But looking at how Sanders plays, his style is extremely translatable.
He might be among the best operational passers in the 2024 NFL Draft with his patience, field vision, decision-making, and accuracy. He's also an exceptional creator with the short-area athleticism to evade sack threats and the arm talent to generate velocity off-platform. Past McCarthy at Michigan, you could argue Sanders is the young QB who's made the strongest case for the QB3 mantle behind Caleb Williams and Drake Maye.
Nebraska may have lost the game by a hefty margin, but the Cornhuskers' defense kept it within reach for a large chunk of the contest. In particular, cornerback Omar Brown is a player who made a visible impression.
The 6'1", 200-pound former Northern Iowa transfer swarmed downhill as a support defender, notching five tackles and a TFL, and he also accounted for a pass deflection, using his fast-play pace and length to occlude passing lanes. – Ian Cummings
It's hard to overstate just how impressive Sanders has been. He's entering the first-round conversation before our eyes, showing a command and confidence that no one could have expected from an FCS transfer.
His accuracy, playmaking, and field vision have all improved thus far. He's now fighting to earn his way into a deep and muddied QB3 discussion in this class, and another few solid weeks might put him ahead of his peers. – Ian Valentino
Oregon vs. Texas Tech
Bo Nix was the headlining talent entering the game, and if you go by his raw numbers, he delivered. But the game was a mixed back for the senior, who struggled to settle down and couldn't consistently pierce the Red Raiders' defense.
Nix had a few bright moments, including a perfect deep pass to a wide-open Troy Franklin for a touchdown and timely scrambles that kept the chains moving when the team needed it the most.
While Nix deserves credit for avoiding turnovers as the pressure mounted, he also wasn't the reason the team staged a comeback victory. Nix was flustered and had to rely on his running game. He was fortunate the Ducks got so much from their backfield.
Meanwhile, this opened the door for star rusher Bucky Irving to show off, and Irving was electric. Irving is an explosive player who showed better leverage and field vision in this game. He should be a starting running back at the next level.
The Ducks' defensive line had an up-and-down night as well. Edge rusher Brandon Dorlus was solid, dominating the run game and recovering a fumble. But Jordan Burch hasn't been consistently noticeable yet, and the pass rush from the entire unit has relied on their depth more than high-end performers.
For Texas Tech, it was disappointing to see tight end Mason Tharp usurp Baylor Cupp as the starting tight end. Cupp has impressive movement ability but needs to take on a bigger role to see more targets. Tharp was a much bigger part of the unit.
Wide receiver Jerand Bradley continues to be a force to deal with. The third-year receiver has a great frame, deep speed, a big catch radius, and is creative with his routes.
Quarterback Tyler Shough shouldered a huge burden throughout the game and was mostly good. The guy is a gamer, rushing for over 100 yards despite entering the contest with only 600 career rushing yards. He had the team on the brink of a massive upset, but his inexperience and penchant for doing too much eventually led to turnovers and cost the Red Raiders the game. – Ian Valentino
SMU vs. Oklahoma
Oklahoma's defense and offensive line are priority positions to watch this season on this roster. Some athletic veterans are fighting to improve their stock from Day 3 talents to be taken higher. That includes safety Billy Bowman Jr.
Bowman was hard to miss on Saturday, sometimes being too aggressive when chasing the ball for an interception, but also being a playmaker as a centerfielder and help run defender. He's wiry and athletic enough to project to the next level and fill various roles. But moving forward, Bowman has to find a better balance between being a playmaker and when he has to limit the damage.
Sooners' edge rusher Rondell Bothroyd has also struggled a bit upon moving to his new situation. A disruptive player at Wake Forest, Bothroyd's athleticism hasn't shown the same way this year. He has straight-line speed and some active hands but can't bend through contact and lacks the burst off the line to force blockers into a bad position. – Ian Valentino
Stanford vs. USC
For a USC defense that had been criticized, the Trojans were dominant against what was supposed to be an explosive Stanford offense with Troy Taylor now at the helm.
Safety Max Williams was a big reason why. During the first drive, Williams showed a strong set of eyes and reaction in locating the botched pass attempt by Ashton Daniels to E.J. Smith. But throughout the night, Williams played sticky coverage on the fastest Cardinal wideouts and, through three quarters, held the Cardinal to just 50 passing yards. He also broke up one pass.
Williams has always been a fleet-footed guy. It dates back to his days at L.A. region prep powerhouse Serra High in Gardena. But what became noticeable on this night is that Williams is consistently sinking his hips and trusting his low center of gravity against speedier options.
This could be the year the veteran finally earns first-team All-Pac-12 recognition. And his early pick certainly changed the narrative of the USC defense on this evening. Now it's a matter of stacking more games like that moving forward.
For all the chatter of how epic Williams is at extending plays, analysts (including us) have to make sure we recognize who allows him to have time to create the theatrics: His offensive line. That's where his blindside protector Jonah Monheim, comes in.
Monheim isn't just someone keeping edge rushers in check while Williams puts together the retweets, like plays for social media, and highlight-reel throws for news stations. The 6'5″, 300-pounder is deadly at the second level of the defense.
He's equipped with quick feet, and on the 25-yard MarShawn Lloyd run that saw a jump cut, it was Monheim pulling around and taking care of the linebacker to spring his running back. Outside of his feet, he comes equipped with strong hands and brings the finishing touches that defenders and offensive line coaches in the NFL crave. – Lorenzo Reyna
Listen to the PFN Scouting Podcast
Listen to the PFN Scouting Podcast! Click the embedded player below to listen, or you can find the PFN Scouting Podcast on iTunes, Spotify, and all major podcast platforms.  Be sure to subscribe and leave us a five-star review! Rather watch instead? Check out the PFN Scouting Podcast on our Scouting YouTube channel.